HR & payroll service providers have become essential to many companies' operations, but which is best for your business? Large and small businesses can use various techniques to manage their payroll and HR, including manually processing paperwork and consulting vendors.
However, many of these solutions are costly and time-consuming. Fortunately, several cloud-based human resources tools are available to streamline these processes, making them easy and cost-effective.
There are two main players in the market regarding full-service HR and payroll: OnPay and Gusto. OnPay and Gusto offer comprehensive payroll solutions to help your small business manage employee pay, benefits, and taxes using a single platform.
To help you make an informed decision, we have compiled a complete payroll service comparison of OnPay and Gusto.
You might be interested in comparing each option's pricing plans and features, learning what other customers say about their experiences with each provider, or simply reviewing each provider's pros and cons.
Whatever your goal, this comparison will help you narrow your options and find the right payroll solution for your small business or large enterprise.
OnPay vs. Gusto: Similarities
Here are the key similarities between OnPay and Gusto:
OnPay and Gusto offer full-service payroll, benefits administration, and HR tools
Both systems automatically calculate, withhold, and pay federal, state, and local taxes to appropriate agencies
An employee can still access their pay stubs and tax documents even if they change jobs or companies
Support is available from 9 a.m. to 8 p.m. MST on Mondays through Fridays
OnPay vs. Gusto: Differences
Key differences between OnPay and Gusto include:
Gusto offers a tier-pricing plan based on your business needs, while OnPay has a solid pricing plan with a fixed pay
Gusto allows more integration with other applications, while OnPay has limited integration capabilities
OnPay can act as an insurance broker in all 50 states, while Gusto lacks health benefits in some states
What is OnPay?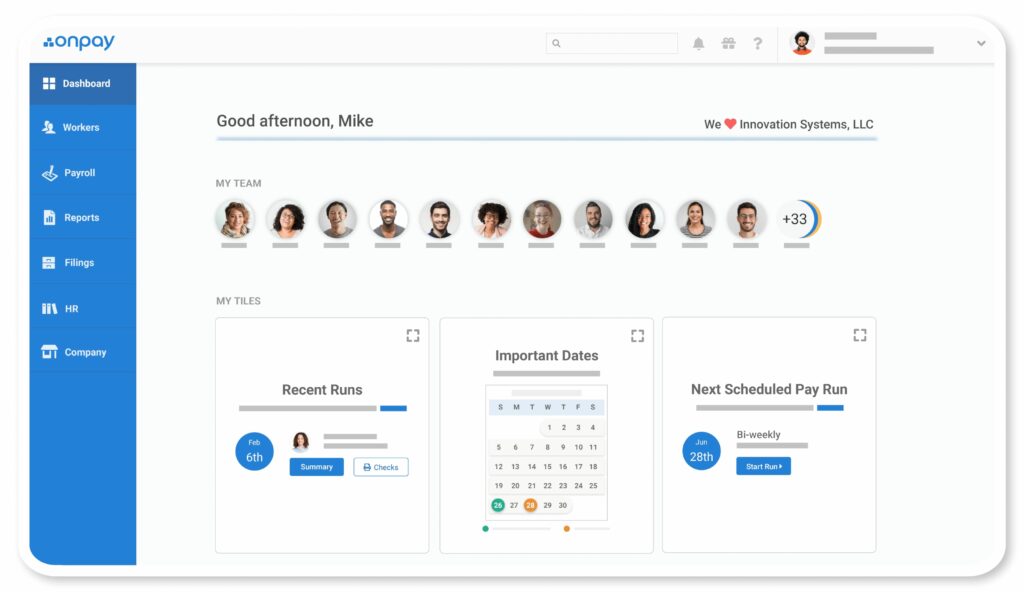 OnPay is a cloud-based payroll professional employer organization that aids in running small to medium-sized businesses' HR and payroll services. The company only offers one pricing plan, which gives you access to all features and benefits.
Key features on the platform include employee onboarding tasks, unlimited payroll runs, and automatic W-2 and 1099 form filling. The company mostly offers payroll and other HR tools that small businesses need.
OnPay prides itself on having features that enable managers to handle extensive employee records. It handles the automatic calculation and payment of employee taxes and is user-friendly and affordable.
Setting up the system is free and easy. If you have pressing questions, you can contact the organization's customer support via email or mobile phone from 9 a.m. to 8 p.m. on weekdays. 
Value for money
OnPay
OnPay is a cloud-based payroll and HR software that simplifies the process of managing employee payroll, benefits, and taxes. With OnPay, businesses can easily calculate and process payroll, generate pay stubs, and file taxes. The software also offers a range of HR tools, including time tracking, employee self-service, and compliance management. OnPay is designed to be user-friendly and affordable, making it an ideal solution for small and medium-sized businesses. The software is accessible from any device with an internet connection, allowing businesses to manage their payroll and HR tasks from anywhere. Overall, OnPay streamlines the payroll and HR process, saving businesses time and money while ensuring compliance with all relevant regulations.
Pros:
User-friendly interface: OnPay has a simple and intuitive interface that makes it easy for users to navigate and use the software.

Affordable pricing: OnPay offers affordable pricing plans that are suitable for small businesses and startups.

Comprehensive payroll features: OnPay offers a wide range of payroll features, including tax filing, direct deposit, and employee self-service.

Automated payroll processing: OnPay automates the payroll process, which saves time and reduces the risk of errors.

Excellent customer support: OnPay provides excellent customer support through phone, email, and live chat.

Integration with other software: OnPay integrates with other software, such as accounting and time-tracking software, to streamline the payroll process.

OnPay Key Features
Features you'll find on OnPay include the following:
Payroll features like unlimited monthly payroll, direct deposit, tax filings, data migration, software integrations, and workers' comp.
Human resource services like time tracking, customized accrual policies, compliance, request time off, pay stubs, and document management.
Employee benefits like 401(k), liability insurance, vacation and PTO, health savings accounts, flexible spending accounts, health insurance, and childcare.
Who is OnPay for?
OnPay is ideal for small- to medium-sized businesses that need help managing HR, payroll, and tax filing. Although payroll processing is not automated, you can approve payments and confirm schedules every time you run payroll in a few clicks. OnPay is useful to those who need affordable payroll services.
What is Gusto?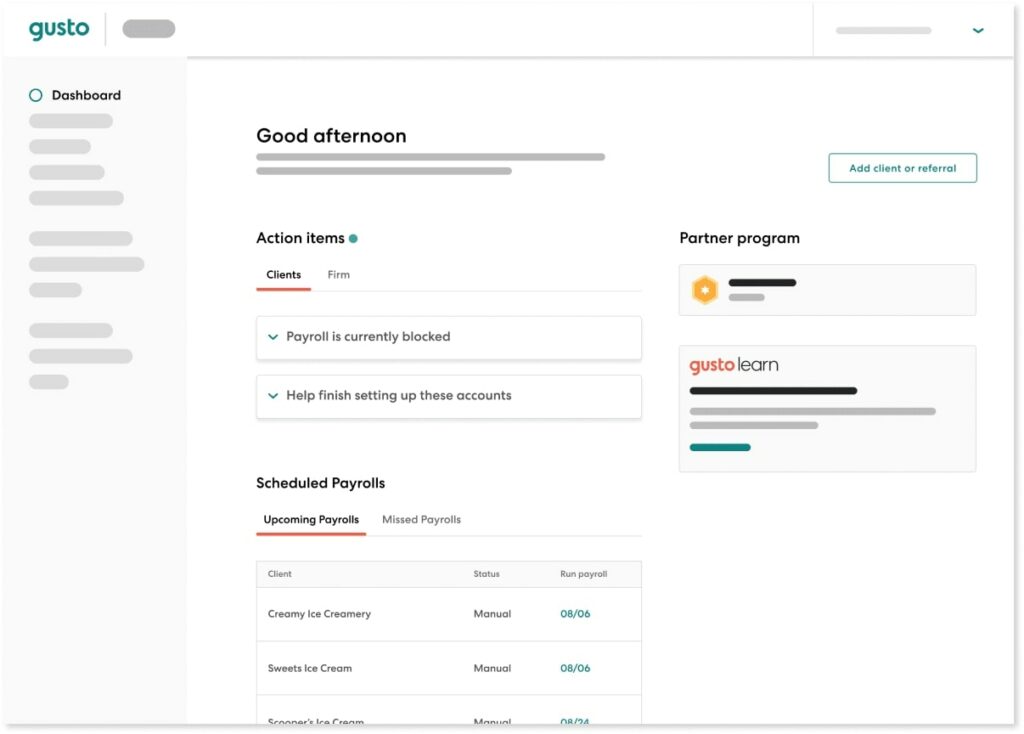 Gusto is a PEO that offers expansive payroll and HR tools in one package. While the platform has a comprehensive suite of tools for HR managers and business owners, it stands out among the top payroll service providers in the industry.
The system also has a more flexible pricing structure, providing features that accommodate small businesses to large firms. It tries to unify employee and employer functions by enabling small business owners to save time when running payroll and employees to make the most of their paychecks.
Gusto provides payroll, employee benefits, hiring, onboarding, time and attendance, and compliance. It's quite a young company that started in 2011.
That means most of its features are designed for modern-day companies, catering to remote workers, franchises, and avid internet users. Its features and functions made it appealing to over 200,000 businesses in the United States. 
Best HR & Payroll Software
Gusto | All-in-one HR Services
Gusto is one of the best HR & payroll software that simplifies the process of managing and paying employees. With Gusto, businesses can easily manage their payroll, taxes, and benefits in one place. The software automates the calculation of payroll taxes, tracks employee hours, and generates pay stubs. It also offers a range of benefits, including health insurance, retirement plans, and workers' compensation insurance. Gusto is designed to be user-friendly, with a simple interface that makes it easy for businesses to manage their payroll. With Gusto, businesses can save time and reduce the risk of errors, ensuring that their employees are paid accurately and on time.
Pros:
User-friendly interface: Gusto has a simple and intuitive interface that makes it easy for users to navigate and use the software.

Automated payroll processing: Gusto Payroll automates the payroll process, saving time and reducing the risk of errors.

Tax compliance: Gusto ensures that all tax calculations and filings are accurate and compliant with federal, state, and local regulations.

Employee self-service: Gusto allows employees to access their pay stubs, tax forms, and other important information through a self-service portal.

Integration with other software: Gusto Payroll integrates with other software, such as accounting and time-tracking software, to streamline the payroll process.

Affordable pricing: Gusto offers affordable pricing plans that are suitable for small and medium-sized businesses.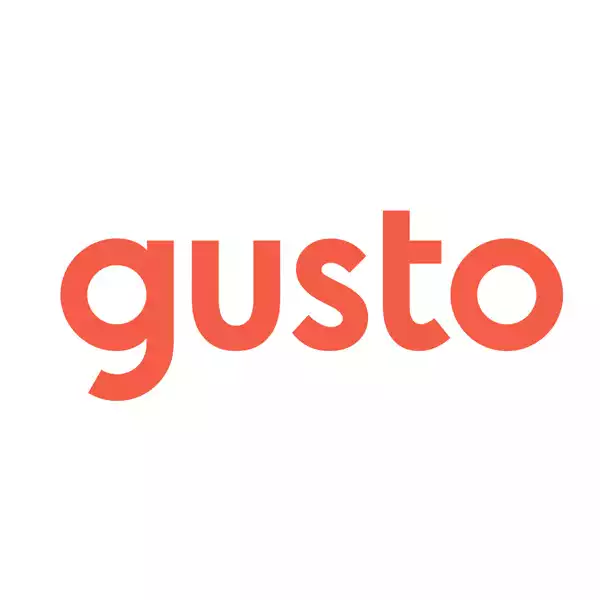 Gusto Key Features
Key features you'll find on Gusto include:
Tax features like automated taxes, child support garnishments, W-2 and 1099 tax forms, and minimum wage.
Payment features like a Gusto debit card, hourly and salaried hirelings, paperless paychecks, multiple pay rates, bonuses, reimbursements, and deductions.
Workforce automation tools like self-service, time and attendance, offer letters, integrations, and workers' comp.
Employee benefits include broker integration, 401(k), health insurance administration, health savings accounts, flexible spending accounts, and commuter benefits.
Who is Gusto For?
Gusto is a good software solution for businesses looking for a flexible and transparent pricing model. It has three pricing tiers, and companies that need extra HR features can request custom pricing for the highest pricing tier.
OnPay HR vs. Gusto HR Services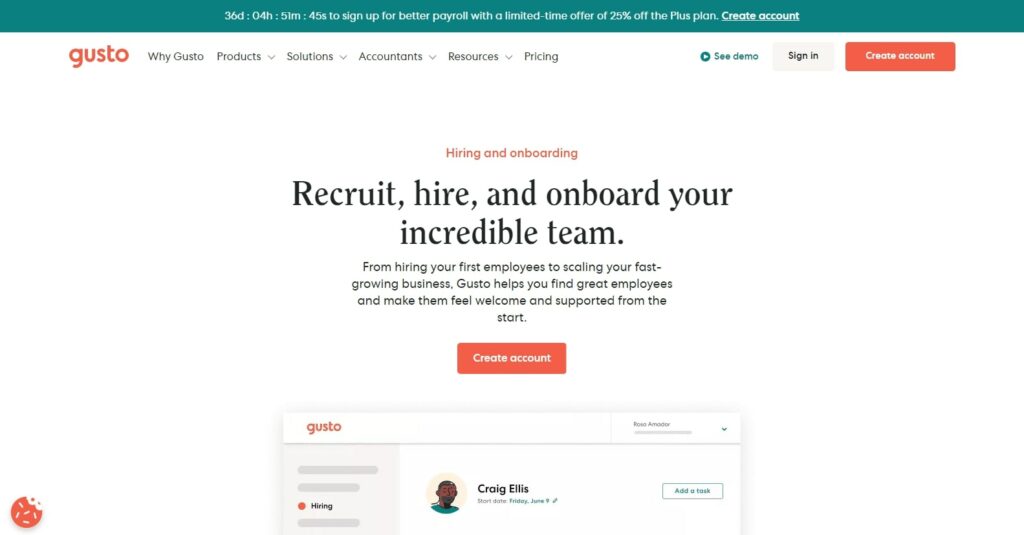 There are several very good HR features on Gusto and OnPay. Each company offers payroll and tax filing tools, allowing you to focus on other key business growth functions. However, the two companies differ in ways that may determine your next provider choice.
Here are the top HR tools on OnPay and Gusto:
Employee Self-Service Account
OnPay works to empower workers to do more regarding HR processes. It gives independent contractors and staffers access to their accounts to see their pay stubs and tax information. They can update their personal data and request time off without consulting employers.
The system allows you to create custom time off policies on your self-service portal. Once you approve employees' requested time off, the system automatically subtracts the total worked hours.
Gusto offers more advanced HR features to help workers operate their accounts, data, and taxes. For starters, an employee can set up an account easily after an employer gives them access.
They can request holidays and time off, and Gusto will automatically calculate and sync the hours with payroll. Staffers will also access their personal data after leaving your company.
Seamless Compliance
You need a good tool to comply with local, state, and federal regulations, particularly if you want to hire employees from different States. OnPay performs regular audits to ensure your hirelings sign all relevant documents and complete all onboarding checklists.
Gusto offers workers' comp, but at an extra cost. The system syncs your policies with payroll, while the company covers your teams' medical expenses and wage replacement if injuries occur.
You can also get expert legal and insurance guidance anytime. This person will update you with all federal, state, and local regulations.
Business Management
Gusto helps business owners to visualize their productivity and workforce costs in real-time. It updates key dates and tasks on their calendar, making it easier to handle to-do lists. The system also helps them to send offer letters and hire and onboard new workers with a few clicks.
OnPay features onboarding tools such as built-in templates, custom onboarding documents, customized HR documents, and document e-sign features to onboard hirelings smoothly. The in-app messaging tool allows you to send workers performance reviews.
Gusto Wins in HR Services
Although OnPay provides all its features in one package, allowing you to access all HR tools on the platform with one pricing tier, Gusto offers more comprehensive services. With Gusto's integration capabilities, you can add any tool to smoothen your work progress.
OnPay can be most suitable for businesses with few employees who mostly want a system that can help them perform small HR functions and allow them to connect with hirelings easier.
Gusto vs. OnPay Payroll Services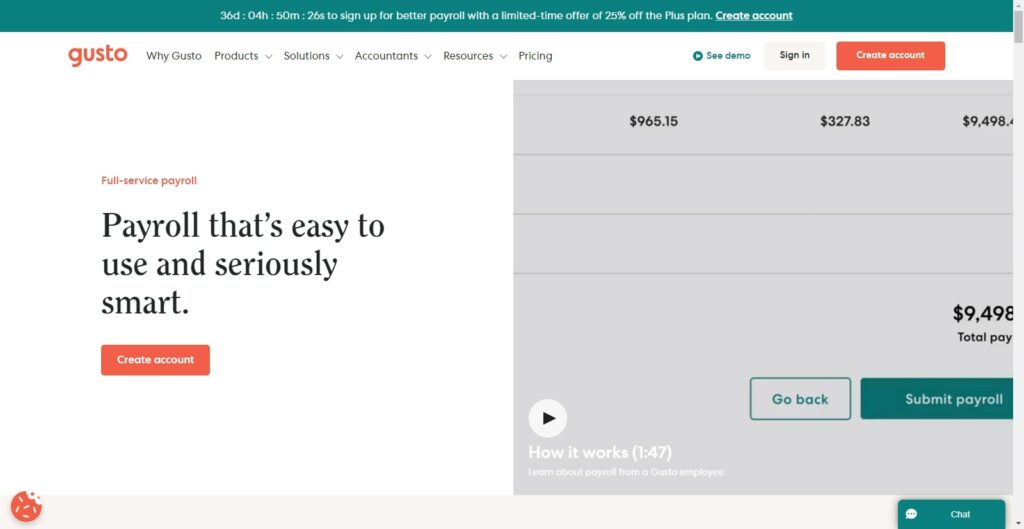 Although OnPay and Gusto are payroll software, they feature different payroll tools. Here is a breakdown of the differences between these two software:
Unlimited Payroll
OnPay automates each pay step, making it easier and faster to process payments. You can set aside taxation and deductibles, automate direct deposits, and maintain well-organized records. The system's unlimited payroll capacity makes it perfect for large companies since it can host data of over 100 employees.
Gusto also automatically files and pays your tax. The system will remind you when it's time to run payroll, and you can check each employee's hours and salaries from the same page. The system also offers unlimited payroll, so you can run automated payroll any time of the month.
Payment Processing
OnPay is straightforward to use. Because of its friendly costs, time and attendance tracking features, and easy access to employee inputs, running payroll for a handful of employees is quite easy. You can also set up different pay cycles for full-time staffers, part-time employees, contractors, and vendors.
The system calculates and files taxation on your behalf. The software also pays your hirelings on time after making the relevant deductions.
Using Gusto is seriously smart, they say. You can sync a time tracking tool with Gusto to get the accurate number of employee hours.
The company handles tax registration in all 50 states and ensures that all signed documents are well organized. Gusto is the better option for businesses with global hirelings, as you can pay employees in up to 80 countries.
Payment Options
With OnPay, you can choose any method of payment you want to pay your employees. You can make a direct deposit to the user's account or hand out paper checks. Once you have completed the process, click a button to confirm to notify staffers about the money in their accounts.
You can easily pay contractors with Gusto direct deposit. You will need to enter the contractor payment details and set the system to make deposits via direct deposit.
Gusto will track contractor payments and generate a 1099 form annually. The contractors will obtain an email notification, and they can access their forms from their profiles.
Employee Benefits
OnPay provides great benefits plans to help you take care of your team and stay compliant. Some benefits you can offer to employees include health, vision, and dental insurance, 401(k), retirement benefits, life insurance, vacation, and paid time off.
Gusto provides more extensive employee benefits ranging from 401(k), health insurance, workers' compensation, dental and vision insurance, paycheck splitter, commuter benefits, health savings accounts, and flexible spending accounts. You also get a broker integration tool that helps you find benefits that are not on the system.
Gusto Wins in Payroll Services
Gusto and OnPay are almost at par regarding automation, direct deposit, and taxation. However, Gusto allows you to work with global staffers and handle international payments.
This can be greatly beneficial to companies with branches across the globe. The system can also handle unlimited payroll and data for over 1000 businesses.
Gusto vs. OnPay: Integrations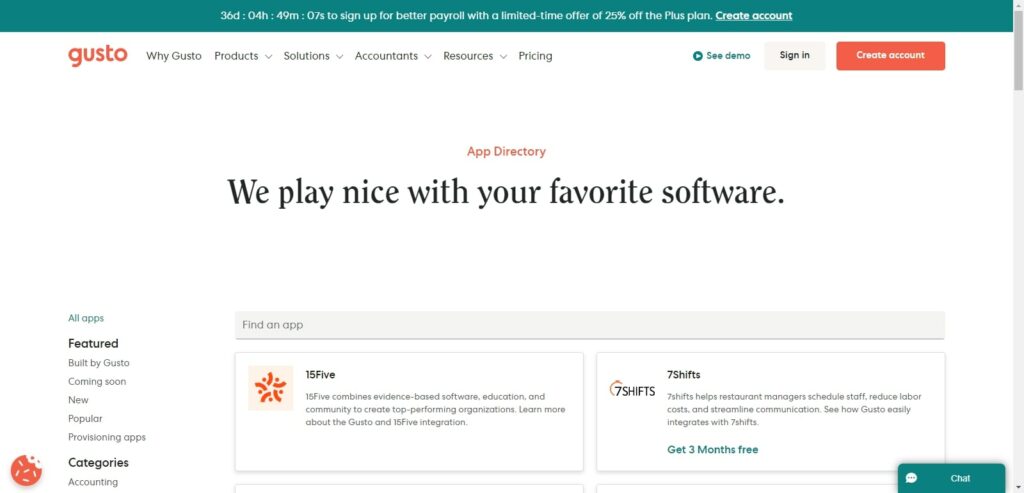 Gusto integrates with over 100 apps to assist you with tax preparation, accounting, time tracking, performance management, and more. Top app integrations you'll probably use include QuickBooks, TSheets, Zoom, Xero, Shopify, Clover, and Expensify.
OnPay allows easy integration with other applications. Integrating tools like QuickBooks Online, TSheets, Guideline, Humanity, PosterElite, and Xero takes a few minutes. However, it doesn't feature an inquisitive list like Gusto. It has less than 20 app integrations, limiting your capabilities.
Gusto Wins in Integrations
Gusto wins in integration as it allows ten times more integrations than OnPay. It integrates seamlessly with popular accounting software and tools you may need for employee training, record-keeping, providing performance reviews, and hour tracking for employees. Besides smooth integration, employees can also get discounts for using some applications.
Gusto vs. OnPay: Customer Support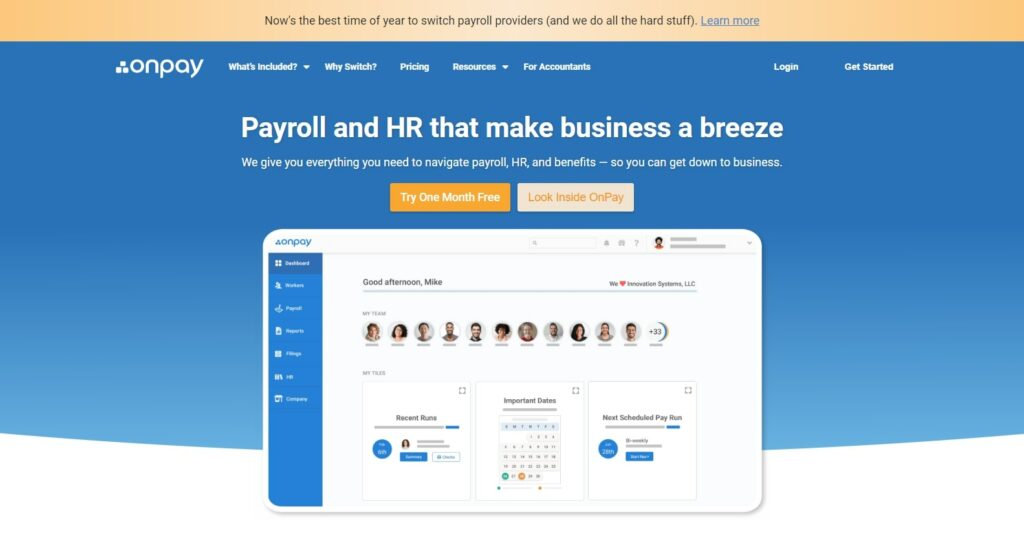 Gusto's customer support is available by phone, email, or chat between Monday and Friday between 9 a.m. and 8 p.m. Companies on the premium plan can access priority support. However, there is no 24/7 phone support. The company provides you with a certified consultant to help with your HR needs at an extra cost.
OnPay's customer service is available by phone, email, and chat. There is an option for emergency email support, especially on weekends. Organizations can contact OnPay's support when they have questions about using the software. Since there's only one pricing tier, you don't need to pay extra for expert assistance.
OnPay Wins in Customer Support
OnPay wins in customer support. It offers customers round-the-clock support, while Gusto's support is unavailable in the evenings and weekends.
In addition, OnPay's customer services are more comprehensive, with dedicated teams for tax revenues, employees, HR, benefits, compliance, accounting, and bookkeeping.
OnPay vs. Gusto: Pricing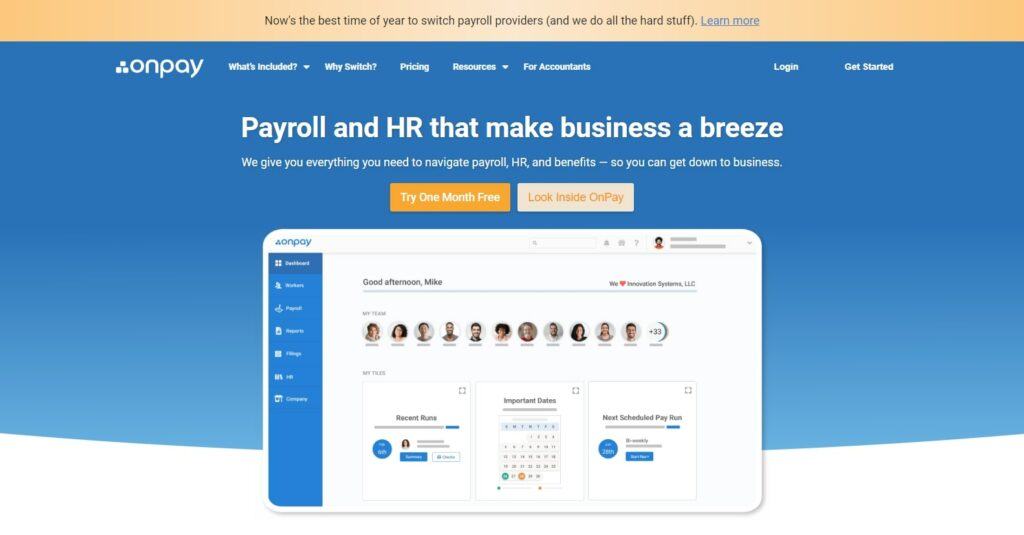 Although both service providers offer relatively cheap solutions for their customers, they have a distinct difference: one offers three pricing tiers while the other only has one.
Gusto Pricing
Gusto has three pricing plans for organizations that want to handle payroll services for contractors and full-time employees. Companies wishing to manage contractors can only subscribe to the contractor plan for $6 per month per person.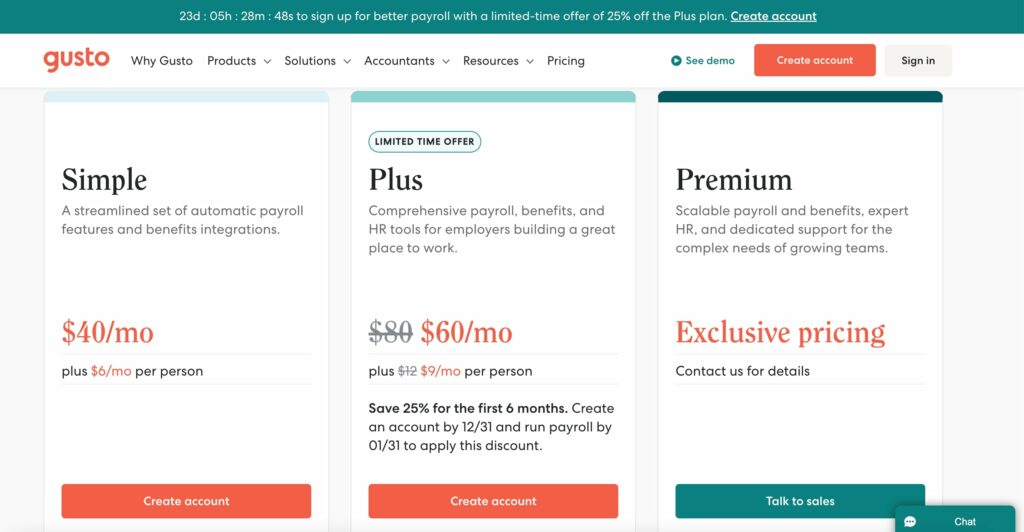 Simple
The simple plan charges $40/mo plus $6/month per person. It allows you to run payroll for employees in one state and offer employees access to financial and health benefits. The plan comes with self-service sign-up, ready-made offer letters, and document storage, and thus will help you hire new employees.
Plus
The Plus plan charges $60/month plus $9/month per person. It's suitable for companies with employees in different states. The plus plan offers all that the simple plan offers and more functionalities, including offer letters, org charts, and running payroll. You incur a cost of $8 per month per person to access HR priority support services.
Premium
The premium plan is ideal for organizations with large teams. The sales team will give you a custom quote price based on the number of employees you have. You can contact HR experts who will keep you updated with the changing laws and priority support when in need.
This plan also helps you unlock waived fees, a tax discount, and exclusive deals. When subscribing to this plan, the team at Gusto will handle the rollover of payroll data from your current system.
OnPay Pricing
Unlike Gusto, OnPay does not have a tiered plan. Its pricing model depends on a sliding scale and will depend on the number of employees in an organization. The standard cost is $40 per month plus $6 per employee.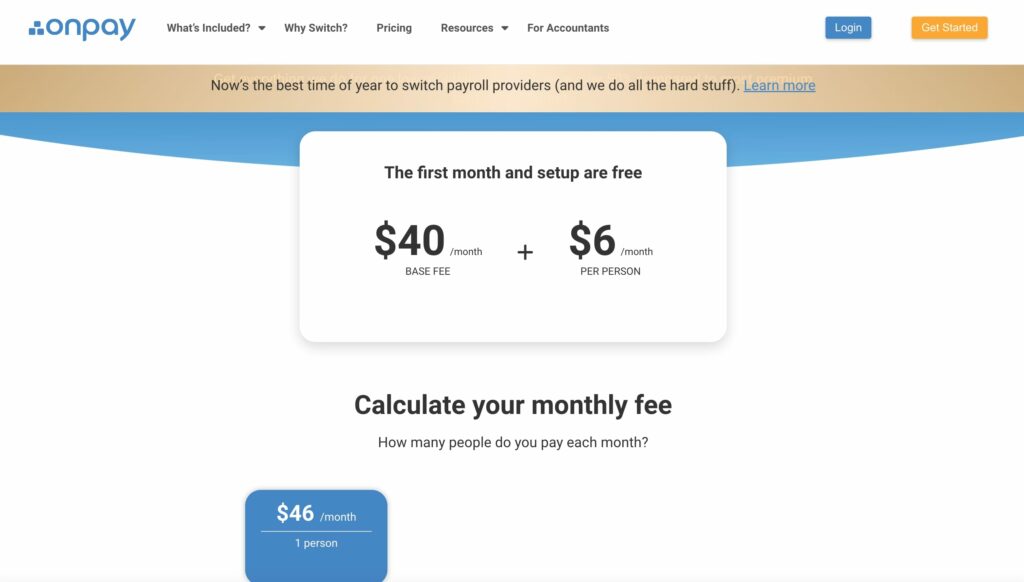 OnPay wins in pricing since it uses a single model. Its payment structure sees that an organization spends an amount relevant to the assistance they need from the software. Gusto requires you to upgrade the plan to obtain other features.
OnPay Wins in Pricing
If you prefer a company that offers flexibility regarding payments, Gusto might be the best solution for your small business. However, if you're looking for a company that offers an all-in-one service package, OnPay is the best. It provides Gusto's most premium features but at a lower price.
Related: Justworks vs. Gusto payroll: Which is Better?
Gusto vs. OnPay: Pros and Cons
When looking for the most fitting PEO for your business, it's good to consider what you stand to gain or lose.
Here's a list of the pros and cons of working with Gusto and OnPay.
OnPay Pros
Guaranteed tax compliance and automatic tax payments
Reliable, fast, and streamlined payroll process
Extended HR operations like time tracking, employee onboarding, and customer support
The ability to visualize employee productivity and workforce costs in real time
OnPay Cons
There is no mobile version of the software
Lack of an automatic payroll submission
Gusto Pros
It handles a large number of employee deductions automatically
It allows different payment methods, including a direct deposit to employees
It has a mobile application for faster access
Ability to run unlimited payroll runs and file taxes faster
Compliance in all states and over 80 countries globally
Gusto Cons
Customer service support is unavailable on weekends
It does not offer billing features
The mobile application does not allow business owners to run the payroll
The pricing strategy is not transparent, making it hard to assess the cost of the operation
OnPay vs. Gusto: Conclusion
Bottomline, OnPay, and Gusto are effective cloud-based software to help in payroll. However, it's good to consider their differences to determine the suitable option. OnPay is ideal for small and growing businesses, while Gusto is a better option for mid-sized and large enterprises.
In comparison, Gusto takes the lead. Regardless of your pricing package, you can access all essential services, such as unlimited payroll runs, tax filing, and direct deposits. Employees can also manage their health benefits.
Visit both company websites to find out what else they offer and which tool is most suitable for your small business.