Several software options are available for managing your human resources (HR) and payroll. Each hr and payroll software has its unique benefits and drawbacks, so it is important to research before deciding which one is right for you.
Cloud-based software for remote workers is one of the most popular HR and payroll options. While several different companies offer this type of software, two of the most well-known are Oyster and Remote.
This article will compare the market's two most popular hr and payroll options: Oyster vs. Remote. We'll look at the features of each product, what sets them apart, their pricing structure, and more.
By the end of this article, you'll have all the information you need to decide which option is right for you!
Oyster vs. Remote: Similarities
Oyster and Remote HR charge a $29 fee per contractor per month.
They offer PEO services such as global payments, tax document management, and integrations.
Both platforms are uniquely designed for remote workers and to manage global payroll.
They offer percentage discounts for Employer of Record services.
They offer tiered pricing plans.
Oyster vs. Remote HR: Differences
Remote HR offers $1,000 off employer of record services for unlimited hires for 12 months. Oyster HR does not have such an offer.
With Remote for Startups, you can get $1,000 offer Employer of Record services for unlimited hires for 12 months and 15% off Contractor Management services.
With Remote for Good, you can get $1,000 off Employer of Record services for unlimited hires for 12 months and 15% off Contractor Management services. In addition, you'll get unique co-marketing opportunities for registered nonprofits, charities, trusts, social enterprises, or benefit corporations with a mission to make a positive difference for social impact.
The added mid-market rate on Remote HR is 1%, while Oyster HR does not have for mid-market rate.
Remote HR pricing starts at $599 per employee per month, while Oyster charges between $499 and $699 per employee per month, depending on the selected country.
Remote HR requires payment for approved contractors, while Oyster requires payment after onboarding the first two contractors.
What is Oyster HR?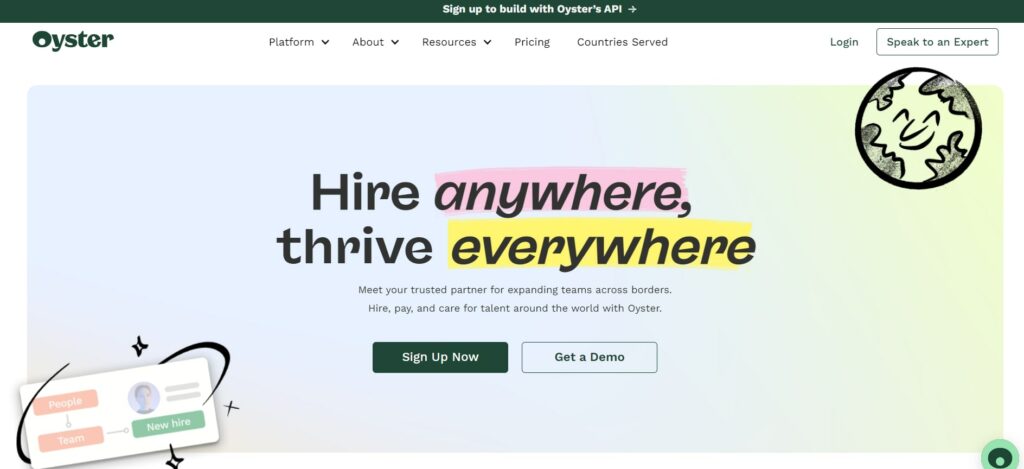 Oyster HR is a growing global sensation among global payroll vendors. It allows employers to hire top talent, remain compliant, and offer payroll and benefits to international workers.
The company works with remote workers from over 30 countries and 5 continents. This means the management understands companies' struggles when working with remote workers.
It has designed a system to help businesses streamline their remote worker hiring processes and find top benefits, salaries, and features to attract top talent.
Oyster Key Features
Oyster HR features include:
Global Employment tools to seamlessly onboard new full-time employees and contractors
Global Contractor tools include contract drafting, e-signing, and IP protection
Global Pay services include expense reimbursements, performance bonuses, and ad-hoc payments
Localized benefits that include dental, vision, and health extended coverage, time off, and perks
Who is Oyster for?
Oyster is most suitable for organizations that want to create a remote workforce team. Companies that want the best talent worldwide can use Oyster HR to extend their reach to 180 countries. It also manages invoices, reimbursements, and salaries in local currencies.
What is Remote HR?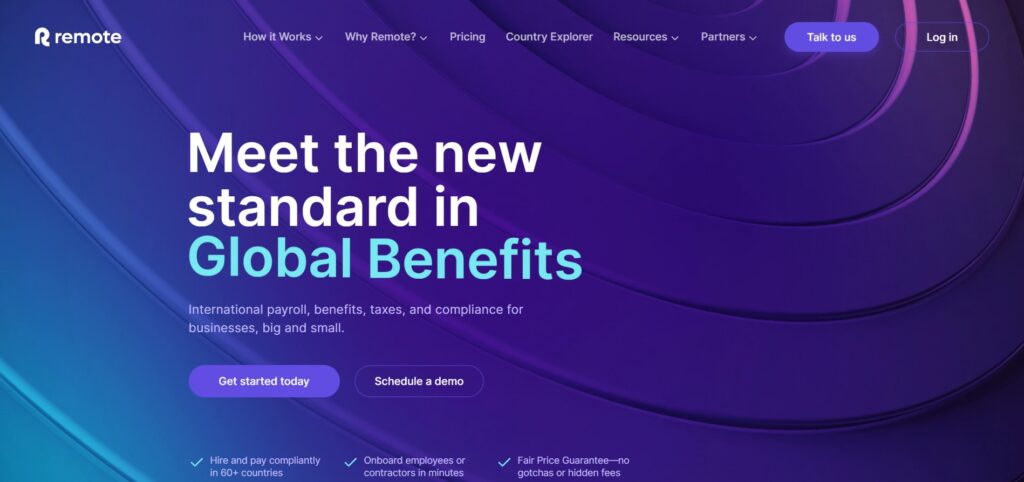 Remote HR is a globally distributed HR and payroll provider that supports payroll in over 170 countries.
The company offers payroll processing, salary simulations, employee onboarding, benefits management, and key administrative task management. It helps you take care of most complexities of hiring and paying a distributed team.
Remote HR provides Employer of Record services like managing paid time off, local unemployment taxes, compliance, and tax regulations in all countries. It also helps you onboard new hires, administer benefits, and process payments at no extra cost.
Remote Key Features
Remote can help you with generating tax forms for contractors and drafting contracts
The company deals with benefits management, handling payroll, and making deductions
It provides visa guidance and sponsorship, local immigration and tax guidance, insurance, and cross-cultural training
You could get consultation and guidance on making short-term and long-term employee moves, important tax laws, and employment regulations
Who is Remote for?
Remote HR is most suitable for businesses that need to pay international workers. The company has a standalone payroll that can streamline your payments. It can also help you manage local taxes and offer salaries in multiple currencies. 
You can get 14% OFF Remote Annual Plans – $599/month.
Oyster HR vs. Remote HR Services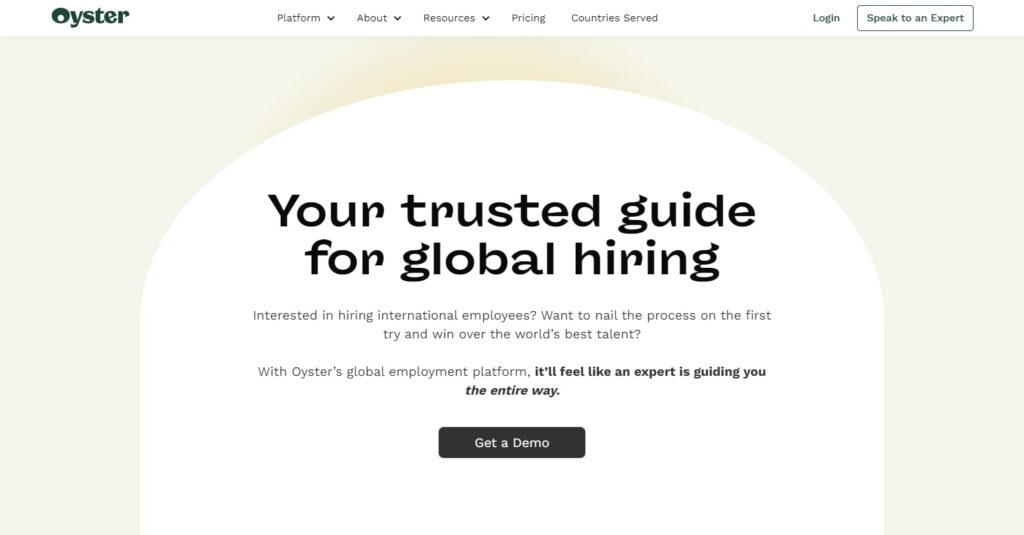 Both Oyster HR and Remote HR help you manage remote workers globally. However, Remote owns legal entities in several countries in over 170 countries, making your work of taking care of employees and contractors easier.
Here's a comparison of both HR service providers:
Self-onboarding
Remote HR allows employees to self-onboard, creating their accounts on the platform within minutes. However, implementing the software will depend on your team's structure and countries of operation – the more employees you have, the more time it might take to implement the system. Nevertheless, the system is intuitive and easy to use.
Oyster HR requires you to start by browsing a list of countries where the company operates before you start hiring. If you find contractors living in that country, you can hire them as contractors or salaried employees. You can also use a worker classification analyzer to determine which hire is best for you.
Employee Benefits
Oyster provides quality coverage for small, medium, and large enterprises. The company works with healthcare insurers to provide the most robust plans and coverage. Other benefits from Oyster HR include time off compensation, dental, vision, and health insurance.
Remote HR provides employees with dental, vision, medical, and life insurance, paid holidays, 401(k), pension schemes, and other curated local plans. They try to offer benefits that can help you attract and retain the best talent in every country where you hire.
Verdict: Remote wins in HR Services
Remote is more open about its benefits plans, and since it owns most local legal agencies in respective countries, it's more efficient in HR management.
Oyster Payroll vs. Remote Payroll Services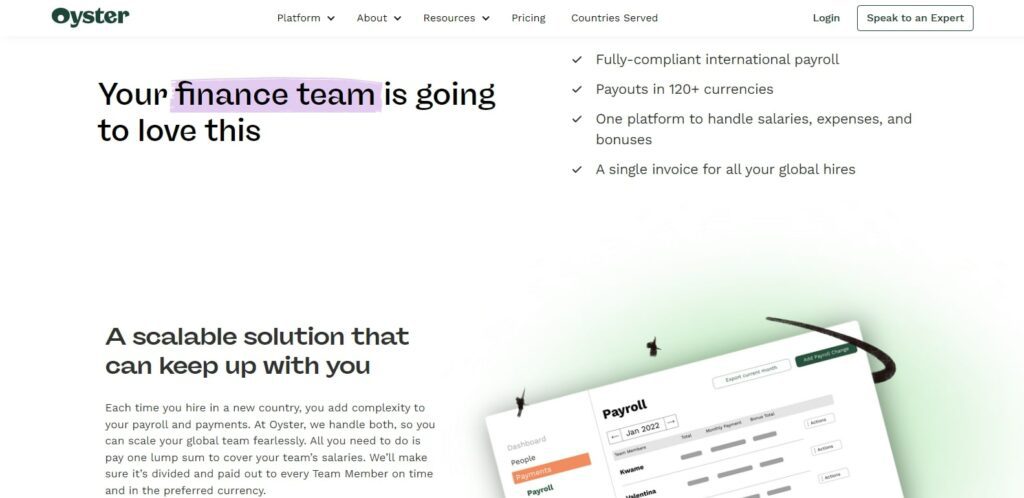 Remote HR has an internal payment system that allows you to handle payroll in many countries. It manages payments and employment taxes in select countries and can offer bonuses and incentives for international staff.
Oyster HR allows cross-border payroll administration with minimal paperwork and expenses. You can manage invoices for all team members from a unified location and automatically make local deductions, taxes, and contributions to ensure international compliance.
Verdict: Oyster wins in Payroll Services
While both companies offer exceptional services, Oyster offers payroll services in more countries, making it more favorable for companies looking for borderless workers. You can manage payroll, generate reports, and promptly deliver compliant payments.
Remote vs. Oyster: Integrations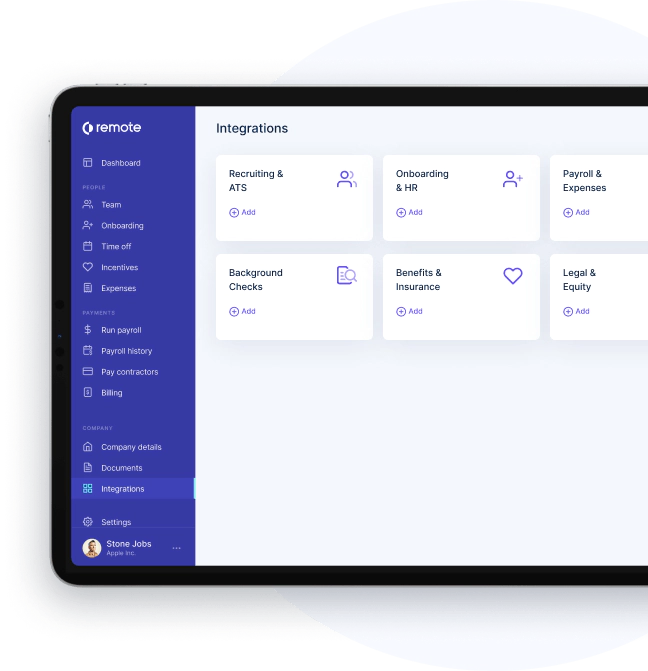 Remote HR enables advanced integration to help you unify your data and workflow automation. The top tools you can integrate into the system include Stripe, BambooHR, AngelList, Talent, and Greenhouse. It can also integrate with other tools like HRIS, expense management, ERP, and time and attendance tools.
Oyster also integrates nicely with other tools to help you eliminate manual work, errors, and disorganized workflow. It features tools like Xero, QuickBooks Online, BambooHR HRIS, Workday, and Expensify. They also have other HR information systems, applicant tracking, accounting, and expense management systems.
Verdict: Remote HR Wins in Integrations
Both platforms offer extensive integration services. Remote HR claims to offer free integration to customers, and you can connect as many integrations as you desire on your account. The system allows you to log into your account with one secure password with various SAML SSO integrations.
Oyster vs. Remote: Customer Support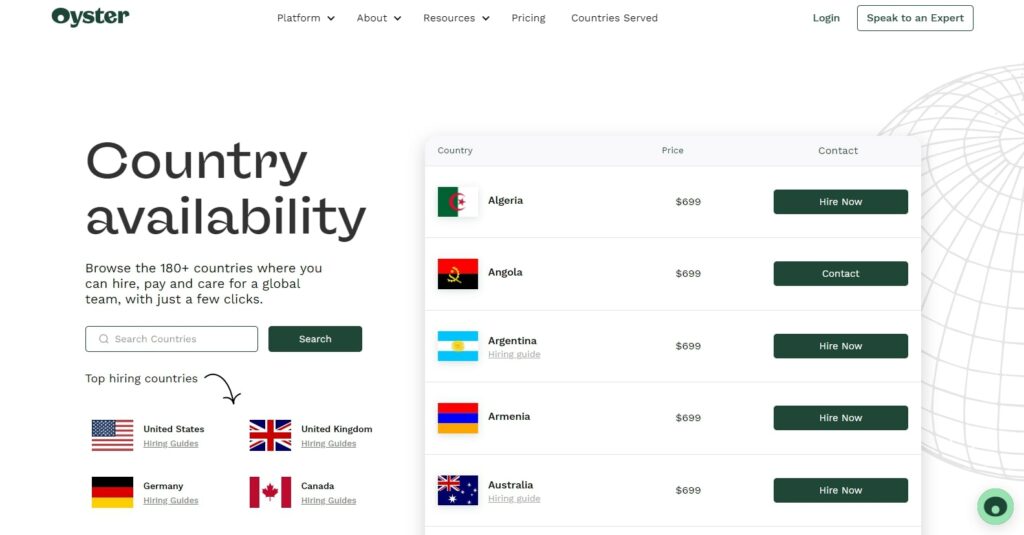 Remote HR offers personalized support throughout the week. The company's dedicated team will work closely with you to know your team to offer the best services. You can contact the team through live chat or email. Since Remote HR uses AWS for storage, it inherits most data security features from the platform.
Oyster offers various guidance tools, including guides, training materials, blogs, podcasts, and live support. You can contact the company's customer support via mobile. Also, reach out to the support team via mobile app or live chat on the official website.
Remote Wins in Customer Support
Remote HR provides 24/7 customer support making it the most reliable remote worker HR and payment management solution. You also get consulting services, where you learn essential skills to take care of your team.
Oyster vs. Remote: Pricing
When considering the best payroll and HR service provider for your company, it's good to compare a platform's prices versus the services rendered.
Oyster Pricing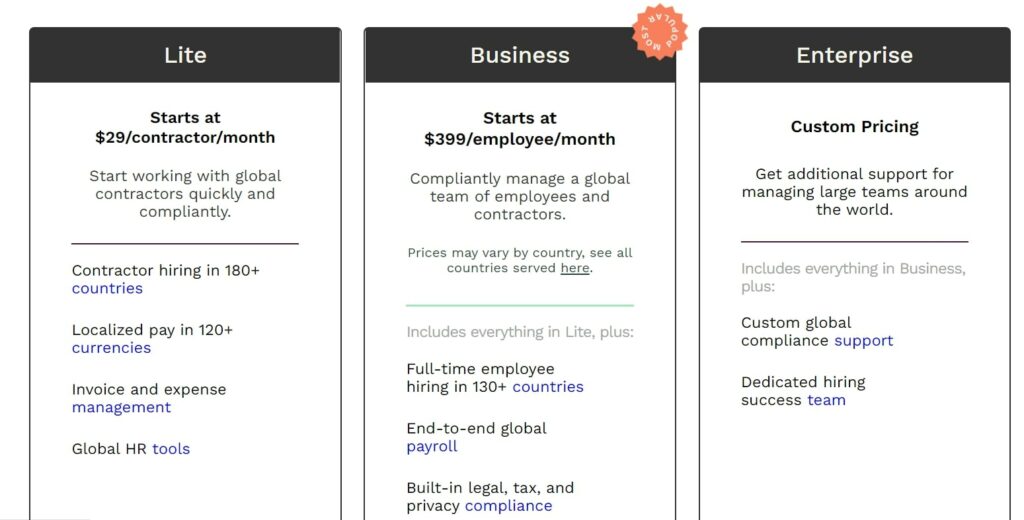 Oyster allows you to hire people while it manages their records and HR affairs. You can start with two contractors for free. Its pricing structure is as follows:
Contractors Plan costs $29 per employee per month
The Business Plan costs $399 to $699 per employee per month
Enterprise Plan comes at a custom pricing
Remote Pricing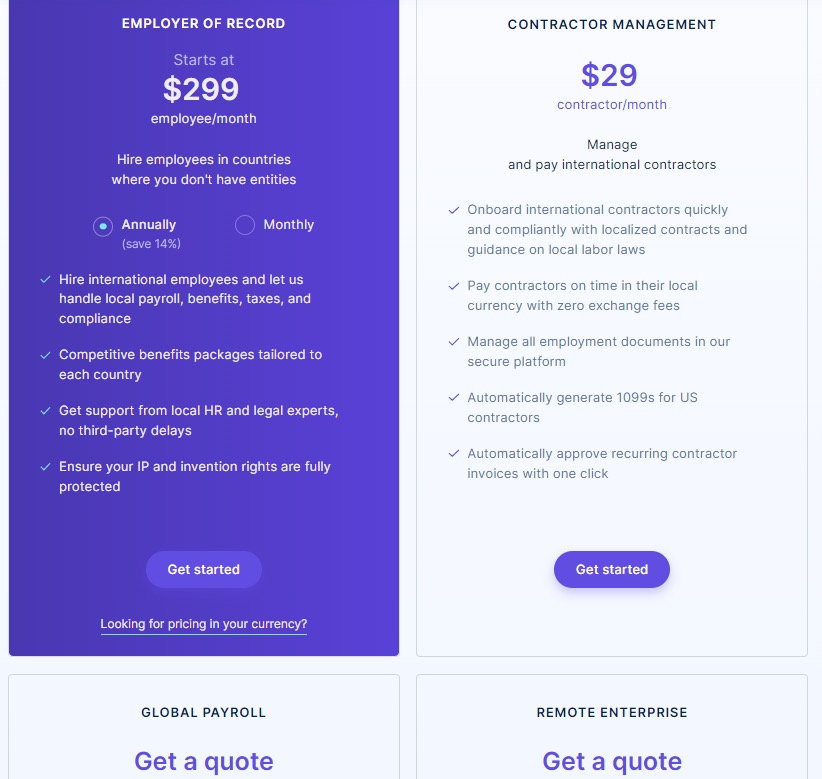 Remote HR offers four pricing plans: Contractors, Global Employment, Payroll & Benefits, and Global Employment Plus. The Contractors plan lets you manage global contract workers for free, and you only pay for processing fees. The Global Employment plan starts at $299 per employee per month. The other two pricing plans require custom pricing.
Oyster wins in Pricing
Oyster offers a more flexible pricing structure, allowing you to budget yourself accordingly as your business grows.
Oyster vs. Remote: Conclusion
Remote and oyster human resources are resourceful and efficient in dealing with international workers. Deciding between the two can be challenging. Hence, consider your business needs before making a decision on your PEO.
Remote is most suitable for you if you want a comprehensive package with taxes, payroll, HR services, and Employer of Record services. Oyster is a fitting solution for medium-sized businesses that want to deal with few remote workers.
To find out which option is most suitable for you, visit the official websites to find other useful services they offer.