Businesses look for a quality professional employer organization (PEO) provider for benefits such as improved efficiency and communication.
Administrative HR tasks can take more than 80 hours per year, while the average hiring process can take more than 30 days. So, getting a PEO service provider can buy small business owners more time to focus on development.
Suppose you are a business owner considering a professional employer organization (PEO) to provide hr solutions, benefits, and more services for your company. In that case, you may be confused about which one to choose, as there are more than 900 PEOs in the US.
Rippling PEO is a company that offers high-quality hr management and employee benefit solutions at affordable prices. It has been operating since 2016 and has several offices throughout the United States.
In this Rippling PEO review, we'll look at some of the company's services and the benefits it provides to clients. We'll discuss the pros and cons of using a PEO service for your business and provide information about alternatives you may want to consider.
What is Rippling PEO Services?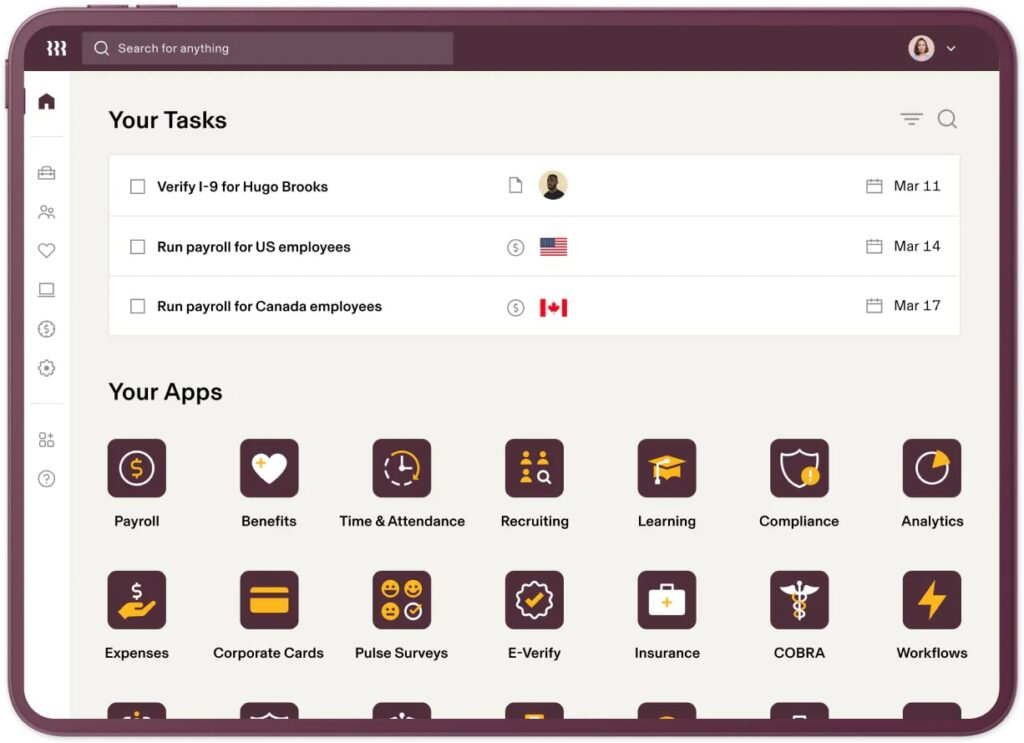 Rippling is a full-service PEO solutions provider that acts as an employee management system. The cloud-based PEO platform has an icon interface and smooth onboarding features, making it stand out from competitors.
The company prides itself on having a self-service portal where you can manage all your people operations in one place. You don't need external software to manage Onboarding, offboarding, or workflow automation.
Rippling's intuitive platform includes paperless offer letters, employee handbooks, severance, e-Signatures, and task assigning. It excels in its ability to scale with a business.
The system features a centralized information hub and practical tools to help businesses grow. Budding decentralized businesses can use it to enhance remote employee management.
Powerful Automation
Rippling | Workforce Management Platform
Rippling is a comprehensive human resources management software that streamlines HR processes and automates administrative tasks. It offers a range of features including employee onboarding, payroll management, benefits administration, time and attendance tracking, performance management, and compliance management. With Rippling, businesses can easily manage their workforce, track employee data, and ensure compliance with labor laws and regulations. The software is user-friendly and customizable, allowing businesses to tailor it to their specific needs. Overall, Rippling is a powerful tool that simplifies HR management and helps businesses save time and resources.
Pros:
Streamlined HR processes: Rippling offers a comprehensive HR platform that automates many HR processes, including onboarding, payroll, benefits administration, and compliance.

Easy-to-use interface: Rippling has a user-friendly interface that is easy to navigate, even for non-technical users.

Integrated payroll: Rippling includes a payroll module that is fully integrated with other HR functions.

Customizable workflows: Rippling allows HR teams to create custom workflows for different HR processes, such as onboarding or performance management. This can help to ensure that processes are tailored to the specific needs of the organization.

Compliance support: Rippling includes compliance support for a range of HR regulations, including tax and labor laws.

Employee self-service: Rippling includes an employee self-service portal that allows employees to access their HR information, such as pay stubs and benefits information.

Rippling PEO Key Features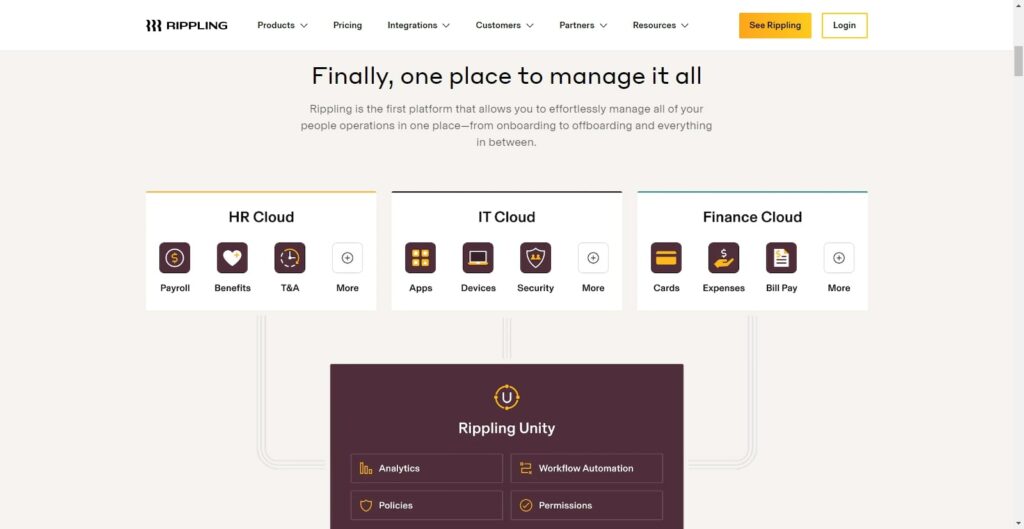 Rippling ranks high among other PEOs for its flexibility, robust features, and seamless Onboarding. It also features on-demand support services.
The company provides the top components you need to manage remote employees. For instance, you can use applicant tracking and automated Onboarding to find top talents and rely on payroll processing to comply with various tax laws.
Rippling features include global workforce management, policy management, employee management, time and attendance tracking, device management, payroll services, and expense management.
These are categorized into:
Human Resources services
Tax and payroll management
Benefits administration
Risk management and compliance
Employee training
HR Services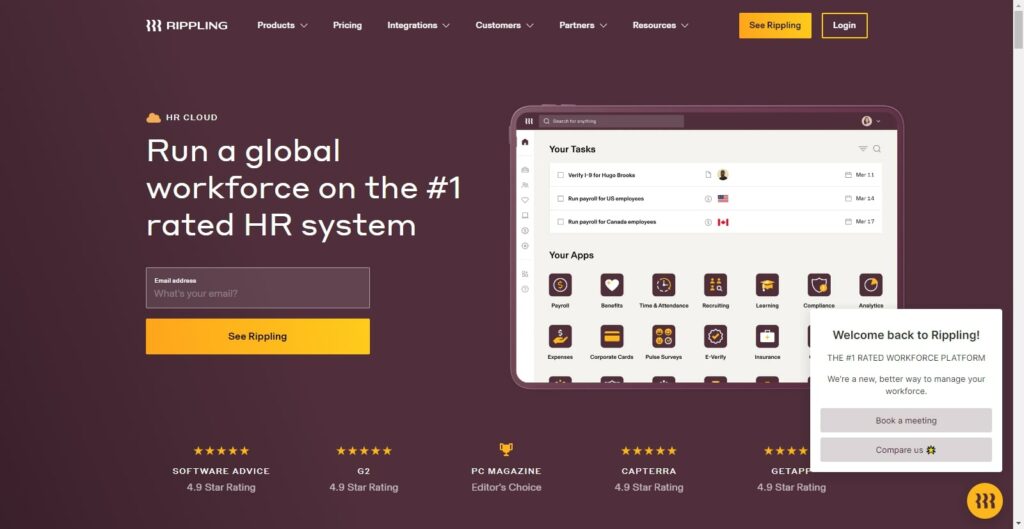 Rippling stands out for having more advanced HR services than most top PEOs. It provides basic HR tools like recruiting and employee retention and advanced services like a unified employee management platform, custom reports, electronic document management, and alerts.
Using the platform, you can track applications, run background checks, and send offer letters.
The system creates a single record for each employee, centralizing information like personal details, signed documents, basic payroll, and insurance records. This can allow franchisees and international businesses to access all employee data from one platform.
One key feature that differentiates Rippling HR from other PEOs is the customizable workflows. This tool helps you automate the hiring and Onboarding of employees, saving you the time and money it takes to prospect for and recruit a new employee.
Payroll and Tax Management features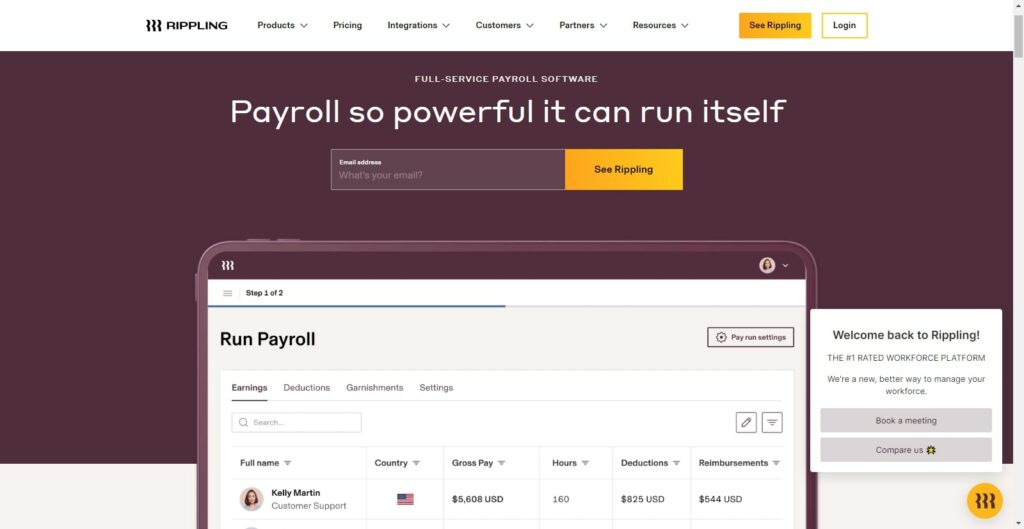 If you have employees in multiple states, you'll contribute to State Unemployment Tax Act (SUTA) and Federal Unemployment Tax Act (FUTA) to help with unemployment benefits. This can be pretty challenging to do manually.
Rippling payroll is renowned for providing localized tax registration services. You can rely on this feature to manage taxes in multiple states. It calculates payroll information automatically, allowing you to process payroll quickly in all 50 states.
The system also supports time and attendance tracking, wage garnishments, deductions, tax form creation, reimbursements, and direct deposits. Employees can clock in and out, record the hours worked, and request time off. Rippling claims to enable managers to run payroll in less than 6 minutes.
Risk and Compliance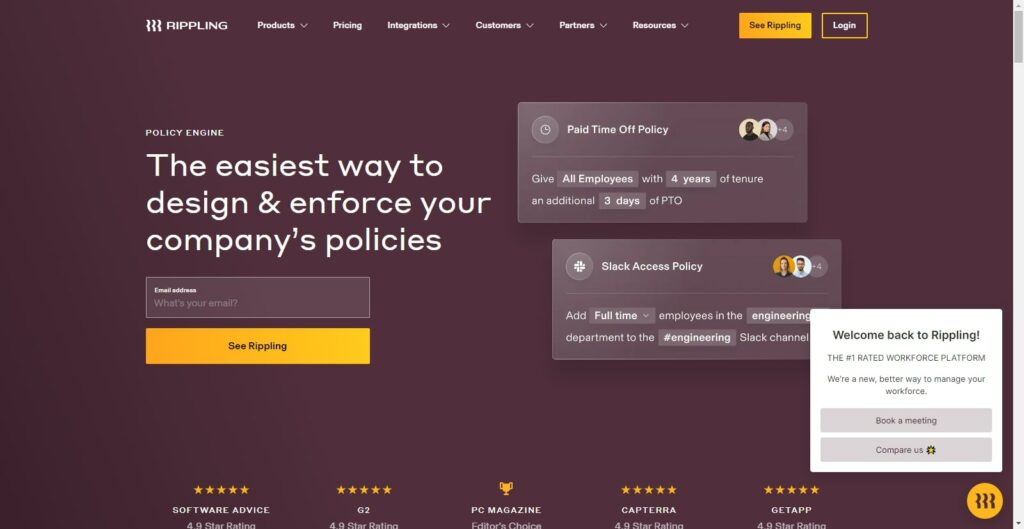 Rippling's Compliance Team ensures that your company complies with various state regulations. It provides automatic state and local tax registrations, workplace posters, Affordable Care Act, and COBRA documentation.
The company claims to work with industry and legal experts to provide a cutting-edge compliance infrastructure. You approve the third-party apps that employees can view on the platform.
In addition to performing independent product testing, Rippling's internal team will provide annual AML and risk training to all employees working on payment-related products. This includes team training on specific risks that come with job functions.
Employee Benefits Administration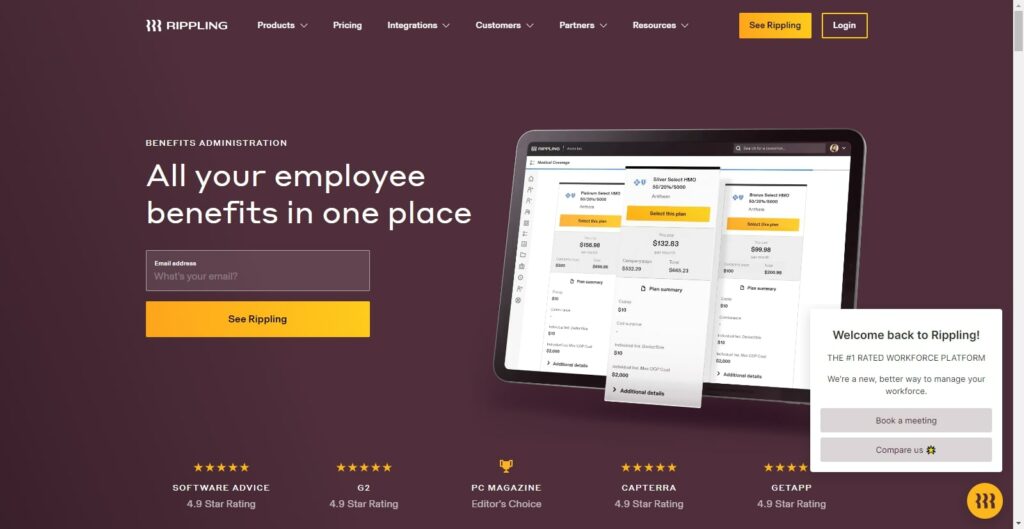 Rippling also provides access to enterprise-level benefits to small and midsize businesses. These include dental, visual, and health insurance, commuter benefits, Health Savings Accounts (HSAs), Flexible Spending Accounts (FSAs), and retirement savings plans.
Company benefits are accessible on one platform. The employee self-service program allows workers to choose different plans from top brands. They can review information, make changes, and cancel plans anytime. This platform is accessible through mobile or desktop apps.
Employee Management and Training Resources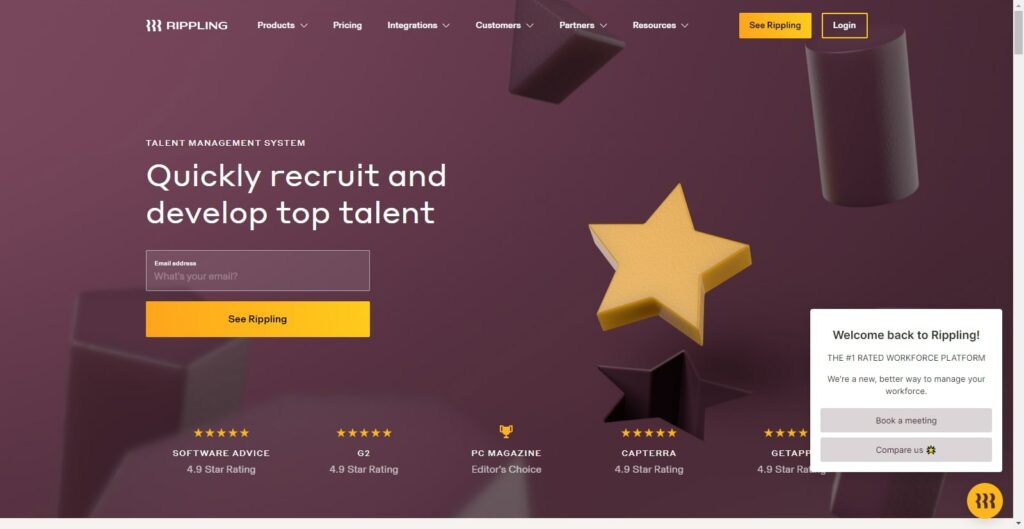 Rippling prides itself on automating most job functions through the onboarding process. It provides hundreds of training tools and career development courses to help your employees onboard quicker.
You can give employees access to pre-built training courses or create custom courses based on their needs. There are several learning management systems integrated into the platform.
In addition, employees can collaborate on projects and communicate more effectively using a centralized portal. This tool is important for sharing special events and information like work anniversaries, employee hours, or upcoming birthdays.
Rippling PEO Pricing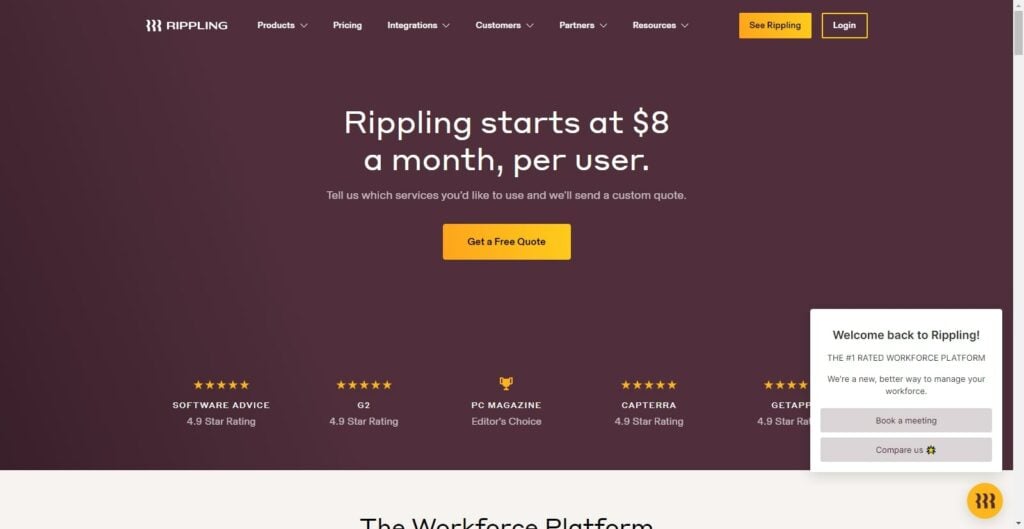 Rippling charges a fixed administrative rate for accessing the Work Management Platform. The exact rate for full HR service will depend on your company size, the number of employees, and the services you need. Therefore, like most competitors, Rippling requires you to contact support for a custom quote.
Unlike most PEOs, Rippling offers a 30-minute product demo with expert Q&As. It also offers a pay-as-you-go payment model for payroll management, which can be great for teams that differ in size. It allows you to predict costs accurately instead of watching your price change with payroll percentage per month.
Here are Rippling's listed pricing tiers:
Base: Rippling payroll services start at $8 per user per month. This provides basic support and a platform with management features.
Custom Quote: Rippling offers extra HR support from experts. You can contact them for a custom quote that's usually per user per month.
Rippling Onboarding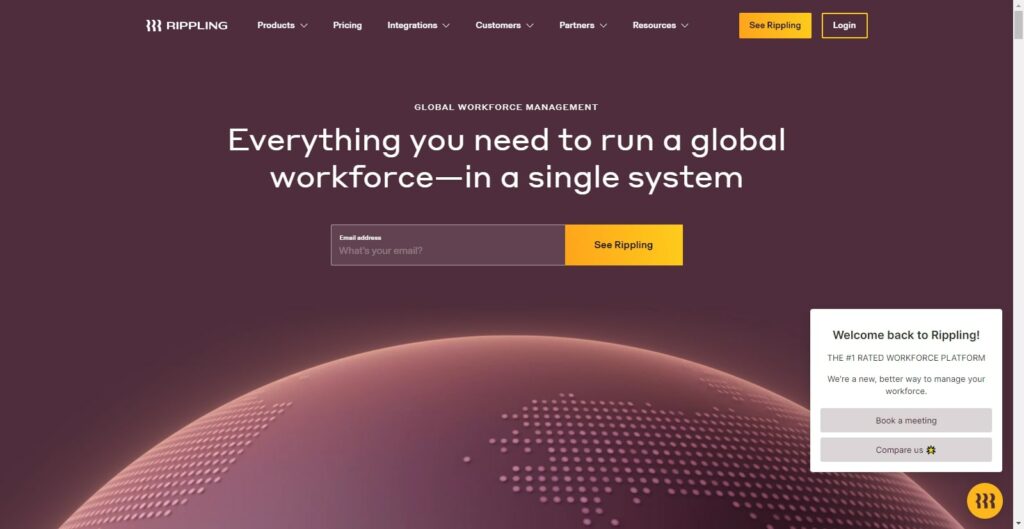 Rippling is renowned for its ease of usability, scalability, and tech innovation. It focuses on workflow automation and getting new employees to the system fast and easily.
Partnering with the company is also easy. You just need to contact the support team to start your onboarding process. After you request a live demo, a PEO solution HR expert will contact you immediately.
Once onboard, you can import employee information to onboard them on the platform and automate workflows to get team members up to speed. Workers don't require expansive training to use Rippling.
After Onboarding your employees, you can integrate additional apps on the platform, like Google Workspace, Slack, Dropbox, Vanta, 1Password, Carta, MainStreet, and NetSuite. This means employees will have a unified user experience.
Rippling Customer Support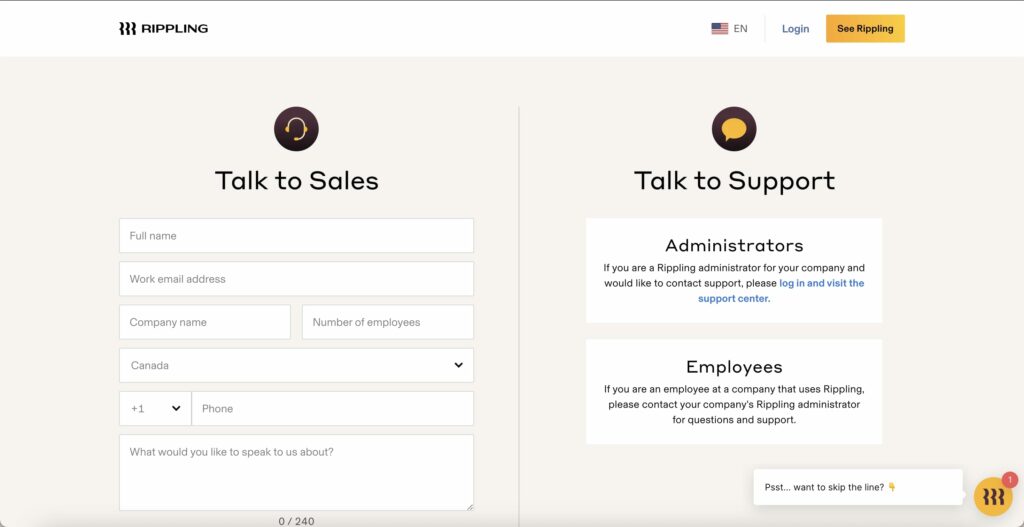 Rippling's customer service competes with most top PEOs. During the onboarding process, for instance, you'll work with a designated HR expert through mobile or email to smoothen the process.
After Onboarding, you can contact support via email or chat. The system integrates a real-time support status on its website. This informs you how long Rippling's HR team normally takes to respond, resolve issues and give immediate support.
Rippling also has self-help tools like a help center, templates for forms and reports, and a blog platform. However, if you want one-on-one support from certified HR experts, you can integrate the HR Help Desk feature on your plan for an extra monthly fee.
Pros of Rippling PEO Services
Rippling's features make it an ideal PEO for growing businesses. Developing workflows and automating HR processes allows business owners to add new employees within minutes and streamline the hiring process.
The platform syncs well with other tools, so you can add or remove features as you desire, creating the right HR solution for your business. In addition, if you opt-out of their services, you won't lose your data; all your company and employees' data is stored securely on their database.
Other major benefits of using Rippling include:
Automated Processes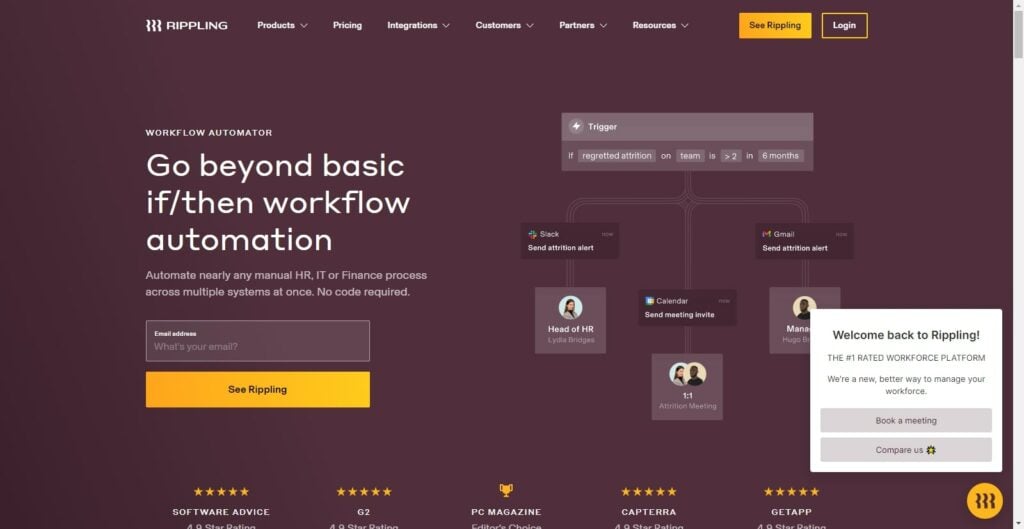 In addition to customized hiring workflows, Rippling automates most payroll software functions. So, you never have to calculate or enter data manually when paying employees.
The system helps you account for work hours, salaries, time off, and tax rules. You also see the minimum wage for each employee depending on their location and state rules.
You can also automatically add new employees to apps they need to perform their duties, depending on their department, roles, and desires.
For example, if your managers need Slack, Google WorkPlace, and Trello, they don't need to register for individual accounts on each tool. You can create accounts for them and remove them when offboarding.
Unified Platform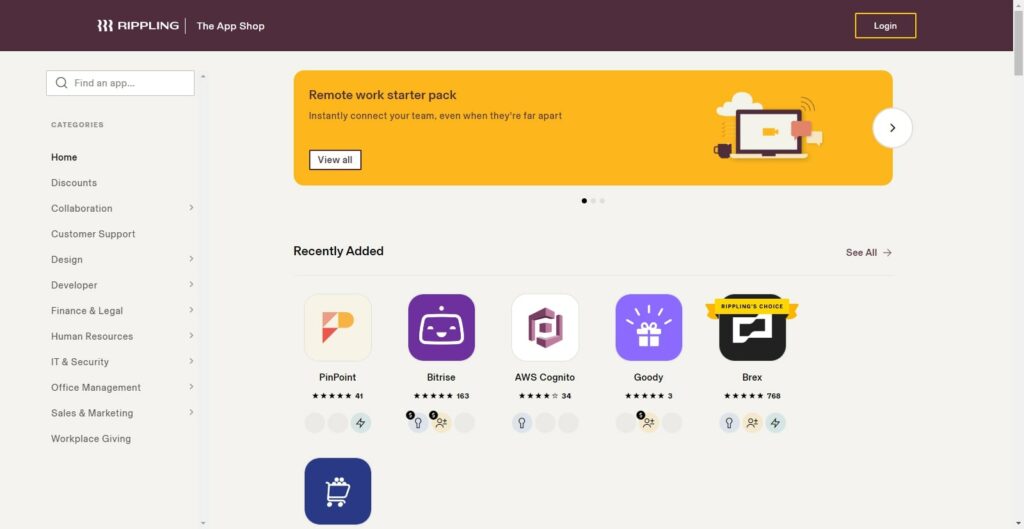 Rippling makes it easy for employees to perform their duties on one platform. For instance, after giving employees access to apps they need, they have one-click access to all apps from the dashboard.
The platform's seamless integration capabilities allow you to connect with the employees, even when they're working remotely.
It contains over 500 integration tools ranging from:
Collaboration
Support
Development
Design
HR
Office management
Sales and marketing
IT and security tools.
Recruits can view and sign their offer letters on the platform and choose desired settings, benefits, and devices fast without using another platform.
Learning Management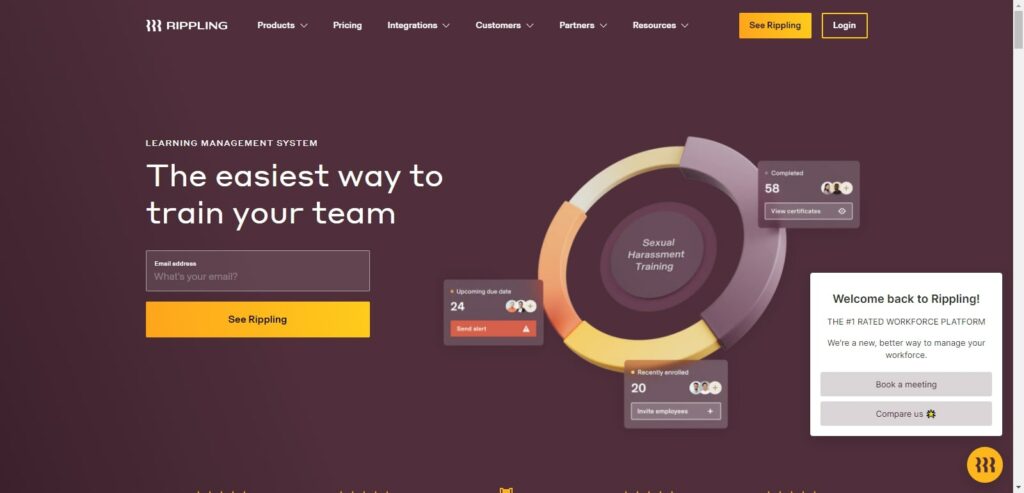 Rippling rivals many PEOs by providing top-quality talent management resources. It claims to offer the power to find, develop, and engage top talent within the platform. The system focuses on recruitment, Onboarding, learning management, and engagement.
When looking for top talent, you can post job openings on every job board you want with one click. You'll set up the recruitment process, interview stages, approval flows, and alerts. You can build reports on applicant skills you want to analyze.
Your employees will have access to hundreds of pre-made courses, and you can upload bespoke courses on the system. This can help advance their careers and better understand your company culture.
You can also keep employees up to date with compliance training, from sexual harassment to cybersecurity.
To help you centralize resources and keep your employees updated, Rippling offers an employee engagement program where they can comment and post new forums for team review.
Advanced Benefits Administration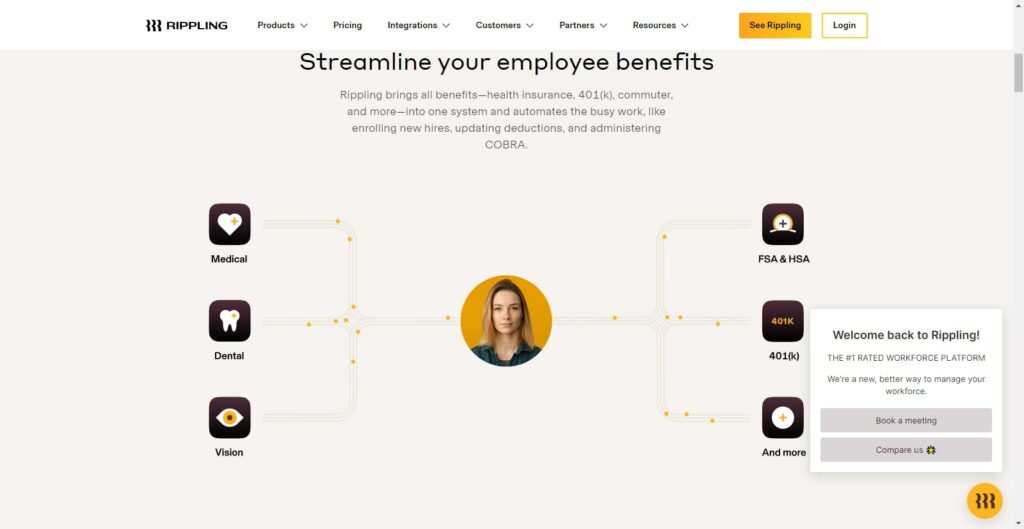 Like most top PEOs with a self-service platform, Rippling allows employees to streamline their benefits on one outlet. In addition to core features, it has health insurance plans, 401(k), commuter, and more.
Employees can shop for benefits in minutes and compare quotes and plans from over 4000 pricing plans from nationwide brands like Blue Cross Blue Shield, Aetna, and Humana.
Rippling invites employees to benefits plans immediately after they onboard. They can also keep their existing plans and pricing if they were already subscribed to other benefit providers.
Global Workforce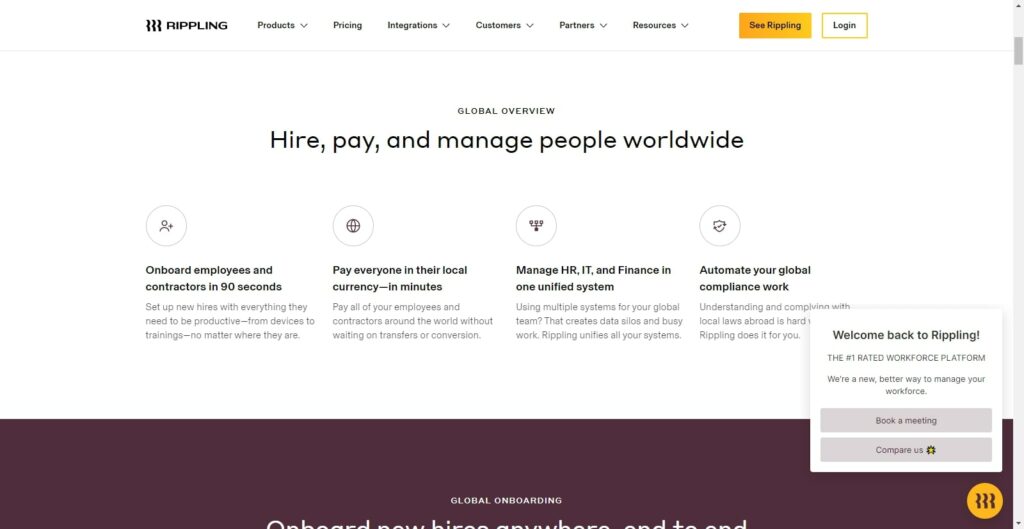 If you manage a global workforce, you might struggle to find a system that can pay employees in their local currencies, onboard them to your workflow, or follow up on their work progress.
Using Rippling, you can onboard employees and contractors in minutes with every tool they need to be more productive. You don't have to wait for transfers or conversions to run payroll payments to global workers.
You can also run payroll faster as the system handles deductions, human resources data, and global taxes. It automates every process, so you only need to confirm the payment and other details.
Rippling PEO also supports direct deposit.
Cons of Rippling PEO Services
Although Rippling provides state-of-the-art workflow management tools, it lags in providing HR expert support. You don't get free support for HR support.
They claim to be transparent regarding their pricing model, but you must contact support to get a full-price quote.
This might not be ideal for people who're just comparing prices and don't want to make commitments. The platform also does not offer a free trial.
Here are other cons of working with Rippling PEO:
Lacks Proper Accreditation
Rippling is a top-ranking PEO that promises compliance to small and large enterprises. Yet it isn't accredited by the Better Business Bureau (BBB.)
Their website also lacks records to show whether they're accredited by the Employer Sevices Assurance Corporation (ESAC) or approved by the Internal Revenue Service (IRS.) Despite this, many businesses trust their services and love that their platform is intuitive and easy to use.
Extra Fees For HR Support
Rippling does not provide an expert HR help desk in the normal packages. You have to pay extra for these services.
Top PEO alternatives offer HR consultation and customer support without an extra fee. You might decide to work with Rippling if your industry does not have many regulations that may require you to seek expert HR support more often.
Rippling Alternatives and Competitors
Before making a buying decision, review other PEO alternatives to see what they can offer. Some PEO service providers might offer a demo or free trial that you can use to gauge their services.
Rippling competitors you might consider include ADP Workforce, Namely, Gusto, TriNet, JustWorks, TriNet, and Insperity.
Here's an overview of the top Rippling alternatives you might consider during your search:
Gusto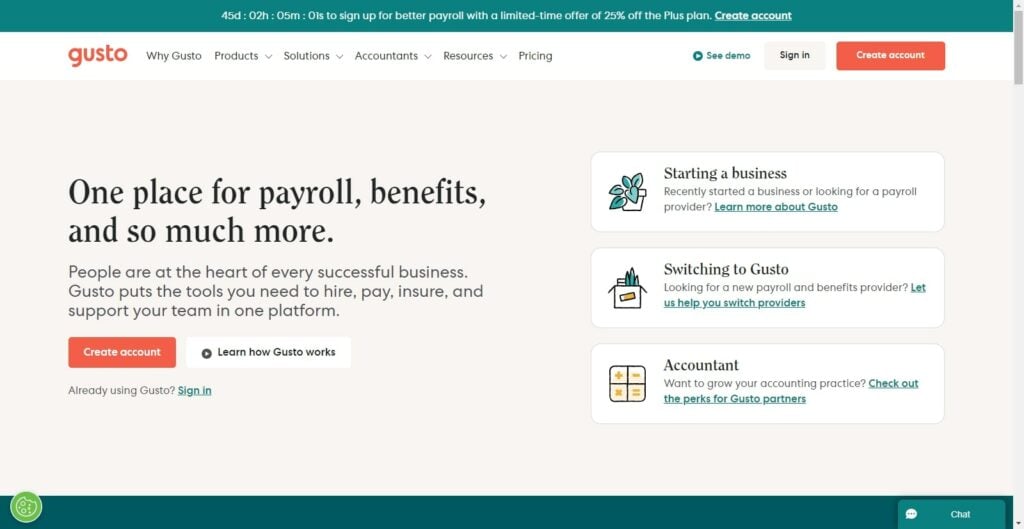 Gusto is an online HR platform that helps small to midsize business owners take care of payroll, HR services, and benefits. It claims to support your hiring, payment, insurance, and support in one platform.
The system provides payroll benefits, HR support, time and attendance records, hiring and Onboarding, talent management, worker's compensation, and advanced integrations.
It automates most payroll processes, filing your taxes, helping with compliance, and identifying tax credits that can help you save money. They have benefits such as medical, dental, life, and vision insurance, HSA and FSA, 401(k), workers' comp, and 529.
Rippling vs. Gusto
While Gusto can be appealing at first due to its low pricing plans, Rippling offers full-service, user-friendly, and more useful integrations to help streamline your workflow.
Gusto focuses on human resource services, benefits, and payroll, while Rippling focuses on payroll and time tracking. Rippling automates data entry and calculations required when making payments.
Rippling generally wins in employee onboarding, payroll, direct deposit, and app integrations. However, Gusto has a 30-day free trial, while Rippling only gives you a 30-minute demo.
Check out the comparison between Gusto vs. Justworks here
ADP Totalsource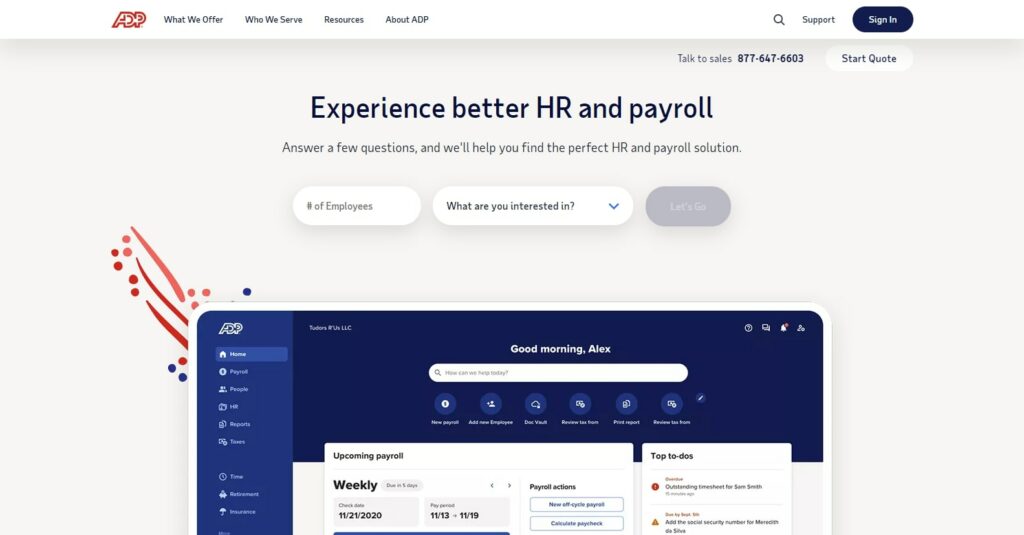 ADP Totalsource is a PEO service provider that prides itself on having high-star ratings from customers on review platforms. It provides seamless administration and fortune-500 caliber benefits and can serve small to large businesses with 1 – 1000+ employees.
The company is IRS-certified and provides expert support from HR professionals. Its intuitive platform allows you to focus on other small business needs while HR professionals take care of benefits, payroll, hiring, and compliance.
ADP Totalsource claims to offer one-on-one guidance, helping with day-to-day tasks like compliance, employee turnover, and HR goal strategizing.
Other services include tax, time and attendance, workplace consulting, investigation teams for harassment and discrimination concerns, and workers' compensation.
ADP Totalsource vs. Rippling
ADP Totalsource and Rippling compete vigorously regarding automation and time tracking. ADP Totalsource claims it can reduce your manual work, payroll errors, and the time it takes handle payments.
Both PEOs provide industry-specific HR support, but you have to pay extra for Rippling expert support. They're also not transparent regarding their pricing plans, and you have to contact support for a demo and pricing.
Rippling wins in workflow management since it can include non-US-based users in payroll and the workplace. It automates most functions allowing you to hire, recruit, and onboard employees on different integration apps with a click of a button.
Paychex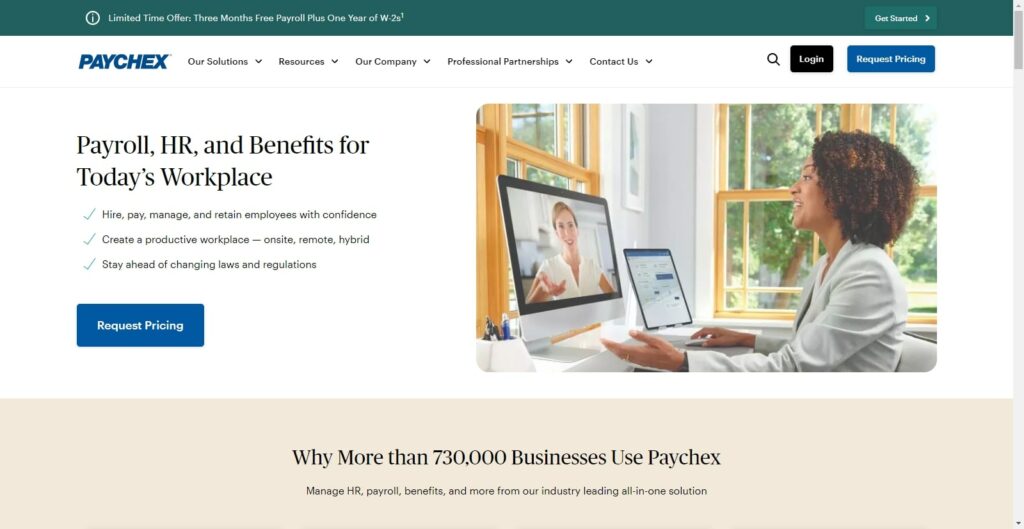 Paychex is an HR solutions provider for outsourcing HR services, payroll processing, and benefits outsourcing. It mainly focuses on small to midsize businesses that need simplicity and fast Onboarding.
The company claims it has a client base of over 730,000 businesses. It's most suitable for businesses with 1 – 1000+ employees and those that want to scale slowly as they grow.
Paychex primarily focuses on automating payments, helping you to onboard employees faster, monitoring their work progress, and providing employee benefits from top brands.
Paychex vs. Rippling
Paychex and Rippling provide tax, compliance, and payroll service support. Rippling is best for small and midsize companies needing strong employee and payroll processing, while Paychex is best for companies needing to scale payroll and HR services.
While Paychex integrates nicely with other products from the same company, Rippling wins regarding seamless integration. It features hundreds of integration apps, and you can automatically add and remove user accounts with one button click.
Insperity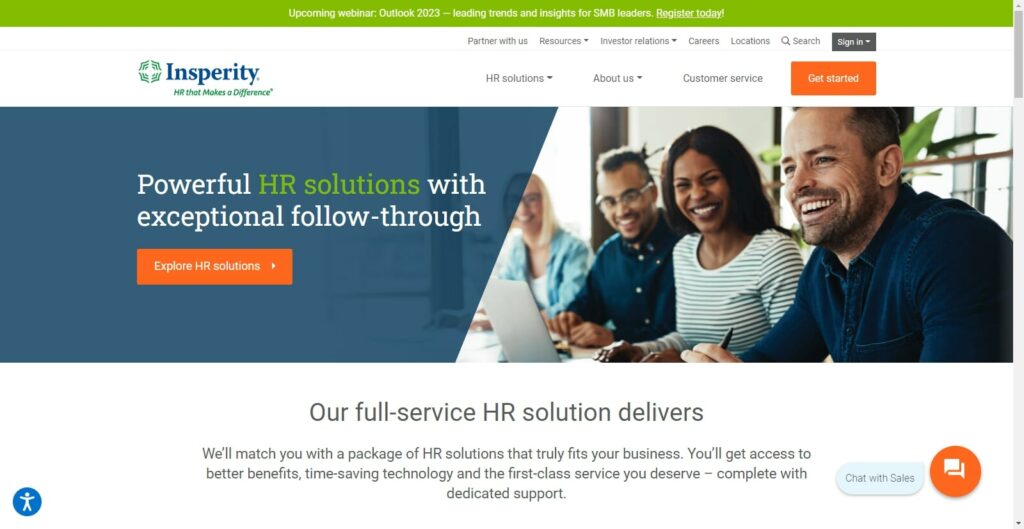 Insperity PEO focuses on improving business operations and HR services. It provides features like HR software, employee benefits administration, payroll management, and risk mitigation.
The company's HR services are highly recommended since they offer personalized service based on your business location and size. Like Rippling, Insperity charges per employee per month, meaning your costs only increase when you onboard new workers.
Insperity's major product is risk and compliance. The company is ESAC and BBB accredited, and IRS certified. With a dedicated team of HR experts, you'll know when laws change and how they can affect your business.
Insperity vs. Rippling
Insperity beats Rippling in training resources and HR services. The company has over 5,000 online courses, while Rippling has a few hundred. Insperity also does not charge extra for HR support.
Rippling beats Insperity in payroll management. Although Insperity has over 90 offices in the US, Rippling payroll management supports international payments, giving it an edge over its PEO competitors.
Rippling Reviews: Conclusion
After the pandemic, business owners knew they needed tools that could help them collaborate and manage their workflow remotely.
Rippling PEO accomplishes this goal flawlessly, allowing businesses to work with employees from different states and nations while remaining compliant with relevant laws.
This is why the PEO service provider is increasingly growing in popularity. The company can help small businesses speed up the hiring process, process payroll, administer benefits, and reduce the pay period.