The ability to manage workflow effectively is of utmost importance in today's business world. Many excellent workflow management software and tools on the market today can help you achieve this goal.
In this post, we will look at some of the best workflow management software and tools on the market in 2023. Below you will find an overview of some of these solutions and a description of each tool's key features. Let's get started!
What Is Workflow Management Software?
Workflow management is a strategy that involves the planning, coordination, and management of an organization's workflow and processes. Workflow management software is a tool that is designed to automate and streamline certain business processes. As such, it can be a very effective way to increase productivity and operational efficiency within your organization.
Workflow Management Tool Key Features
You should be on the lookout for a wide range of features when choosing a workflow management tool. Some of the key features to look out for include the following.
Project management tools
You should be able to create a project plan and track the progress of different projects within your organization using these tools. You also need to be able to assign tasks and track the progress of the different team members working on the project to ensure that everything gets done on time.
Collaboration tools
The collaboration tools will help you collaborate with your colleagues while working on a project. These tools typically include chat rooms and email functionality that will allow you to communicate with your teammates effectively.
User-friendly interface
Choosing a tool with a user-friendly interface is important, as this will make it easier for you to use. A user-friendly design means you can easily navigate the tool and find what you need when you need it. You will also be able to get up and running quickly without spending a long time learning how to use it.
Personalized views
A good workflow management tool should provide personalized views based on your specific needs and preferences. This will allow you to organize your workflow according to your unique needs and preferences rather than conforming to a predefined structure.
Third-party integration
Ideally, your workflow management software should have a built-in API that allows you to integrate with third-party applications already in place within your organization. This will allow you to take advantage of the various features of these systems without the need for additional hardware or software.
These are some of the most important features you should look for when choosing a workflow management solution for your organization.
18 Best Workflow Management Software
Here is an overview of the top 18 market workflow management software solutions.
These products were selected based on their popularity among customers and their features and pricing. Let's take a closer look at each product and see which one is right for you.
monday.com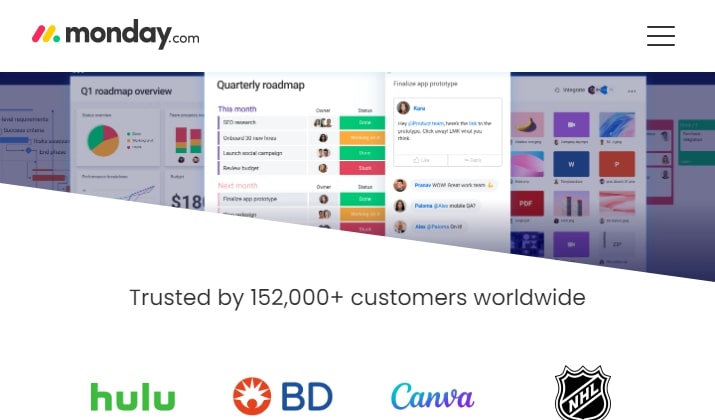 Monday.com is one of the most popular project management and workforce software. This Work OS is a cloud-based platform that enables users to create and customize workflow management tools they can leverage in any work area. 
Starting as a collaborative project management tool in 2014, Monday.com is now a tool for many tasks, including software development, project management, marketing, customer relationship management (CRM), human resources, and more.
It has various building blocks, such as integrations and apps, to build and customize the elements that enhance your business operations. Monday.com is ideal for small (or midsized) businesses, given its visually appealing and intuitive interface with unambiguous names assigned to different elements.
monday.com Key Features
Mobile and desktop app
Third-party integrations
Analytics tools
Custom dashboards
Document Library
Overall, monday.com is best suited for project management professionals with experience looking to promote efficiency in their workforce and unify communications.
Monday.com Pros
Highly customizable
200+ templates for board creation and automation
Lifetime free plan available for a two-seat maximum
modern, intuitive dashboard
Depending on your needs, you can customize your own templates or use Monday.com's existing templates to create workflows. The platform helps you boost team efficiency, productivity, and business alignment.
monday.com Pricing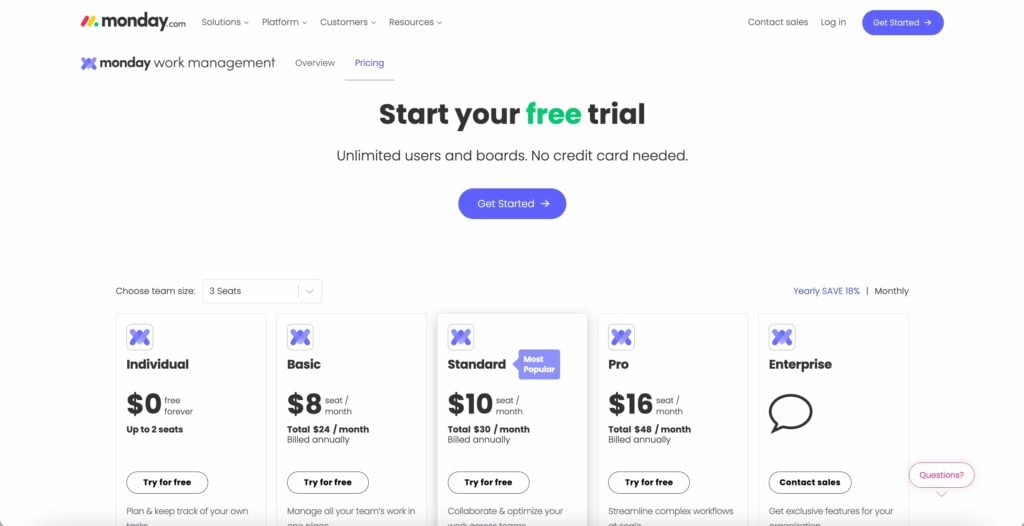 Free forever plan: $0 per user and accommodates up to two seats and unlimited docs
Basic plan: $8 per user per month billed annually with unlimited docs and unlimited free viewers
Standard plan: $10 per user per month billed annually and offers unlimited docs, unlimited free viewers, calendar, timeline, and Gantt views plus guest access
Pro plan: $16 per user per month charged annually and offers everything in the Standard plan plus private boards, a dashboard incorporating up to 10 boards, and time tracking
Enterprise: requires direct contact for more information
Monday.com pricing is based on three primary factors: features, users, and tiers. It allows the purchase of stand-alone solutions or add-ons of different products.  The tiers come with features that keep improving at every level.
ClickUp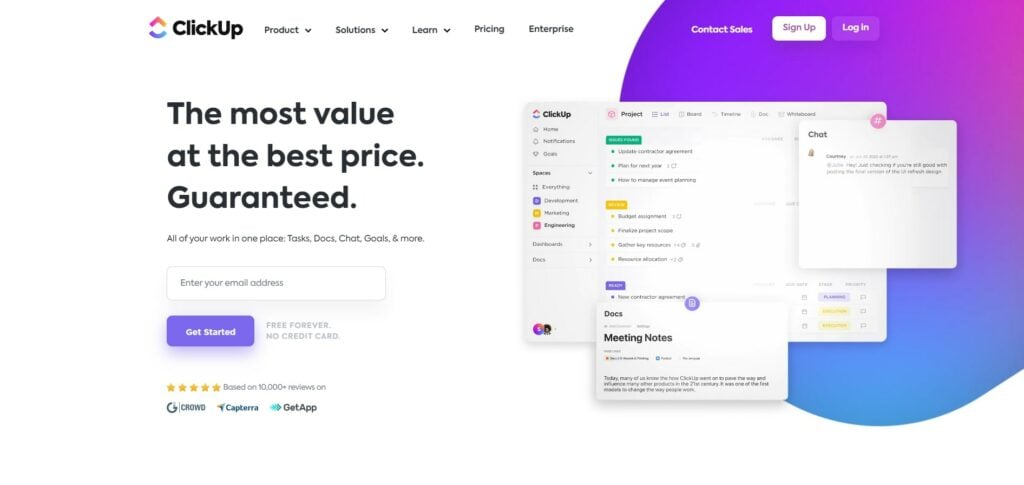 ClickUp is one of the best project management platforms thanks to its flexibility, ease of use, and extensive features. It's an all-in-one productivity platform that allows users to meet virtually, plan, organize, and collaborate on projects using Docs, Whiteboards, Chat, Tasks, Goals, and more. 
This particular workflow management software is quite customizable. Additionally, it accommodates and enables teams of different natures and capacities to deliver work more efficiently, heightening their productivity to new levels.
ClickUp Key Features
Gantt Charts
Dashboard
Time tracking
Mind maps
To-do list
One of the best things about ClickUp is that it provides task management features and functions ideal for various industries, including hospitality, healthcare, IT services, construction, and more.
ClickUp Pros
Efficient workflows
Remove project confusion
Streamlines projects
ClickUp is an easy-to-use workflow management software once you get used to it. Team members can join via email after project administrators approve. Authorized members can contribute to information records and show their task progress simply. 
ClickUp Pricing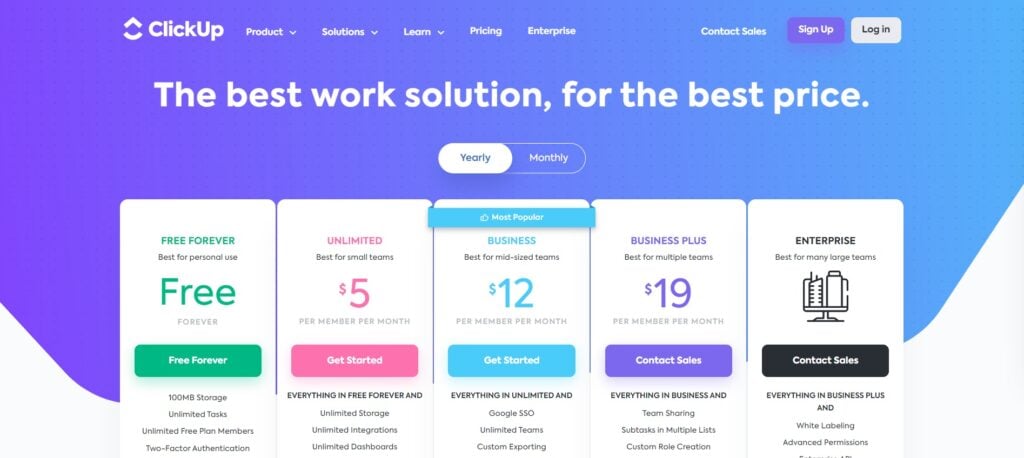 Free: $0 and allows unlimited users, up to 5 spaces, and 100 MB storage
Unlimited: $5 per user per month billed annually or $9 per user paid monthly. It includes unlimited users, storage, spaces, and activity views, and allows a 7-day activity view
Business: $12 per user per month billed annually or $19 per user paid monthly. It includes everything in Unlimited plus unlimited teams, custom exporting, advanced dashboards, and time tracking
Business Plus: $19 per user per month billed annually or $29 per user billed monthly. It includes everything in Business plus custom role creation, priority support, and increased automations
Enterprise: requires direct contact with the Sales team
If you're a small business or freelancer looking for an efficient way to organize and simplify your business processes, ClickUp can be the right option. With it, you can manage your time and check emails, favorites, reminders, projects, or tasks from a single platform.
Teamwork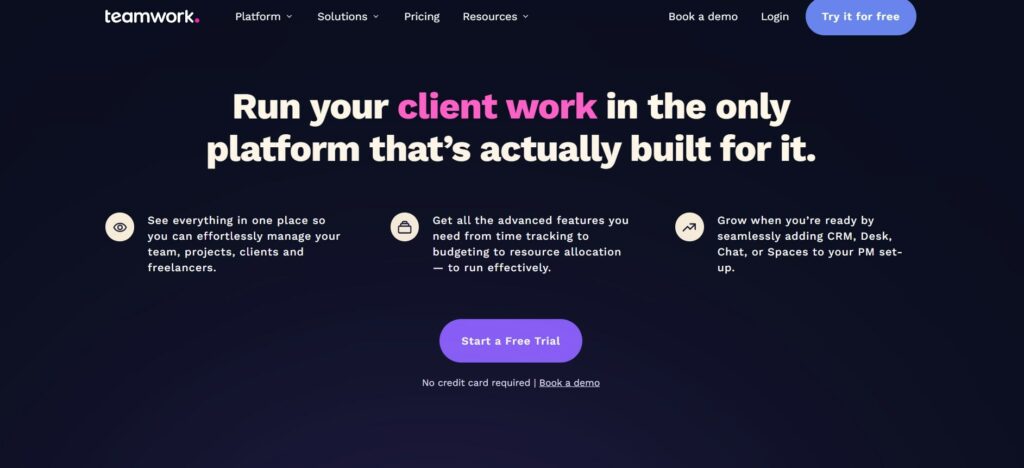 Teamwork is a project management platform designed for client work and team collaboration. It incorporates several SaaS, including a project management tool, a client-relation management tool, a resource management solution, and a team collaboration tool.
Clients can leverage Teamwork to eliminate client chaos, comprehend profitability, and hand over work on time and within budget, all in one place. Teamwork has its headquarters in Cork, Ireland.
It serves over 4 million users in 20000 different companies worldwide and records a global team of about 350 employees. It can be utilized in various sectors to achieve efficiency. It is helpful for event planning, eCommerce, and software startup companies, among others.
Teamwork Features
Gantt Charts
Scheduling
Workflow Automation
Team Collaboration
Document Management
Teamwork makes it easy for different organizations to automate processes and boost collaboration between team members. Its features and functions make it easy for members to visualize projects or tasks and stay within schedule.
Teamwork Pros
Project categories
Task prioritization
Integrates with different tools
Teamwork is an ideal pick for organizations that handle different projects simultaneously. Its task prioritization feature ensures that team members handle the most important tasks first. What's more, its minimalist layout makes it easier for users to navigate.
Teamwork Pricing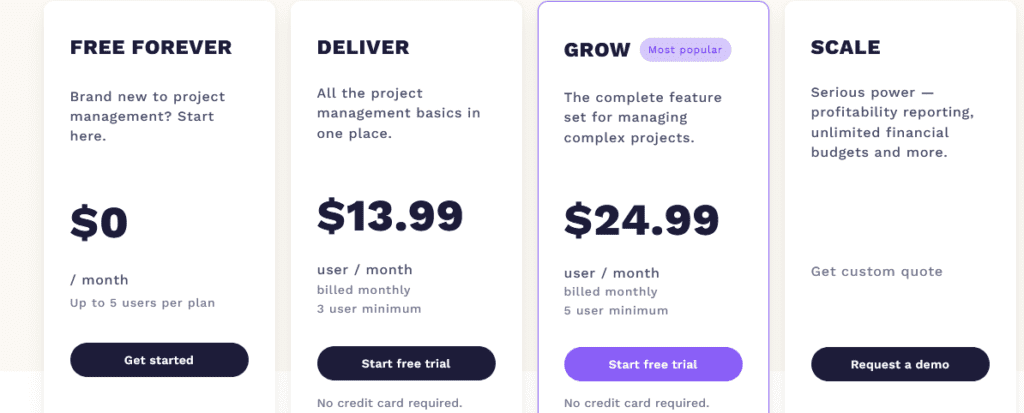 Free forever: $0 and accommodates up to five users maximum
Deliver: $9,99 per user per month paid annually or plan $13,99 per user paid month monthly
Grow: $17,99 per user per month paid annually or $24,99 per user per month paid monthly
Scale: requires direct contact with the Sales team
Teamwork offers a 30-day free trial on its paid plans. It is one of the best options for startups or small businesses still working with limited resources but hoping to scale up their activities over a given period.
Smartsheet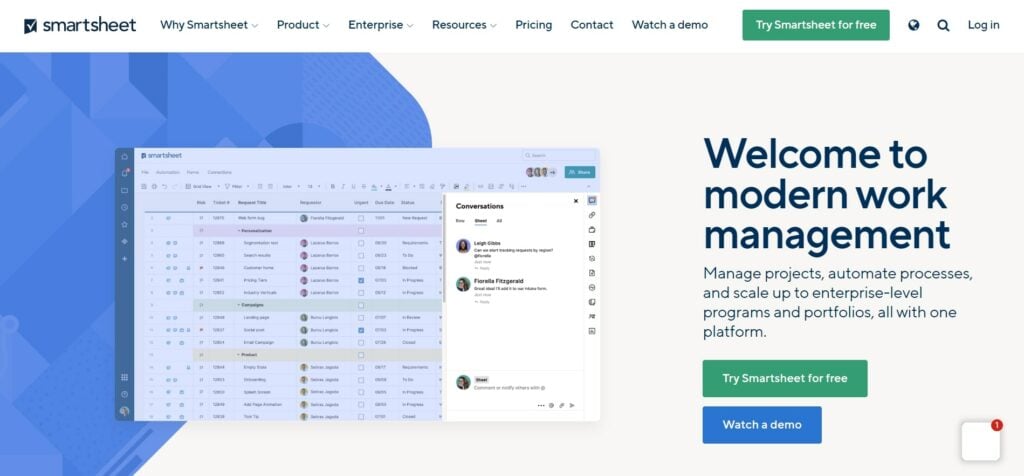 Smartsheet is a highly customizable, powerful, and dynamic work collaboration and project management software. Its interface resembles a spreadsheet but is way more powerful and capable of achieving more. 
Organizations can use Smartsheet for many things, including task tracking, project management, online work collaboration, and customer relationship management (CRM).
Leveraging its faultless sharing capabilities, you can overcome team and data silos and inform stakeholders about project details. Its user-friendly interface offers an intuitive environment where team members and managers can be consistent and speed up the execution of different tasks.
Smartsheet Key Features
Dashboards
Automation
Control center
Integrations
Reports
Smartsheet project management software provides a sheet at the start of every business process, contrary to lists or board views by other workflow software. If you have used spreadsheets before, this platform can be more intuitive. Templates are also specific to project categories.
Smartsheet Pros
Powerful and highly customizable
Rigid data protection and compliance
Powerful analytics and reporting tools
Users can attach supporting documents on each Smartsheet row, creating an all-in-one feature so team members can access important information and files in one place.
Smartsheet Pricing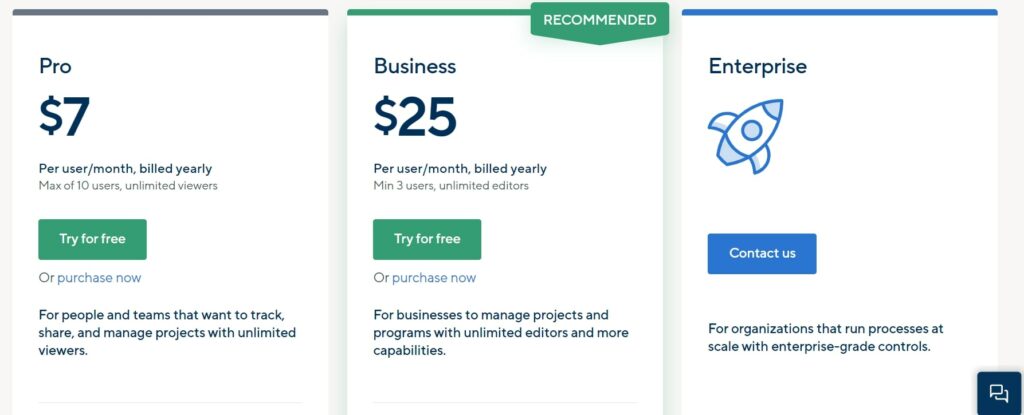 Pro: $7 monthly fee per user billed annually and supports up to 10 users, unlimited reports, dashboards, and sheets (10 widgets per dashboard, 1 sheet per report). Also accommodates unlimited viewers
Business: $25 per user per month billed annually and accommodates unlimited viewers and editors, unlimited widgets per dashboard, document builder, proofing, and activity log
Enterprise: requires direct contact with the Sales team
Smartsheet does not have a free tier. However, it allows new customers to sign up for a free 30-day trial on paid packages. These packages can be an excellent way to determine if they are ideal for your needs.
Wrike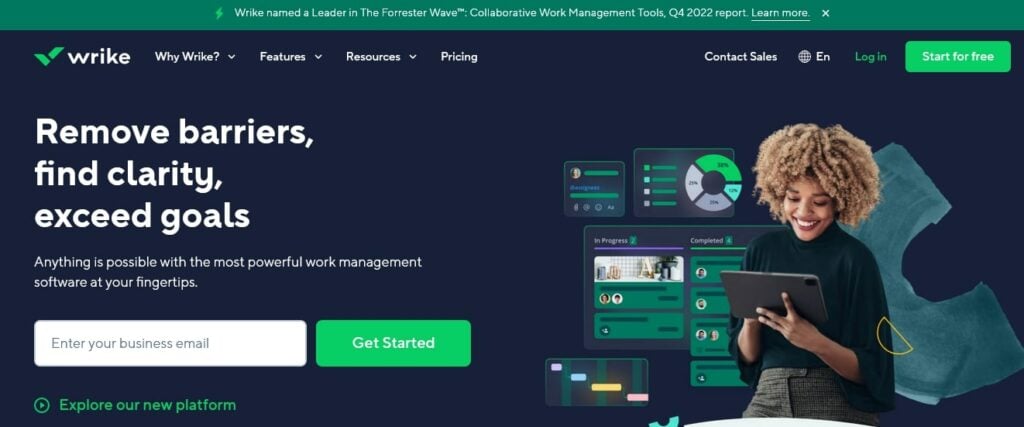 Wrike is a cloud-based workflow management software enabling users to organize projects and enhance collaboration. 
It's among the best work management platforms with unmatched intuitiveness and versatility that can be helpful to businesses of all sizes. It offers an advantage for any organization needing to optimize, scale and move fast in a competitive business world.
By combining talent and projects into a single spot, Wrike helps increase productivity, eliminates complexity, and offers people a flexible schedule to allocate time to their most purposeful work. Organizations and teams that look to create, exceed and collaborate daily may find Wrike workflow tools quite effective.
Wrike Key Features
Gantt charts
Project templates
Task management
Wrike proof (premium add-on)
Wrike lock (premium add-on)
Wrike's features and functions make it ideal for different types of teams in an organization. Its templates make it possible to categorize projects uniquely rather than using the same templates for all projects.
Wrike Pros
User-friendly interface
Support and learning materials
Flexible and customizable
a free account with unlimited projects
Special customization for professional services, creative, and marketing teams
One thing that makes Wrike stand out from the competition is that it utilizes eight different languages. That makes it easy for enterprise organizations of different nationalities to use it.
Wrike Pricing

Free: available forever with limited features
Business: $9,80 per user per month and can be a good choice for small teams that are starting to expand
Enterprise: requires direct contact and can be the ideal plan for large teams that want exceptional data security
Pinnacle: Requires direct contact and can be the ideal pick for multiple teams working on complex projects
Wrike offers a variety of plans to suit different organizations and teams. Try out the free account before deciding which paid options you'll be going for is always a good idea.
Oracle NetSuite Project Management

Oracle NetSuite is a SaaS platform that offers cloud-based enterprise resource planning (ERP) with a wide range of easy-to-use applications such as eCommerce, CRM, HR, and payroll. It is also an enterprise workflow management software.
The SaaS model gives users great flexibility when scaling their enterprise without the need to add new personnel or infrastructure. The Suite Cloud customization feature allows you to modify the platform according to your preference and business needs.
Oracle NetSuite Key Features
Warehouse management
Automations
Source management
Sales and order management
Accounting
NetSuite offers users a comprehensive list of customizable tools and modules that boost efficiency and cut costs regardless of team size or industry.
Oracle NetSuite Pros
Versatile
Simplifies accounting
Simple implementation and user interface
Customizable features
Can integrate easily with other tools
Oracle NetSuite can easily integrate with other productivity tools to enhance how teams handle different tasks. It can simplify things such as accounting, reporting, and communication.
Oracle NetSuite Pricing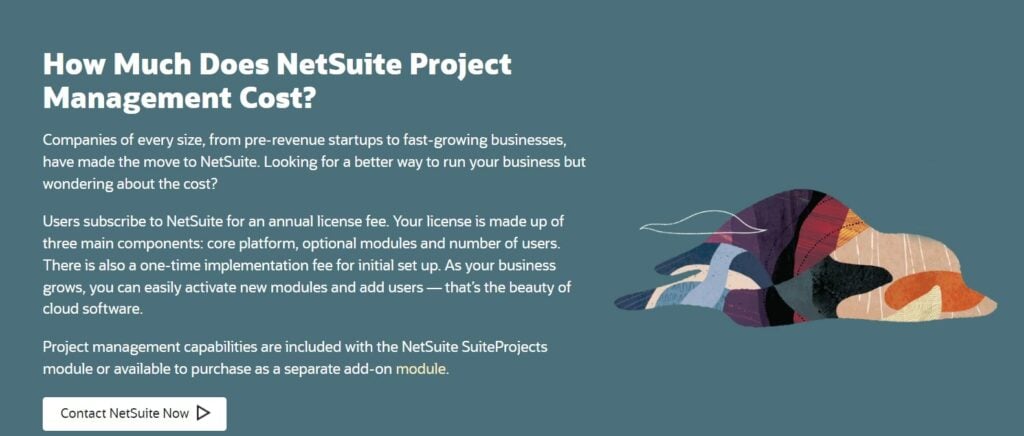 NetSuite workflow software doesn't offer standardized pricing because large discounts are often included. It also calculates its prices based on the size of the organization involved and the features and functions required.
NetSuite management software is worth considering, given its top-notch customization capabilities. It is excellent software for medium-or-large-sized businesses.
Zoho Flow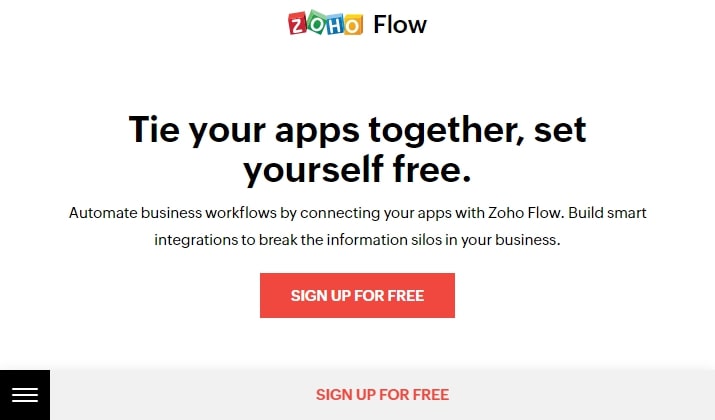 Zoho is a cloud-based workflow management software with which teams can create and carry out different projects regardless of type and size. Zoho is an excellent choice for small or medium-sized businesses.
Zoho enhances collaborations, handles tasks, supports issue management and time tracking, and avails business intelligence for reporting. Businesses can effectively align their specific needs by extending this workflow management tool with automation, integrations, and numerous customizations.
Zoho Key Features
Charts and reports
Issue tracking
Time tracking
Third-party integration
Role-based access and authentication
Zoho can create workflows that automatically send emails, SMS, or push notifications to your mobile devices. Its reporting and tracking features also give you in-depth insights into your project.
Zoho Pros
Centralized communication
Flawless Integrations with external modules/Zoho suite products
Flexible enough to configure for different purposes
Zoho's array of features and functions helps simplify processes that otherwise seem tedious and repetitive. It also allows project managers to get a clear overview of performance.
Zoho Pricing
Standard: $8,33 per organization per month billed annually or $10 billed monthly
Professional: $20,83 per organization per month billed annually or $25 billed monthly
Zoho Flow's per-organization billing makes it an affordable choice for both small and medium-sized organizations or teams. Its functions and features can be integral in boosting overall team efficiency.
WorkOtter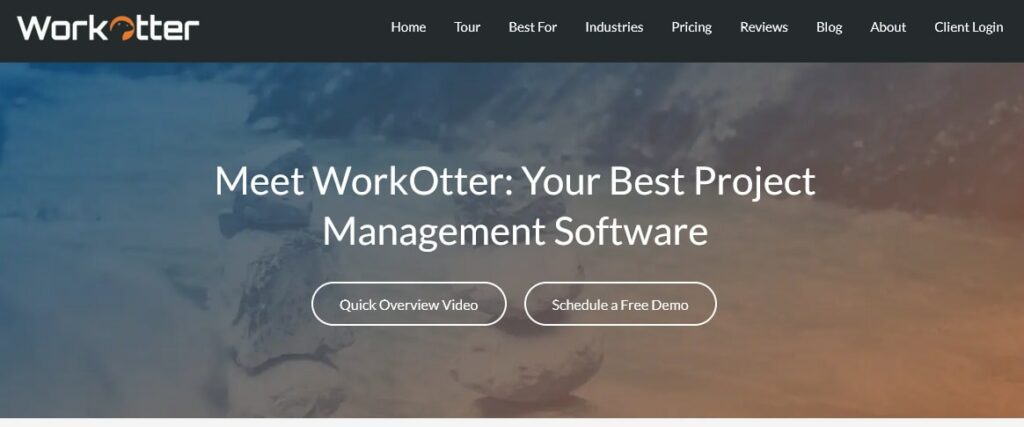 WorkOtter is a scalable and simple project portfolio management (PPM) tool for Engineering, consulting, and IT service PMOs. Users can leverage the workflow software in their entire work lifecycle, from ideas and project planning to close.
WorkOtter features are designed with usability and simplicity to cater to project teams with people of different backgrounds. It offers Agile views, Kanban, and Gantts and integrates directly with MS Project, JIRA, Excel, and more. Businesses can adopt Waterfall, Scrum, and Agile methodologies to manage projects and integrate with Jira, Microsoft projects, and other modules.
It is also known to have specific features and functions for the sectors mentioned above.
WorkOtter Features
Dashboards and charts
Time management
Project scheduling
Portfolio management
Resource management
WorkOtter workflow management software helps you adapt to needs that shift regularly. It also allows team members to track time easily and keep up with work obligations.
WorkOtter Pros
Easy to customize
No storage limit
Easy to use
WorkOtter has an impressive customer support department that always seeks to respond to any questions or concerns as soon as possible.
WorkOtter Pricing

Requestor: free forever
Member License: $10 per month
Team License: $20 per month
Manager License $35 per month
This great workflow management software can be ideal for all team sizes. The Member License plan is ideal for a limited number of team members, while the Team License plan can be the perfect fit for people at all levels of work.
Resource Guru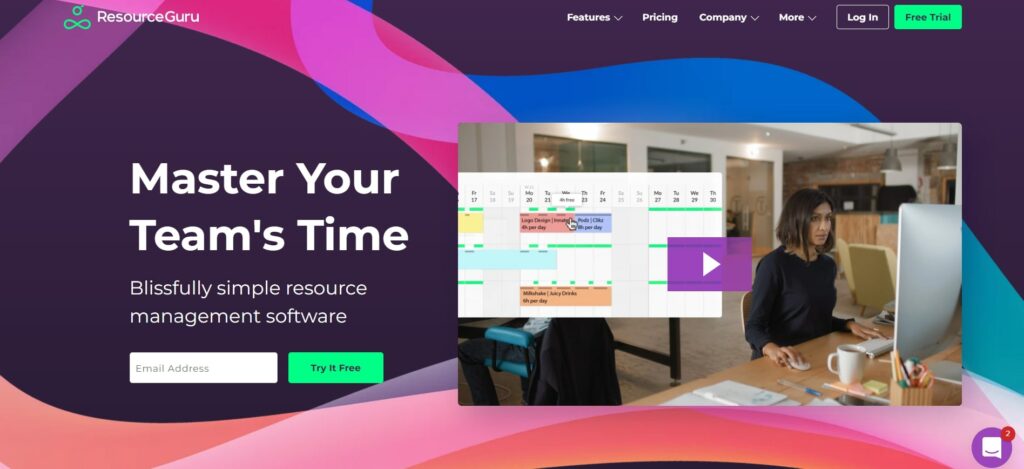 Resource Guru is a fast and reliable cloud-based workflow management software. With this tool, users can assign work and develop well-balanced schedules quickly. Their project management features helps track time off and team availability in real-time, preventing unrealistic workloads.
The software allows organizations to manage meeting rooms, equipment, and people in one spot. Additionally, develop accurate forecasting by analyzing clients and project forecasting rates.
Resource Guru Features
Mobile apps
Team collaboration
Leave management
Dynamic resource scheduling
Centralized accessibility
Resource Guru workflow management software has features and functions that help manage assets for startups, large enterprises, freelancers, and SMEs.
Resource Guru Pros
Customized filters
Maximizes staff utilization
Overtime tracking
Resource Guru workflow management software is flexible(for resources and projects), easily readable, directly online, and integrated with Smartsheet internally.
Resource Guru Pricing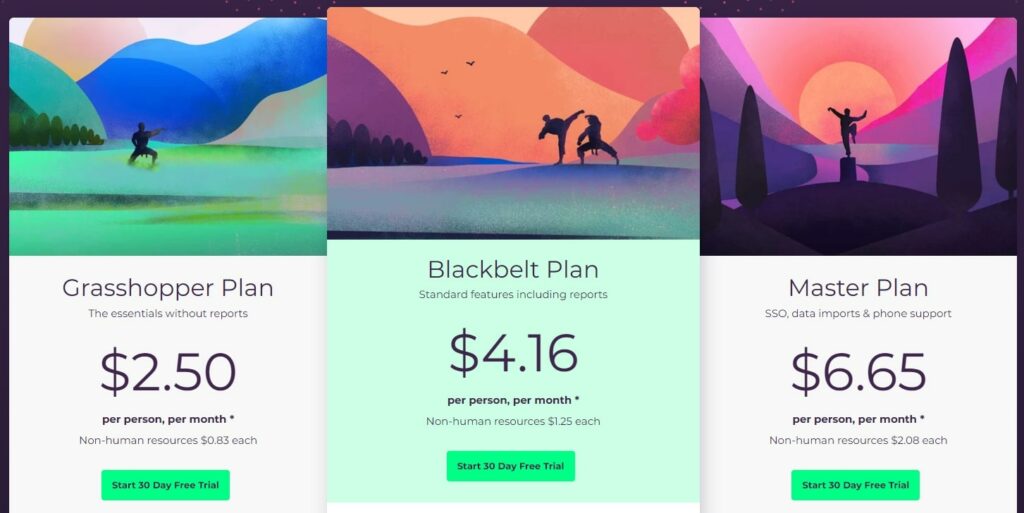 Grasshopper: $2,50 per user per month
Blackbelt: $4,16 per user per month
Master: $6,65 per user per month
Resource Guru is a great workflow management tool that's easy to learn and use. Additionally, the workflow management software provides a high-end user experience when handling tasks, resource capacity planning, project portfolio scheduling, etc.
Notion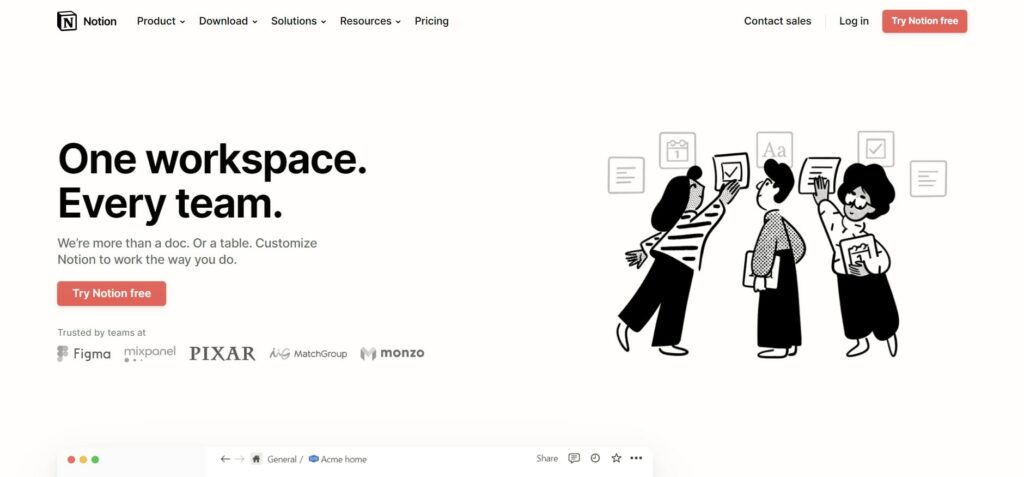 Notion is among the best workflow management software, widely known for its affordability and simplicity. Any organization should opt for user-friendly collaboration software that won't impact them too much on their spending. It's a project management tool ideal for planning and executing minor workflows.
Notion Features
Test editor
Boards
To-Do lists
Public pages
Integrations
Notion workflow management software has relatively limited features for any standard project management tool. These features are ideal for planning and executing than supporting a project's life cycle.
Notion Pros
Easy learning curve
Cheap pricing options
Clean user interface
Notion incorporates popular workflow management elements into its design program and stands out thanks to clean aesthetics for simplified navigation. 
Notion Pricing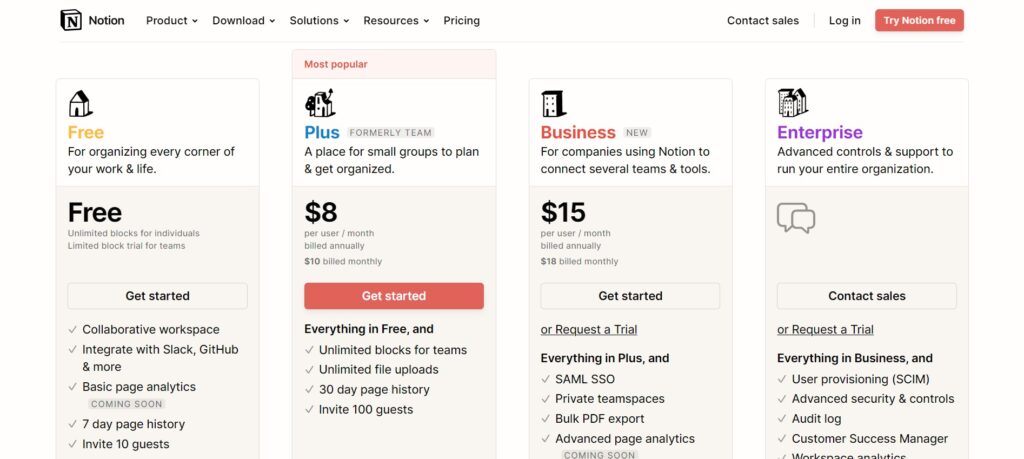 Free: completely free and is ideal for individuals and small teams
Plus: $8 per user per month billed yearly or $10 per user billed monthly
Business: $15 per user per month billed yearly or $18 per user billed monthly
Enterprise: requires direct contact for pricing quotes
As with most pricing plans, paying annually will likely save your organization significant money.
Asana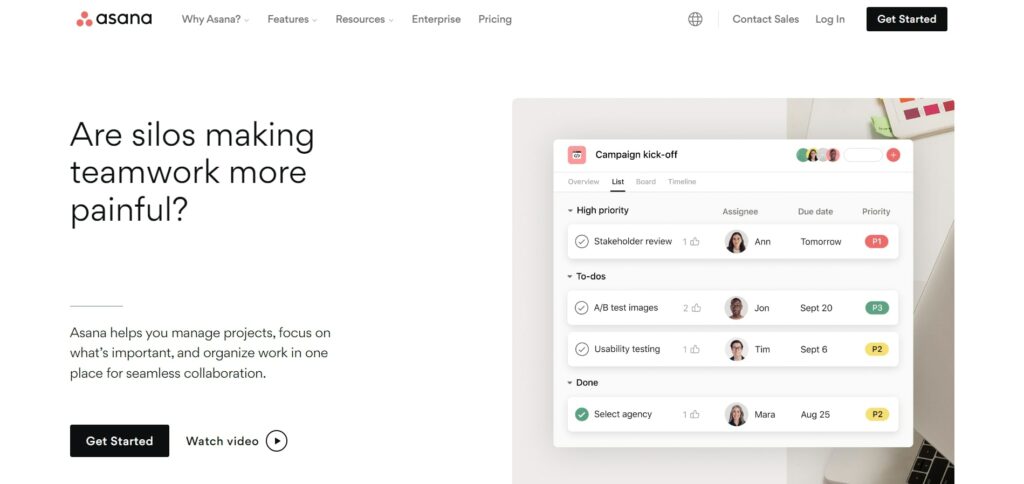 Asana is one of the best workflow management software with intuitive task management capability. It allows teams of all sizes to work remotely in real time without hitches. But it is not a core project management tool for resource (accounting and budgeting) management.
However, Asana helps hundreds of thousands of companies across 190 countries efficiently carry out business transactions.
In addition, the workflow tools available help improve productivity for project managers and software engineers.
Asana Features
Easy-to-use automation software
Kanban board view
Video messaging
Admin and privacy control
Custom fields
This workflow management system works with multiple devices, including web browsers, mobile (Android and iOS), and desktop apps (Mac and Windows).
Asana Pros
Expressive timeline views and messaging
Easy-to-use and intuitive user interface
Assign and prioritize tasks in real-time
Asana improves business processes for small to large-sized organizations. For example, you can assign tasks and monitor outcomes for marketing campaigns and team project execution.
Asana Pricing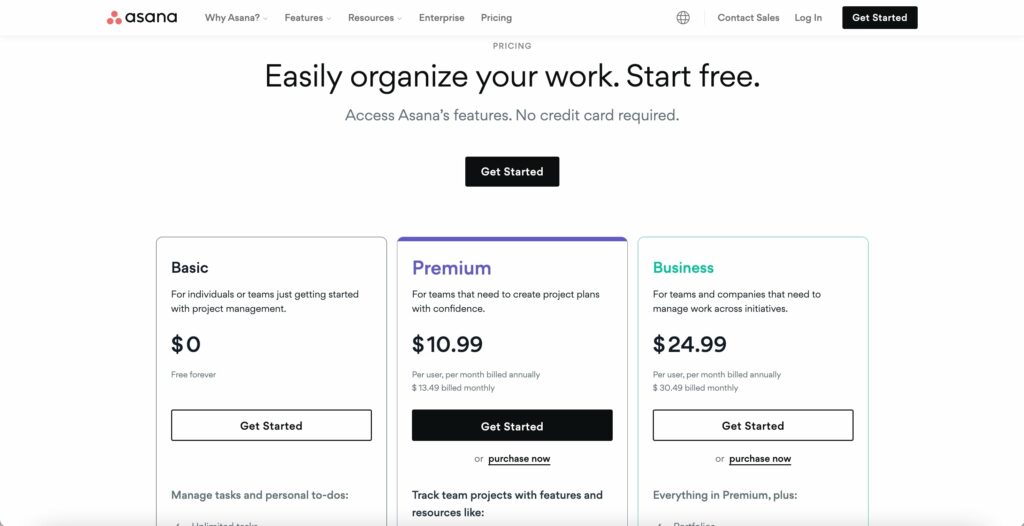 Basic: $0 per user per month
Premium: $10,99 per user per month
Business: $24,99 per user per month
Enterprise: requires contact with support
Asana's Basic plan is one of the most impressive free packages. It is packed with features and functions that can be helpful to individuals or small teams. These include unlimited tasks, projects, activity logs, file storage, and collaboration with up to 15 teammates.
Airtable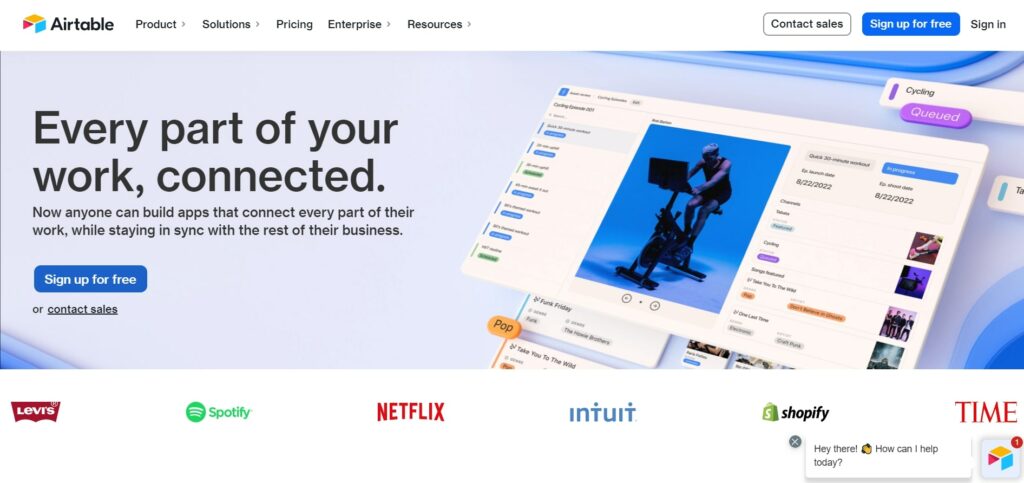 Airtable is one of the best workflow management software with a database for task management. It features an interesting spreadsheet that helps you organize and track multiple projects. 
Airtable does not require coding experience to set up. With this tool, you can develop and customize any information into the remote or sales team application. Additionally, Airtable's unique features make tracking and automating data a breeze.
Airtable Features
Project reporting and tracking
Workflow customization
Agile automation
Admin controls
Accounting and budget management
The color coding feature makes it easier to assign, track and report tasks. At the same time, admin controls ensure that only those with access can work on certain tasks or change entries in the system.
Airtable Pros
Simplifies task reporting
Easy to customize views for different tasks
A versatile application for other integrations
Airtable's mobile app is one of the most functional and easy to use. It makes working on the go seem like a walk in the park.
Airtable Pricing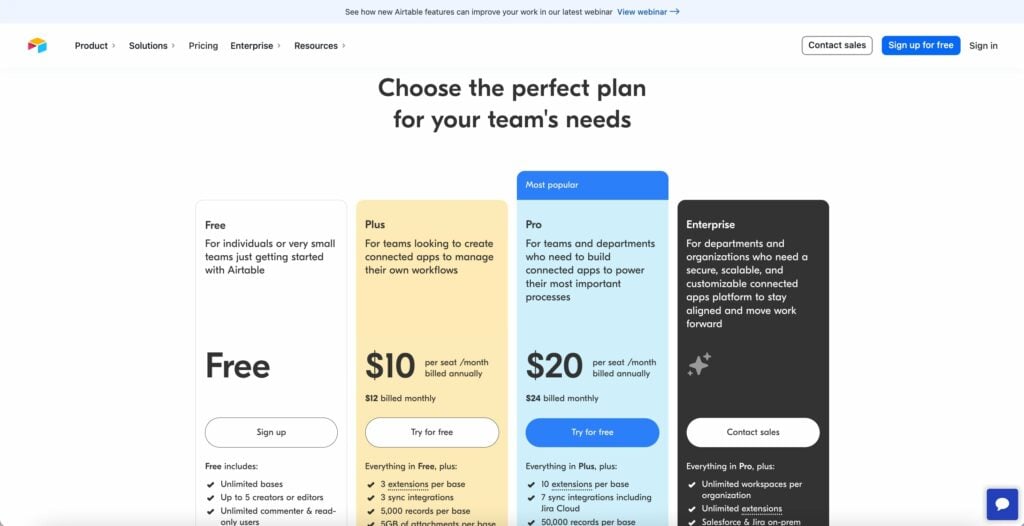 Free forever: ideal for individuals or small teams getting started
Plus: $10 per seat billed annually or $12 per user per month
Pro: $20 per seat billed annually or $24 per user per month
Enterprise: requires contact with Sales
This workflow management system allows new users to take advantage of the free offer and learn how to organize their work.
Pipefy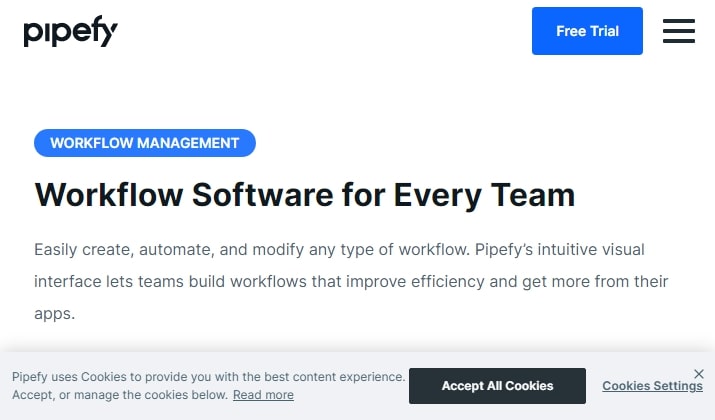 Pipefy is a cloud-based workflow software for task collaboration. With over 50,000 subscribers, Pipefy allows small and large-scale organizations to automate their project management systems.
Furthermore, Pipefy enables sales, marketing, and recruitment teams to create, assign and track projects efficiently. It is an incredible tool used by teams of all sizes to coordinate projects.
Pipefy Features
Email automation and notifications
CRM Templates
Integration and customization
Accounting and budgeting
Pipefy's notifications ensure that team members are always aware of what is required of them. This workflow software also allows teams to boost productivity by integrating add-ons and plugins for better work management.
Pipefy Pros
Intuitive user interface
Kanban board makes integration and automation seamless
Templates for multiple workflows
Different templates make it easy for teams to categorize tasks or projects accordingly.
Pipefy Pricing
Starter: free forever
Business: $19 per user per month billed annually or $23 paid monthly
Enterprise: $32 per user per month billed annually or $38 paid monthly
Unlimited: requires direct contact with the Sales team
Pipefy's free plan contains the basic features to get started with workflow management. Once familiar with it, you can decide which premium packages are ideal for your needs.
Note that the starting price does not include the setup fee, and the annual subscriptions cost 16 percent less than the monthly plans.
Jira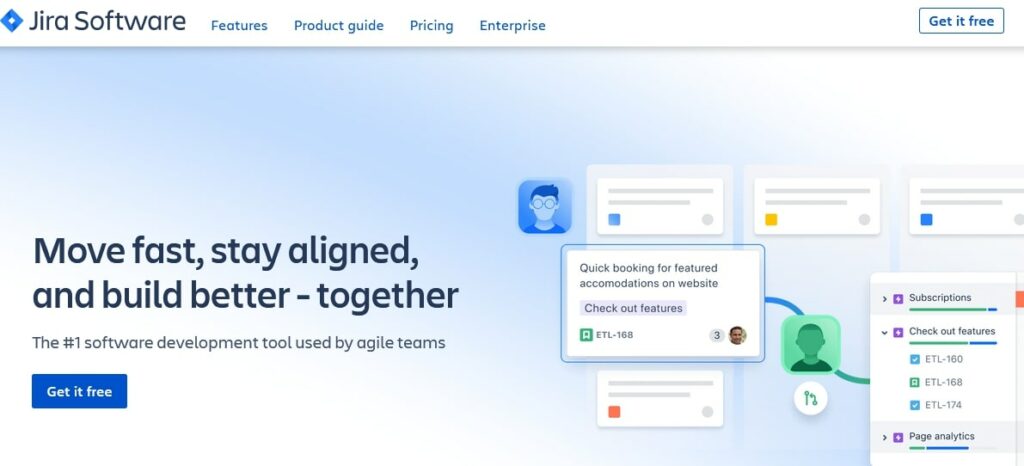 Jira is one of the best workflow software with a visually detailed task management setup. It offers multiple tools and functions for automating work-related processes. Thus, you can create custom workflows and assign teams to handle tasks efficiently.
While Jira uses top-of-the-line tools that non-tech-savvy users find challenging, it comes with a FAQ section and responsive customer support to help you and your team learn the ropes quickly.
Jira Features
Custom workflows
Analytics and report insights
Roadmap and overviews
Apps and integration
Scrum, Kanban, and sprint boards make it easier to break down complex tasks into easy-to-handle tasks.
Jira Pros
It uses an intuitive drag-and-drop tool
Reports provide insight into workflow progress
Real-time view and collaboration for task execution
Jira workflow management tool connects over 3,000 applications with easy integration. Moreover, it creates a transparent workflow process with the proper distinction of task progress.
Jira Pricing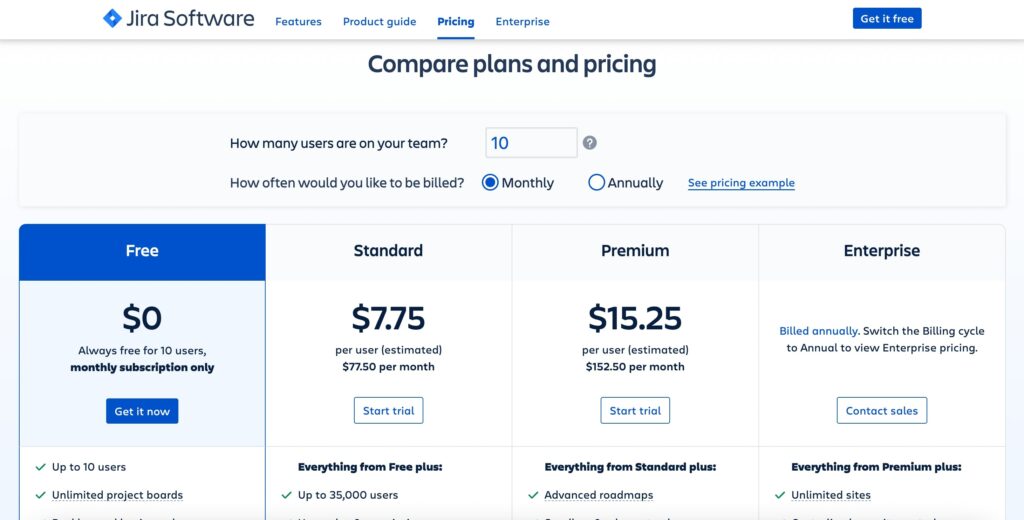 Free plan: always free and accommodates up to 10 users
Standard: $7,75 per user per month
Premium: $15,25 per user per month
Enterprise: contact sales for a quote
Jira offers impressive workflow management tools that make moving from one task to another seamless. It also allows users to enjoy a 7-day free trial for every paid plan.
ProofHub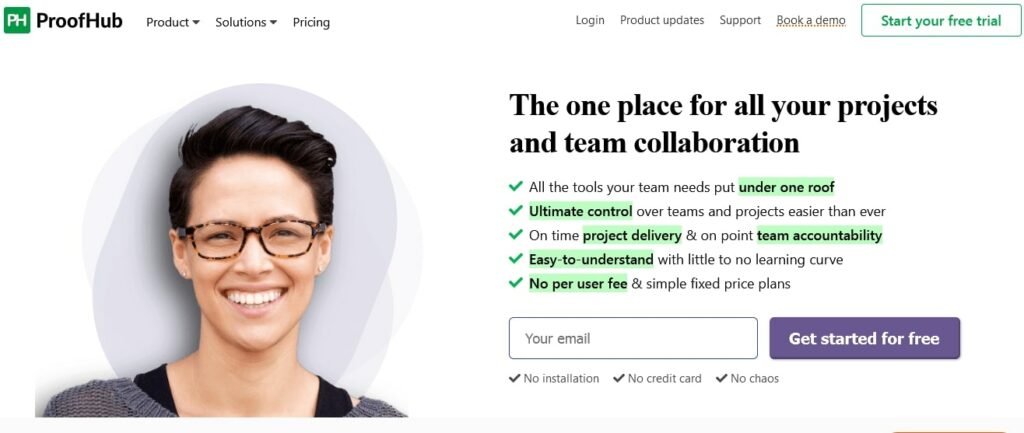 ProofHub is an intuitive project management tool for efficient task execution. It has key integrations, discussion boards, and a simple workflow onboarding process. It can help project managers to organize, customize and automate team collaborations.
Its live chat simplifies interactions, while Gantt charts make progress tracking easier.
ProofHub Features
Task and subtask organizer
Gantt chart and kanban board
Reporting, time tracking, and insights
Customizable templates
ProofHub allows project managers to automate their tasks by creating a schedule for execution. You can customize the worksheet based on timelines to help you track progress.
ProofHub Pros
Easy to prioritize and visualize tasks
Multiple views help organize and track progress
Full-scale support tools like accounting and budgeting
ProofHub Pricing
Essential: $45 per month billed annually or $50 billed monthly
Ultimate Control: $89 per month billed annually or $99 billed every month
ProofHub does not have a per-user billing plan. Instead, its Ultimate Control plan gives you unlimited seats for users and unlimited projects. The Essential plan accommodates an unlimited number of users and a maximum of 40 projects.
Kissflow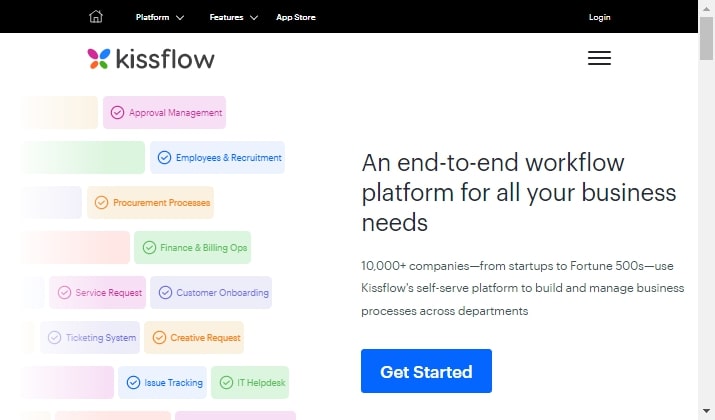 Kissflow is an intuitive workflow management software with an incredible user interface. Due to its impressive visual interface, project managers, marketing experts, and software engineers often find it quite helpful
With this tool, you can assign and track tasks' progress and create custom workflows for increased productivity.
Kissflow Features
Mobile apps
Agile tools
Real-time collaborative efforts
Views and display customization
Kissflow uses an intuitive dashboard that makes it easy to navigate the platform. Its process optimization feature makes it one of the best workflow management software for minimizing costs and increasing efficiency.
Kissflow Pros
Streamlines invoice approval
Has hundreds of unique templates
Exceptional financial reporting tools
Kissflow can be the ideal workflow management software to link different organizational departments. Its reporting tools ensure everyone is accountable at every level.
Kissflow Pricing
Small business: $18 per user billed monthly
Corporate: $20 per user per month billed annually
Enterprise: requires customers to get in touch for a price quote
Kissflow's Small business plan requires a minimum of 20 users, while its Corporate plan requires a minimum of 100 users.
Fluix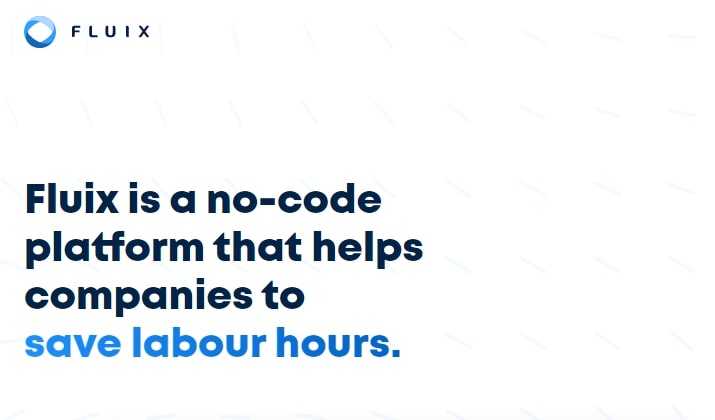 Fluix is a feature-rich document workflow software for task management. It helps teams automate document creation, sharing, and routine task processing. Team members can remotely coordinate tasks and track progress using its reporting feature.
Fluix Features
Drag and drop tool
Task customization and tracking
Audit creation and management
Routine task automation
Setting up Fluix is so easy that you can start using it within a few days of launching. Fluix works best with a web browser and Apple iPad. While it has mobile apps, they are not yet as effective as others on the market.
Fluix Pros
Organizes multiple projects for different workspaces
Generates report and track progress
Create and integrate tasks across multiple devices
Fluix allows organizations to develop projects, collaborate, and interact with clients. You can even have your client append their signature or respond to messages on Fluix.
Fluix Pricing
Fluix core costs $30 per user per month, and the others are add-ons at different prices.
Fluix comes with a 14-day free trial to try out its features and functions before you sign up. This workflow management software allows you to add users individually or upload their details using a CVS file.
Scoro

Scoro is another excellent workflow management software for project managers, sales teams, and consulting agencies. It allows you to create, monitor, and track project progress from start to finish.
Scoro integrates multiple tools for CRM, project management, and billing. You can also integrate this workflow management software with third-party tools for document management.
Scoro Features
Task overview
Accounting and budgeting
Alert and notification
Web, Android & iOS compatibility
Scoro's task overview allows project managers to look at different aspects of the project quickly. This makes it easy for them to make adjustments to optimize overall results.
Scoro Pros
Real-time dashboard enterprise reporting
Customized activities to suit the team's need
Tracks time for tasks and subtasks
Real-time updates on the system help ensure faster delivery and smooth communications, while time tracking helps project managers determine the expected project completion time.
Scoro Pricing
Essential: $26 per user per month paid annually or $28 paid monthly
Standard: $37 per user per month billed annually or $42 paid monthly
Pro: $63 per user per month billed annually or $71 paid monthly
Ultimate: requires direct contact with the Sales team
While Scoro does not have a free account, it offers a 14-day free trial on all its premium plans. It is considered a relatively expensive option for startups. However, it can be the best workflow management software for larger teams or established organizations.
Best Workflow Management Tools Conclusion
Finding the ideal workflow management software can be critical in streamlining various processes in any organization or team. The right tool can boost communications, reduce time spent on tasks, and ultimately ensure your organization makes more profits.
The good news is that the workflow management tools listed above either have free or free trial versions. That makes it possible for you to try each before deciding if it is the ideal pick for your needs.