Project management software for marketing professionals is essential for managing and coordinating marketing campaigns. Marketing agency project management software can help automate planning, organizing, budgeting, task management, tracking, and reporting processes. It can also help team members collaborate effectively and keep their projects on track by managing and monitoring real-time tasks.
We've researched the 15 best marketing project management software and compiled a list of recommendations to help you choose what's best for your business. You can compare your options, see features and pricing, and even test some for free to see if it's right for you.
What is Marketing Project Management Software?
Marketing project management software is any software designed to help marketing managers manage projects related to their marketing efforts. This includes organizing and planning campaigns, assigning tasks to team members, monitoring progress, maintaining budgets, etc.
A project management solution for marketing agencies can be used to plan and organize a project and keep track of it as it progresses to completion. It also provides a platform for communication between team members working together on a campaign.
Marketing Project Management Tool Key Features
There are a variety of different features that a marketing project management tool can offer to help you manage your projects more effectively. These features may include:
Task management and assignment
This allows you to assign tasks and track the status of those tasks within the project. You can also use this to assign tasks to specific team members to keep them organized and up-to-date on the project's progress.
Project budget management
This enables you to create and track a budget for each project to keep an eye on where your money is going and how much you've spent so far. It can also generate reports that show you how much you have to spend and how much you have left in your budget.
Time tracking
This enables you to track the amount of time that individual team members are spending on each project so that you can better estimate the time required to complete the project. You can also create time reports for all your team members to analyze how much time they spent on various projects over a given time period.
Team communication and collaboration
This allows you and your team members to communicate directly with one another within your project to keep everyone in the loop on the project's status. You can use this to discuss any problems you're encountering or request additional help from other team members as needed.
Reporting and analytics
This feature allows you to generate various types of reports and metrics that can be used to measure the project's performance. For example, you can generate activity reports showing the amount of time spent on each task within the project and the number of people working on a particular task at a given time.
These key features can help you to manage your marketing campaigns more effectively and stay on track with the progress of each project as it progresses to completion.
15 Best Marketing Project Management Tools
Here's a list of some of the 15 best marketing project management tools you can use to manage your projects more effectively and keep them organized from start to finish.
ClickUp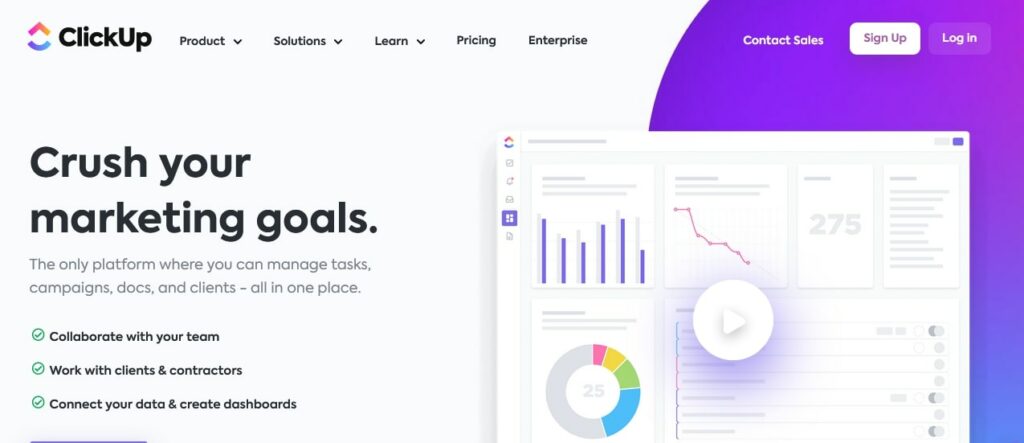 ClickUp is a feature-rich marketing project management software that lets you plan projects and schedule tasks in a single place. Most marketing and creative teams that use Scrum and Agile frameworks get excellent results. That's why it's a great choice for sales, marketing, and product development teams.
Besides the wide set of features, ClickUp is popular for its user-friendly design and great range of pricing plans. It has also recently added AI-powered assistants to power up your campaign management capabilities.
Our Pick
ClickUp | One App to Replace Them All
ClickUp is a powerful project management tool designed to help teams work more efficiently and collaboratively. It offers a range of features, including task management, time tracking, team collaboration, and project planning, making it easy to manage your team's workflow in one place.
Pros:
Task management

Time tracking

Team collaboration

Project planning

User-friendly interface

Powerful automation capabilities

ClickUp Key Features
Set Priorities and Task Dependencies
Customizable Dashboards
Customizable Reports
Time Tracking
Integrations with 1,000+ tools
Our ClickUp review provides features that your teams can take advantage of, irrespective of the type and size of the team, to boost productivity.
ClickUp Pros
You can connect your preferred apps to ClickUp
Efficient campaign management due to the efficiency of its time-tracking features
Collaborate in real-time
ClickUp is not only for large teams. Whether you are a freelancer or want to meet your personal project management goals, it can meet your needs.
ClickUp Pricing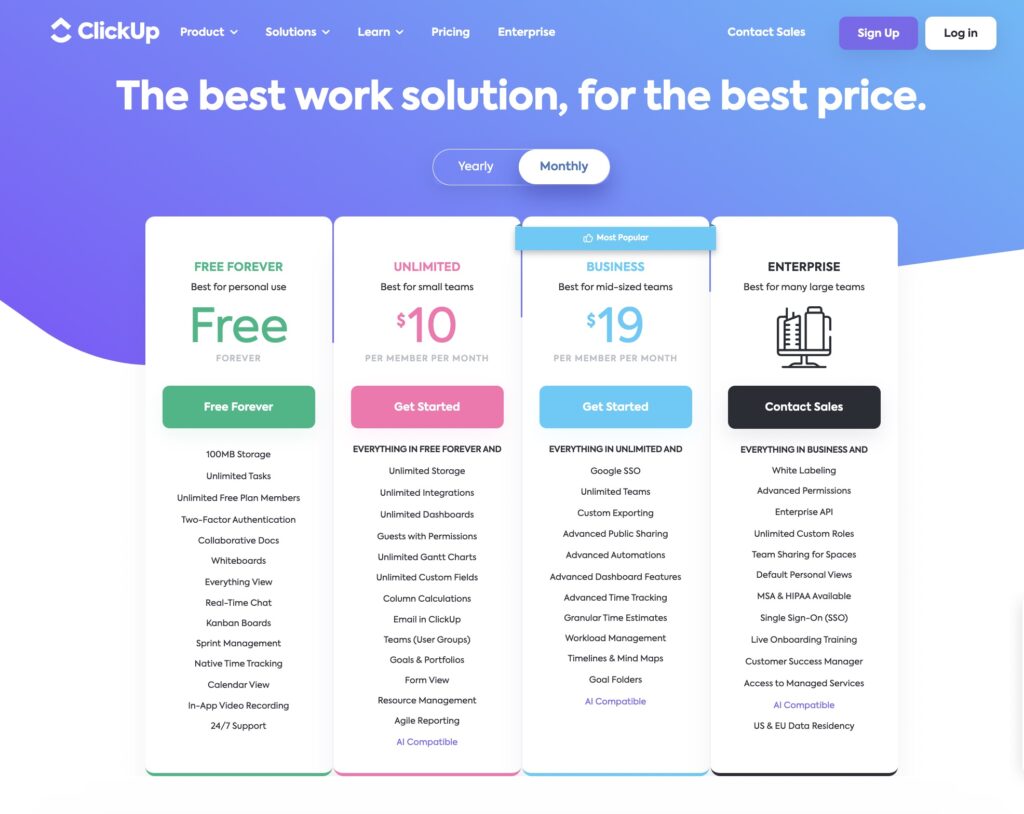 Free Forever: This free version is the best for personal use
Unlimited: $10 per user per month (billed monthly), best for small teams
Business: $19/user/month (billed monthly), most suitable for mid-sized teams
Enterprise: Connect with a pricing expert for a plan that suits many large teams
monday.com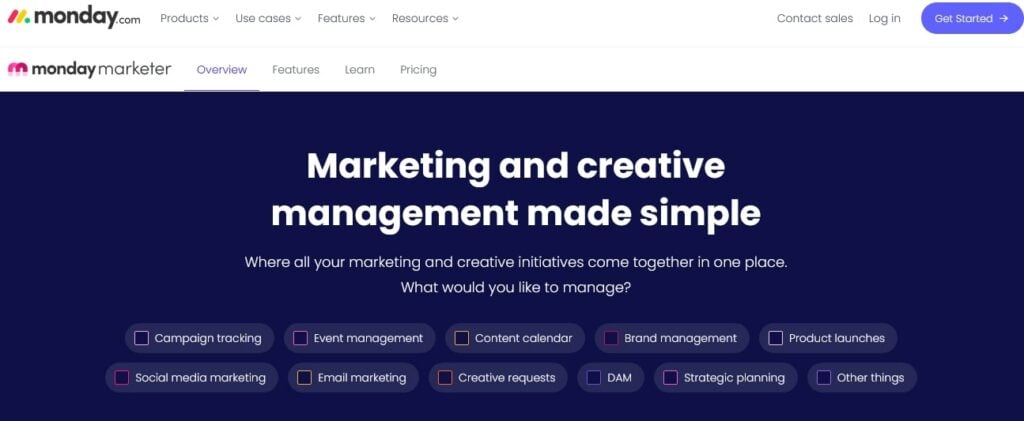 Monday.com is the most user-friendly marketing project management software designed to meet your collaboration and campaign management needs. It offers you easy access to information. Moreover, it gives you a board that offers customizable tables ideal for managing social media calendars, campaign tracking, and other related marketing functions.
Besides, this innovative all-in-one shared workspace comes with advanced functionalities for customizing workflows. So, you can use it to manage a high volume of work without any issues.
monday.com Key Features
Campaign Tracking
200+ Ready-Made Templates
Timeline Views
Brand Management
Integrations
As you can see, monday.com is a flexible marketing project management software that enables your teams to work quickly and in dynamic ways. It simplifies visualizing critical data and helps in identifying bottlenecks in real time.
Monday Pros
Simple and flexible user interface suitable for all users
Templates simplify your work
Provide real-time marketing insights
Monday.com is great for managing marketing projects and has many other benefits. However, the benefits we've included here still prove that it's great for managing marketing campaigns and collaboration.
monday.com Pricing

Individual Marketer: $0, offers up to two seats for individuals
Basic Marketer: $10/seat/month (billed monthly) for at least three users.
Standard Marketer: $13 per seat per month (billed monthly) for at least three users that want to collaborate and optimize their operations
Pro Marketer: $22/seat/month (billed monthly) for three users or more who want to optimize marketing and creative initiatives with advanced analytics
Enterprise Marketer: You get custom pricing for teams looking for enterprise-grade features.
The annual pricing plan saves 18% of the above costs. Also, Monday.com's free trial is available for 14 days.
Wrike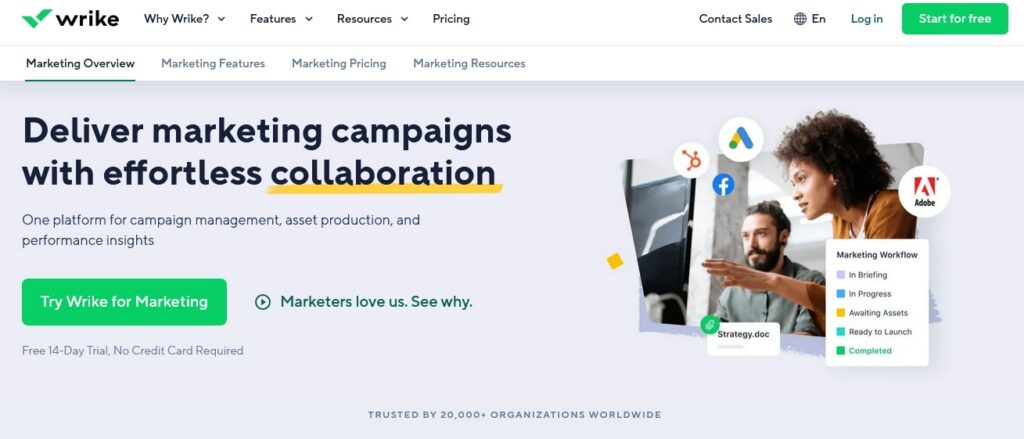 With plenty of features, Wrike is another leading choice for managers, marketers, and in-house creative teams. This software is suited for teams of every size due to its flexibility. Its dashboard offers many useful features for managing marketing tasks and tracking projects, and you can use it to increase productivity.
Wrike's marketing project management provides 360-degree visibility across departments. It empowers you to gather useful reports in a central place and easily visualize your business intelligence. Wrike is also designed to ensure you don't lose track during team discussions.
Wrike Features
Customized Workflows
Kanban Boards
Shared Team Calendar
Time Tracking
Small marketing agencies looking for a customizable workspace to schedule projects, organize shared calendars, and collaborate easily can find this handy. At the same time, approvers can enjoy using the software's visual markup tool to keep everyone informed
Wrike Pros
Complete project visibility
Ability to compare actual and approximated time spent on each task/project
Automate recurring tasks
Wrike gives you a secure place to perform various tasks, including tracking recurring tasks, communicating, and monitoring social channels. Moreover, from the features, you can see that you can tailor it to work your way.
Wrike Pricing

Free: Free version designed for marketing project management teams getting started.
Team: $9.80/user/month for growing teams.
Business: $24.80 per user per month, a customized platform for all teams.
Enterprise: Contact Wrike for the price for large teams
Pinnacle: Get custom pricing for marketing teams with complex requirements.
Wrike offers a two-week free trial.
Smartsheet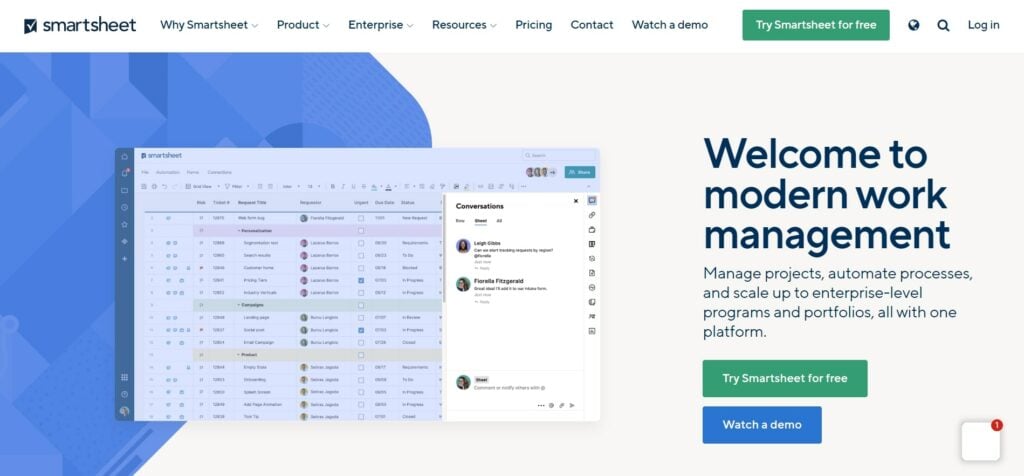 Another popular project that we must add to this list at this point is Smartsheet. It isn't an ordinary marketing campaign project management software. This single systematic and flexible solution relies on a spreadsheet format to manage projects and tasks. It can track campaign progress in an organized manner and enable you to create threaded conversations.
Smartsheet is a highly customizable project management tool allowing your marketing team to automate tasks quickly.
Smartsheet Features
Dashboard
Reminders for Deadlines
Kanban Boards
Multiple Views
Downloadable Summary Reports
With these features, you are assured complete visibility into projects, real-time project insights, the ability to keep your clients or teams up-to-date with project task progress, and more.
SmartSheet Pros
Use automated workflows across spreadsheets
Performs complicated calculations fast
Easy to use
Combining the simplicity of a spreadsheet with these useful features, Smartsheet offers marketing project managers an overall solution.
SmartSheet Pricing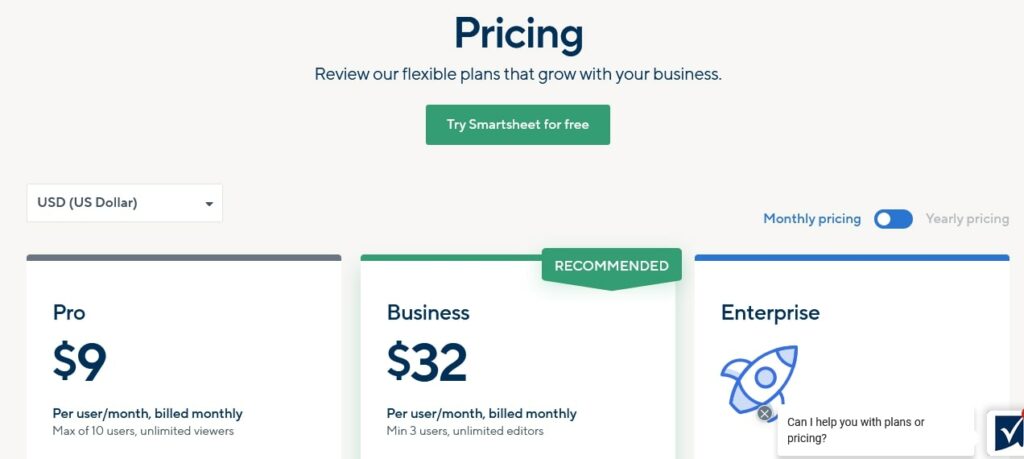 Pro: $9 per user per month (billed monthly) for marketing experts and teams that want to track, share, and manage projects with unlimited views
Business: $32/user/month (billed monthly) for businesses to manage marketing projects and programs with unlimited editors and more capabilities.
Enterprise: Get custom pricing — plan for enterprises that run processes at scale.
Note that you get a significant discount if you choose the yearly pricing. Better still, you can take advantage of Smartsheet's 30-day free trial.
Teamwork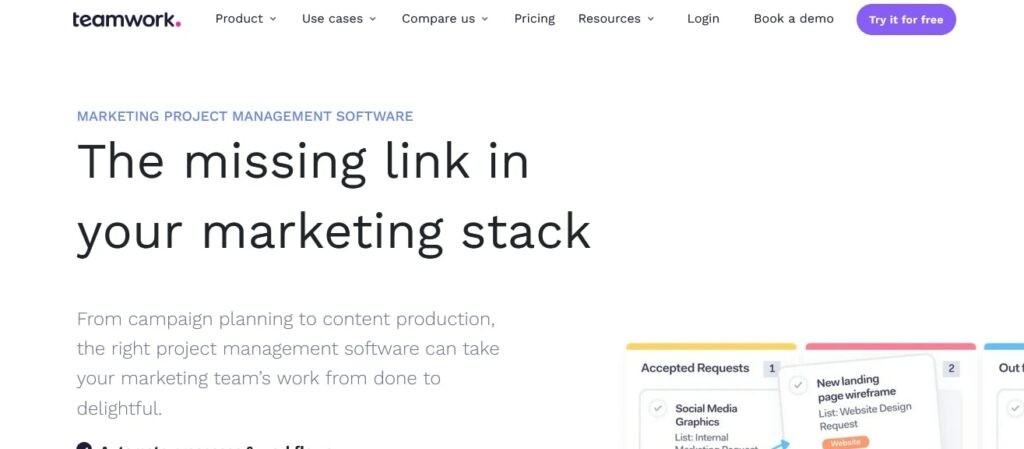 Teamwork is another useful cloud-based software. You can use it to manage tasks and collaborative projects for your small teams. Agencies and professional service providers also enjoy using Teamwork.
This marketing project management tool has client access controls, allowing clients to collaborate on projects without undue restrictions. Besides client management, it's well known for simple navigation.
Teamwork Features
Kanban and Gantt-Style Views
Time Tracking
Intuitive Interface
Workload Management
Customizable Dashboards
Teamwork's features are designed to empower marketing agencies and teams to organize tasks easily.
Teamwork Pros
Intuitive user interface
Unlimited free client users
Allows for tagging, notes, and comments for efficient communication
Teamwork's simple navigation and client management give teams and clients a great experience.
Teamwork Pricing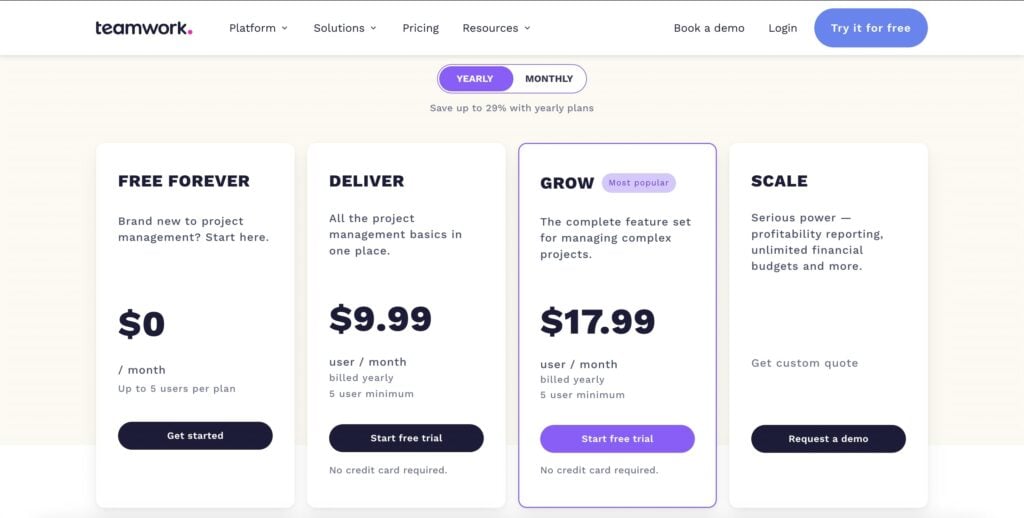 Free Forever Free plan for up to five users who are new to marketing project management
Deliver: $13.99 per user per month (billed per month) brings project management basics to a single place for a minimum of three users
Grow: $24.99/user/month (billed monthly) supports a minimum of five users who manage complex marketing projects
Scale: Get a custom quote for profitability reporting, unlimited financial budgets, and more.
Please note that you can save up to 29% with yearly plans. Teamwork also offers a 30-day free trial.
WorkOtter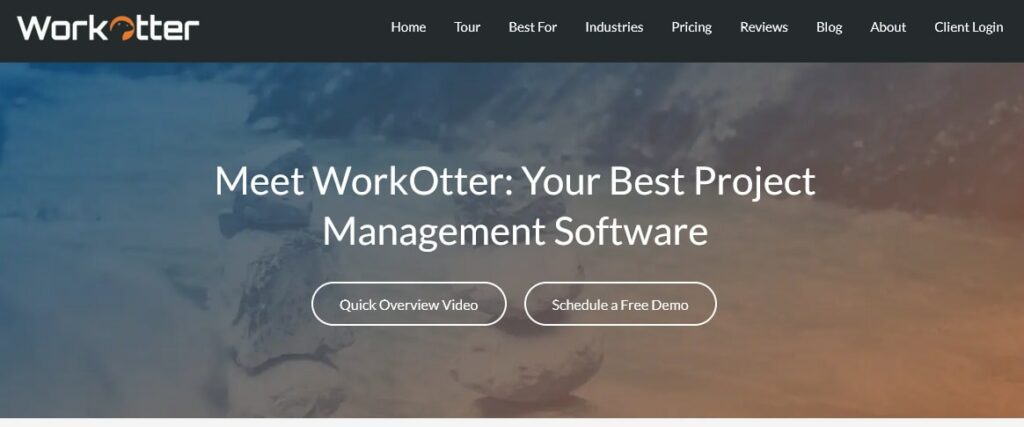 WorkOtter is another cloud-based marketing project management software that deserves a space in this list. It seamlessly integrates project dashboards, planning, and resource management to deliver an exceptional experience.
Marketing experts worldwide use this project management software to manage their teams. You can also use it to allocate resources. Overall, WorkOtter is great since it integrates several useful features that deliver the desired project management experience.
WorkOtter Features
Resource Allocation
Project Dashboards
Project Planning
Project Scheduling
Time Tracking
Marketing teams reap the most from resource management since it's great for managing their creative and analytical resources.
WorkOtter Pros
Automates many tasks
Provides accurate project progress
Offers excellent reporting/analytics
This tool makes running projects and reporting a breeze for most tech-savvy teams with trouble handling new technology.
WorkOtter Pricing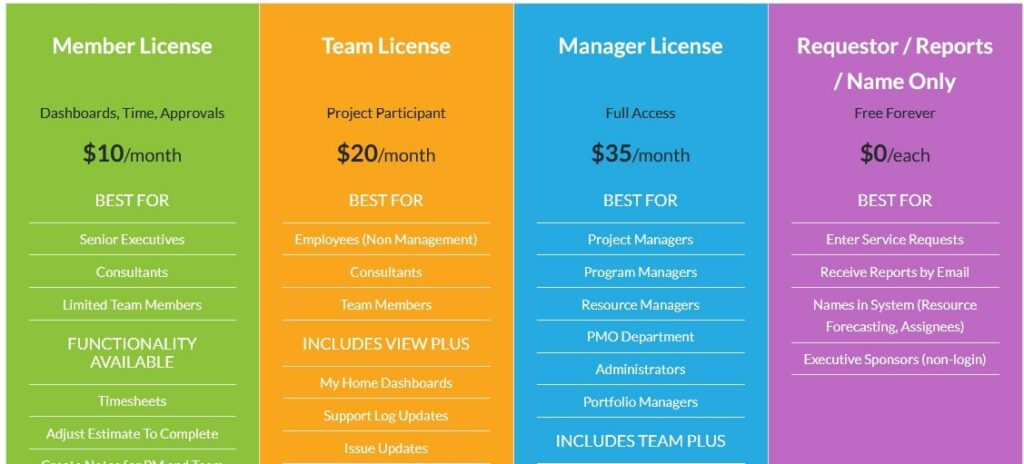 Member Licence: $10 per user per month (billed annually) for limited team members, consultants, and senior executives.
Team Licence: $20 per user per month (billed annually) for employees, consultants, and team members.
Manager Licence: $35 per user per month (billed annually) for program managers, project managers, administrators, Portfolio managers, PMO departments, and resource managers.
Free Forever: Free plan is designed for users who are new to marketing project management.
You can ask for a free trial or Demo if you need.
Oracle NetSuite Project Management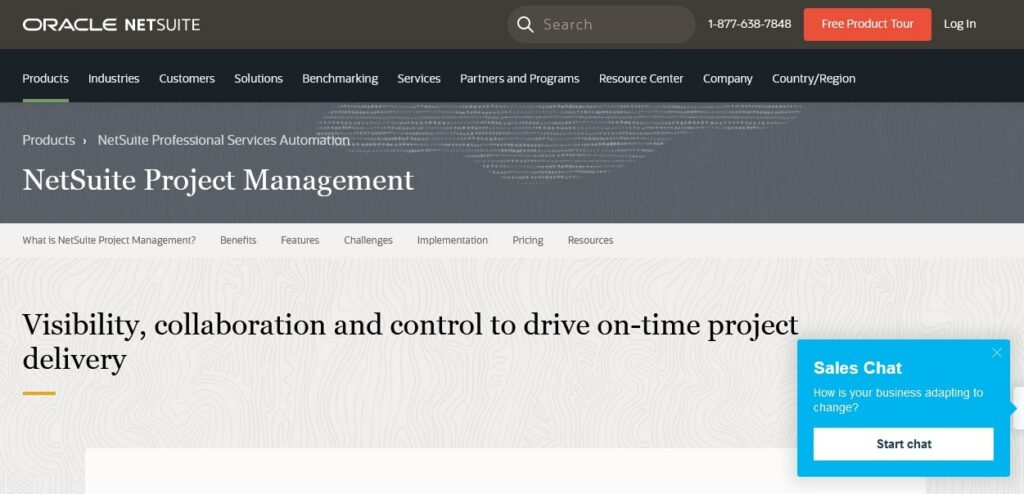 Oracle NetSuite Project Management is a unique unified solution that cares for numerous marketing needs. It provides complete visibility, tracks budget and time, and improves collaboration. Better still, it enhances the flow of information between and across different departments. So, any business offering professional services can use this tool to achieve its organizational goals.
Oracle NetSuite Project Management Software Features
Billing
Expense Management
Resource Allocation
Analytics
Timesheet Management
Oracle NetSuite's automation works in sync with Netsuite's CRM models, HR, and financials and offers a complete solution for your marketing needs. You can use its mobile apps to capture expense and time data whenever you want.
Oracle NetSuite Project Management Pros
Cost depends on your needs
Automate billing processes
Capture each project's expenses and time spent
NetSuite Project Management gives you complete control over your projects.
Oracle NetSuite Project Management Pricing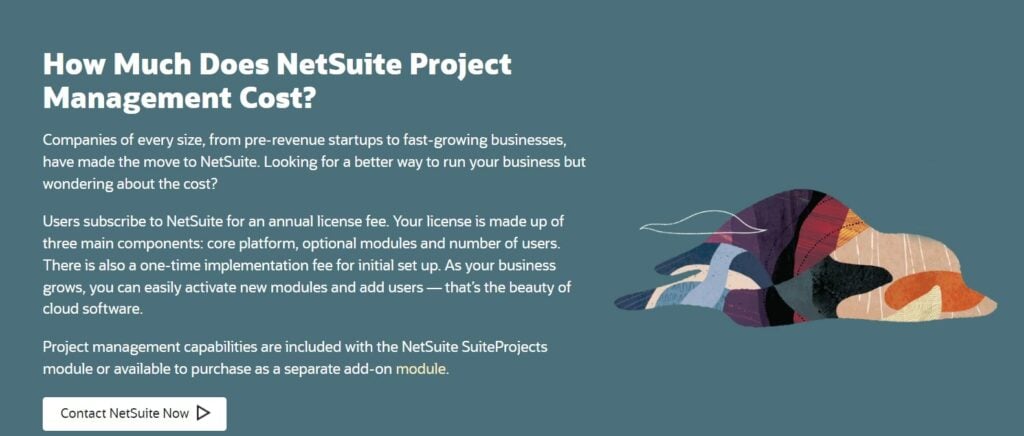 You'll have to contact NetSuite for custom pricing.
You'll subscribe for an annual license fee. The license is made up of the following main components:
Core platform
Optional modules
Number of users
One-time-implementation fee for initial setup
As your marketing team grows, you can activate new modules and add users.
Resource Guru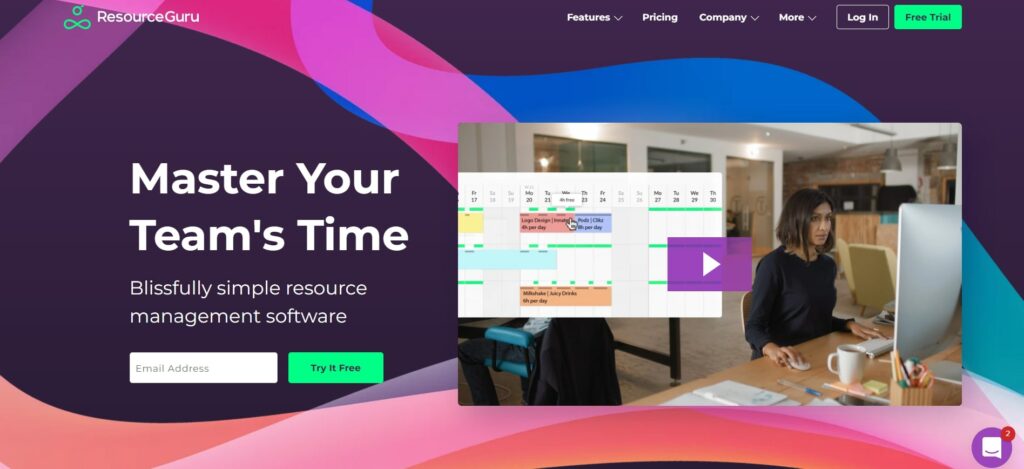 Are you looking for a cloud-based scheduling tool that offers a fast and simple way to schedule resources, equipment, and teams online? Resource Guru could be the best choice. If you have been using something more complex than a spreadsheet or bloated, expensive, or clunky, you still need Resource Guru to fix the inefficiencies and frustrations you've been facing.
The tool's easy-to-use drag-and-drop user interface gives you a user-friendly solution. Because of the features, the scheduling software offers better collaboration and increased productivity.
Resource Guru Features
Access Controls/Permissions
Appointment Scheduling
Assignment Management
Attendance Management
Attendance Tracking
Resource Guru's features show why busy marketing teams choose it. You can rely on it to schedule resources, assign work, track progress, and boost productivity without your team members burning out due to inefficiencies.
Resource Guru Pros
Fast
Provide full team visibility
Manage teams, freelancers, meeting rooms, and more
Resource Guru empowers you to get full team visibility in a single calendar and manage resources and meeting issues in seconds. Moreover, this marketing PM software enables you to fix scheduling issues on the fly.
Resource Guru Pricing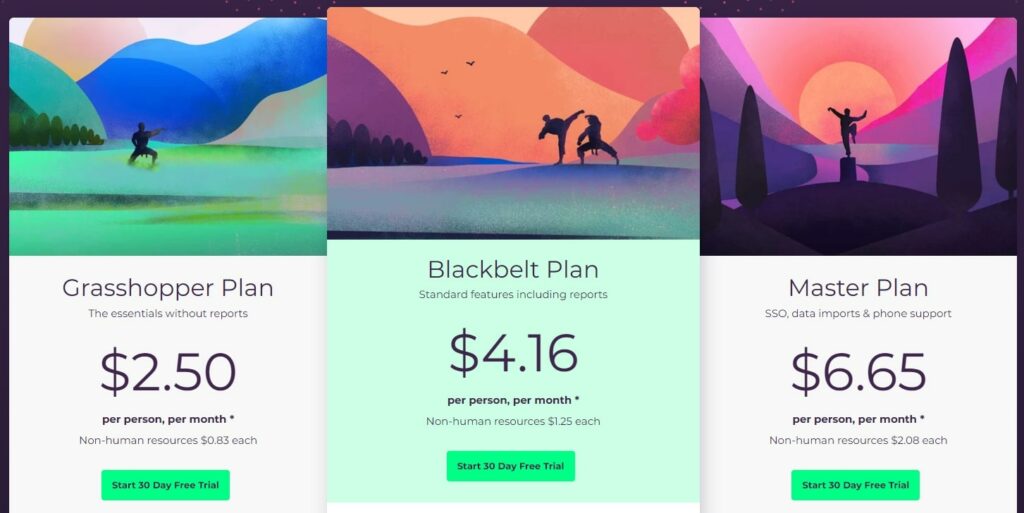 Grasshopper Plan: $2.50 per user per month for the essentials without reports
Blackbelt Plan: $4.16 per person per month, which is for standard features, including reports
Master Plan: $6.65/person/month for SSO, data imports, and phone support
If you pay annually, you get two months for free. Resource Guru also offers a 30-day free trial.
Zoho Projects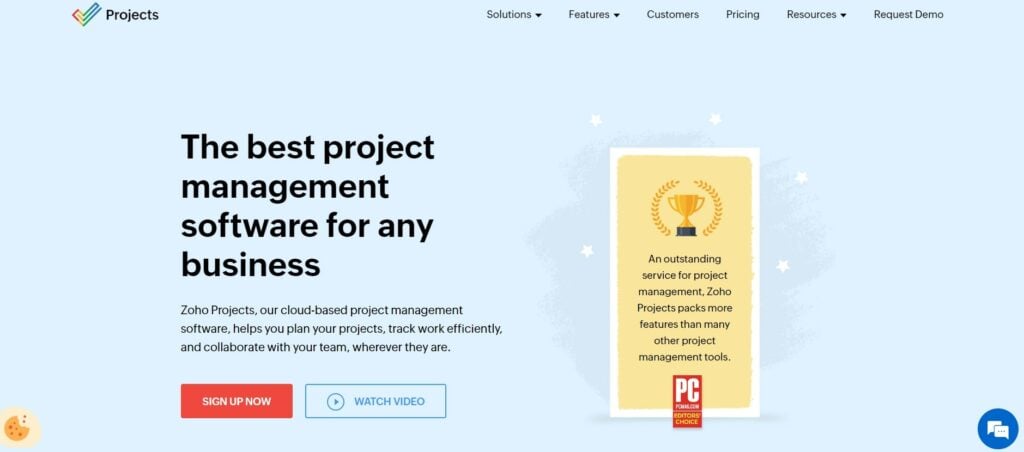 Zoho Projects provide a wide range of quality tools that marketing teams can use to automate, manage, and track their project tasks. This marketing project management software ensures effective planning by breaking down marketing initiatives into milestones, task lists, tasks, and subtasks. You can add comments and assign descriptions to get more out of this platform.
Better still, you can get a complete view of your marketing projects from this tool, enabling you to access insights into the marketing performance. It also offers templates that you can use to save a lot of time.
Zoho Projects Features
Team Collaboration
Integration
Task Management and Automation
Time Tracking
Issue Tracking
Zoho Projects arms marketing professionals to consider that it offers features you can use to automate and manage tasks. You can also create, plan, and track task progress in real-time.
Zoho Projects Pros
Empowers you to log billable and non-billable hours
Offers deep configuration options
Provide efficient time-tracking solutions
This marketing management software has many features outside the marketing project management scope, including finance and human resource management.
Zoho Projects Pricing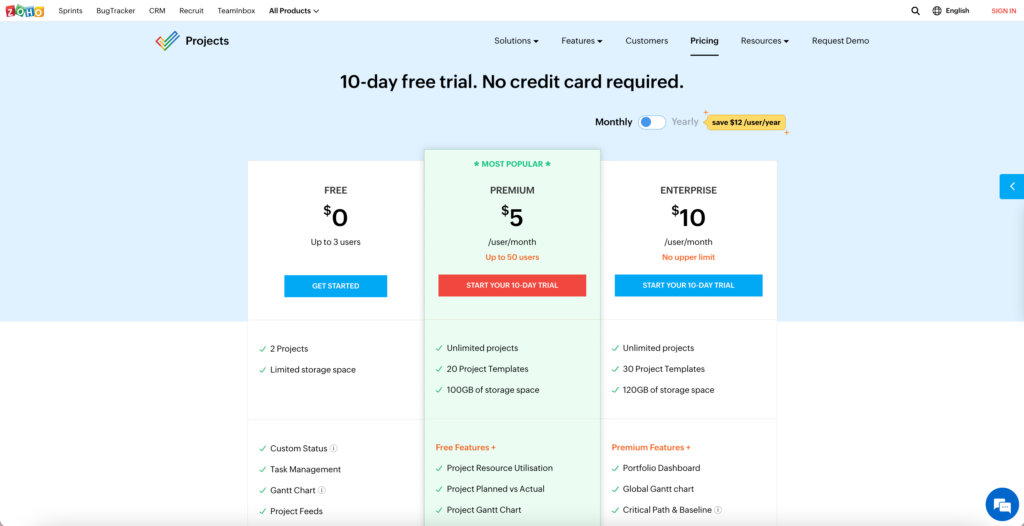 Free: Free for up to three users
Premium: $5/user/month (billed monthly) for up to 50 users
Enterprise: $10 per user per month (billed monthly) for unlimited users
You can save some dollars with the yearly plan.
Zoho Projects offers a 10-day free trial.
Notion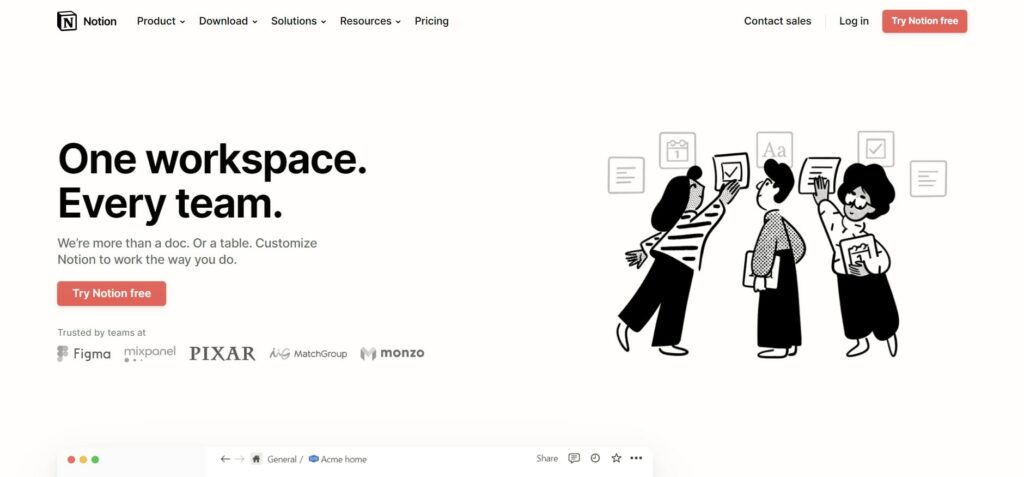 Let's take a look at Notion right now.
Notion is another popular marketing agency project management software with plenty of use cases. You can track project progress, create a mood board for art, organize project details, and more. However, it's popularly known as a note-taking tool.
Notion Features
Unlimited Pages and Blocks
Docs
Drag and Drop
Tables and Databases
Infinite Hierarchy
So, Notion is an excellent place to capture your marketing thoughts, manage your projects, and run your company the way you want.
Notion Pros
User friendly
Facilitates real-time collaboration
Offers a wide range of project templates
New users can learn how to reap the benefits of this marketing project manager software fast. You can also use mention@ and templates to communicate in real time and simplify your work.
Notion Pricing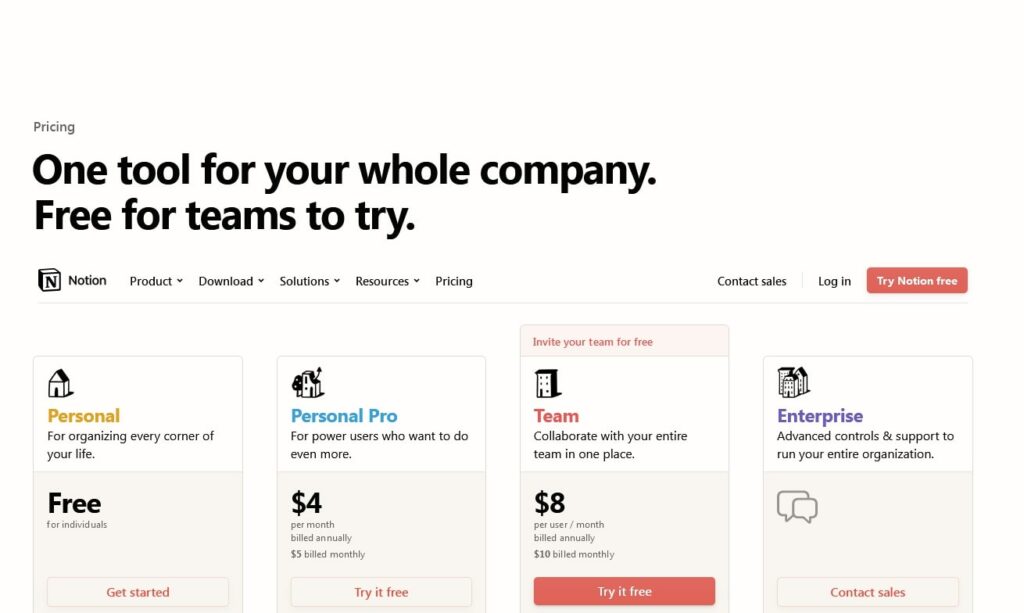 Free: Free version offers unlimited blocks for individuals and limited block trials for teams.
Plus: $8/user/month (billed annually) for small teams to plan and get organized.
Business: $15 per user per month (billed yearly) for several teams and tools.
Enterprise: Contact sales for advanced marketing solutions.
Notion offers a one-week free trial.
Asana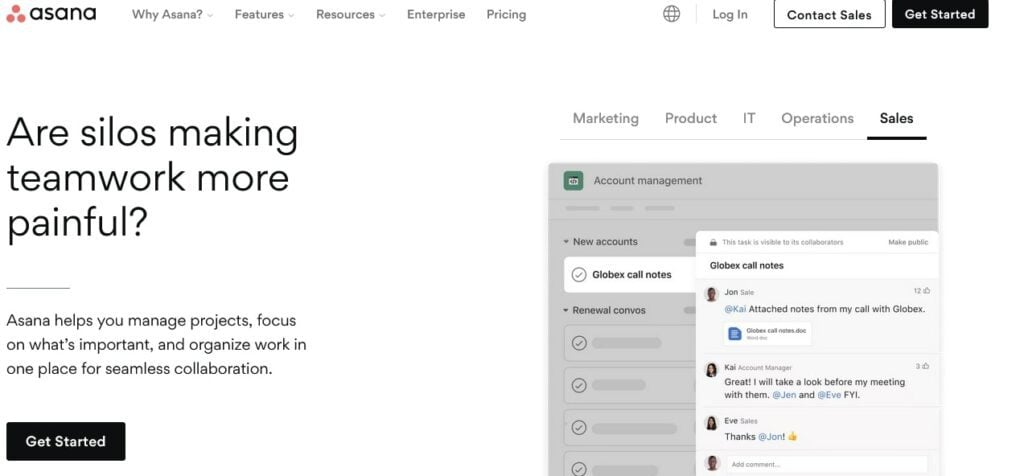 Asana is another useful marketing management software that can manage small and large projects in the marketing space. This management software is user-friendly and designed around tasks and subtasks. For each task, the team involved can communicate in the same place in real-time
We've seen other project management tools with the same functionalities. However, Asana's unique features might still give it an upper hand over other marketing PM software.
Asana Features
Tasks and Subtasks
Kanban Boards
Project Timeline
Milestone Tracking
File Attachments
This management software enables project managers to assign tasks to individual or marketing teams.
Asana Pros
Marketing teams can add attachments to tasks and access them later in the team file storage
Provide advanced collaboration tool
Project Templates speed up the marketing project management processes
Your marketing team can use Asana's collaboration features, templates, and project management features to ensure everything goes as planned.
Asana Pricing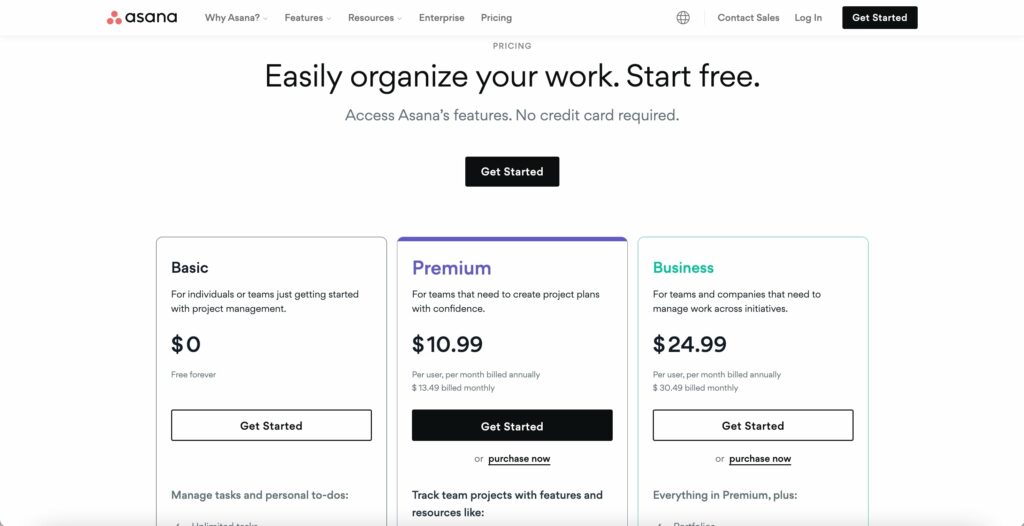 Basic: This project management tool's a free forever plan for individuals or teams new to marketing project management.
Premium: $10.99 per user per month billed annually or $13.49 billed monthly for teams
Business: $24.99/user/month billed yearly or $30.49 billed monthly for companies and teams that require to manage marketing work across initiatives
Asana offers a 30-day free trial.
Airtable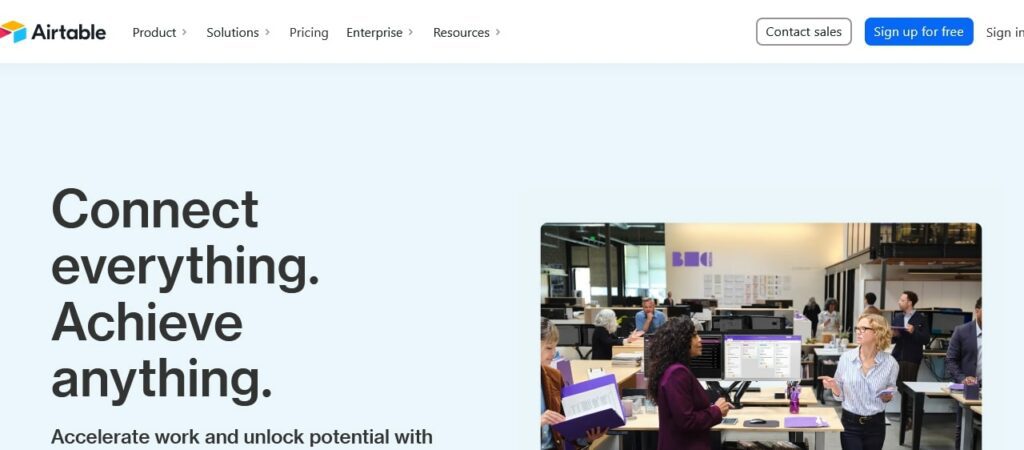 Airtable is another wonderful project management tool. It's one of the project management tools with powerful project management features.
The marketing project management software combines the functionality of spreadsheet and task management. It also features an easy-to-use interface.
Airtable Features
Video Chat Functionality
Task Management and Spreadsheet
Blocks
Marketing Project Management Software
Integrations
The combination of spreadsheet and task management and a pleasing design interface give users a great experience while managing projects. Blocks also empower marketing teams to create perfect workflows.
Airtable Pros
Advanced data management
Lots of templates for various project types
Plenty of project views
Airtable is a customizable visual marketing project management software that uses various tools to showcase project progress and ensure proper project management.
Airtable Pricing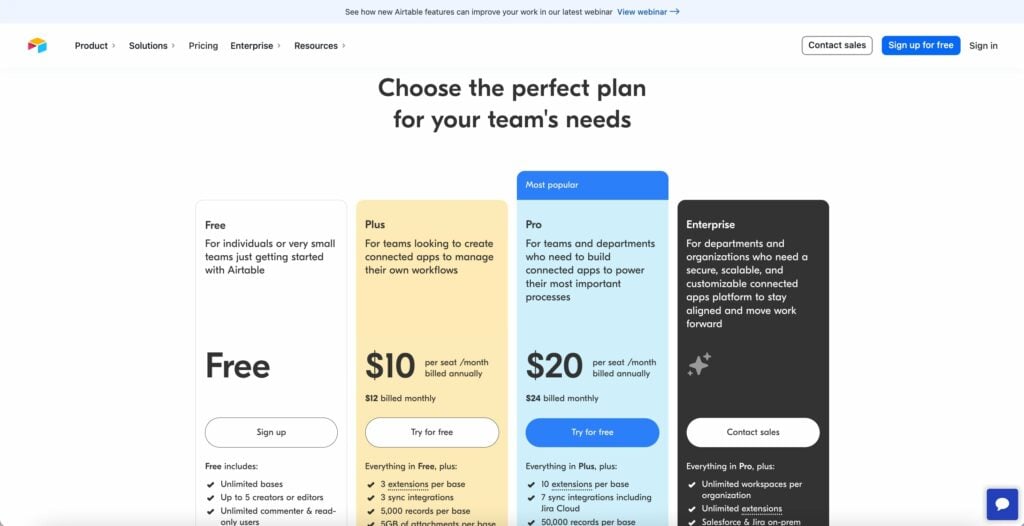 Free: Free plan for very small teams or individuals getting started with Airtable
Plus: $10 per seat per month billed annually for teams looking to manage their workflows.
Pro: $20 per sear/month billed annually for teams and departments that want to power their most important processes
Enterprise: Contact sales for pricing. It suits departments and organizations that are looking for scalable, secure, and customizable project management platforms
You can request a free trial.
Celoxis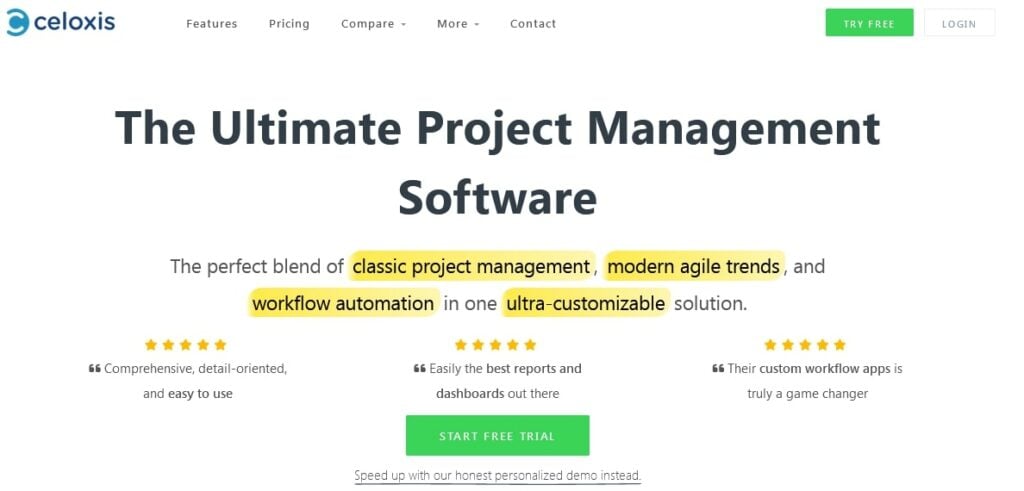 Celoxis is another popular marketing software that we should review in brief. It's easy to use and incredibly affordable.
This marketing project management software is an integrated solution that you can use to manage various functions and features, including resources, timesheets, project portfolios, and workflows. It's also well known for improving team collaboration.
Celoxis Features
Clickable Charts
Portfolio Management
Project Templates
Data Visualization Options
Scheduled Report Delivery
Celoxis comes with tools that suit medium and large organizations. Its powerful tools, like ample reports, give business owners and decision-makers great value.
Celoxis Pros
Short setup time
Excellent value
Tools like ample reports for decision-makers
Most teams like project management tools that are easy to use and have a short setup time. However, Celoxis is appealing to medium and large businesses mainly because it includes quality resource management, budgeting, and time-tracking tools.
Celoxis Pricing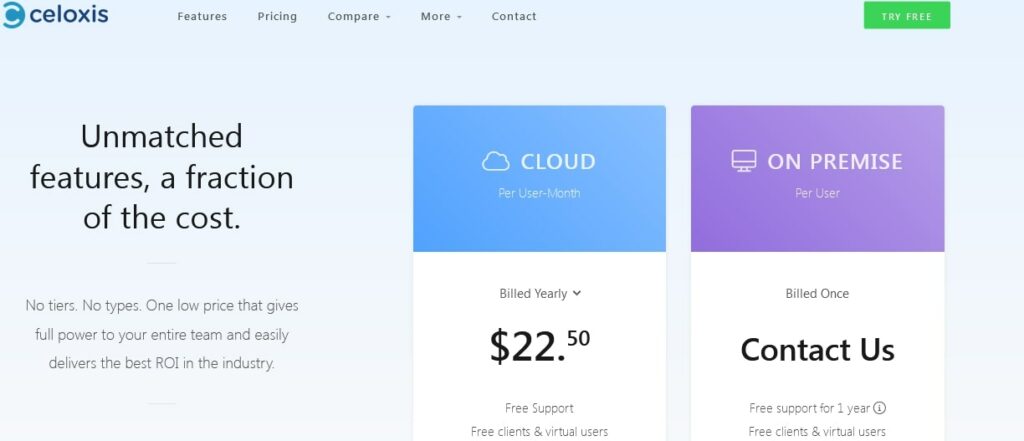 Cloud: $25/user/month for full power your entire marketing teams, billed yearly: $22.50, billed 2-yearly: $21.25, billed 3-yearly: $20
On-Premise: Contact Celoxis for a quote, billed once per user
Celoxis offers a 30-day free trial
Productive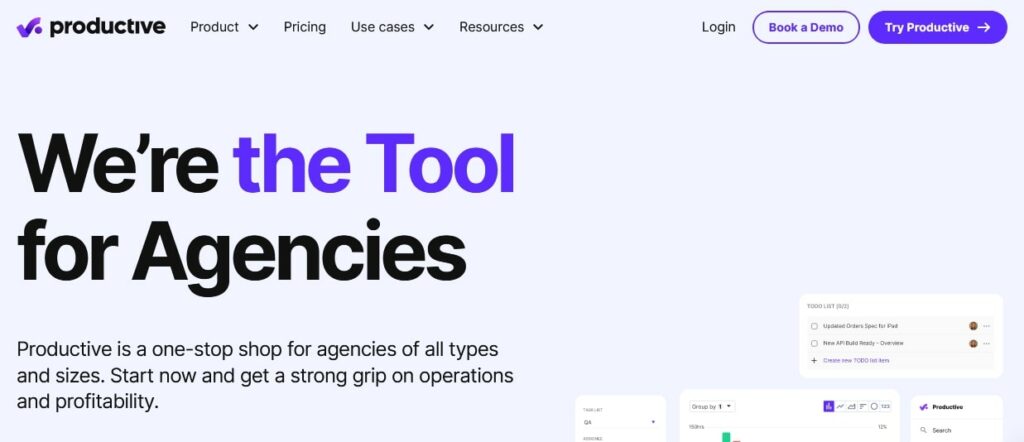 Many professional service providers and agencies use Productive to manage their marketing projects. It is popular because its main agenda is to give customers a complete and real-time view of task progress.
This all-in-one management solution is designed for businesses of all sizes. However, small to mid-size marketing companies use it more.
Productive Features
Budgeting and Reporting
Project Planning
Billing
Time Tracking
Resource Planning
Productive offers plenty of work views and simplifies task management and collaboration processes. Billing features and other tools also equip small and mid-sized marketing teams with the capacity to succeed.
Productive Pros
Provide a holistic view of projects
Easy to use
Allows teams to run client accounts without missing any data and skipping any process
Productive Pricing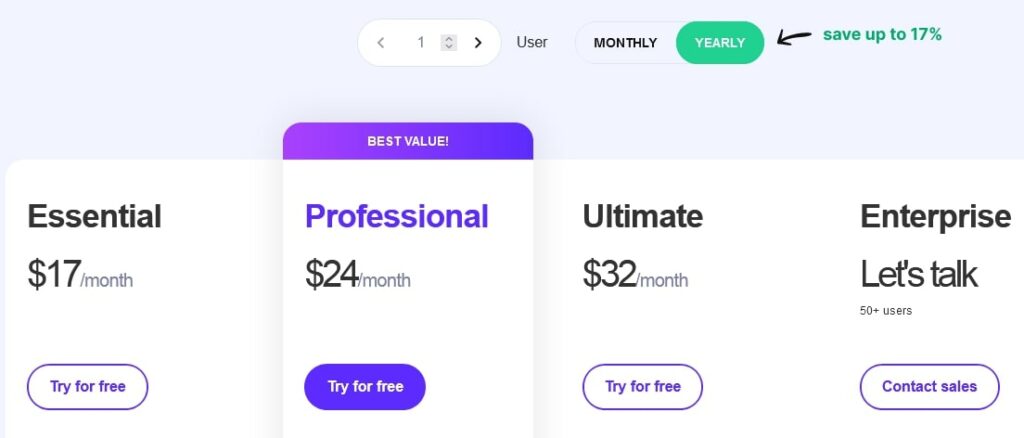 Essential: $17/user/month, which suits teams getting started with end-to-end agency management
Professional: $24/user/month for businesses or marketing agencies looking for better results
Ultimate: $32 per user per month for agencies looking forward to getting the most out of Productive.'
Enterprise: Get custom pricing for 50+ users who want to better support and customization options
Productive offers a 14-day free trial.
Basecamp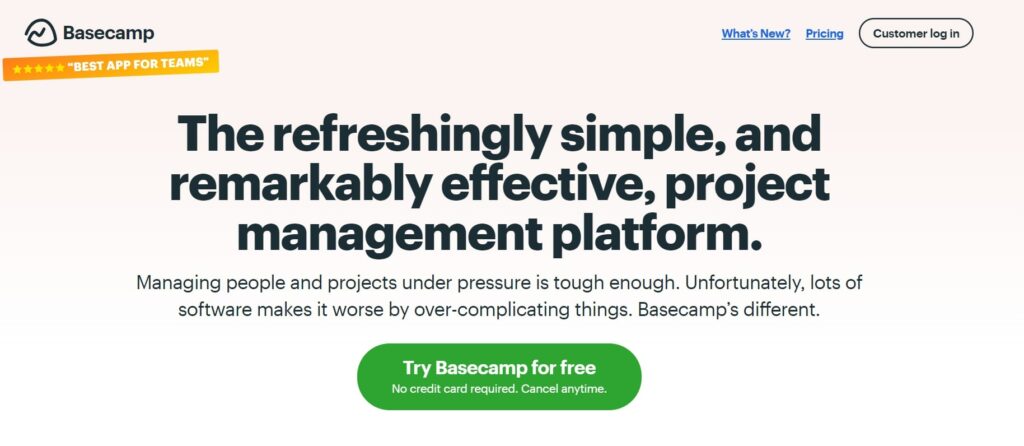 Basecamp is a project management tool with plenty of collaboration features for individuals and marketing teams. It brings project and staff management under one tent.
This cloud-based tool puts a lot of emphasis on project completion within the required budget and time. It takes care of document management, team collaboration, and more.
Basecamp Features
Project Templates
Scheduling and Prioritizing Tasks
File Storage and Sharing
To-Do Lists
Message Boards
Features like message boards and to-do lists help to bring project team communications and task management in one place. Marketers can also use group chats and storage to ensure projects are completed as planned.
Basecamp Pros
Saves new documents as drafts before publishing them
Integrates with ClickUp
Allows clients to view tasks and communicate in real time
Since Basecamp offers plenty of features and integrates with many tools, including ClickUp, it can conveniently serve all your marketing project management needs.
Basecamp Pricing

Basecamp offers a 30-day free trial and a paid plan at $11/user/month flat.
Marketing Project Management Software Conclusion
Choosing the best marketing project management software can take time because none is perfect. However, getting the basics right before rolling it out to your team is the wisest thing you can do.
So, when choosing which of the tools in this list, consider how you want to run your business, how many people are in your teams, and what type of work they do. Once you are done, look for one that fits your budget.
With the right project management software, marketing teams can easily collaborate. Moreover, marketing managers and business owners can get the helpful insights they need to achieve their business goals.