Are you looking to use Salesforce for project management? Although Salesforce is one of the most versatile platforms in the market, it still lacks something—a dedicated project management solution. Luckily, there's a fix. 
You can either improvise with what Salesforce puts on the table or head over to its AppExchange. You can also integrate the platform with other project management software.
Let's discuss this in further detail.
Option 1 – Use Basic Project Management Features in Salesforce
Although Salesforce lacks a dedicated project management tool, it still has plenty of out-of-the-box features that can fill in some blanks. Let's have a look at them.
Chatter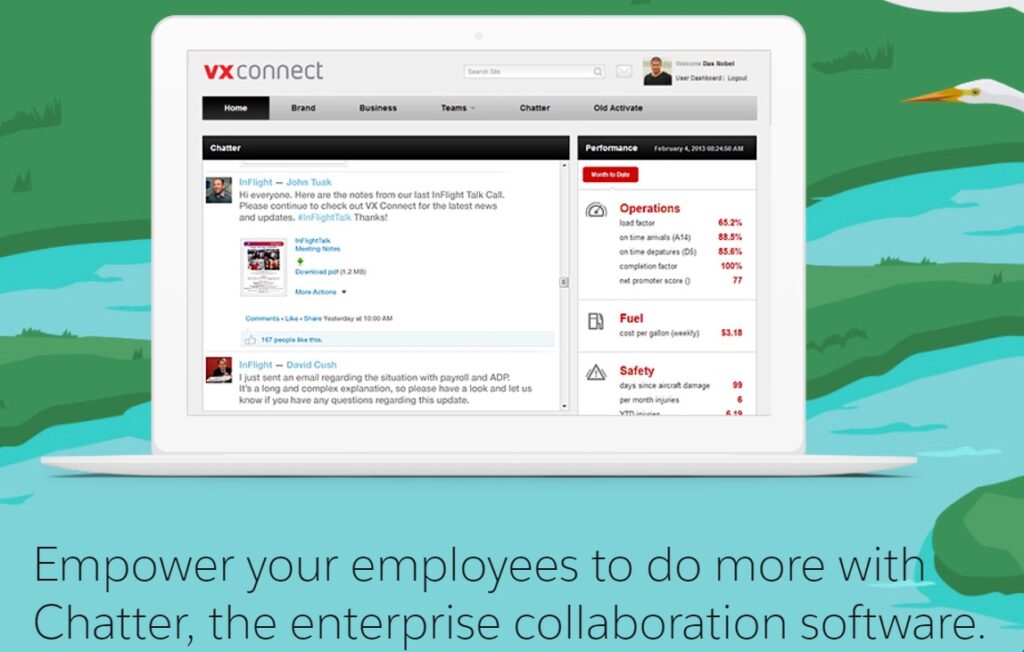 Think of Chatter as Salesforce's productivity-focused social media application. It's a real-time collaboration app that brings your team under one roof and allows members to communicate with each other.
Users can create posts to define a project or task. Meanwhile, your team can leave comments under each post to share files, give updates, or ask questions.
Moreover, Chatter allows you to create multiple groups, which is handy if you've got multiple teams working on different projects.
Lastly, you can enable email notifications to keep your team up-to-date with the latest announcements.
Salesforce Tasks
Salesforce tasks help keep track of your workflow. This feature allows you to create and assign tasks to multiple team members. Each task contains three fields: status, subject, and priority.
The status defines a task's level of completion. More specifically, you can label a task like the following:
Not started
In progress
Waiting on someone else
Deferred
The task's subject refers to its name, whereas priority can be low, normal, or high.
Learn more about Salesforce here.
Reports and Dashboards
One of Salesforce's main strong suits is its customizability.
You can customize your dashboard to fit your needs, while the platform provides a drag-and-drop report builder to help you keep an eye out for the metrics that matter to you the most.
For instance, you could tweak the dashboards and reports to help you manage project timelines and measure your team's performance.
Account Teams
Account Teams allows multiple users to work in a single account. All team members have access to the same documents, reports, activities, deals, etc.
This ensures your team members are all on the same page. Account Teams help enhance communication, streamline workflow, easily track ongoing projects, and eliminate the risk of miscommunication during the information-sharing process.
Learn more about Salesforce here.
Journey Builder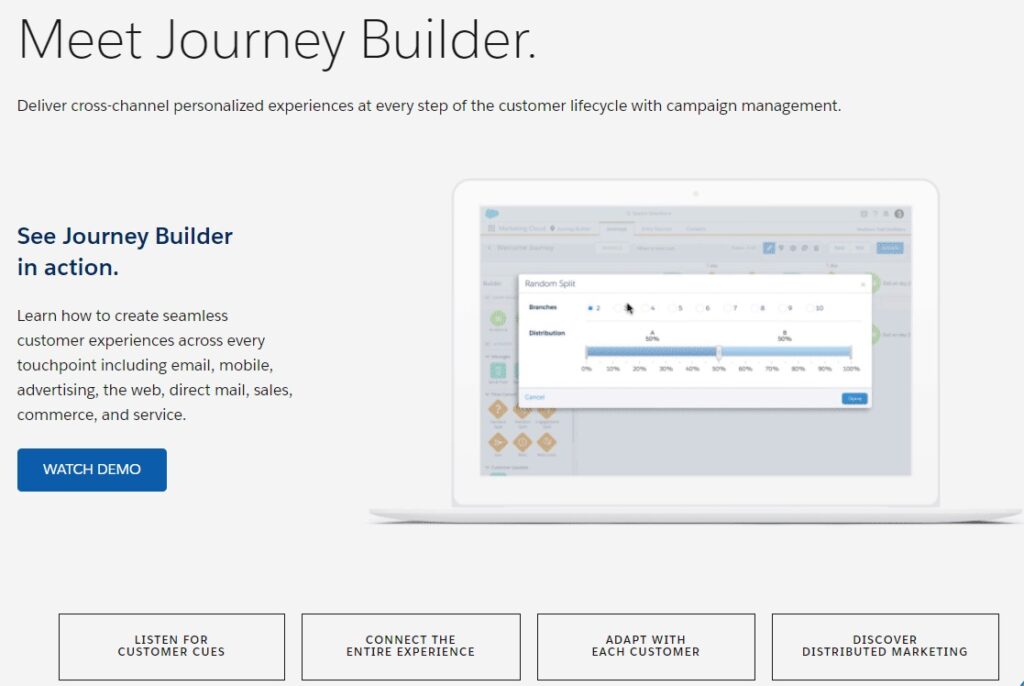 Although the Journey Builder primarily handles customer journeys, it can also automate the customer onboarding process. This means one less project for your team to work on, which, in turn, means more time to focus on other essential activities.
This feature allows you to create triggered-based messages to guide customers through onboarding. For instance, you could automatically send new customers daily tips and tricks messages via emails or push notifications.
Speaking of automation, it can also help in other aspects of project management, like setting up automatic notifications to remind your team of ongoing tasks.
You can also automatically assign tasks to specific team members through Salesforce's Process Builder.
Overall, using Salesforce can fulfill basic project management needs, making this option suitable for small teams. However, you'll have to look elsewhere if you seek more functionality.
Learn more about Salesforce here.
That's where the AppExchange comes in.
Option 2 – Use the AppExchange
The AppExchange is Salesforce's cloud computing market where users can find apps, components, and consulting services.
The AppExchange stands out due to its size and versatility, as there are over 3400 apps available. That said, businesses can find solutions for everything they need, including dedicated project management apps.
In contrast to the first option, the AppExchange is suitable for larger teams, as you can find plenty of free and paid comprehensive solutions.
Let's briefly look at some of the best project management apps you can find on AppExchange.
TaskRay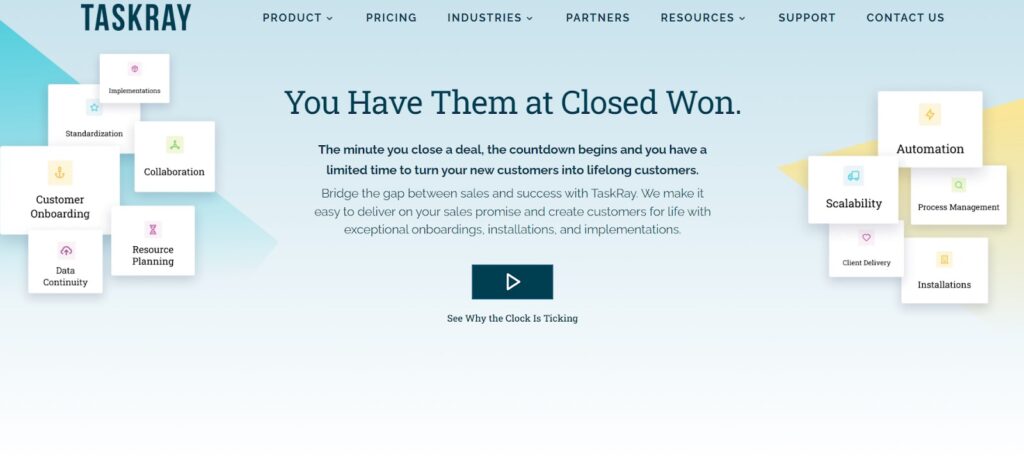 TaskRay handles project management and customer onboarding. This tool includes multiple customizable views, like Kanban, Gantt, spreadsheets, calendars, etc.
Moreover, you can create task dependencies. Other features include time tracking, analytics, email reminders, and more.
Pricing starts at $25/user/month with a 14-day free trial.
Mission Control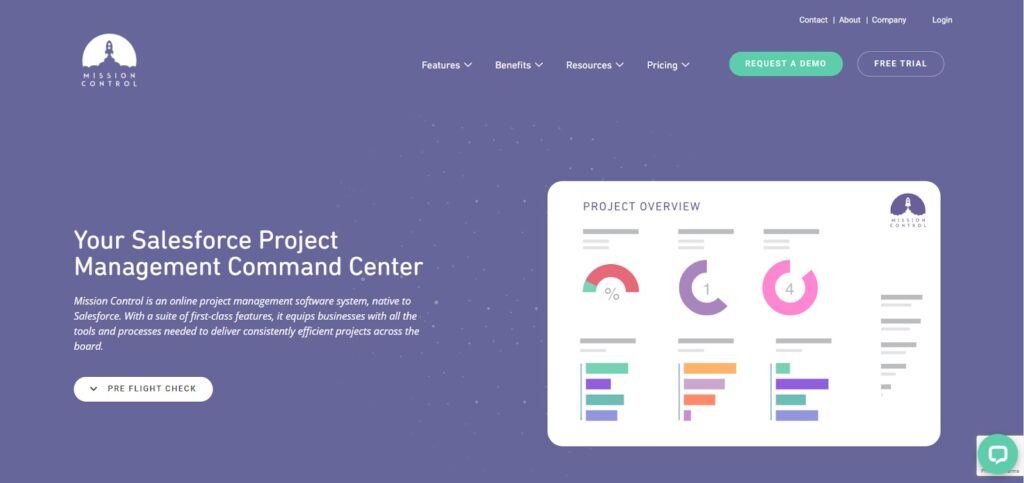 Mission Control is a native, full-fledged project management solution that includes multiple views, time tracking, project templates, user notifications, resource allocation, Chatter integration, etc.
However, this platform stands out due to its expense management. Mission Control allows you to monitor bills and costs, send invoices, track non-working days, and more.
Pricing starts at $39 AUD/user/month.
Precursive OBX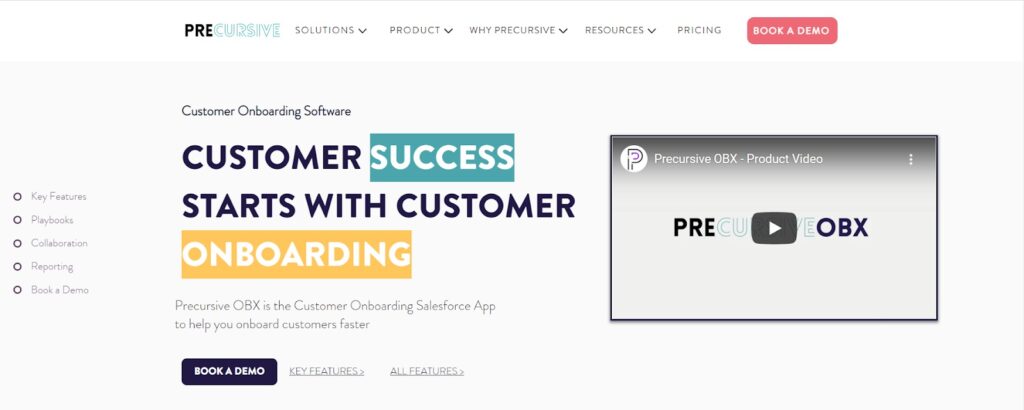 Like TaskRay, Precursive OBX also handles customer onboarding. For project management, you can find features like various views, task dependencies, project automation and status, instant team-sharing, and pre-built dashboards.
For customer onboarding, this tool offers customized onboarding plans, optimized handover from the sales team to the onboarding team, real-time customer collaboration, and more.
Pricing starts at $40/user/month. There's also a 14-day free trial available.
Milestones PM+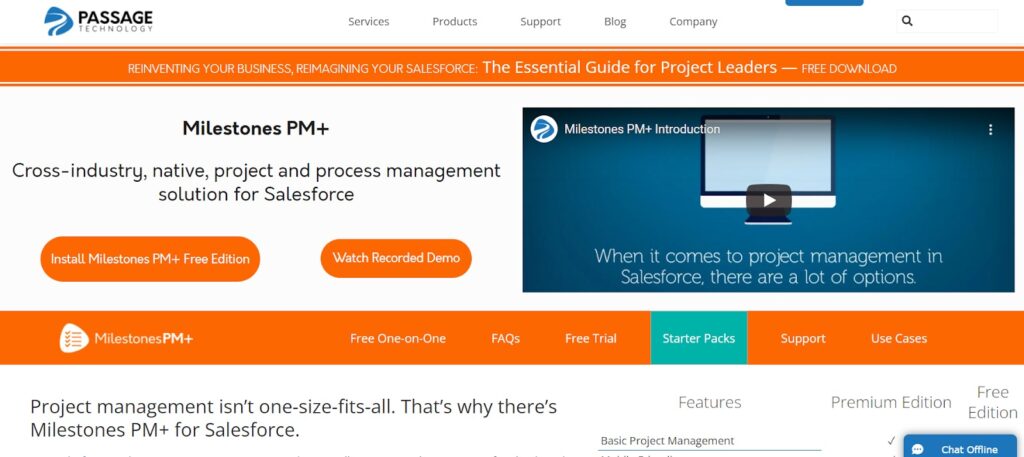 Milestones PM+ comes in a free and premium version. The free app is pretty solid. Some features it provides are automated project templates, task dependencies, custom project types, and Gantt charts.
Alongside the features listed above, the premium version also covers time tracking, resource management, more in-depth project templates, email alerts, interactive Gantt charts, etc.
Pricing will set you back $2064/organization/year. However, you have the option to create a customized quote which might save you some money.
ProjecLeo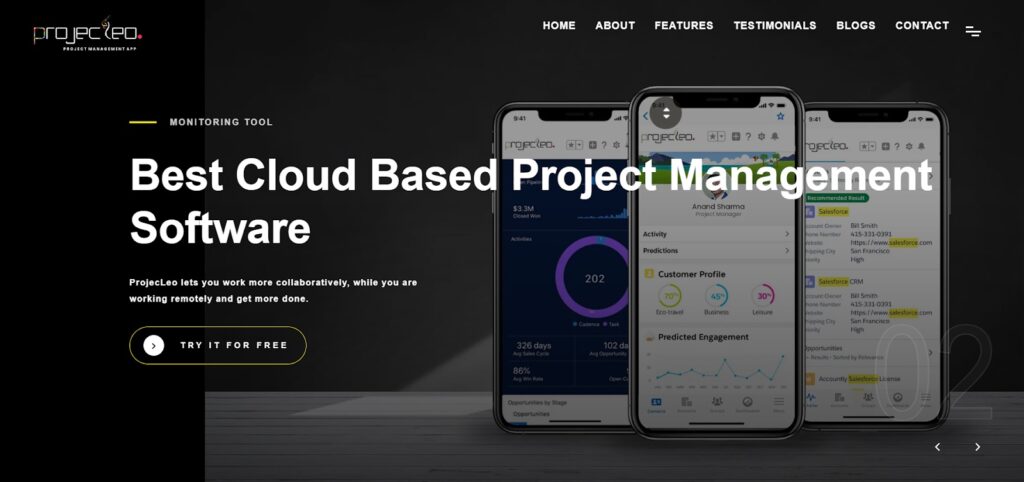 Excluding Milestone PM+'s free version, ProjecLeo is the most affordable option on this list. Starting at $7/user/month, this tool handles all essential project management needs.
The platform lets you create projects which you can further segment into milestones, tasks, and sub-task for better organization. Aside from that, ProjeccLeo handles reports, collaboration, workload management, task management, scheduling, and more. All of which are packed into an intuitive interface. 
Best Project Management Software
Description:

Monday.com is the best cloud-based project management tool that helps teams manage their workflow and collaborate more effectively. It provides a visual overview of your team's progress, making it easy to identify bottlenecks and areas for improvement. It's a great option for teams looking for a flexible and intuitive project management solution.

Description:

ClickUp is a powerful project management tool designed to help teams work more efficiently and collaboratively. It offers a range of features, including task management, time tracking, team collaboration, and project planning, making it easy to manage your team's workflow in one place.

Description:

Notion is an all-in-one workspace for notes, tasks, wikis, and databases that helps teams and individuals organize their workflows in one place. Its powerful platform can help you save time, reduce human error, and improve efficiency.

Description:

Teamwork is the only project management platform built specifically for client work. It offers a unique set of features that help teams gain complete clarity and control over their projects, from start to finish. With Teamwork, teams can easily manage clients and projects, assign tasks and deadlines, and track progress in real-time. The platform also offers a range of reporting tools, including time tracking and resource management, to ensure that projects stay on schedule and within budget.

Description:

Smartsheet is best for sheet-based work management platform that offers project management, task tracking, resource management, and collaboration features. It is highly customizable for different teams and can be used for a wide range of purposes.

Description:

Wrike is a project management software that helps teams collaborate and manage tasks efficiently. It provides a centralized platform for project planning, task tracking, team communication, and reporting. With Wrike, teams can streamline their workflows, improve productivity, and achieve their goals faster.
Conclusion
Overall, project management is still possible with Salesforce. On the one hand, Salesforce's out-of-the-box features should be enough for small teams to handle basic project management tasks.
On the other hand, teams looking for more functionality can turn to AppExchange to find the best tool that fits their needs.
However, there's also a third option. You can rely on external project management software. Sure, there might be some compromises, but you can't go wrong with them in terms of functionality.
Besides, some platforms like monday.com, Wrike, and Asana can integrate with Salesforce. You won't have to worry about jumping from one platform to another.