Maintaining strong communication with your team is an essential part of project management. Therefore, a tool that covers team collaboration and project management is ideal. That's where Wrike comes in. This Wrike review will examine the platform's features, pros, cons, and pricing. Then, we'll stack it up against competitors to see if this tool may be the right choice.
Wrike is a popular project management software. The platform is easy to use and highly secure. Its broad feature set and flexibility make this platform suitable for any large or small business. Let's get into more details.
What is Wrike?
Wrike is a cloud-based project management tool that aims to make work management and team collaboration easier by allowing companies to handle their projects in an organized, efficient, and transparent manner.
Although this platform tailors to agencies, marketing teams, and service providers, Wrike's flexibility makes the software suitable for any business with a long list of project management needs.
Wrike stands out from its competitors because the platform goes beyond project management. It also helps businesses handle specific aspects of work management.
In other words, Wrike allows you to do two things:
On the one hand, you can plan a project from beginning to end, while the platform provides all the features necessary to monitor tasks, manage deadlines, improve productivity, and more.
On the other hand, the platform handles ongoing work not bound by a fixed deadline, like posting on social media twice a week, for instance.
Wrike Pricing
Wrike covers five pricing plans:
Free
Professional – $9.80/user/month
Business – $24.80/user/month
Enterprise – upon request
Pinnacle – upon request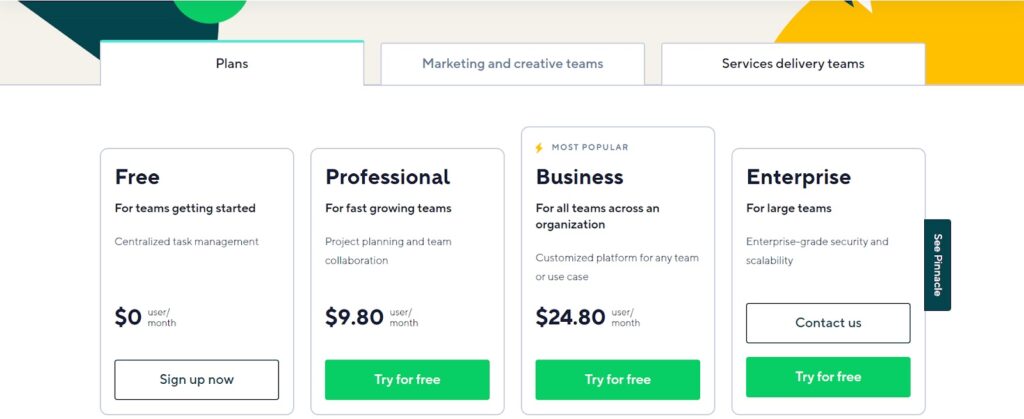 Moreover, Wrike offers two other plans specifically designed for the marketing, creative, and services delivery teams.
The Wrike for Marketing Teams plan includes everything the Enterprise plan offers, pre-built marketing templates, dashboards, in-depth reports, data visualization, and more.
The Wrike for Professional Services Teams plan covers all Enterprise features, role-based resource management, time tracking, job role, user and project cost, bill rates, etc.
Furthermore, the plan also offers ready-made professional services templates, dashboards, and reporting.
Wrike Pros and Cons Summary
Pros
User-friendly interface
Various customization options
Real-time analytics
Comprehensive integration capabilities
Real-time analytics
Its feature set eliminates the need for multiple tools
Department-specific solutions
Various project views (Kanban, Gantt, etc.)
Easy access to documentation
Free plan
Cons
Overwhelming for beginners
Per-user subscription model
Free plan only offers 2GB of storage
Wrike Project Management Features Review
Wrike provides a vast selection of features designed to handle team communications, budgeting, planning and management, security, and more.
Let's discuss this in further detail.
Views
Switching between multiple views is crucial for seeing the bigger picture and going into minute details. It allows you to spot any potential bottlenecks in your team's workflow and identify where there is room for improvement.
Wrike's got you covered with that. The platform offers plenty of view options, including Gantt charts, boards, lists, and tables, which you can further customize to your liking.
The List view works like a to-do list. You can see your task placed under a list format. This allows for complete visibility of your projects, folders, or workspace content. You can also quickly sort your tasks by title, priority, date, or status.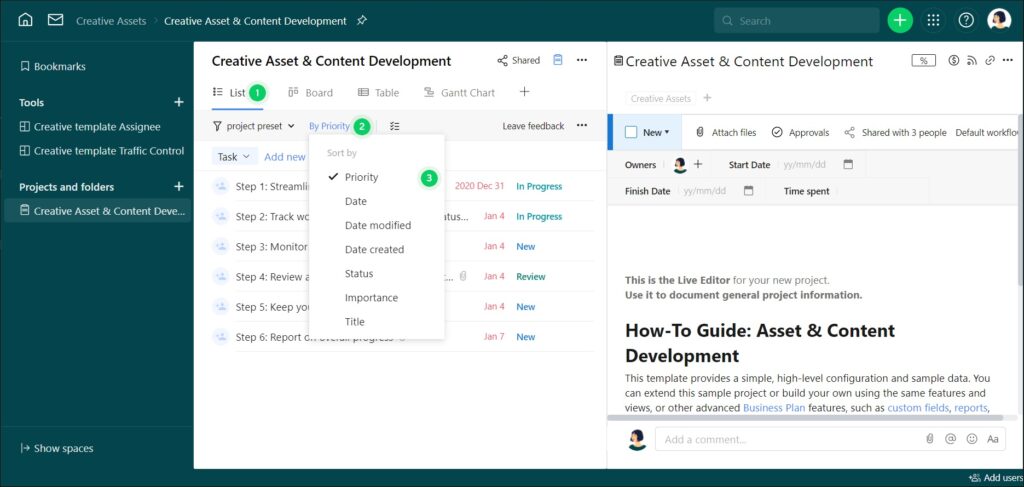 The List view is recommended when scheduling or bulk-editing tasks within a space, folder, or project.
The Board view is similar to a Kanban board. It organizes tasks into columns and puts them in order based on status.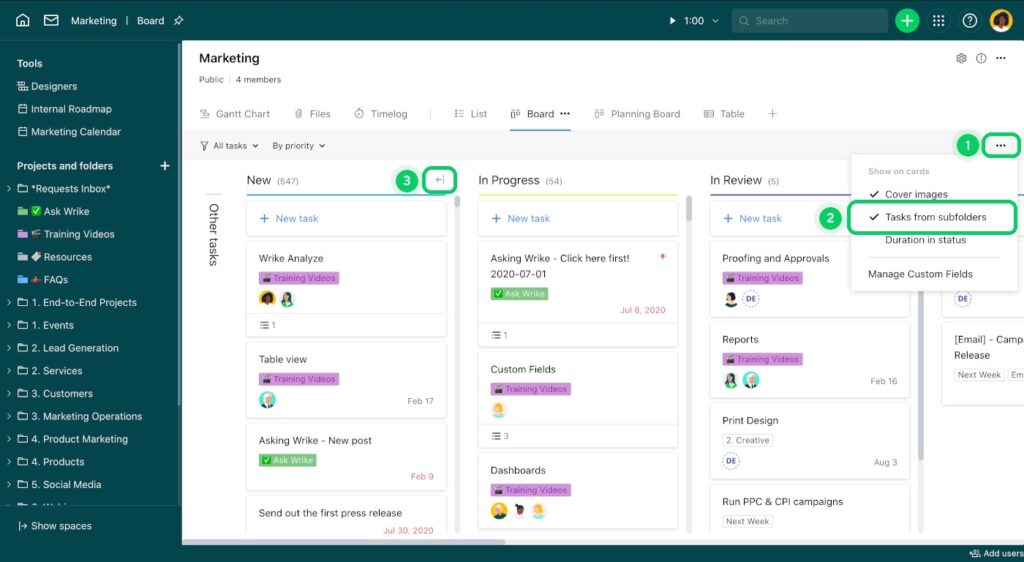 This view comes in handy for tracking task status, identifying tasks that need to be addressed, and checking how much time was spent on a task's current status.
The Table view works like a spreadsheet. It offers a bird's-eye view over your projects' tasks, their status, who works on them, and their start/due dates.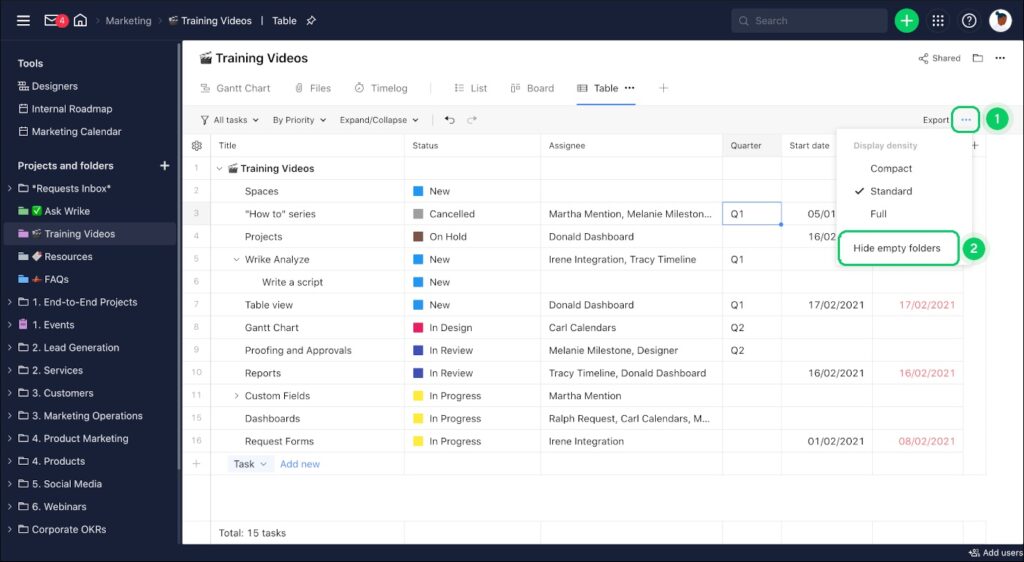 Lastly, there's the Gantt Chart. You can track and manage your team's workflow and task dependencies with it. You can also make quick timeline adjustments.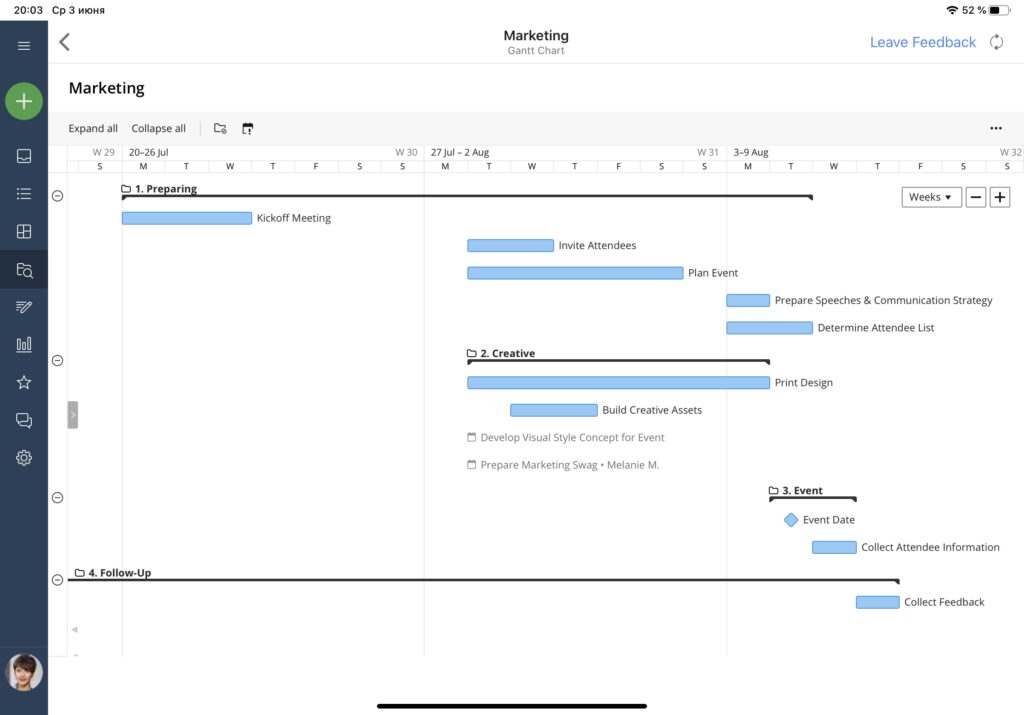 Workflow Automation
Although handling repetitive tasks manually, like adjusting deadlines or task status, may not seem like a big deal initially, they'll quickly add up once your workload increases.
This can become a cumbersome process, hindering productivity and generally leading to a waste of time in the long run. That's no longer the case with Wrike.
The platform allows you to easily set up workflow automation via a drag-and-drop and point-and-click interface. The way it works is simple: You assign a set of rules the software should follow once specific conditions are met via "IF" and" WHEN" clauses.
For instance, whenever a task goes from the "To do" column to the "In progress" column, the platform can automatically assign the task to the person responsible for handling it.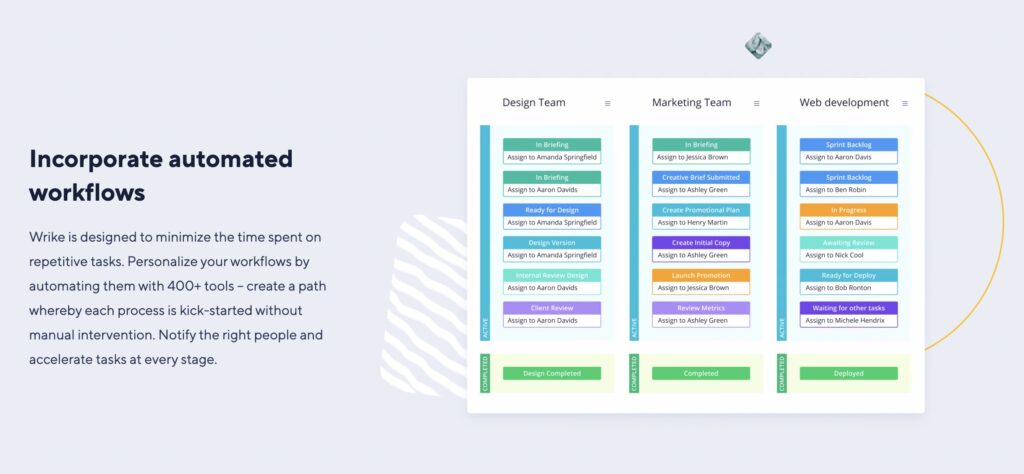 The platform will also provide information on how many times an automated task was executed within a month. It helps you gauge the automated process's effectiveness.
Moreover, if your team receives many similar inbound requests, you can save time through Project Templates. This feature allows you to take common projects and turn them into templates.
When your team starts a new project, they can easily copy the template along with key information, like assignees, task duration, and dependencies, and start from there.
Time Tracking
Another handy feature is time-tracking, which allows you to track how many hours and minutes your employees spend on each task.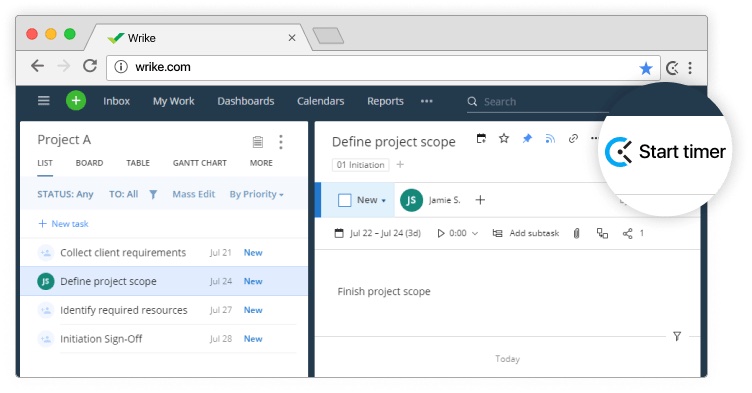 Moreover, users can add time log entries manually or let the platform's Time Tracker do the work.
The Time Tracker only works with one task at a time. If a user already has the Time Tracker running on a task and wants to enable it for a new one, Wrike will automatically pause the tracker for the first task.
Aside from time tracking, Wrike provides a Timelog view that allows you to monitor time entries added to tasks within specific projects. You can customize the Timelog to find your desired data quickly.
For instance, you can filter time entries by category, date, users, export status, billing type, or lock. You can add or remove columns to bring out more information or have a less cluttered view.
These columns can further be sorted in an ascending or descending order and readjusted to highlight the information most important to you.
Reports
Wrike helps you save time, identify issues in your workload, and assess your team's performance via its customizable, real-time reports.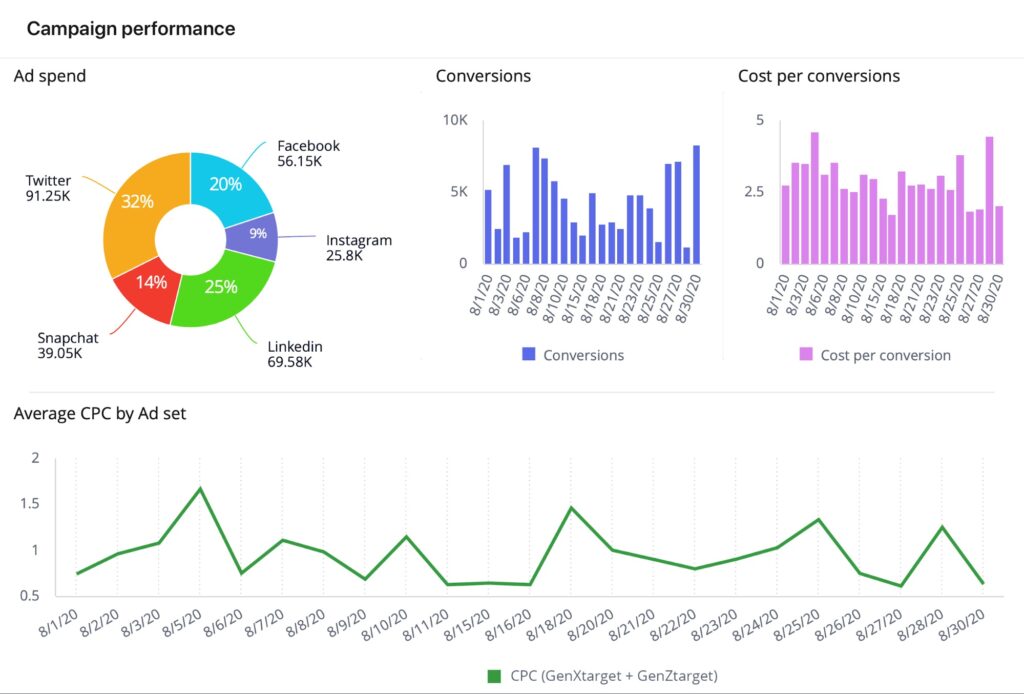 Wrike has two types of reports: Column charts and Table chart reports.
Although both types of reports display the number of tasks or projects that meet specific criteria, column charts may be better suited to track project progress by the owner and monitor task progress by each assignee.
That's because column charts are divided into two groupings. The first grouping splits your data into columns, whereas the second further breaks it into segments. It gives you a comprehensive view of exactly who does what and when.
On the other hand, Table charts are adequate for tracking accomplishments and team performance. Table charts can also have groupings for a more in-depth analysis.
They offer a simplified view that lets you see the big picture in your team's performance. Moreover, you can export table charts directly within an Excel document.
Besides that, Wrike's features allow you to capture report snapshots and send them to your colleagues via email directly within the dashboard. You can also receive automatic email report notifications daily or weekly.
Mobile App
You can handle most of your work through Wrike's mobile app, available for Android and iOS devices. You can easily manage team workload, create new tasks, view reports, and more.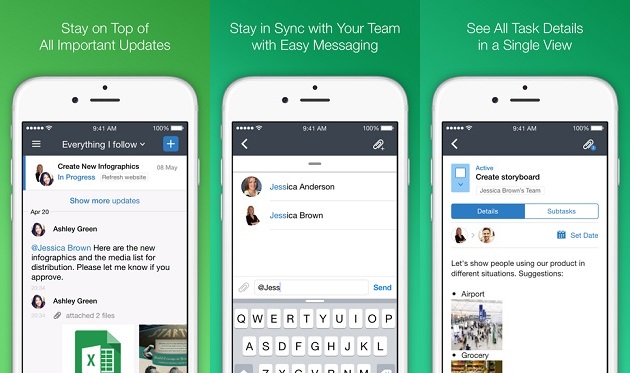 The mobile app's strength lies in its communication capabilities. You can leave feedback, and comments, mention project team members, or share files, and your team will quickly get notified, wherever they are.
Wrike's mobile app makes it easy to keep everyone up-to-speed with the latest news or changes in your projects.
The application's Smart Replies is another added convenience. It provides autofill responses to the messages you receive. But that's not all.
There's also the Document Processing feature, which scans documents, printed or handwritten, takes out the texts, and puts them into an editable format.
You'll get to retrieve data much quicker, improve data accuracy, and correct any potential mistakes on the spot.
Lastly, the application provides an offline mode, so you don't have to worry about a weak internet connection while working on your mobile.
Wrike Alternatives and Competitors
Wrike vs. Monday.com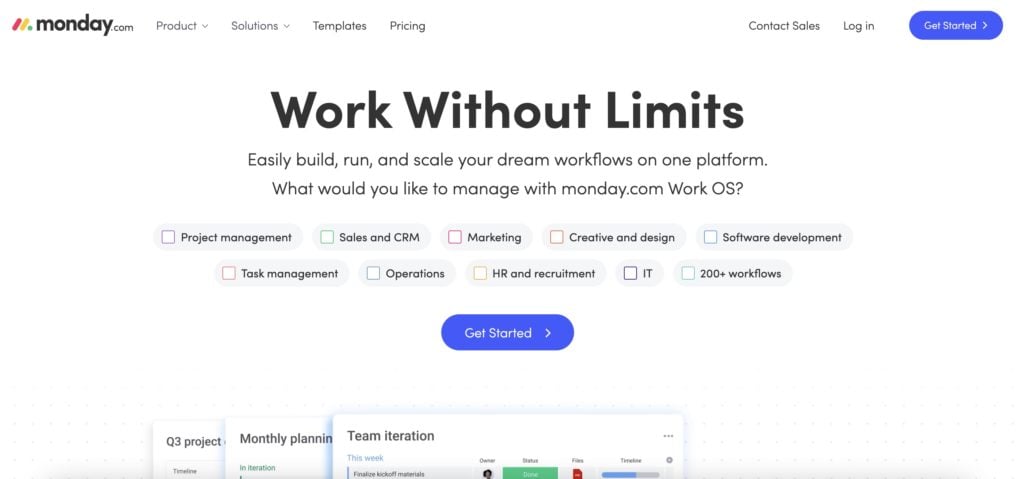 Monday.com might be a better choice in terms of ease of use.
Wrike's wide selection of advanced features may make the platform challenging for beginners to set up and get used to.
Although the platform offers plenty of tutorials to get you started, Monday.com is much simpler. It doesn't require training, and you can get set up in minutes.
On the other hand, Wrike wins in the reporting feature, as its views and customization options allow you to oversee any aspect of your workflow.
Monday.com might be a better option for small businesses, while Wrike is a good choice for medium to large organizations.
Wrike vs. ClickUp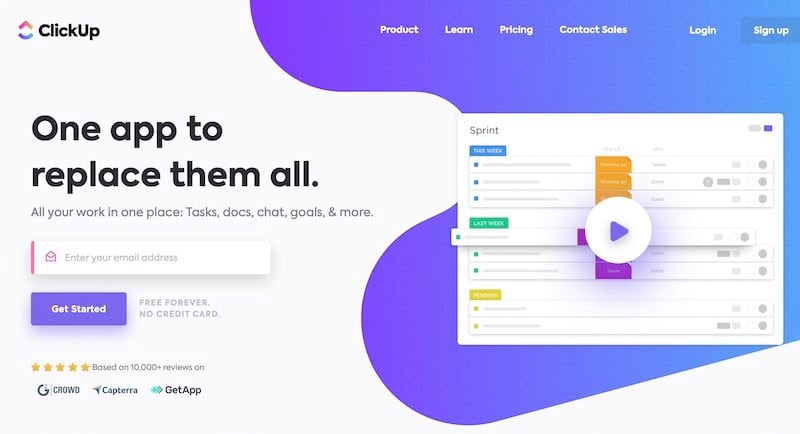 Both platforms offer a comprehensive set of features. However, due to the sheer number of functionalities, it might take some time until you learn to make the most out of these software solutions.
Wrike's free plan includes 2GB of storage, whereas ClickUp's free version only covers 100 MB. But ClickUp offers more features, including native time-tracking, real-time chat, and more.
Therefore, small teams who don't require much storage can achieve more with ClickUp's free plan.
As for the rest of the plans, ClickUp is more affordable. With prices starting from $5/user/month, ClickUp might be a perfect option for small businesses. But again, Wrike's in-depth reporting and customization options may appeal more to medium to larger organizations.
Wrike vs. Asana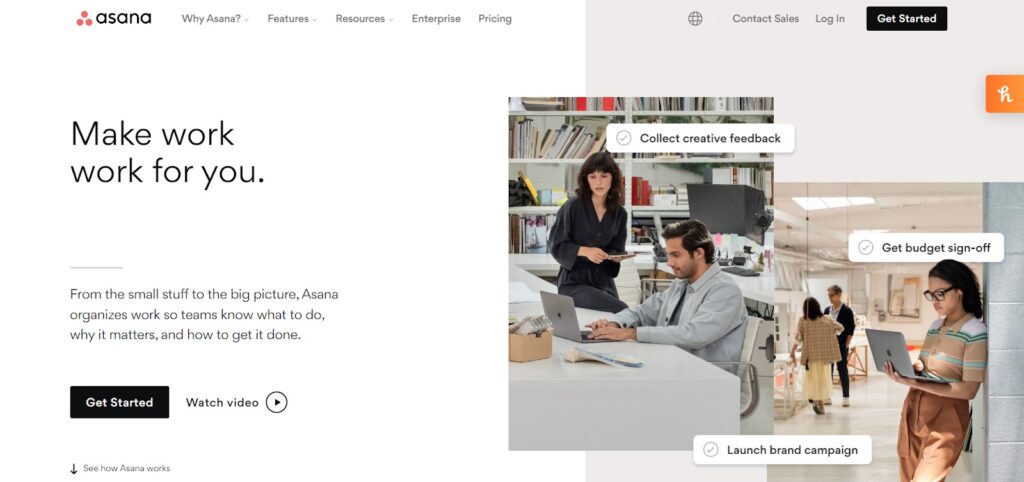 In terms of free plans, Asana wins by a large margin. The platform has no storage limitations and offers over one hundred integrations with other apps, including time trackers.
The free version also covers everything you need to manage your projects effectively, from team collaboration and various project views to project overviews, briefs, and access to the platform's mobile app.
In other words, Asana's free plan is unbeatable. However, Wrike catches up with the paid plans. Asana's feature set is more limited compared to Wrike, as it lacks Wrike's customization options and in-depth reporting capabilities.
Wrike Project Management Software: Conclusion
Overall, Wrike is an excellent option. However, it might be a little challenging to get into at first, especially for those without prior experience with project management software. Still, the platform's rich functionalities more than make up for it.
Its reports and automation features will help you save time and identify potential issues in your workflow. Meanwhile, the platform's viewport and customization options allow you to create a custom-tailored solution for your business.
Besides, the platform offers plenty of tutorials and guides to teach you the ropes.