If you're looking for project management software that can help you manage your work and deadlines, Smartsheet and Monday.com are two options you may want to consider.
These two services are similar in many ways. But they have some key differences as well that you should consider when making your decision.
Before we take a look at the similarities and differences between these two tools, let's look at what project management software is and why it's needed.
What is Project Management Software?
Project management software is designed to help you organize your work, track deadlines, collaborate across teams, and manage projects more effectively. It can also help you ensure that your project is running smoothly and on schedule and keep track of any potential problems that may arise in the future.
With this type of software, project managers can communicate with their teams more effectively and monitor their progress. You can also create task lists and set deadlines for each task to ensure that everything gets done on time.
Now, let's take a look at these two project management tools in detail.
Monday.com vs Smartsheet: Overview
Both Monday.com and Smartsheet are excellent cloud-based project management software tools.
What is monday.com?
Monday.com is defined by customized tools that make it more intuitive and easy to use.
It lets you build custom templates for creating workflows, scheduling tasks, setting milestones, and tracking project timelines.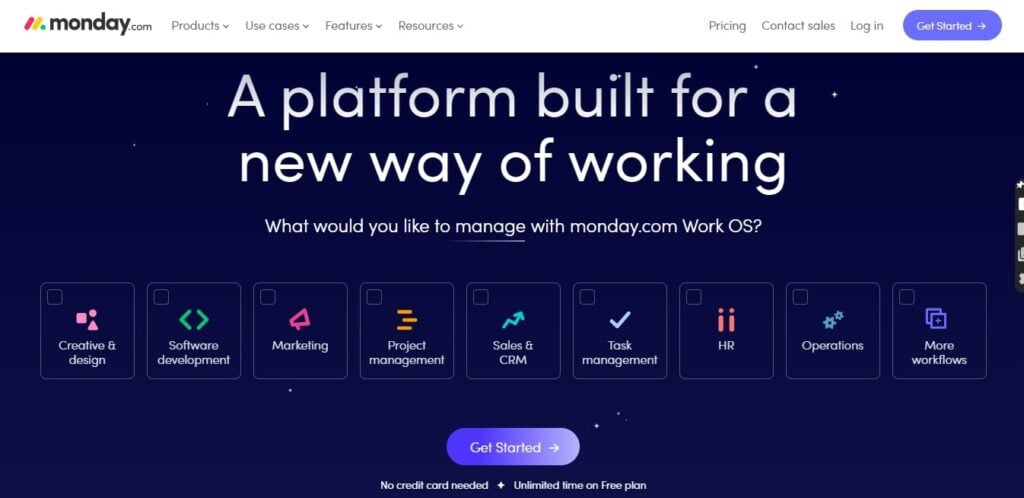 Its user interface (UI) is simple and intuitive, and the work management platform is something that teams, small and large, can use to create bespoke project management solutions.
What is Smartsheet?
Smartsheet focuses on offering features and functionality that can be scaled to meet the most advanced project management needs of businesses and organizations.
The platform is highly flexible, and you use it to execute all types of projects, from basic projects to complex, enterprise-level programs and portfolios.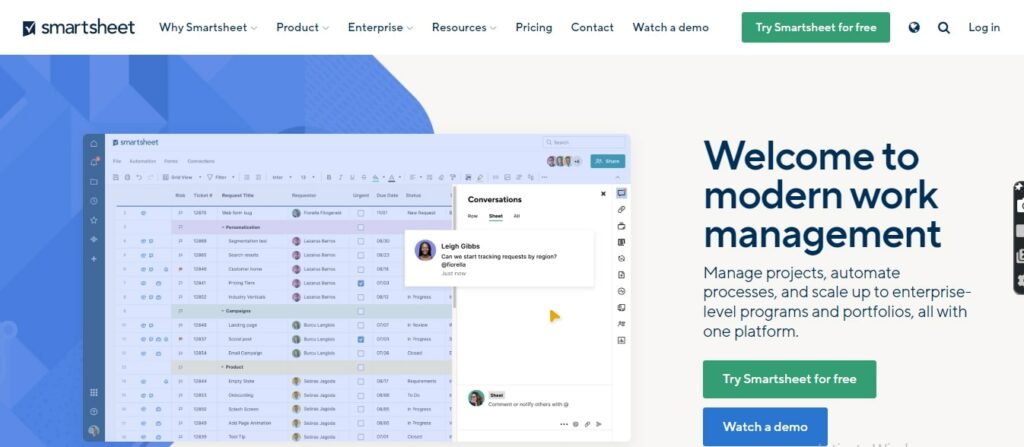 Smartsheet is spreadsheet-centric, and you will find task management easy to do on the platform if you are already familiar with popular productivity tools like Google Sheets and Microsoft Excel.
| | | |
| --- | --- | --- |
| | monday.com | Smartsheet |
| Pricing | $8 to $16 per seat per month | $9 to $32 per seat per month |
| Project Management Features | Project boards, multiple data visualization methodologies, file sharing, social media messaging, in-built email, resource management, and automation. | Project sheets, multiple data visualization methodologies, file sharing, chat and commenting system, resource management, task dependencies, and automation. |
| Ease of Use | 120+ templates with drag-and-drop editors makes it a very intuitive and easy-to-use platform. | Everything is done using spreadsheets, and there may be a significant learning curve for new users that are unfamiliar with such an interface. |
| Customer Support | There is 24/7 live chat support and an extensive online knowledge base with lots of tutorial videos and articles. Free live webinar training for all subscribers is also available. | There is 24/7 global phone support and a self-serve online learning center. Smartsheet offers onboarding webinars exclusively to Enterprise subscribers. |
| Third-party Integrations and apps | 40+ third-party integrations and 200+ custom-built apps are available on the platform. | 90+ third-party integrations are available on the platform. |
monday vs Smartsheet: How Do They Compare?
Also, both platforms let you leverage GraphQL API (Monday.com) and Smartsheet API (Smartsheet) to build custom applications and expand the basic functionality of your software.
Monday.com vs Smartsheet: Key Similarities
Both Smartsheet and Monday.com provide for using Gantt charts, timeline views, and Kanban boards to visualize data.
You can upload and share documents, images, and videos with project insiders and invited team members on both platforms.
Automations help streamline project workflows to save time. They both let paid subscribers create hundreds or thousands of automation actions each month.
Secure authentication is also supported. Both Monday.com and Smartsheet offer single sign-on and SAML in their enterprise plans.
Monday.com vs Smartsheet: Key Differences
Monday.com has an in-built time-tracking feature for keeping track of project tasks, while you have to pay for a time-tracking extension or integrate a third-party app to get similar functionality on Smartsheet.
Smartsheet does not auto-save your work in real-time, and you need to constantly refresh your page to see changes being implemented by your teammates. The only solution is to modify the settings to autosave your work after an event (for example, autosave when you leave your sheet). In contrast, Monday.com autosaves your work with every keystroke.
Monday.com lets team members indicate their current status (whether they are working, on break, working from home, sick, etc.). This feature is absent in Smartsheet.
Monday.com has a panic mode feature that will alert you in the event your platform is breached by hackers or malware. Smartsheet lacks a similar security breach alert system.
Monday.com vs Smartsheet: Features Comparison
Project management requires efficient coordination, seamless collaboration, and a bird's eye view of how the execution of tasks is being carried out.
Also, in the era of remote work and distributed teams, it is very important that all stakeholders in a project can share and collaborate on documents in real time.
Monday.com and Smartsheet are both designed to cater to these needs. However, there are differences in how each platform facilitates project planning and management.
Monday.com Project Management Features
Monday.com is designed to help users plan, track, and execute projects with as little effort as possible.
Its project management features are defined by highly customizable templates. These templates can be easily modified with just a few clicks to fit your detailed processes.
The collaboration software's core features include:
Project Boards
Each project starts with you creating a custom board where you will assign tasks to teammates, update changes, and track the progress of your project.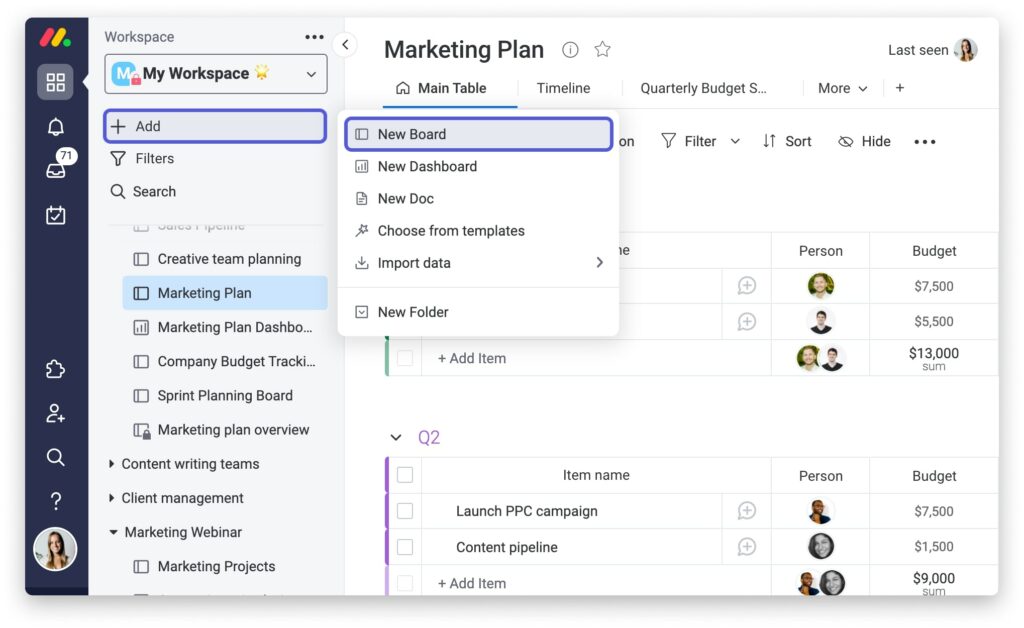 The boards come with drag-and-drop building blocks that ensure you can set up everything in minutes.
You can choose from a variety of pre-designed setups including campaign planning, help desk tickets, customer onboarding, and more.
You can also create a dashboard for each board that lets you run reports and track progress. The data will help you spot bottlenecks that are hindering the progress of your project.
Visual Customizations
Monday.com's boards support a variety of visualization methodologies including Gantt charts, pie charts, and bar charts. There are also calendar, timeline, workload, and Kanban views.
Your agile team can visualize the day-to-day picture of the ongoing project or individual tasks to see where things stand at all times. They can do this in whatever format they are comfortable with.
Monday Work Docs
These work docs are workflow documents where project leaders and team members can share and collaborate on ideas.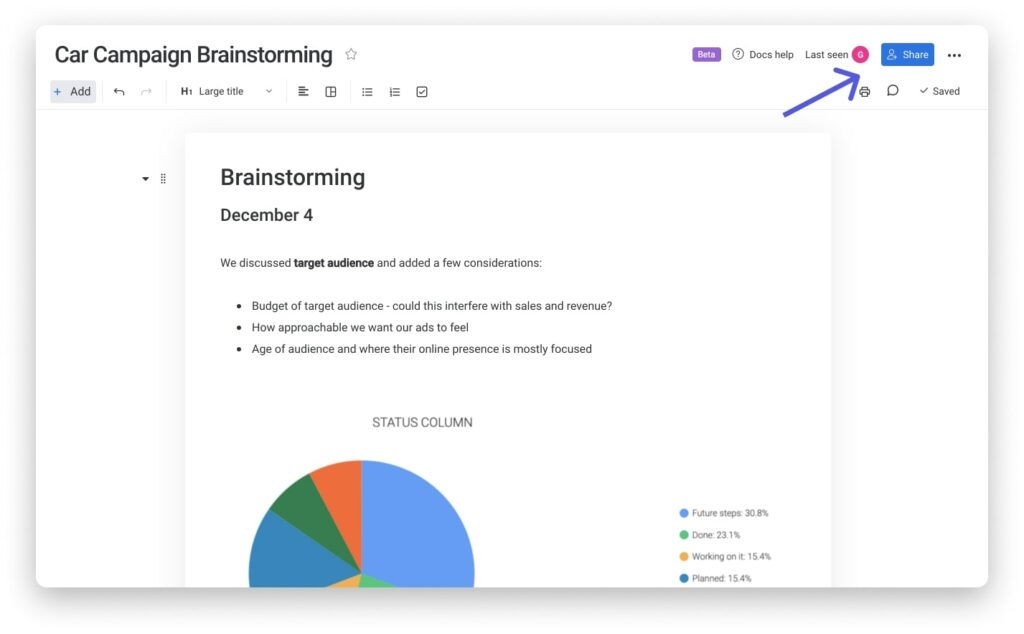 You can add members by tagging them. Multiple editors can also co-edit the document in real time. Autosave ensures everything is saved automatically.
File Sharing
Monday.com lets you upload files in any format from Google Drive, OneDrive, iCloud, Dropbox, or Box. Team members can collaborate on files, and add comments and annotations. You can also organize all your files in a coherent timeline to keep updated on the latest version of each file.
Project managers can set permissions, and control who gets to see and edit each file. Whether they are team members, stakeholders, clients, or external freelancers.
Smartsheet Project Management Features
Smartsheet's approach to project management is to give you as many options as possible.
It lets you utilize the numerous customization options available on its spreadsheets to make your project execution and content creation, faster and more dynamic.
Smartsheet's core features include:
Project Sheets
On Smartsheet, project planning is done using spreadsheets. These sheets are very intuitive and you can easily assign preset values for tasks to columns and rows.
The project lead will log the tasks the team needs to complete on the rows of the sheet, and then inform teammates about the pending work using comments and @mentions.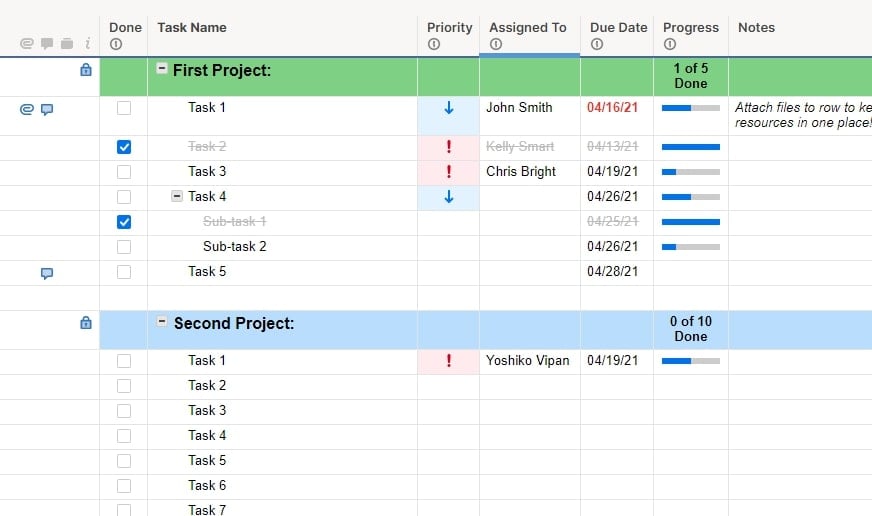 Team members can log status updates as they progress, and each team collaboration Smartsheet has everything you need to plan, schedule, and execute a project. Data can be visualized using a Gantt chart, or with calendar and Kanban views.
Card Views
Cards on Smartsheet help you focus your team members on the issues that need urgent attention. You can create multiple card lanes to help you see the changing status of work across different tasks. The cards are also highly visual, and you can add images and color coding.
Content Management
Uploading Microsoft Word documents, PDFs, videos, images, and other types of content will create a Smartsheet Proof.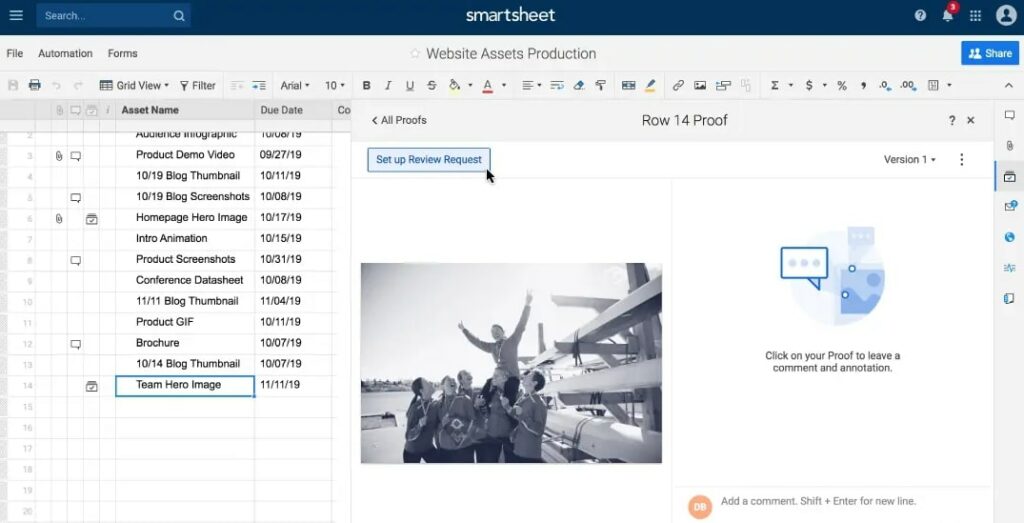 Each file can be shared with other stakeholders who can review and give individual approvals, or make comments using pinned annotations.
You can control the whole proofing process from your project sheet and send push notifications to keep everyone on schedule.
Team Collaboration
There is a Conversations feature on Smartsheet where everyone can discuss the ongoing work without having to leave that particular workspace or sheet. This ensures teams manage critical communication in real-time, and that everyone can stay aligned.
You can also easily create forms for stakeholders to submit feedback using conditional logic. The project manager can manage the sharing and permission levels of each user.
Verdict: This Is A Tie Between Monday.com and Smartsheet
Both platforms give you all the tools you need to set up and execute projects. Monday.com gives you pre-made project boards and work docs that can be quickly customized and used to set up your project. Smartsheet gives you project sheets that you can modify extensively to carry out any task your project requires.
Monday.com vs Smartsheet: Workflow Automation
Automation helps you eliminate repetitive tasks and minimize human errors. You will save time and still ensure your processes are duly followed.
Monday.com: Automate workflows
On Monday.com, you can create code-free automation actions based on triggers, conditions, and actions.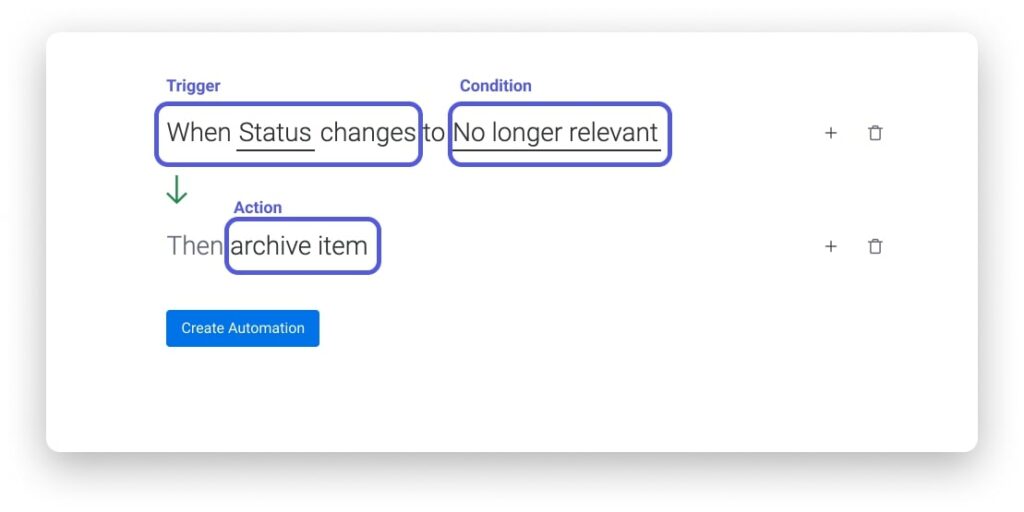 For example, you can create an automation that says "When X task is completed, do Z automatically." The platform has lots of pre-set conditions that you can activate and customize to match your workflows.
Smartsheet: Automation
The task automation feature on Smartsheet is called Workflows, and it is also based on conditional statements and triggers.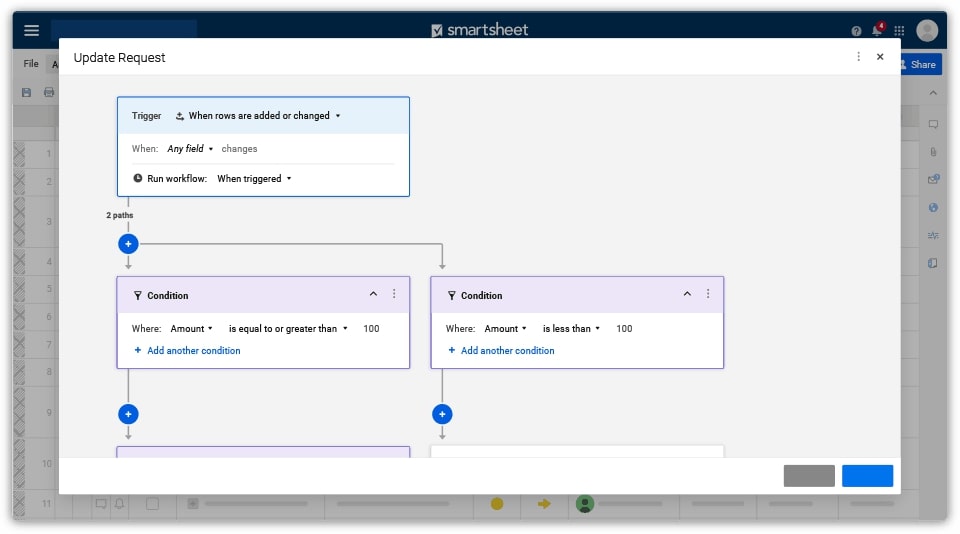 Smartsheet's purpose-built drag-and-drop builder lets you build automation that has multiple parameters with ease.
For example, you can create an automation that says "When X task is completed, and the status of Y is "In Review," do Z automatically and notify the project leader." You can also control account permissions for people who are allowed to automate workflows.
Verdict: Smartsheet Wins In Automation
Smartsheet gives you greater flexibility by letting you build as many parameters as possible into your automation. With Monday.com, you are limited to pre-configured automation that is customizable but can't be expanded.
Monday.com vs Smartsheet: Third-party Integrations
To ensure you can keep using the tools your business already relies upon, your project management software must be able to integrate seamlessly with all the popular productivity and business apps.
Monday.com Third-Party Apps
40+ third-party apps are supported, including Microsoft Teams, Slack, Hubspot, Asana, Google Calendar, Zoho, Toggl, and Mailchimp. There are also 200+ custom-built apps on the Monday Apps Marketplace that you can use to customize your project workflow to fit the specific processes of your organization.
Smartsheet Third-Party Apps
Smartsheet works with 90+ business and chat apps, including JIRA, Dropbox, Salesforce, Tableau, Skype for Business, and Google Hangouts.
Verdict: Monday.com Wins In Integrations
Both platforms integrate with major business and productivity apps. They also let you integrate unsupported apps using Zapier. However, Monday.com takes this further with the hundreds of custom applications that you can use to expand the capabilities of the platform to fit your unique needs.
Monday.com vs Smartsheet: Pricing Comparison
Both companies offer different pricing plans depending on the size of your business and the scope of your projects.
Monday.com Pricing
Monday.com offers a free plan that supports two users. There is also a free 14-day trial with no credit card details required.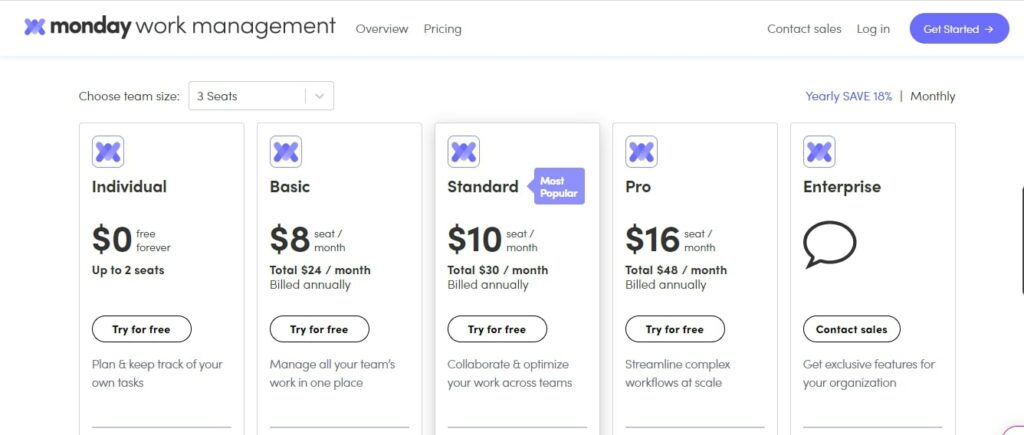 Monday.com offers five plans, including an enterprise plan, and they are:
Individual: $0 for 2 seats forever
Basic: $8 per seat per month
Standard: $10 per seat per month
Pro: $16 per seat per month
Enterprise: contact the sales team for pricing
Smartsheet Pricing
There is no Smartsheet free plan, but there is a 30-day free trial that gives you access to all the bells and whistles on the platform.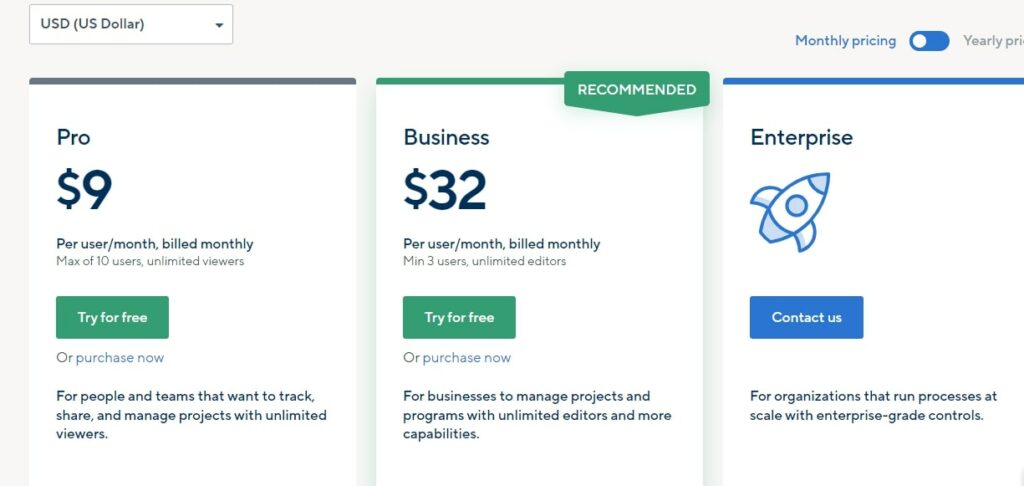 The company offers three pricing plans, and they are:
Pro: $9 per user per month
Business: $32 per user per month
Enterprise: must contact company staff for pricing information
Verdict: Monday.com Wins In Pricing
Monday.com offers a free plan, lower-priced packages, and more pricing plans. This makes it suitable for small businesses with small budgets, and startups that want a platform that can scale with them as they grow and still be affordable.
Which Is The Better Project Management Software For You?
Your choice will depend on the size of your team and your project's level of complexity. You can easily sign up with both software using the free plan or free trial period to see which one best fits the needs of your business.
Who Should Use Monday.com?
Monday.com is best for smaller teams, startups, and freelancers that need a lightweight but intuitive project management tool with all the collaboration features they need, and is well within the scope of their limited budget.
Who Should Use Smartsheet?
Smartsheet is the ideal project management tool for large businesses and organizations because of the platform's flexibility, extensive security features, and the availability of custom onboarding programs.