If you want to pick a project management software for your business, chances are you've come across ClickUp and monday.com. Our ClickUp vs monday.com comparison will help you determine which one is better for you and your business.
Project management software is a vital tool for businesses of all sizes. It can help keep projects on track, organized, and on schedule. Many different project management tools are available, but ClickUp and Monday.com remain the two most popular choices.
We'll look at their similarities and differences in features and compare their pros and cons and pricing in this article.
To bring the bottom line up front, we use monday.com ourselves. Because of its adaptability, scalability, cost-effectiveness, and extensive feature set, Monday.com is ranked first on our top project management software reviews. Is it, nevertheless, appropriate for you? How does ClickUp stack up against monday.com? Let's see what we can find out!
You can start with monday.com for free here!
ClickUp vs Monday: An Overview
Monday.com and ClickUp are cloud-based collaboration and project management tools that allow users to track and manage projects. They are both easy to use and provide a smooth onboarding process. After completing your onboarding and project implementation, managing projects becomes much easier.
What Is ClickUp?
The fundamental goal of ClickUp is to eliminate the hassles, inefficiencies, and disconnects that current project management systems cause.
It replaces all productivity tools in most departments and allows collaboration through a single application that handles tasks, documents, chat, reminders, goals, calendar, and team management. It's also completely configurable.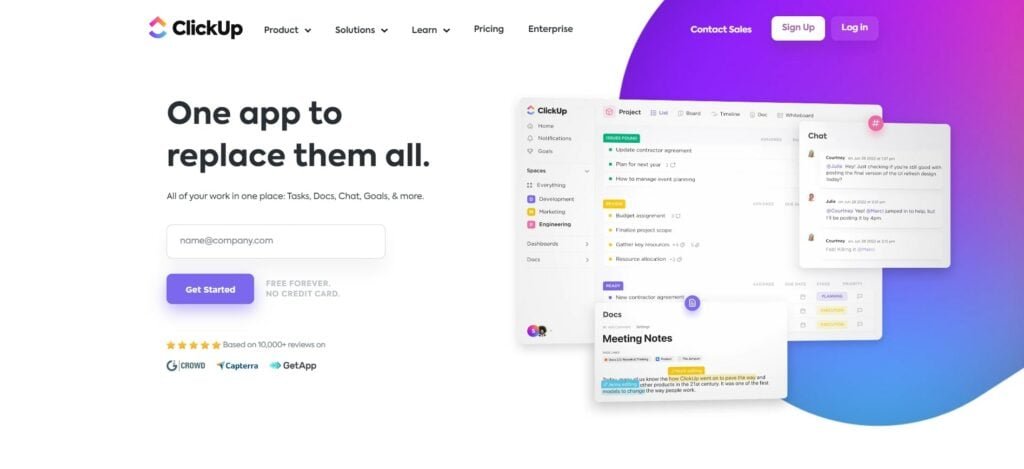 You can use it for project management, agile team management, sales and marketing campaigns, finance operations, workflow management, document organization, file storage, and more.
You can use ClickUp for free here!
Unlike monday.com, all ClickUp plans offer built-in time tracking, including the free version. This feature is only available on monday.com's upper-tier plans. Another stand-out feature of ClickUp is Mind Maps.
In short, this functionality allows you to put your ideas on a canvas to help visualize your ideas and organize tasks or projects more effectively.
ClickUp also provides Whiteboards. Like Mind Maps, this feature allows project managers to visualize workflows. However, you can also use this tool to collaborate with your team in real time. You can add tasks, leave notes, and tag other members so you can get everyone within your team on the same page. These features are ideal for brainstorming sessions.
Lastly, this project management tool allows you to use email directly within the platform. You can send and receive emails right from your tasks. That said, you won't need to constantly switch between the project management tool and your email service provider, making things that much more convenient!
What Is Monday.com?
Monday.com calls itself a Work Operating System (Work OS). It lets users develop custom workflows to smooth project implementation and work processes.
Monday.com is packed with features and compatibility for a wide variety of application scenarios. It includes features such as collaboration, timeline views, calendar views, and dozens of integrations. As a result, it's incredibly versatile to work for just about everyone, whether you're a freelancer, an enterprise business, or something in between.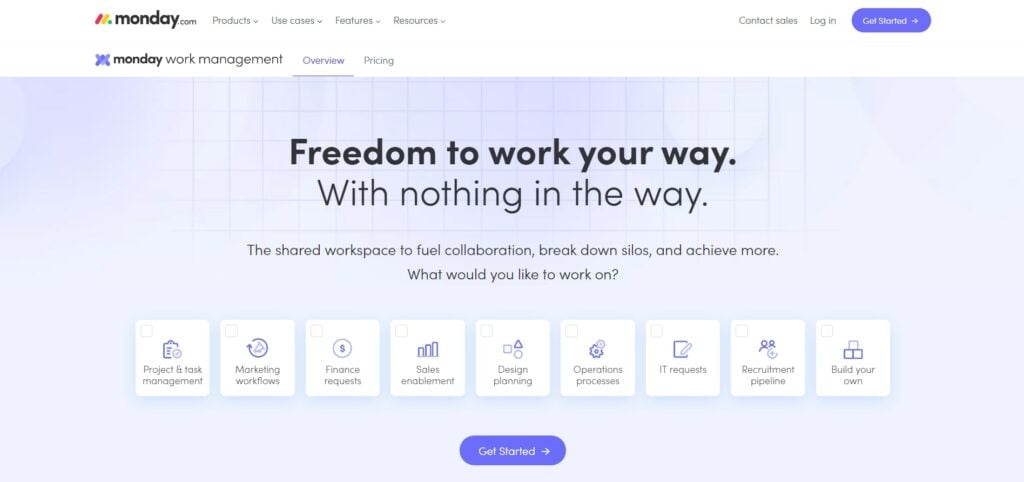 For example, monday.com can be used to create product roadmaps, business plans, marketing campaigns, webinars, and various other initiatives.
You can start with monday.com for free here!
Like ClickUp, this project management tool also includes Whiteboards. However, monday.com takes pride in its template selection. You can find 200+ templates dedicated to specific activities, like marketing, portfolio management, project requests or approvals, etc.
There are also industry-specific templates available, like for nonprofits, construction, or real estate businesses, for instance. You can then customize these templates according to your needs.
Aside from that, the project management tool integrates seamlessly with Monday's other products, like Monday Sales CRM, Marketer, and Dev. That said, Monday also allows you to bring your project management tools together with other business activities.
ClickUp vs Monday.com: Similarities
ClickUp promotes itself as a task management tool that provides project management capabilities like setting projects and tasks, chat, goals, different project views, time tracking, custom exporting, and milestones. Monday.com has many of the same features as ClickUp.
In addition, both provide integrations with third-party apps, such as Slack, GitLab, Google Drive, and Calendar to expand their capabilities.
ClickUp vs Monday.com: Differences
So far, you may feel like both ClickUp and Monday.com are pretty similar, and don't see how they compare.
Although they possess many similarities, some key differences set them apart:
ClickUp offers real-time chat in the software, while monday.com doesn't.
ClickUp offers in-app video recording, while monday.com doesn't.
ClickUp offers an entirely free plan, while monday.com doesn't.
Monday.com is more user-friendly, while ClickUp can be overwhelming to look at.
Monday.com provides more advanced automation features, a big time-saver for larger teams.
Monday.com provides more detailed insights into your team's and business' resources and individuals' workload.
What kind of project management software you'll require is determined by your needs. Monday.com is great for medium-sized to larger businesses, while ClickUp is excellent for individuals and small businesses, and teams.
Next, we'll move on to a more detailed comparison of their core features.
Monday.com vs ClickUp: Project Management Features
ClickUp
ClickUp is a robust project management application that makes it easy to complete tasks. You can organize and manage your team's to-do lists from any device, like desktop, tablet, or mobile. And there's a lot more.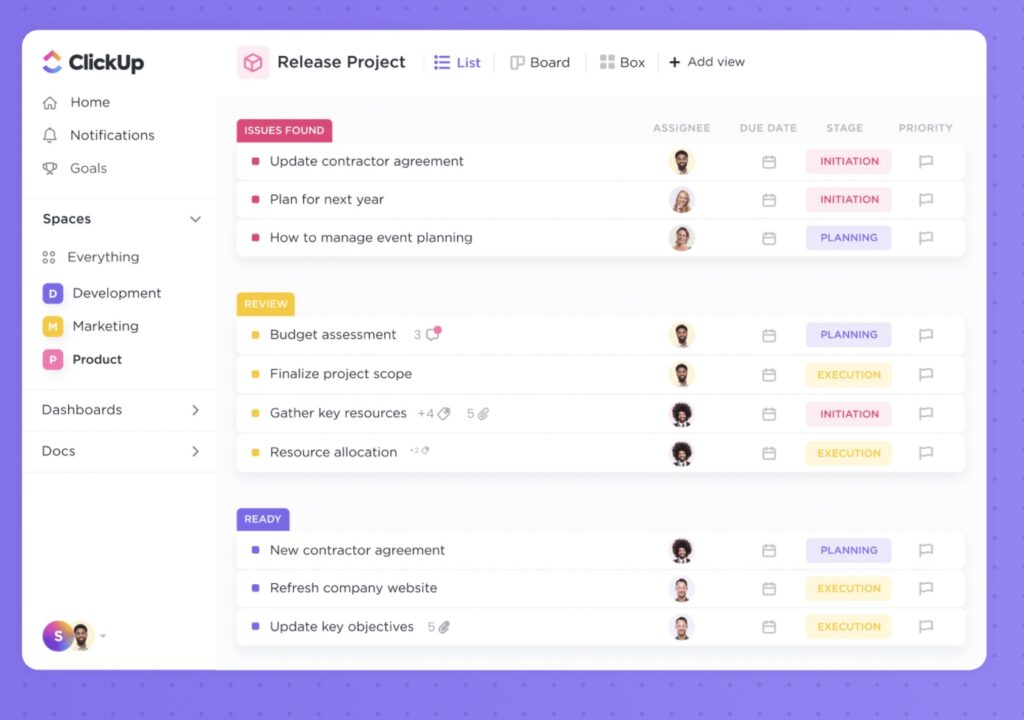 Their project and task management functions are at the core of their functionality.
You'll be asked to choose a dashboard template based on your goals, experience, industry, and other factors when getting started. There are hundreds of pre-built templates available on ClickUp.
You can use Clickup for free here!
Monday.com
Monday.com has several features to help you manage your projects and tasks.
Each project can have its board, which includes many jobs that can be grouped. In addition, you can color-code their status (for example, 'working on it' or 'starting') and create your labels if the pre-made labels don't work for you.
You can add formulas, time trackers, locations, progress monitoring, and other objects to boards. You can automate some operations to save time on repetitive administrative tasks, which is beneficial.
They do provide project management templates. You can see how your project will evolve, complete with significant milestones. You can use graphs and charts to track your progress and indicate areas that require improvement.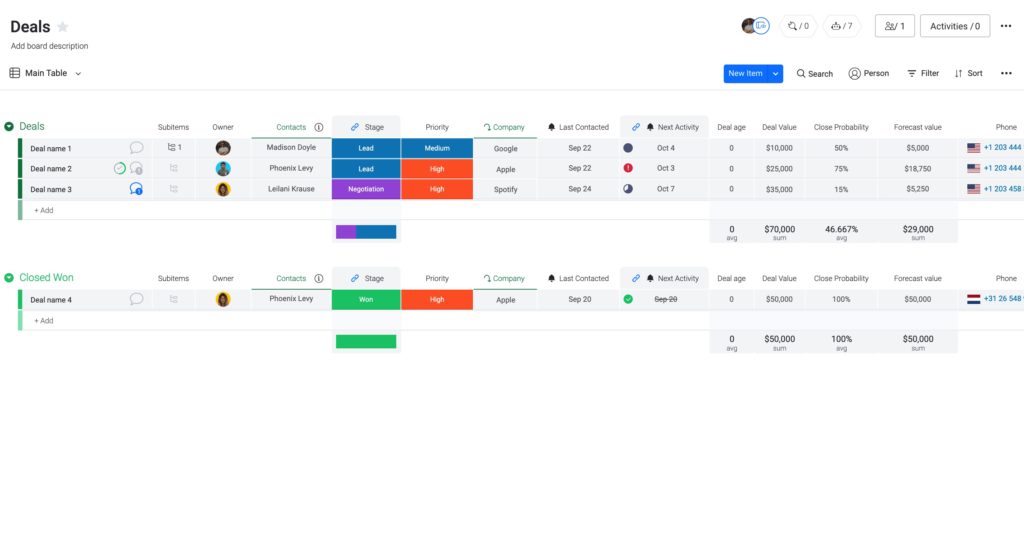 The templates offered by monday.com are more intuitive and easier to use, in our opinion. In addition, there are a large number of use cases available, making it excellent for beginners to get started.
You can start with monday.com for free here!
Verdict: Monday Wins in Project Management Features
Although both project management tools cover roughly the same features, Monday still gains the upper hand. The platform's wide selection of templates and customization options make Monday a suitable option for just about any type of business. As mentioned earlier, you can filter templates both by use case and industry.
Not to mention that these templates are also highly user-friendly. As such, you can manage projects without any headaches.
Monday vs ClickUp: Dashboard
ClickUp
The best approach to get a high-level perspective of everything in your Workspace is to use dashboards.
ClickUp provides a configurable dashboard that you may set up to suit your needs. The dashboard is made up of widgets that you can customize. For example, you can add rich text blocks, discussions, and embed anything using standard charts and specialized widgets for time monitoring and sprints.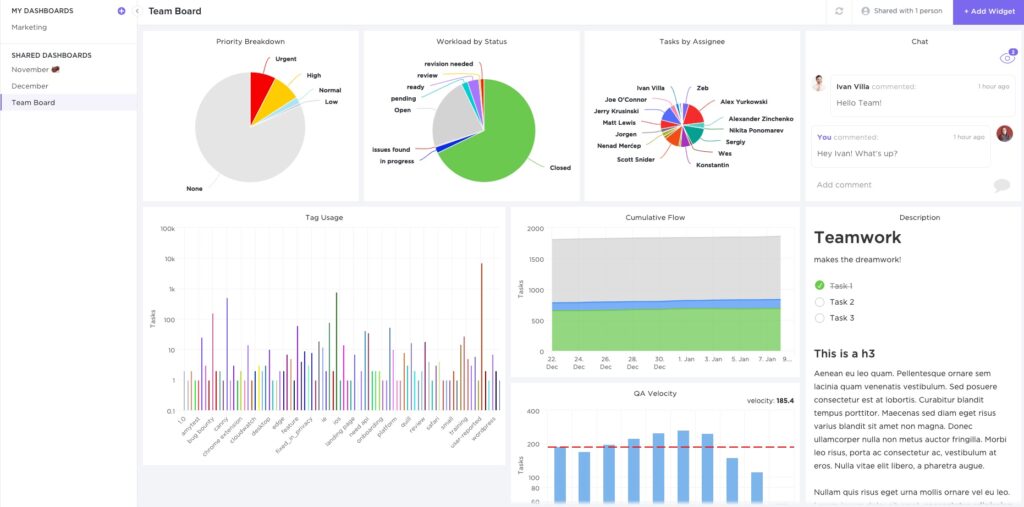 In addition, you can make a visual representation of everything your team is working on. For example, you can display epics, projects, workload, and more!
You can use ClickUp for free here!
Monday.com
You may design custom dashboards using Monday.com to keep track of progress, schedules, and finances at a glance. You can use these dashboards to generate reports that range from a high-level summary to a thorough study of individual information. Users can efficiently work across teams with access to this data.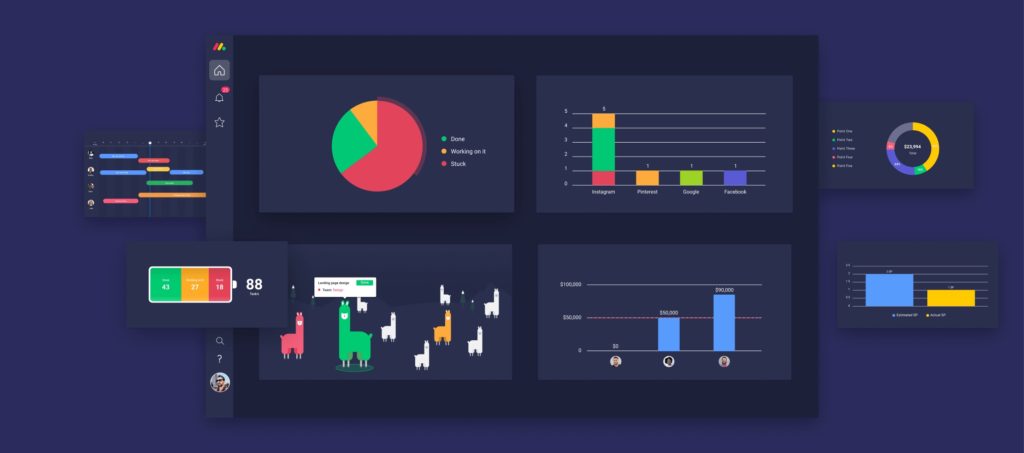 There are 15 dashboard widgets to help make your process easier and inform you about what's going on across many boards. You can make summaries and reports and get a bird's-eye view of anything that matters to you!
In one dashboard, you may select and arrange groups from multiple boards. In addition, you can use these widgets to keep all of your data in one place and to have all of the data and insights you need in one place.
You can start with monday.com for free here!
Verdict: ClickUp Wins in Dashboard
Although both platforms cover highly customizable and easy-to-use dashboards, ClickUp is slightly more flexible. You can add various widgets and even create graphs to get a visual understanding of your project's progress. In contrast, Monday.com goes easy on dashboard customization options in favor of user-friendliness.
That said, if you have no prior experience with project management software solutions, Monday is still a solid choice.
monday.com vs ClickUp: Automation
ClickUp: Task and Workflow Automation
Automation help you save time and get more done. Manual labor takes time and is easy to overlook. The automation function saves time and effort by automating unnecessary tasks.
For new Workspaces, the Automation ClickApp is activated by default. Workspace Owners and administrators can manage ClickApps.
You can use triggers to automate repeating Task Actions, such as setting a new deadline when a task's status changes.
You can choose from a large number of templates in ClickUp's Automations library or develop your tailored automation recipe.
Monday.com: Automate Workflow and Tasks
Monday.com provides various automation so users may concentrate on what matters. For example, you can specify your preferences to receive automated emails when deadlines arrive and real-time notifications when tasks are done. This type of automation will assist you in eliminating excessively repeated tasks.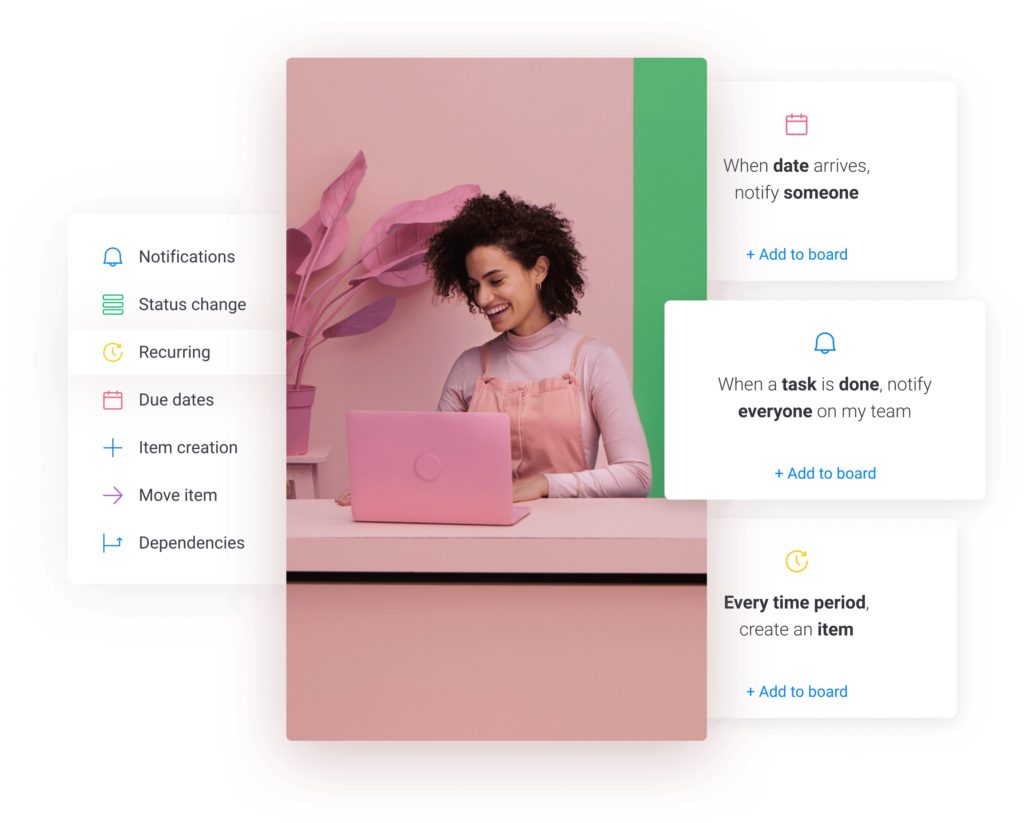 Like ClickUp, you'll be able to choose from various automated actions based on different factors.
Managers can also build up dependencies and activate conditions for the different items on board. Furthermore, it may set up SMS or email triggers so that the manager is kept up to date on all of the latest notifications.
You can start with monday.com for free here!
Verdict: ClickUp Wins in Automation
Both platforms have many features in terms of automation. You can easily automate recurring tasks and generally optimize your workflow. However, ClickUp takes the cake here. The main problem with Monday is that the platform's automation tools are available from the Standard plan and up, which costs from $10 per user per month.
In contrast, ClickUp includes automation tools in all of its pricing plans. However, keep in mind that the Unlimited and Free plans will only give you access to basic automation. The more expensive plans will allow for multiple actions and conditions, like automation triggers, for instance.
Also, note that ClickUp's automation tools have a use limit, like with Monday. For instance, the Free and Unlimited plans will only allow for 100 automation each month. Meanwhile, the Business, Business Plus, and Enterprise plans will allow for 10000, 25000, and 250000 automations respectively.
monday.com vs ClickUp: Integrations
Without the essential 3rd-party apps in your project management platform, you'll never achieve true productivity.
ClickUp and Monday provide a marketplace where you can easily add collaborative tools and other apps to your program.
ClickUp
ClickUp has native integration with 1000+ third-party apps, making it compatible with nearly every prominent tool on the market.
Outlook, Google Drive, Dropbox, GitLab, Slack, Figma, Loom, Zoom, Webhooks, Vimeo, YouTube, and Google Calendar are just a few of the popular connectors.
You can also use the public API of ClickUp to create bespoke integrations and apps. Another alternative is to use Zapier to gain access to even more integrations.
You can use Clickup for free here!
Monday.com
Monday.com integrates natively with a wide range of popular eCommerce platforms, CRM software, marketing tools, communication software, finance tools, and other applications.
Salesforce, Stripe, Outlook, LinkedIn, Zendesk, Clearbit, Google Calendar, Google Drive, Microsoft Teams, Dropbox, Slack, Zoom, Jira Cloud, Zapier, OneDrive, and others are among their most popular integrations.
You can seamlessly integrate automation with third-party apps using Monday's pre-defined recipes. For example, when a task status changes to "Done", send an email to "someone" in the team.

You can start with monday.com for free here!
Verdict: Both in Integrations
Both platforms cover excellent integration capabilities. You can also link them with Zapier with access to nearly unlimited integrations. However, if you wish to use these platforms' project management tools along with other business software, you might want to look at Monday.
That's because Monday also provides various other products dedicated to specific business activities, like marketing, sales, and product development. All of these solutions integrate seamlessly with the project management platform.
ClickUp Vs Monday.com: Customer Support
ClickUp
ClickUp offers 24/7 assistance with all of its plans. You can reach out to them by sending a message through their website or email for assistance.
They provide a wealth of resources to assist the users to get the most out of the platform. They have a blog that is updated daily and is dedicated to all things productivity software.
Monday.com
Monday.com offers a lot of support; if you need assistance, you may leave a note on their site or send an email. They also feature an extensive knowledge library that includes articles, training videos, workshops, and a lively community forum where users may interact with one another.
Verdict: Both Win in Customer Support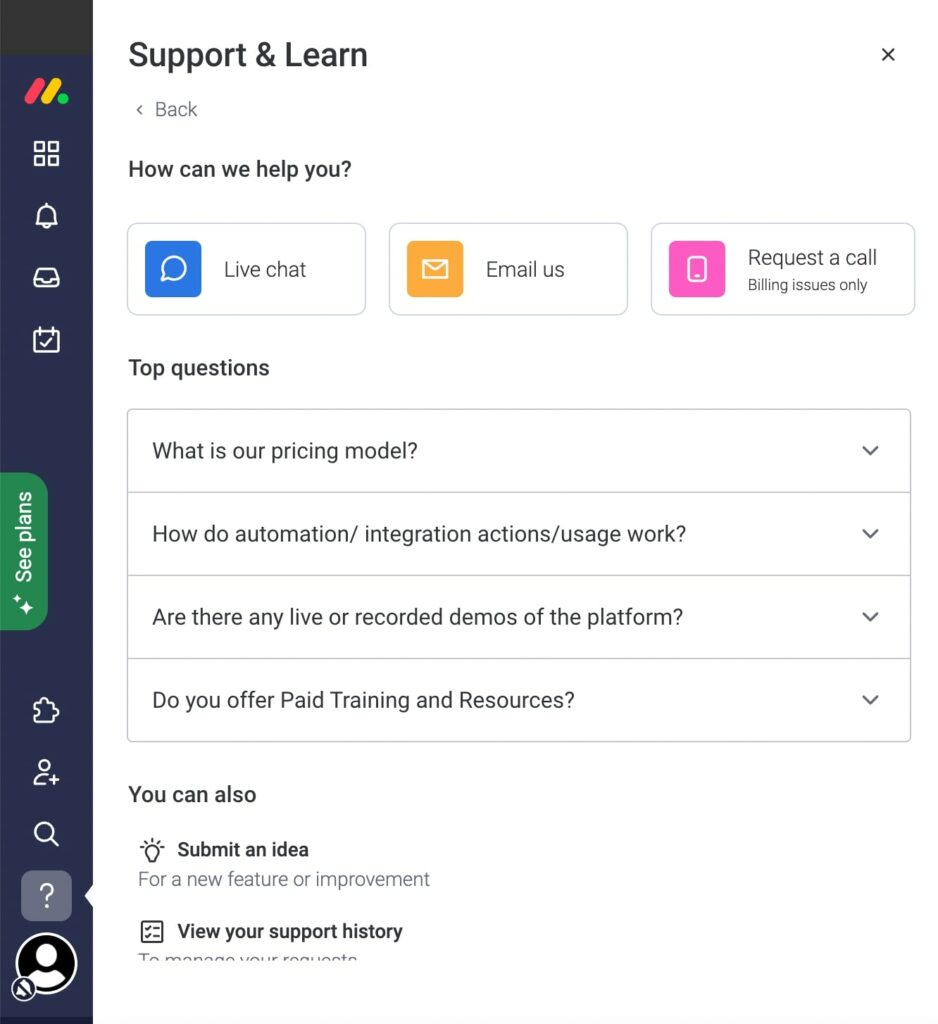 Customer support for these platforms seems to be at a tie. Users report excellent support both on ClickUp and on Monday. Additionally, both platforms include 24/7 customer support across all pricing plans, as well as support via live chat.
Monday vs ClickUp: Pricing
ClickUp Pricing
ClickUp has four pricing plans and an Enterprise plan:
Free Forever Plan
The free plan includes 100MB storage, unlimited tasks and users, native time tracking, in-app video recording, Kanban boards, real-time chat, and more. Its free plan is extremely attractive compared to monday.com
Unlimited Plan
For $5 per member per month, you have unlimited access to fundamental functions like unlimited file storage, integrations, dashboards, Gantt charts, and custom fields. You'll also have access to additional features like guests with permissions, goals & portfolios, form view, resource management, and agile reporting.
Business Plan
The Business plan is best for mid-sized teams, which costs $12 per user per month. This allows you access to more advanced features, such as the advanced version of automation, public sharing, and advanced time tracking. It also comes with workload management, timelines and mind maps, custom export, and Google SSO.
Business Plus Plan
For $19 per member per month, you'll get custom role creation and permissions, increased automation and API, personalized admin training, and priority support.
Enterprise Plan
ClickUp offers an Enterprise plan in which pricing is available upon request. The Enterprise plan offers you access to everything and additional features such as MSA & HIPAA compliance, white labeling, a dedicated success manager, and more.
You can use ClickUp for free here!
Monday.com Pricing
Monday.com offers a free plan, 3 paid plans, and an Enterprise plan:
Individual Plan
This package is free for up to two users and includes all the features you need to get started with project management. More specifically, you get access to a 1-week activity log, 200+ templates, collaboration tools, custom notifications, Kanban views, and more.
Furthermore, you have a storage limit of 500MB. This is significantly more than ClickUp's Free Forever plan with a 100MB limit.
Basic Plan
For $8 per seat per month, you'll get 200+ templates, 20+ column types, iOS, and Android apps, create a dashboard based on one board, and unlimited boards, docs, and free viewers.
Standard Plan
The Standard Plan is the most popular plan, costing $10 per seat per month. It includes timeline and Gantt views, calendar view, guest access, and you can create a dashboard that combines up to 5 boards. In addition, you have 250 actions a month for automation and integrations.
Pro Plan
The Pro Plan costs $16 per seat per month. It includes private boards and docs, chart view, time tracking, dependency column, formula column, and you can create a dashboard that combines up to 10 boards. For automation and integrations, you have 25k actions a month.
Enterprise Plan
The pricing for the Enterprise plan is available upon request. In addition, the plan provides more advanced features, such as enterprise-scale automation and integrations, enterprise-grade security, advanced reporting and analytics, and more.
You can start with monday.com for free here!
Verdict: Both Win in Pricing
ClickUp's cheapest paid plan is less expensive than Monday's. Moreover, ClickUp's free plan is available to unlimited users. In contrast, Monday only allows up to two users for its free version. Also, unlimited storage is available from the Unlimited plan and up. Conversely, Monday has a storage limit even in the Enterprise plan.
However, Monday's upper-tier packages tend to be more affordable. That said, ClickUp is the cheaper option for beginners and small teams, whereas Monday is a more cost-effective choice in terms of scalability.
ClickUp Vs Monday: Pros And Cons
ClickUp Pros
Powerful free plan
An extensive list of features
Real-time chat facilitates team communication
Customizable dashboard
Multiple project views
ClickUp Cons
It takes time to customize the platform
A bit too complex to get started
Monday Pros
Customizable templates
Robust automation
Extensive integrations with third-party apps
Very user-friendly
Customizable dashboard
Workload management
Multiple project views
Monday Cons
Free plan is limited to two users
There aren't as many features as ClickUp in lower-tier plans
Limited task dependencies
monday vs ClickUp: Conclusion
Overall, ClickUp and Monday.com are both great options for project management software. They both offer a lot of features, and they are both affordable. However, businesses should consider their needs and budget when deciding which software is best for them.
ClickUp is a more affordable option for beginners, while Monday.com offers more features. As a result, ClickUp is an excellent option for businesses looking for a budget-friendly option, while Monday.com is a good choice for businesses that need more features, or are looking for affordable scalability.
As for the features, ClickUp gains the upper hand in automation capabilities and dashboards. The platform's dashboards are a little more customizable, while automation is available across all pricing plans, unlike Monday.
However, Monday wins in terms of project management features and customization options. This platform offers many more templates that are fully customizable to your needs.
Monday.com vs ClickUp: FAQs
Is ClickUp The Same As Monday?
They are both project management software with lots of similarities. However, they also differ in many ways. For example, ClickUp offers lots of task and time management features, whereas monday.com offers more advanced automation. 
Is Monday Better Than ClickUp?
It depends on your needs. We love monday.com as it's versatile, user-friendly, and customizable. However, smaller teams with a limited budget may like ClickUp better.