Many different task management software options are available on the market, and it can be hard to decide which is right for you. Project management software can be used to manage your projects from beginning to end, allowing you to stay organized throughout the entire process. These programs can also track your work and progress to ensure you meet all your deadlines.
Two of the most popular options are Wrike and Monday.com. Here, we will examine these two programs and discuss their strengths and weaknesses to help you decide whether Wrike or monday is the right solution for your business.
Wrike vs monday.com: Similarities
Wrike and monday.com provide free plans tailored to the needs of many small teams, freelancers, and startups.
Both monday.com and Wrike have responsive Android and iOS mobile apps.
Wrike and monday.com offer plenty of unique ways to view task progress, including Kanban board, timeline, and Gantt charts.
Both productivity solutions offer customizable templates to simplify project and task management.
Wrike vs monday.com: Differences
Monday.com offers more features than Wrike.
Wrike offers integrations in all its paid plans, whereas monday.com only offers it in its lowest paid plan.
Wrike is focused on project management, while monday.com is built with specific users in mind.
Wrike's free plan offers project and task management and other critical features, whereas monday.com's free plan only offers up to 1,000 tasks and brainstorming activities and planning.
What is Wrike?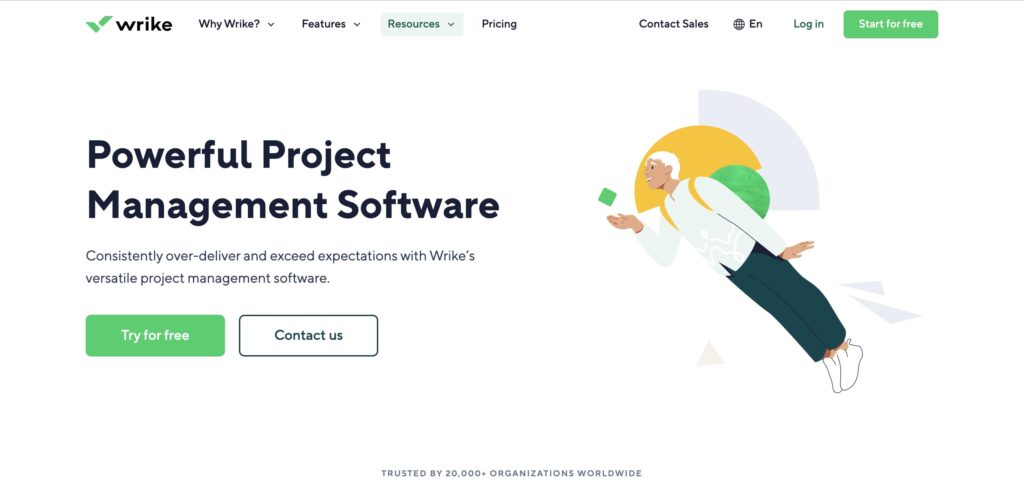 Wrike is a versatile project management tool that allows teams to work together and collaborate in one collaborative space. It's tailored to suit different businesses and teams, offering custom dashboards, workflows, and other features. Wrike empowers teams to collaborate on projects and tasks in real time through live editing, dynamic reports, and more.
Wrike Key Features
Interactive Gantt charts
File Sharing (File and Video Proofing, 30+ file formats)
400+ Integrations
Customized Workflows
Project and Task Management
What is monday.com?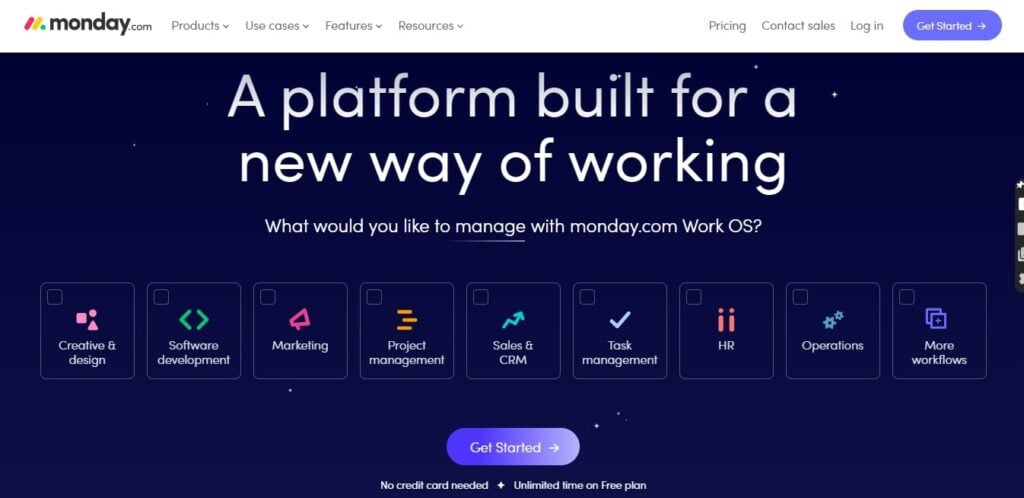 Monday.com is another innovative project management software that teams and businesses value. A project manager can use it to assign tasks to each team member, add due dates, create custom workflows, and add timelines to tasks whenever appropriate. So, this project management tool allows your teams to conveniently shape and manage their workflows.
monday.com Key Features
Custom Dashboards
Centralized Project Communication
Integrations
Agile Projects With Kanban View
Gantt Charts
Wrike vs monday.com: Features
Let's now compare the valuable features of Wrike and monday.com to help you see which offers the functionality you need.
We'll start with project and task management since it's one of the most popular features that Wrike and Monday.com offer.
Project & Task Management
Wrike and Monday are designed to simplify your work when managing tasks and projects. They offer advanced features that can help you to track projects.
For example, you can set your preferred default view after creating a project on the agile project management software. To do that, choose one feature among the major options: Table views, Board views, List views, Project Boards, Gantt charts, and Kanban boards. Once done, you can enter tasks and add your team members quickly.
However, there are a few differences in the way these tools work. If you test Monday.com, you'll likely conclude that List is its best default view. It allows you to enter tasks and details like due dates and track projects.

Monday.com's task management feature also allows you to manage the assigned tasks and to-do lists and receive notifications on task progress two days before the deadline. Like ClickUp, you also get a notification when the task is completed.
There's another good thing about Monday.com's task management feature. It allows every team member to see each other's assigned tasks.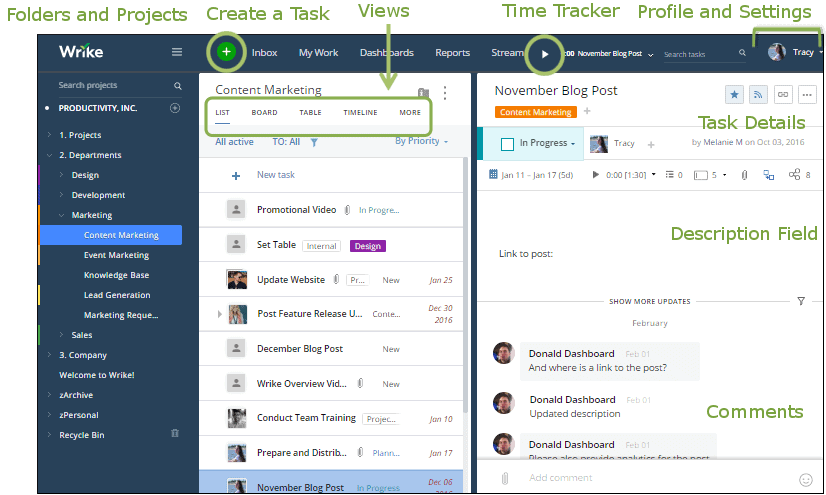 Wrike is not left behind, as shown in this Wrike vs Asana review.
Wrike offers plenty of views. However, unlike monday.com, it seems to give you a free hand to determine your best task view.
Many users go for the List view. It is divided into two sections, the list, and the spreadsheet view. Wrike allows you to switch to the Kanban view effortlessly if you find using this view challenging.
Wrike's excellent Kanban board features plenty of negative space, making your experience memorable. Its big font also gives many users value for their money. Moreover, unlike monday.com's Kanban board, which is more of an overview tool, Wrike's is flexible and easy to manipulate.
Wrike and monday also have interactive Gantt charts. Monday's Gantt is called Timeline and Gantt views.
Wrike's task management is great at breaking large tasks into small, actionable pieces. It can also divide them into subtasks and help distribute the workload evenly among your team members.
Team Collaboration Tools
Both monday.com and Wrike allow teams to communicate through plenty of channels. They have @mentions that let you call specific team members' attention and enhance team collaboration.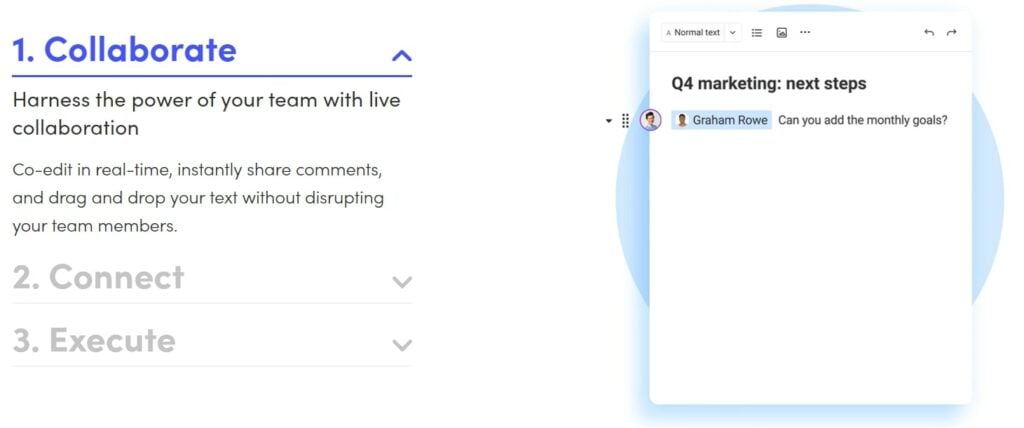 Monday's free brainstorming initiatives and planning allow you to use the project management software's collaborative Workdocs to turn brainstorming sessions into effective action. Its central project communication feature enables users to communicate with their team members and get real-time updates.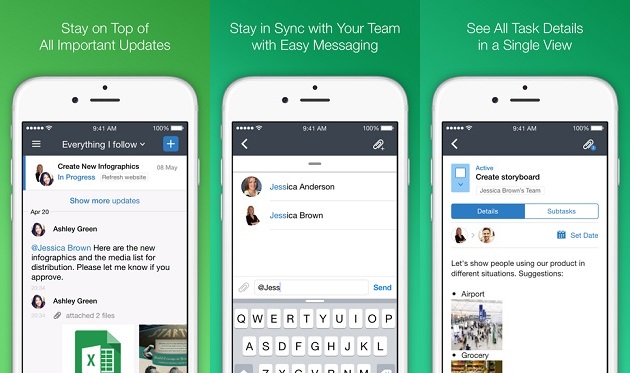 At the same time, Wrike's free project management and the 20 free collaborators are great communication tools that give it a high value.
However, the file and video proofing give Wrike the highest marks. It offers 30+ file formats, including video and web. In short, with Wrike, you can have live discussions with your teams while using the proofing feature to edit tasks.
What about mobile apps? They are great for enabling users to have real-time team collaboration. Fortunately, both Wrike and monday.com support Android and iOS devices.
Security and Privacy
Both monday.com and Wrike have almost the same security setup. They use TLS to protect files in transit. When the files reach their destination, they benefit from AES-256 encryption.
Wrike's security features like Wrike Lock, Single Sign-On (SSO), External requester collaboration, Two-Factor Authentication, Custom access roles, Locked Spaces, and Password policies also give you complete access control over your data.
Also, monday.com's Guest access, security and governance, and Multi-level permissions give you the same benefits.
Verdict: Monday.com Wins in Features
Considering the features we've reviewed, you can see that both Wrike and monday are great project management solutions. They offer many similar features like Gantt charts, customization, and task management. However, they aren't the same in some ways.
When it comes to work management, monday.com wins because it uses visual boards and other visual elements to make navigating the platform simpler.
Monday.com is also a better collaborative space since it offers monday Workdocs. Wrike offers a wide range of functions for collaborations, including Live Editor, which we can't ignore.
Nonetheless, we think the ability of monday Workdocs to empower teams to edit documents in real-time and create live-action items makes brainstorming and taking notes much simpler. Therefore, the Workdocs give monday.com slightly more marks.
For security and privacy, both stand out from the crowd.
Overall, monday.com, one of the Wrike alternatives offering many robust features, wins in features.
Wrike vs monday.com: Ease of Use
Let's now turn to ease of use. In some cases, it can be equally or more important than the quantity or quality of certain features.
As you might have noticed, both monday.com and Wrike use interactive Gantt charts, Kanban Boards, and more. Nevertheless, Wrike's List is divided into two, which can give some beginners a few challenges, but it remains easy to use because of its industrial approach to user-interface design.
Monday.com shares the same approach but adds color.
Wrike's interface is dull, making it difficult to use, but it organizes projects in folders.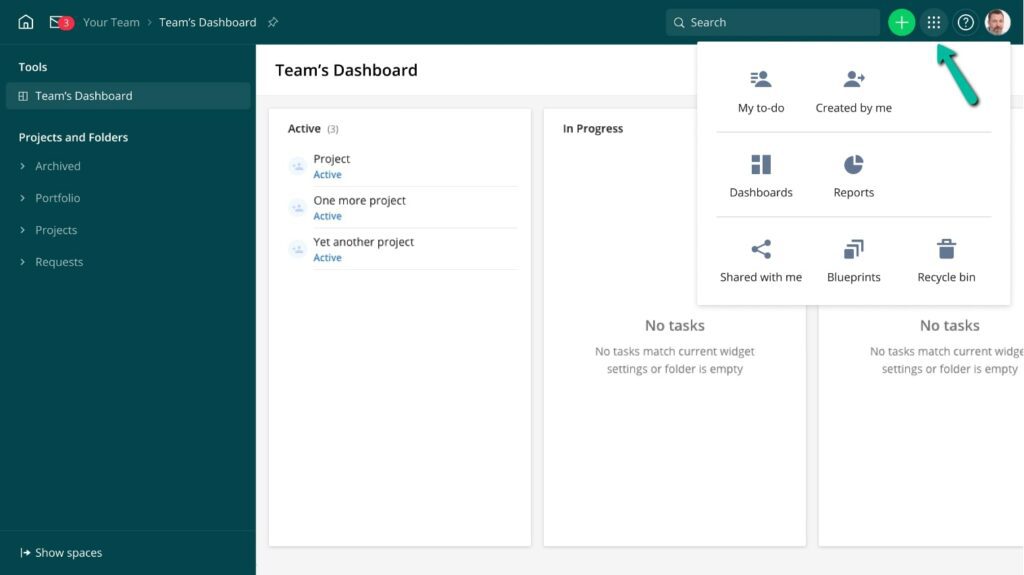 Monday.com is Easier to Use
Wrike is easy to use, which is why many people opt for it.
Since monday.com is a project management tool designed with specific professional services in mind, it's easier to use. On top of monday projects, there are monday marketer, monday dev, and monday sales CRM. So, for example, if you have marketing teams and are looking for the best marketing project management software, monday.com could be much better.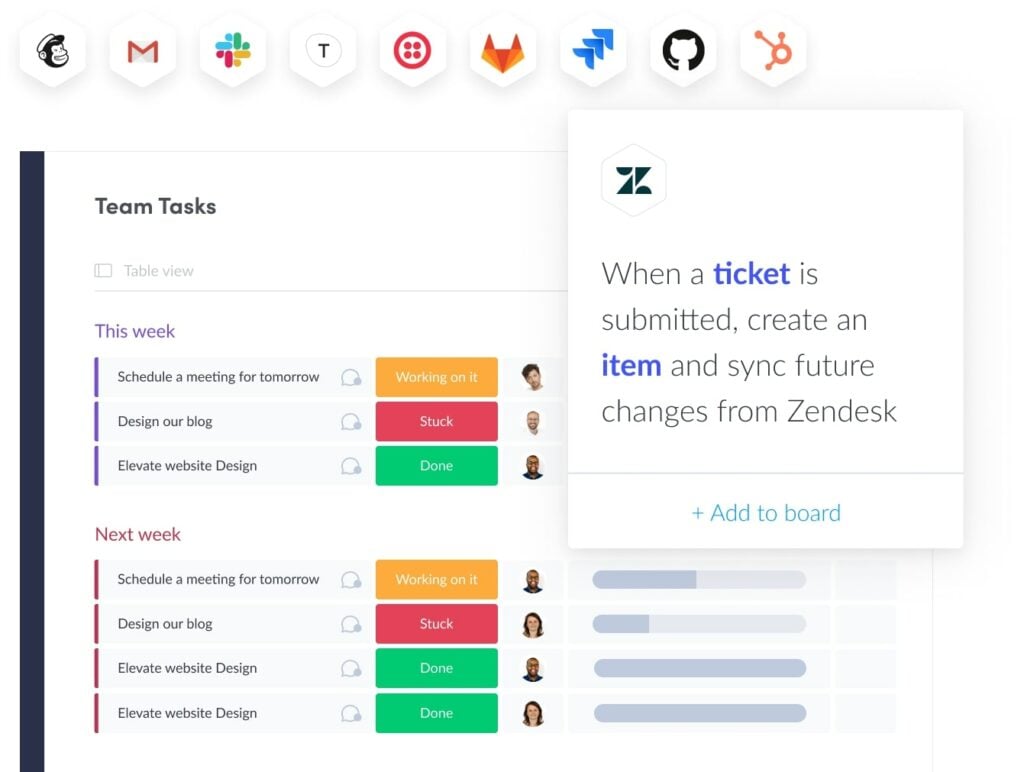 Monday.com also uses visual elements that make navigating the working space simple.
monday vs Wrike: Integrations
Integrations are another key feature to consider when comparing Wrike vs monday.com. It can increase the functionality and capacity of these two project management software in a big way.
Wrike offers Integrations in all its paid versions, but monday.com excludes it from its lower plan.
At the same time, monday.com offers a tiered system, where successive pricing plans allow more Integrations. For example, Standard projects allow 250 Integration-actions per month. The successive plan, Pro projects, allows 250,000 actions monthly.
Wrike is different in this regard since it offers Integrations and open API in the lowest plan, Team. You can access these same integrations in the remaining three plans.
You can find examples of a few major apps for team communication, issue tracking, file syncing, project management, and web creation that Wrike integrates with below.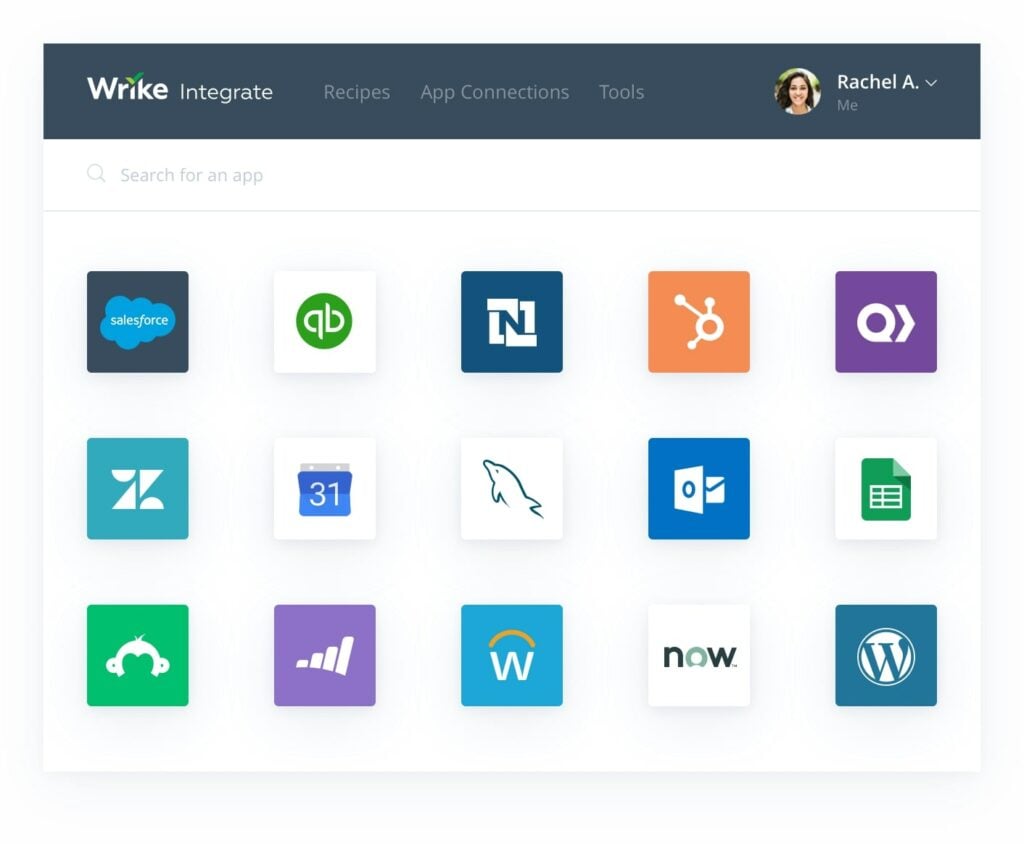 Here are a few applications you can integrate monday.com with: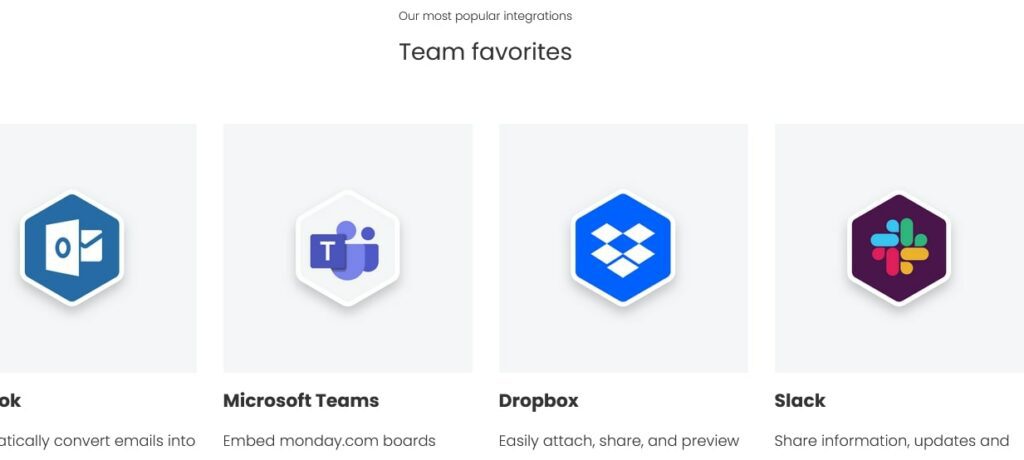 Google Calendar
Google Drive
Zapier
LinkedIn
Slack
Wrike Wins in Integrations
Wrike and monday.com enable you to integrate their platforms with some of the best cloud storage solutions. So, you shouldn't worry if your chosen project management's storage space isn't enough. With a few integrations, you can increase the storage space significantly.
Wrike offers 400+, but monday.com provides 40+ Integrations.
However, if you're on a tight budget and are considering Wrike vs monday.com, you need to be more careful. You can get many integrations from Wrike once you pay at least $19.60 per month(for two users). However, for monday.com, you should pay at least $36 per month (for three users) and get access to valuable integrations immediately.
So, depending on your needs, you can consider Wrike the Winner. If the number of integrations matters to you, it still leads.
Wrike vs monday: Pricing
Since price also matters when choosing most project management tools, let's jump to the pricing plans part now and see which one is better.
Monday.com Pricing

Free Forever: This free plan supports up to 2 members and offers basic features.
Basic Projects: $9 per user per month (billed annually) that's best for planning and managing basic team projects.
Standard Projects: $12 user/month (billed annually), tailored to all stakeholders' project management needs.
Pro Projects: $20 per user per month (billed annually), suitable for optimizing project progress with advanced features.
Enterprise Projects: Contact sales if you want to scale and manage your projects and portfolios.
Wrike Pricing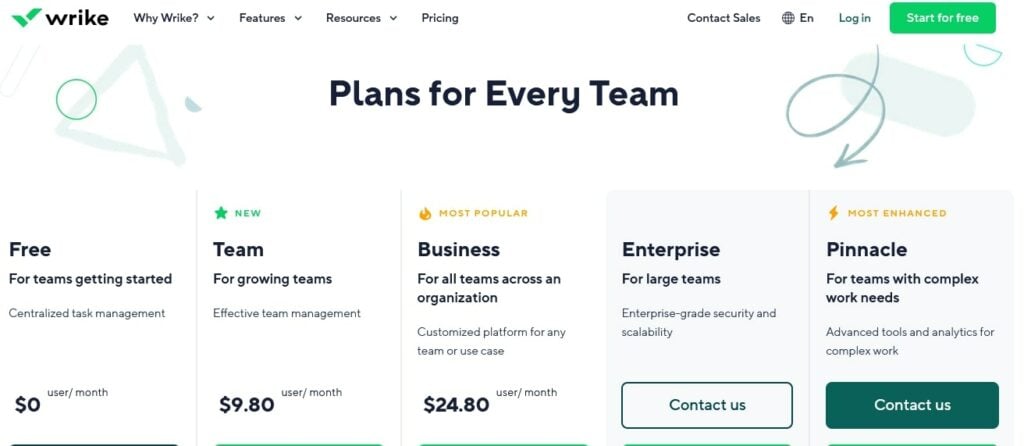 Free Forever: A free plan for managing simple projects in a centralized place.
Team: This team plan costs $9.80 per user per month and suits small businesses and teams that need to manage their teams effectively.
Business: Wrike's business plan costs $24.80 per user per month and is tailored to all teams across an organization.
Enterprise: Contact Wrike for enterprise-grade security and scalability.
Pinnacle: You can contact the sales department if your team has complex projects.
Both monday.com and Wrike Win in Pricing
Both monday.com and Wrike offer a 14-day free trial. They also have free forever versions and provide plenty of quality features at affordable rates.
So, you can choose any project management tool tailored to your professional services or project management needs, irrespective of the price.
Wrike vs monday.com: Pros and Cons
Let's now see the pros and cons of each project management software to give you a quick overview of what we've been saying from the beginning up to now.
Wrike Pros
World-class customer support
Custom dashboards simplify reporting
Suitable for multiple projects
Wrike Cons
Non-intuitive user interface
Focuses on project management only
monday.com Pros
monday's Workdocs promote team collaboration
Friendly user interface
Designed with the needs of specific users in mind
monday.com Cons
Offers few integrations in the lower plans
The free version is highly limited.
Wrike vs monday: Conclusion
Wrike and Monday are excellent project management tools. So, the right project management software in this care depends on your team's needs.
If you have a growing team that requires a robust and flexible productivity tool they can customize with ease, Wrike could be the best. On the other hand, if they want one designed with specific needs, like marketing and CRM, in mind, monday.com might be what they are looking for.
Note that you can compare the prices of these two productivity solutions to see which one gives you value for money but be sure you focus more on the features your team needs to succeed than the cost as you do this.