Task management software has become increasingly important in today's workplace. It can help keep everyone on task and organized so people can focus on their work. It can also improve productivity and reduce time spent on administrative tasks.
This list is a great place to start if you're looking for a tool to help you manage your tasks more efficiently. Here are the best task management tools available today. We've included various options here, from free to paid software. So no matter what your budget is, you should be able to find a tool that works for you.
What is Task Management Software?
Task management software or task management tool is any software that makes it easier to track and manage all the tasks you have to do at work. These can include small tasks that you handle daily and larger projects that you'll work on over several weeks or even months.
Many types of task management software are available today, including simple to-do list apps and more complex project management tools. Many of these tools offer similar features, such as adding tasks to your list and tracking their progress over time. But some can also include additional features that make them more useful in certain situations.
The benefits of task management tools will vary depending on your chosen tool. But they typically make it easier for you and your team to manage your projects more effectively. This can help you get the job done faster and ensure that all team members are on the same page. As a result, it can also improve the quality of your work and lead to better project outcomes.
Task Management Tool Key Features
There are many different features that you can access when you use a task management tool. Here are some of the most important ones.
Project and task management
Many task management tools will allow you to create project plans and set deadlines for completing individual tasks. You can track each task's progress and update your project's status as needed.
Team collaboration
Some task management tools allow you to collaborate with other team members in real time. This can be particularly useful when you coordinate efforts with your colleagues to complete a project on time.
Workflow automation
These tools can also help you to streamline the workflow for your various projects, allowing you to save time in the process. They may include features such as automated reminders and notifications to help keep you on track with important tasks and projects.
Reporting and analytics
You can use these tools to get real-time visibility into the performance of your projects and tasks. This can include detailed information about the tasks that have been assigned to each of your teammates.
Integrations
Some task management tools can be integrated with other apps and programs, including calendars and email applications. This can help you stay on top of your tasks and organize them efficiently.
There are many different types of task management tools that you can choose from. Each tool includes its unique set of features designed to help you manage your projects more efficiently.
23 Best Task Management Tools
Here are our top picks for the best task management tools available today.
Now, let's take a closer look at each of these tools in more detail and see which one is right for you.
Monday.com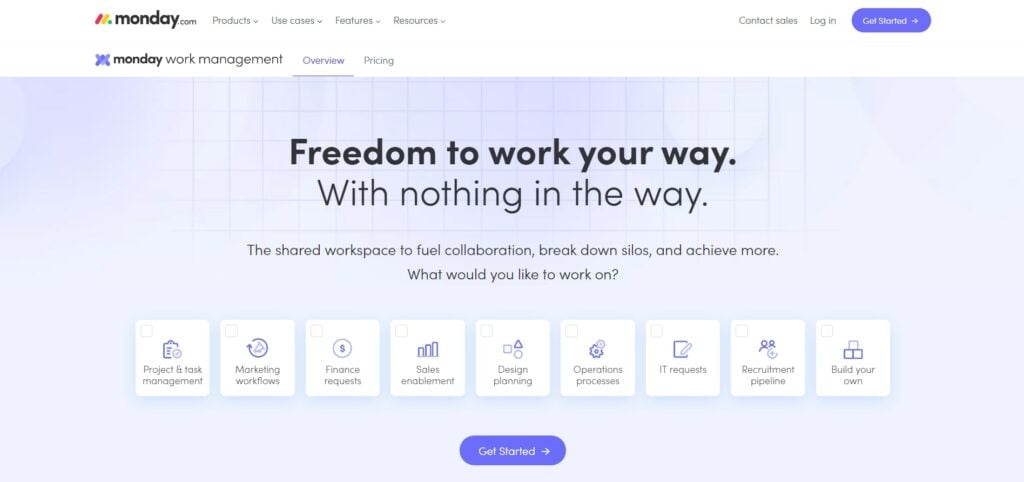 Monday.com is one of the best task management software for team collaboration. It has an easy-to-use interface that requires little learning.
Monday's incredible Work O.S. is suitable for small, medium, and large-scale organizations. Thus, companies in different industries will find at least five tools relevant to their business operations.
Its automation feature allows project managers to customize or prioritize tasks for departments or teams.
Monday.com Features
Work O.S. cloud-based framework
Automation and integration tool builder
Niche-specific customizable templates
Boards and columns
Task management app
Monday.com is an impressive task management tool for multiple complex projects. The tool makes it easier for task managers to prioritize tasks for different functions.
monday.com Pros
Improves productivity through team interactions
Intuitive tools with multiple features for teamwork – tag specific teammates
Ability to organize workflow, to-do list, and more
Multiple views on the board and the Gantt Chart make work productivity seamless. In addition, you enjoy the ease of navigation and team communication.
monday.com Cons
The initial automation setup may be a bit complex
Inability to create a personal report away from team members' views.
No features for recurring tasks
Monday.com Pricing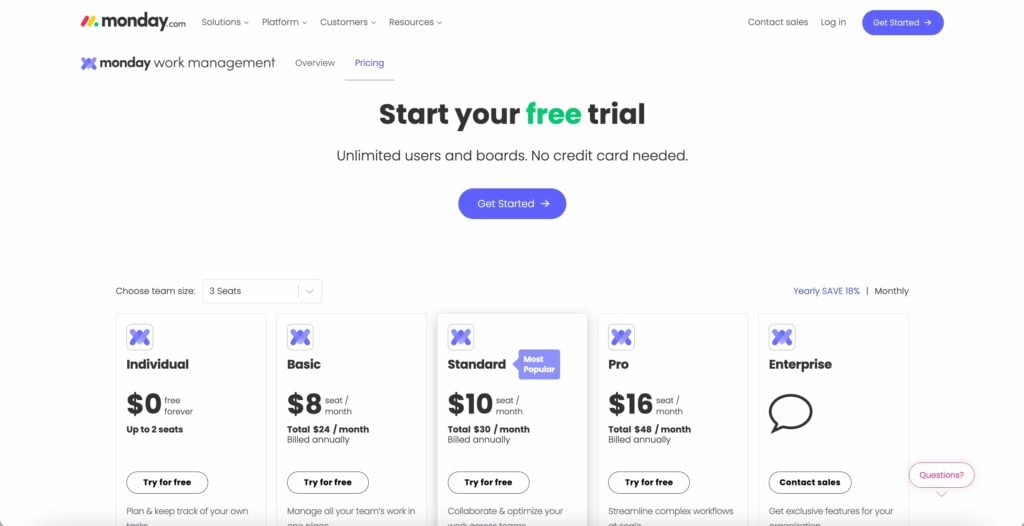 Free plan: It allows two users to work with limited features
Basic plan: $8 per user per month
Standard plan: $10 per user per month
Pro plan: $16 per user per month
Enterprise: requires a call to sales support to discuss pricing
Our #1 Pick
10x Your Productivity | monday.com
Monday.com is the best cloud-based project management tool that helps teams manage their workflow and collaborate more effectively. It provides a visual overview of your team's progress, making it easy to identify bottlenecks and areas for improvement. It's a great option for teams looking for a flexible and intuitive project management solution.
Pros:
User-friendly interface that allows for easy task and project management

Customizable templates for various industries and functions

Integration with popular apps like Slack, Google Drive, and Trello

Visual overview of team progress and project status

Flexible and intuitive project management solution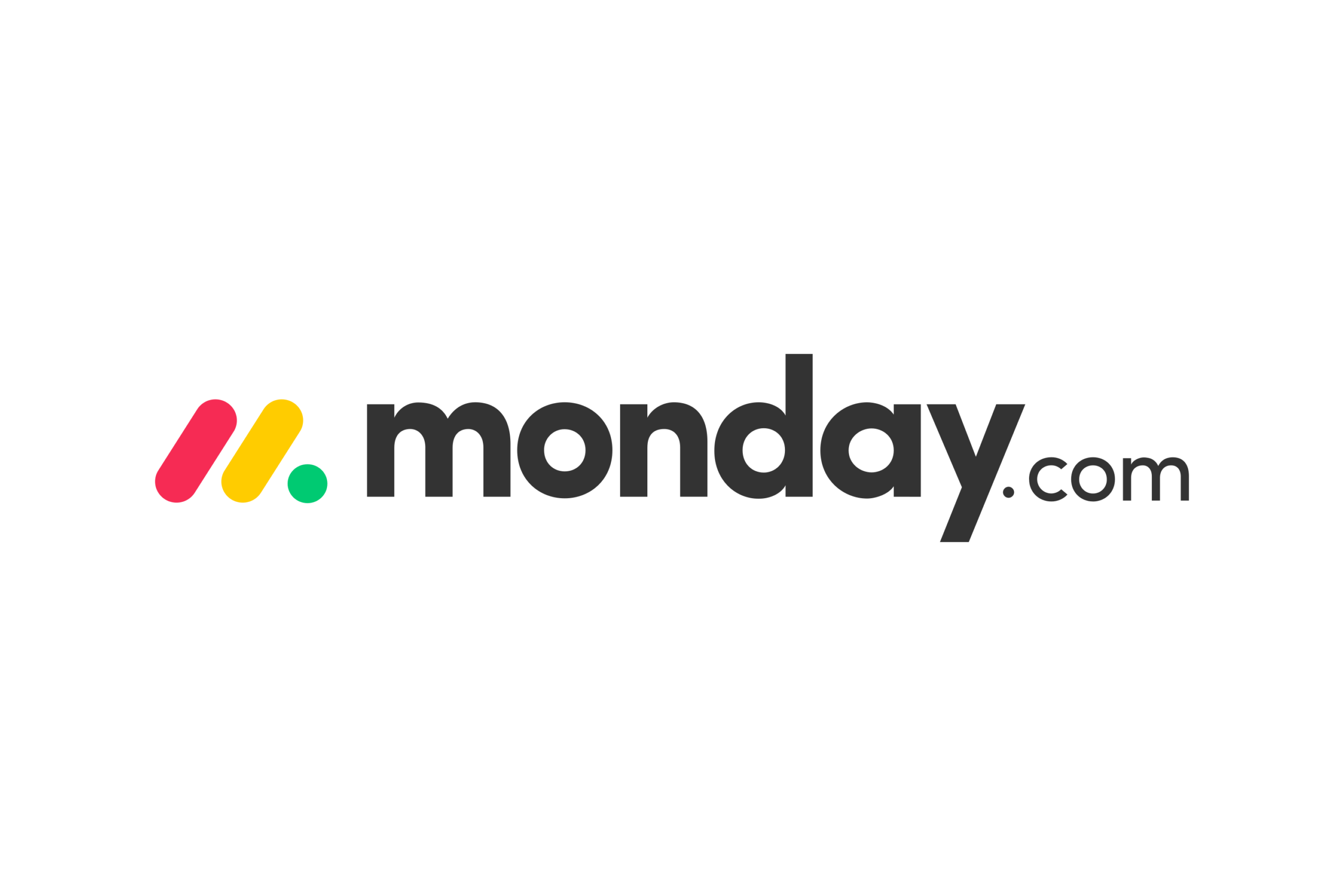 ClickUp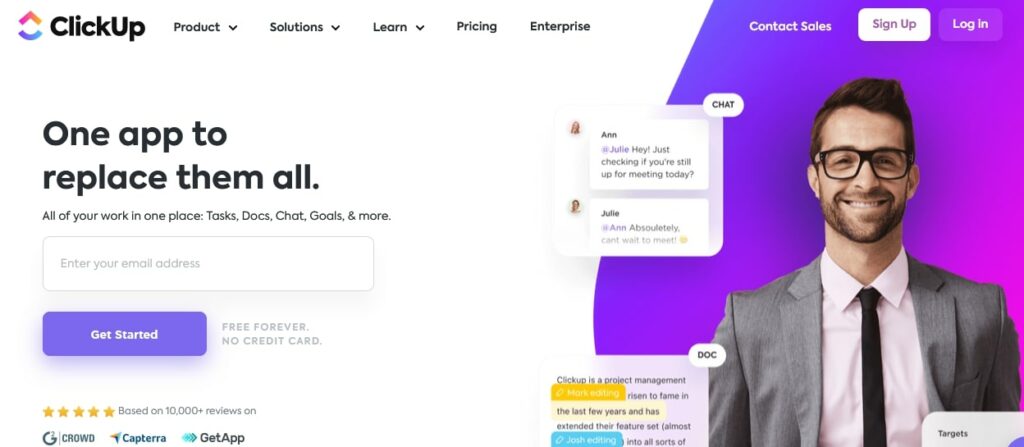 ClickUp is a task manager that helps improve productivity at work. It is a cloud-based, one-stop collaborative task management tool for shared responsibilities and multiple projects.
The tool lets you organize whiteboard tasks and chats, set goals, and work on docs. The shared setting makes it one of the best visual task management tools for team collaborations.
ClickUp Features
50+ Customization tools
15+ views of different sizes
Shared team collaboration settings
Visual reporting boards
Mobile application
ClickUp offers small and large teams a variety of tools to help streamline processes and ensure everyone is in sync. Thanks to the app version, users can access their accounts from a mobile device.
ClickUp Pros
Intuitive mobile app for easy access
Time tracking feature increases efficiency
It has improved visibility for task management
ClickUp makes it easy to personalize tasks for remote teams such as freelancers. It is compatible with various file formats allowing users to attach files directly instead of sending multiple emails.
ClickUp Cons
It has a long learning curve
Upgrades must include all team members
The file names may be a bit confusing
ClickUp Pricing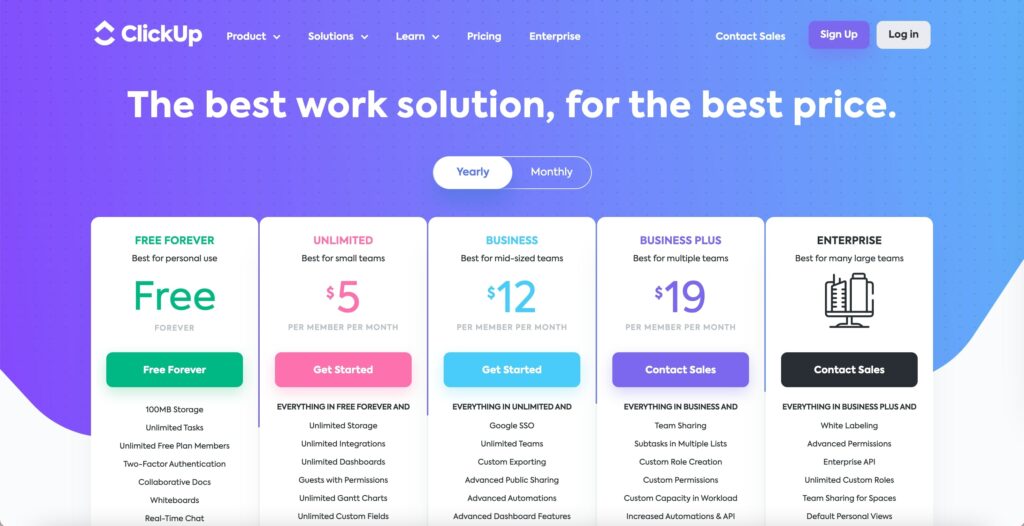 Free forever: $0 per month
Unlimited: $5 per user per month
Business: $12 per user per month
Business Plus: $19 per user per month
Enterprise: Contact Sales for pricing
Smartsheet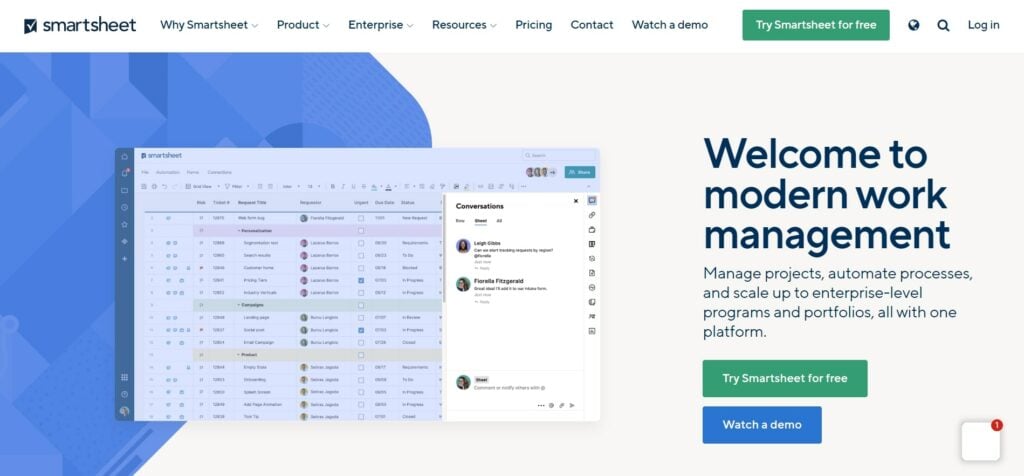 Smartsheet is one of the best task management apps due to its customizable features. The online platform has the framework of a spreadsheet but for multiple projects. So you can use it as a collaborative task management tool and time tracking tool.
Remote teams will find Smartsheet easy to use for online collaboration. Sales and marketing teams will also find it pleasant to use for Customer Relationship Management (CRM).
Smartsheet Features
Task Customization
Report tracking tool
In-App task time
Guest user access
Accounting tool
Typically, the Smartsheet form is a web-based form for collecting data. You can then export the forms online for reporting or record keeping.
Incorporating the Agile methodology feature gives you a detailed visual task management tool. Additionally, the activity dashboard simplifies tracking tasks and teams through notifications.
Smartsheet Pros
Impressive analytical and reporting tool
It has multiple templates for easy customization
Exports data in different formats
Smartsheet's impressive customization tool allows you to create interactive projects for teams. Smartsheet also uses a web-based form allowing project managers to approve requests easily.
Smartsheet cons
No free version
It requires add-ons for more features to work
No live updating (autosave) of tasks
SmartSheet Pricing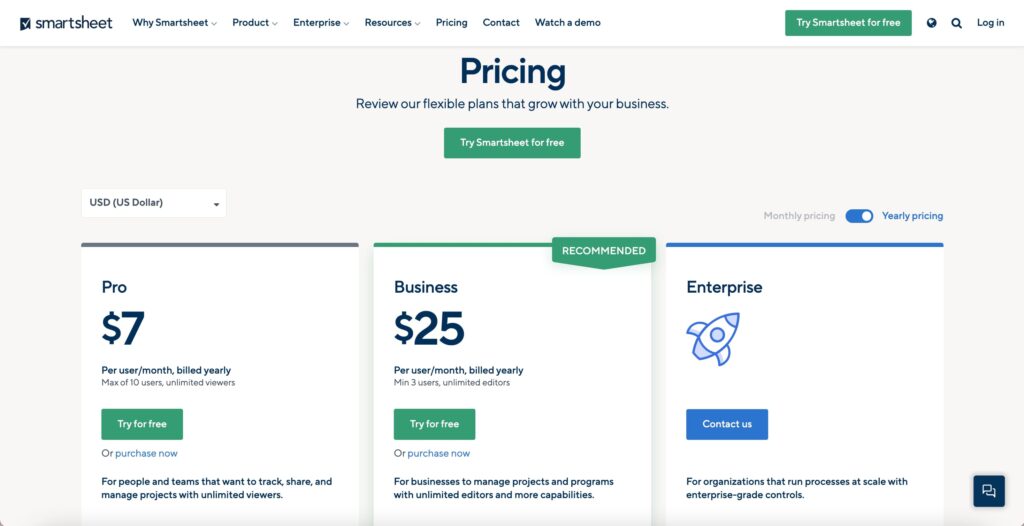 Pro: $7 per user per month billed annually
Business: $25 per user per month billed annually
Enterprise: requires direct contact for pricing
Smartsheet offers a 30-day free trial which can be helpful for anyone that wants to try out its features.
Oracle NetSuite Project Management
Oracle NetSuite is an Enterprise Resource Planning (ERP) project management tool for mid and large-sized firms. It is an intriguing task management tool for financial and project management.
This task management tool helps build, promote, and track sales efforts and manage customer relationships. In addition, the reports it generates help in data analysis and projection.
Consulting, I.T., marketing, and manufacturing firms often find Oracle NetSuite rewarding.
Oracle Netsuite Features
Job creation and Key Performance Index (KPI) tools
Full product suite for accounting and task management
Over 190 currency features for global businesses
ERP Platform for Governance and Risk Compliance (GRC).
Open API for integration
Oracle NetSuite features make it suitable for accounting analytics, CRM, and task management. However, the initial ERP setup may require the assistance of a professional.
Oracle Netsuite Pros
Automates accounting processes
Processes and reports financial data
Real-time data update for all team members
Oracle Netsuite makes mid and large-size business financial operations smoother through automation. Unlike accounting software alternatives like QuickBooks, Oracle Netsuite does not need third-party applications to customize content.
Oracle Netsuite Cons
It's quite pricey for small and some mid-range businesses.
It may require too many integrations and add-ons for some industries.
The different business versions restrict usage across the board.
Oracle NetSuite Pricing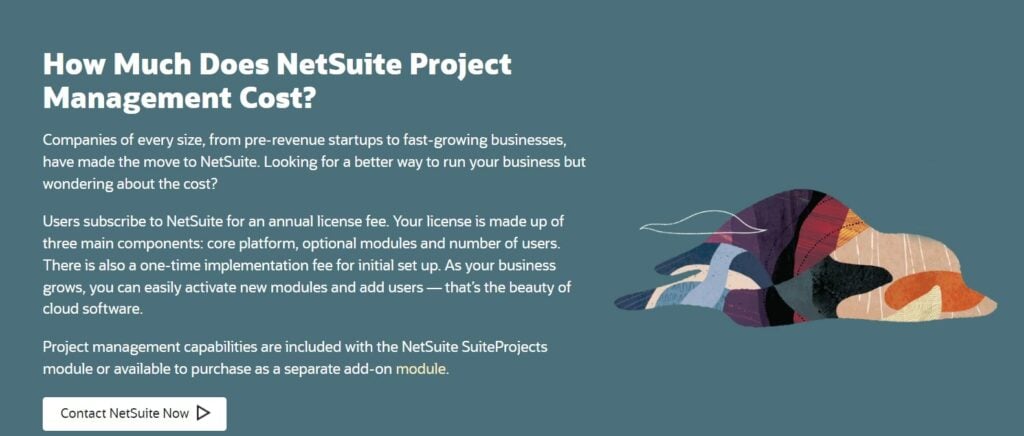 Oracle NetSuite does not have product prices listed on its site because prices vary significantly. Each product price depends on the add-ons and product specifications your company selects.
Wrike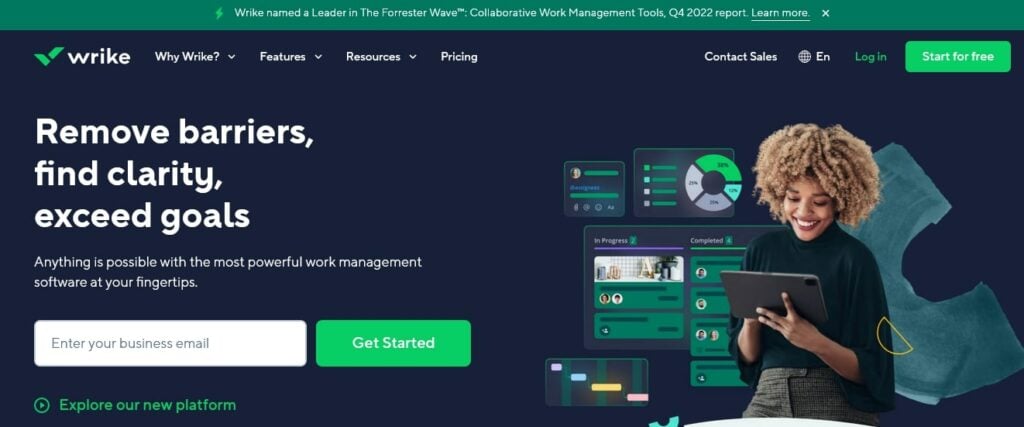 Wrike task management software is a general-level enterprise-grade tool for small and medium-scale businesses. It is a US-based collaborative task management tool owned by Citrix Ltd.
Wrike's website content is translated into 15 languages to make it accessible to people of different nationalities. As a result, individuals and professionals from different industries worldwide can use Wrike to build productive teams.
Wrike Features
Customized task tools
Intuitive CRM features
Dashboard and Reporting tool
Project tracking tools with milestones
It comes in different languages
Wrike has intuitive features that help improve work performance for project success. For example, the tool makes it easy to predict when a project is about to suffer setbacks. As a result, it can use specific parameters to identify the necessary steps to salvage the situation.
Wrike Pros
You get an industry-focused account setup
Easy to customize tools for project management
Simple and easy-to-use project boards
Different industry experts can tailor the app to suit their project needs. Its simple project boards allow people of different skill levels to understand and use it easily.
Wrike Cons
You may require customer support to choose plans
Easy to set up
No functionalities for advanced task management
Wrike Pricing and Free Trials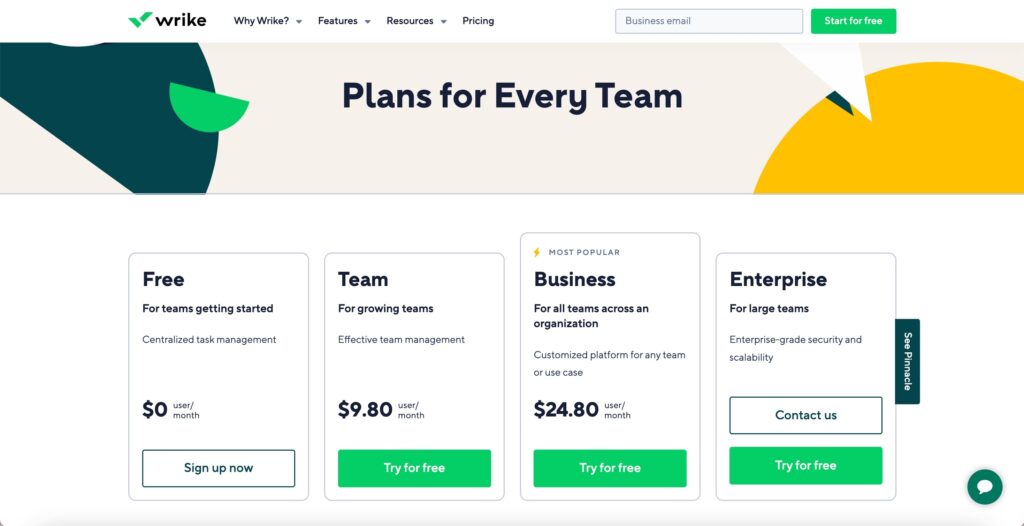 Free: $0 and is available for teams that are just getting started
Team: $9,80 per user per month
Business: $24,80 per user per month
Enterprise: requires you to get in touch with the Sales department
Teamwork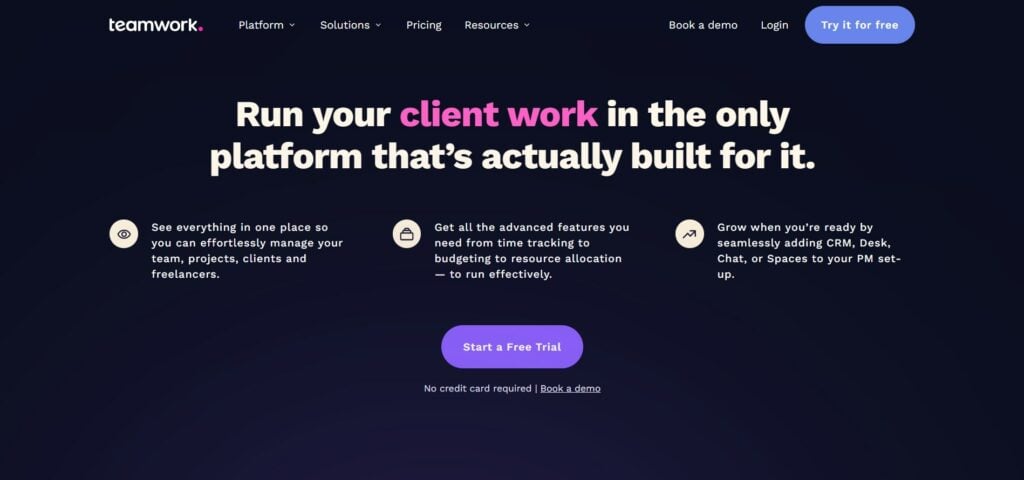 Teamwork is one of the best task management tools for organizing projects. The application comes from an Irish-based software company headquartered in Cork, Ireland.
Teamwork simplifies task management through state-of-the-art features and functions. This task management tool allows teams to create task boards, assign work, track progress, prioritize tasks, and report outcomes. In addition, boards, chat, and task-sharing tools make it easy to collaborate efficiently.
Teamwork Features
Customization tool
Approval Control hub
Agile methodology
Invoicing systems
Tracking & reporting
Teamwork is an intuitive tool with all the functionalities teams need to work efficiently. It has structures for assigning and monitoring tasks effectively. The tracking and reporting functions make it easier to measure KPIs.
Teamwork Pros
The overview tab helps you appraise entire tasks at a glance
Invoicing tools for remote and regular teams
Intuitive tracking and reporting on each project
Teamwork has unique features for assigning tags directly to team members. It also includes ample file storage and is accessible through mobile devices for convenience.
Teamwork Cons
Mix-up of task board tracking details
Inability to import file markups in PDF
May encounter glitches with dates for subtasks
Teamwork Pricing and Free Trials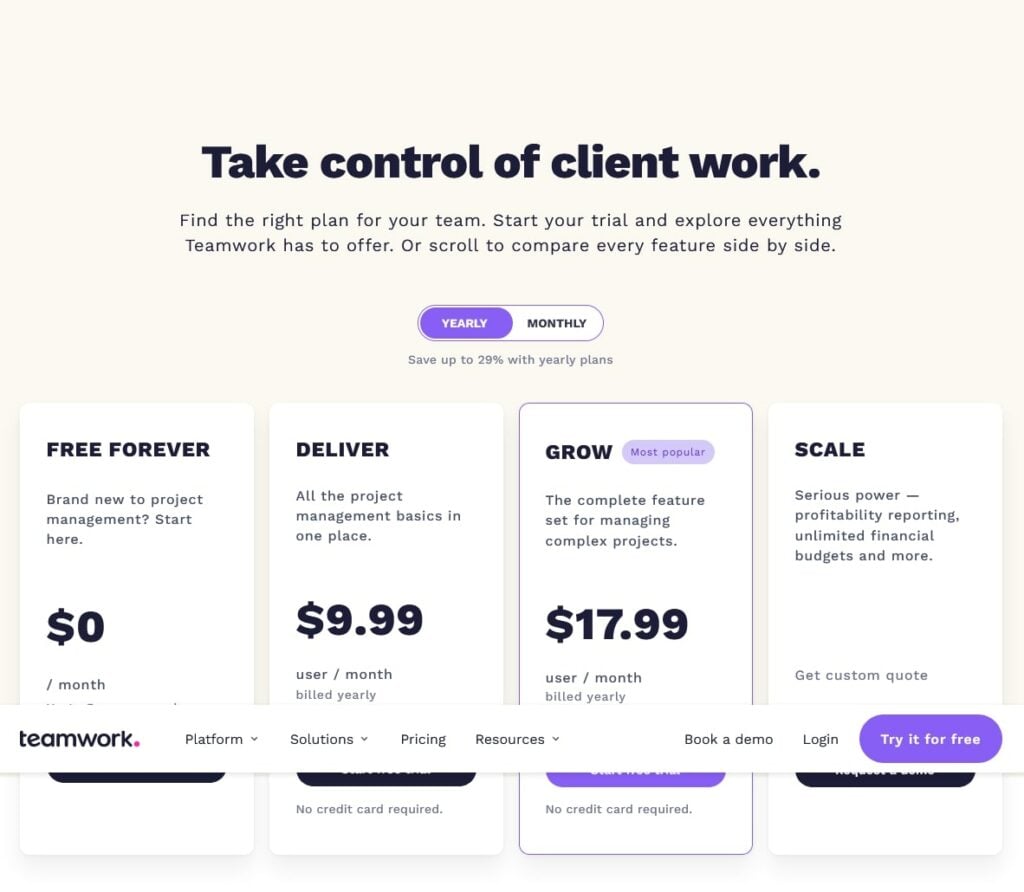 Free: no payment forever
Deliver: $9.99 per person per month
Grow: $17.99 per person per month
Enterprise: requires users to get in touch for customized prices
You can enjoy a 30-day free trial of the Grow plan without a credit card or contract commitment. But remember to cancel the plan before the 30 days elapse.
Resource Guru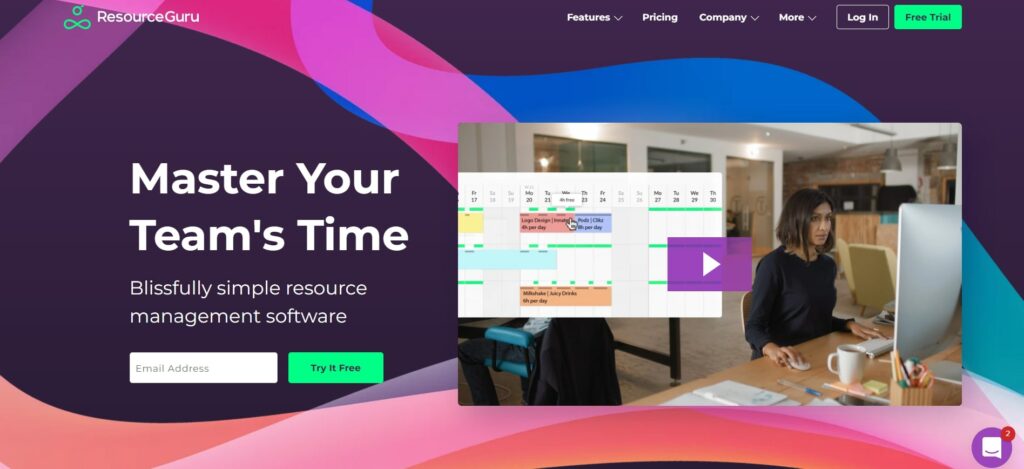 Resource Guru provides a handy tool for resource scheduling for remote teams, sales, and manufacturing companies. It is one of the most affordable task management tools.
Resource Guru helps task managers prioritize tasks and follow up on team progress. As a result, it helps organizations increase productivity through effective communication and regular evaluation.
Resource Guru Features
Project Scheduling tool
Calendar for visibility on a single view
Project forecasting
Meeting room booking
Resource Guru offers new or small teams a way to organize their work and get some statistics on overall performance. Its resource management feature helps small businesses utilize their resources in the most beneficial manner.
Resource Guru Pros
60 days trial on the annual plan
Extremely affordable when compared to competitors
Organizes tasks for remote teams
Resource Guru provides enough resources to improve team productivity. Besides, there are intuitive tools like the calendar for efficiently assigning, tracking, and reporting tasks.
Resource Guru Cons
No real-time updates of events
No provision for organizing or prioritizing events
All teams get equal visibility without host-restricted views.
Resource Guru Pricing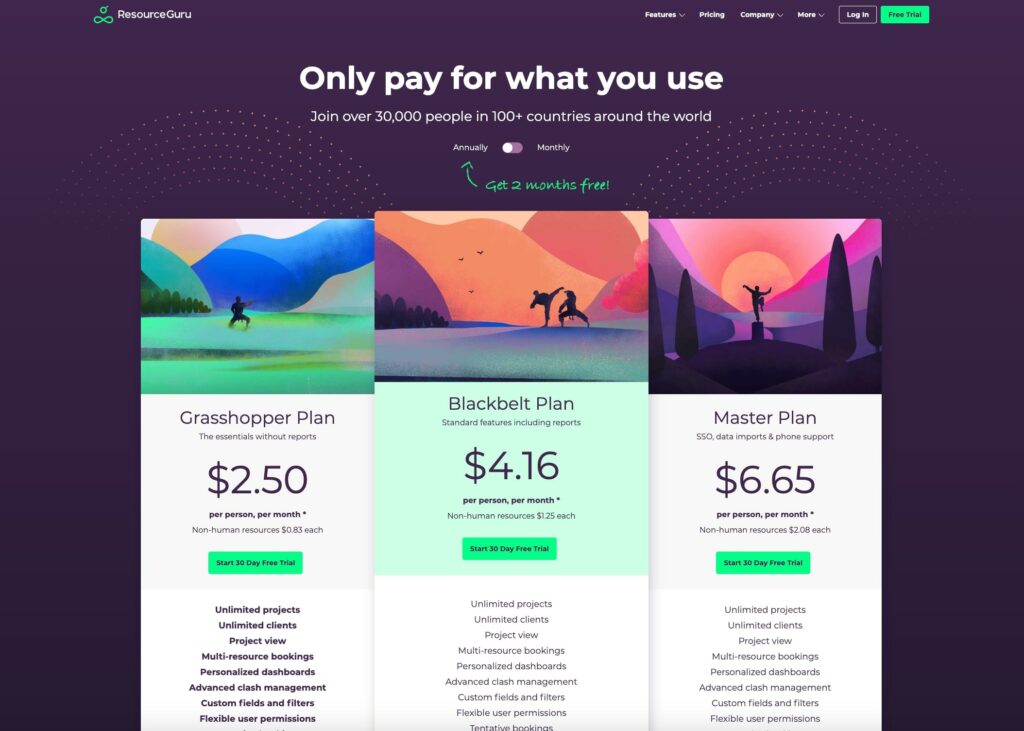 Grasshopper plan: $2.50 per person per month
Blackbelt plan: $4.16 per person per month
Master plan: $6.65 per person per month
Zoho Projects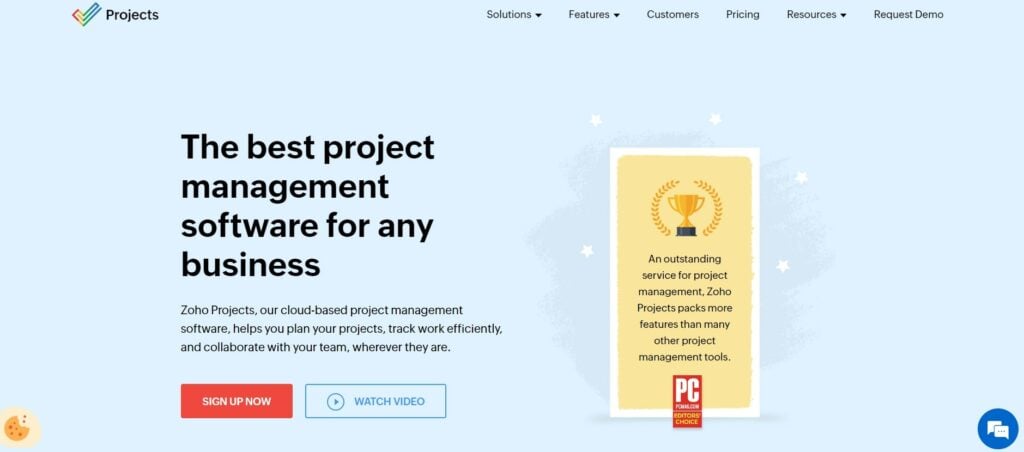 Zoho is one of the best task management software for different organizations. It can also work exceptionally as a sales and customer relationship management tool.
Zoho integrates with various other tools for software development. An example of such integrations is Zoho CRM. The web-based tool makes initiating interactions between the host company and customers easy.
Zoho Projects Features
CRM tools for teams and clients – group chats
Document automation
Project scheduling
Budgeting
Project reporting
Zoho is a one-stop online CRM tool suitable for sales, marketing, and service-oriented teams.
Zoho Projects Pros
Intuitive CRM integration for clients and team
It offers a personalized interface for projects
You can prioritize tasks or queries for resolution
Zoho's personalized interface makes it easy for people with different skill levels to grasp its workings quickly. It also allows teams to prioritize tasks and problems for faster resolution.
Zoho Projects Cons
It has deployment for web and mobile interfaces only
It takes time to load the functions.
Integration tools are complex to install.
Zoho Projects Pricing and Free Trials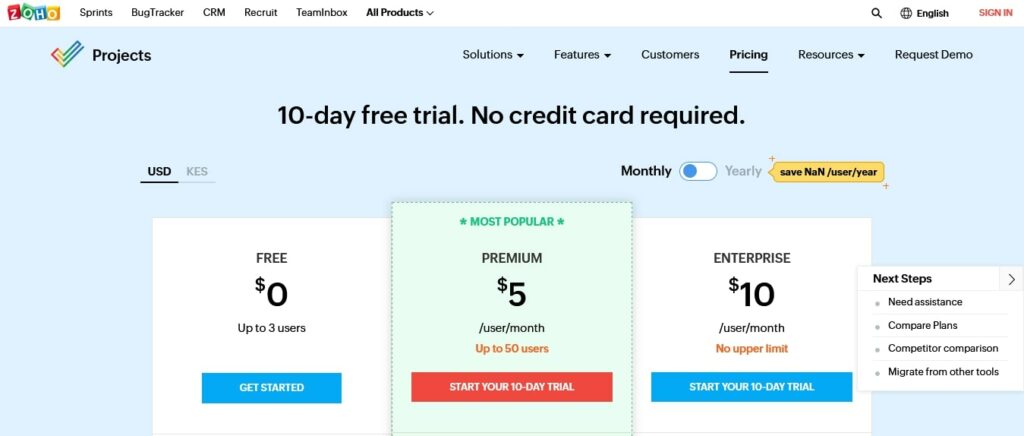 Standard: $12 per month billed annually
Professional: $20 per month billed annually
Enterprise: $35 per month billed annually
Ultimate: $45 per month billed annually
You get a 15-day trial when you sign up for any plan. There are no contract or credit card requirements for sign-up.
Hive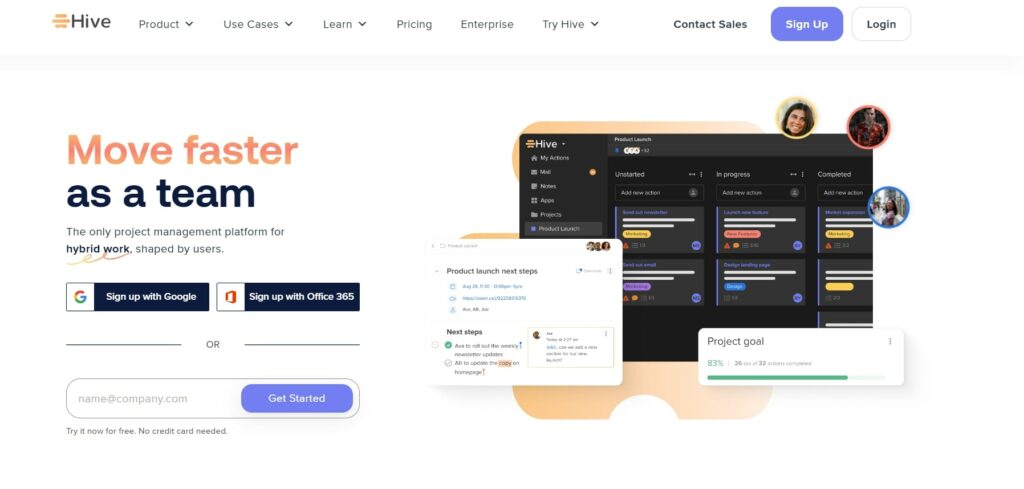 Hive is a productivity platform for teams across the globe. This task management tool allows users to create task descriptions, assign work, track progress, and communicate and compile reports.
One of the unique things about Hive is that it takes client feedback seriously. Since its launch in 2015, it has upgraded the platform to include features or functions proposed by its users.
That means you can go ahead and use it, and if something is missing or does not work right, you can raise the matter and look forward to it being upgraded in the future.
Hive Features
Integrations
Apps for different devices
Analytics and reporting
Automation
Modern collaboration options
Hive provides modern collaboration options such as video and live chat. It is also among the few task management software options that provide analytics to ensure clients get a good view of project performance.
Hive pros
Impressive customer support
Versatility
Comprehensive features
Hive is one of the most reliable task management tools thanks to its immense features. Its features and design make it versatile enough to work for teams from different industries and backgrounds.
Hive cons
The mobile app is not as responsive as the desktop counterpart
Has a learning curve
Lack of prioritization option
Hive Pricing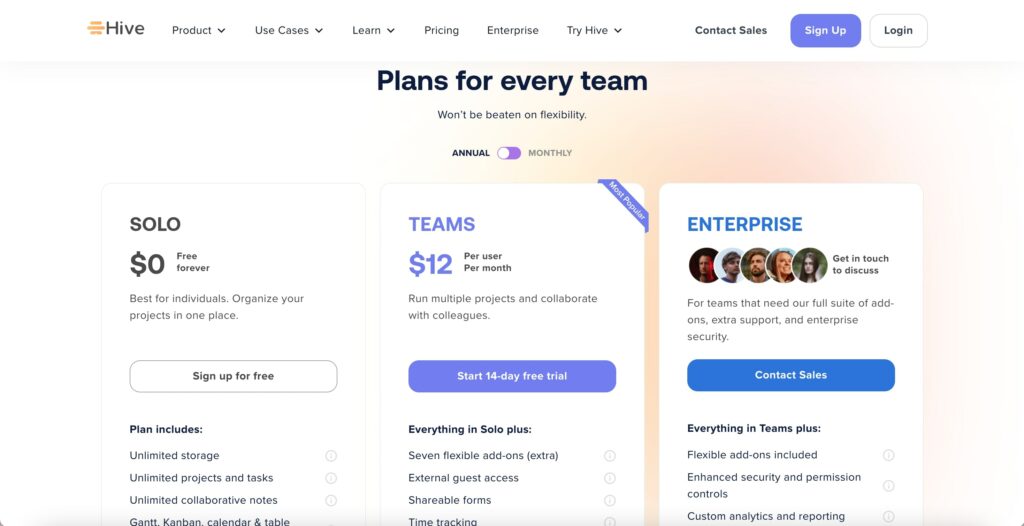 Solo: free forever and is suitable for individuals that want to organize their work
Teams: $12 per user per month and has a 14-day free trial
Enterprise: requires direct contact for priding quotes
Asana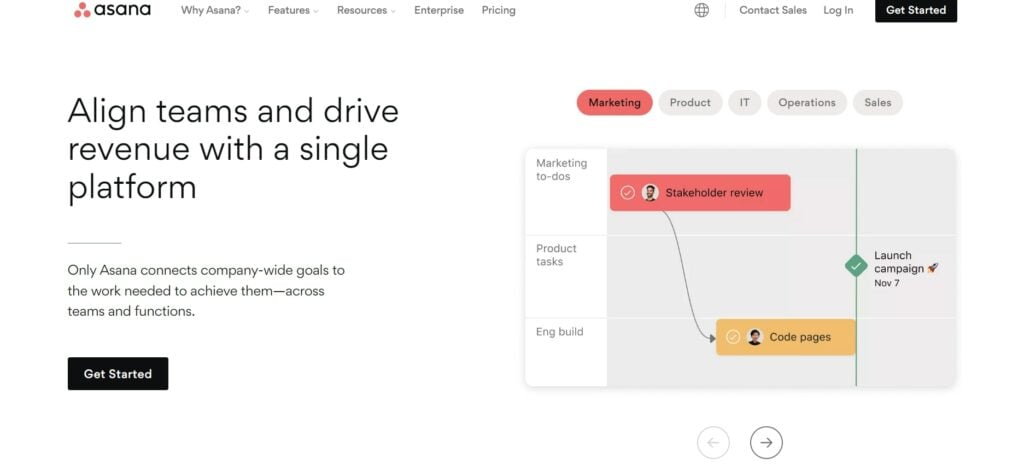 Asana was launched in 2008 after Rosenstein and Moskovitz left Facebook as co-founders. Today, it is one of the best task management tools for efficient workflow and remote tasks.
Asana is an impressive tool for small and medium-scale businesses of 15 plus employees. It allows users to easily share files and assign tasks to teammates with real-time feedback. It comes in a web browser and a mobile app version.
Asana Features
Visual boards
Template customization
Web and mobile application
Agile management
Document automation
Asana is an incredible automation workhorse for team collaborations. Its array of customizable templates makes it ideal for different industries.
Asana Pros
Real-time tracking of budget and tasks
You can visualize the project board in one view
Expansive integration
Asana hosts dozens of useful and relevant workflow tools for easy collaboration. For example, task managers can prioritize tasks and monitor progress reports.
Asana Cons
No time tracking feature
Not friendly for graphics-intensive tasks
Task-assigning tools have a learning curve
Asana Pricing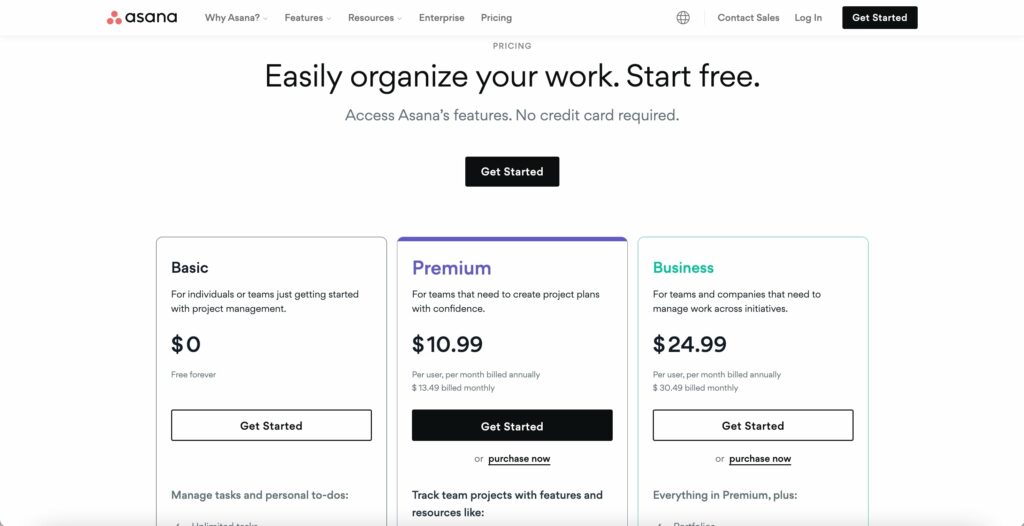 Basic: free forever
Premium: $10,99 per user per month
Business: $24,99 per user per month
Enterprise: requires direct contact with the Sales team
Notion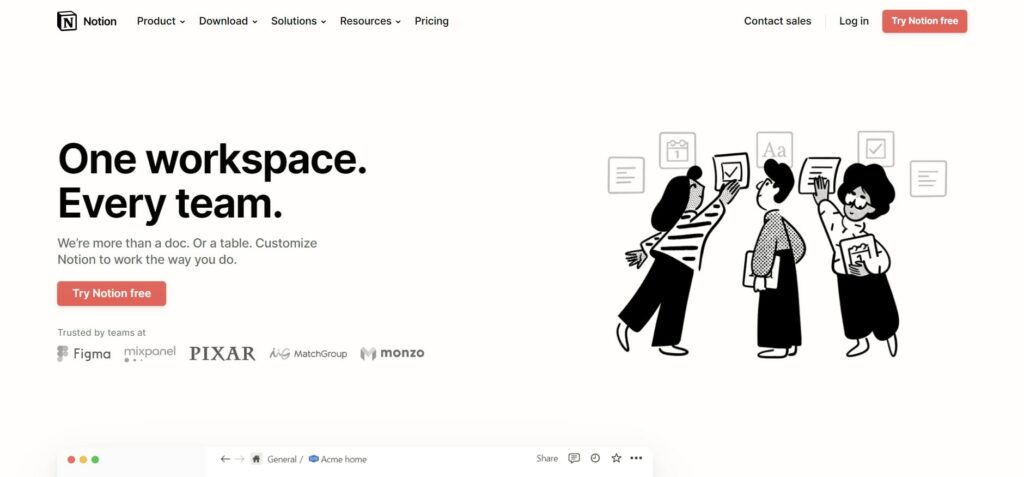 Notion is another notable task management software for teams around the world. It incorporates note-taking, task, and project management features. This task management software allows teams to work on boards simultaneously.
Notion Features
Integrated support
Customizable tasks board
Project planning and viewing
Task prioritization
Dashboard for KPIs
Notion project management tool takes on the structure of a board with multiple items. The tasks are project planning, execution, or tools that aid teamwork. You can customize the workspace to suit your present needs.
Notion Pros
Real-time collaboration
The integrated template makes starting a project easier.
Room for unlimited users and guests.
Notion app makes teamwork easy and better organized. For example, you can create notes and sub-notes inside the same folder. Thus, you experience better productivity and organization of group tasks.
Notion Cons
It does not incorporate Gantt Chart
Teams can delete information in real-time
Navigation is a bit complex
Notion Pricing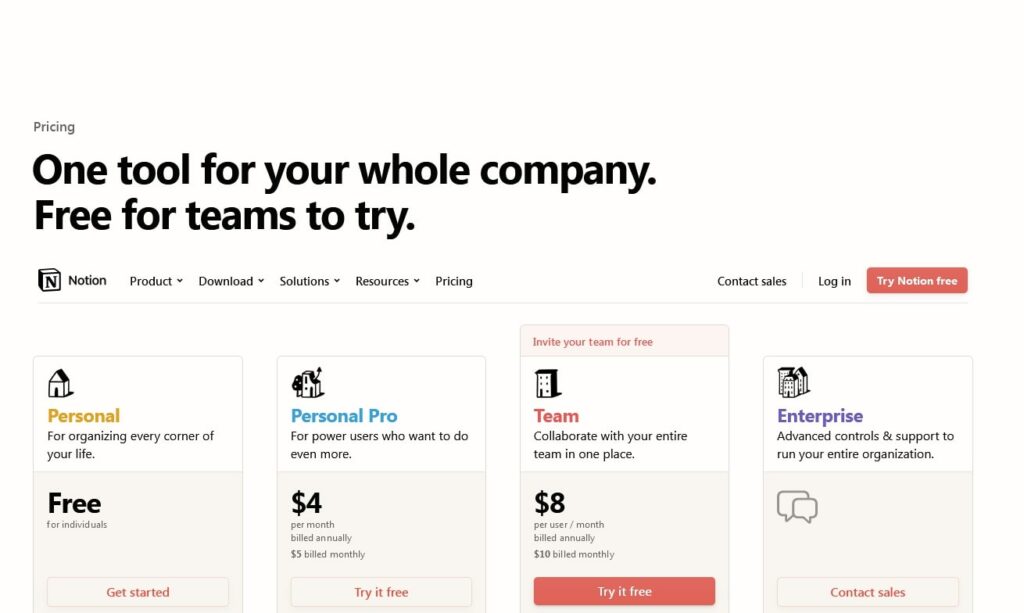 Free: available forever
Personal Plus: $8 per user per month billed annually
Business: $15 per user per month billed annually
Enterprise: requires contact
Airtable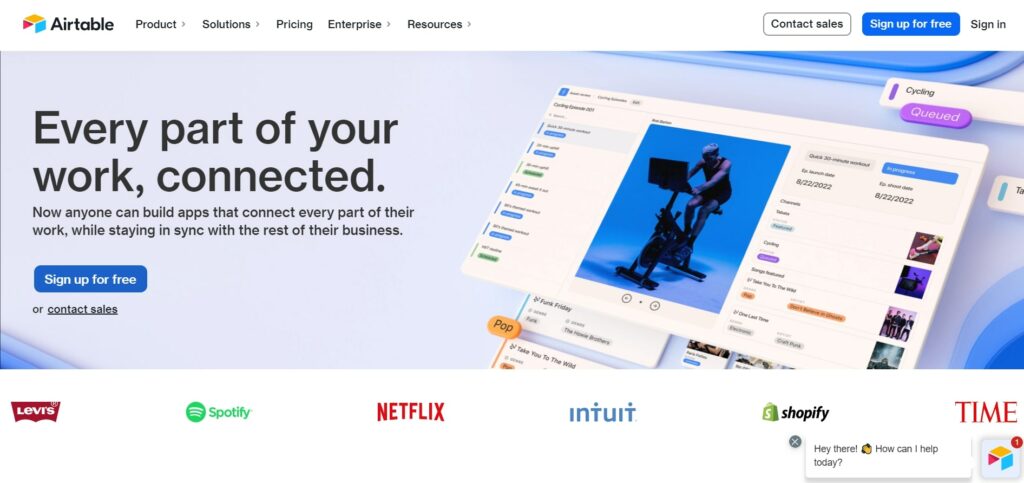 Airtable is one of the most popular cloud-based task management software. It is an excellent tool for freelancers, small and mid-sized businesses. Organizations with large departments will find Airtable useful too. With Airtable, teams can work on a similar spreadsheet to organize tasks, budget, and measure KPIs.
Airtable Features
Spreadsheet for data organization
Customized project board
Visual integration and chart tools
CRM integration
Web, mobile, and desktop applications
You don't need any coding experience to develop collaborative apps on Airtable. Features like the drag-and-drop tool make task management simpler.
Airtable Pros
Option for setting access level for guests
Real-time collaboration and comments
Sales and CRM integration tools
The free plan offers reasonable perks, like adding guests to the task panel. In addition, the workflow customization tool increases productivity.
Airtable Cons
The initial setup can be challenging
Inputting longer text into the form builder is challenging
Guests have access to change host information records erroneously
Airtable Pricing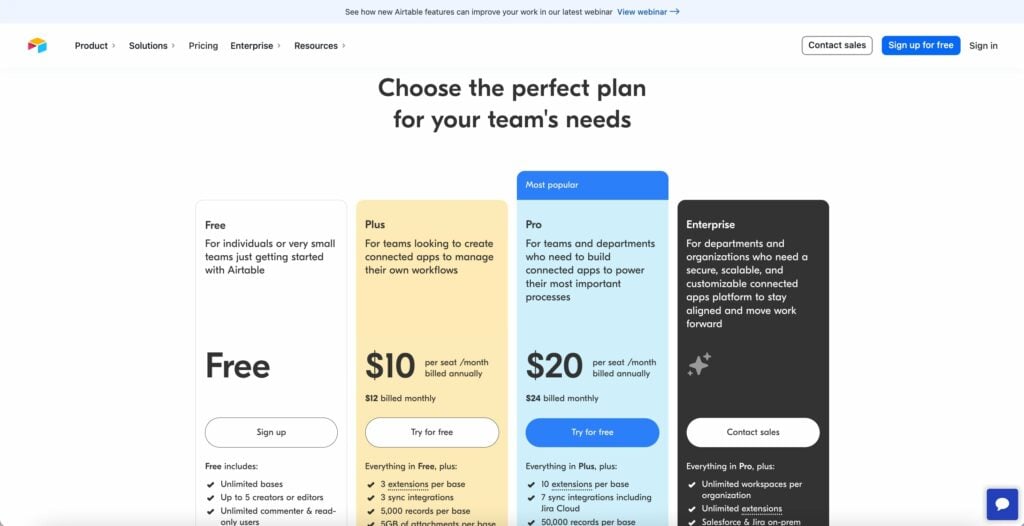 Free: available with limited features
Plus: $10 per user per month
Pro: $20 per user per month
Enterprise: requires contact with Sales support
WorkOtter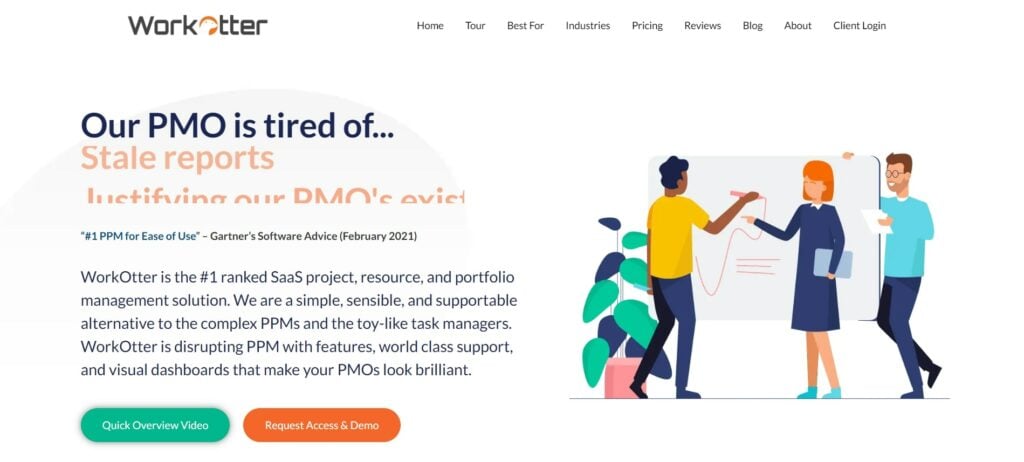 WorkOtter is an incredible cloud-based project or task management tool. It uses an intuitive dashboard to assign tasks and projects for planning and execution.
It has the tools a small to large team needs to execute a one-time or ongoing project. Ordinary team members and executives can interact clearly without restrictions on WorkOtter.
WorkOtter Features
Time tracking
Analytical tools for reporting and tracking
Task management tools
Cloud-based data storage
Project scheduling
WorkOtter offers an intrinsic software tool for creating, assigning and executing team tasks. In addition, you can customize the tool to suit your type of project and make it easier for each member to understand the workings of the system quickly.
WorkOtter Pros
All tools for full setup are available
Improved team collaboration for achieving tasks faster
Integrated workflow tools for task execution
WorkOtter uses Oracle Data Guard to encrypt and secure interactions on the platform. In addition, it uses a centralized system to ensure easy collaboration for reporting and tracking.
WorkOtter Cons
Creating reports may be time-consuming for complex projects
No personal view for managers and team leads
No option for other languages or currencies
WorkOtter Pricing

Requestor: free forever
Member license: $10 per month
Team license: $20 per month
Manager license: $35 per month
Trello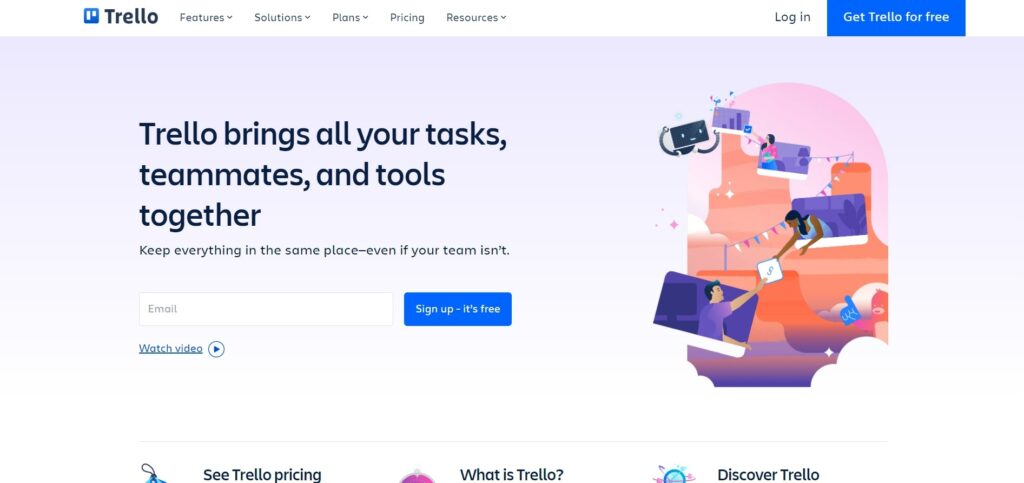 Trello is a project management software designed for organizations that wish to create kanban-style lists for their projects. It is a web-based application that allows users to access their accounts virtually anywhere.
Trello is one of the more straightforward task management software you can opt for. All you have to do is sign up, create a board and populate it with lists that include work schedules, task assignees, task descriptions, and so forth.
Depending on your subscription option, you can invite as many team members as you like.
Trello Key Features
Trello boards
No-code automation
Integration
Mobile apps
Communications
Trello has unique features to ensure that any team can collaborate and attain the highest possible level of productivity. For instance, boards make it easy for teams to view their assignments and track time.
Trello pros
Trello updates occur in real-time
Adding members is a breeze
Simple pricing plans
Trello has a user-friendly interface, making it easy for different people to use. It is also extremely responsive, meaning you will only spend a little time navigating from one point to another.
Trello cons
Limited storage space
Requires internet connection
Most suitable for small teams
Trello Pricing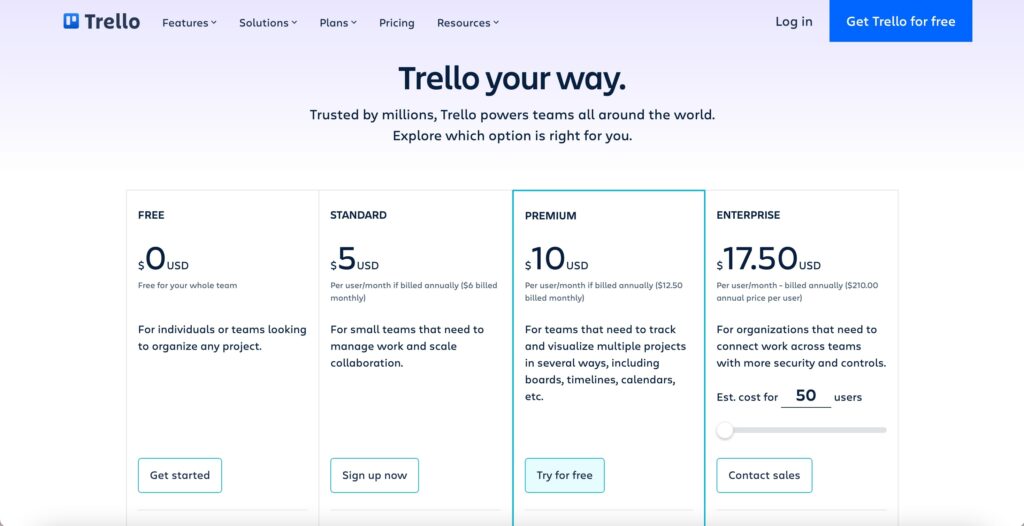 Free: available forever and is most suitable for individuals or startups
Standard: $5 per user per month billed annually or $6 per user billed monthly
Premium: $10 per user per month billed annually or $12,50 per user billed monthly
Enterprise: $17,50 per user per month billed annually
ProofHub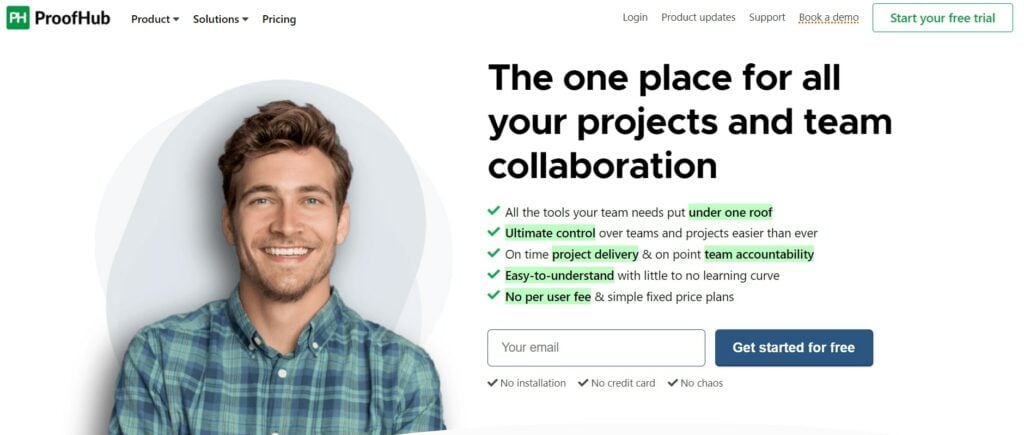 ProofHub is a project planning and management software with various features to help teams simplify tasks and enjoy better communication. The tool can help each team member understand their responsibility and act accordingly.
ProofHub users can access their ProofHub account from any device because it works on most modern web browsers. It is also available as a mobile app, so users can access and update it on the go.
ProofHub Features
Time tracking
CSV imports
Project manager designation
Collaboration
Reporting
This visual task management tool makes it easy for project managers to track time to ensure high productivity within a given period. Team collaboration through live group chats and forum discussions ensures everyone is on the same page while reports help in future project planning.
ProofHub pros
Excellent customer support
Central file-sharing tool
Multiple collaboration options
ProofHub stands out from other project management tools because it places a lot of emphasis on collaboration and daily task management.
ProofHub cons
Clunky user interface
No budgeting function
Doesn't support recurring tasks options
ProofHub Pricing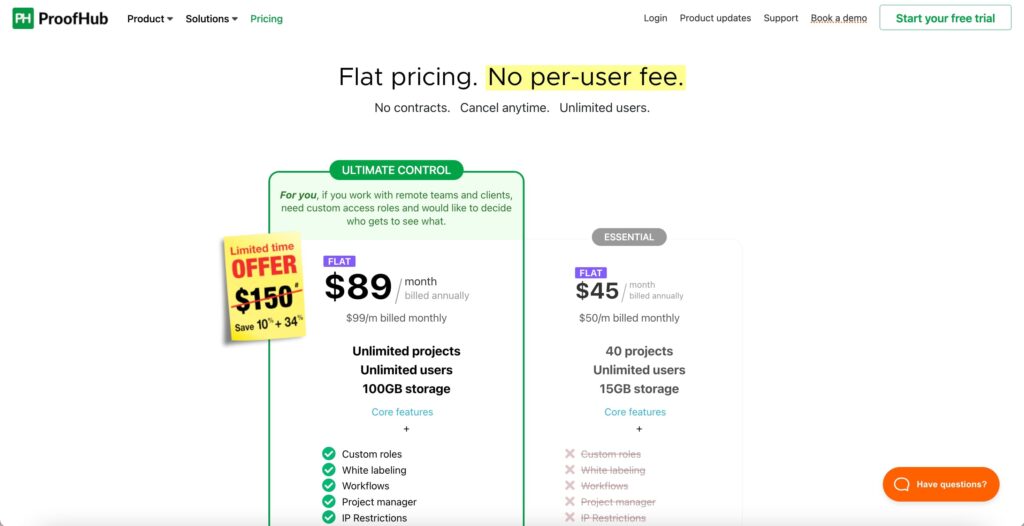 Free trial: 14-day free trial with all features
Essential: $45 per user per month billed annually or $50 per user billed monthly
Ultimate Control: $89 per user per month billed annually or $99 per user billed monthly
Todoist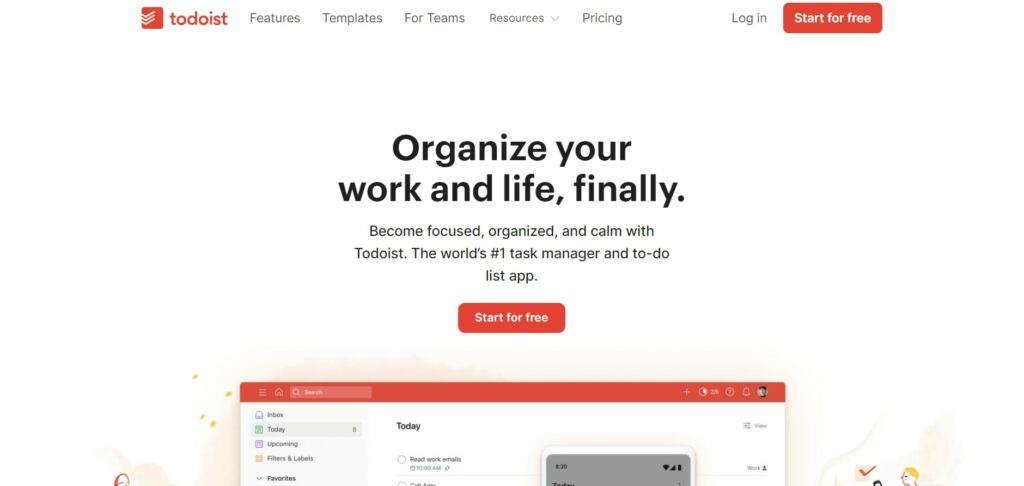 Todoist is an excellent task management software that was launched in 2007. While it is a web-based task management tool, it also comes in the form of apps, widgets, and extensions.
That makes it one of the most flexible when it comes to the way it can be used. It also boasts a huge variety of templates, making it possible for users to choose the most relevant templates for their task type.
Todoist Features
Integrations
Recurring tasks function
Prioritization option
Customizable UI
Automation
Todoist is one of the best task management software because it contains helpful features. Its customizable interface simplifies collaboration, while the prioritization option ensures users always deal with the most important or urgent tasks first.
Todoist pros
Available on many platforms
Can work online and offline
Powerful scheduling automation
Todoist stands out as one of the best task management software because it works seamlessly on many platforms. Users can even get deadline or task reminders while offline.
Todoist cons
User roles are only available in the Business plan
Reminders and automatic backups are unavailable in the free version
Todoist Pricing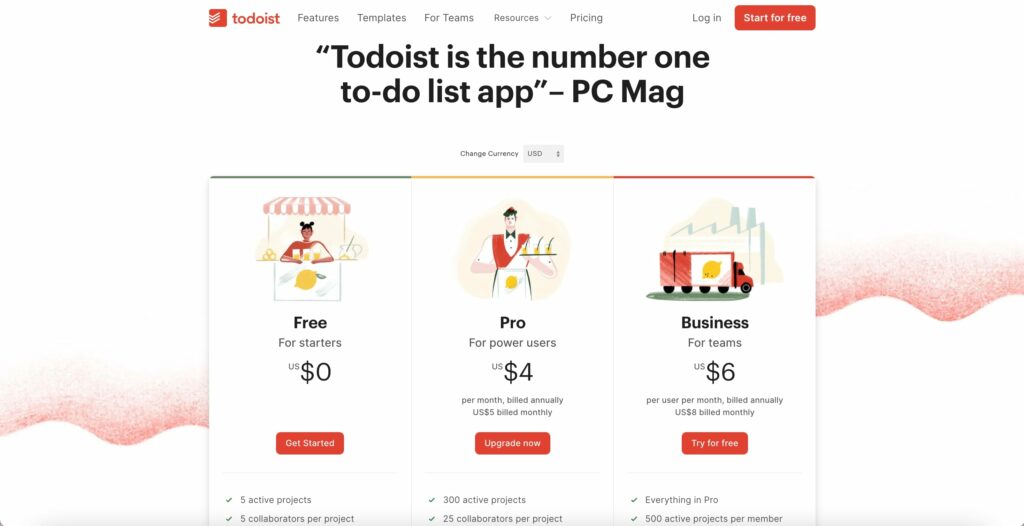 Free: available forever and is ideal for individuals that want to organize their tasks
Pro: $4 per user per month charged annually or $5 per user charged monthly
Business plan: $6 per user per month billed annually or $8 per user per month charged per month
Flow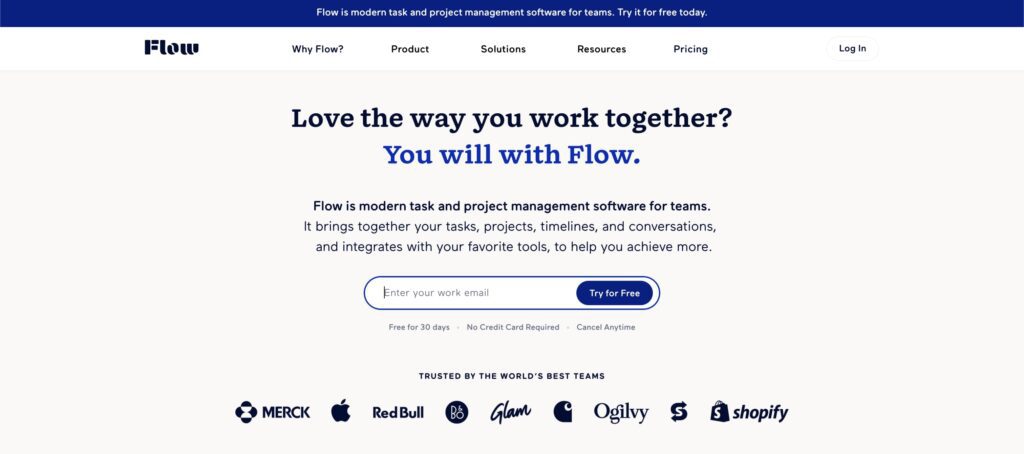 Flow is a project or task management software that helps simplify various activities for an individual or organization. It was developed and launched in 2011 by MetaLab.
This software allows users to plan projects, prioritize tasks, create reminders, collaborate with team members, and even integrate with other productivity tools.
Users can access Flow from different platforms, including their web browsers. They can also download and install the software app on PCs, laptops, Android, and iOS smartphones.
Flow Features
Real-time notifications
Integrations
Automation
Team collaboration
Recurring tasks functionality
This visual task management tool allows users to communicate in real time through live chat and forum comments. It is also one of the best options regarding versatility or the ability to adapt to different projects and industries.
Flow pros
Simple user interface
Lightweight software
Effective task tracking
Some of the things that distinguish Flow from other project management software are its simple interface and availability on multiple platforms. It is also a lightweight alternative that will not hog your system resources.
Flow cons
Mobile apps are limited in features and functionality
There is no free version
Flow Pricing

Free: there is a free 30-day trial with no card required to start
Basic: $6 per user per month
Plus: $8 per user per month
Pro: $10 per user per month
Basecamp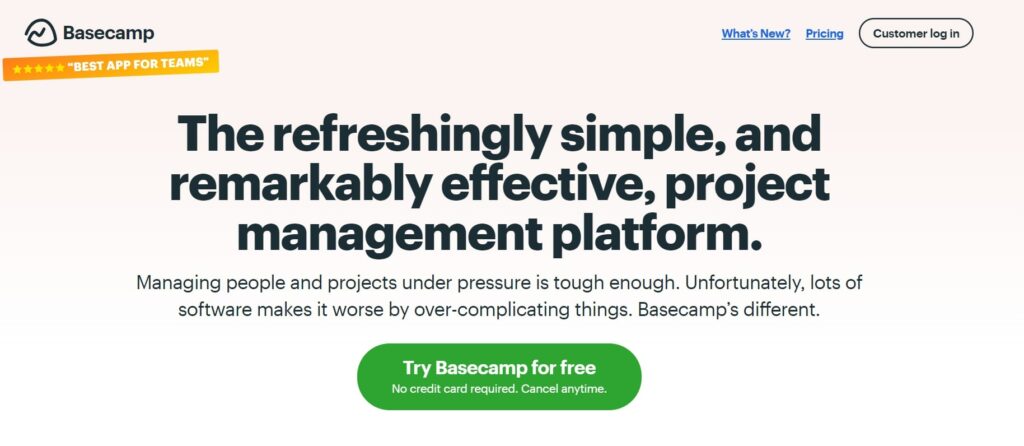 Basecamp is a popular task management platform that allows teams worldwide to increase productivity. This particular project management tool was launched in 2004.
This tool allows users to create tasks, assign duties, provide task descriptions, track time, chat, and exchange ideas. While it can work on most web browsers, it is also available as an app for Android, iOS, macOS, Apple Silicon, and Windows systems.
Unlike most project management tools, Basecamp focuses on the most fundamental features of project management rather than incorporating hundreds of features that may prove irrelevant.
Basecamp Features
Integrations
Daily summaries
Notifications and alerts
Work boards and templates
Basecamp is one of the best task management software for those seeking simplicity. It has a simple interface and basic templates for ease of organization. It can accommodate small, medium, and large teams.
Basecamp pros
Has a flat rate for all users
Syncing the calendar for all users is easy
Multiple templates
Basecamp is the ideal task management solution for individuals or teams that want to pay a flat rate regardless of what they do. It is also among the best options for simple work boards and templates, enabling users with different skills to get acquainted easily.
Basecamp cons
Lacks some features that may be helpful to some teams
Has limited customization
It does not have a built-in time-tracking system
Basecamp Pricing

Basecamp charges a flat fee of $11 per user per month. This charge only includes employees of a particular organization. That means clients, outside contractors, vendors, and guests can be invited to the platform for collaboration without incurring additional costs.
Paymo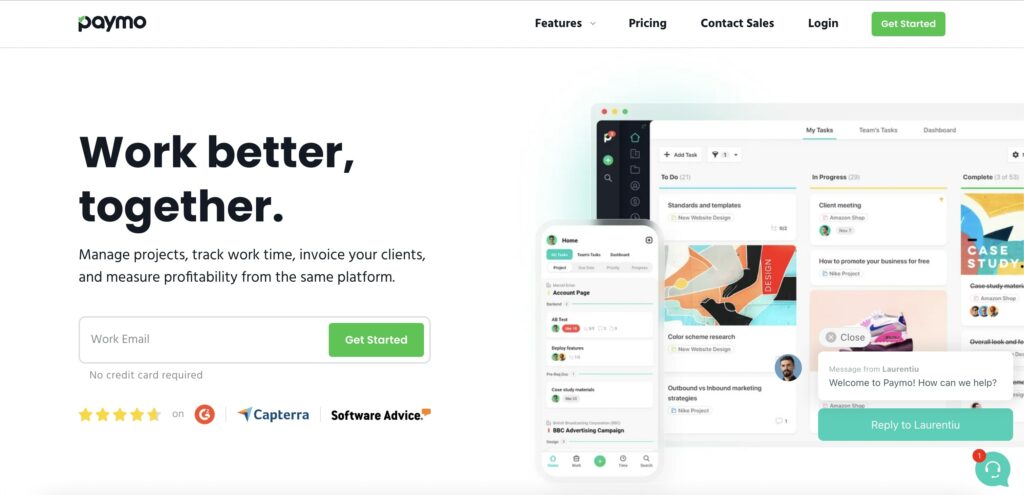 Paymo is another great task management software you can turn to when needing something to improve your team's productivity. Additionally, users can access this particular platform through their preferred web browsers.
However, it also comes in widgets and mobile and desktop apps. Paymo makes it easy for teams to plan, create schedules, collaborate, track time, and proof files before approvals.
This particular task management solution is ideal for small and medium-sized businesses. It is also one of the best options for freelancers.
Paymo Features
Invoicing and estimates
Gantt charts
Online payments
Kanban board
Integrations
Paymo offers unique solutions for teams in different settings. For instance, its online payment function simplifies how freelancers get paid while the invoicing and estimates feature allows the organization to get its accounts in order.
Integrations ensure that different teams can connect to other productivity tools to ensure convenience and effective execution of duties. It is another task management tool that incorporates the recurring task feature for convenience.
Paymo pros
Easy to learn and use
Automatic time tracking
Shows statistics on a graph
Paymo is one of the best tools to use when tracking time for multiple tasks. It also features graphs that allow project managers to understand their project and task performance over given periods.
Paymo cons
No import or export function
Limited amount of user roles
Limited storage space
Paymo Pricing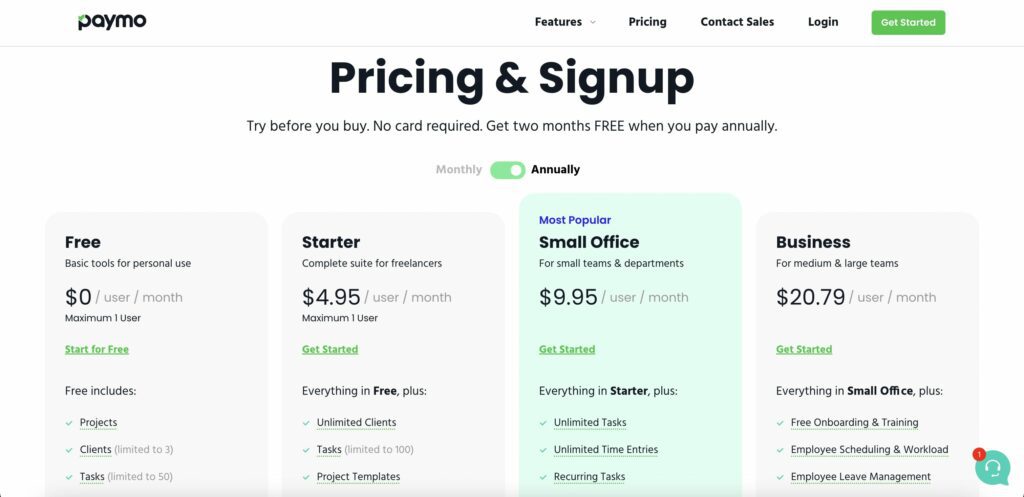 Free: available forever and is suitable for those getting started with project or task management
Starter: $4,95 per user per month billed annually or $5,95 per user charged monthly
Small Office: $9,95 per user per month charged annually or $11,95 per user charged monthly
Business: $20,79 per user per month charged annually or $24,95 per user charged monthly
nTask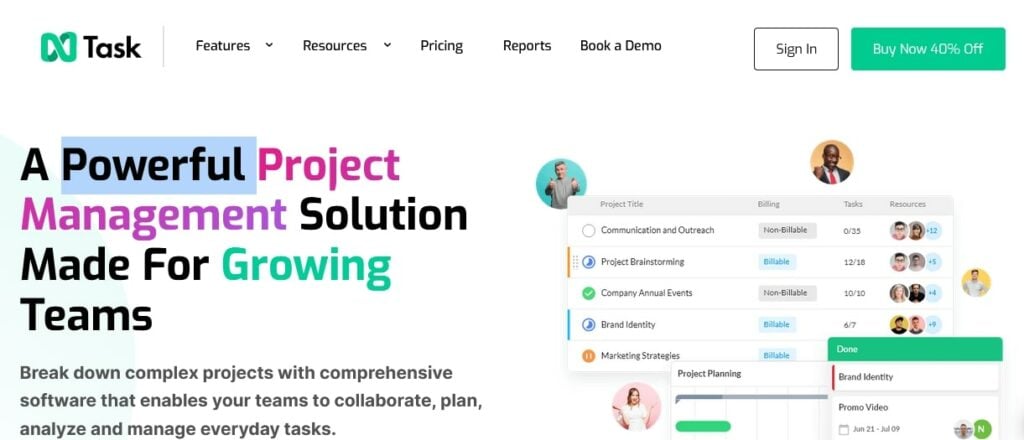 nTask is another great task management software you can use at any time. Like most project management tools, nTask is available as a web-based platform.
However, it also comes with desktop and mobile apps for convenience. Many organizations turn to nTask because it makes it possible for teams to break down complex tasks into manageable parameters.
This platform allows users to create task descriptions, assign tasks, generate progress reports, set recurring tasks, track time, communicate, and develop insightful reports.
nTask Features
Time tracking and Timesheet
Online meeting management software
Kanban board
Issue tracking
Risk management
nTask features help organizations to get a general view of each project. Its features and functions simplify complex processes while making it easy for teams to communicate.
nTask Pros
Live chat facilitates better collaboration
Makes task monitoring easy
Has a user-friendly UI
nTask cons
No Zoom integration
Timesheets lack a timer
Has a learning curve
nTask Pricing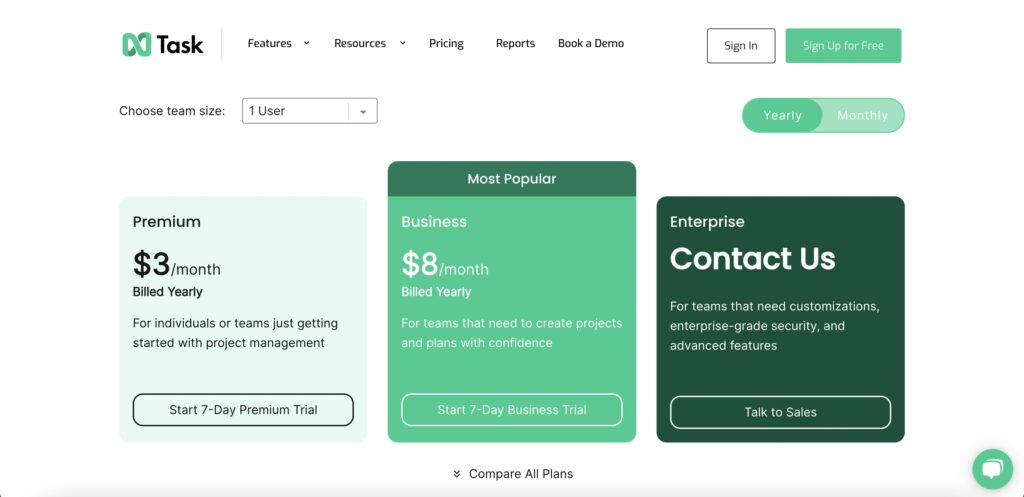 Free: offers a 7-day free trial on all plans
Premium: $3 per user per month charged yearly
Business: $8 per user per month charged yearly
Enterprise: requires direct contact
Chanty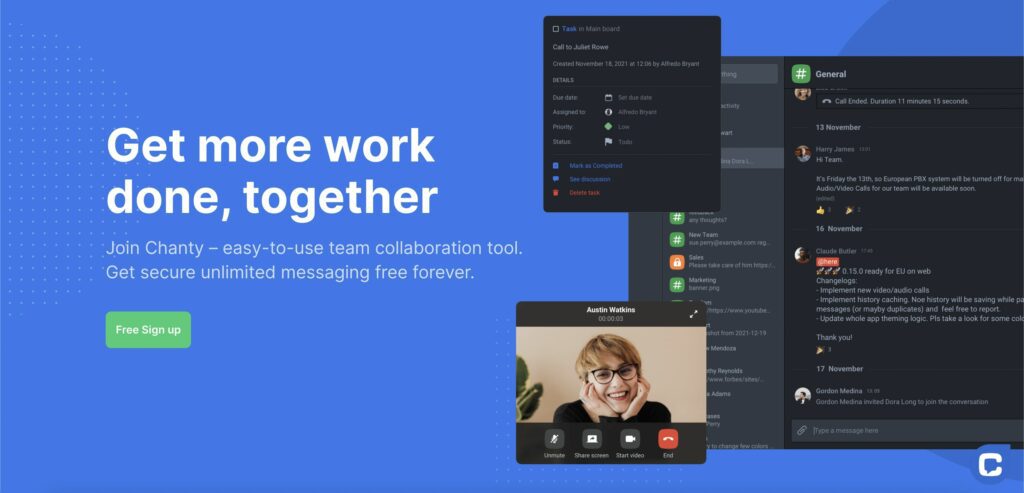 Chanty is an AI-powered task management software that can help streamline different processes. It is a cloud-based solution for project management and collaboration.
Users can also download apps for their computers and mobile devices to enjoy convenience. One of the things that make this particular task manager stand out is that it incorporates video conferencing to enable real-time collaboration.
Chanty Features
Kanban boards
Message history and activity log
Dashboard control
Integrations
Teambook
Chanty features are aimed at making teams work more cohesively even if members are located in remote locations. Its Kanban board view enables every member to glance at tasks and act accordingly.
Chanty Pros
Intuitive and easy-to-use chat system
Comes with mobile apps for convenient use on the go
File sharing and effective notification systems
Chanty is among the best task management software because it allows teams to share files in different formats. It also features unlimited message history so members can always refer to past conversations for clarity.
Chanty Cons
No option to mute channels
Lacks status updates
Limited integrations
Chanty Pricing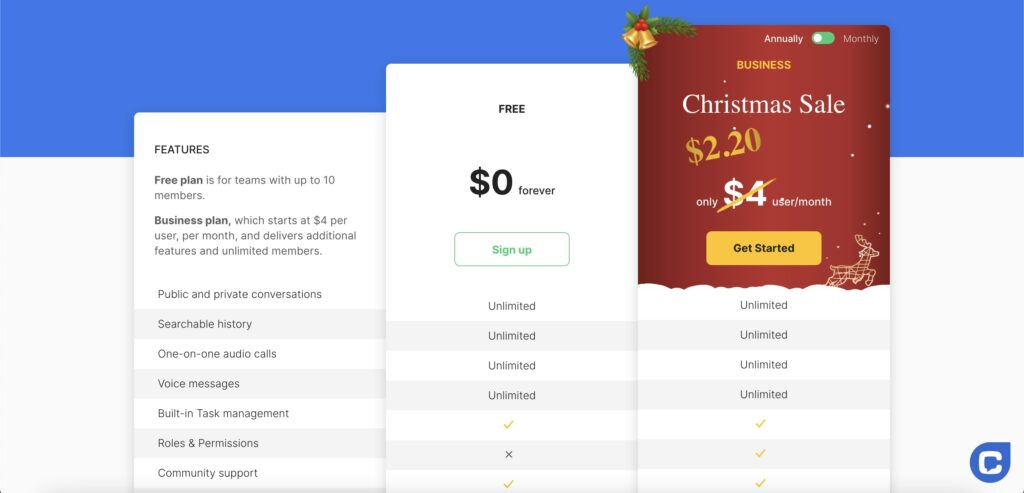 Free: available forever and is suitable for individuals or small teams
Business: $3 per user per month
Nifty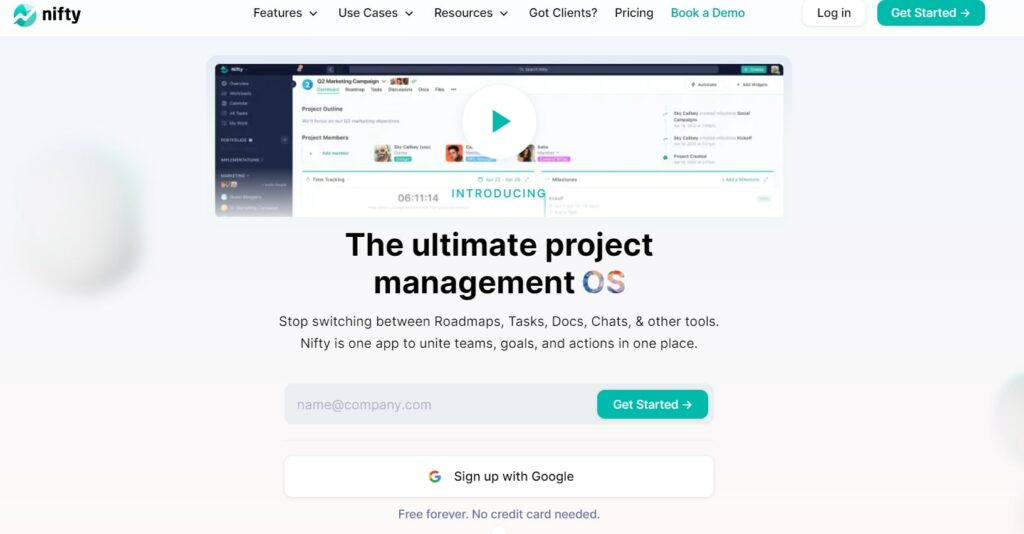 Nifty is a remote task manager that can help teams from different sectors boost productivity by streamlining their tasks and roles. Its features and functions are suited for large teams that deal with multiple complex projects.
It is another cloud-based solution for task management. However, it is also available as a mobile app, so you can always use it on the go.
Nifty Features
Automated roadmaps
2000+ app integrations
Time tracking
Discussions
Reporting
Nifty allows users to manage tasks relatively simply by facilitating the integration of thousands of apps. It also includes features that make reporting a breeze.
Nifty Pros
Simplifies and automates the tracking of project milestones
Uploads multiple files fast
Onboarding new members are fast and easy
Nifty is one of the best management software for teams that deal with multiple tasks. It also has a gentle learning curve which is always a plus.
Nifty Cons
Not as visually appealing as competitors
New updates are not always stable
Fewer templates than competitors
Nifty Pricing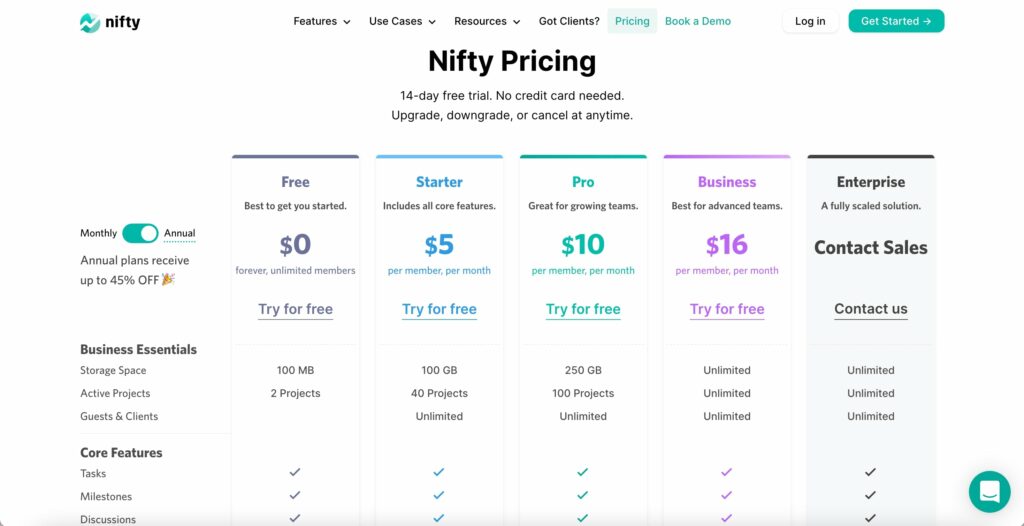 Free: available forever with the capacity to accommodate unlimited members
Starter: $39 per person per month billed annually
Pro: $79 per person per month billed annually
Business: $129 per person per month billed annually
Unlimited: $399 per person per month billed annually
SmartTask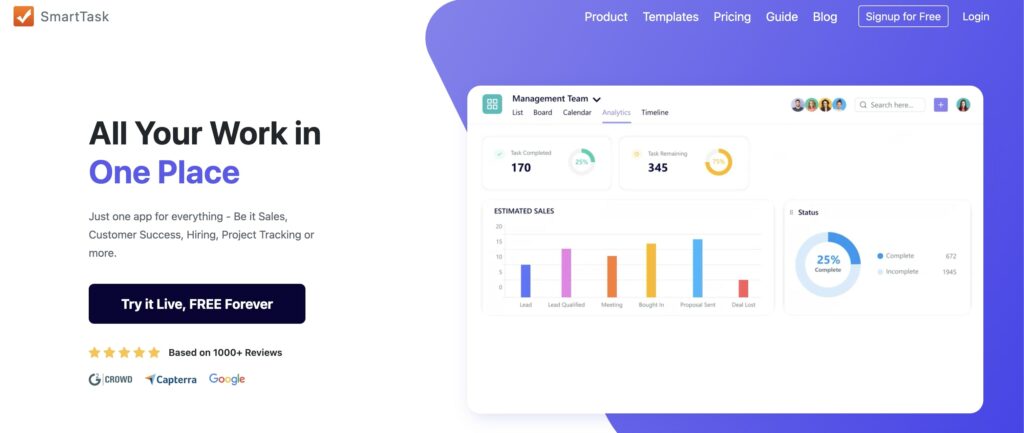 SmartTask is an online collaboration and task management software. It is a simple tool making it easy for just about anyone to start using within a short time.
With this task manager, project leaders can plan, monitor, conduct and measure staff activities more accurately. This particular task manager is also available as an Android and iOS application.
SmartTask Features
Customizable views
Time and budget tracking
Team collaboration
Integrations
Mobile apps
SmartTask's customizable views make it easy for users to tweak it in a way that most suits their preferences. Its integration with over 1000 apps allows teams to work more effectively.
SmartTask Pros
Allows for elaborate reporting
Facilitates quick file-sharing
Offers instant messaging for seamless collaboration
SmartTask has a simple interface and clearly labeled sections and functions that help make complex tasks seem like a walk in the park.
SmartTask Cons
May display gust details to other users
While simple, the UI looks a bit outdated compared to competitors
Few templates for construction industries
SmartTask Pricing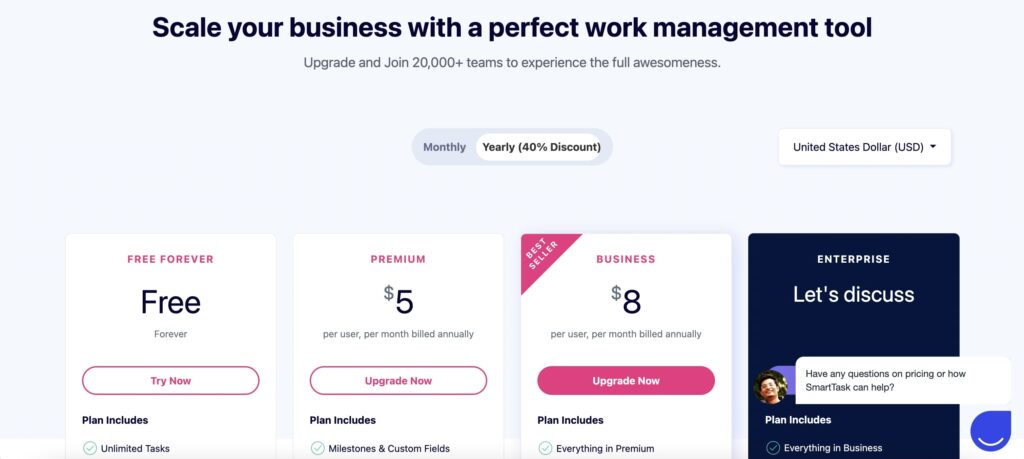 Free: available forever
Premium: $5 per user per month billed annually
Business: $8 per user per month billed annually
Enterprise: requires contact with the Sales department
Task Management Tool Conclusion
The above-mentioned task management software is a reliable way for any organization to streamline operations. They are packed with features and functions to simplify complex processes and tasks.
The good news is that they come in free and trial versions so you can try them out before settling on the best. Always remember to cancel your subscription before the trial period expires to avoid incurring costs.