A small business CRM system is indispensable when long-term relationships with company customers are at stake.
The customer relationship management philosophy believes that keeping a customer is less expensive than acquiring a new one. This idea seems to be a natural complement to core activities for small businesses with limited resources and staff.
Our article will guide you through the most profitable small business CRM offers on the market to make this decision easier.
CRM VS. Small Business CRM: Any Difference?
Being a commonplace for enterprises, CRM software is also entering the niche of small businesses. Why? 
First of all, due to its effect on the organization of sales, collecting information about customers, prospects, and current projects in one place.
Regardless of whether your business is a big enterprise, you run a small business or a sole proprietorship, CRM software and CRM analytics will allow you to improve the efficiency of your business performance significantly.
At the same time, small business owners often reject implementing a CRM system in their company due to unnecessary expenses.
According to Grand View Research, about 91% of companies with 10+ employees implement CRM systems. And the point is not in the desire but in the market dynamics, which promise only to grow in size.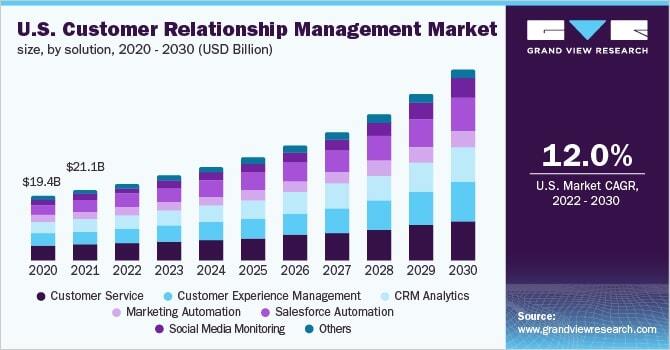 Source: Grand View Search
Strictly speaking, there is no significant division into separate CRM segments for large or small businesses. The main point is in your budget and business needs that CRM software can cover.
So let's define the moment when adopting a CRM can be a good option for your small business.
When You Need Small Business CRM
Running a sole proprietorship or being a freelancer, you usually don't need any particularly advanced tools to organize your work. A calendar, spreadsheets, and a to-do list are often enough. After all, everything passes through your hands, so you have most of the important information in your head.
But in small businesses, things get complicated when the customer base grows and more employees arrive. Suppose you do not know who, what, and when agreed with a given client, sooner or later, you will run into trouble. Such a crisis is usually the final argument to start using a CRM for a small business.
Another point is marketing efforts. Small business owners often do not attach a significant role to marketing for small businesses. They may do only essential tactics, choose one channel, don't analyze and track performance, and so on.
However, sometimes such manual control instead of flexibility brings chaos and confusion. This is especially true during the Covid epidemic when many firms resort to remote staffing as budget optimization. 
Now imagine that such sales managers are among that 40% of employees from a recent analysis of Hubspot who store customer data in spreadsheets or their inboxes individually. In this case, the CRM system will allow them to regain control of work processes.
5 Benefits Of CRM For Small Businesses
The development of CRM technology in recent years has reached an unprecedented level. The enormity of choice is a real headache, so the ultimate small business CRM should provide the following benefits.
Streamline Customer Data
One of the main tasks of each CRM, regardless of the purpose, is supporting multi-channel contact with customers. CRM allows for integrating information from various communication channels (email, VoIP, chats, social media) in one database.
The analysis of customer activity allows you to match the displayed content to customers' interests, select the most profitable customers and manage relationships with them more effectively.
CRM tools allow, among others, faster and more accurate management of remote customer orders and the provision of up-to-date information related to products.
Provide Better Customer Experience
Another benefit is an improvement in customer relationships and interactions.
By collecting information online, a company quickly obtains good-quality data in a form that can be directly subjected to analytical processes.
More customer data from digital channels contribute to a more accurate prediction of customer behavior and the development of strategies with a lower risk of failure, as it is better suited to the needs and preferences of customers.
Track Performance Analytics
Analytics and continuous optimization of processes are useful not only in agile methodologies. This is definitely one of the most important trends in modern business.
It would be a pity not to use data, especially since it can help increase conversions and improve your sales department's efficiency.
However, data collection alone does not guarantee success. CRM systems enable comprehensive analysis of the effectiveness of the marketing campaigns and commercial activity. Combining CRM software with data analytics tools, you'll have a whole picture of your performance by combining CRM software with data analytics tools.
Based on the results obtained, it is possible to diagnose the problem and solve it effectively, among others, by modifying the procedures of conduct while the entire process is still ongoing.
Fully Monitor The Sales Process
While the reporting of historical data is necessary for the efficiency analysis by managers, the ongoing monitoring of key sales metrics is important for sales representatives, who should be aware of the current implementation of their plans.
Small business sales management enables forecasting, planning, and control by analyzing the sales funnel and the flow of new sales over time (sales pipeline).
You define your own sales processes following the specificity of the company. In addition, you create appealing commercial offers in different languages and currencies, segment the audience, send offers, and monitor their efficiency.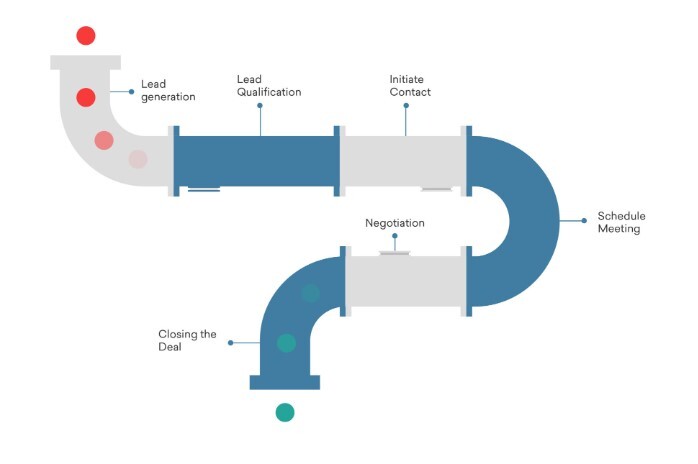 Source: Freshworks
To Improve Marketing Efforts
By deciding to implement a CRM system in our company, you gain not only a tool that allows us to monitor the effectiveness of actions taken, including marketing ones. All thanks to integration with marketing channels and external sales channels.
A small business marketer can monitor the course and effectiveness of individual tasks or the level of achievement of goals on an ongoing basis. This allows you to organize the marketing team's work better, improve its results, increase efficiency, and establish the entire customer relationship marketing.
7 Best CRMs For Your Small Business
Many CRM platforms are available on the market, making finding the right one for your business difficult. We narrowed down our choice to the top 7 CRMs to try this year.
Pipedrive
Our best pick for small business CRM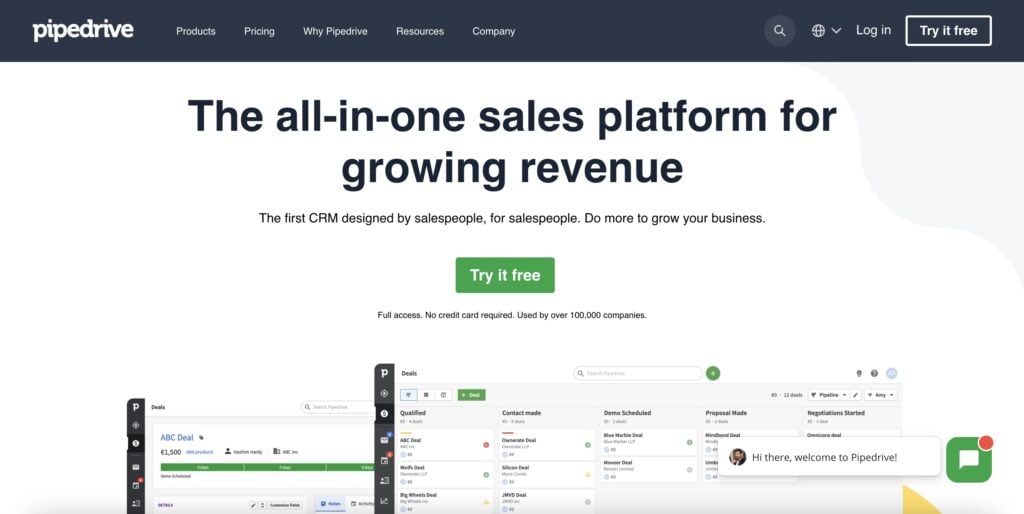 Pipedrive is a sales-focused CRM that uses artificial intelligence to automate repetitive tasks and manage leads. They currently serve over 100,000 customers, and more than $24 billion transactions have passed through their platform.
Pricing
Pipedrive offers four paid monthly plans:
Essential – $12.50/per user
Advanced – $24.90/per user
Professional – $49.90/per user
Enterprise – $74.90/per user
The advanced plan would be enough for many small businesses, but the Essential plan can also fit.
Major Pro
It is ideal for small-scale businesses with an ability to track estimated and recurring revenue from lead reports.
Major Con
Despite its simple look, many features are hidden, and it takes a moment to find them. So adjusting and leveraging Pipedrive can take time.
By checking out our guide, you can learn more about Pipedrive as the best CRM for small businesses.
HubSpot
Ideal when looking for a free plan among small business CRMs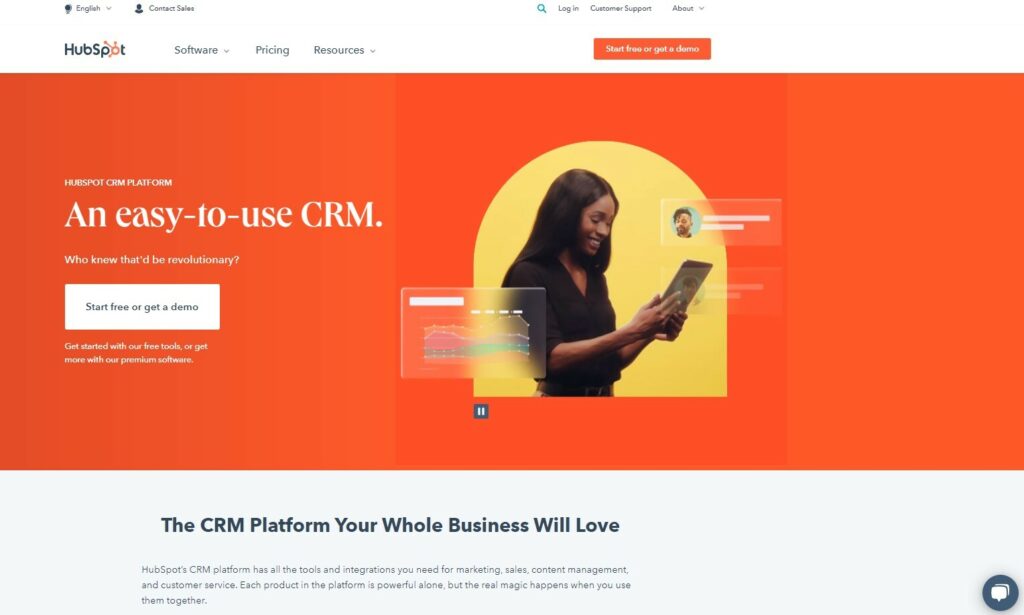 HubSpot CRM is a fully functional marketing package. It is great for resellers because of its great features and time-saving tools.
Pricing
HubSpot offers a 100% free version of its software, with the ability to upgrade and access its entire suite of marketing tools. Then you can decide to upgrade to one of their paid monthly plans:
Starter – $40
Professional – $800
Enterprise – $3,200
The Starter plan would be the best option for small business owners.
Major Pro
HubSpot CRM boasts over 300 integrations to easily connect your existing technology stack and get more functionality from tools you already paid for.
Major Con
Its reports are strongly focused on employee performance and sales results.
Keap
The most intuitively comprehensive CRM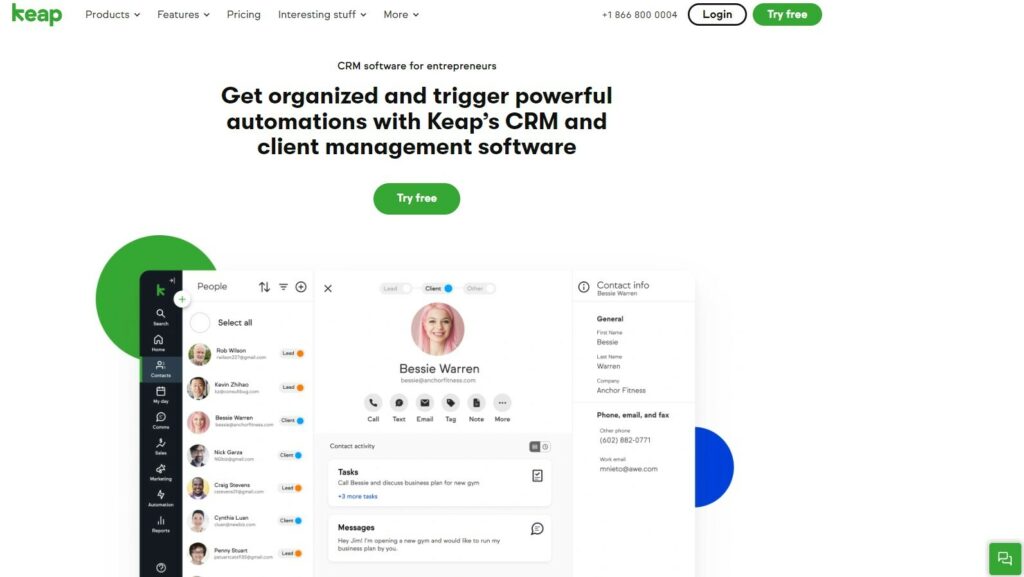 Keap is a cloud-based CRM designed to solve many problems related to small and medium-scale business processes. It is a holistic tool that can handle all aspects of a business CRM and is ideal for keeping detailed documentation.
Pricing
The user can choose among:
Pro plan – $129 per month for 2 users
Max plan – $199 per month for nearly 2500 contacts and 3 users
Major Pro
Convenient management that imports and exports all contacts to get started immediately (automatic contact sync, centralized database, business card scanner, smart search function).
Major Con
The system may seem overkill for small business newbies in terms of pricing and automation tools. But you can try it out on a demo and then decide.
Salesforce
The reliable choice for scaling your small business or for growing businesses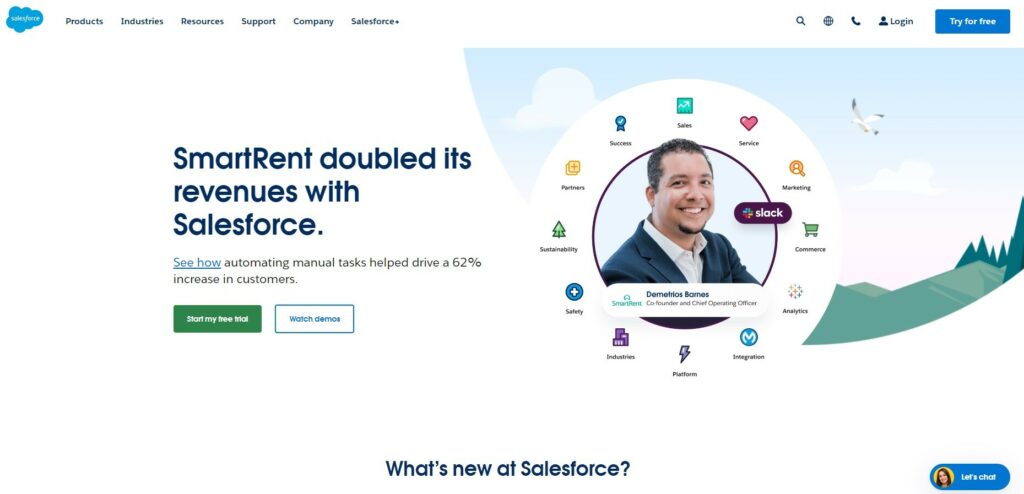 Salesforce is one of the most famous names on this list and has over a million users worldwide. It is a cloud-based CRM software that supports all lines of business, including sales, services, marketing, analytics, and more.
Pricing
Salesforce offers a variety of products, and prices may vary:
Essential – $25 per user
Professional CRM – $75 per user
Enterprise – $150 per user
Unlimited – $300 per user
All prices are per month, but plans are billed annually. While Salesforce is suitable more for big companies, you still can think of the Essential plan for your small business.
Major Pro
High-level automation and personalization, 30-day free trial period, open API (therefore highly configurable), and a wide range of reports in Salesforce speak in its favor. 
Major Con
It's not the best option for companies seeking smooth local deployment.
Freshsales
A solid option for a reasonable price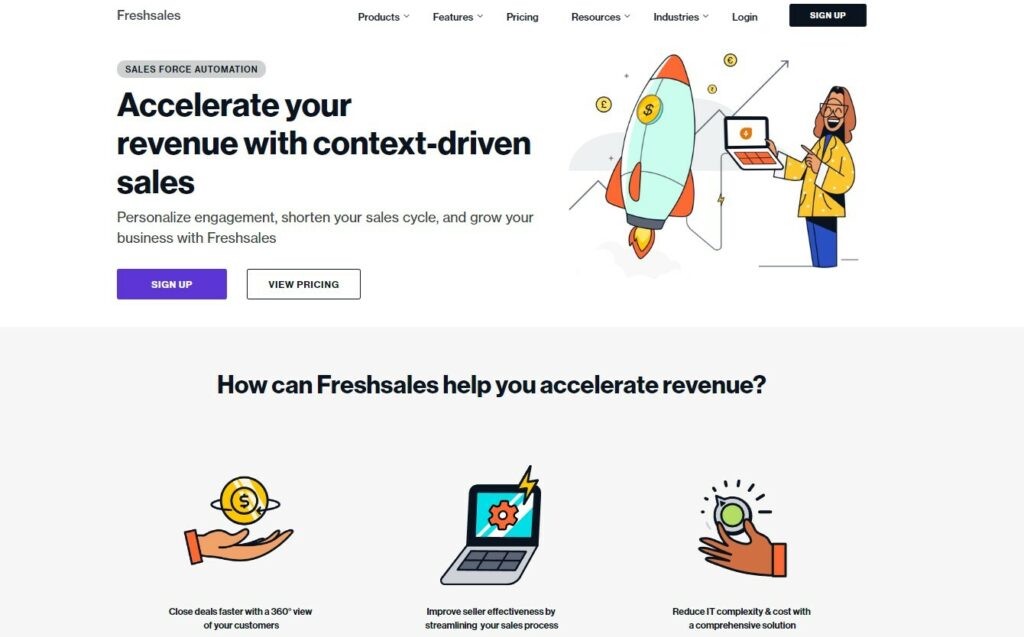 Freshsales is an AI-based CRM for lead scoring, email activity, email capture, and more. One of its most important features is providing a 360-degree view of the company.
Pricing
Freshsales offers four plans, ranging among:
Free version
Growth – $12/month per user
Pro – $39/month per user
Enterprise – $69/month per user
And the Pro option may be the most optimal in terms of price and volume of services.
Major Pro
It uses RESTful APIs to help you read, modify, add, and remove help desk data.
Major Con
It can be difficult for a beginner to use and local customer support is 24/5 (no support on weekends).
Monday CRM
A good option to combine CRM with other projects and manage them easily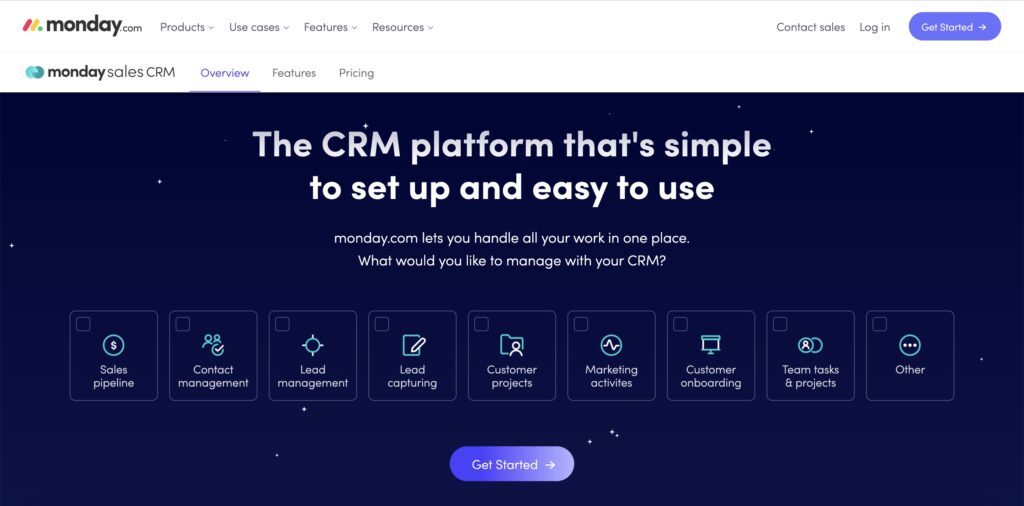 Monday CRM is a good fit for small businesses. It's an all-in-one CRM platform for your business. With its help, you can streamline all the sales and customer relationship processes. 
Additionally, you can track marketing activities and other projects' progress – keep all the business performance data in one place.
Pricing
Apart from a forever free plan for 2 users, which can fit your needs, you can consider paid monthly plans:
Basic – $10 per user
Standard – $14 per user
Pro – $24 per use
Enterprise – price discussable individually
Major pro
The variety of functionality that Monday CRM provides for relatively affordable prices can help your business grow. You'll have a single platform for most activities – from lead generation to content management.
Major con
Monday CRM may have some minor drawbacks like limited reporting or file management, but it's not the critical factor for many users.
NetHunt CRM
Simple CRM for small businesses with good marketing functional and social media integrations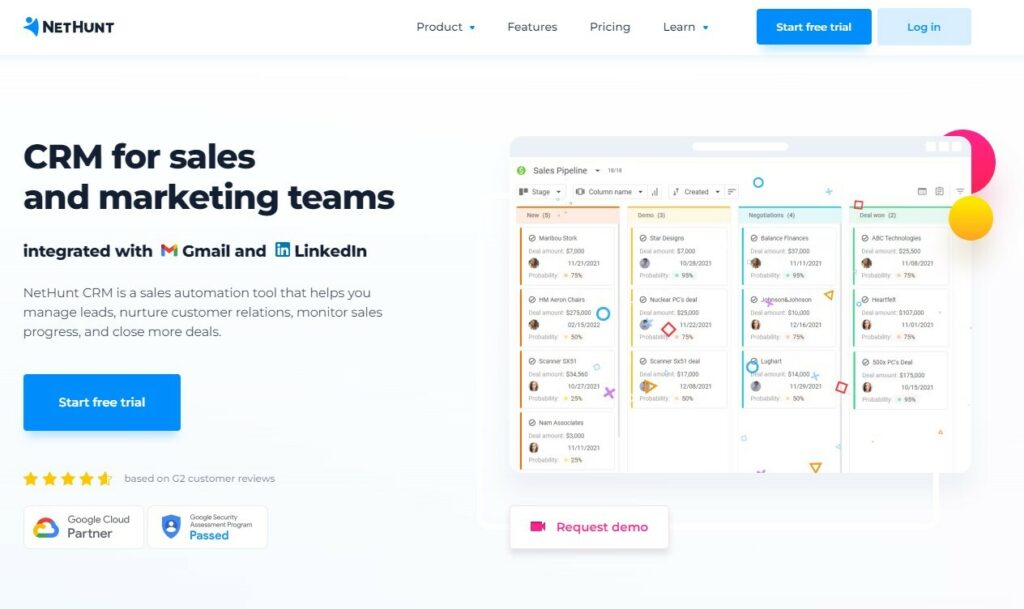 NetHunt CRM works with your Google account and all other applications. It gives you all the knowledge of the G package along with all CRM features. Also, it's directly integrated with LinkedIn.
Pricing
NetHunt CRM offers three adoption monthly plans:
Basic – $30 per user
Business – $60 per user
Advanced – $120 per user
Like many other products, NetHunt CRM offers annual payments to save money.
Major Pro
Its winning feature is pipeline management, which helps to select the right offers and activities and see how close you are to closing a deal.
Major Con
No free subscription and no ticket customer support.
Key Takeaway
When it becomes hard to track sales processes, attract new leads, and all the business and marketing data is in different places, you need to think of a small business CRM. A suitable small business CRM platform is a way to grow your business and streamline sales, customer relationships, and marketing efforts.
To date, there are many offers with a different set of functions and tools for various queries and wallets.
And with a tight budget and time constraints, a CRM system's careful choice will largely determine your business's future success.
Author bio
Dmytro Zaichenko is a Marketing Specialist at Coupler.io, a data integration tool able to export Salesforce to Excel and export data from dozens of other apps to Excel, GSheets, BigQuery. He has 7+ years of experience in content making. Apart from writing, he's passionate about networking and the NBA.