Customer relationship management (CRM) software is a critical piece of any business. It's responsible for managing customer data, processes, and communication.
Most CRM solutions include features for lead management, marketing automation, sales reporting, and more. But not all CRM systems are created equal. Some are better than others at specific tasks.
Sales reps, marketers, and other teams within your company all depend on a good CRM for day-to-day tasks. Using the right CRM can help you manage your business more effectively and generate more revenue.
Choosing the right CRM system for your business can be tough. There are hundreds of different options out there – and not all of them are created equal.
HubSpot and Salesforce are two of the most well-known names in CRM software. Both platforms offer excellent features and functionalities that can improve the efficiency of your business and help you reach your goals.
So which one should you choose? In this article, we'll compare the two platforms to help you decide which is the best CRM for your business.
HubSpot vs Salesforce: Similarities
Both Salesforce and HubSpot offer other products besides their CRM software solutions.
Both platforms feature app marketplaces with a wide variety of integrations.
Both platforms are leaders in the CRM software industry.
Both platforms are highly customizable.
HubSpot vs Salesforce: Differences
HubSpot also includes more dedicated marketing functionalities.
HubSpot includes plenty of free tools, whereas Salesforce does not.
Salesforce includes more in-depth reports and analytics.
HubSpot is slightly more affordable and offers a free plan.
What is HubSpot?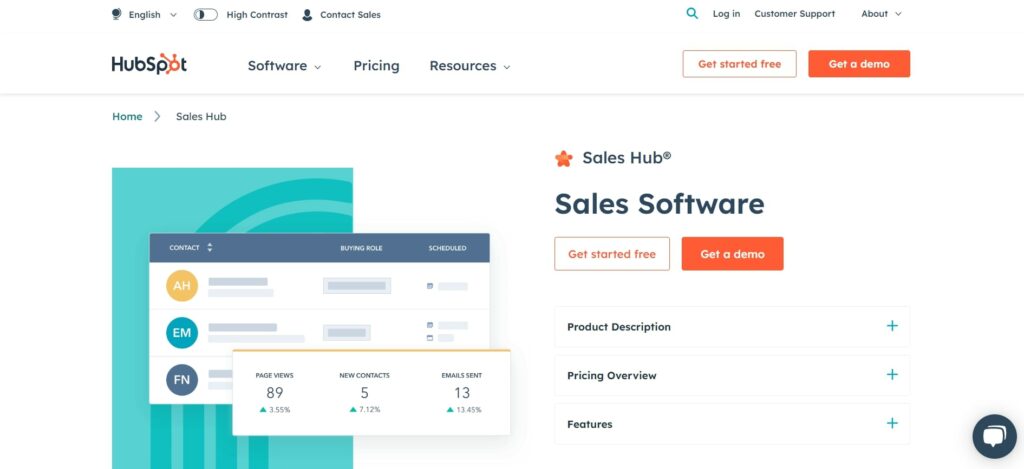 HubSpot's CRM software solution is within the Sales Hub, giving you access to a full CRM suite that includes email marketing automation tools and a built-in phone system.
The Sales Hub is built with scalability in mind. You can get started with the free CRM platform and gradually upgrade to paid pricing plans as your sales team and business needs expand.
Not to mention that the CRM platform also integrates seamlessly with other HubSpot products, like the Marketing Hub or Customer Service Hub, for instance. You can unify all your business processes once the need arises.
HubSpot Key Features
Built-in phone system with call coaching, transcription, and conversation intelligence
Sales automation features
Predictive lead scoring
List segmentation
What is Salesforce?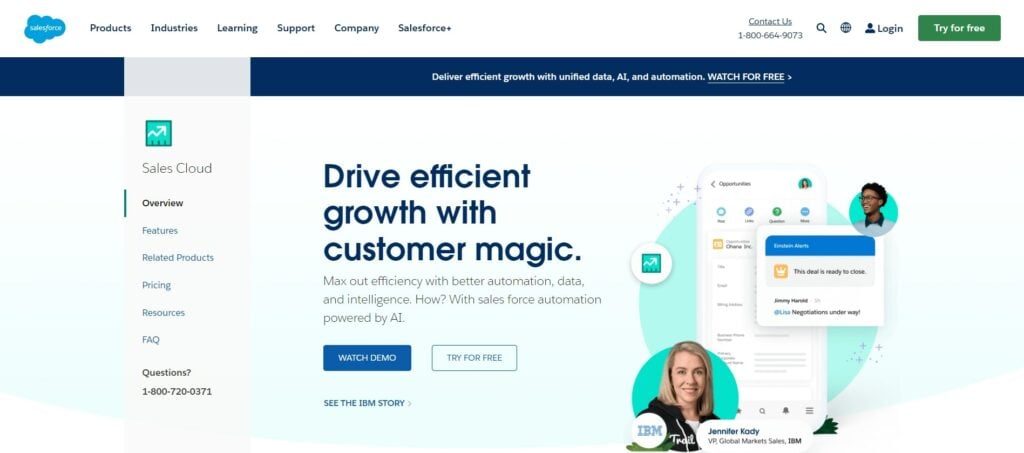 Salesforce's CRM software solution is found within the Sales Cloud. Salesforce is one of HubSpot's top competitors.
As such, the platforms are vastly similar at first glance: Both offer identical functionalities, while both CRM platforms integrate seamlessly with other products. In Salesforce's case, there's also the Marketing Cloud, Service Cloud, and more.
However, Salesforce does not include a free CRM software tool and the platform tends to be a little more expensive overall.
Salesforce Key Features
Marketing campaign management
Configure, Price, Quote (CPQ)
Lead and opportunity scoring
Built-in collaboration tools
Predictive forecasting
HubSpot CRM vs Salesforce CRM: Features
Automation
HubSpot CRM
HubSpot covers plenty of automation tools. The platform allows you to easily eliminate manual work by automating recurring tasks, setting up email notifications for whenever a lead advances through the pipeline, and more.
To make things even easier, HubSpot's automation tools are designed to fit specific use cases. For example, you can set up deal-based workflows for deal management, contact-based workflows for contact management, etc. – All of which are done through a straightforward drag-and-drop interface.
Additionally, the platform also handles automatic lead rotation. In short, this functionality allows you to set up customized rules for assigning CRM records to your teams automatically.
Salesforce CRM
Salesforce is not much different in this regard. This CRM platform also allows you to build automated sequences through the Process Builder easily – The platform's drag-and-drop editor where you can automate workflows, task assignments, set up email notifications, and more. Salesforce can also handle automatic lead assignments and approval requests.
Pipeline Management
HubSpot CRM

Pipeline management with HubSpot should be a breeze. The platform adopts a highly visual approach. Its dashboards give you a bird's-eye-view of your pipelines and you can easily add new deals by automatically importing all the necessary information from your database.
Furthermore, you can easily customize your pipelines by adding or removing deal stages, moving deals throughout the pipeline by simply dragging and dropping them, etc. The platform also provides various sales pipeline templates to get you started right away, but you also have the option to build pipelines from scratch.
Salesforce CRM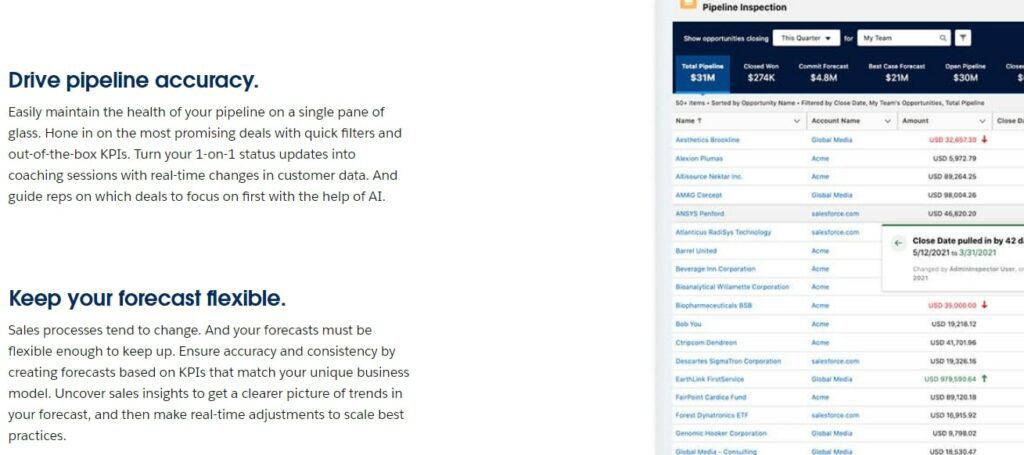 The Sales Cloud doesn't leave anything to be desired either. Salesforce offers a relatively straightforward interface that gives you a general pipeline overview. You can hone in on specific leads or deals by selecting between various filters.
Moreover, you can create custom lead groups to monitor specific segments easily, be it new and old leads, or leads that came from specific marketing campaigns, for instance. You can also add custom deal statuses to better understand each lead's position within the pipeline.
Other handy functionalities include creating web-to-lead capture forms, merging duplicate data, viewing contact activity history, and more.
Reports and Analytics
HubSpot CRM

HubSpot offers in-depth reports and analytics. However, the platform's main drawback is that most advanced reporting functionalities are only available in upper-tier pricing packages. For instance, customizable reports are unlocked in the Professional plan, which costs $450/month (yearly).
The platform's reports and analytics start to shine in the upper-level packages. For one, HubSpot provides team productivity reports and goal tracking to help you determine the performance of individual team members or your sales team.
As for emails, HubSpot allows you to track email clicks, open rates, and replies. Moreover, you can monitor website contact activity, marketing event tracking, and more. Most notably, the platform leverages Artificial Intelligence (AI) to analyze phone calls, determine a customer's level of interest and provide you with deep insight into your sales reps' performance.
In terms of customization options, you can create custom goals, fields, and also tweak the dashboards so you can track the metrics that matter to your business the most. Other features include lead, contact, deal, and company scoring, sales forecasting, recurring revenue tracking, email send-time suggestions, and more.
Salesforce CRM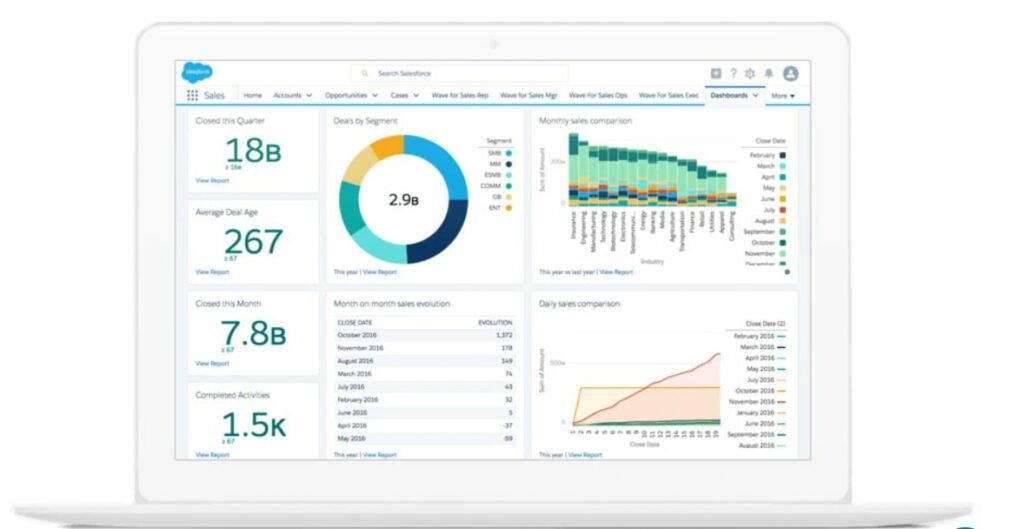 In contrast to HubSpot, Salesforce offers customizable reports in its cheapest plan, which costs $25/user/month (yearly). You can customize reports through a straightforward drag-and-drop interface.
As for functionalities, the Sales Cloud covers opportunity and lead scoring, conversation insights, pipeline inspections, history tracking, and more. High-tier pricing packages also allow you to add cross-filters and merge multiple reports to see the big picture more easily.
However, Salesforce shines through its Einstein Analytics tool, an optional add-on that costs $50/user/month (yearly). In short, this functionality leverages Artificial Intelligence and Machine Learning technology to analyze sales performance and customer interactions to provide suggestions based on that information.
For instance, it can predict which leads are most likely to convert and notifies you so you can close the deal. Other Einstein Analytics features include predictive forecasting, identifying company trends, historical pipeline data, and more within Sales Analytics.
Overall, Salesforce offers slightly better reporting and analytics tools compared to HubSpot. The platform's customizable reports are unlocked in its starter plan, while the optional Einstein Analytics tool takes analytics to another level.
Customization Options
HubSpot CRM
HubSpot offers plenty of customization options. The platform provides various customizable email templates, while you can tweak automation workflows according to your business needs. Moreover, HubSpot allows you to set up custom objects, and user permissions and create custom quotes and form fields.
As mentioned, there's also the option to create custom reports in upper-tier pricing packages. Additionally, the Professional and Enterprise plans allow you to tweak HubSpot's interface by modifying the sidebars and board layouts.
Salesforce CRM
Salesforce users have a little more freedom in terms of customization. Aside from custom email templates and reports, there's also the option to tweak nearly every aspect of the platform's user interface. For instance, Salesforce users can modify the interface's logos and colors to make sales teams feel more at home when using the platform.
On top of that, Salesforce allows for custom user permissions, goals, milestones, page layouts, and more. However, if you have the technical know-how or the team to back you up, you can take Salesforce's customization capabilities to their true potential.
You can build bespoke apps and seamlessly integrate them within the platform to add more customized functionalities to your needs.
Marketing Tools
HubSpot CRM
HubSpot offers various built-in marketing tools available within its CRM software solution. For instance, the platform provides various customizable email templates and email scheduling tools. HubSpot allows you to gauge your emails' effectiveness by tracking click and open rates and replies.
However, you can improve your marketing efforts by integrating the CRM with the HubSpot Marketing Hub, which grants you access to more functionalities, like A/B testing, social media publishing tools, marketing automation, and more. This is ideal for bringing sales and marketing teams on the same page.
Marketing teams can easily focus on bringing new leads to the company, while sales teams can turn their attention to turning these leads into buying customers.
And the cherry on top, you can use some of HubSpot's marketing features completely for free! The platform's landing page and form builder, ad management tools, and email marketing automation functionalities come at no extra cost.
SalesForce CRM
Outside of being a solid sales tool, the Sales Hub also comes with out-of-the-box marketing campaign management features. These functionalities help you monitor campaigns across multiple channels simultaneously. Additionally, the Sales Cloud covers web-to-lead capture forms and a variety of email templates with the ability to send emails in bulk.
Like HubSpot, you can extend the platform's marketing capabilities through the Marketing Cloud, Salesforce's dedicated marketing platform. However, no free dedicated marketing features are available, unlike HubSpot.
Overall, HubSpot goes a little more in-depth with its marketing functionalities. The CRM comes with more built-in tools for marketing, and there are also plenty of other marketing functionalities for free.
Verdict: Both win in Features
Overall, the choice comes down to your personal preference. Both HubSpot and Salesforce cover a wide range of advanced features and sales tools. However, Salesforce tends to be better regarding reports and analytics, while HubSpot gets the winning edge in marketing-oriented features.
Salesforce vs HubSpot: Ease of Use
HubSpot CRM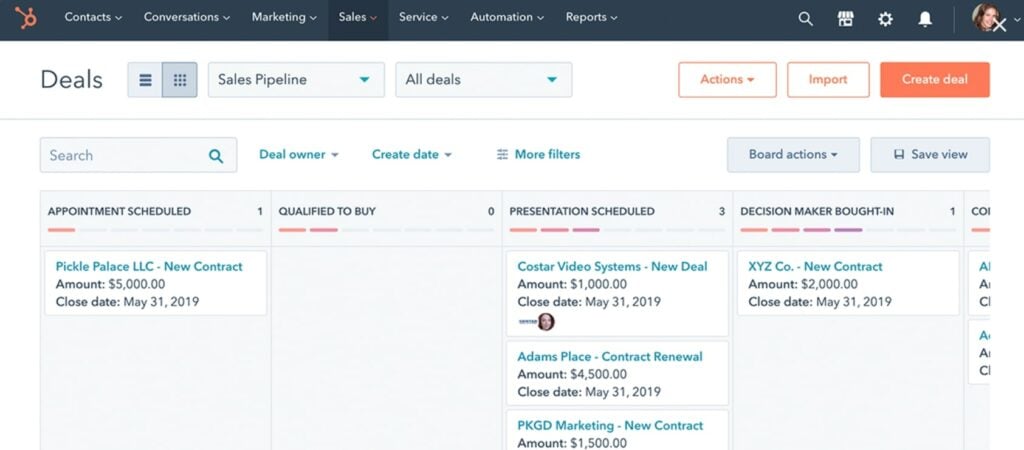 HubSpot is highly user-friendly. Since the platform is designed to accommodate small and large sales teams, the interface is straightforward, and there's not much of a learning curve.
The platform prioritizes ease of navigation. Its dashboards adopt a visual approach, allowing you to quickly see the big picture and easily gather insights on your sales performance. Meanwhile, most customization is done through a drag-and-drop interface, requiring no technical knowledge.
SalesForce CRM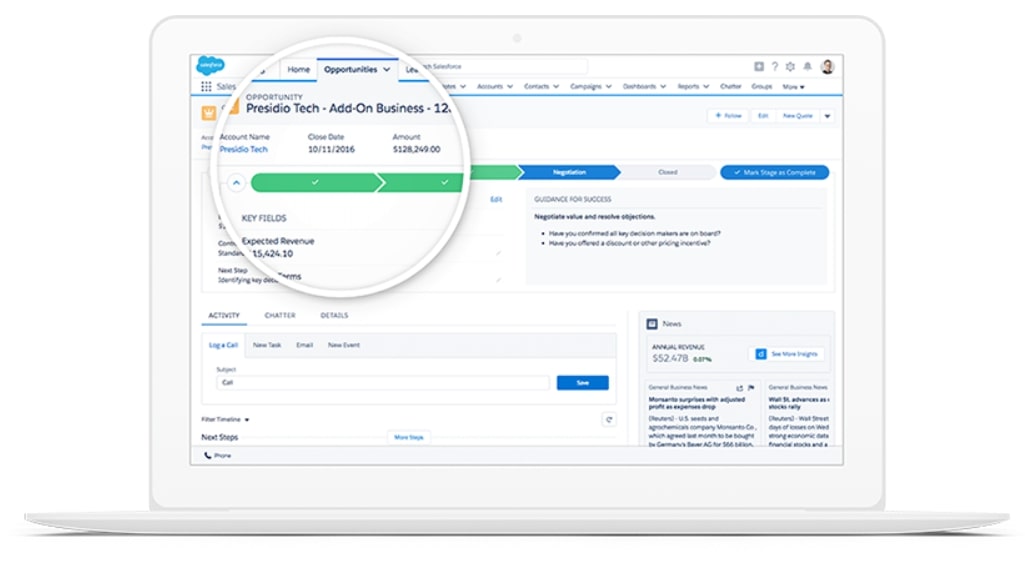 In contrast, Sales Hub may require a little more preparation. Its dashboards look slightly outdated and don't do a good job of displaying all of the features intuitively. As such, the UI may get a little cluttered, making navigation intimidating for new users.
Moreover, although you can easily customize the platform via a drag-and-drop editor, unlocking Salesforce's full customization potential requires technical knowledge. For instance, you'll likely need a dedicated development team to create custom applications for the platform.
HubSpot is Easier to Use
HubSpot offers a better user experience. Its user interface is less cluttered, allowing for a minimal learning curve and easy navigation.
Salesforce vs HubSpot: Integrations
HubSpot CRM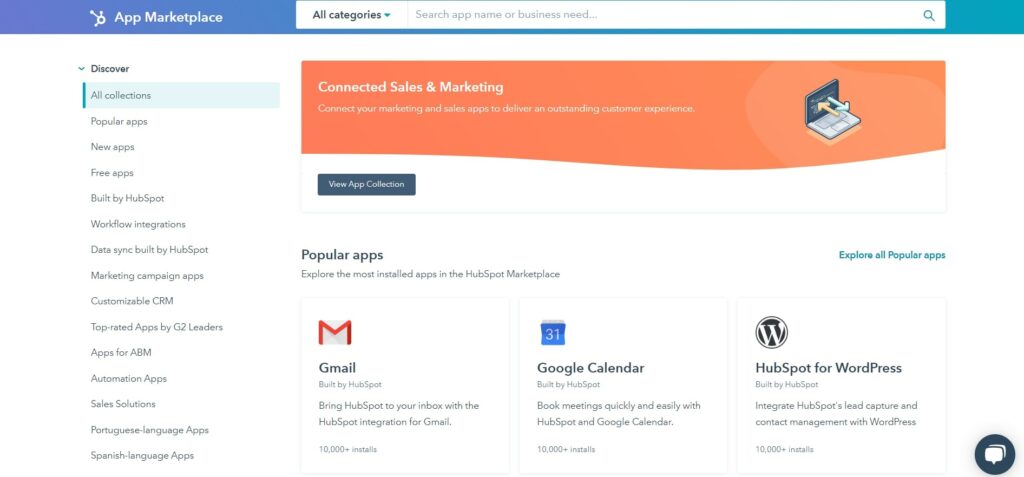 For one, the CRM integrates natively with other HubSpot tools. The Customer Service, CMS, Operations, and Marketing Hub. Secondly, the CRM suite integrates with Outlook, Gmail, Microsoft Exchange, Slack, Facebook Messenger, Stripe, and more.
Moreover, there's also the App Marketplace where you can find 1000+ applications for all of HubSpot's products. These apps range from advertising and eCommerce to productivity tools and more.
Salesforce CRM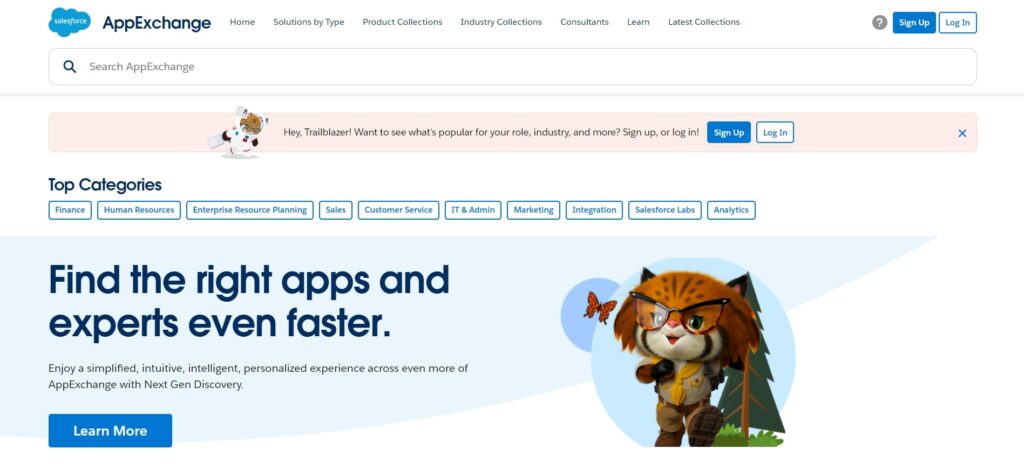 On a similar note, Salesforce's CRM solution also integrates seamlessly with other Salesforce products, like the Marketing, Service, or Commerce Cloud. Additionally, the CRM platform links with Gmail, Outlook, Google Calendar, Sheets, Slides, and more.
There's also the AppExchange, where you can find 3000+ apps for all Salesforce products. These apps come in the form of full-blown integrations with other products like MailChimp, or smaller tools designed to add extra functionalities, similar to plugins.
Salesforce wins in Integrations
Although both HubSpot and Salesforce cover an excellent range of integrations, Salesforce's AppExchange has more apps in its library.
HubSpot Pricing vs Salesforce Pricing
HubSpot CRM

Free – Access basic CRM functionalities, like deal pipeline management, reporting dashboards, 5 email templates, mobile apps, and more.
Starter – From $45/month (yearly): Unlock the platform's phone calling features, goal tracking, sales, and task automation, 5000 email templates, etc.
Professional – From $450/month (yearly): Access custom reports, team performance analytics, automatic email sequences, lead rotation, sales analytics, and more.
Enterprise – From 1200/month (yearly): Unlock predictive lead scoring, custom geals, conversation intelligence, recurring revenue tracking, etc.
Each paid pricing plan is available for two, five, and ten users. Depending on your chosen plan, each extra user will cost an additional $23, $90, or $120/month. The free plan is available to unlimited users.
Salesforce CRM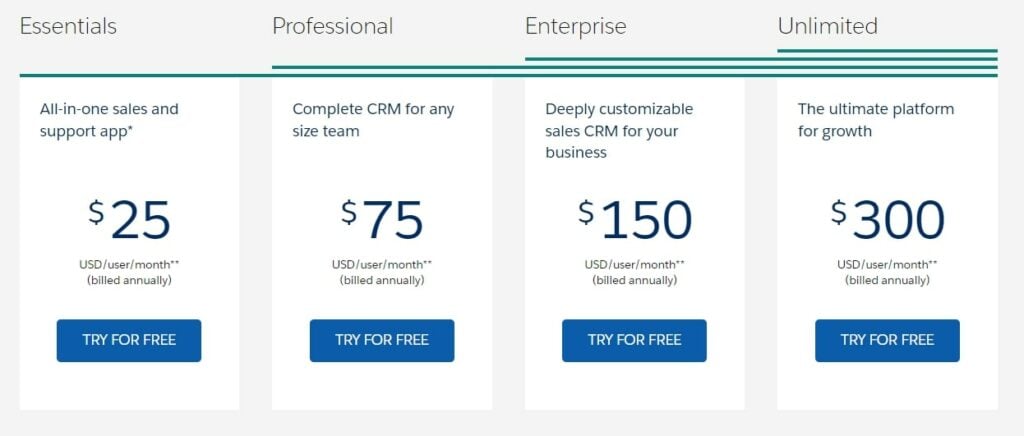 Essentials – $25/user/month (yearly): Access mobile apps, custom reports, account management, email templates, campaign management, and more.
Professional – $75/user/month (yearly): Unlock pipeline and forecast management, collaborative forecasting, CPQ, etc.
Enterprise – $150/user/month (yearly): Set unlimited custom user roles and permissions, unlock opportunity scoring, advanced reports, and more.
Unlimited – $300/user/month (yearly): Unlock lead scoring, conversation and sales insights, predictive forecasting, etc.
There's also a 14-day free trial available for all pricing plans.
HubSpot wins in Pricing
HubSpot is the more affordable option across the board. For one, HubSpot offers a free CRM software solution and many other tools at no extra cost, unlike Salesforce. Additionally, although HubSpot's paid plans may seem slightly more expensive initially, note that pricing is not done per user.
As mentioned, the Starter CRM suite costs $45/month for two users. This comes to $22.5/user/month, slightly less expensive than Salesforce's Essentials plan. However, where the difference matters are in HubSpot's Enterprise plan, which costs $1200 for ten users. This translates to $120/user/month.
In comparison, Salesforce's Unlimited plan costs $300/user/month, which is more than double the price.
Salesforce vs HubSpot: Customer Support
HubSpot CRM

HubSpot covers live chat support and access to the HubSpot Community, where you can access how-to guides and connect with other HubSpot users. According to user reviews, HubSpot's customer support teams are responsive and genuinely helpful.
Paid packages also offer 24/7 in-app and email support. Moreover, the Professional plan also covers one-on-one phone technical support. There's also the HubSpot Academy, where you can find educational materials regarding inbound marketing, customer service courses, and more.
Salesforce CRM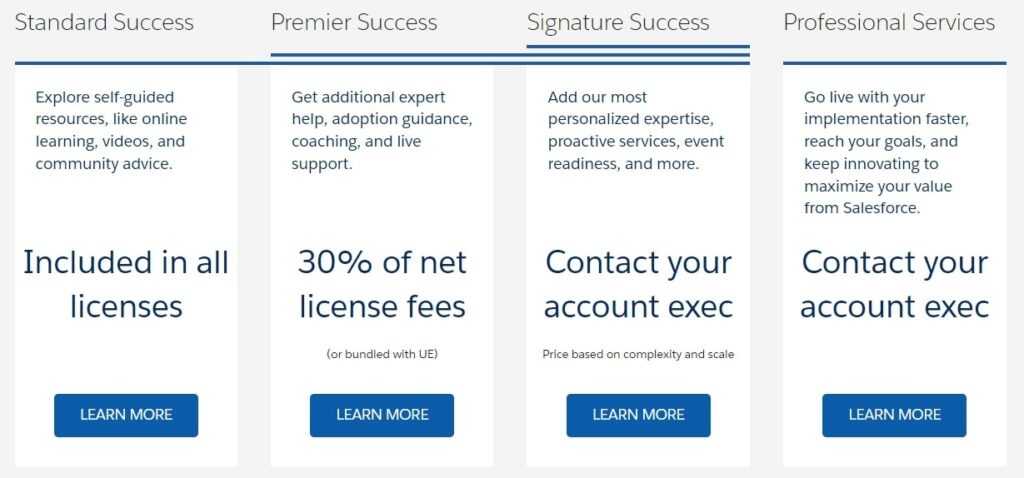 All pricing packages give users access to standard support, including basic technical support, a self-serve knowledge vase, and the Trailblazer Community. You can also purchase extra customer support separately, which gives you access to coaching, 24/7 phone support, etc.
Salesforce customers report that support is mostly hit-or-miss. Sometimes, the support teams can respond quickly by offering helpful information, while others are slow.
HubSpot wins in Customer Support
HubSpot users generally seem happier with the customer support teams. Not to mention all paid plans cover 24/7 in-app and email support, which come as paid add-ons with Salesforce.
HubSpot CRM vs Salesforce CRM: Pros and Cons
Now that we've got a good look at both CRM tools. Let's briefly summarize the pros and cons of HubSpot and Salesforce.
HubSpot Pros
Has a free plan
Solid customer support
Highly versatile
Cost-effective
HubSpot Cons
Some essential CRM tools are locked behind top-tier pricing plans
Limited customization options when compared to Salesforce
Salesforce Pros
Good selection of advanced features in low-tier plans
Excellent customization options
Huge variety of app integrations
Highly versatile
Salesforce Cons
Rather steep learning curve and tricky user interface
Customer support is put behind an extra paywall
No free plan
HubSpot vs Salesforce: Conclusion
Overall, both HubSpot and Salesforce are robust CRM solutions. Although they may seem vastly similar at first glance, these tools differ. More specifically, HubSpot may prove more useful for those seeking a CRM that will also help them boost their marketing strategy.
The platform has plenty of out-of-the-box marketing features, and you can always add more for free! Moreover, HubSpot is the best CRM out of the two in terms of scalability. You can get started with the free version, and gradually upgrade to the paid software once your business needs expand, not to mention that the platform comes at relatively affordable prices.
Meanwhile, Salesforce is the top CRM software in terms of customization. You can tweak nearly any aspect of the tool and even build custom apps from scratch! Also, Salesforce offers more advanced functionalities and sales tools at lower-tier plans, like custom reports, sales forecasting, and more, not to mention that the platform integrates with a huge variety of apps.
That said, before choosing between HubSpot and Salesforce, make sure to evaluate your business needs and see which one may be better suited for you.