One of the most important steps any company can take is to set up customer relationship management software (CRM).
CRM software allows businesses to handle customer management, monitor interactions, and help companies understand how their marketing campaigns and other key projects perform.
There are many different types of CRM systems on the market. Still, Act! is one of the most popular choices for small businesses because of its affordability, comprehensive features, and ability to take your sales process to the next level.
This article will provide an overview of Act! and its key features to help you decide if it is right for your company. We'll also look at some alternatives to Act. Finally, we'll share our thoughts on whether the software is worth the price tag.
What is Act CRM?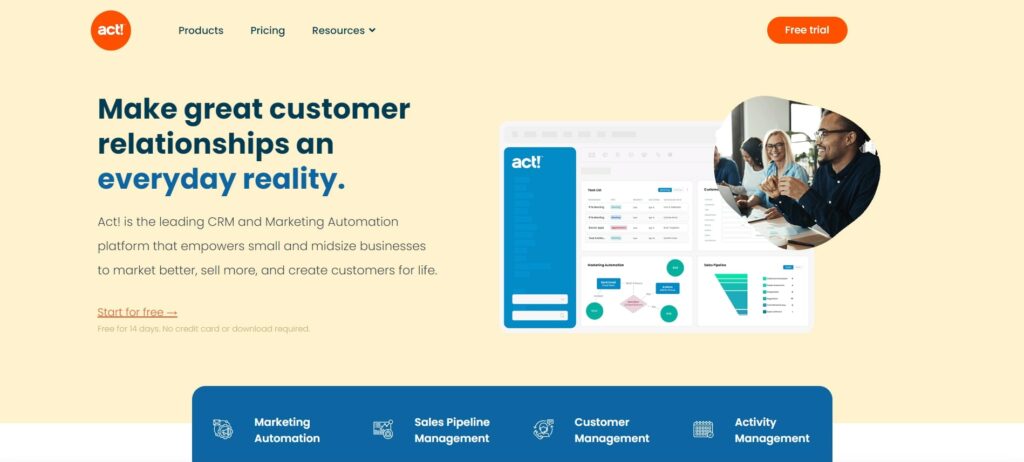 Act! is a powerful CRM and marketing automation software solution built for small and midsize businesses. The platform aims to help businesses improve relationships with existing customers and attract new prospects through its powerful reports, customer management, and marketing automation tools.
These functionalities include opportunity management, activity management, sales process management, contact management, relationship timelines, and various email marketing features.
The Act CRM software solution offers email integration with Gmail and Outlook so you can interact and follow up with contacts directly within the platform.
It also integrates with other Google and Microsoft products and apps to help you streamline your workflow and access more functionalities.
Act CRM Pricing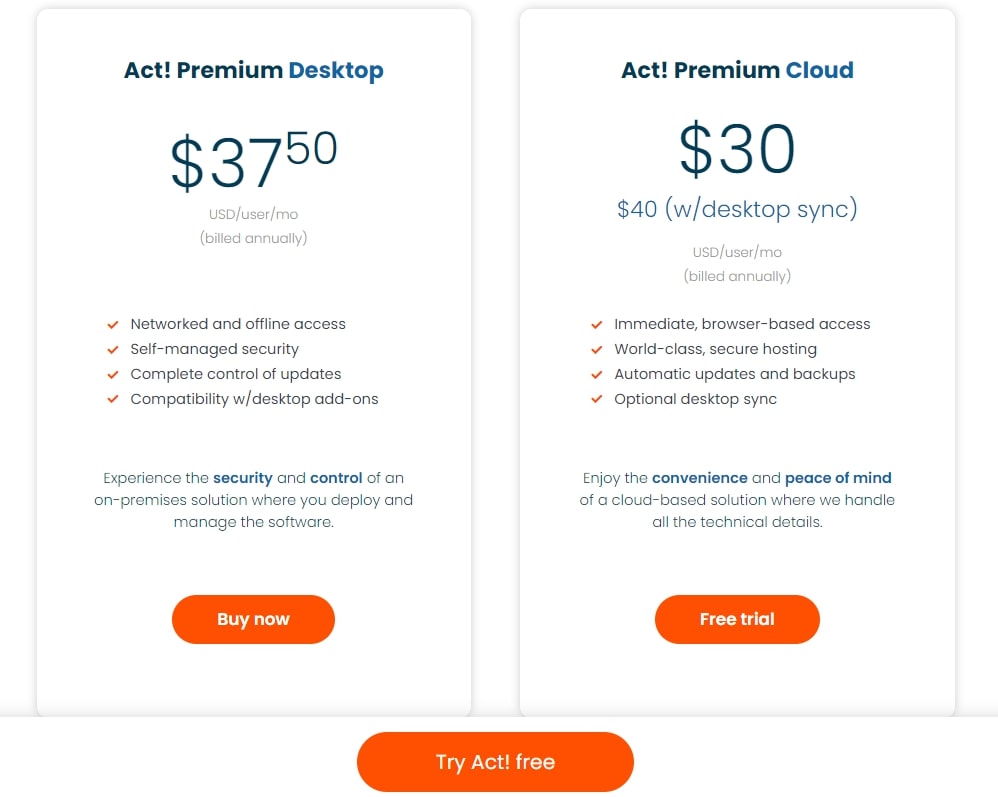 Act's pricing structure is split into two products: It's cloud and on-premise CRM software. As such, the platform covers the following two pricing plans:
Act! Premium Cloud: $30/user/month (billed annually)
Act! Premium Desktop: $37.50/user/month (billed annually)
There's also a 14-day free trial available for the Cloud version with no credit card required. Moreover, you can sync the Cloud and Desktop plans for $40/user/month (billed annually).
However, note that both plans come with basic marketing automation tools, while emails are limited to 2500/month. There are also optional digital marketing features, which are shown in the following plans:
Select – up to 25000 emails/month: $79/account/month (billed annually)
Complete – up to 50000 emails/month: $199/account/month (billed annually)
Advanced – up to 100000 emails/month: $399/account/month (billed annually)
See the comparison between different CRM softwares.
Act CRM Features List

Act! offers the following out-of-the-box features:
Email marketing tools with access to 170+ responsive email templates
Contact management and enrichment
Access to Act! Insight analytics
Task and activity management
Mobile access
As for the platform's optional functionalities, the Act includes the following:
SMS, drip, and event marketing campaigns
A fully-featured visual workflow designer
Lead management and scoring
Landing page builder
Built-in A/B testing
Who Is Act CRM For?
Overall, you should choose Act if you're looking for a CRM software solution with excellent marketing automation functionalities and wish to bring marketing and sales teams under the same roof.
It's a powerful CRM that covers sales pipeline management, activity management, excellent analytics, and other essential customer relationship management-specific functionalities.
Meanwhile, the platform's built-in marketing tools are uncommon in other CRM platforms. This especially goes true for the optional add-ons.
For instance, Act CRM comes with deliverability and compliance tools included. These cover all the features necessary to maintain GDPR compliance, maximize deliverability rates by minimizing spam emails and manage email opt-outs. Not to mention that you can also handle personalized campaigns.
Additionally, the CRM platform's optional add-ons bring its marketing capabilities to the next level. As mentioned, these add-ons will unlock the platform's landing page builder, SMS marketing tools, A/B testing functionalities, and much more.
Act! CRM Pros and Cons
Let's summarize Act! CRM with a brief list of the platform.
Act CRM Pros
Both pricing plans include the platform's full-featured CRM system
Excellent sales and marketing automation tools
Email deliverability tools included
Fully customizable sales pipelines
Powerful reports and analytics
Act CRM Cons
The User Interface is a little outdated and can get tricky to navigate
Optional features can get quite expensive
Act CRM Alternatives and Competitors
Act CRM is a solid platform for small and midsize businesses. However, its expensive add-ons and clunky UI may disappoint some customers.
Let's see how Act stack up to some of its competitors and see in which aspects they might be a better choice.
Salesforce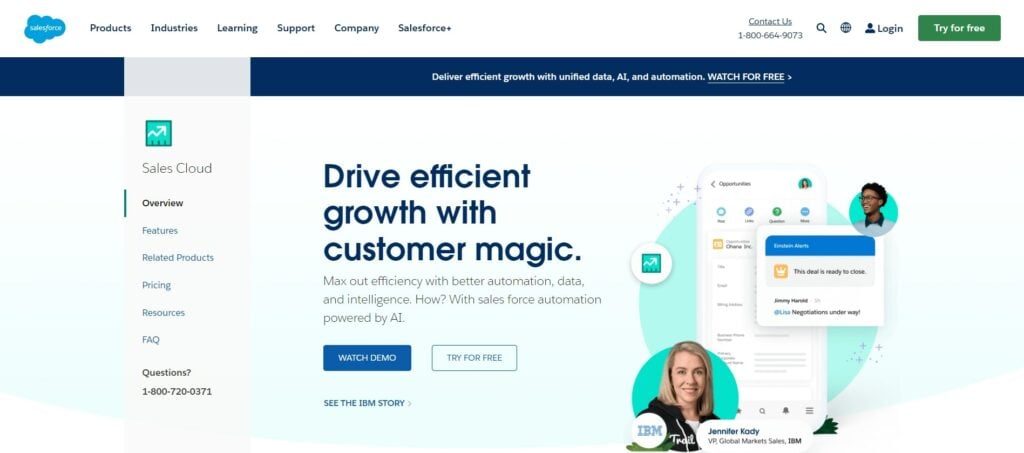 The Sales Cloud, Salesforce's CRM system, is a much better choice for larger organizations or those seeking advanced customization options and scalability.
For one, the Sales Cloud includes some functionalities not available in Act. There's opportunity scoring, built-in collaboration tools, or customizer service tools.
Additionally, the platform is highly customizable. You can easily build custom automated workflows, reports, and sales processes.
You can also tweak the dashboards by adding custom colors or logos, so your team feels more at home when using the platform. Not to mention that you can create fully-custom apps to enhance the Sales Cloud's functionality.
Lastly, there's scalability. Salesforce has grown to include many other products besides the CRM system. For instance, there's the Marketing, Customer Service, and Commerce Cloud.
These solutions integrate seamlessly, making Salesforce an excellent option if you want to branch out as your company grows. You can also integrate Salesforce with thousands of other apps through AppExchange.
Click here to see the Best CRM software for financial advisors.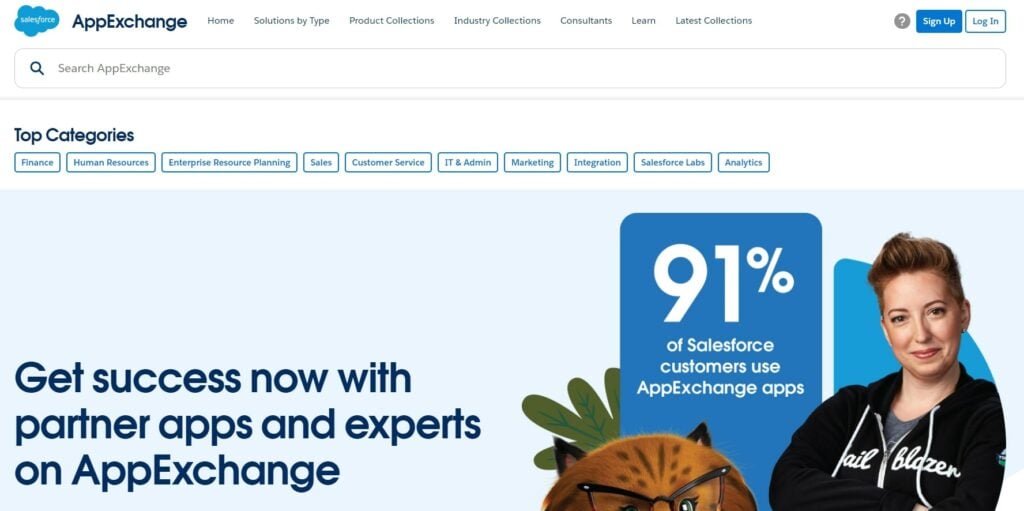 Pipedrive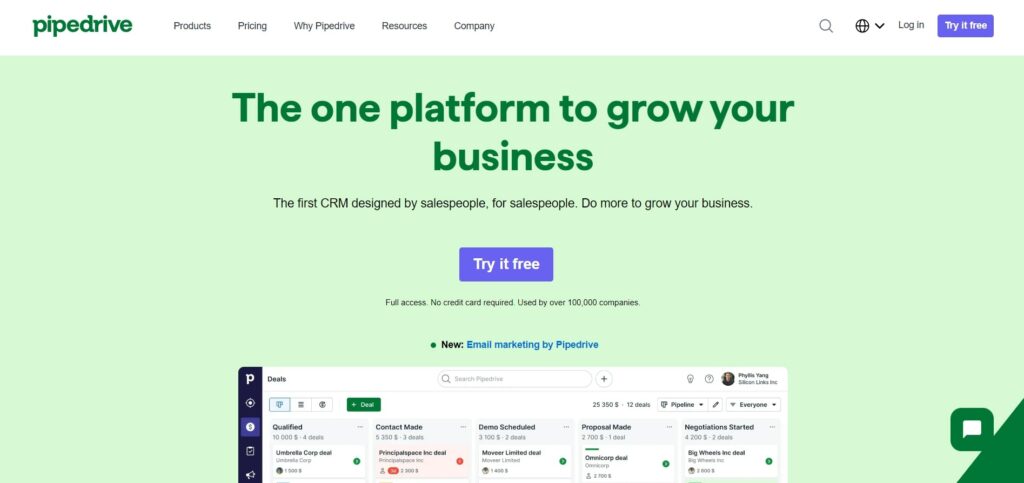 Pipedrive is a CRM solution specifically built for small companies. As such, the platform prioritizes affordability and ease of use, making it an excellent choice if you're worried about Act's clunky UI.
Pipedrive adopts a highly visual approach. Its interactive dashboards are clutter-free, and you can easily access most of its features, making navigation and sales pipeline management a breeze.
Pipedrive's dashboards are also customizable via a drag-and-drop interface. Customization is easy, and you get to tweak the platform to suit you best.
There's also the platform's AI-powered sales assistant, which Act lacks. This tool leverages AI technology to analyze past sales performance and suggest how to improve your sales process.
As for marketing automation, Pipedrive is similar to Act. Pipedrive also offers plenty of add-ons that bring the platform's functionality to its full potential, like the Campaigns add-on.

Zoho CRM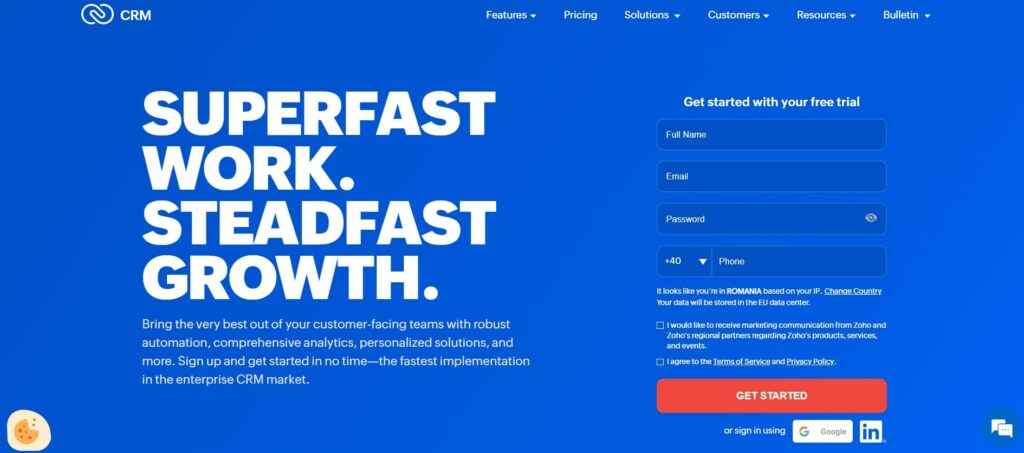 Like Pipedrive, Zoho CRM is also built with small companies in mind. With prices starting from $14/user/month, the platform is highly affordable and offers excellent value for money, considering its features. 
You can specifically access sales forecasting, scoring and workflow rules, etc. As for marketing automation, Zoho CRM offers plenty of templates for emails with the ability to send emails in bulk and social media profile integration.
The problem is the cheapest paid pricing package allows for limited customizable reports (up to 100).
Moreover, Zoho also includes a free version available for up to three users. This package includes up to lead management, ten custom email templates, workflow automation rules, and more.
Lastly, like Salesforce, Zoho integrates with thousands of other apps via the Zoho Marketplace.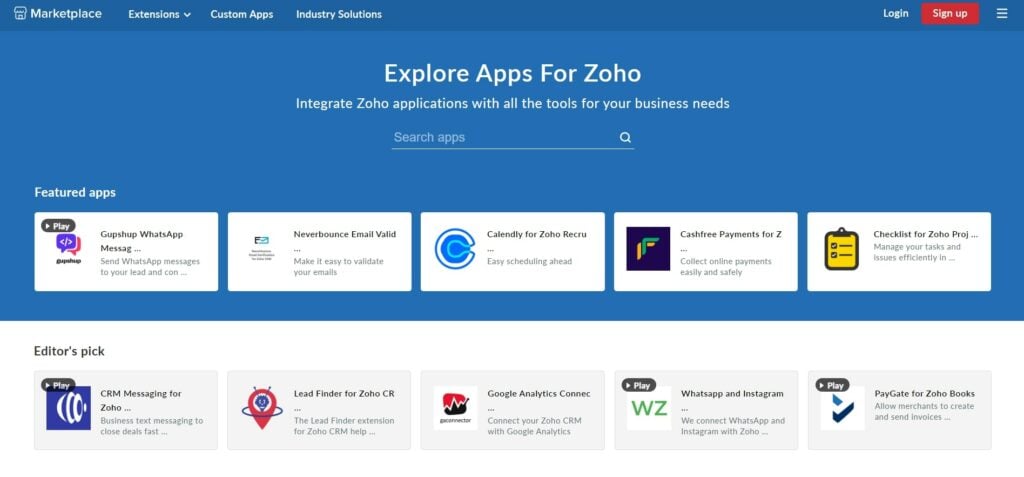 Overall, Zoho is an excellent alternative if you're looking for a solid with a free version.
HubSpot CRM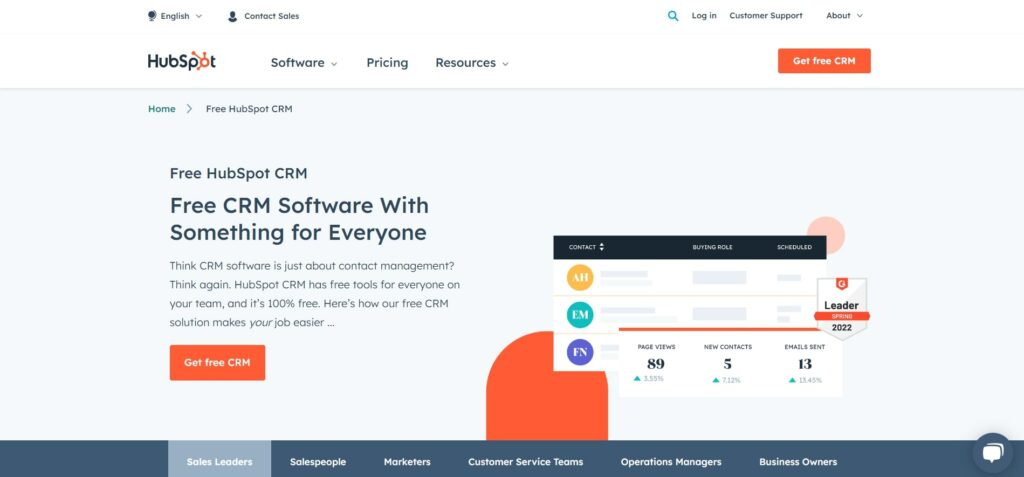 Found under the Sales Hub, HubSpot's CRM caters to businesses of all sizes. The platform is highly easy to use, and its pricing plans are designed to accommodate small, medium-sized, and large corporations.
However, what sets HubSpot apart from the other tools mentioned above is that it includes a free version available for unlimited users.
The free plan offers basic functionalities like live chat, email and meeting scheduling, email tracking with notifications, sales pipeline management, contact management, and more. Another HubSpot stand-out lies in the ability to use the free CRM with free tools from other HubSpot products.
For instance, you can build landing pages, handle basic marketing automation, get access to customer service tools, and manage website content. That said, HubSpot is the perfect option for those seeking a free all-in-one solution for handling key projects covering multiple departments.
There's also the HubSpot App Marketplace, where you can integrate the platform with 1000+ other apps.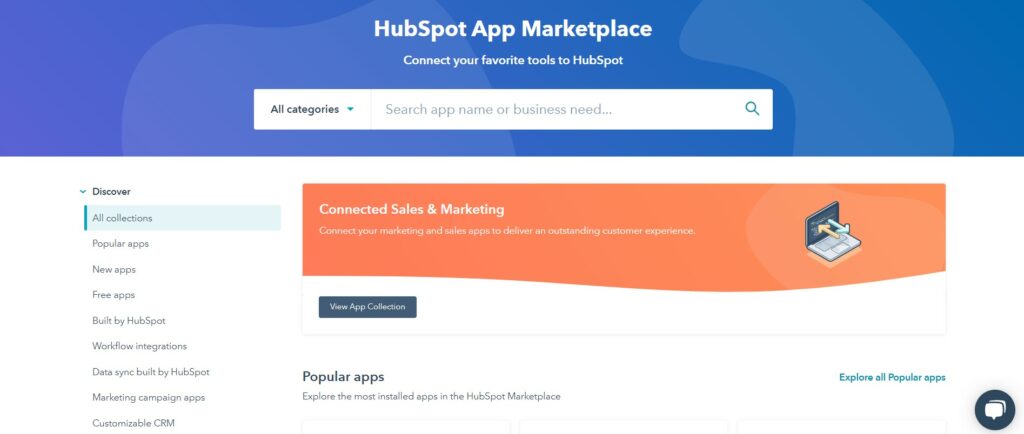 Other HubSpot advantages lie in the software's extensive customization options and scalability.
Freshsales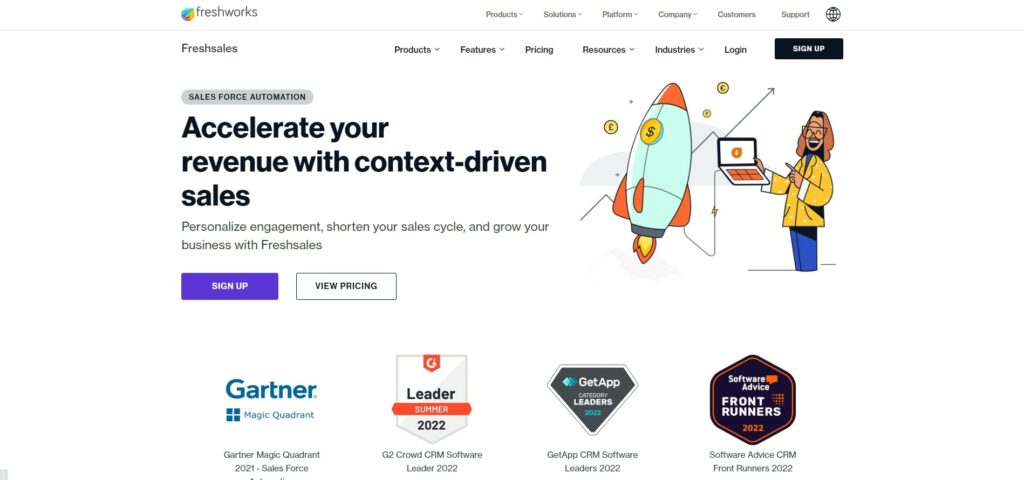 Freshsales stands out due to its phone calling and AI-powered functionalities. The platform uses AI and ML technology to analyze sales performance and uses that information to identify sales trends and provide suggestions on increasing sales pipeline effectiveness. 
AI tools can also play a role in maintaining customer communications. More specifically, the platform can automatically respond to prospects and keep them engaged until you intervene.
As for Freshsales' phone calling features, the platform offers a built-in phone system with voicemails, conference calling, call masking and recording, queue transfers, and much more.
Furthermore, Freshsales also covers a free plan with no user limit, similar to HubSpot. This version includes the basic phone system, AI chatbots, and contact management. Overall, Freshsales is an excellent choice for those seeking a CRM system for maintaining and improving customer communication.
Act CRM Review Conclusion
Overall, Act CRM is a solid platform. It is fairly easy to use, and its marketing automation functionalities are top-notch, allowing you to attract more deals and close sales opportunities faster and easier.
It's also excellent for customer management. Act offers an easy-to-follow pipeline view, making sales pipeline management, tracking deals, and keeping track of contact records a breeze.
However, before you choose Act, keep in mind that plenty of other tools outdo Act in other aspects, like the ones mentioned above. That said, evaluate your business needs before making a choice.