A nonprofit organization relies heavily on its CRM (customer relationship management) system to manage all the various aspects of its operations.
The nonprofit CRM software must be able to efficiently track donations, volunteers, and membership information.
Not only that, but the CRM software solution should also seamlessly integrate with other systems such as donor management programs, fundraising tools, and payment portals.
In this post, we'll take a look at some of the most popular CRM systems for nonprofit organizations and the details of the 18 best CRM for nonprofits.
But before we dive into the best nonprofit CRM software, let's first look at what makes a CRM a good fit for a nonprofit organization.
CRM Software for Nonprofits: What to Look For
It can be difficult to determine which software is the best nonprofit CRM software because there are so many of them on the market. However, this doesn't have to be a problem if you know what to look for when shopping for CRM solutions. Here are some important things to consider when choosing a CRM for your nonprofit:
#1 Integration with other systems
The best CRM systems for nonprofits should easily integrate with various third-party tools and systems including donor management systems, email marketing platforms, payment processing services, and more. By selecting a CRM that integrates seamlessly with these tools and services, you won't have to switch between multiple apps or systems to access and manage your data. This will make the management of your nonprofit organization much easier and more efficient.
#2 Ease of use
Having a system that's easy to use is extremely important if you want to get the most out of your CRM software. After all, it's not much use to have a powerful system if it's not easy to use. The nonprofit CRM system should be easy for your team to learn and use so that anyone can easily access and manage the data they need to perform their jobs effectively. Look for a CRM with an intuitive user interface that's simple and user-friendly so that everyone on the team can use it without requiring any formal training.
#3 Functionality
Your CRM should enable you to capture all the information you need about donors, volunteers, members, and other key members of your organization. It should allow you to keep track of all of your contacts and interactions with them so that you can make better business decisions about future growth and sustainability. The best CRM systems for nonprofits allow you to store and track information about your donors and supporters so that you can identify and reach your biggest and most loyal supporters. This can help your organization raise funds and achieve its long-term goals.
#4 Affordability
You'll probably be using your new software for years to come, so it's important to choose a system that is affordable and easy to afford on an ongoing basis. Find a CRM provider that offers different pricing models to suit the needs of nonprofit organizations of all sizes and budget constraints. Some CRM systems charge a monthly subscription fee while others charge a flat fee based on the number of users you have in your organization. Find out what pricing structure works best for your organization and stick to it to save costs in the long run.
#5 Customer Support
You should also look for a CRM system with an excellent customer support team that provides 24/7 technical support whenever you need it. Ideally, the team should provide online help as well as phone support so you can contact them anytime you need assistance.
18 Best CRMs for Nonprofits
With the above parameters in mind, here are some of the best CRM software for nonprofit organizations.
Best overall: monday.com Sales CRM
Best for large NPOs: Salesforce
Best for donor outreach: Freshsales
Best free CRM: HubSpot CRM
Best for small NPOs: Zoho CRM
Best for improving donor relationships: Kindful
Best for donation management: Donor Tools
Best for marketing: SalsaLabs
Best Open-source CRM for nonprofits: CiviCRM
Best for scalability: NeonCRM
Best for enterprise-level NPOs: Blackbaud
Best for fundraising: DonorPerfect
Best for versatility: EveryAction
Best for fundraising and donor management: CharityEngine
Best for building landing pages: Fundly
Best for donor retention: Bloomerang
Best for membership management: WildApricot
Best for automation: Keela
Best Overall: monday.com Sales CRM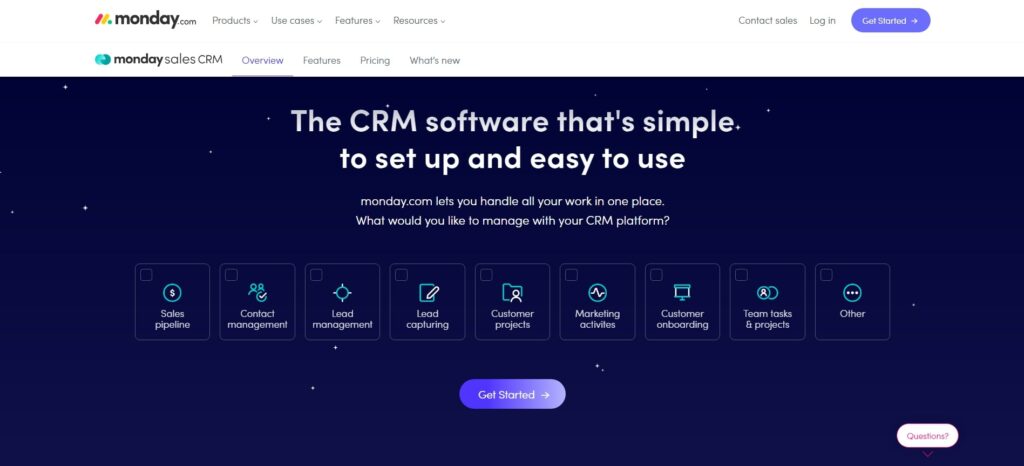 Monday.com Sales CRM is a CRM solution with an emphasis on project management. As such, the platform perfectly blends in CRM-specific functionalities, like sales pipeline and contact management with communication and project management functionalities. You can easily integrate the platform with tools like Slack and Microsoft Teams to stay in touch with your team at any given time.
You can also sync your Gmail accounts to create personalized email templates, monitor your interactions, and log sent emails automatically.
Why use monday.com sales CRM software for nonprofits?
Monday.com checks all the boxes mentioned above.
Firstly, the platform provides templates specifically built for fundraising, grant management, or volunteer management. That said, you can gather a complete overview of your donation pipelines, create personalized fundraising texts and emails, manage supporter interactions via donor profiles, and more.
Also, Monday.com helps board members determine volunteer workload and availability, embed registration forms, and assign tasks to volunteers.
Secondly, the platform is very easy to use, affordable and integrates with various tools covering project management, marketing, team communication, CRM, and more. Not to mention that it offers 24/7 customer support across all of its pricing plans.
Lastly, the platform offers solid CRM functionalities, like customizable pipelines, lead management, and a marketing automation center, where you can select pre-built automation or customize your projects from scratch.
Features
NPO-specific templates
Centralized communication
Extensive integrations
Automation capabilities
Fundraising pipeline management
Project management
Reports and analytics
Limitations
Monday.com Sales CRM currently covers only three NPO-specific templates: Fundraising CRM, Grant Management, and Volunteer Registration Management. As such, customizing the platform for other NPO-specific activities, like event management can get a little tricky.
Moreover, the platform lacks donation processing and donor outreach tools, something which some of the other CRM solutions in this list include.
However, monday.com Sales CRM is affordable and versatile. It's a WorkOS that you can use across your whole organization for program management and centralized communication.
Pricing
Free CRM: free forever for up to 2 user seats
Basic CRM: from $10 per seat per month
Standard CRM: from $14 per seat per month
Pro CRM: from $24 per seat per month
Enterprise CRM: upon request
Best for Big Nonprofits: Salesforce for Nonprofits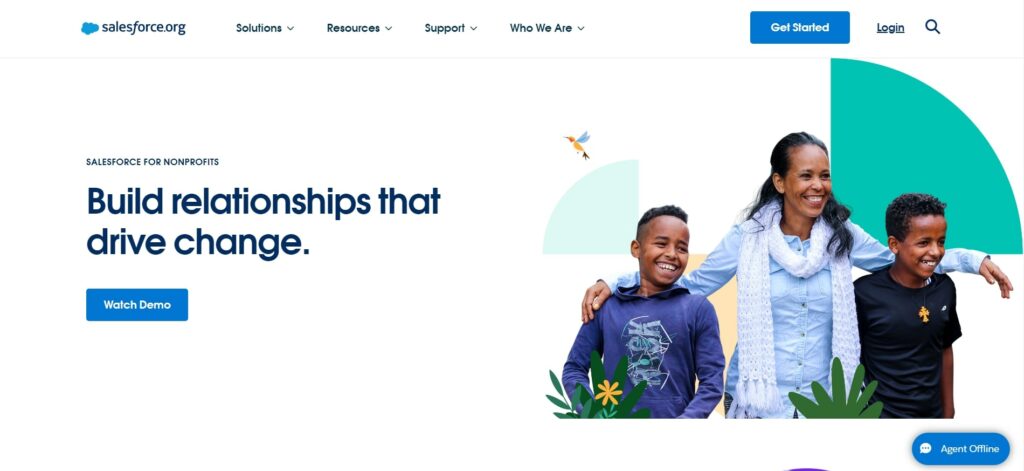 Salesforce is one of the most powerful CRM software in the market. And with its solution for nonprofits, that power can easily be harnessed by NPOs too. This nonprofit CRM software solution allows you to boost your fundraising efforts, handle grants management, promote your organization, and more. You can learn more about their project management feature by reading How to Use Salesforce for Project Management.
Why use Salesforce for Nonprofits?
This nonprofit software solution is suitable for large NPOs because of its diverse features, extensive customization options, and vast integration capabilities. You can create custom marketing campaigns to target specific donor groups, automate monotonous tasks, gather AI-driven insights about your donors, etc.
Features
Grants management
Program management
Marketing communications
Fundraising donor management
Personalized reporting features
Limitations
Salesforce is a highly complex, customizable, and scalable platform. Although that may not sound like a drawback at first, small NPOs that have no prior experience with nonprofit software may find it hard to get started with this platform. The UI can get overwhelming and your team may require extensive training to learn how to make the most out of this platform.
Pricing
Sales Cloud–EE: $36/user/month
Sales + Service Cloud-EE: $48/user/month
Nonprofit Cloud-EE: $60/user/month
Nonprofit Cloud–UE: upon request
Note: You can get 10 free subscriptions for the second plan through the Power of Us Program. You can learn whether you're legible by clicking here!
Best for Donor Outreach: Freshsales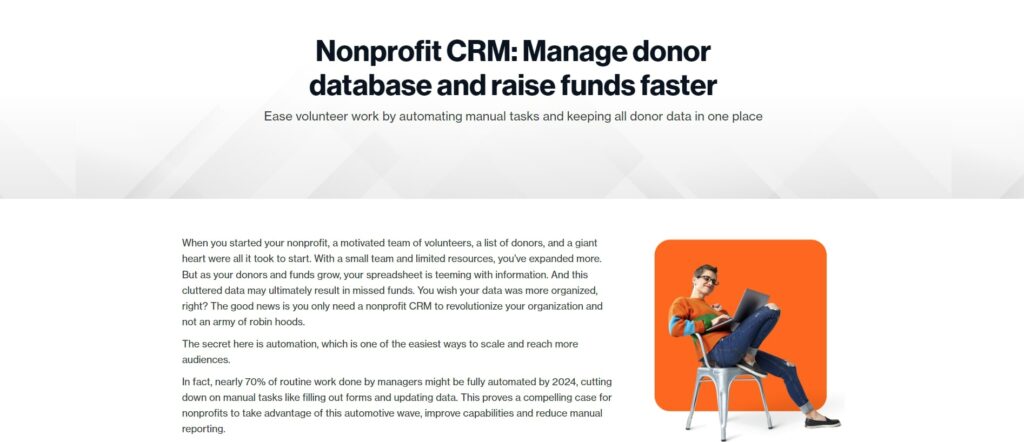 Freshsales is an easy-to-use and highly customizable CRM software solution that offers solid contact management features, automated emails for fundraising campaigns, and more. The platform also includes a mobile app to help nonprofits manage their organization while on the go. Moreover, Freshsales has a robust free version that includes contact and account management, contact lifecycle stages, and more.
Why use freshsales for donor outreach?
Freshsales includes a built-in phone dialer. Thus, you can easily call potential donors right within the app. This feature works on a pay-as-you-go model, ensuring affordable call rates. Aside from that, Freshsales features an AI-powered lead scoring system that automatically identifies high-value leads.
FEATURES
Built-in phone system
AI-powered lead scoring
Contact management
Visual sales pipelines
Automation capabilities
Limitations
The platform lacks some nonprofit-specific features, like grant management.
PRICING
Free
Growth: from $15/user/month
Pro: from $39/user/month
Enterprise: from $69/user/month
Best free CRM for NPOs: HubSpot CRM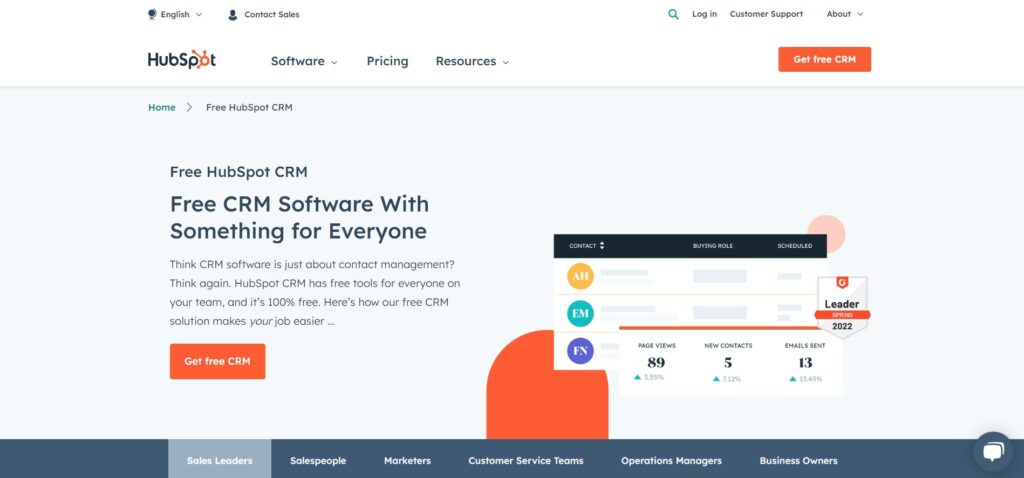 HubSpot CRM is found in the platform's Marketing Hub. Besides the CRM software itself, this package also includes a landing page builder, email marketing, social media management, A/B testing, and more. That said, HubSpot is perfect for NPOs looking for more than just a CRM solution.
WHY USE HUBSPOT FOR FREE?
Without a doubt, this platform can get pretty expensive, with pricing reaching up to $3600/month. However, the free version is packed with features, doesn't include a user number limit, and is perfect for managing your NPO.
For instance, you can handle the lead generation, build landing pages with basic automatic SEO suggestions, send emails in bulk, etc. You also have access to a free library with information on how to run your organization more effectively.
FEATURES
Contact and deal management
Email tracking, scheduling, templates, shared inboxes
Landing page builder with SEO suggestions
Reports and analytics
Ad management
LIMITATIONS
HubSpot's free version is excellent for small or new NPOs. However, as your organization expands, you may find the platform's features a little underwhelming. This may lead you to choose one of their paid plans, which are expensive.
However, HubSpot offers a deal specifically made for non-profits, which can get you a 40% discount.
PRICING
Free
Starter: from $45/month
Professional: from $800/month
Enterprise: from $3600/month
Best for Small Nonprofits: Zoho CRM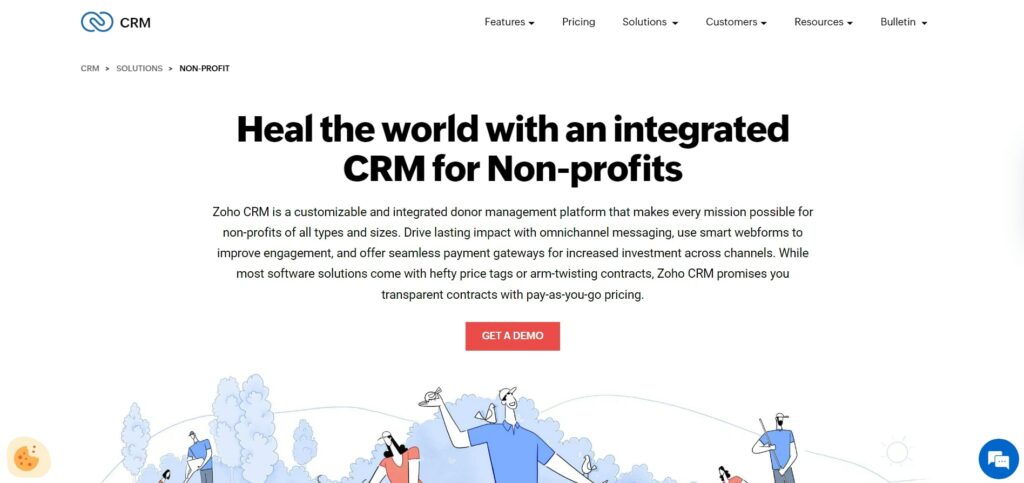 Zoho CRM is an affordable solution that packs a punch. It's highly customizable and provides all the features you can expect out of nonprofit CRM software, like targeted email campaigns, multi-channel marketing, and a 360-degree data view over your donors, volunteer, and more.
Why Use Zoho CRM for Small Nonprofits?
In short, Zoho provides excellent value for money. With prices starting from $14/user/month, you get access to features like scoring rules to prioritize prospects, workflow and marketing automation, social media marketing, etc. There's also a free version available for up to three users.
Features
Omnichannel presence
360-degree data overview
Targeted campaigns
Extensive integrations
Fast and secure payments
Limitations
Although Zoho offers a solution for NPOs, the CRM software was not exactly designed for this niche. As such, it might take a little while until you configure it for your needs and get used to it.
Pricing
Free
Standard: from $14/user/month
Professional: from $23/user/month
Enterprise: from $40/user/month
Ultimate: from $52/user/month
Best for Improving Donor Relationships: Kindful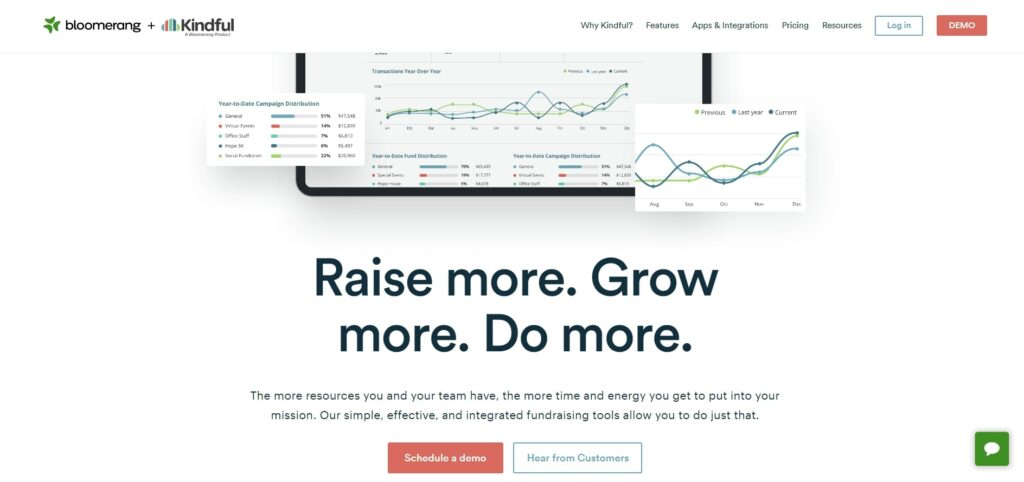 Unlike the CRM tools mentioned above, Kindful is specifically built for nonprofit organizations. More specifically, this software is built around strengthening donor relationships and handling the fundraising process more effectively.
Moreover, Kindful emphasizes scalability. You're charged by the number of contacts you have, so you have full access to the platform's features regardless of your organization's size.
Why Use It for Donor Relationships?
Kindful gives you easy access to your donors' data, including past pledges, offline and online donation history, event participation, and more—All of which are available via an easy-to-follow dashboard.
The software also integrates with Twitter and Facebook, so you can easily stay in touch with your donors. And most notably, their household relationship tracker allows you to see which contacts know each other.
Features
Donor management
Communication tools
Fundraising tools
Extensive integrations
Custom reports
Limitations
Although the platform's pricing is designed for scalability, the starting price is still quite high for NPOs. At $100/month for 1000 contacts, Kindful may be outside the budget for small NPOs.
Pricing
1k contacts: $100/month
5k contacts: $200/month
15k contacts: $300/month
25k contacts: $400/month
40k contacts: $600/month
55k contacts: $700/month
70k contacts: $800/month
<70k contacts: upon request
Best for Donation Management: Donor Tools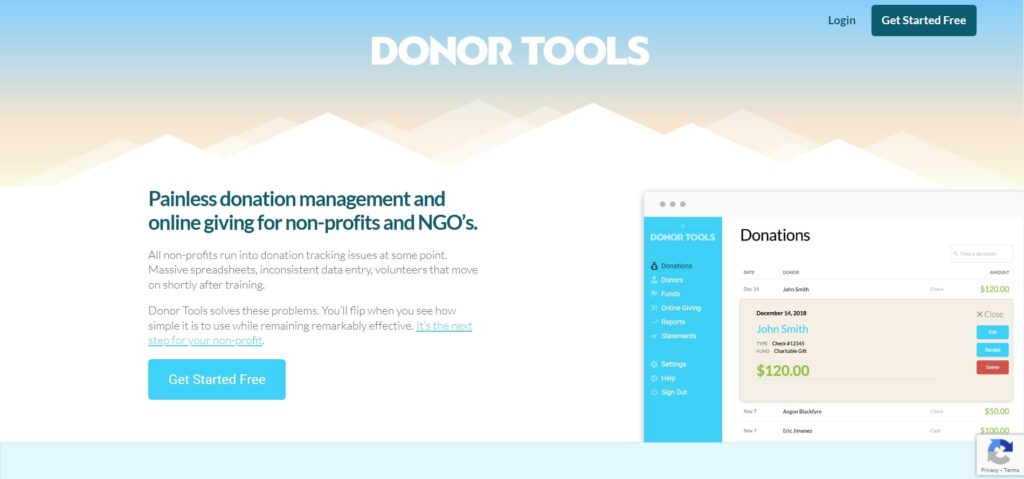 Donor Tools is a straightforward donation management software that makes it easy for NPOs to accept, monitor, and manage donations. It features a user-friendly interface and comes at an affordable price. Donor Tools includes a single pricing plan and a 30-day free trial.
Why Use Donor Tools For Donation Management?
Donor Tools aims to fix all the potential problems that come with donation management, like data entry, spreadsheet management, etc. All donor information will store automatically on the platform once a transaction is completed.
Aside from that, you can issue receipts directly within the software, making it easier for you to track transactions while adding a layer of transparency to all parties involved.
Features
Donation management
Donation tracking
Donation receipts
Automatic reports
Branded portals
Limitations
Donor Tools' functionalities are not as in-depth as Kindful's. This management software lacks fundraising tools and donor lifecycle analytics. However, the software's affordability should make up for it.
Pricing
$39/month + a 30-day free trial
Best for Marketing: SalsaLabs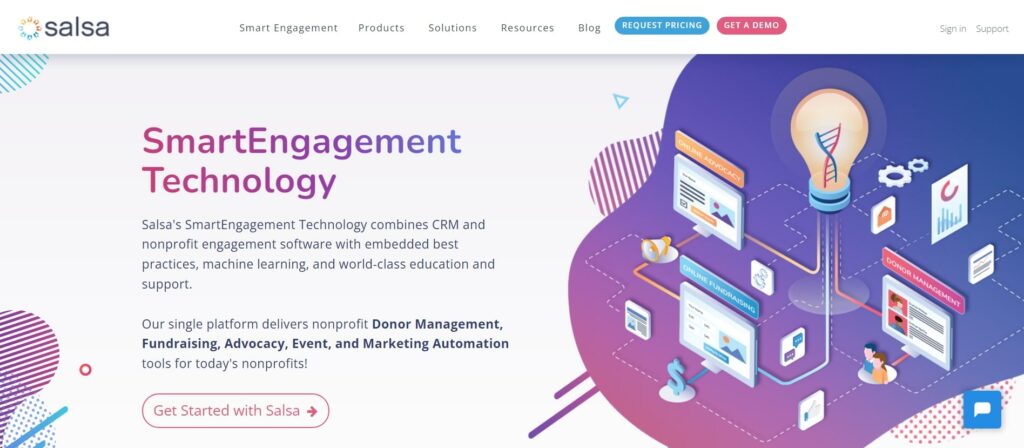 SalsaLabs has multiple products on offer. More specifically, there's Salsa CRM and Salsa Engage. There's also Salsa Engage for Salesforce. However, Salsa's CRM software is bundled with Salsa Engage.
Why Use SalsaLabs For Marketing?
The Salsa CRM + Salsa Engage bundle gives you access to the platform's CRM software along with its marketing tools. This includes marketing automation, an email builder, social media management tools, advocacy functionalities, and more. In other words, Salsa has all the tools necessary to raise awareness and market nonprofit organizations more effectively.
For instance, this nonprofit CRM provides you with in-depth donor profiles that capture each interaction with your supporters, to help measure their engagement and learn more about your donors.
Also, Salsa leverages Machine Learning technology to automatically calculate appropriate donation suggestion amounts for each individual donor. As such, you can be sure that you won't ask too much, or too little from your donors, allowing you to generate optimal revenue.
Moreover, the Broadcast feature allows you to send outbound texts to specific supporter segments for increased engagement.
Features
Donor management
Marketing automation
Role-based access
Customizable dashboard and reports
Peer-to-peer fundraising
Limitations
SalsaLabs lacks in the native integrations department. At the time of writing, SalsaLabs integrates with ten other products, including Salesforce, Quickbooks, and Facebook Pixel. However, you can access more integrations via Zapier.
Pricing
Pricing is not transparent. You'll need to contact the sales team to get a quote based on your organization's needs.
Best Open-source CRM for NPOs: CiviCRM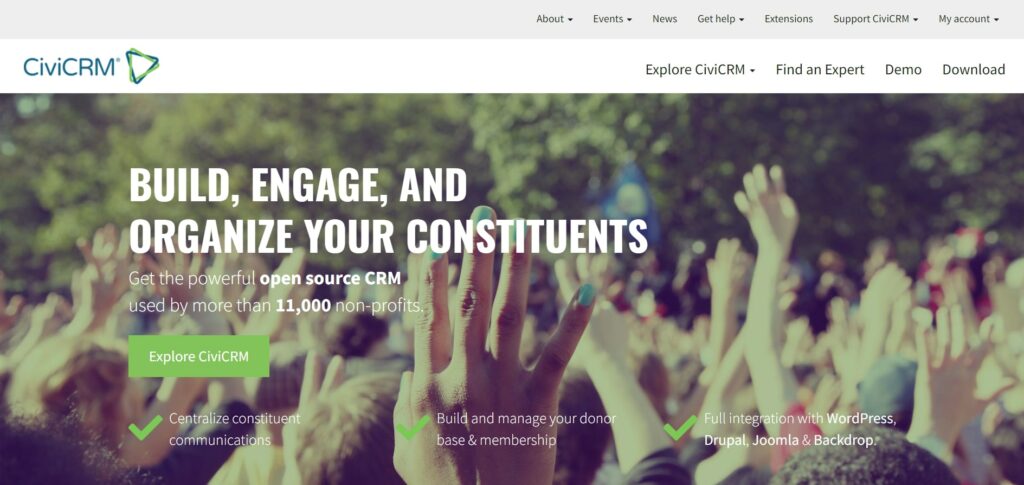 CiviCRM is an open-source nonprofit CRM software, meaning that with a little technical knowledge, you can configure the platform in any way you like. Aside from that, the platform includes solid reports, contact management tools, and more.
Why Use CiviCRM?
CiviCRM has a large community behind it with over 11000 NPOs using it. That said, the platform is always looked after and continuously updated. Moreover, CiviCRM includes all the features you would expect to find in nonprofit CRMs, like peer-to-peer fundraisers, advocacy campaigns, etc. Not to mention that the customization possibilities are endless.
Features
Contact management
Event management
Email marketing
Reports and analytics
Contribution tracking
Limitations
Customizing the platform to your liking requires technical know-how. Aside from that, you may encounter occasional bugs and glitches.
Pricing
CiviCRM is completely free!
Best for Scalability: NeonCRM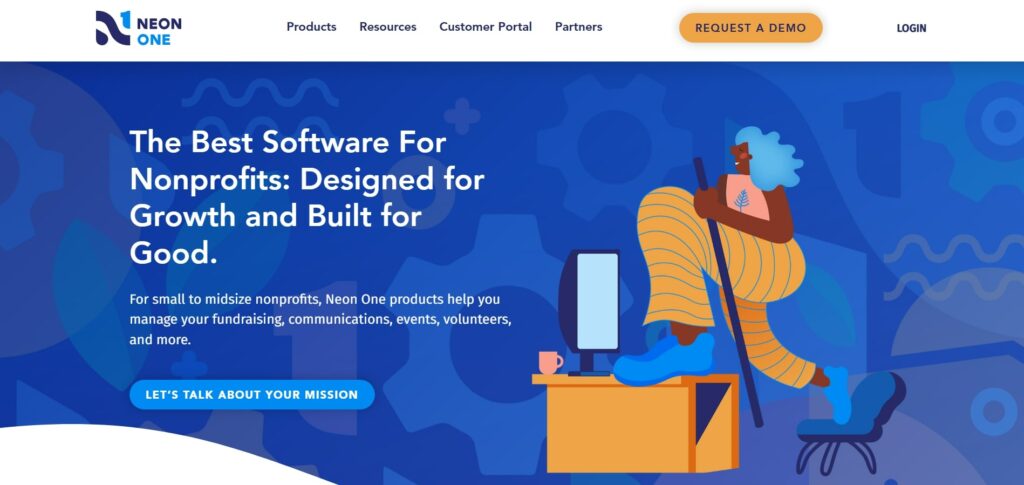 NeonCRM is designed to grow along with your organization. Unlike other CRMs for nonprofits in this list, NeonCRM charges on a revenue-based model. That said, this platform is suitable for organizations of all sizes, ensuring that all nonprofit organizations, be they large or small, get the best value for money possible.
Why use neonCRM for Scalability?
Besides its pricing model, NeonCRM gives you access to the tools necessary to expand your organization. All pricing plans include fundraising and donor management tools, fundraising campaigns, household, and relationship tracking, etc.
Features
Contact, task, and donor management
Peer-to-peer fundraising
Email and marketing automation
Grant management and tracking
Built-in payment processing
Limitations
Users often report that the UI is not very intuitive. It may also take a while until you learn the ins and outs of this platform.
Pricing
Essentials (up to $1M in revenue): from $99/month
Impact (up to $5M in revenue): from $199/month
Empower (beyond $5M in revenue): from $399/month
Best for Enterprise-Level Nonprofits: Blackbaud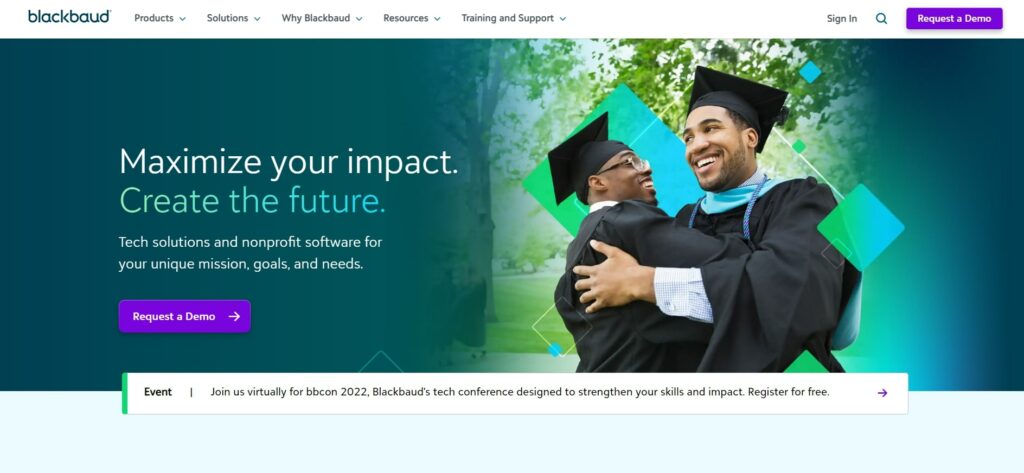 Blackbaud CRM is specifically designed for enterprise-level nonprofit organizations. The platform covers multi-channel marketing, lead tracking, fundraising tools, and more. One stand-out feature is that on-field volunteers can update donor information in real time via their smartphones.
Why Use Blackbaud for Enterprise-Level NonProfits?
Blackbaud is one of the most complete nonprofit software solutions on this list. It includes a vast selection of advanced features, like ResearchPoint™, which allows you to identify a prospect's wealth, connections, and the likelihood of becoming a donor.
Features
Multi-channel marketing
Customizable reports and analytics
Fundraising tools
Cultivation tools
Lead tracking
Limitations
There's a steep learning curve, so you might need to consult with an expert to learn how to get started and make the most out of this platform.
Pricing
You'll need to get in touch with the sales team to get a personalized pricing quote.
Best for Fundraising: DonorPerfect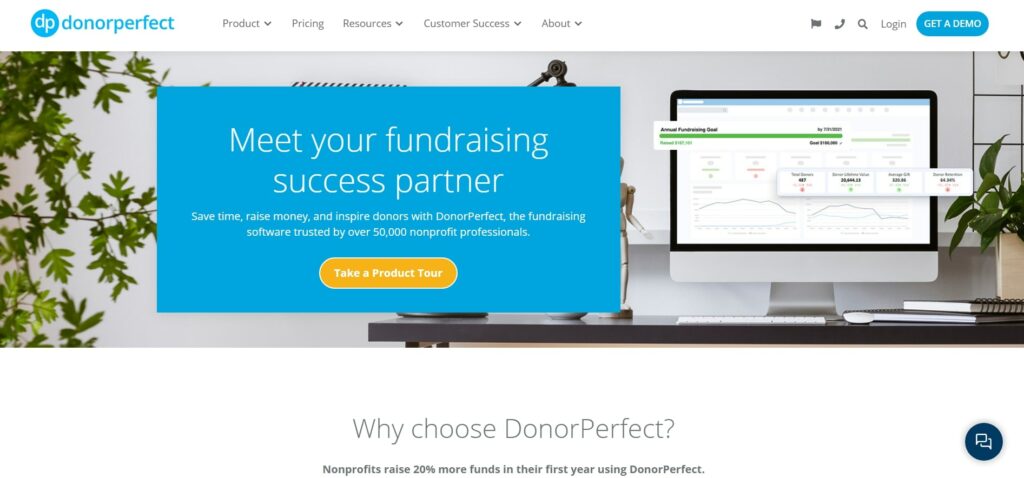 DonorPerfect is an easy-to-use nonprofit CRM software that focuses on bringing all of your data under one roof. DonorPerfect allows for an unlimited amount of users, regardless of their location to store and organize donor data. The platform includes built-in payment processing, visual dashboards, and more.
Why Use Donor Perfect for Fundraising?
DonorPerfect emphasizes donation processing, data management, payment tools, analytics, and fundraising activities. As such, the platform helps NPOs easily organize donor data, analyze it to identify the top contributors, track fundraising campaign performance gather donations from multiple mediums, improve donor engagement, etc.
Moreover, the platform can also handle live and silent auctions.
Features
Payment processing
Fundraising management
Donation forms
Multi-channel donor outreach
Extensive integration capabilities
Limitations
Although DonorPerfect covers plenty of integrations, some of them are placed behind a price tag. That said, the platform can get expensive quickly if you wish to add more functionality.
Pricing
Lite (up to 1000 constituent records): $99/month
Express (up to 2500 constituent records): $179/month
Essentials (up to 7500 constituent records): $299/month
Premier (up to 25000 constituent records): $499/month
Express (up to 75000 constituent records): $799/month
Best for Versatility: EveryAction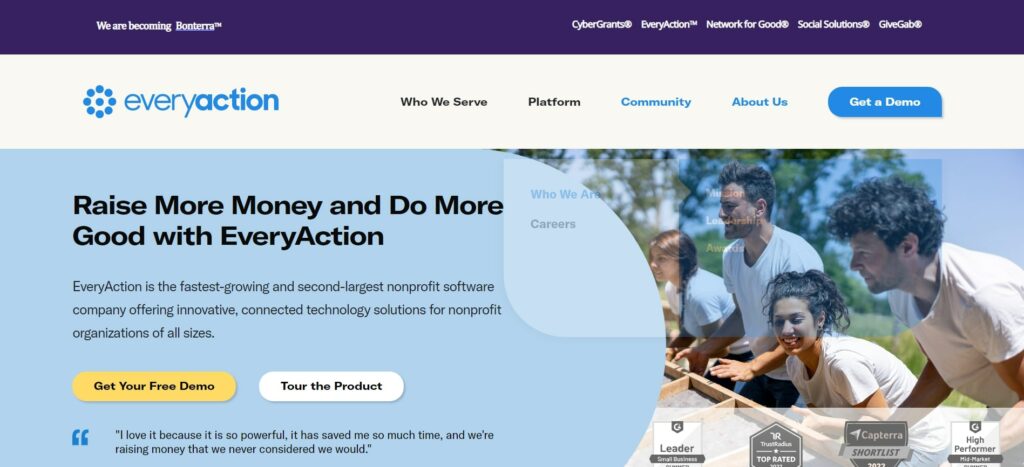 EveryAction is a nonprofit CRM software that brings donor management, digital marketing, fundraising, payment processing, and organization tools all under one roof. Aside from that, the platform is suitable for nonprofit organizations of any size, making it one of the most versatile CRM solutions out there.
Why Use EveryAction for Versatility?
The platform covers a huge selection of features designed to cover most aspects of running a nonprofit organization—From managing memberships to handling email marketing and social media campaigns.
EveryAction doesn't lack in the integration department either. Some popular integrations include Weebly, Zoom, Salesforce, DonorTrends, and more.
Features
Email marketing
Fundraising management
Payment processing
Volunteer and event management
Grants management
Limitations
Users report that the platform can get clunky, while data transfers from other CRM tools are often difficult.
Pricing
You'll need to get in touch with the sales team to get a personalized quote.
Best for Donor Management and Fundraising: CharityEngine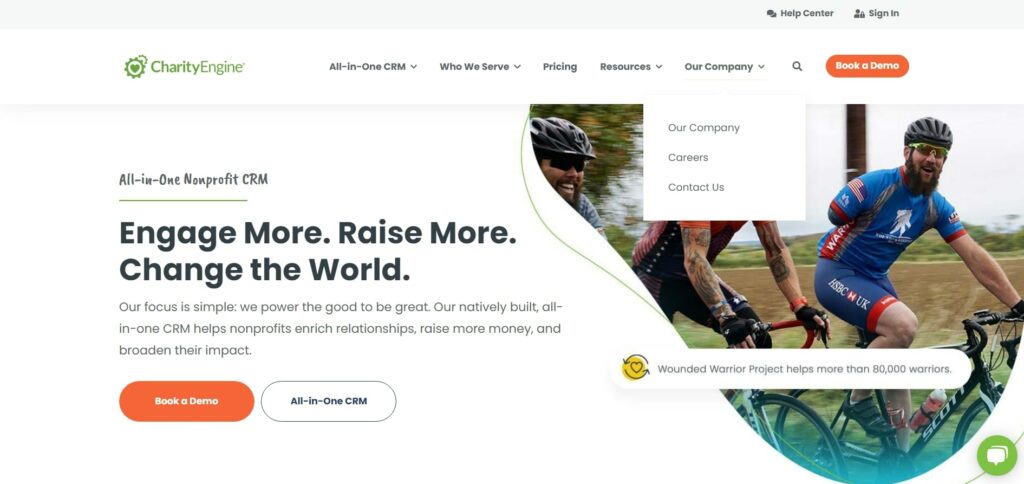 CharityEngine is another all-in-one nonprofit CRM solution. It focuses on membership management, email marketing, payment processing, event management, and more. You can also get access to eCommerce tools.
However, the platform shines through its fundraising and donor management functionalities.
Why Use CharityEngine for Donor Management and Fundraising?
The platform gives you a bird's eye view of your donors and offers the tools necessary to raise more funds and encourage recurring donations.
For instance, CharityEngine's eCommerce tools include automated fulfillment notices and receipts, inventory tracking, recurring donation programs, and more. You also have the option to enable automated billing for long-term donors, create customized landing pages and donor forms, etc.
Features
Email marketing automation
Custom email templates
Membership management
Grant management
Event management
Limitations
Users report occasional bugs, clunky UI, and sometimes unreliable customer support.
Pricing
Standard: $350-$700/month
Professional: $700-$1500/month
Enterprise: upon request
Pricing varies based on the number of contacts, sent emails, and your organization's projected annual revenue.
Best for Building Landing Pages: Fundly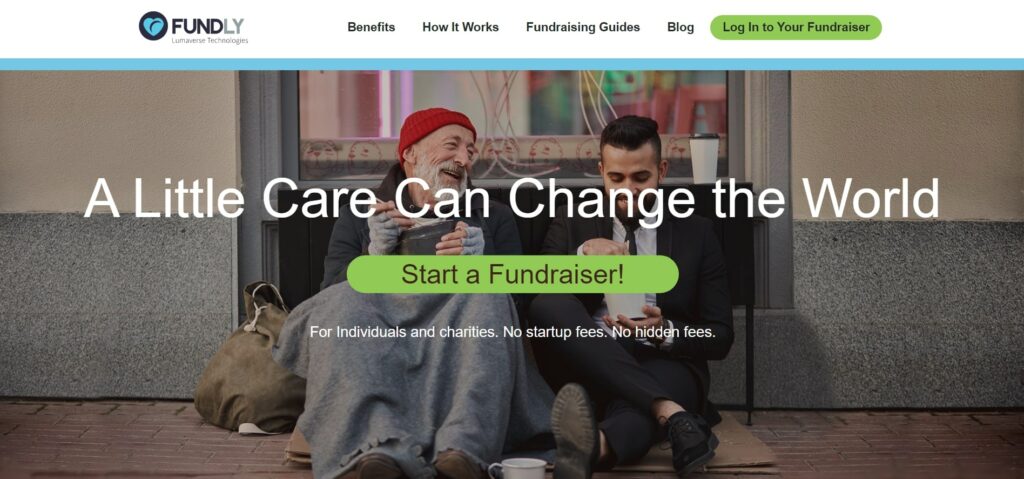 Fundly is a nonprofit CRM solution that features a landing page builder. This platform allows you to quickly deploy responsive fundraising pages that contain embedded videos, comments, images, and more. Moreover, Fundly integrates with Facebook and gives you access to analytics and reports.
Why Use Fundly For Landing Pages?
Setting up a fundraiser landing page with Fundly doesn't get any easier. Simply add your campaign title, set your fundraising goal, write a description, add a couple of images or videos, and you're done!
After that, you can easily monitor page views, identify donor trends, and even where most donations come from.
Features
Analytics
Social sharing
Campaign milestones
Offer perks and donation levels
Embed forms, cards, and buttons to your page
Limitations
Fundly's page builder is very basic. It offers limited customization options and its features don't come near to other page builders, like Wix. However, if you wish to set up a fundraising page in just a few minutes, Fundly gets the job done.
Pricing
Fundly is free. However note that its payment partner, Stripe, takes 2.9% + $0.3 for each transaction.
Best for Donor Retention: Bloomerang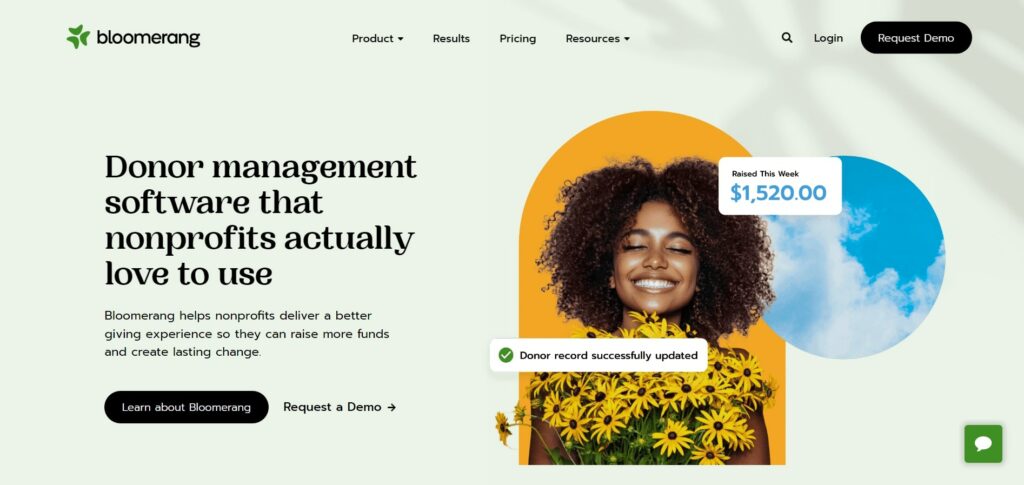 Bloomerang is a straightforward nonprofit CRM that helps organizations keep track of their donors, identify major donors, and generally improve donor retention. The platform includes a mobile app, marketing tools, reports, and integrations with various apps, like Quickbooks, Mailchimp, etc.
Why Use BLoomerang for Donor Retention?
The nonprofit CRM solution has a pretty handy functionality, the engagement meter. In short, this feature examines your donors' past interactions with your organization to determine how interested they are in your nonprofit. Bloomerang also uses wealth screening to identify major donors.
Features
Supporter engagement tools
Social media listening
Data segmentation
In-depth reports and analytics
Custom landing pages and forms
Limitations
Users report that the platform can be quite clunky, while the platform's email marketing functionalities are lackluster. For instance, the email builder lacks customization options.
Pricing
There's a free version available. Note that pricing depends on the number of records you have and your yearly revenue. As such, pricing starts from $19/month and goes up to $599/month. You can also get a custom quote if you have over 60000 records.
Best for Membership Management: WildApricot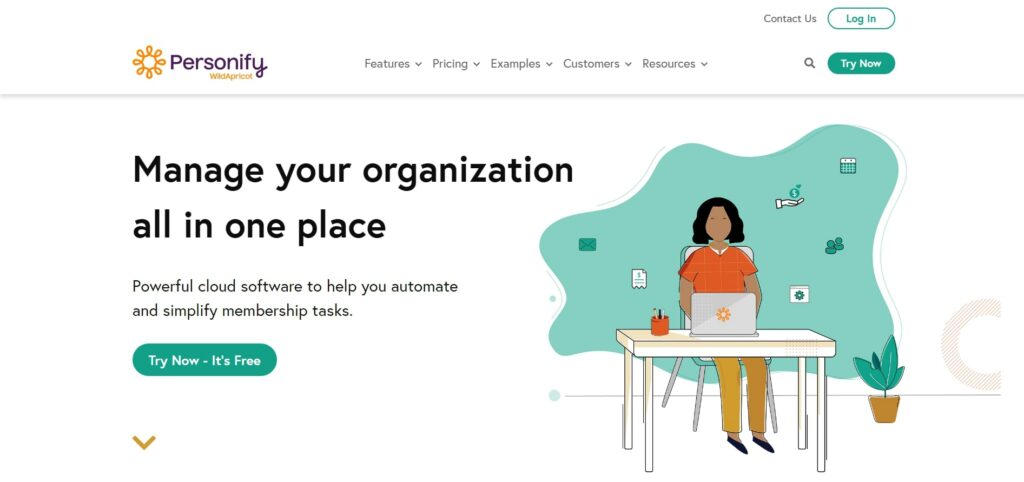 WildApricot is a fully-fledged membership management tool that aims to take most administrative tasks off your hands. The platform includes a website builder, contact database, event management, and more.
However, the stand-out is its online store functionality. You can quickly manage orders and list products directly within the software.
Why Use WildApricot For Membership Management?
WildApricot makes things easy. It includes a member database so you can easily search, add, and update new members. Aside from that, you can fully automate the member application process and membership renewals.
Moreover, you can build member-only pages to improve supporter engagement, add membership levels, and set up automatic welcome emails.
Features
Website builder
Online store
Event management
Payment system
Communications system
Limitations
Integrations are limited and the platform doesn't feature any outreach tools.
Pricing
Free (up to 50 contacts)
Personal (up to 100): from $40.80/month
Group (up to 250): from $51/month
Community (up to 500): from $93.50/month
Professional (up to 2000): from $161.50/month
Network (up to 5000): from $297.50/month
Enterprise (up to 15000): from $357/month
Over 15000 contacts: upon request
Best for Automation: Keela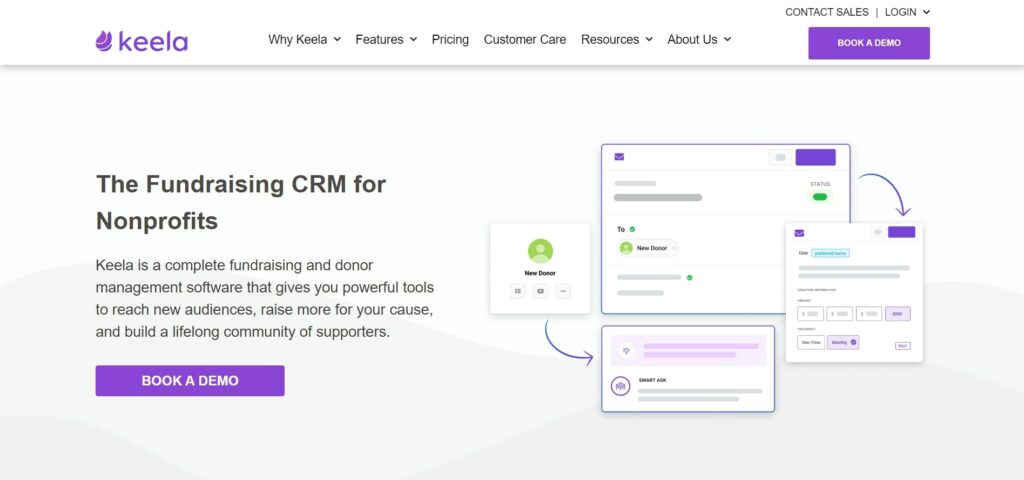 Keela is a straightforward nonprofit CRM software solution that handles donor management, fundraising, and marketing communications. However, the platform shines through its automation and AI capabilities. Keela is designed to take most repetitive work off your hands, so you can be more productive.
Why Use Keela For Automation?
Keela features various time-saving tools. For instance, the platform will automatically detect and delete any duplicate contacts, making the donor management process that much easier.
Additionally, contact info from donation forms will automatically port over to your donor profiles, marketing tools, and reporting dashboards to help you remain up-to-date and minimize any data entry errors.
You can also set up automatic receipts and thank you letters for your donors after each contribution to boost engagement and encourage recurring donations.
Moreover, Keela's AI-powered functionalities handle lead scoring, determine when a prospect is most likely to donate within the next two weeks, pinpoint a prospect's preferred marketing channel, etc.
Features
In-depth automation and AI capabilities
Peer-to-peer fundraising
Project management
Donor management
Email marketing
Limitations
Keela could do with more integrations. The platform currently integrates with 12 other apps, like Paypal, Mailchimp, Zero, and Quickbooks.
Pricing
Pricing depends on the number of contacts you have. It starts from $90/month for 1000 contacts and it can go up to $1250/month for 150000.
Best CRM for Nonprofits: FAQs
What does CRM mean in nonprofits?
Generally, CRM stands for "Customer Relationship Management." However, in terms of NPOs, this can be translated as "Constituent Relationship Management." The word "constituent" refers to your organization's supporters.
What does a CRM do for nonprofits?
Nonprofit CRM software help nonprofits to better manage their contacts, donors, or volunteers. As such, CRMs for NPOs play an important role in enhancing an organization's relationships with its donors.
Why does a nonprofit need a CRM?
Nonprofit CRMs organize data more effectively, get a better view of the organizations' activities, manage and improve supporter relationships, and enhance fundraising activities.
What should a nonprofit CRM look like?
CRMs for nonprofits should be easy to use and affordable. On top of that, they should capture and keep track of information about donors, members, and volunteers to help your organization make the right decision and identify the most valuable prospects.
What CRM do nonprofits use?
There are plenty of software solutions specifically designed for NPOs, like Kindful, NeonCRM, Blackbaud, and more.
What is the highest-rated CRM for nonprofits?
Monday.com Sales CRM. Although not specifically designed for NPOs, this platform includes everything an NPO needs. It's affordable, easy to use, integrates with plenty of marketing, communication, and project management tools, and also includes NPO-specific templates.
Is Salesforce good for small nonprofits?
Yes, but larger NPOs may have more to benefit from this platform. Salesforce includes a wide selection of advanced features and is highly customizable. However, due to its complexity, the platform may feel a little overwhelming for smaller NPOs.
Is Salesforce good for nonprofits?
Yes, the platform is packed with advanced features, and customization options, and includes a plethora of integrations. You can automate repetitive tasks, create personalized marketing campaigns for specific donor groups, and gather AI-driven insights regarding your donors.
Is Salesforce nonprofit free?
No, but you can get ten free subscriptions through the Power of Us Program. Find out if you're eligible here!
Is Bloomerang a CRM system?
Yes, it includes a donor database, marketing tools, online giving tools, reports, and more — All the tools you can expect from a nonprofit CRM solution.
What is a fundraising CRM?
A fundraising CRM acts as a database where you can manage donor and fundraising campaign information.
What is the best CRM for small nonprofits?
Zoho CRM is a CRM solution perfect for small NPOs. It's affordable, easy to use, and brings excellent value for money. It allows organizations to create targeted campaigns, manage their online presence, and gather a 360-degree view of their data.
Conclusion
Moday.com Sales CRM is the best nonprofit CRM overall. The platform is affordable and packed full of features, like centralized communication, pipeline management, project management, and in-depth reports.
This doesn't mean this may be the best option for you, though. There are plenty of other options designed to fulfill specific needs, like the ones mentioned in this list. That said, make sure to examine your organization's needs prior to making a decision.