monday.com is one of the best-known project management software, with a strong CRM feature set. In this guide, we'll take a look at some of the most important features offered by the monday.com sales CRM software that businesses can use to drive sales and improve customer engagement. We'll also cover monday.com's CRM pricing and how to use these CRM features.
As a grand overview, monday.com is jam-packed with features for both project management and CRM. It's our top recommended project management tool and our favorite best customizable CRM software for businesses of all sizes.
You can use monday.com Sales CRM software here for free!
In the following, we'll break down monday.com CRM features and how to use them for your businesses.
The 12 CRM features of monday.com that can help with customer relationship management
monday.com CRM software provides a central database and customizable customer portal that help you track leads, manage sales processes, automate tasks and customer responses, track project progress, and more. These 12 features, in particular, are our favorite CRM functionality monday.com offers that will help you drive sales and improve customer support.
10x Your Productivity | monday.com
Monday.com is a cloud-based project management tool that helps teams manage their workflow and collaborate more effectively. It provides a visual overview of your team's progress, making it easy to identify bottlenecks and areas for improvement. It's a great option for teams looking for a flexible and intuitive project management solution.
Pros:
User-friendly interface that allows for easy task and project management

Customizable templates for various industries and functions

Integration with popular apps like Slack, Google Drive, and Trello

Visual overview of team progress and project status

Flexible and intuitive project management solution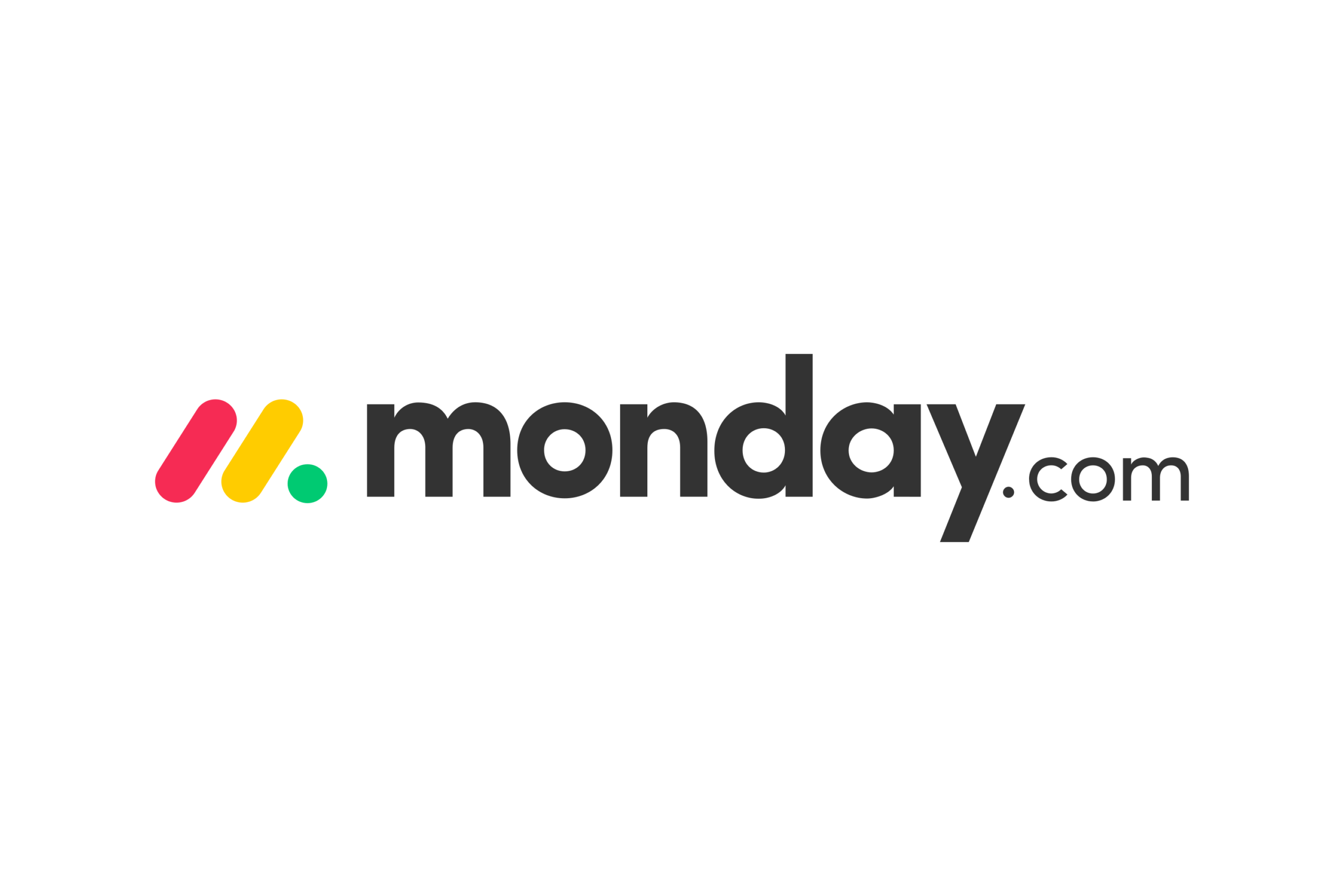 Lead management
You can use monday.com CRM to manage leads effectively and keep all lead information in one place. For example, you can collect leads on your website, through FB campaigns, or via other sources, centralize and qualify every lead in your monday.com sales CRM database.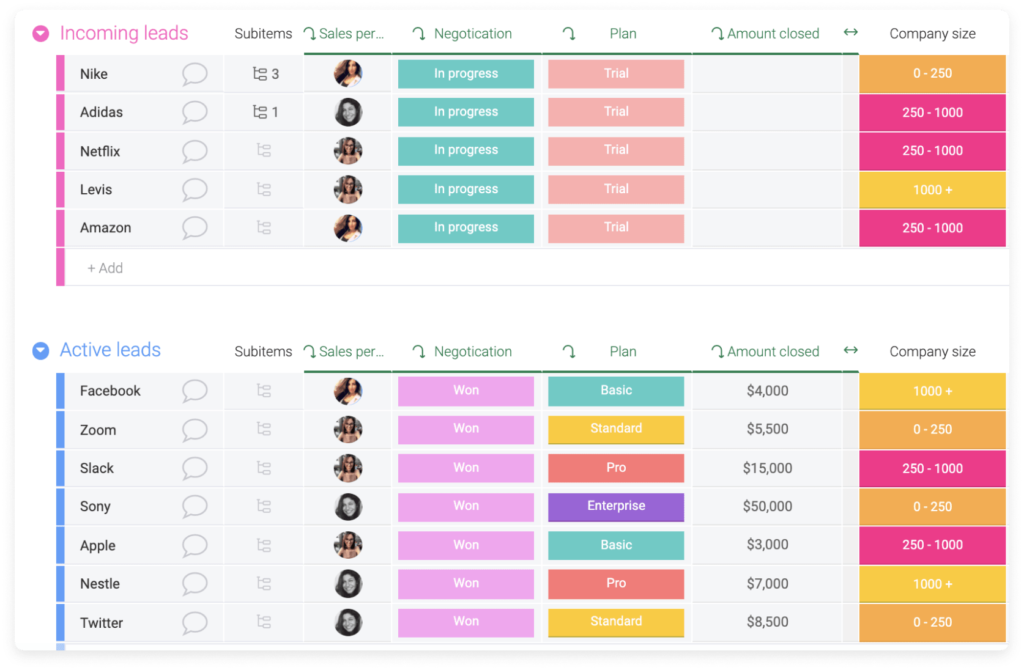 Furthermore, you can automate follow-ups and use email templates to communicate effectively with leads when they enter your funnel.
monday.com dashboard features 50+ customizable columns to organize sales pipelines, as well as a simple drag-and-drop interface to quickly create new pipelines and move prospects between stages. You can create unlimited stages and customize the pipeline to fit your sales process.
Account and contact management
One of the most important CRM features is to gather and show all relevant information of a contact in one place. monday sales CRM does just that. You can get a 360° view of your customers, keep a record of your contact and account information, log activities, and send emails from your portal.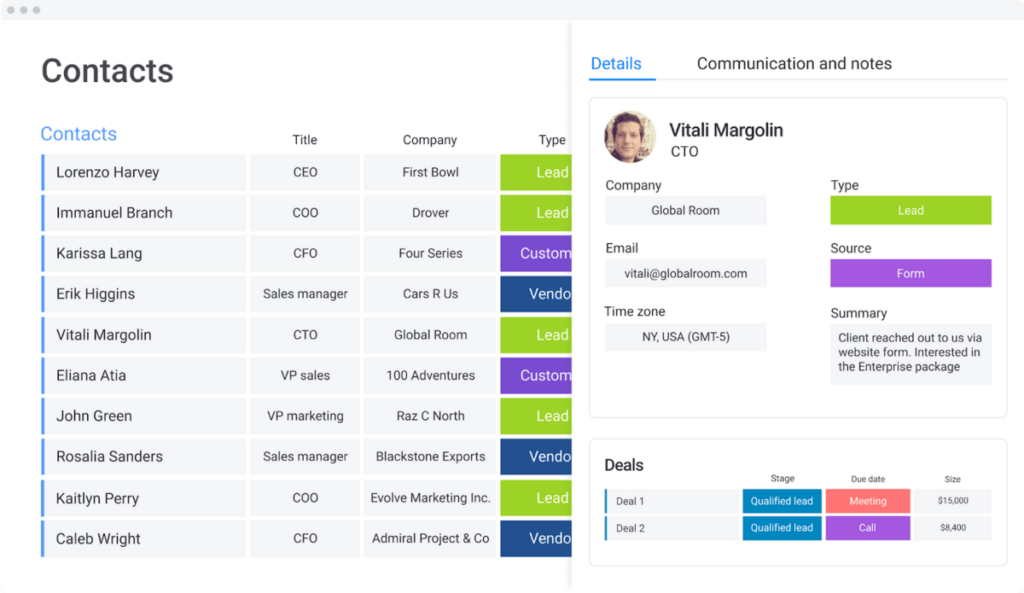 Moreover, you can use a visual view to access all past interactions, deals, projects they're associated with, and more. You can also add notes and tag contacts based on a specific role or criteria you might want to include for reporting purposes.
Deal management
To effectively manage your sales efforts, every sales manager would want to visualize the deal pipeline. With the monday.com sales deal management feature, you can easily see where deals stand with a visual pipeline. You can even customize your pipeline without the need for a developer, drag and drop deals between stages, automate manual work, and track all contact interactions in one place.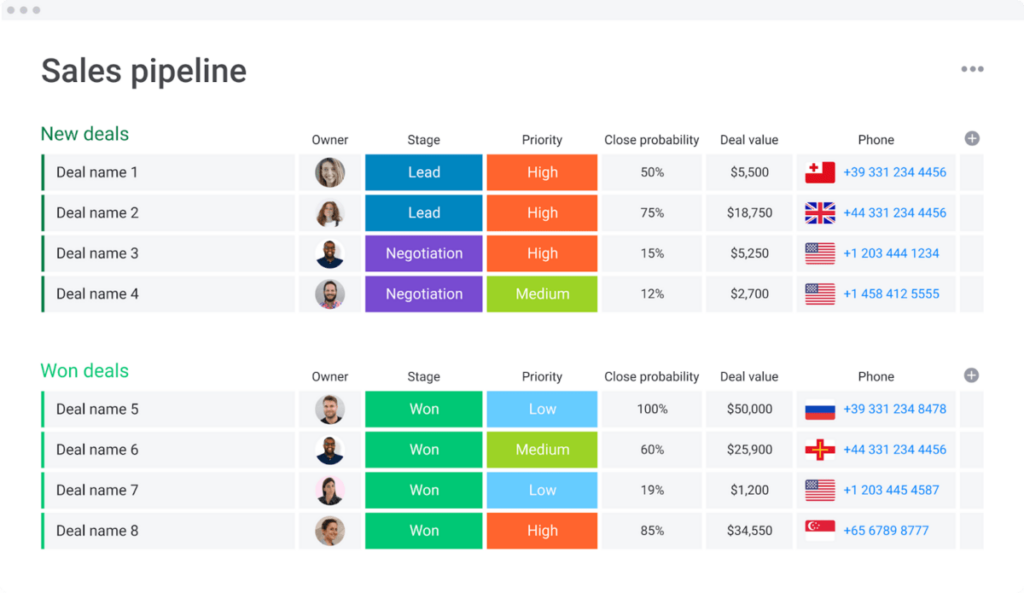 Moreover, you can use the opportunities feature in monday.com sales software to easily convert leads to qualified opportunities and manage each sale funnel stage from opportunity to closed deal.
Sales forecasting
monday.com sales software allows you to track forecast deals, predict close dates, and forecast revenue so you can keep track of your sales projections easily.
All you need to do is to set the deal value and close probability, then leverage reports to track forecast vs. actual sales, and drill down forecast by month, sales rep, or any other criteria. You'll also be able to compare estimated wins vs. actual wins and adjust future forecasts accordingly.
Additionally, monday.com sales CRM allows you to set up rep quotas and forecast sales based on those quotas.
Sales analytics
monday.com provides you with real-time insights into the performance of your sales teams and individual sales reps to help you make data-driven decisions. monday's sales analytics dashboard gives you an overview of the key metrics you need to grow your business such as total new contacts, sales won and lost, and trends over time.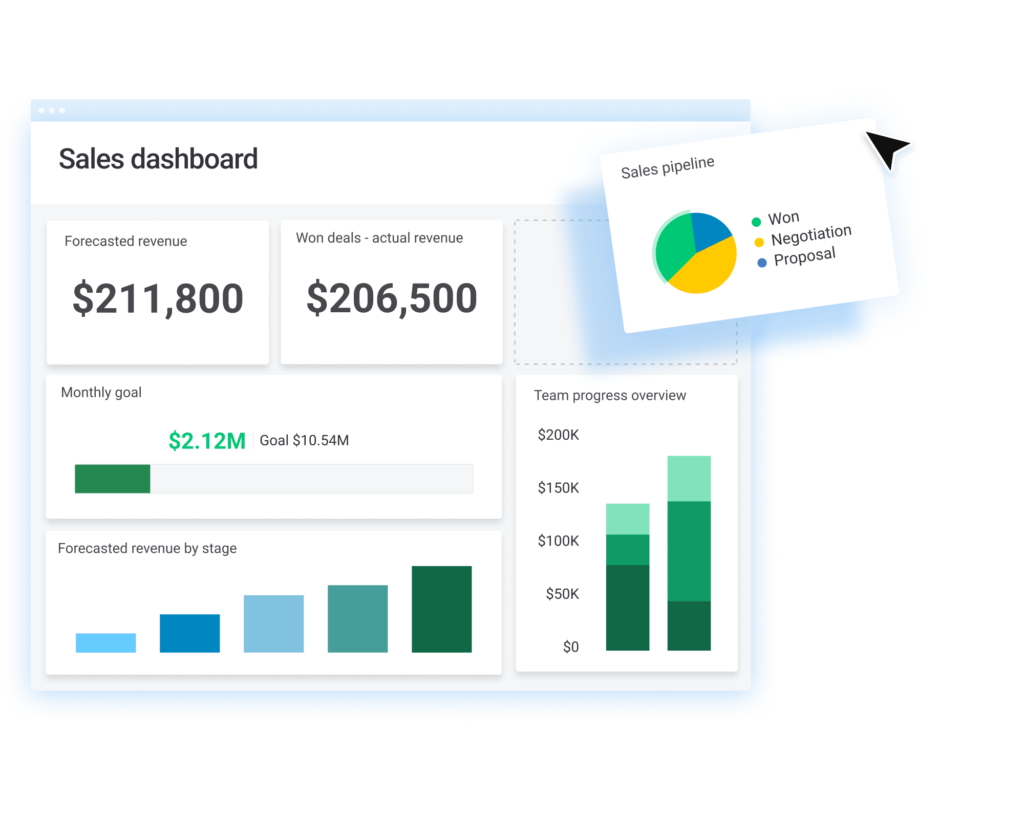 You can gain immediate insights into your sales pipeline status, sales forecasting, team performance, activity status, and more with fully customizable pre-built dashboards.
Furthermore, you can set team goals to manage your team's quotas and track attainment over time.
Post-sales
When a deal is closed in monday.com sales CRM, it automatically moves to the Post-Sales stage so you can track all activities associated with the account.
With the account management feature, you can track the onboarding progress of your clients and manage renewals.
For every won deal, you can manage and track your client projects within monday.com CRM to calculate billable hours, send quotes, and collaborate with stakeholders across all teams.
Sales operations
Sales Operations involve improving the efficiency and effectiveness of a sales team and the processes they use to generate revenue for the business.
monday.com sales CRM includes a built-in Sales Operations module. The module enables you to manage your team's daily activities, track progress against goals, manage pipelines, and provide coaching and feedback.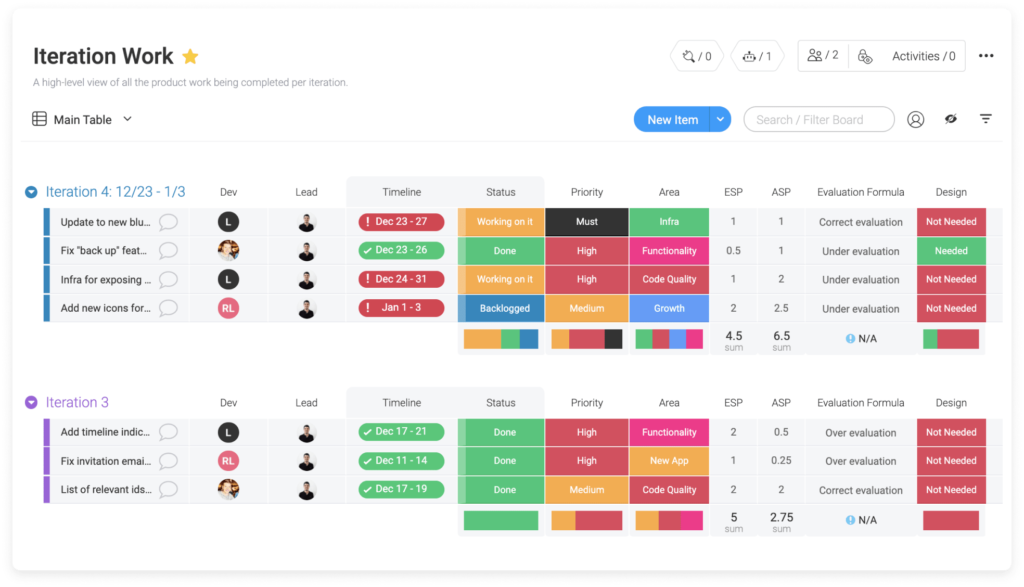 Additionally, the module helps you manage the entire customer journey from prospecting to sales to retention, including account management, lead management, project and campaign management, and client onboarding.
monday.com's Sales Operations module also tracks sales metrics such as sales pipeline, win rate, lost deals, missed opportunities, and sales forecast to help you run your business more effectively.
Here are some sales operations processes monday.com helps businesses manage:
Headcount planning: Plan, track, and manage your hiring to meet your goals on time.
Sales team onboarding: Plan and run a smooth onboarding process for every new rep on your team.
Sales collateral: Equip your sales team with up-to-date resources, knowledge, and sales materials to get them ready to start selling.
Documents for sales: Create a library of all the documents you need to close deals, including legal, security, financial, and more.
Legal and security requests: Work with your legal and security teams in one secure place to review and update contracts and statuses.
Automation
monday.com automates repetitive tasks to help you save time and focus on activities that drive results for your business. For example, you can create templates to automate tasks like tracking emails or responding to leads, so you never need to lift a finger again.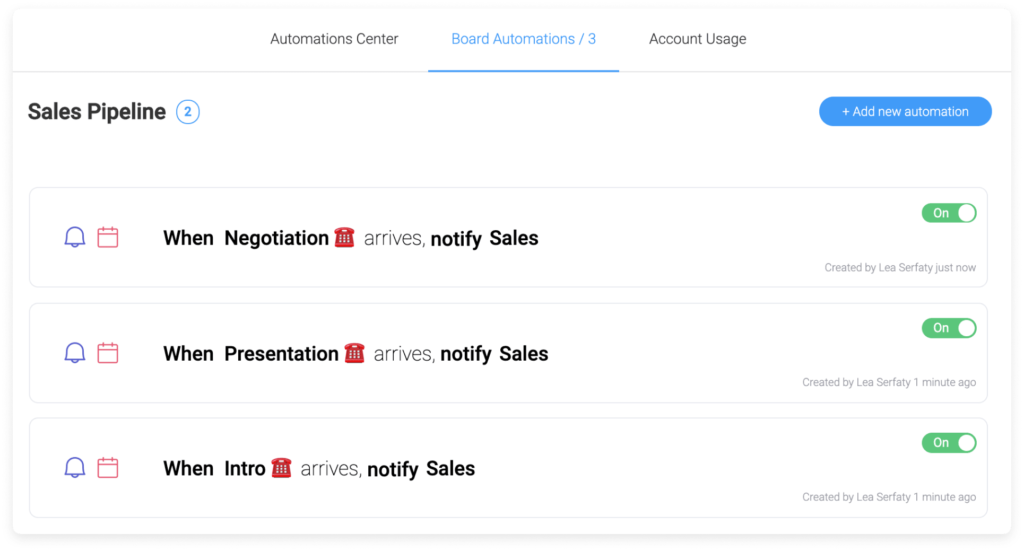 You can also automate business processes like contract approval based on set rules so that you don't have to go through these tedious manual steps each time a new request comes in.
Here are some more examples of automation you can do: assign leads to reps, set reminders for upcoming activities, and receive follow-ups based on time passed, and more.
With monday.com sales CRM, you can save valuable time and close more deals by automating repetitive, time-draining, manual work. This means you'll have more time to focus on activities that drive results for your business.
Activity management
From forecasting to managing accounts to communicating with customers, monday.com helps you stay on top of key activities in your sales cycle so that you can stay focused and drive the results you need.
For example, you can see an overview of all your open activities and follow-ups all in one place, so you can keep your pipeline full and win more deals.
You can also log and track all activities such as calls, meetings, and more in your monday sales CRM dashboard. This makes it easy to track your progress and manage daily activities from one place.
Email templates with custom parameters
Every salesperson wants to keep their prospects and leads engaged – but who has the time to draft the perfect email? monday.com lets you send personalized messages at the right moment with the right content every time.
You can save time by sending out pre-defined, fully customizable email templates. Each template can have multiple variables such as name, job title, company name, industry, and more so you can personalize your message for each prospect or lead.
You can also save templates for different types of opportunities, including cold outreach emails for prospects and warm outreach emails for existing customers.
You can leverage this time-saving feature by setting your workflows to automatically send out the right email at the right time to each of your prospects and leads. So you'll always be building strong customer relationships and turning leads into loyal customers.
Quotes & invoices
Invoicing your customers can be time-consuming, which is why monday.com automates the process for you. With just a few clicks, you can create and send professional-looking quotes to your customers in just a few minutes. You can then attach these quotes to your monday.com sales CRM activity, so you never have to worry about losing track of a customer's quote or proposal again.
You can even integrate your email system to automatically send invoices to customers once a project is complete. Your customer will receive a notification in their inbox letting them know that their invoice is ready and they'll be able to pay online using their preferred payment method.
Third-party App Integrations
monday.com supports a wide variety of third-party app integrations so you can get even more value from the platform. These integrations allow you to link your other apps to your monday.com account so that you can access and manage your customer data from one convenient location.
You can connect all the apps and tools you already use — like Salesforce, Gmail, Outlook, Hubspot, Mailchimp, and more — to streamline your sales cycle.
You can also use monday.com with Zapier to integrate your CRM with your accounting and invoicing tools, helping you streamline and automate key business processes.
monday.com Sales CRM Pricing
monday.com sales CRM offers five pricing plans to choose from depending on the features and number of users you need. All paid plan requires at least 3 user seats. When paid annually, you'll save 18% off the monthly subscription plan.
Individual: it's free forever for up to 2 users, 1000 contacts, and web forms to capture leads
Basic: $12.5 per user per month (or $10 per user per month when paid annually) for unlimited customizable pipelines, contacts, boards, templates, and free viewers, and you can create a dashboard based on one board.
Standard: $17 per user per month (or $14 per user per month when paid annually). This is the most popular plan since it includes automation and integration features. You'll also have access to advanced accounts, contact and deal management, sending quotes and invoices, and a custom dashboard that combines five boards.
Pro: $30 per user per month (or $24 per user per month when paid annually). This is the most comprehensive plan that includes all features from the Basic and Standard plans along with sales forecasting, email tracking, automation, Google Calendar sync, customizable email signatures, and perform 25k automation and integrations actions respectively.
Enterprise: You'll need to contact the sales team to get a quote. Essentially, you'll get enterprise-scale automation and integrations, enterprise-grade security and governance, multi-level permission, and HIPAA compliance alongside lead scoring and team goals feature with this plan.
Check monday.com Sales CRM pricing here and get started for free!
Why monday Sales CRM?
To conclude, here are a few key benefits of the monday.com sales CRM solution:
Quick setup and fast adoption: with monday.com sales CRM's visual and intuitive interface, getting started is easy and doesn't require onboarding dedicated developers.
Customizable to fit any business need: easily tailor any sales pipeline, workflow, and process you need to drive real business impact.
Automate manual work: with monday sales CRM you can automate repetitive work and save your team valuable time.
Manage the entire sales cycle: an end-to-end CRM that allows you to manage every aspect of the sales process: from leads and contact management to sales pipeline, post-sale processes, and sales enablement. It's one of the perfect tool for sales management.
Keep everything in one place: a centralized platform that instantly gives every manager and sales rep the insights they need with visual real-time dashboards and reports.
Make data-driven decisions with real-time tracking and reporting: get immediate insights into your sales pipeline status, track sales forecasting, team performance, and more.
Better cross-team collaboration: as sales managers, you and your team have different stakeholders from other departments, with monday sales CRM you can collaborate, manage requests and communicate on the same platform where you are working.
Focus on the data that matters to you: no more working with endless screens and fields – save time by defining, collecting, and organizing the exact sales data you need.
monday.com Sales CRM FAQs
Is monday a good CRM system?
Yes, monday.com is a good CRM system for businesses. With monday.com's all-in-one sales CRM solution, you get everything you need to run your business and grow it faster. Everything you need is in one centralized place where you can collaborate on deals and manage deals in real time. And the automation capabilities mean less manual work and more time for selling.
Does monday integrate with CRM?
Yes. While monday.com offers a native CRM solution, it also integrates with other CRM software like Salesforce and HubSpot. When you connect monday.com with your CRM of choice, you can keep your leads in sync and add new leads seamlessly to your CRM dashboard.
How do you use Monday as a CRM tool?
Although monday.com started as a project management tool and a work management platform, it's now evolved into an all-in-one sales tool as well. monday.com prides itself as a Work OS, and that's not without reasons. One of its best features is the ability to manage your whole sales process in one centralized place.
You can start using monday.com as a CRM tool by getting started with its CRM plan. The CRM plan includes features like lead capture forms for landing pages, smart segmentation for easy lead grouping and management, customized workflows to automate your sales process, built-in reporting and analytics for your sales team to get valuable insights into their business and make data-driven decisions.
What is a CRM software?
CRM (Customer Relationship Management) software is a set of tools used to manage and analyze a company's interactions with current and future customers. These tools help businesses create relationships with potential customers, maintain current customer relationships and generate new business through effective sales and marketing initiatives.
Is Monday.com good for marketing?
Yes, monday.com is good for marketing purposes. monday.com offers various templates for marketing department, such as marketing budget, lead generation, promotion campaign or trade show follow up, etc. Also, with the monday.com integration feature, you can integrate data from other platforms and keep all customer information in one place.
Do project managers use CRM?
The role of a project manager has evolved over the years from that of a coordinator to that of a business strategist and an entrepreneur. Project managers are now responsible for driving business results by setting and achieving project goals while effectively managing resources. This is where CRM tools come into play.
With CRM tools, project managers can monitor all aspects of a sales project and ensure that it is completed on time and within budget. They can also track and assign tasks to the appropriate team members and manage the project's budget to ensure it stays within a certain budget.
So yes, project managers use CRM software. It's also what makes monday sales CRM stand out as it can be used by both project management and sales team members.
Conclusion
monday.com sales CRM is an affordable solution that provides the tools you need to manage and optimize your sales process. Check our full monday.com CRM review to learn more about the product and how it compares against other CRM software.
Overall, we think monday.com sales CRM is a powerful and affordable solution that can help you manage your sales process effectively and drive more revenue for your business.
You can get started for free with its free forever plan or try any of its paid plans for free with a 14-day trial. It's easy and quick to get started with its pre-set CRM template.