If you're looking for a project management software, chances are you've come across monday.com, a project management tool for teams of any size – small businesses or large corporations alike.
With its simple interface and clean design, it's highly intuitive and user-friendly for your team to track project goals, manage processes, and communicate more effectively.
However, is it as good as it sounds?
In this monday.com review, you're going to learn about the pros and cons of the project management software Monday, how much it costs, what features it has, its alternatives and whether or not this service would be worth investing in.
Here's an in-depth review that will help you decide if Monday should be your next project management tool!
What is monday.com?
monday.com is a project management software that powers teams to run projects and workflows with confidence, but it also covers most features you need for your team – whether they're working remotely or in-house.
It's highly customizable, so there'll be something for everyone. From startups looking to collaborate on ideas seamlessly across time zones to scalably growing companies who want transparency while still setting clear boundaries between different departments without compromising workflow efficiency.
Monday.com is like a personal assistant for teams to make teamwork click, which can be customized according to the needs of each team and project.
monday.com Review: Overview
There are several reasons why Monday.com ranks #1 on our list of the best project management software, and it has made impressive improvements in just about every area we look at when comparing top runners like this.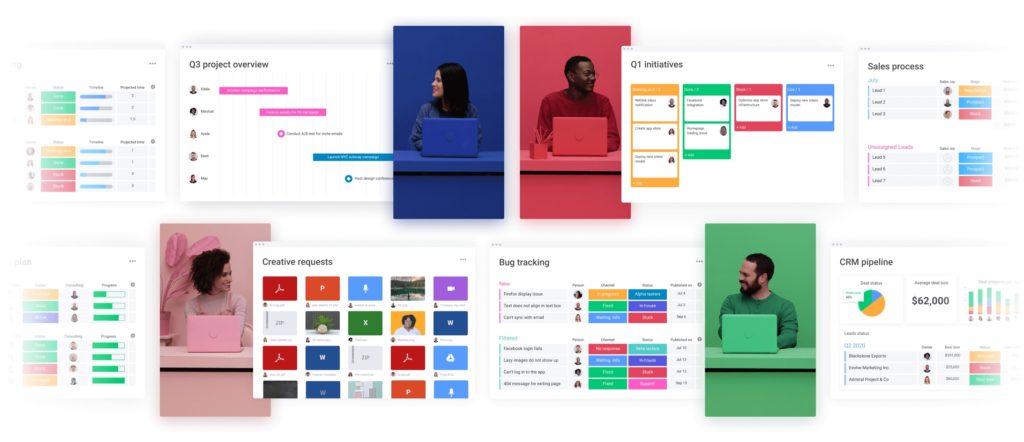 Since many people want to work with an affordable option that can scale as they need it to, they also have some high-end features for those looking for more robust options – all while keeping everything friendly enough. Hence, you never feel intimidated by them.
The software is packed with features that will enhance your productivity. It comes loaded with an intuitive interface, collaboration tools, timeline views for teams to plan and collaborate effectively on large projects in a single space without distractions or bottlenecks.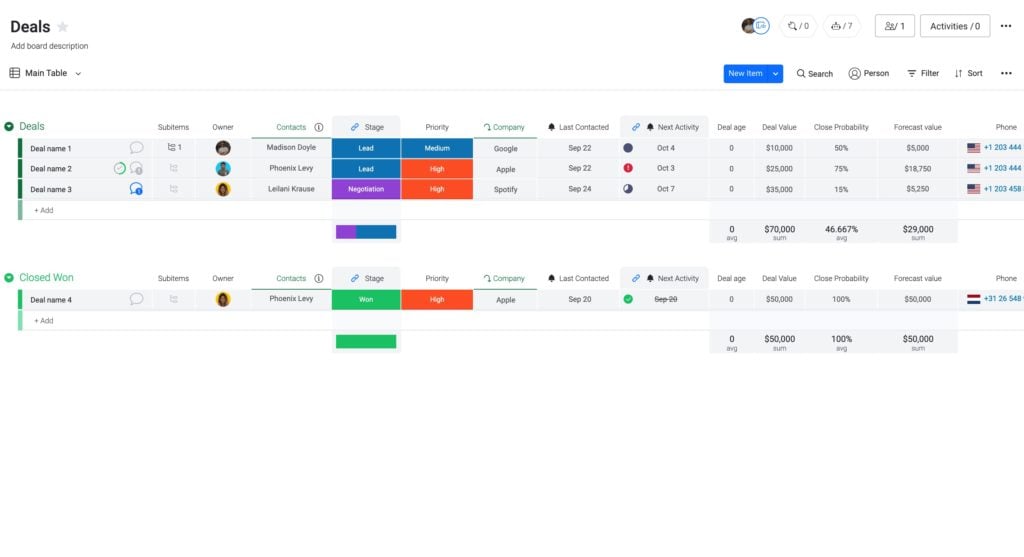 And it's not just excellent at what it does: the app also connects seamlessly out-of-the-box to dozens of apps you already use, including Slack, Microsoft Team, Google Drive, Gmail, and more!

Whether you're a freelancer, enterprise organization – there are plenty of reasons why Monday.com is an excellent choice for you.
Monday.com is our top pick for the best project management tool, but it's not without its faults! The good outweighs the bad in this case, though – we've loved using Monday to help get projects done and on track.
Use Monday.com for Free here! No credit card is required.
Before we review Monday.com's Pros and Cons further, it's helpful to know how much it costs and its feature first.
Monday.com Review: Monday.com Pricing
With Monday.com, you can choose from four different packages tailored to your business needs and project management style.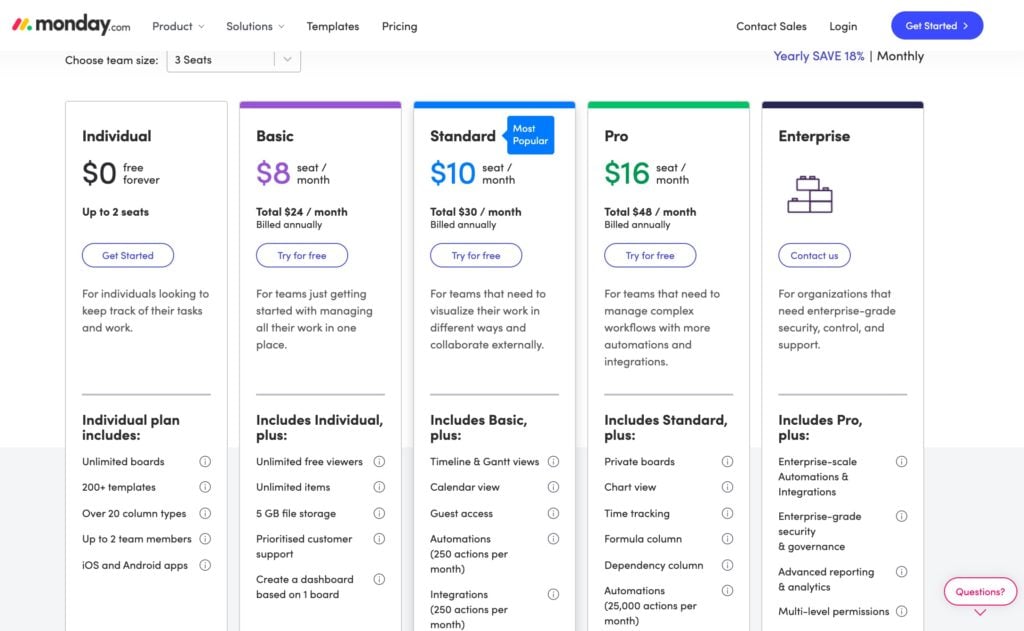 The Basic plan: Starts at $8/month, is perfect for small startups or businesses with a few projects on the go at any one time;
The Standard plan: Starts at $10/month, offers more support than basic but not as much as Pro;
The Pro plan: costs $16/month, covers pretty much all features Monday.com has to offer;
The Enterprise plan: And finally, Enterprise will help enterprise-level organizations streamline their workflows by integrating all of their functions into an easy-to-keep track of system!
Monday.com Free Plan
Yes! Monday.com offers a free forever plan!
For those looking for an affordable and convenient way to organize projects, Monday.com is perfect! The best thing about the software is that it's free — with its individual plan with two users, unlimited boards, 200+ templates, 20 column types, as well as mobile apps available on Android or iOS platforms.
Use Monday.com for Free here! No credit card is required.
Monday.com Basic Plan
Whether you're just starting or looking for a way to manage your team, Monday Basic is the perfect solution. Starting at $8 per user per month, it offers unlimited boards and templates and free viewers with read-only access. So it has everything that entry-level teams need at an unbeatable price.
There are plenty more features such as whiteboard collaboration, custom notifications, and embedded documents.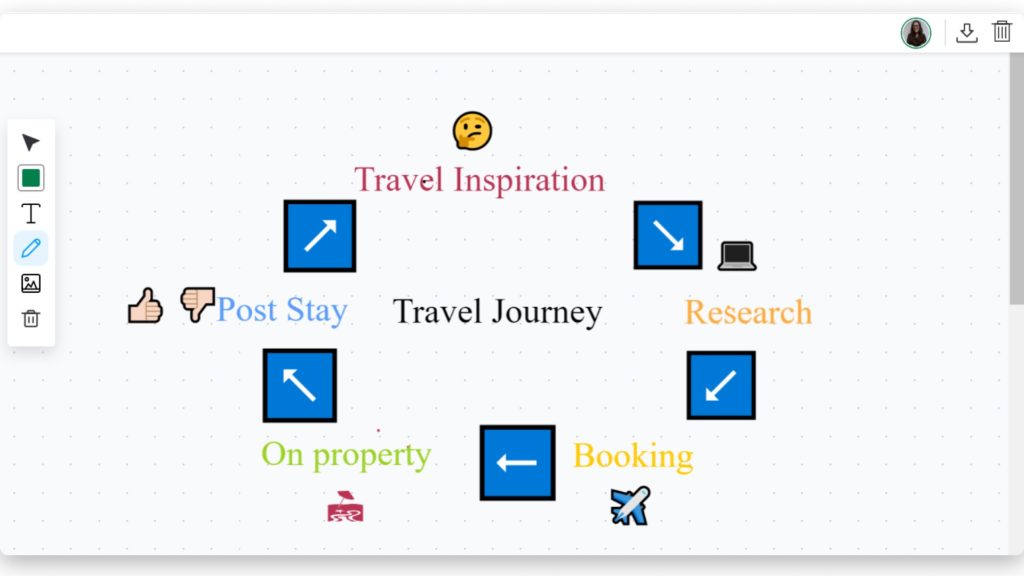 However, the Basic package only lets you create an individual dashboard, so if your team needs to pull information from multiple boards for one or several projects, this feature can be useless. You won't be able to integrate with third-party tools either. And there's no access to multiple board views like timeline view and Gantt charts or time tracking.
Monday.com Standard Plan
The Standard plan is the best option for those who want more than just basic project management. You'll be able to see your timeline, Gantt chart, and calendar with this choice!
Monday.com's Standard plan has many great features, such as integrations with up to 250 actions per month and automation for up to 250 actions per month.
It also allows you to create a dashboard so data from five different boards can all be combined on one screen simultaneously! This is an upgrade from the Basic level- it supports guest access too!
Monday.com Pro Plan
Using Monday.com Pro for larger teams or anyone managing complex workflows is an excellent option because it offers more automation and integrations than the Standard package does – up to 25,000 per month!
The Monday.com Pro plan is an excellent way to manage projects at a higher level using big-picture insights! For instance, you can use charts to see how team members perform and note workflow analytics that change over time.
Pro Plan can show project managers what each member's workload looks like on any given day or week. As a result, it becomes easier for them to get things done and balance work among their employees. So everyone has enough downtime from deadlines without feeling overwhelmed by too much work all the time!
In addition, it provides private boards, unlimited guests, and an activity log that lasts a year without limitations or restrictions at $16 per user monthly- making it an excellent value for most businesses!
Use Monday.com for Free here! No credit card is required.
Monday.com Features
Monday.com offers loads of features. Unfortunately, the number of features is limitless, that it's not possible to cover all of them here. So here are some of the top features to highlight for you.
Project management templates: made to suits different teams and workflow needs, such as marketing, sales and CRM, design, content management, human resources, and software development.
Dashboards: summaries and reports to give you a high-level view of everything.
Automation: auto assigning owners, creating items in other boards, etc. Automation templates are available to help you set up in seconds
Workflow management and visualization: you can see different visualizations of projects without switching between tabs
Team management: different levels of account access settings and permissions available
Document storage
Communication management: commenting and notes on tasks and projects
Alerts and Notifications
API
Monday.com Review: Pros of Monday.com
Multiple project views for easy visualization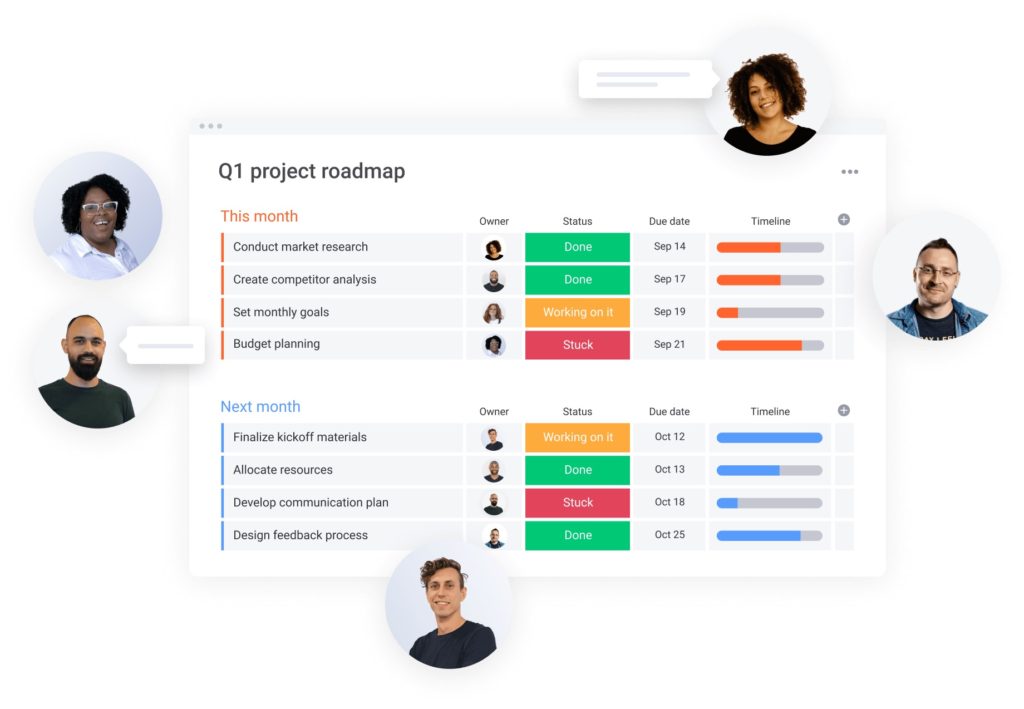 Monday.com is a fantastic tool for visualizing project boards in the way that works best for you! With over a dozen different types of visuals, like Gantt charts, timeline view, kanban, and more, to choose from, it's easy to change up your perspective whenever necessary- making it easier than ever before to stay on top of whatever task needs completing next.
Robust integrations
Monday.com is a great way to manage your projects while minimizing the need for bouncing back and forth between platforms. This all-inclusive software syncs up with just about anything you would ever need it to, with third-party tools and apps like Slack, Dropbox, Zoom, Shopify, Google Drive, and more!
Rich project template library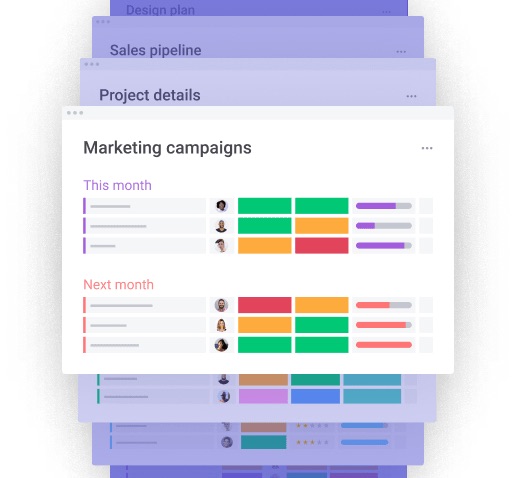 One of the best features about Monday.com is that it has templates for anything! This makes project management so much easier because you don't have to start from scratch with new projects and simply choose a template based on your needs, then customize accordingly.
There are even templates available for managing advanced projects by different milestones – whether you're working on single or complex tasks, Monday.com will make sure they stay organized all in one place!
Built-in time tracking
A successful team has a good understanding of how their time is spent. Tracking the daily tasks will help you understand your team's productivity and bill clients accurately for work done.
This can be achieved by using Monday.com, which lets users track task times easily, so they're able to analyze project duration more effectively!
To start tracking activity on any given page within a dashboard, just click "start" when beginning each new action. It's easy to see what percentage of total hours are being used in various areas at a glance. You can also export essential data from projects as needed (like billing).
Easy-to-setup automation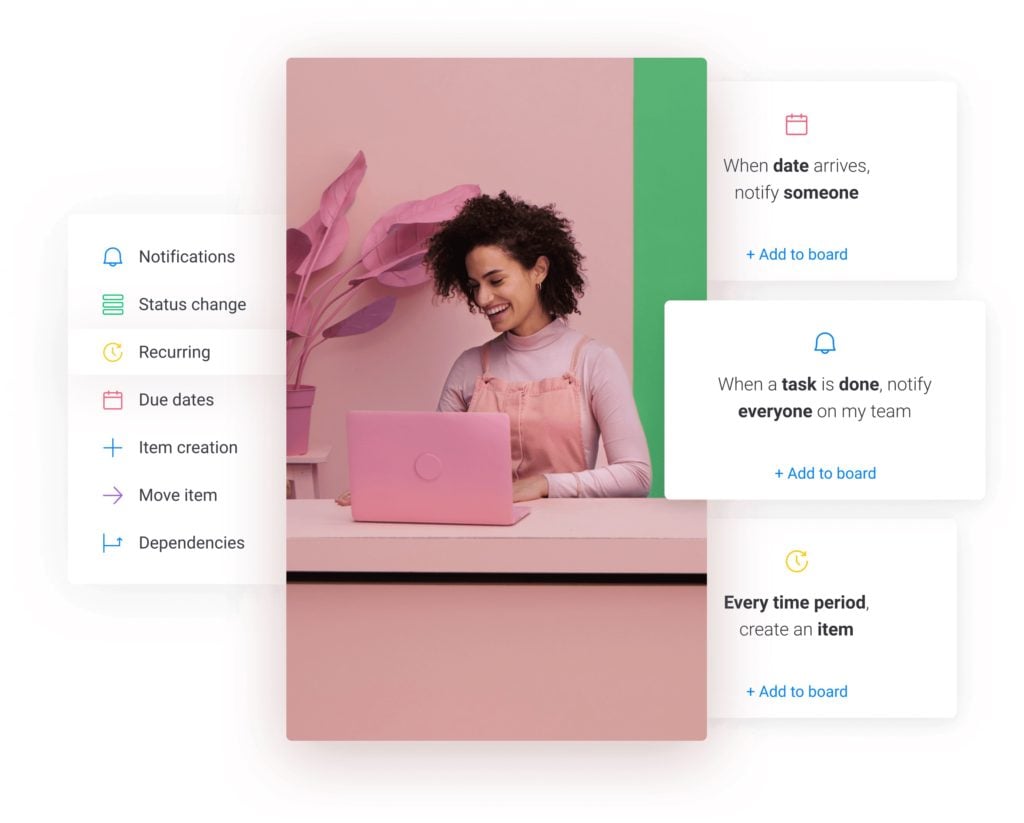 Monday.com is a great way to automate tedious, repetitive tasks with its easy-to-setup automation tools that can be applied across boards and rules. For example, an overdue task notifies the project owner automatically.
Intuitive and user-friendly
The software is so easy to use that your team will not have any trouble navigating. Whether you are a veteran or a newbie, Monday's intuitive interface makes it straightforward for anyone on the team to be successful using this platform.
There is 24/7 live chat support available if there are difficulties when working in the program. Still, luckily these issues can also usually be solved easily thanks to video tutorials found within their extensive library of documentation materials with troubleshooting tips already included!
Dashboard reporting to facilitate decision making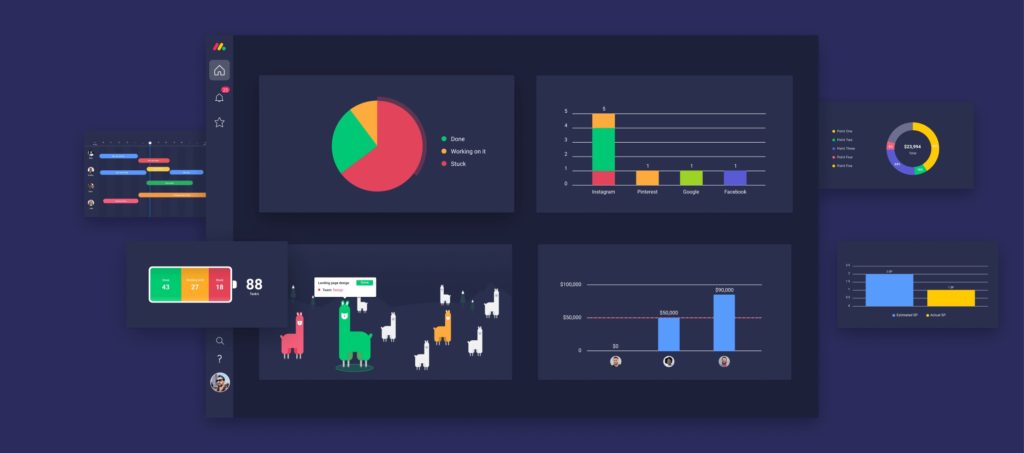 Monday.com provides decision-makers with real-time data and a centralized resource to keep the user updated on their progress, task statuses, and monthly budget all in one page. Monday even has built-in capacity planning so that project managers can view live updates accordingly!
Mobile apps to manage on the go
Monday.com will help you get more done faster. With the mobile app for iOS and Android devices, it's easy to stay on top of the details from your phone or tablet. In addition, it automatically syncs with your desktop so that when a change is made on one device, everyone else sees it – no matter where they are!
Use Monday.com for Free here! No credit card is required.
Monday.com Review: Cons of Monday.com
Difficult to track project goals
Project goals help you zero in on what you're looking for, and tracking them can ensure that we are going on the right track.
On Monday.com, almost everything depends on multiple boards like Gantt charts.
Therefore, it comes as no surprise that even goal management needs a whole new board called Roadmap, where they will be built from scratch or used with templates customized with different columns depending on your preferences.
Limited task dependencies
Monday.com's task dependencies are great because it is a critical feature in project management software that many lacks, but they're not too advanced to only set a date for one task to always start after the other and vice versa.
Limited features for entry-level plans
Monday.com has tons of tools and features, but you'll need to upgrade your plan if you want the most out of them! For example, Gantt charts or time tracking are only available for higher tiers – so make sure that's what suits your needs before upgrading anything. This is reasonably common in the project management software industry, though.
Monday.com Alternatives
Monday.com Review: Conclusion
If you've been looking for a project management tool that can do it all, then Monday.com is your new best friend. It's the most versatile option on the market today for project management. Between affordable plans with robust features, this is one of those products where quality meets good value. We hope this Monday.com review can provide you with some insights to choose your next project management tool!
Use Monday.com for Free here! No credit card is required.
Further reading:
Asana vs Monday – The Complete Comparison