As a project manager, you must have the best tools to manage your projects efficiently. There are some great Mac-based project management software options available that can help make your job much easier.
Today, we will look at the 12 best project management software for Mac users available on the market.
What is Mac Project Management Software?
Project management software for Macs is a set of tools designed to help teams keep track of their projects and efficiently use their time. These tools include various features that help streamline the workflow and increase productivity. Both individuals and teams can use them to stay on track with their projects and manage all communication in one place. Various tools and capabilities are available to help you easily manage all projects.
Marketing Project Management Tool Key Features
Key features are typically available in most project management software for Mac. Let's look at some of the common features of most such applications.
Project & Task Management
The task management feature allows you to assign individual tasks and track their progress. You can also attach files, create checklists, and share to-do lists. This makes it easier for you to assign tasks and stay on top of their completion.
Time Tracking
This feature allows you to create timesheets for your team and assign them tasks based on their available time. This makes it easier to track time and make sure everyone is working towards meeting the project deadline.
Document Management
This feature allows you to store and share your project documents with your team all in one place. You can upload, download, edit, and search for files quickly and conveniently through the program interface.
Team Communication
You can use collaboration tools to communicate with your team in real time via the program interface. This ensures that everyone is kept up-to-date and that discussions are centralized in one place.
Custom Workflows
Most project management programs allow users to create custom workflows to suit their needs. This allows you to structure your workflow in a way that suits your project best.
Integrations With Third-Party Tools
Many project management programs integrate with third-party tools such as Google Drive and Dropbox. This allows you to combine the functions of two tools into one and get additional functionality without buying two separate applications.
These are the most common features available in most project management applications for Mac. The exact features and capabilities will depend on the program you choose.
12 Best Mac Project Management Tools
Here we've compiled a list of 12 of the best Mac project management software available today. We've also included a summary of each tool to decide which is right for you.
Let's take a closer look at each of them.
ClickUp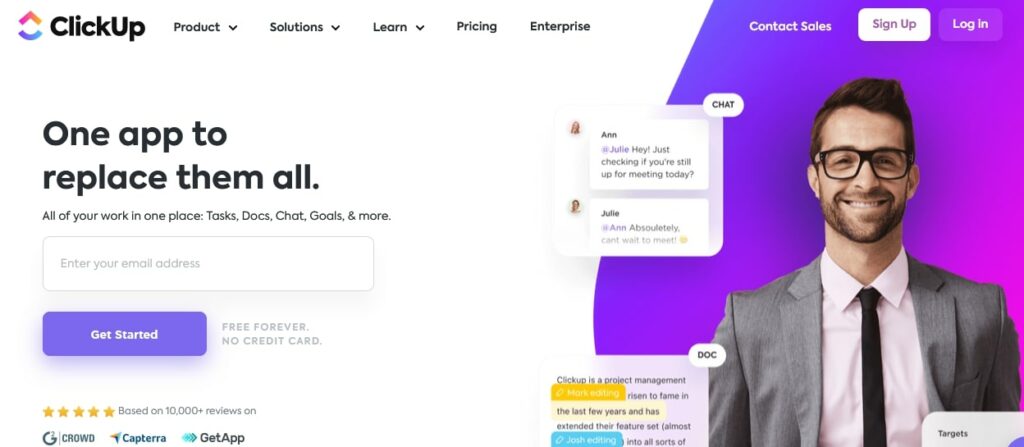 ClickUp tops because it is one of the leading Mac project management software. It offers plenty of useful features that empower teams and freelancers across all industries to manage their work efficiently in one place.
An excellent range of pricing and user-friendly designs are some of the things that play an important role in increasing its popularity. So, if you are looking for the best Mac project management software that offers many valuable features and is cost-effective, you have a reason to consider ClickUp.
ClickUp Key Features
Customizable Dashboards
1,000+ pre-built native integrations
Customizable Templates
Custom Fields
Automation
With these advanced features, ClickUp allows you to collaborate more efficiently, add flexibility to your workflow, and get the clarity and visibility you need when managing multiple client projects simultaneously. You can also integrate this project management software for Mac with others like advanced marketing software to reap the most out of it.
ClickUp Pros
Highly customizable and great for all teams
Offers valuable free features
Provides tons of project management tools
Offers tools for automating repetitive tasks
This ClickUp review shows how ClickUp can help you to manage projects and get all your team members on the same page.
ClickUp Cons
Comes with a steep learning curve
The free version has a few features
ClickUp Pricing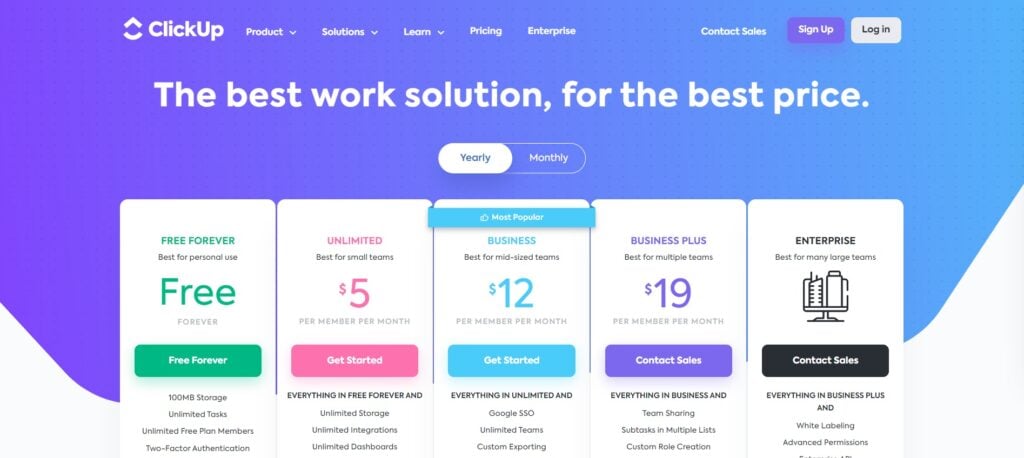 Free Forever: Free ClickUp version, which is best for personal use.
Unlimited: $9 per month per user (billed monthly), which is great for small teams.
Business: $19/month/user (billed monthly) designed to serve mid-sized teams.
Business Plus: $29 per user per month, best for multiple teams.
Enterprise: Get custom pricing if you're looking for a plan that suits multiple large teams.
Please note that you can save up to 45% if you choose the yearly billing plan. Also, for a free trial, feel free to contact ClickUp.
monday.com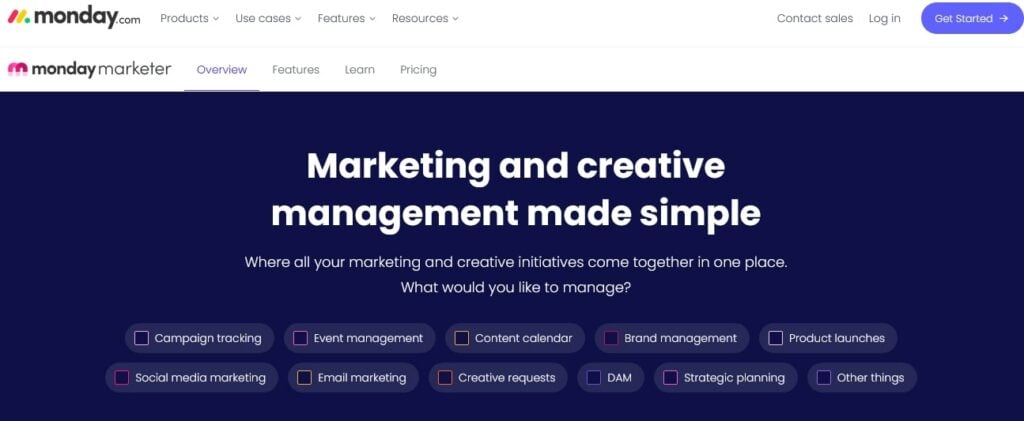 Monday.com is another popular project management software for Mac. It's one of the oldest project management solutions on the market and is suitable for remote and mid-to-large-sized teams that want to benefit from advanced task tracking and collaboration features.
The co-founders of this valuable project management software for Mac experienced firsthand the difficulties that organization face when trying to scale. It was born when they built a simple solution that people love to use. Most managers consider its project management features the best, but you can decide depending on your needs.
Monday.com Key Features
Task Management
200+ Ready Made Templates
macOS-native app
Collaboration tools
Custom Reporting Tools
If you have an Apple phone or Mac computer, Monday.com could be the best project management software because it offers a macOS-native app. It also provides advanced communication and collaboration tools and templates that simplify work.
Monday.com Pros
Plenty of great tools for all project managers
Offer a free trial for all new users
Simple app suitable for all users
Provide timely business intelligence
With plenty of advanced collaboration features, you can easily use Monday.com to build cross-functional teams.
Monday.com Cons
Comes with a continual learning curve
More expensive than many of its competitors
Monday Pricing

Individual: A free plan that offers up to two seats, best for individuals.
Basic: $12/seat/month, billed monthly, for managing team tasks and simple projects.
Standard: $14.5 per seat per month, billed monthly, which offers visualization tools and automation.
Pro: $25/seat/month, billed monthly, which offers powerful analytical tools and automation.
Enterprise: Contact sales for enterprise-grade business tools.
Note that the annual pricing saves 18% of the above costs.
Moreover, each of Monday.com's paid plans supports a minimum of three users/seats, and you can take advantage of its 14-day free trial.
Smartsheet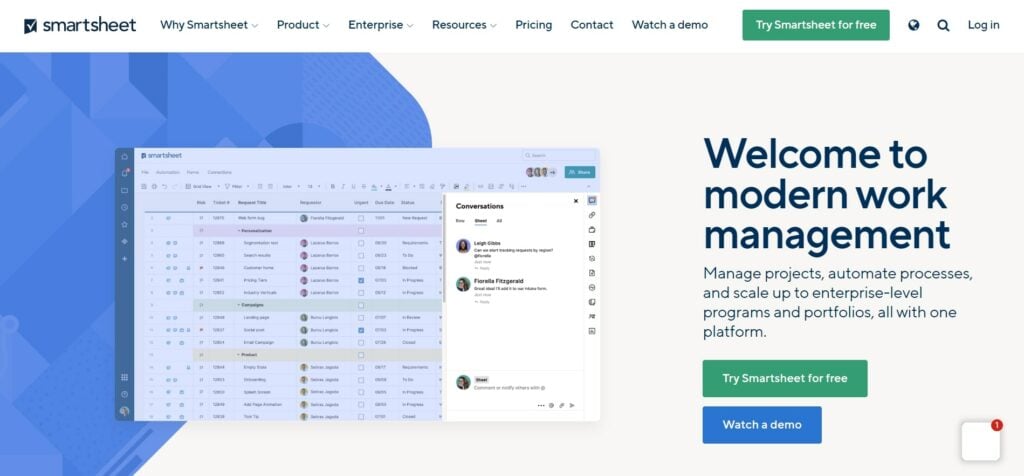 Smartsheet is another popular cloud-based PM software for Mac devices. It can empower you to plan projects, create tasks, track progress, make reports, and more.
As the name suggests, Smartsheet is a spreadsheet-like project management software. So, if you are comfortable working in Excel but are tired of dealing with complicated formulas, this project management solution could be the answer. Note that this software is ideal for teams of all sizes in almost all fields, including education, retail, IT, healthcare, and manufacturing.
Smartsheet Key Features
Workflow Automation
Brandfolder
Resource and Project Management Modules
Automated Alerts
File Sharing
As you might have noticed, Smartsheet's features are great for rescuing Mac users from boring spreadsheets like Excel and introducing them to advanced project management software.
Smartsheet Pros
Keeps all team members aligned and informed
Acts as a bridge for individuals who are new to productivity software
Performs complex calculations fast
Offers plenty of integration options
Considering the simplicity and flexibility that Smartsheet offers and the above features, you can see that this tool is suitable for financial management and related project management functions.
Smartsheet Cons
Only great for people who enjoy dealing with spreadsheet-based software solutions
Offers no free version
Smartsheet Pricing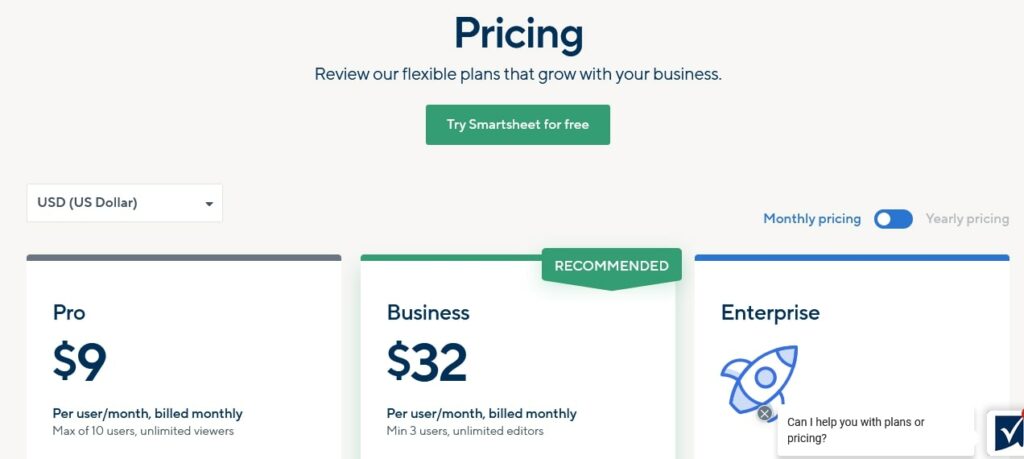 Pro: $9 per user month, billed monthly, for a maximum of 10 users and unlimited viewers.
Business: $32/user/month, billed monthly, for a minimum of three users and unlimited editors.
Enterprise: Get custom pricing to run processes at scale.
You can get a significant discount by joining the annual billing plan. You can also take advantage of this task management software's 30-day free trial to improve your experience.
Wrike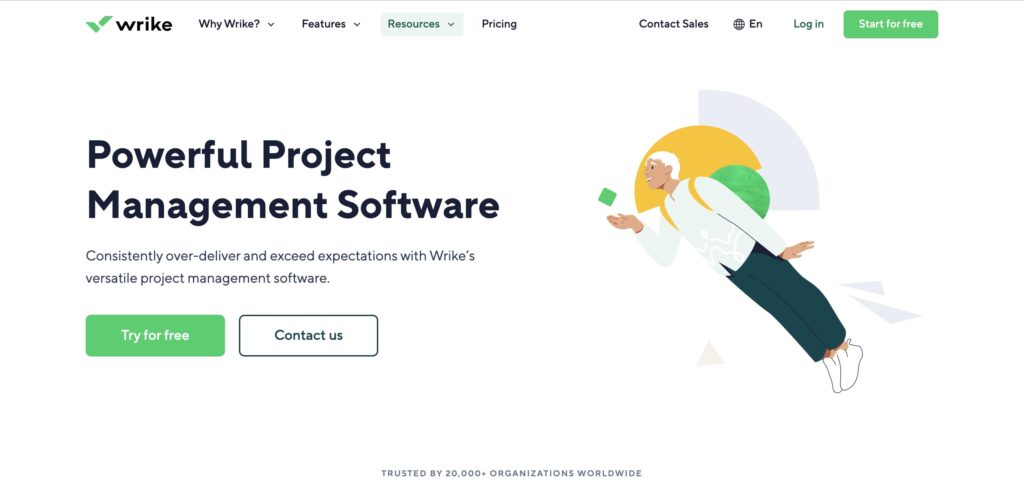 Wrike is another professional PM software worth our attention, so let's learn more about it here.
This PM software is an award-winning tool that offers the best integrations with popular file management tools from Dropbox, Google, and Adobe Creative Cloud, enabling teams of all sizes to realize their collaboration goals.
It offers many other outstanding benefits, including a dedicated help center with interactive guides, videos, training, and a thriving community. In short, Wrike is popular because it functions as an all-in-one hub.
Wrike Key Features
Dedicated iOS and Desktop app
Workflow Automation
Kanban Boards
Portfolio Management
Visual Proofing
These Wrike features can empower small teams, mid-sized businesses, and enterprises that run multiple projects simultaneously to monitor project progress, assign tasks, and communicate easily.
Wrike Pros
Increases team collaboration
Provides clear visibility of tasks and projects
Enables you to manage multiple projects at once without switching tabs
Can integrate with sales and marketing software for Mac users
Wrike offers Mac users plenty of benefits because it has been designed to meet project management needs, including professional services automation. As a project manager or team member, you can also use this project management app to customize your projects to meet your unique needs.
Wrike Cons
It comes with a steep learning curve.
No built-in time tracking features
Wrike Pricing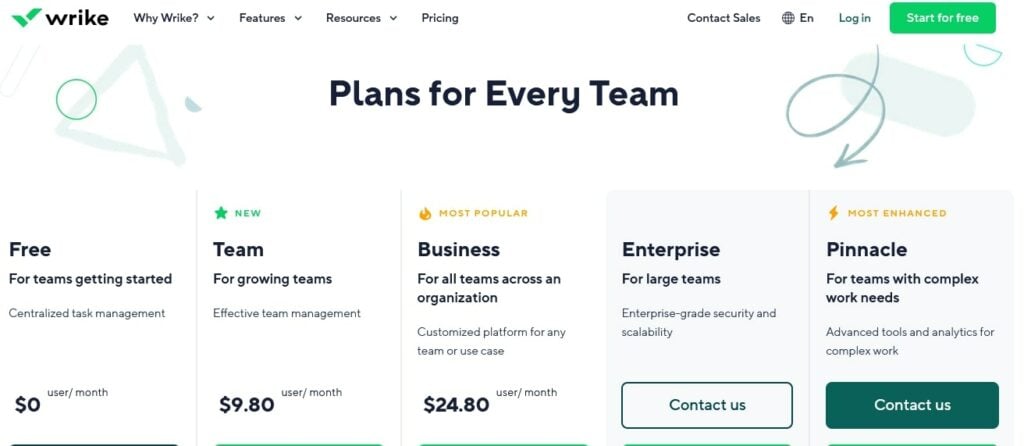 Free: Free version that offers centralized task management.
Team: $9.80 per user per month for effective team management.
Business: $24.80/user/month, a customized project management platform designed for any use case or team.
Enterprise: Contact the sales department for custom pricing if you need enterprise-grade security and scalability.
Pinnacle: Get custom pricing if you have complex work needs and require advanced tools and analytics.
Note that Wrike offers a 2-week free trial.
Teamwork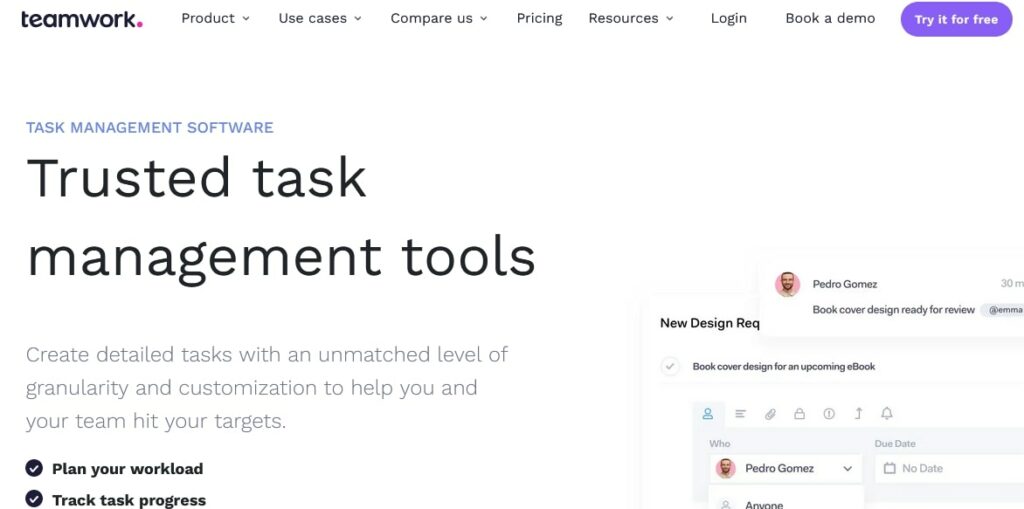 Teamwork is another Mac project management app we need to talk about at this point. This cloud-based software was founded in 1999 to free every person's talent. Many teams and businesses agree that it has lived up to this goal.
So, your in-house teams and agencies can use its robust features today to enhance visibility, accountability, collaboration, and more. You can also use it to manage tasks for your small business.
Teamwork Key Features
Client Access Controls
Gantt Charts
Task Lists
Ready-Made Templates
Time Tracking
Can you see that Teamwork is more powerful when breaking down projects, tracking your team's capacity, and saving time using templates? That's right, and that's why it's one of the few project management tools that perfectly suit client workload management.
Teamwork Pros
Provides an intuitive user interface
Ensures you get a complete picture of your team's workload
Allows you to collaborate effectively with@mentions, comments on tasks, messages, and more.
Simple to use
Combining this PM's features like client access controls and time tracking with the above benefits shows that Wrike is an advanced project management tool that suits the needs of most freelancers and clients.
Teamwork Pricing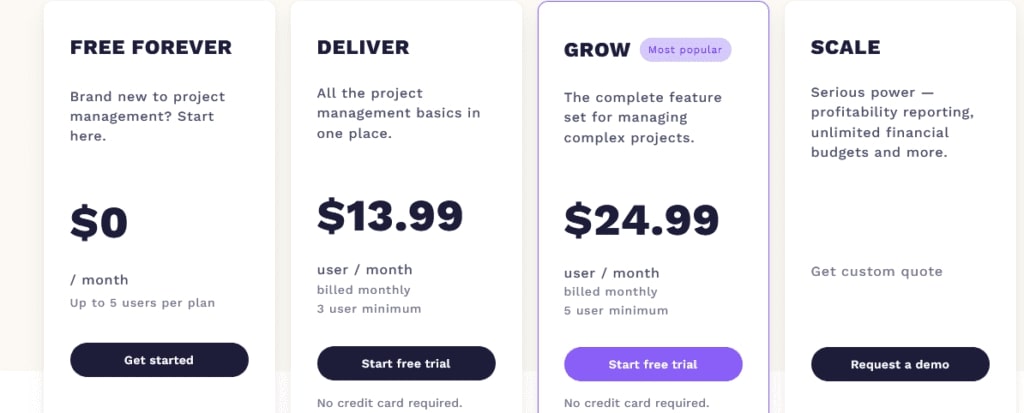 Free Forever: Free for individuals and teams new to project management.
Deliver: $13.99 per user per month, billed monthly, for all project management needs.
Grow: $24.99/user/month for managing complex projects.
Scale: Get a custom quote for serious profitability reporting, unlimited projects, and more.
You can save up to 29% with annual billing plans. Also, you can take advantage of this project management software's 30-day free trial.
WorkOtter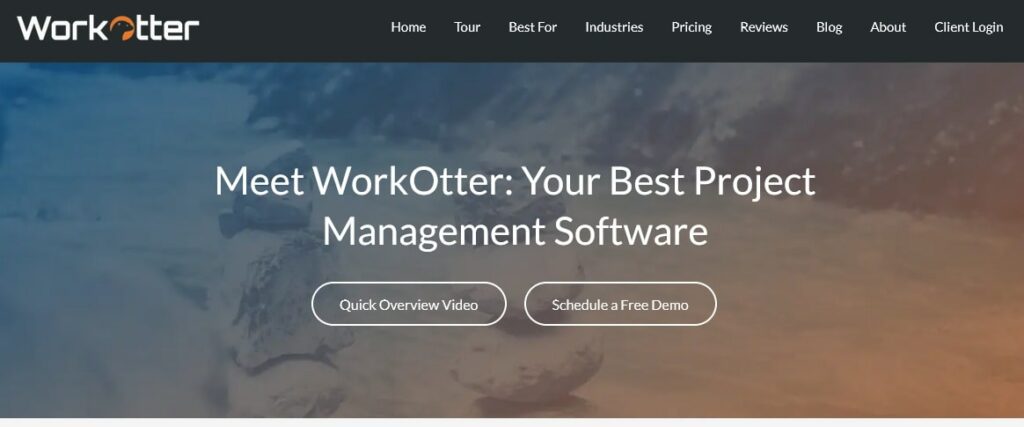 WorkOtter is another valuable project management tool that can solve your needs. It's designed for audiences such as New Product Development, Consulting, IT, and Engineering PMOs.
This tool is a simple project and portfolio management software with an HTML5 Gantt chart and drag-and-drop interface that easily lets you track progress. It also integrates resource management, dashboards, workflow, and project planning, to give users like you the best experience.
WorkOtter Key Features
World-Class Support
Visual Dashboards
Project Scheduling
Resource Allocation
Integrations
WorkOtter enables managers to follow best practices through the influence of integrated project management, workflow, and other tools to reach their full potential.
WorkOtter Pros
Ensures complete project visibility
Eliminates conflicting priorities
Pays attention to efficient project planning
Ensures effective workload management
This is one of the best project management software solutions for Mac users with trouble using new technology to manage projects and report outcomes.
WorkOtter Cons
No monthly billing
Offers a minimum of 10 total licenses
WorkOtter Pricing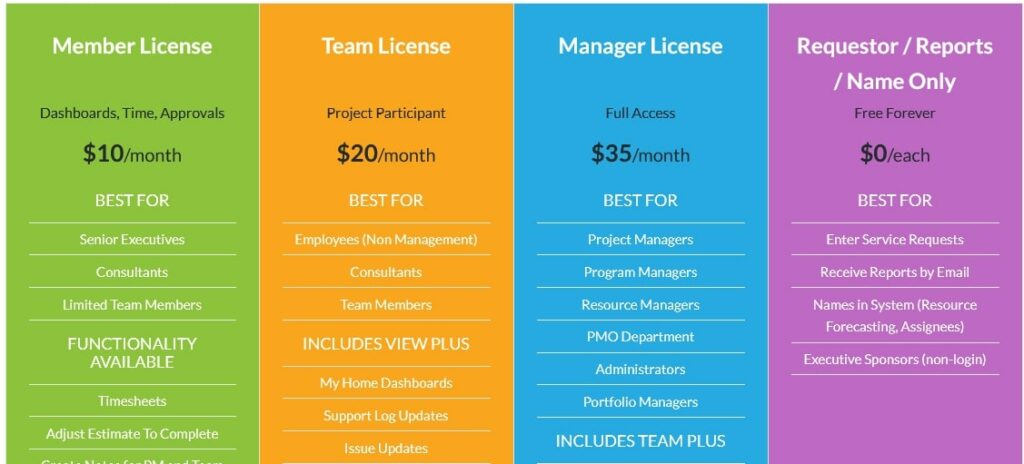 Free Forever: Free version is designed for teams new to project management.
Member Licence: $10 per user per month, billed annually, for limited team members, consultants, and senior executives.
Team Licence: $20 per user per month, billed annually, for team members, consultants, and employees (non-management).
Manager Licence: $35/user/month (billed annually), which provides all team members full access.
This project management software provides a free trial or Demo on request.
Resource Guru
Resource Guru is another project and task management software for Mac computers that we've included because of its unique value. It's well known for its ability to schedule and allocate resources online. Due to this, project and task managers, account directors, producers, and other people interested in having up-to-date information on matters relating to resource management consider it the best project management software. Since it has user-friendly features, anyone can use this solution to make and move bookings.
Resource Guru Key Features
Leave Management
Resource Management
Equipment Management
Resource Planning Tools
Project Portfolio Management
After considering all these features, you can see that Resource Guru guarantees you lightning-fast scheduling and resource allocation.
Resource Guru Pros
Allows you to monitor resource allocation rates
Simple for everyone to use
It helps in creating happier and promotes team collaboration.
Saves time
These benefits show that Guru could be the best project management solution for high-speed teams that want to prevent scaling from slowing them down.
Resource Guru Cons
No free plan
The Grasshopper plan only provides some essentials
Resource Guru Pricing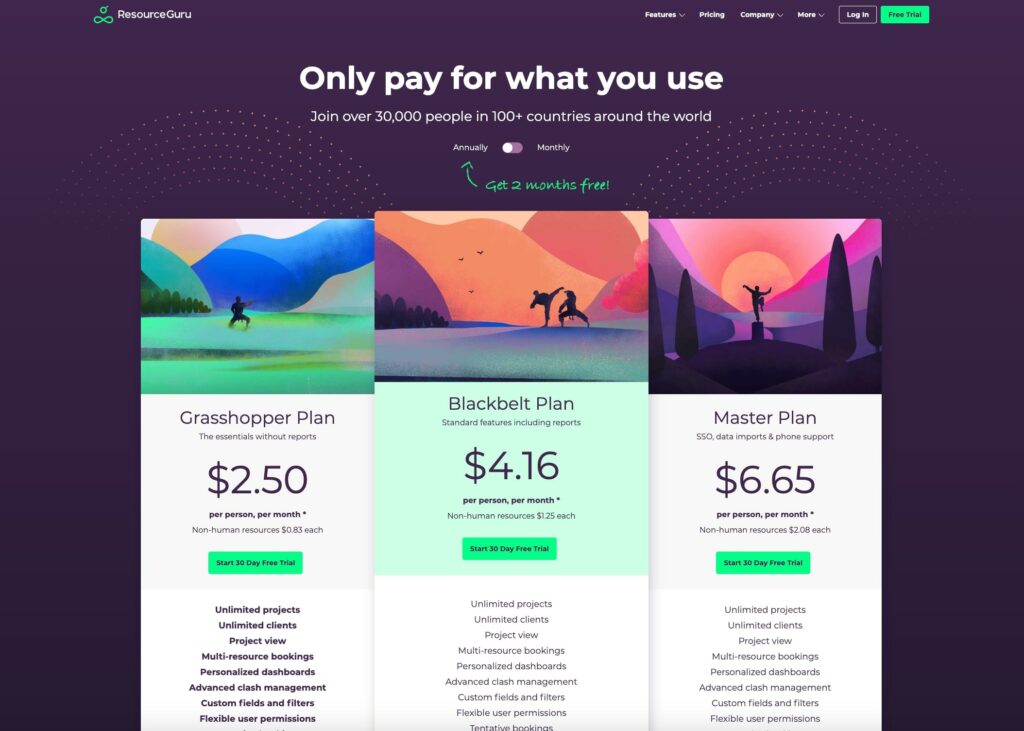 Grasshopper Plan: 2.50 per user per month for basics with no reports.
Blackbelt Plan: $4.16 per person per month, offering standard features, including project reports.
Master Plan: $6.65/user/person, which provides SSO, data imports, and phone support.
Resource Guru gives users who pay annually two months of service for free. Better still, it offers all new users a 30-day free trial.
Zoho Projects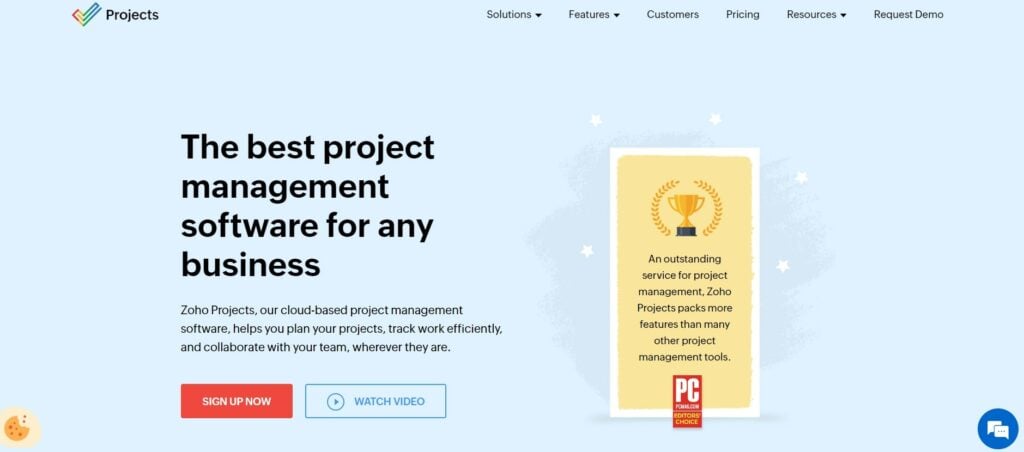 If you want useful insights, including bug status, team status, milestone status, and task status, you can consider Zoho Projects. This award-winning productivity tool from Zoho offers timely insights and excellent native integrations that increase its functionality significantly.
Besides, Zoho Projects provides flexibility and advanced customization that suit the needs of agile teams and traditional project managers. Due to its excellent capabilities, hundreds of big brands and over three million users worldwide trust it.
Zoho Projects Key Features
Kanban Boards
Collaborative Social Feed
Built-In Chat
Task Automation
Customizable Dashboard
With Zoho Projects, you can automate and manage tasks and integrate plenty of tools to achieve your teams' goals without issues.
Zoho Projects Pros
Provides the best solution where several hand-offs are involved
Offers highly customized interface and dashboard
Empowers you to get timely insights on projects and tasks
Provides valuable time-tracking tools
This software integrates many tools within and outside the project management sphere, including marketing and finance management, to simplify your project management efforts.
Zoho Projects Cons
Poor user interface
Bug reporting needs work
Zoho Projects Pricing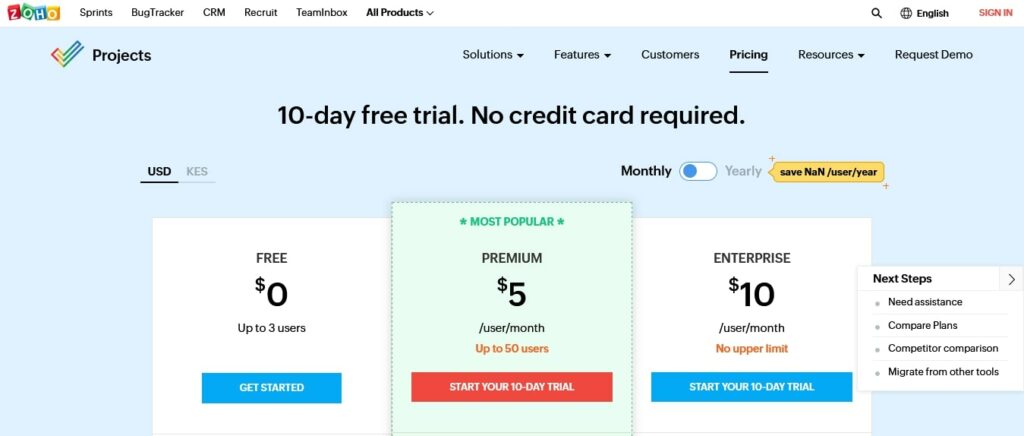 Free: Free for up to three users.
Premium: $5 per user per month, billed monthly, for up to 50 users.
Enterprise: $10/user/month, billed monthly, which supports an unlimited number of users.
You can save one dollar per month if you choose the yearly billing mode, irrespective of the pricing plan. Also, you can get a 10-day free trial.
Oracle NetSuite Project Management

Oracle NetSuite Project Management is a unique unified platform for Mac users. Many successful businesses manage tasks, resources, budgets, and people through it.
This software provides valuable insights and control. That's how it helps businesses to allocate the right resources to their respective projects and manage them.
Oracle NetSuite Project Management Key Features
Integrations with third-party systems and other NetSuite tools
Project Management
Expense Management
Project Accounting
Analytics
This cloud-based software for Mac eliminates the need for multiple project management systems, enhancing efficiency and effectiveness.
Oracle NetSuite Project Management Pros
Automates various manual tasks
Promotes team collaboration
Ensures seamless synchronization between business systems
Improves efficiency and effectiveness
Since Oracle NetSuite Project Management is a unique unified services automation solution, it gives you complete control over your resources and projects.
Oracle NetSuite Project Management Cons
Subscription pricing can fluctuate over time
Customizing reports can require specialized skills
Oracle NetSuite Project Management Pricing
Contact sales for a custom quote.
Users typically subscribe for an annual license fee, mainly consisting of the core platform, optional modules, and the number of users.
You'll also pay a one-time implementation fee.
Oracle NetSuite Project Management also offers a Free Product Tour that lets you learn how it can streamline your business.
Notion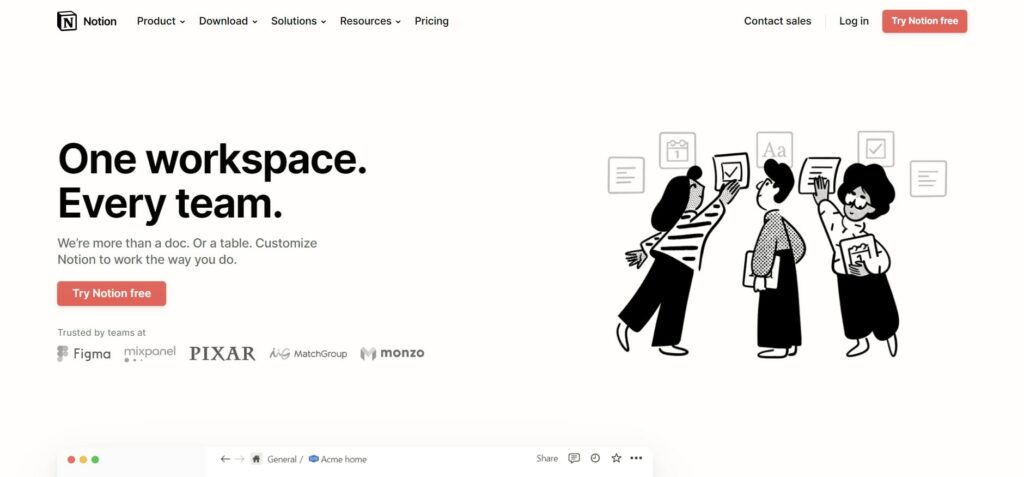 Notion is another workspace that the world's most innovative teams use. According to the Notion company, it can adapt to your needs. In other words, this project management tool can be as powerful or as minimal as you want. Its features can help you take notes, make to-do lists, manage projects, and more.
Notion Key Features
Docs
Wikis
Drag and Drop
Tasks and Sub-tasks
Single Sign On
For note-taking and basic task management, Notion wins.
Notion Pros
Decent project management software for Mac
Excellent for notes and to-do list
Well priced
Unlimited users on the Team plan
Notion has advanced features beyond note-taking, making it a full project management software.
Notion Cons
Gantt charts are missing
Navigation could be better
Notion Pricing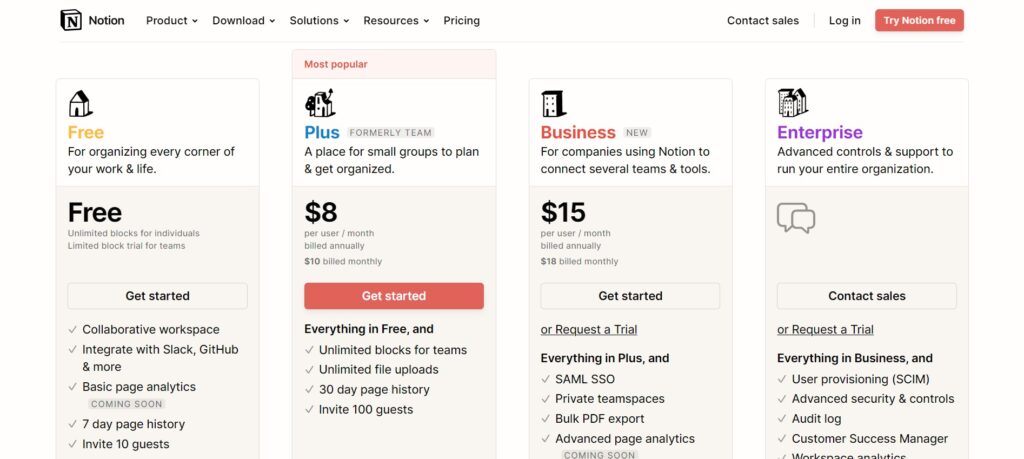 Free: Free version for individuals.
Plus:$10 per user per month, billed monthly, for small teams.
Business: $15/user/month, billed monthly, for companies that connect several teams and tools.
Enterprise: Contact sales for a quote if your organization requires advanced controls and support.
You can request a one-week free trial if you choose the Business or Enterprise plan. Moreover, you can get huge discounts if you pay annually.
Asana
This is our second last pick, doubling up as the best Monday.com alternative.
Like some of the software tools we've seen above, Asana is a powerful and flexible solution that you might never want to manage your project without using. This tool features in this list because of its generous free plan for up to 15 users and high-quality Kanban board that is more colorful and offers more information than its rivals like Monday.com.
Asana Key Features
Kanban Boards
Project Timeline
File Sharing
Milestone Tracking
Free Plan for 15 users
Some people can see Asana as a free project management software. However, the cost of its paid plans is relatively high.
Asana Pros
Templates speed up project management
Up to 15 people can use it for free
Provide timely project management insights
Offers valuable collaboration tools
Asana's features and pricing suit large companies, but small teams can also take advantage of the free plan and some of the features.
Asana Cons
Pricing plans are unfriendly
The free plan offers basic functionality
Asana Pricing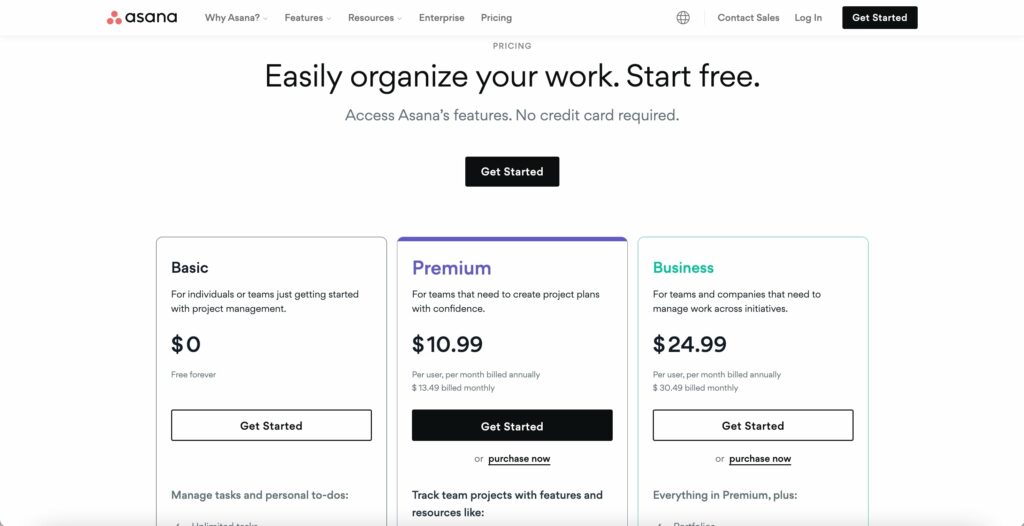 Basic: $0 forever for teams and individuals getting started with project management.
Premium: $13.49 per user, per month billed monthly, for growing teams.
Business: $30.49 per user, per month billed monthly, for established teams and companies.
Asana offers discounts and a 30-day trial.
Airtable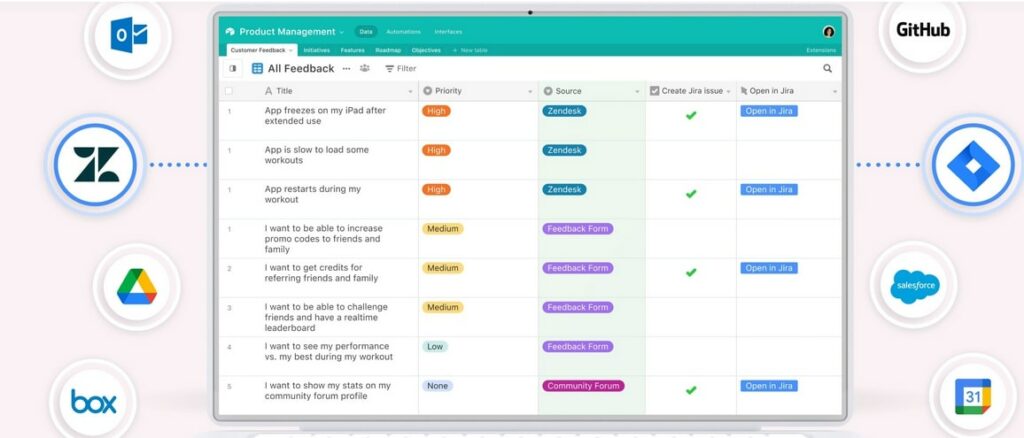 Let's close this list with Airtable. It is another wonderful project management software that's compatible with Mac devices. Many organizations worldwide use its advanced features to transform how their teams work at scale. According to information on Airtable's website, over 300,000 innovative companies use these tools every day.
Airtable Key Features
Integrations
Blocks
Reporting
Automation
Views
Considering all the features, you will see that Airtableallows you to customize your workflows correctly, get timely insights, and complete your projects as required.
Airtable Pros
Provides solutions to empower every project management team.
Allows you to customize interfaces.
Help you to bring all your data together.
Easy to use
Airtable Cons
Limited project management features
Premium extension features
Airtable Pricing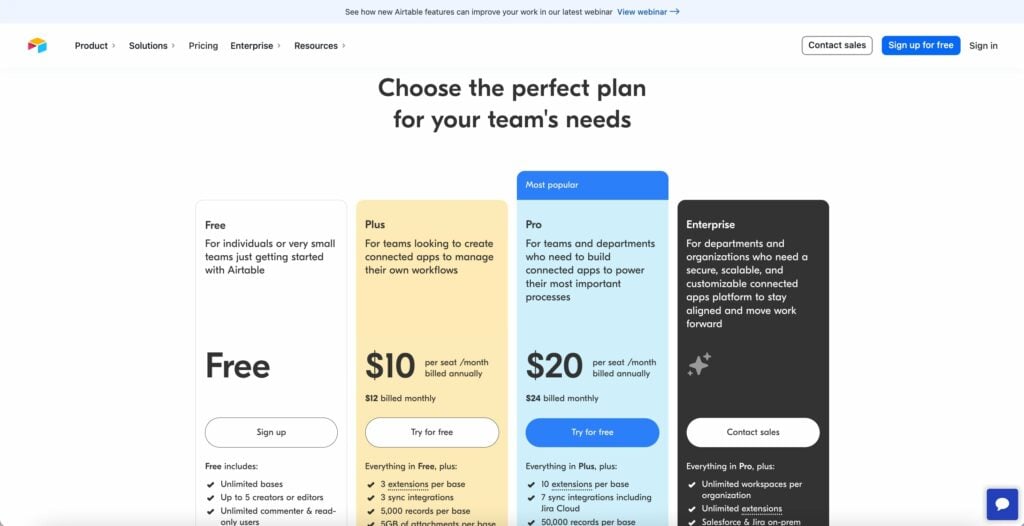 Free: Free plan for small teams and individuals getting started with Airtable.
Plus: $12 per user/month, billed monthly, suits teams looking to create connected apps for their workflows.
Pro: $24 per seat/ month, billed monthly, for teams and departments looking to power important processes through project management apps.
Enterprise: Contact sales for a quote. It's ideal for teams that need secure, scalable, customizable apps.
You can try it for free.
Project Management Software For Mac Conclusion
Now that you know the 12 best project management software for Mac computers, you can choose one that suits you.
Start by considering the price. After that, evaluate the features of your preferred tools. You can sign up for free trials or use the free versions to test them.
Once you've found the perfect project management software, you can pay.