A comprehensive project management software should encompass a wide range of features to ensure that it meets the needs of both small and large businesses. Some common features of project management tools include time tracking, expense management, resource management, collaboration tools, and analytics and reporting capabilities.
This article will compare two of the market's most popular project management tools: ClickUp and Notion. These platforms offer similar functionality and several differences that can help you decide which tool is best for you. We'll examine these similarities and differences in more detail below.
ClickUp vs. Notion: Similarities
Flexible and customizable project management solutions
Considered all-in-one project management tools
Designed for individuals and teams
Both come with intuitive user interfaces
ClickUp vs. Notion: Differences
ClickUp offers built-in automation, whereas Notion doesn't
ClickUp supports 35+ integrations, while Notion supports approximately 15 integrations
ClickUp provides 90+ features, whereas Notion offer 40+ features
ClickUp was designed for productivity management, whereas Notion was designed mainly for note-taking
What is ClickUp?
ClickUp is one of the best project management software with the primary mission of bringing to an end the practice of using multiple project management apps.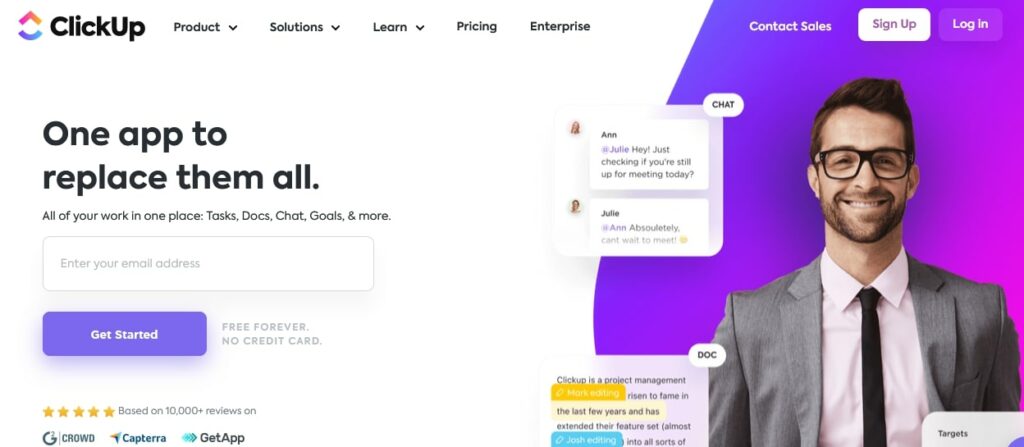 Other than allowing you to create tasks, subtasks, and timelines and share them with your team members, ClickUp empowers you to track the time spent on every task.
Our Pick
ClickUp | One App to Replace Them All
ClickUp is a powerful project management tool designed to help teams work more efficiently and collaboratively. It offers a range of features, including task management, time tracking, team collaboration, and project planning, making it easy to manage your team's workflow in one place.
Pros:
Task management

Time tracking

Team collaboration

Project planning

User-friendly interface

Powerful automation capabilities

ClickUp Key Features
User Roles and Permissions
Built-in Automation
Live Doc Collaboration
Multiple Project Views
What is Notion?
Notion is a project management and note-taking software designed to help your teams manage, organize, and track their tasks.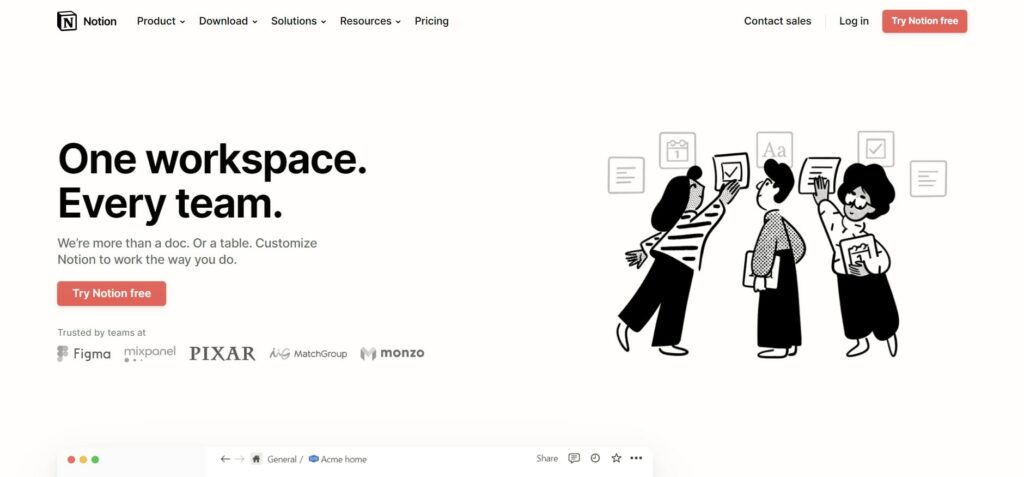 You can take advantage of the app's easy-to-use interface to help your teams stay in sync and take notes.
Notion | All-in-one WorkSpace
Notion is an all-in-one workspace for notes, tasks, wikis, and databases that helps teams and individuals organize their workflows in one place. Its powerful platform can help you save time, reduce human error, and improve efficiency.
Pros:
user-friendly interface

customizable templates

integration with popular apps like Slack, Google Drive, and Trello

advanced AI features that allow users to automate tasks and streamline workflows

Notion Key Features
Live Doc Collaboration
Wiki and Docs
Multiple Project Views
Intuitive Interface
ClickUp vs. Notion: Features
Let's see how ClickUp and Notion are similar and different in software features to find out which best suits your needs.
Project & Task Management
Notion and ClickUp are great solutions, but they aren't created equal.
ClickUp has pre-configured fields that make your work easy when adding tasks. Better still, it allows you to add custom fields to meet your unique needs.

If that's not enough, ClickUp's unique Multiple Project Views, like Map View and Mind-Map, also give you a geography-based breakdown of tasks. Moreover, they enable you to brainstorm and bind your ideas together.
What about Notion? It was built as a note-taking software, and its hierarchy reflects that. So, this project management tool neither has intuitive workflow automation nor supports recurring tasks.
However, you can fully configure Notion if you want it to manage tasks like ClickUp.
Built-In Automation
ClickUp offers built-in automation, and you can use it on your projects. This is good news because your teams can rely on it to complete repetitive tasks fast.
With Notion, you don't have built-in automation. In other words, you require a third-party tool such as Zapier to automate your workflow.
User Interface
Let's look at the project management tool's interface now since it can play a huge role in how you perceive these productivity solutions.
Notion has a simple user interface that features youthful elements like cover images, emojis, and page icons.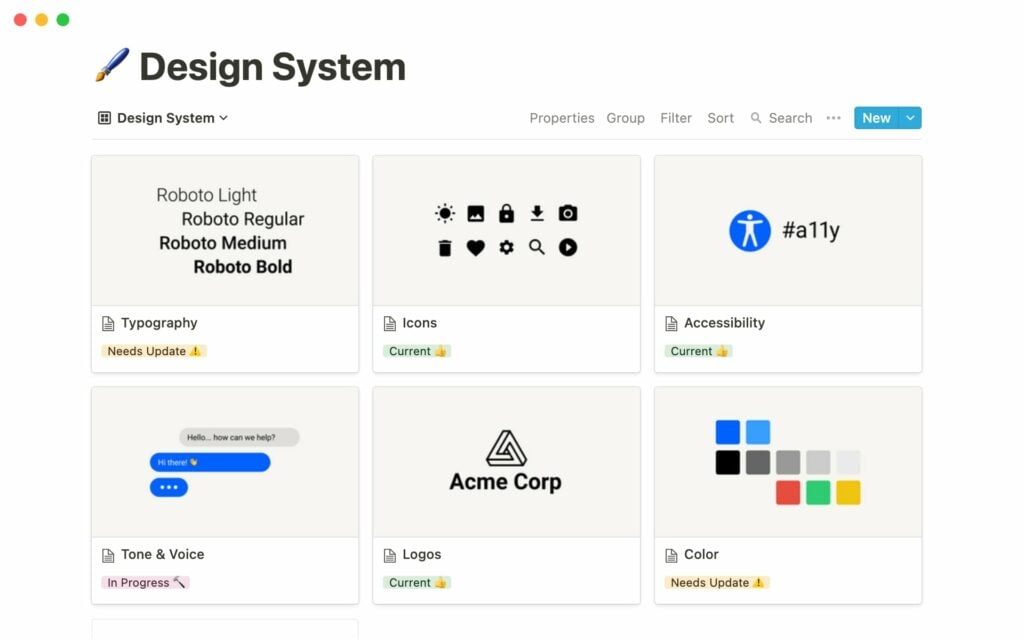 Similarly, ClickUp has an attractive design that you can customize your dashboard the way you want.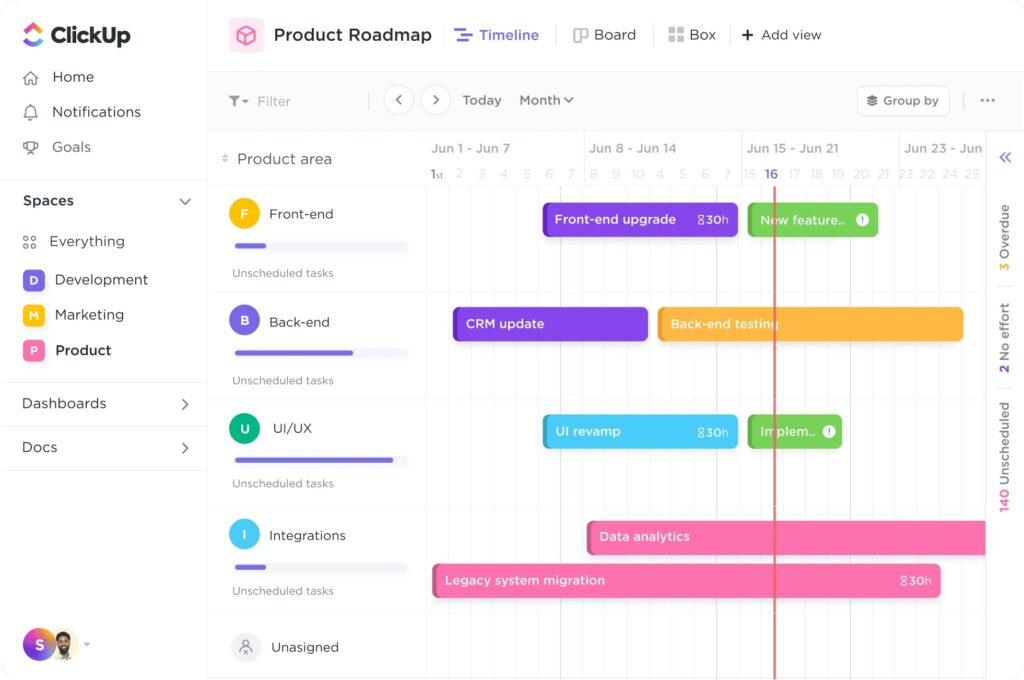 User Roles and Permissions
These two leading tools offer excellent User Roles and Permissions. Let's compare them to help you solve numerous project management problems.
With ClickUp, you have unlimited built-in user roles. In other words, it enables you to customize advance permission and add unlimited custom fields.
However, Notion limits your team to three roles: commenter, editor, and viewer.
Wikis and Docs
It's common these days to meet people who claim that Notion is their second brain. That speaks volumes about the quality of its Docs and Wikis (pages).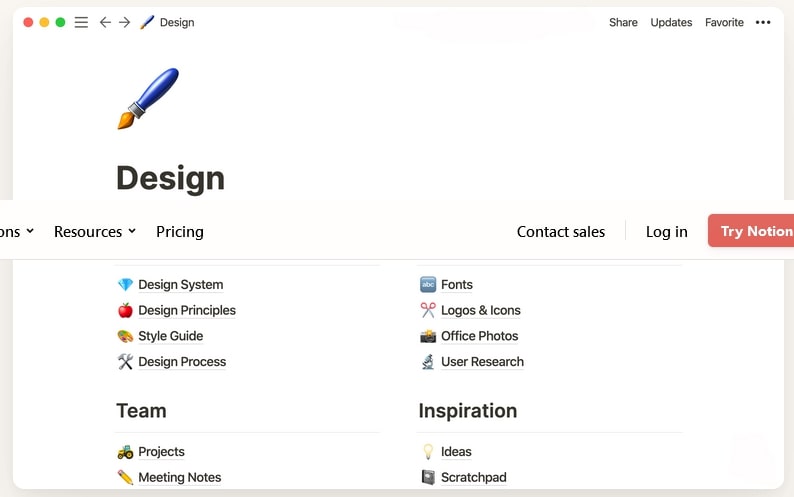 ClickUp's assertion that it's designed to replace Notion and all its peers holds some water too. It has powerful Docs that suit your needs.
However, Notion's Wikis and Docs are far beyond average. They are responsive and highly appealing. What's more, with the unrestricted ability to add @mentions and comments, collaboration with Notion's Docs is a breeze.
Regarding ClickUp's Docs, something is a bit frustrating about this feature. They are not as refined as Notion's wikis. Some users also think that ClickUp's Docs are completely isolated from everything else in the Spaces and Groups. This might be true since they exist as separate entities.
Both ClickUp and Notion Win in Features
Both project management tools win in features in terms of quality and quality.
Regarding project and task management, ClickUp is the undisputed winner. Its high-quality templates, unique views, and other task management features. If your project requires advanced automation, ClickUp wins again.
However, for projects that require minimal automation, Notion wins. Please note that Notion can serve you much better if you have access to quality third-party integration tools. Notion's intuitive user interface also makes it more valuable than ClickUp. So, from the aesthetic standpoint, Notion wins.
Regarding user roles and permissions, we've said that ClickUp gives you unlimited capabilities. Nevertheless, Notion's Docs and wikis are more inspiring than ClickUp's lower-value Docs.
ClickUp vs. Notion: Ease of Use
We've talked about the user interface, but that is not enough to help us compare the ease of use. Let's get into the details below.
Savvy project managers can learn their way around most things in ClickUp without training. However, at the granular level, the customization you'll encounter gives you reasons to keep visiting ClickUp's help Docs.
Nonetheless, Templates cover almost all use cases and can help reduce the learning period.
Notion also poses a relatively steep learning curve since everything on the app begins as an empty page. That doesn't scare users who know how die-hard users enjoy adding value to the lives of other users on the platform. They create amazing templates to simplify your work and are willing to guide you until you achieve your goals.
If that's not enough, please note that ClickUp and Notion have drag-and-drop functionality. So, once you get comfortable with their interfaces, you shouldn't struggle to organize your projects and tasks.
Verdict: Notion is Easier to Use
While everything on Notion starts as a blank page, the marginal ease of use is inadequate to offset Notion's user-interface benefits. So, Notion is a better option here.
Notion vs. ClickUp: Integrations
Notion has approximately 15 integrations that help you to get your work done without switching between apps. With dozens of connections available, you can use Notion API to customize the app to suit your team's unique needs.
ClickUp is not left behind. It features 35+ integrations. This allows you to use a wide variety of key features and integrations all the time. With ClickUp, you can connect over 1,000 tools for free. For example, once you integrate it with Zapier, you increase your ability to connect it with more tools and automate workflow.
ClickUp Wins in Integrations
ClickUp does better than Notion here because it supports more integrations. If you're looking for a productivity app with more built-in features and integrations, ClickUp is a better choice.
Notion vs. ClickUp: Time Tracking
Given how feature-rich Notion and ClickUp are, they serve an almost endless list of use cases, including time tracking.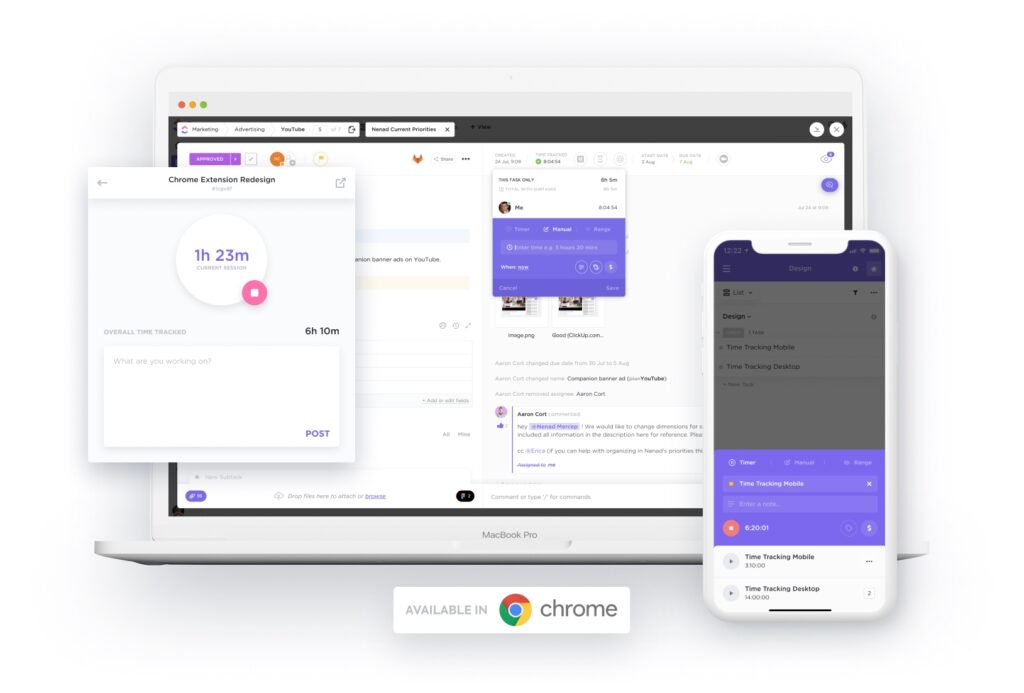 ClickUp tracks time natively. You can use the quick access button to track time from any location with the app. For example, you can do so from the Task View and add estimates for the amount of time you expect tasks to take.
When it comes to Notion, you can use several ways, like Formulas, to track time. Unfortunately, this app has no simple way to implement time tracking.
ClickUp Beats Notion in Time Tracking
ClickUp beats Notion in this area due to its high-quality time-tracking features.
ClickUp vs. Notion: Pricing
ClickUp and Notion are some of the most affordable project management solutions. Let's see their pricing plans to be able to compare ClickUp and Notion in greater detail.
ClickUp Pricing Plans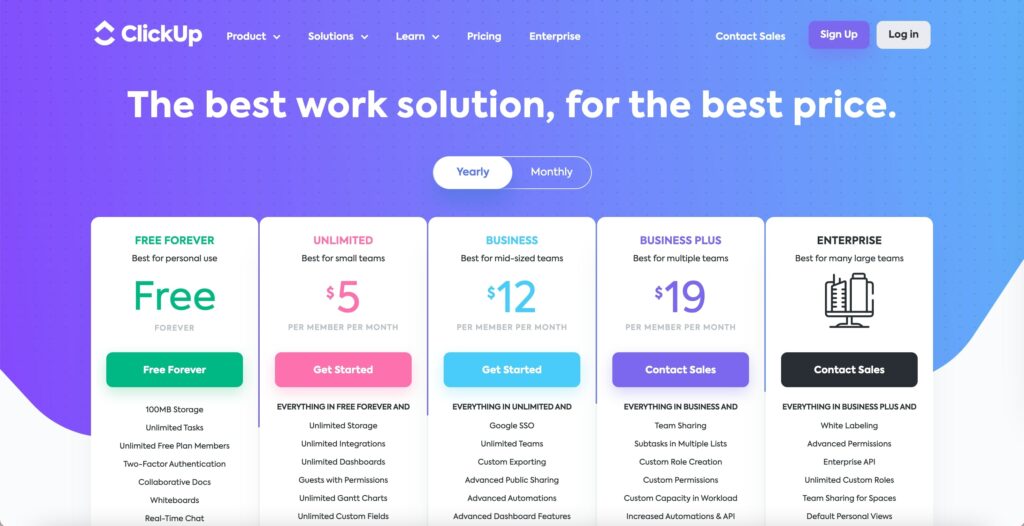 Free Forever: Free basic plan, which is best for personal use and offers Collaborations Docs, Whiteboards, Real-Time Chat, 24/7 Support, and more.
Unlimited: $5 per member per month, an unlimited plan ideal for small teams and offers everything in the Free Forever plan plus Agile Reporting, Form View, Resource Management, and more.
Business: $12 per member per month is a business plan designed for mid-sized teams and provides Google SSO, Custom Exporting, Unlimited Teams, and more.
Business Plus: $19 per user per month, a team plan offering Team Sharing, Custom Roles, Create Custom Permissions, and much more.
Enterprise: This advanced team plan offers a custom price and superior features like Enterprise APA, Unlimited Custom Roles, and Advanced Permissions.
Notion Pricing Plans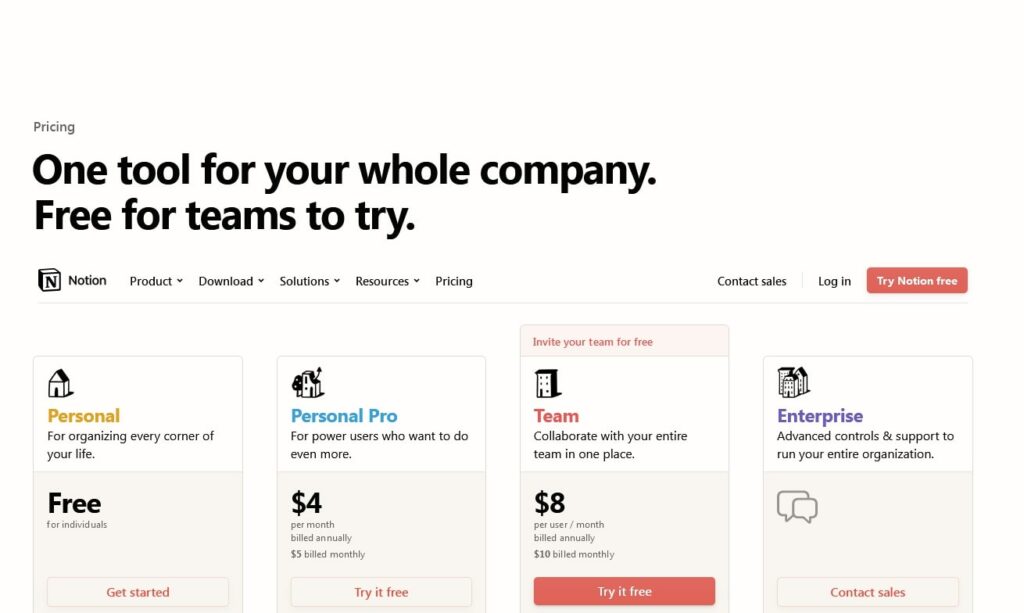 Free: A free plan for individuals that offers Unlimited Pages and Blocks, API, and Share with 5 Guests.
Personal Pro: $4 per month, billed annually, which offers everything in the free plan plus valuable features such as Unlimited File Uploads, 30-Day Page History, and Unlimited Guests.
Team: $8 per user per month, billed annually, and offers Unlimited Team Members, Sharing Permissions, Collaborative Workspace, and more.
Enterprise: This plan's cost depends on your team's needs, and it comes with enterprise-level features such as SAML SSO, Advanced Security and Controls, and Custom contracts.
Both ClickUp and Notion Win in Pricing
The pricing for ClickUp and Notion is quite similar. What matters most is the features that you desire. For example, if you are a single user and want to use powerful Docs, Notion makes it to the top.
Notion vs. ClickUp: Customer Support
Notion and ClickUp also offer quality customer support, but one of them does better in this area than the other.
If you want to connect with Notion, you can call, email, or chat with them during working hours.
However, ClickUp offers 24/7 customer support. Moreover, besides helping you with technical issues, they provide customer education and training.
ClickUp Beats Notion in Customer Support
ClickUp beats Notion here because they provide quality 24-7 customer support.
So, if you have teams that need world-class support at odd hours of the day or night, you have good reason to consider using ClickUp.
ClickUp vs. Notion: Pros and Cons
In this section, let's summarize the pros and cons to help you see more clearly which of these tools best suits you.
ClickUp Pros
Excellent 24/7 customer support
Feature-rich free plan
Stress-free integration with 1,000+ tools
Fully customizable tasks
Plenty of useful features
ClickUp Cons
A relatively steep learning curve
Paid plans offer more value
Notion Pros
Easy to use
Highly affordable Personal Pro plan
Powerful Docs and Wikis
Nicely designed user interface
Notion Cons
No way to automate your projects without third-party apps
Monthly plans are costlier
ClickUp vs. Notion: Conclusion
ClickUp and Notion are famous for different reasons. So, the 'winner' depends on your unique requirements and preferences.
As you can see in this Notion and ClickUp comparison, Notion can be the best choice for individuals and small teams that want to organize their projects and notes. ClickUp can suit the small, medium, and large enterprises that want something agile and specifically designed for project management.
Further read:
ClickUp Pricing & Costs Explained