Project management software is one of the most popular tools business owners and project managers use to keep their organizations running smoothly. It provides tools that help project managers stay on top of their schedules, collaborate with their teams, and monitor their progress to ensure everything is on track. There are many different software solutions available, both free and paid, so it can be difficult and time-consuming to find the right one for your business.
ClickUp is one of the most well-established project management solutions on the market and offers a suite of powerful tools to help you streamline your workflow and manage your projects more efficiently. However, it's not the only option available out there.
We've put together this guide to help you compare the best ClickUp alternatives and identify the one that's the best fit for your needs. Before that, let's see what the key features of project management software are.
Why ClickUp?
ClickUp is productivity software designed for all use cases, from the simplest to the most complex ones. So, it's a great hub where any of your remote teams can come together to plan, organize, and collaborate.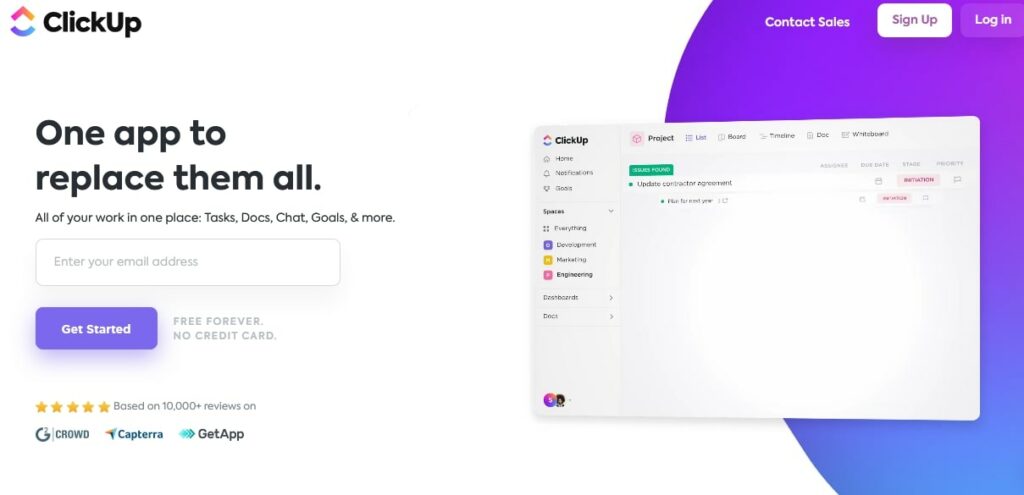 As an all-in-one project management solution, ClickUp offers plenty of features, including dashboards and time tracking. Please find some of the key features listed below.
From this ClickUp review, you can see that ClickUp's features are precious. However, your business might want to look for alternatives to it. For example, if your teams want productivity software with an intuitive interface or a few easy-to-use features, ClickUp might not serve you well.
The good news is that plenty of ClickUp alternatives offer the unique functionalities different types of businesses need. In the next section, we'll look at 15 of the best ClickUp alternatives of 2023.
Top ClickUp Alternatives and Competitors
Here are our top picks for the best ClickUp alternatives:
We have summarized the benefits of the 15 best ClickUp alternatives to give you an idea of what to expect. In the next sections, we will review each of these ClickUp competitors in great detail to help you make an informed decision.
monday.com
Monday.com is among the best ClickUp alternatives. It's flexible and lets you collaborate easily. If that's not enough, it offers an intuitive interface that features animations, color schemes, and pop-up text.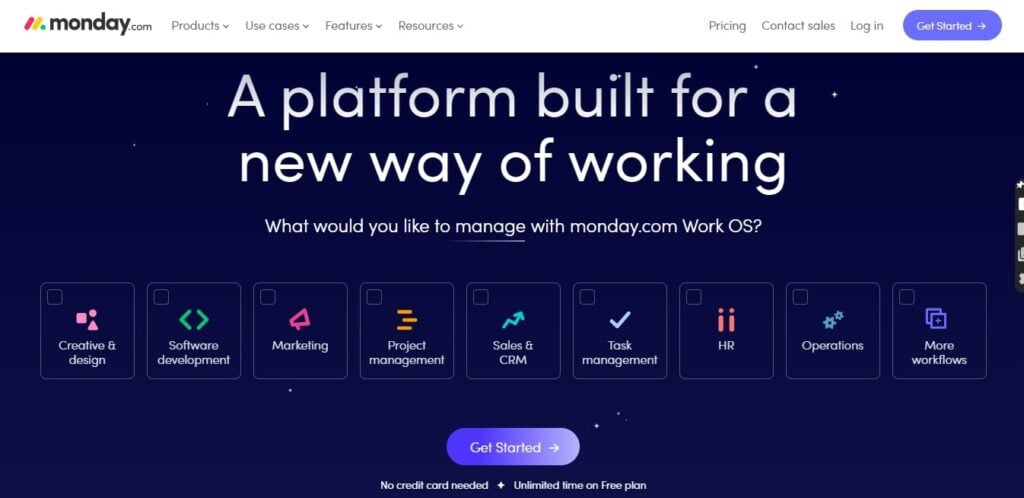 monday.com Features
Automation
Easy-to-use interface
Intuitive and customizable dashboards
Task prioritization
monday.com Pricing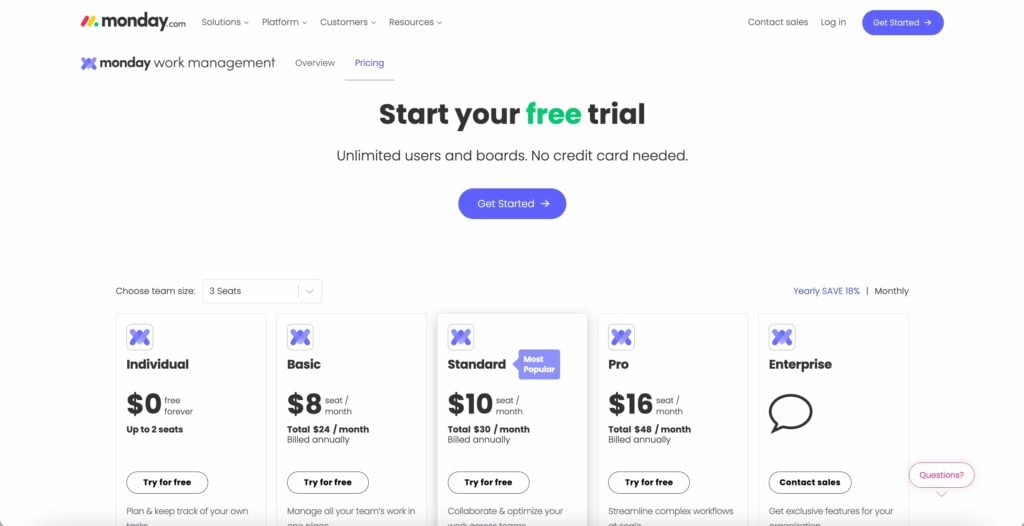 Individual: Free for up to two users forever. It can help you to keep track of your work.
Basic: $8 per user per month or a total of $24 per month billed yearly, which helps you to manage your team's work in a central location.
Standard: $10 per user per month or a total of $30 billed annually, which empowers you to collaborate and optimize all your team processes.
Pro: $16 per user per month or a total of $48, billed annually, that enables you to streamline and manage your team's complex projects.
Enterprise: Price depends on your needs. It's for organizations seeking enterprise-grade features.
Before spending a dollar, you can take advantage of monday.com's 14-day free trial to test whether your preferred plan suits your team's needs.
ClickUp vs. Monday: Why Monday is Better?
ClickUp and monday.com offer excellent productivity management features. However, monday.com's intuitive and customizable dashboards make it a better choice. Let's compare these two resource management tools further.
Monday Wins in Increasing Collaboration And visibility
ClickUp comes with great dashboards, though they are non-intuitive. On the other hand, Monday offers intuitive and customizable dashboards. Moreover, its interface is more straightforward and features animations, color schemes, and pop-up text. Therefore, using Monday to delegate tasks, prioritize tasks, track project progress, and integrate various tools is more effortless.
Who is Monday.com For?
Let's move on to the last part of this monday.com review. Who is monday.com for?
Monday.com is great for any company that wants to increase collaboration and visibility. Its dashboards and interface help to simplify project management processes. Since Monday is also affordable, you can use it as a task manager to complete your projects on time and within the budget.
Teamwork
Teamwork is one of the fastest and best project management software. It's easy enough to use, even for non-tech guys. However, it's robust to enable businesses and organizations to maximize their project management operations and processes.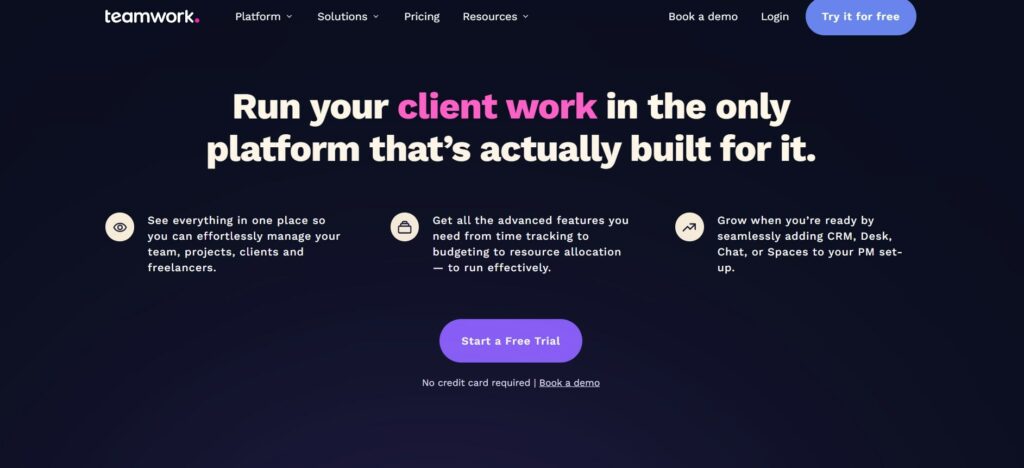 Teamwork Features
Interactive Gantt Charts
Project Templates
Time Tracking
Task History
Teamwork Pricing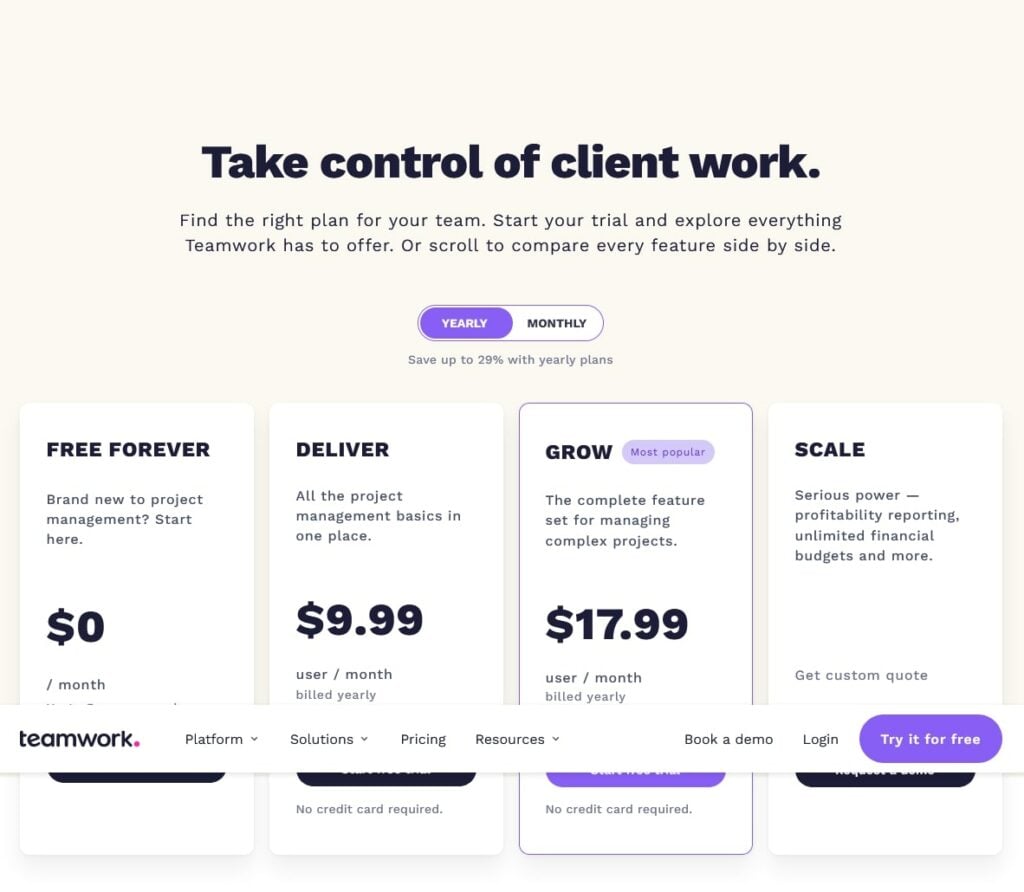 Free Forever: Free for up to five users, empowers businesses new to project management.
Deliver: $9.9 per user per month (billed annually). It supports a minimum of five users and brings all the project management basics under one roof.
Grow: $17.99 per user per month (billed annually), which supports a minimum of five users and is suitable for managing complex projects.
Scale: You can ask for a custom quote for enterprise-level features.
Teamwork also offers a 30-day trial, meaning you can use the paid tools for free for one month before making any financial commitment.
ClickUp vs. Teamwork: Why Teamwork is Better?
ClickUp and Teamwork have similarities, and that's why some managers use them interchangeably. However, Teamwork is easier to use, making it the best option for some project managers who want to organize tasks and projects with ease.
TEAMWORK wins when it comes to USER-FRIENDLINESS
Teamwork provides feature-rich systems that come with both advanced and basic features. However, it's not as confusing as ClickUp.
So, if you want to easily organize your projects, schedules, teams, resources, and more, Teamwork will give you a better experience.
Who is Teamwork For?
Teamwork is for small and growing agencies, marketing teams, and other businesses that value ease of use and efficient collaboration. You can set it up correctly and use it to automate recurring tasks without external help.
Since it also comes with advanced features, Teamwork is suitable for enterprises requiring high levels of project management automation.
Wrike
Wrike is another project management software that provides an impressive degree of flexibility. It can give your company real-time project insights. As a project manager, you can use its simple interface and several industry-leading features to boost your business' performance instantly.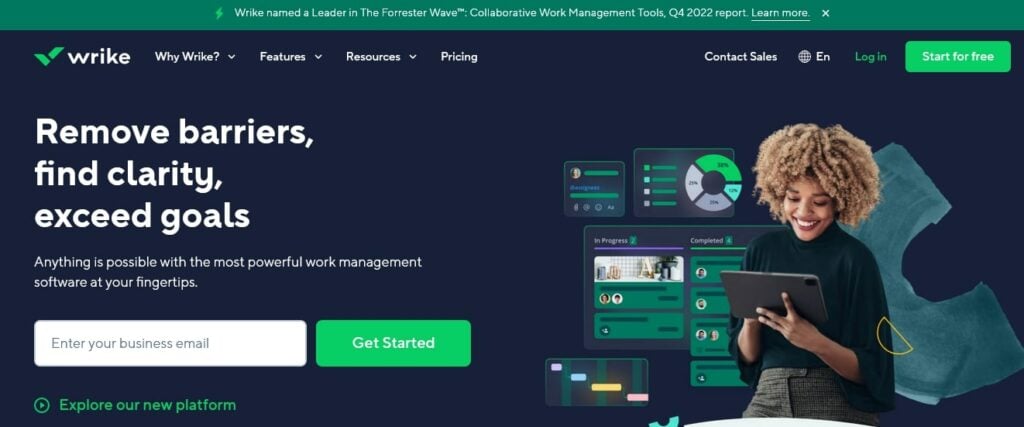 Wrike Features
Workflow Automation
Scheduled Documents
Purpose-Built Templates
Project and Task Approvals
Wrike Pricing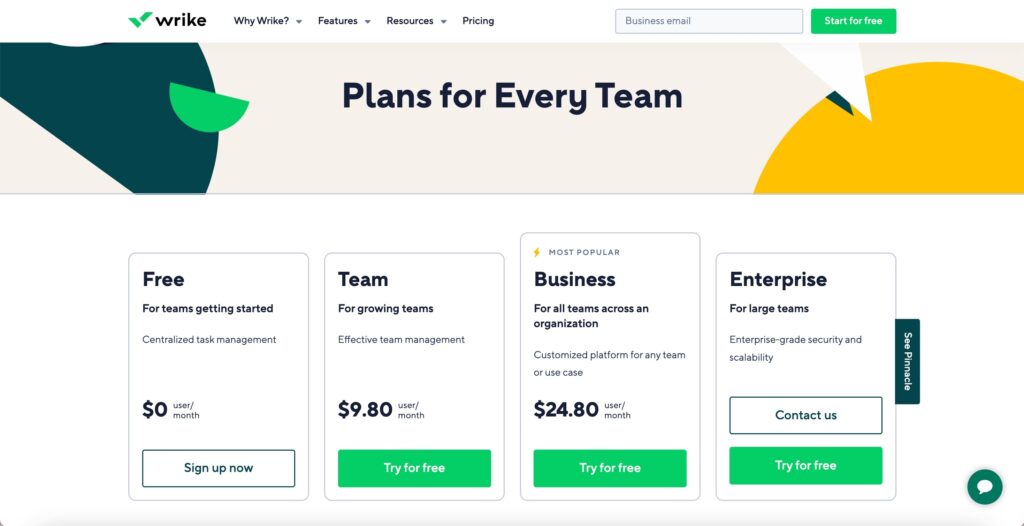 Free: $0 per month for teams getting started, which offers centralized task management.
Team: $9.80 per user per month plan that empowers growing businesses to manage their teams effectively.
Business: $24.80 per user per month for all teams across an organization.
Enterprise: By custom quote. This plan is for large teams and offers enterprise-grade security and scalability.
If you're wondering where to start, you can immediately take advantage of the two-week free trial.
ClickUp vs. Wrike: Why Wrike is Better?
Wrike and ClickUp are not created equal. ClickUp has more functionalities than Wrike. However, when it comes to efficiency and speed, Wrike is far ahead. Therefore, choose Wrike if efficiency and speed are important to your team.
Wrike Wins In Managing One-time and Ongoing Projects
Whenever you want to make your company operations more transparent and faster, you need Wrike. Its collaboration tools can enable your team to quickly discuss ideas and tasks, store files, and track project progress. The flexibility will allow your team to prioritize tasks and get things done from a centralized location.
While you can manage one-time and ongoing projects with ClickUp, you'll spend a lot of time figuring out how things work.
Who is Wrike For?
Considering Wrike's flexibility, it's a great solution for multifunctional teams. Whether it's a small business or a Fortune 500 company doesn't matter. As long as the team or business wants to collaborate and get things done quickly from a single location, Wrike is a great fit.
Smartsheet
Smartsheet is another popular task management and comprehensive goal management system among many businesses. It can empower your company to plan, execute, assign tasks and projects, and track progress. This cloud-based platform comes with easy-to-use automation tools and uses a layout that looks like Microsoft Excel.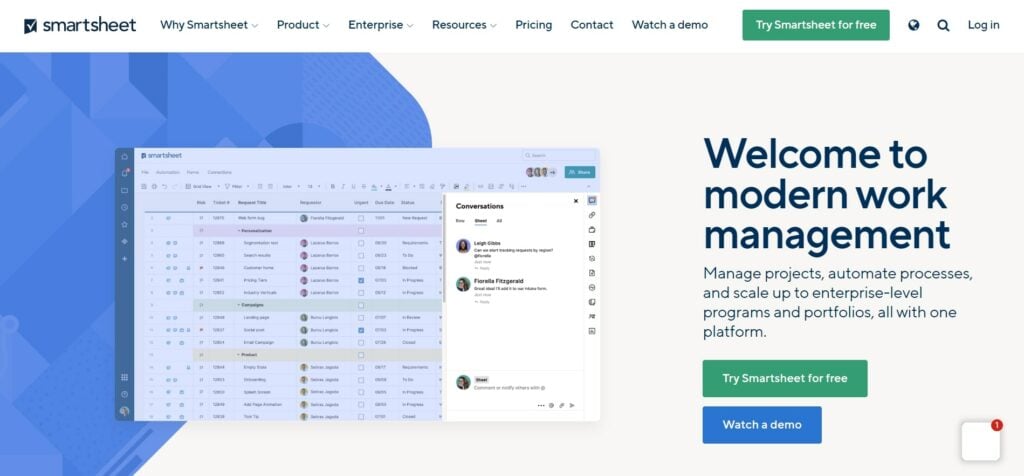 Smartsheet Features
Team Collaboration Tool
Task Automation
Unlimited sheets
Forms
Smartsheet Pricing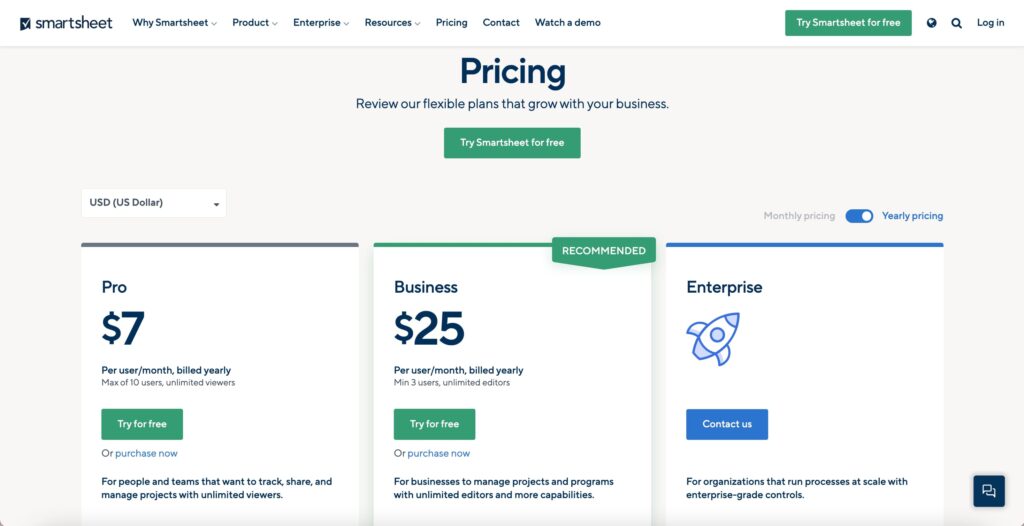 Pro: $7 per user per month, billed annually. It enables ten users to track and manage projects with unlimited viewers.
Business: $25 per user per month, billed annually, that serves a minimum of three users.
Enterprise: You can contact the company for a custom quote. It's for businesses with enterprise-level needs.
However, you can take advantage of Smartsheet's 30-day free trial if you want to test the service first.
ClickUp vs. Smartsheet: Why Smartsheet is Better?
ClickUp is a brilliant choice for many businesses since it offers excellent features like robust time tracking and more than 1,000 integrations. Nevertheless, it might not serve some teams. Smartsheet's spreadsheet-like interface looks like Excel, which many people are familiar with. It also has more workflow features than ClickUp. Therefore, you won't struggle to explain to your teams how to use it to manage workflow.
Smartsheet Wins When It Comes To Managing Workflow
Smartsheet's recognizable spreadsheet-like layout is more appealing than the non-intuitive ClickUp's interface. It also has more workflow features. Thus, the recognizable design simplifies your work when managing workflow and tracking tasks.
Who is Smartsheet For?
Since Smartsheet has more workflow management features, it suits businesses of all sizes that want to manage their workflows and collaboration better. At the same time, this software is a great solution for less complex teams since it's a simpler project management tool.
Oracle Netsuite Project Management
Oracle Netsuite project management provides companies with customizable and scalable tools. It ensures quality, on-time, and on-budget implementations. Moreover, it comes with real-time analytics that suits specific industry sectors like non-profits, retail, and PR agencies. In short, it's an excellent tool for ensuring organizations achieve their project milestones.

Oracle Netsuite Project Management Features
Budget Tracker
Detailed Task Tracking
Project Dashboard
Gantt Charting
Oracle Netsuite Project Management Pricing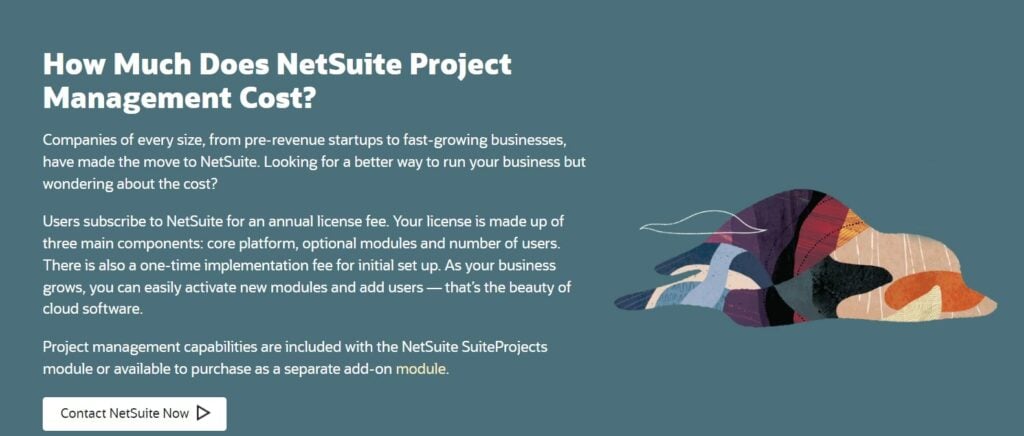 Oracle Netsuite doesn't display pricing plans on its official website. You can contact them for a custom quote.
ClickUp vs. Oracle Netsuite: Why is Oracle Netsuite Better?
Oracle Suite gives users a complete view of their financial performance. It simplifies managing payables and receivables, recording transactions and taxes, and closing books. ClickUp doesn't offer a complete view of your financial performance. Let's see more below.
Oracle Netsuite Wins In Gaining Control Over Accounting
Since Oracle Netsuite software seamlessly integrates with Netsuite accounting software. So, it can enable you to monitor and manage your projects' expenses, revenue, and profitability. ClickUp has features that try to do the same work. However, it can't give you a complete view of your profitability. So, Oracle Netsuite is a better ClickUp alternative regarding cost accounting.
Who is Oracle Netsuite Project Management For?
Oracle Netsuite Project Management is for businesses of all sizes. Nonetheless, fast growing-mid-market companies find it highly suitable. Most complex business processes require a reliable integrated solution to automate recurring tasks and manage everything.
Zoho Projects
Zoho Projects can help you plan, collaborate with your team, and track work remotely. It packs more features than many of its rivals and is affordable. This productivity tool doesn't offer some key features like billing and invoicing tools, but you can connect it with solutions that offer these capabilities. So, Zoho Projects provides significant value for an affordable price.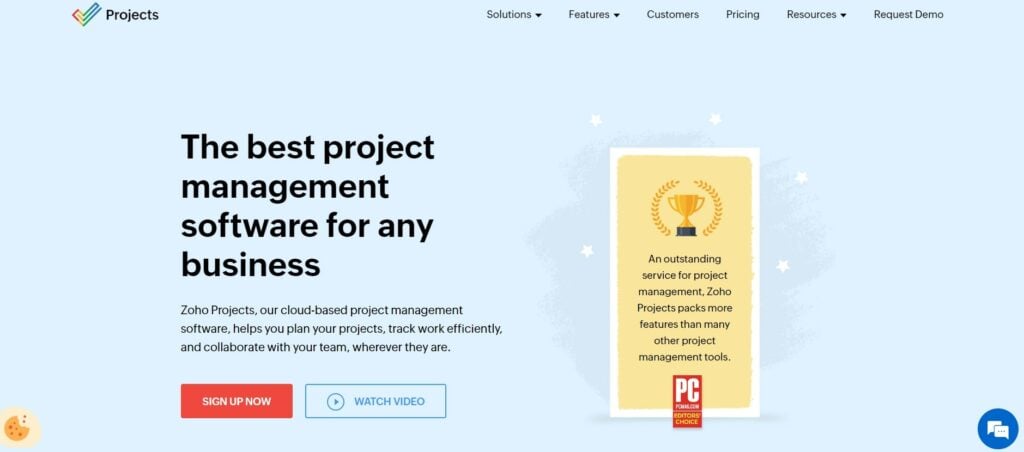 Zoho Projects Features
Project Templates
Task and Issue Reports
Custom Status
Calendars
Zoho Projects Pricing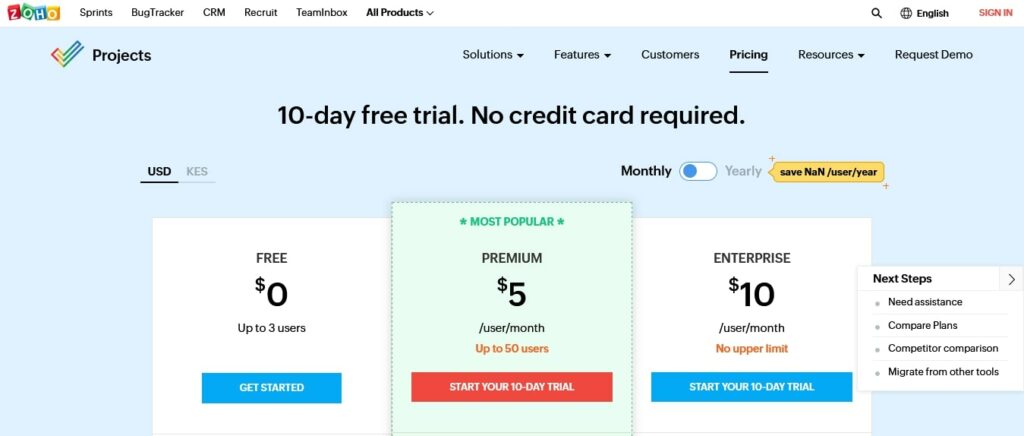 Free: $0 for up three users per month. That's ideal for beginners with one or two projects and needs limited storage.
Premium: $5 per user per month for up to 50 users. It offers Unlimited Projects, 20 Project Templates, and 100GB of storage.
Enterprise: $ 10 per month for an unlimited number of users, which offers numerous premium features.
Fortunately, it also offers you a 10-day free trial.
ClickUp vs. Zoho Projects: Why Zoho Projects is Better?
Let's now compare these leading project and task management tools to help you make an informed decision. They offer amazing features like workflow automation, project templates, and time tracking. Nevertheless, the value of their interfaces, workflow automation, and pricing plans vary significantly.
Zoho Projects is better budget-wise
Zoho Projects offers impressive features, such as a user-friendly interface and responsive dashboards. However, while ClickUp offers a business plan for mid-sized teams for $19, Zoho Projects provides a similar service for $5. Therefore, if you're looking for affordable project management software that offers quality features, Zoho Projects is the answer.
Who is Zoho Projects For?
Zoho Projects is for small businesses (1-50 employees) and the IT and services industry. They cherish its powerful features like workflow automation and ease of use. This tool can also rescue small and mid-sized teams on a tight budget.
WorkOtter
WorkOtter is another amazing cloud-based project and portfolio management tool for businesses looking to reach their full potential. It provides a simple platform for Engineering PMOs, New Product Development, and IT. This productivity solution is also secure and affordable. So, WorkOtter is a simple, sensible, and supportable alternative to ClickUp.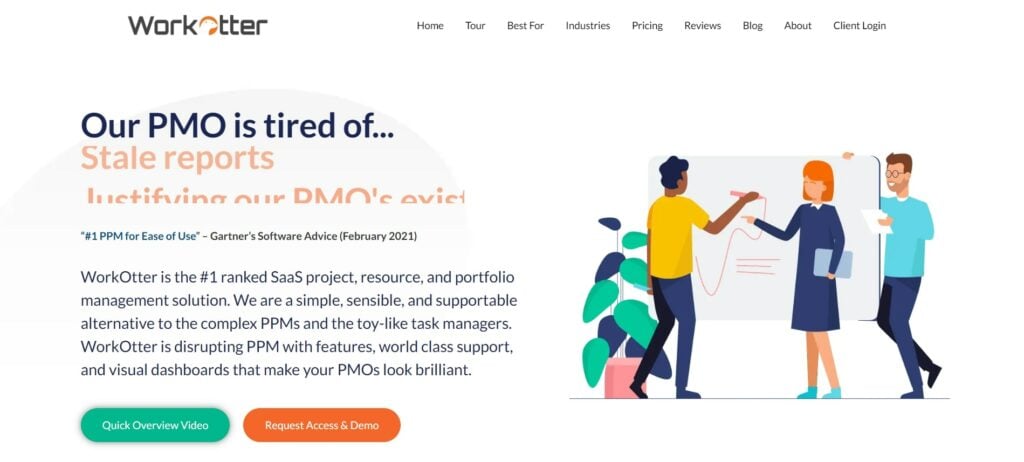 WorkOtter Features
IT Project Demand Management
IT Project Portfolio Management
Project Budgeting
Time and Expense Tracking
WorkOtter Pricing
Free Forever: $0 per person forever plan, which is best for entering service requests and receiving reports by email
Member License: A $10 per user per month plan is best for senior executives, consultants, and limited team members.
Team License: $20 per user per month. That's the best for employees, consultants, and Team Members.
Manager License: $35 per user per month for full access. It's best for project managers, program managers, resource managers, PMO departments, administrators, and portfolio managers.
You can request a 30-minute personalized demo to taste what you'll experience.
WorkOtter vs. ClickUp: Why is WorkOtter Better?
WorkOtter and ClickUp are excellent project management tools with many similarities. However, the quality of their customer support and features differs.
WorkOtter Wins In Customer-service Delivery
WorkOtter will assign dedicated specialists to help you get started. They also offer efficient and immediate email support whenever you need support. What's more, you have the option to request a personalized demo. Since ClickUp only provides a free trial and 24/7 support, WorkOtter wins when it comes to customer support.
Who is WorkOtter For?
Since WorkOtter has advanced IT features and provides professional customer support, it's best for new product development, Engineering PMOs, and IT teams.
Asana
Asana is another ClickUp alternative that many teams use today. Like monday.com, it's one of the oldest in the market that comes with plenty of key features. Asana's simple collaboration features and simple layout stands out. So, it's suitable if you're looking for a great project management tool for promoting collaboration.
What about Asana vs. Monday? Both win in task management.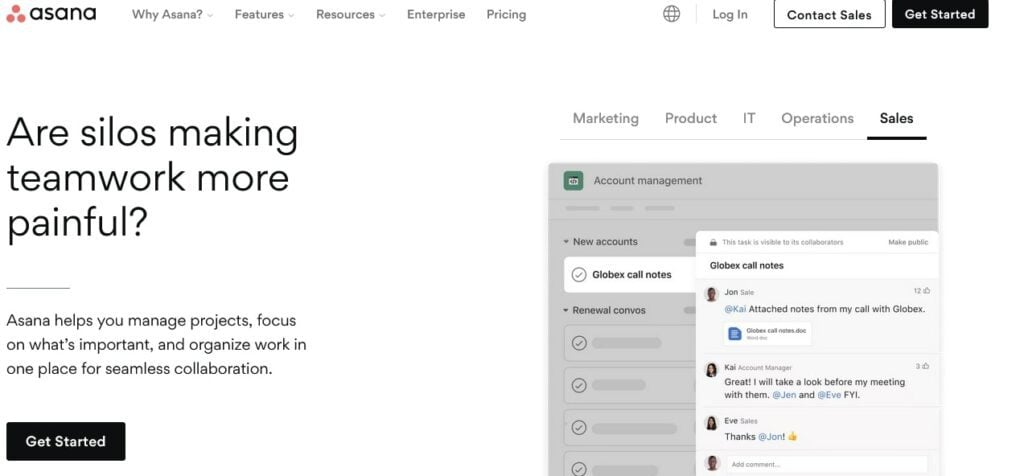 Asana Features
Workflow Builder
App Integrations
Automation
Work Request Management
Asana Pricing
Basic: Free forever for teams getting started with project management that manages tasks and personal to-dos.
Premium: $10.99 per user per month, billed annually.
Business: $24.99 per user per month, billed annually. It's best for teams that manage work across initiatives.
Asana also offers a 30-day free trial, which allows you to test your chosen plan before paying.
ClickUp vs. Asana: Why is Asana Better?
Asana is one of the oldest project management tools. ClickUp is relatively new, but both offer useful productivity tools like dynamic reporting and app integration. However, they differ when it comes to the efficiency of work management tools.
Asana Does Better at Helping Teams Stay Organised and Connected
Asana has a robust task management tool that's simple to use. If you're using it, your teams can communicate more efficiently and set goals. So, Asana is better than ClickUp when it comes to helping your team stay organized and meet deadlines consistently.
Who is Asana For?
Because of Asana's numerous collaboration and work management tools, it's for small and large teams and organizations. In short, If you want to increase accountability in your teams, communicate more easily, and help your teams meet deadlines, you can use Asana.
Notion
Notion is another popular project management tool for your business and teams. It doubles up as an excellent note-taking solution. So, this software is one of the best ClickUp alternatives for logging down your notes with all types of information.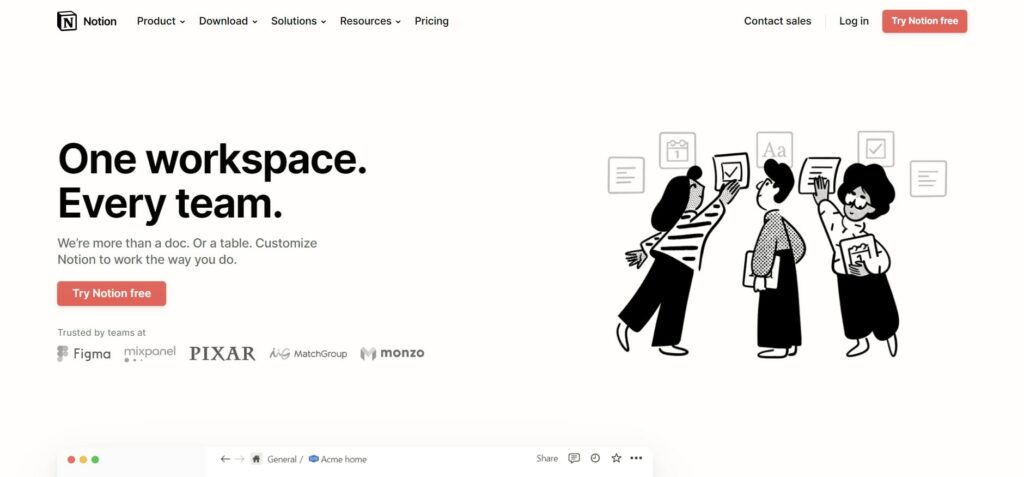 Notion Features
Team Collaboration Workspace
SAML SSO
Unlimited Page History
Minimalistic Interface
Notion Pricing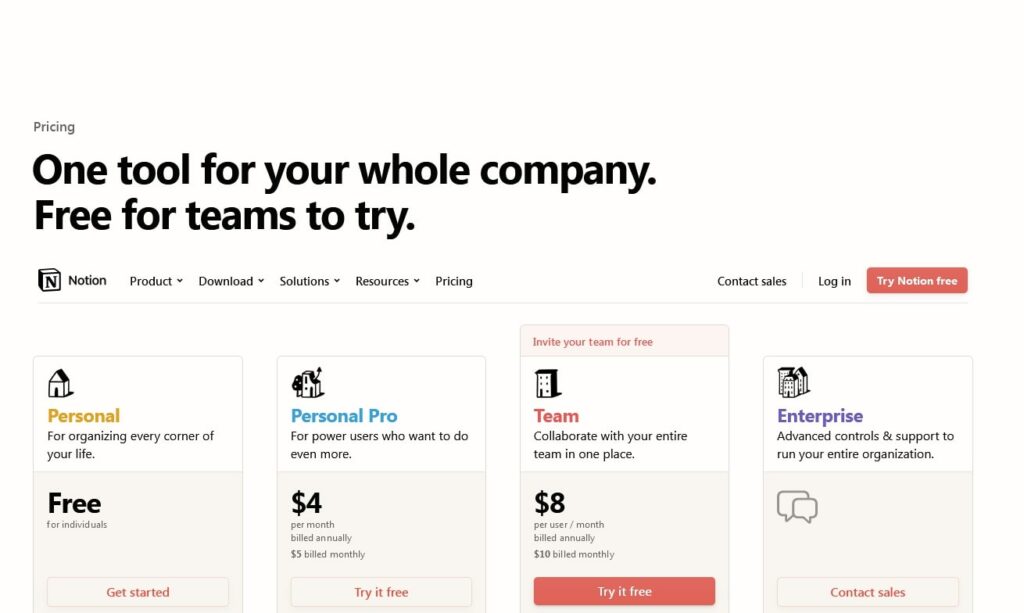 Personal: Free plan that offers features for organizing every corner of your life.
Personal Pro: $4 per user per month (billed annually). It offers unlimited file downloads and unlimited guests.
Team: $8 per month per user ( billed annually) that empowers you to collaborate with your entire team from a single location.
Enterprise: By custom quote. Its key features include advanced controls and support that are tailored to help you manage your entire organization with ease.
Notion also offers a one-week free trial, which is enough to try the service before upgrading.
ClickUp vs. Notion: Why Notion is Better?
Every innovative business needs a reliable project management tool. While ClickUp offers valuable key features that might help you, Notion offers better features for digital note-taking. Let's see why it wins in this area below.
Notion Wins in Digital Note Taking
With Notion's myriad customization options and minimalist interface, it's the best for note-taking. Its flexible system empowers you to embed media, create lists, rearrange your notes, and more.
Who is Notion For?
Notion is best for individuals and small teams that want to manage tasks and take notes. Medium-sized companies that need to capture business thoughts more frequently find it useful and pocket friendly.
Airtable
Airtable is a unique productivity software that simplifies building powerful, custom apps. You can build the tools without any coding skills. At Airtable's core, it enables you to create useful databases suited for meeting high-performing teams' needs.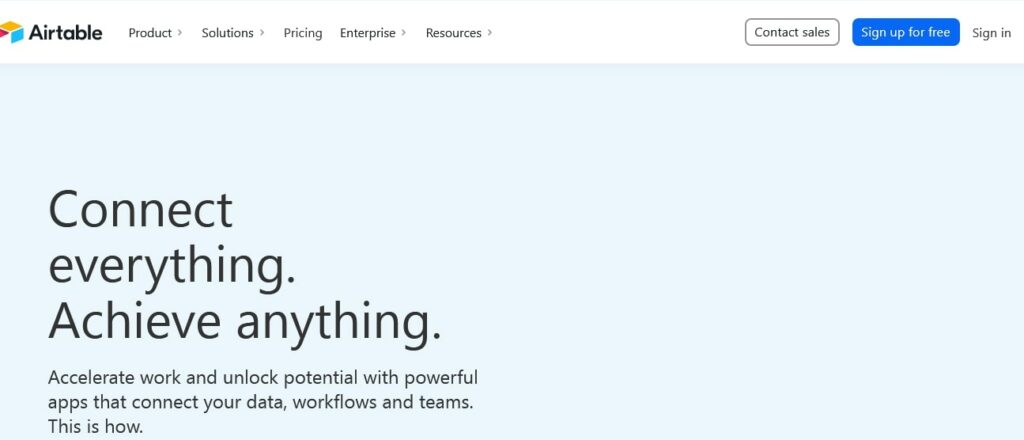 Airtable Features
Automatic Table Syncing
Custom Branded Forms
Gantt & Timeline Views
Granular Interface Permissions
Airtable Pricing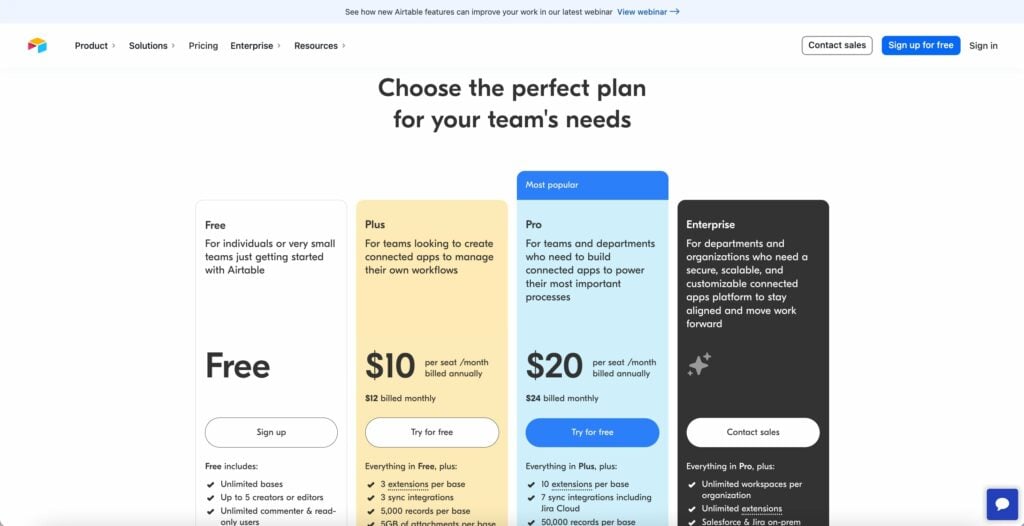 Free: This free plan offers unlimited bases, Interface Designer, and one sync integration.
Plus: $10 per user per month (billed annually) that suits you if you want to create your apps to manage your workflow.
Pro: $20 per user per month (billed annually), which can help your teams to develop connected apps.
Enterprise. By custom quote. It suits organizations that want scalable and customizable connected apps.
Airtable offers you a free trial for 14 days.
ClickUp vs. Airtable: Why Airtable is Better?
Airtable is among the best productivity tools. Let's see why it's better than ClickUp.
Airtable Offer Amazing App Creation Features
Airtable's no-code architecture enables you to build as many digital tools as you need. For example, you can use the interface designer to create a custom interface intuitively. So, instead of adjusting the way some apps work, you can create one that addresses your specific needs.
Who is Airtable For?
Due to Airtable's ability to build a single virtual platform, it's ideal for individuals and companies that want to build apps quickly. It's customizable and easy to set up.
Scoro
Another excellent alternative to ClickUp is Scoro. Some of its features speed up performance. Moreover, the software's dashboard can provide a holistic view of everything that's taking place in your business.

Scoro Features
Financial Reporting
Budgets and Forecasts
Work-Time Billing
Multi-Currency
Scoro Pricing
Essential: $26 per user per month that serves businesses new to project management.
Standard: $37 per user per month, which suits growing businesses.
Pro: $63 per user per month offers plenty of premium features.
Ultimate: You can contact Scoro for custom pricing. This plan offers enterprise-level features.
If you need, you can try Scoro for free for 14 days.
ClickUp vs. Scoro: Why Scoro is Better?
ClickUp has essential automation features with generic invoicing tools. Nevertheless, Scoro's automation solutions are more effective at automating your proposal and invoicing processes.
Scoro is better compared to ClickUp in invoicing
Scoro can compile large volumes of data and create invoices. It can also schedule recurring invoices and create custom email templates. What's more, it can forward personalized messages with the invoice. That makes Scoro an invoicing software that's better at saving your time and money.
Who is Scoro For?
Scoro is for small-to-medium-sized businesses requiring high invoicing automation levels. It also makes great sense for enterprises that want to manage their data and customer databases.
Jira
Jira Software is a customizable workflow solution that development teams use to track and release software. Besides shipping up-to-date software and tracking issues, you can use it to generate useful reports and create unique workflows. Thus, Jira is suitable for addressing all your software team's needs.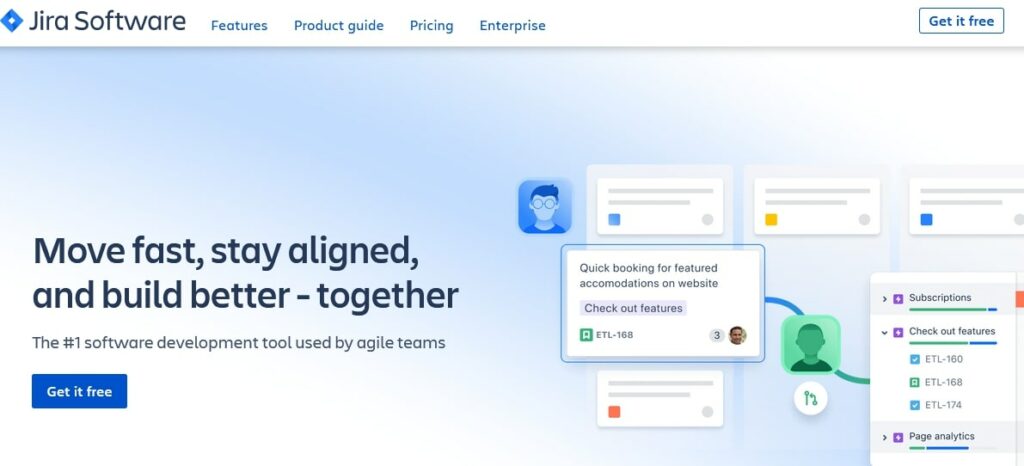 Jira Features
Scrum Boards
Kanban Boards
Roadmaps
Drag and Drop Automation
Jira Pricing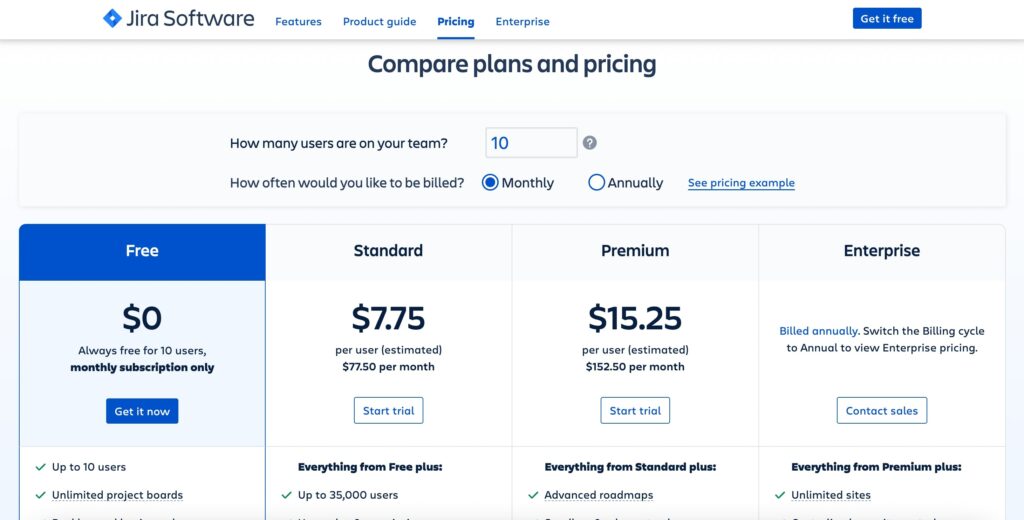 Free: Free for up to 10 users and offers unlimited project boards.
Standard: $7.75 per user per month for up to 35,000 users. It offers business hour support, 250 GB of storage, and more.
Premium: $15.25 per user per month, which offers everything from Standard plus unlimited storage, 24/7 Premium support, and more.
Enterprise: You can get custom pricing. This plan offers centralized security controls, 24/7 Enterprise support, and more.
If you want to access Jira's Standard and Premium plans for free, you can sign up for its 7-day trial.
ClickUp vs. Jira: Why Jira is Better?
ClickUp and Jira are popular project management tools suited for your business. However, Jira performs much better in certain areas. For example, you can use the simple Scrum board and real-time reports to customize workflows and track performance over a long period.
Jira Wins the Battle of Keeping Track of issues shared
Jira's easy-to-use customizable workflow features allow you to track any issue type. You can easily modify the workflow to fit your unique business needs. This flexibility will enable you to use Jira across multiple projects with ease.
Who is Jira For?
Since Jira has agile boards and advanced issue-tracking features, it's for software developers and agile teams. Small productivity management teams can also customize Ajira templates in no time. This way, it's one of the ClickUp alternatives that can help them to start projects quickly.
ProofHub
ProofHub is an all-inclusive work management tool that can maximize productivity across your team. Its scalable features and pricing packages can suit all your business needs. For ProofHub's top-rated features and performance, it has won plenty of awards over the years, making it one of the tried-and-tested cloud productivity management systems.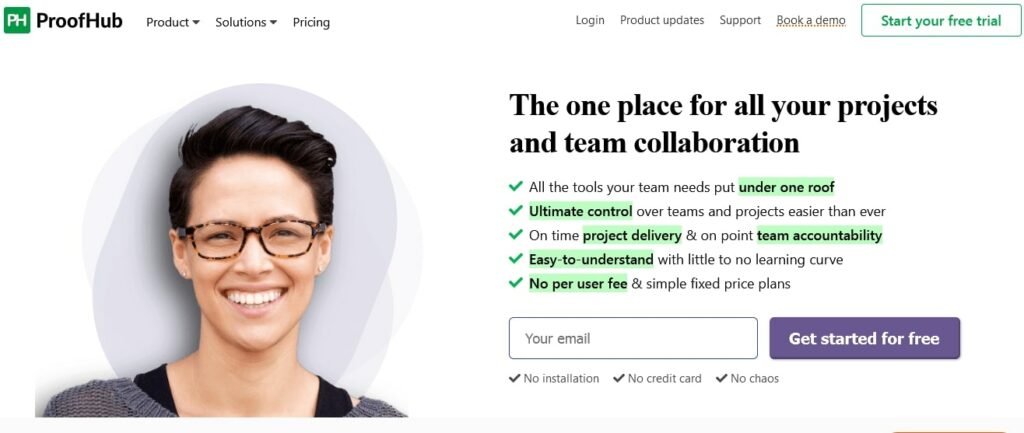 ProofHub Features
White-Labelling
Customization
Multiple Languages
Reports
ProofHub Pricing
Essential: $45 per month billed annually, offering 40 GB storage and supporting unlimited users to manage 40 projects.
Ultimate Control: $89 per month billed annually. It supports unlimited users and offers to manage unlimited projects. This plan provides 100GB of storage.
For any organization, you get a 14-day free trial.
ClickUp vs. ProofHub: Why ProofHub is Better?
ProofHub is simple to use and comes with scalable features and pricing packages. ClickUp is a great productivity tool but offers a per-user pricing model. So, ProofHub can serve a wide variety of businesses.
ProofHub has the edge over ClickUp in Scalability
This ClickUp competitor focuses on providing scalable services. With its two flat-rate pricing plans and advanced functionalities, ProofHub gives you everything you need to manage your projects irrespective of the number of users.
Who is ProofHub For?
Because of ProofHub's scalability, it is suited for all businesses and non-profit needs with expansion plans. So, decision-makers and managers who want to reap the benefits of using project management tools can use it.
nTask
nTask is another project management software that enables your teams to plan, analyze, and manage tasks. You can allocate resources, manage your budgets, and identify your teams' project milestones through its basic features. Because nTask is one of the cheapest options, it suits many teams.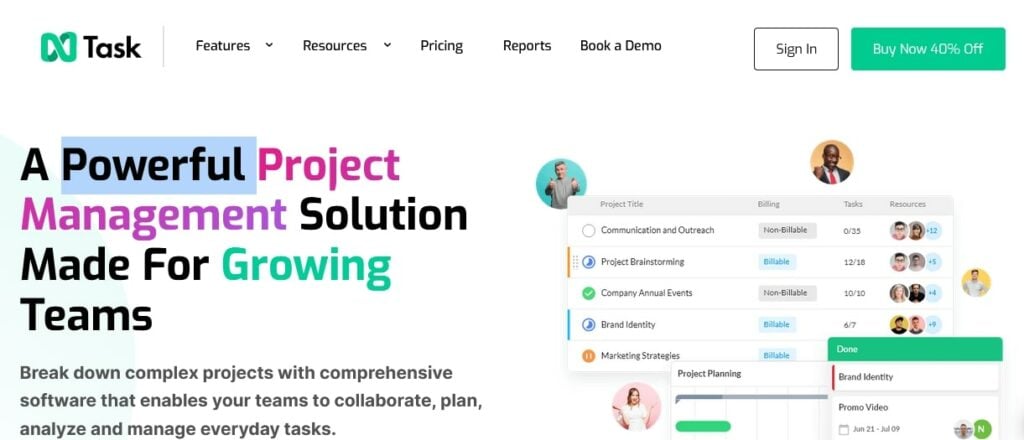 nTask Features
Issue Updates
Follow-up Actions and Decisions
Manual Timesheets
Time Tracking
nTask Pricing
Basic: Free. It offers unlimited workspaces and Tasks and To-Do Lists.
Premium: $3 per user per month, billed annually, offering everything in Basic plus unlimited Projects.
Business: $8 per user per month, billed annually, offering 10GB of storage and advanced business features.
Enterprise: You can contact nTask for custom pricing. It offers premium-level features.
Before paying, you can try the service for free for seven days.
ClickUp vs. nTask: Why nTask is Better?
The majority of ClickUp alternatives in this list offer more advanced features than nTask. However, that comes at a cost. Since nTask's pricing plan starts at $3 per month, it's a better solution for some teams and businesses that need basic tools.
nTask Beats ClickUp when it comes to supporting teams trying to get off the ground
ClickUp's pricing plan starts at $5 per user per month. So, nTask is cheaper. For that matter, it suits teams and businesses that are on a tight budget and don't require many advanced tools.
Who is nTask For?
Startups and teams trying to get off the ground often lack the resources to acquire costly tools. nTask has been designed with their needs in mind. It's also ideal for individuals who are new to managing projects.
Basecamp
This review can't end before we mention Basecamp. It's one of the simplest ClickUp alternatives designed to help you organize scattered projects seamlessly. The app is a great resource planning tool with key features like a real-time group chat, improving collaboration and efficiency.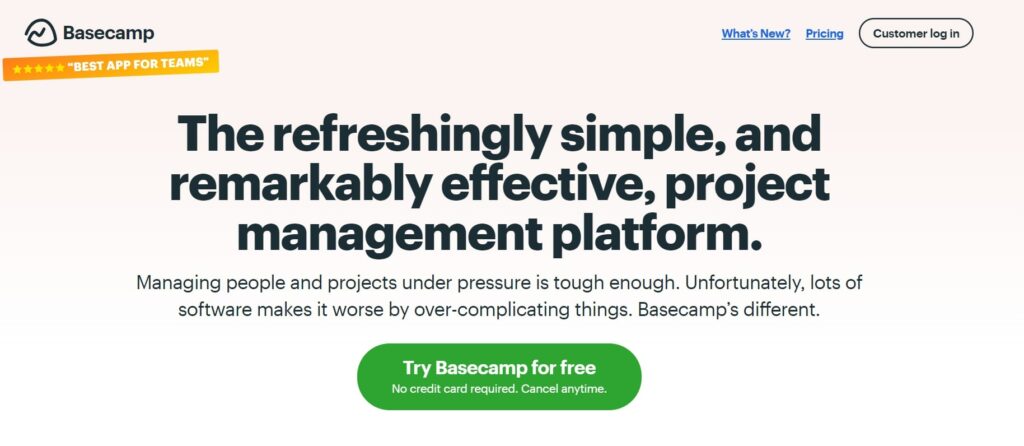 Basecamp Features
Integrations
To-Dos
One-Page Dashboard
Basecamp Pricing
You get the service for $11 per month per user. Basecamp offers unlimited projects, 500GB of storage space, priority customer support, and more.
Better still, Basecamp offers a 30-day free trial.
ClickUp vs. Basecamp: Why Basecamp is Better?
The best part of Basecamp is that it's a simple product with all-inclusive pricing. There are no tiers or complex features. So, Basecamp solves the main problem associated with ClickUp.
Basecamp is Simpler than ClickUp
Basecamp is refreshingly simple. No tiers, no complex apps, or upgrades.
Who is Basecamp For?
Basecamp is for businesses looking for a refreshingly simple platform. It can also serve you if you want to scale up without investing in a new tool. However, consider using other ClickUp alternatives if you need unique software features.
Top ClickUp Alternatives: Conclusion
As you can see, each of the above ClickUp alternatives offers some valuable features and benefits. That's great news because you can choose the best project management tool that suits your team's needs.
In short, whenever you want to achieve your task management goal with ease, consider your needs and budget. Once done, choose one of the ClickUp competitors with the required features.