If you're reviewing project management software, chances are you've come across ClickUp, the fast-growing productivity app.
Whether you're a business owner, a project manager, or just part of a company, we all deal with projects. But, unfortunately, you know how easily large projects may devolve into chaos.
To-do lists, schedules, task deadlines, project planning, document preparation, communication, and collaboration are all apps that most professionals use separately.
Imagine if you could accomplish everything with only one app? Yes, you read that correctly. Productivity tools like ClickUp, for example, allow you to complete many tasks in one place.
And why trust us? Because our team has been using ClickUp to manage our content pipeline, marketing projects, and hiring operations, and store nearly all our company docs. Therefore, we are reviewing ClickUp from our first-hand experience of using it across multiple teams and operations.
Frankly, our team cannot live without ClickUp anymore. So, it's quite apparent that we recommend ClickUp for startup teams, small businesses, and even entrepreneurs just starting. The best part is that ClickUp offers a free plan for anyone to enjoy the software.
You can sign up for ClickUp with our link below and test it out yourself:
Either way, this ClickUp review will examine its features, pricing, pros, and cons to evaluate whether ClickUp is truly the "one app to replace them all." We will let you know what kind of businesses we believe would find ClickUp helpful and some ClickUp alternatives if you want to explore other options.
What is Clickup?
ClickUp is a cloud-based collaboration software tool for teams and businesses of all sizes and kinds. It brings together critical business apps and consolidates business data into a single online platform.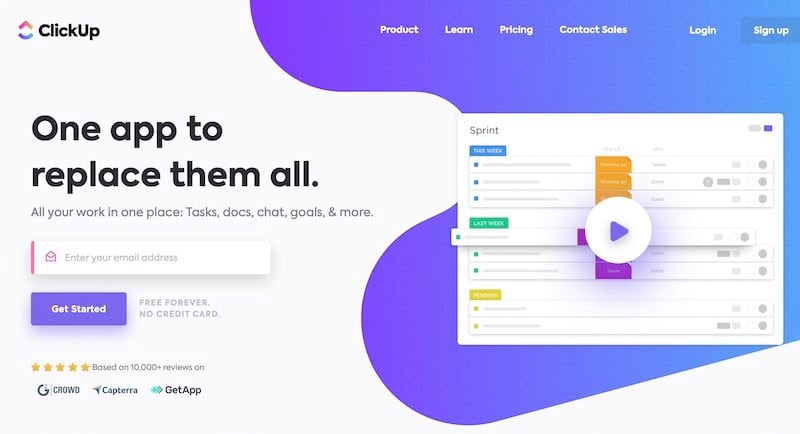 You can assign work to teammates, manage client projects, and collaborate on documents with others. ClickUp gives you all the features you need to finish your job efficiently, accurately, and effortlessly.
Furthermore, the work productivity tool allows you to examine work tasks and data in numerous ways for easier comprehension and tracking. For example, you can view to-dos in a list, processes on a board, dashboards in a box, and project timelines in a Gantt chart. There's also a calendar view, an activities view, mind maps, a workload view, a table view, and a map view in ClickUp.
ClickUp Features
ClickUp describes itself as "one app to replace them all." Here's a quick overview of its various features:
Project management
Agile development
Workflow automation
Document management
Gantt charts
Scheduling
Mobile app access
Real-time chat
In-app video recording
Automation
Integrations with 1000+ third-party apps
Now, let's take a deeper look at its core features.
Project management and task management
ClickUp is a powerful project management tool that makes completing assignments a breeze. You can organize and manage your team's to-do lists from any device, such as a laptop, tablet, or smartphone.
You'll be asked to select a dashboard template based on your goals, experience, industry, and other criteria when you first start. After that, you may choose from hundreds of pre-built templates.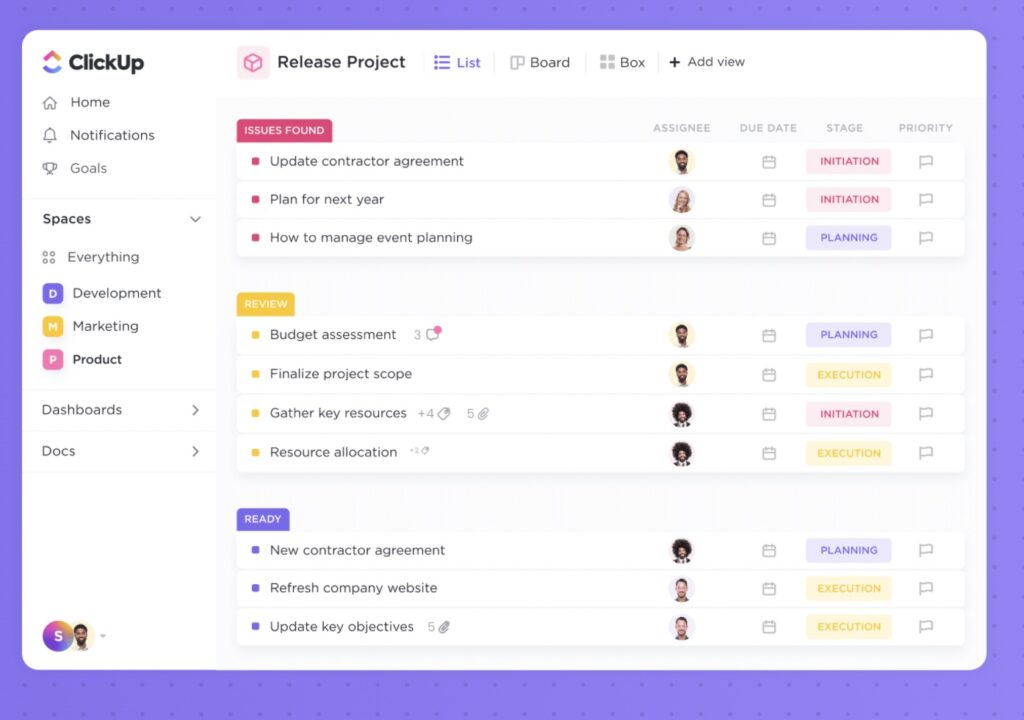 Project teams can use ClickUp's tools to plan and visualize their plans from numerous views. For example, use the list view, calendar view, or Gantt view to monitor timelines and track progress to manage priorities. Teams may interact by leaving comments on any task and receiving notifications if something changes. In addition, you can utilize dashboards to gather information at a glance and employ time tracking to keep plans and schedules on track.
The task management tools enable you to manage tasks inside a project and rearrange or prioritize them based on your requirements. For example, you can make a list of recurring tasks, create daily, weekly, or monthly reminders for specific tasks, and sort all your tasks.
Time Tracking
ClickUp makes it easy to organize your calendars, track time spent on specific tasks, and see the timesheet in a straightforward and clean way.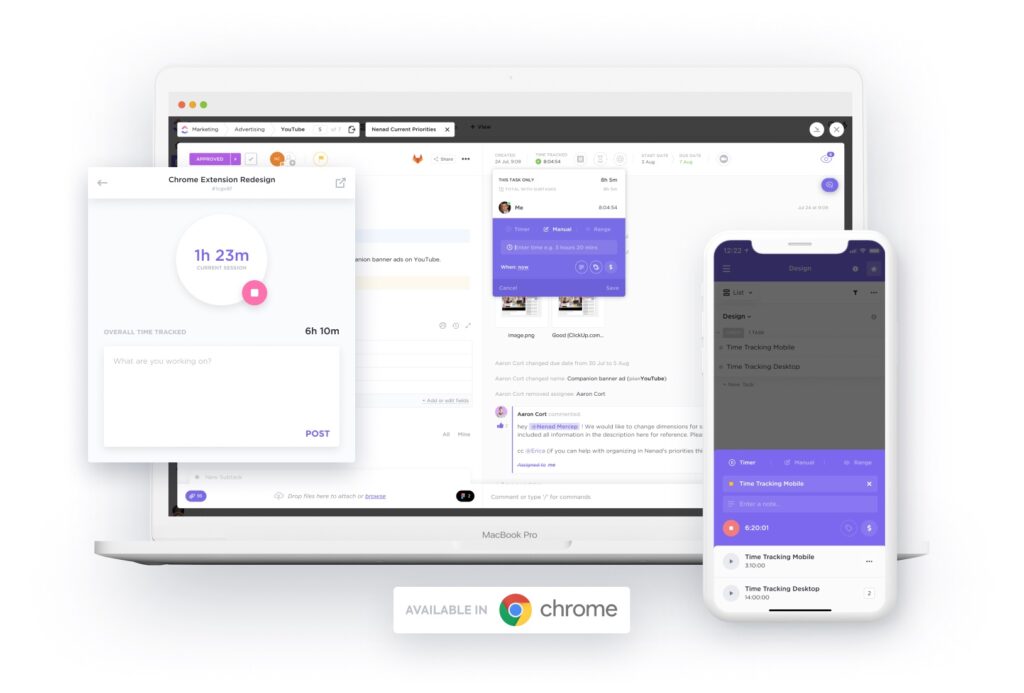 The software's financial analysis features also provide extensive cost management and budgeting functions. You can use these to prepare invoices and charge working hours.
It keeps track of non-billable hours, calculates overtime, and even accounts for vacations.
The notable Google Calendar integration, frequently praised by customers in ClickUp reviews, seamlessly syncs all of your information.
Collaboration tools
ClickUp provides a robust and reliable internal communication flow. Document sharing and collaborative tools are among the company's primary services.
Some are ClickUp-only features, while others are integrations with well-known communication management platforms like Slack, Zoom, and other comparable apps.
They let you provide comments, tag coworkers, and communicate directly with those working on specific projects and tasks. In addition, you can communicate with your teammates via the ClickUp chat software, as well as private and public channels.
Issue Tracking
Bug tracking, alerts, issue schedules, audits, and recurring incident management are all-natural components of the platform. They'll assist you in creating a more streamlined business administration system and a more error-free work process. Agile software development teams particularly love the bug-tracking feature.
Dashboard
ClickUp offers a customizable dashboard that you may tailor to your specific requirements. Widgets make up the dashboard, which you can personalize. For example, you may use standard charts and customized widgets for time tracking and sprints to include rich text blocks, comments, and embed anything.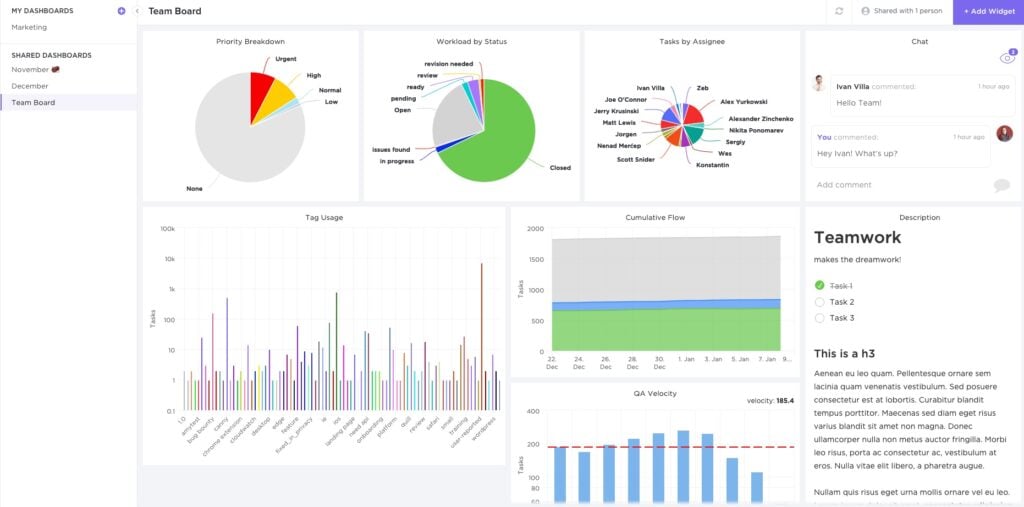 You can also create a visual representation of what your team is working on. You can, for example, show epics, projects, workload, and more!
ClickUp Pricing
ClickUp offers four different pricing options:
Free plan
ClickUp free plan offers a great set of features, such as:
100MB of storage,
Unlimited tasks and users,
Collaborative docs
Email in ClickUp
Time tracking,
In-app video recording,
Kanban boards,
Real-time chat
For individuals, you can utilize Clickup's free plan to do a lot.
Unlimited Plan
ClickUp unlimited plan costs only US$5 per member per month. It includes additional features like:
Unlimited storage, integrations, dashboards, Gantt charts, and custom fields
Guest with permissions
Goals & portfolios,
Form view,
Resource management
Agile reporting
The Unlimited plan is best for small teams.
Business Plan
The Business plan costs US$9 per member per month, with more advanced features like:
Google SSO
Unlimited teams
Custom exporting
Advanced public sharing
Advanced automation
Workload management
Timelines & Mind Maps
Advanced dashboard features
It's best for mid-sized businesses who want to automate more workflows and manage workload more effectively.
Business Plus
The Business Plus plan costs US$19 per member per month and includes pretty much everything:
Team sharing
Subtasks in multiple lists
Custom role creation
Custom permissions
Custom workload capacity
Personalized admin training
Increased automation and API
It's best for big businesses with multiple teams.
ClickUp Pros
Feature-rich free plan
The majority of free software versions contain basic and limited capabilities. Fortunately, Clickup's free plan provides various functions that are generally only available in paid subscriptions of other project management apps.
An extensive list of features
ClickUp is loaded with powerful features. It can act as a centralized hub where businesses can keep all of their essential data, not to mention time tracking, project tracking, and real-time messaging and chat capabilities.
Customization dashboard
The customizable dashboards of ClickUp give excellent visuals and data. Switching views reveals new perspectives that provide helpful information.
ClickUp Cons
Having too many features can be overwhelming.
The variety of features can be overwhelming for some users, especially during the first setup. Users report that they find it challenging to use all of the features and take some time to learn how to use the tool.
Too many customization options
One of ClickUp's best features is the ability to customize it fully. However, it could also be a disadvantage when users need to configure and choose from various options for the software to function correctly. To get the most out of the software's high level of flexibility, users must plan ahead of time for its adoption and use.
ClickUp Alternatives & Competitors
ClickUp vs Monday.com
Monday.com and ClickUp are cloud-based project management and collaboration solutions that let users track and manage projects. They're simple to use and have a quick onboarding procedure. Managing projects gets a lot easier after completing your onboarding and project implementation.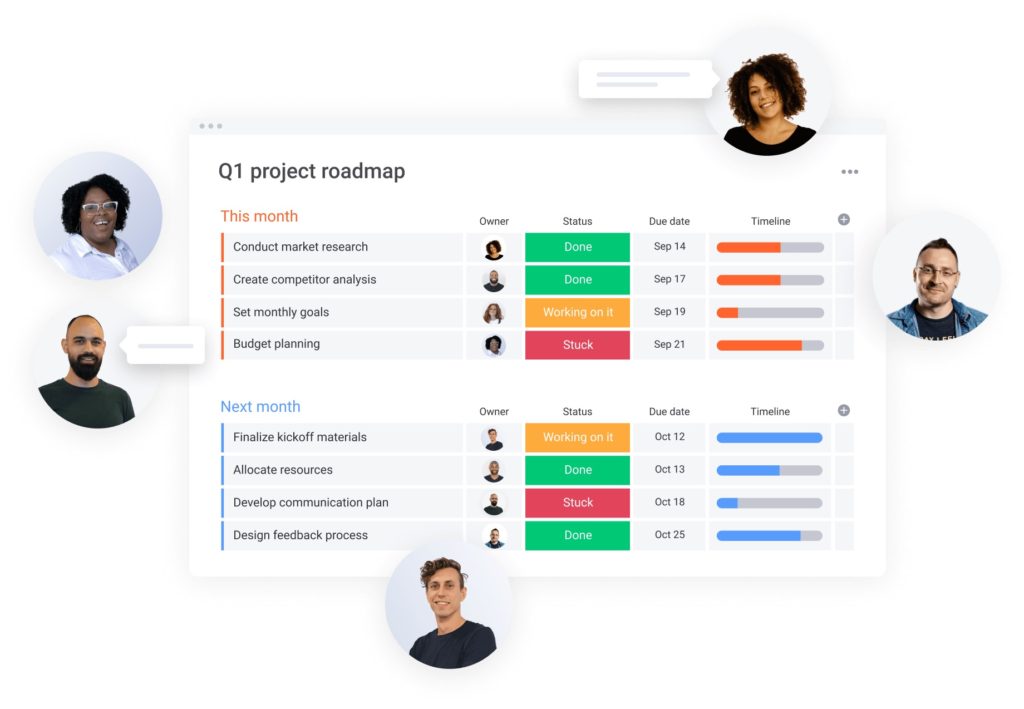 Monday.com is ranked first in our best project management software reviews due to its versatility, scalability, cost-effectiveness, and vast feature set.
Monday.com is more feature-rich, whereas Clickup is more affordable. As a result, Clickup is an excellent choice for businesses searching for a low-cost option, whereas Monday.com is a wonderful option for companies that require additional functionality.
Further read:
Clickup Vs Monday: The Complete Comparison
ClickUp vs Asana
Asana and ClickUp are two project management solutions that offer a variety of valuable features. For example, you can keep track of your team's task status and well-coordinate your team with them.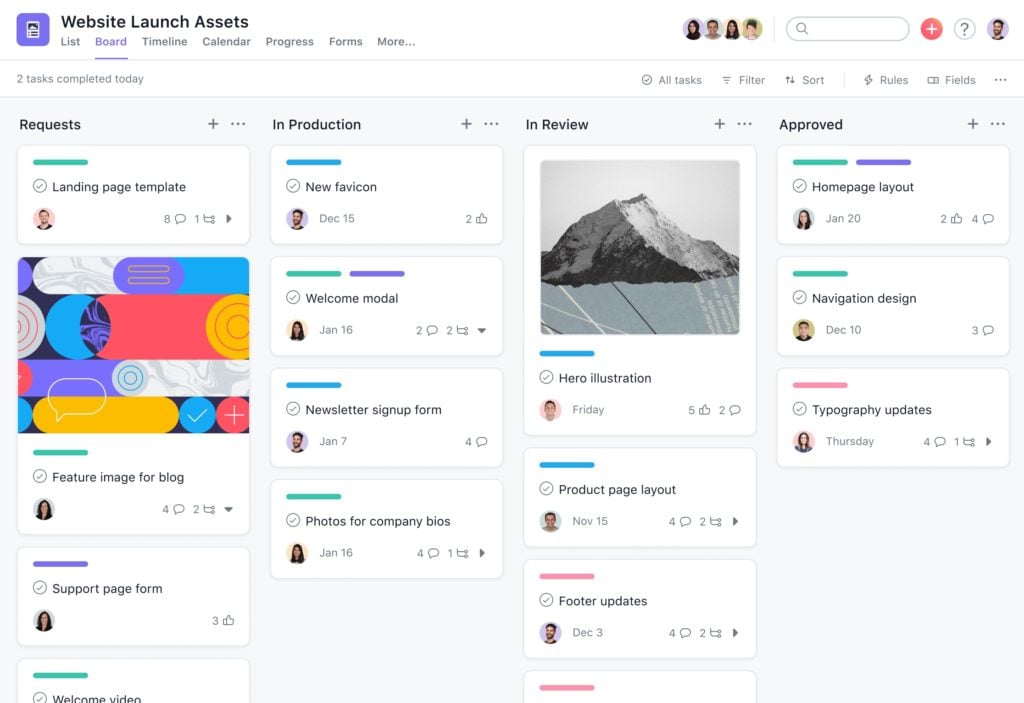 There are a lot of things that Asana and ClickUp have in common. For example, they both offer list, board, and calendar views. In addition, ClickUp and Asana both provide customized dashboards with menus that let you easily navigate to the desired feature with only a few clicks. Asana and ClickUp demand some care during the initial setup and setting procedure, but it's not tough.
However, there are a few differences. While Asana is straightforward to understand, ClickUp requires a little more work. On the other hand, ClickUp includes a few extra features that Asana does not.
Asana is an excellent choice if you're looking for a platform that focuses on helping users get started and learn how to use it right away. ClickUp, on the other hand, is a better option if you want more customization.
Further read:
ClickUp Vs Asana: Which Is A Better Project Management Tool?
FAQs
ClickUp Review: Conclusion
ClickUp provides a pleasant and seamless experience for us.
It offers inexpensive plans, many valuable features, customization capability, and excellent scalability for any size or type of business.
For both team and solo users searching for single cloud-based project management and collaboration solution software, ClickUp is worth a try.