CRM features are at the heart of all Customer Relationship Management software (CRM systems). They can have a major impact on your organization's sales and marketing efforts. They allow you to manage your leads more effectively and provide your team with the information they need to effectively engage with prospects and customers.
When shopping for a new CRM software, it's important to know what to look for and what questions to ask to ensure that you choose a system that meets your specific needs.
In this post, we'll look at 20 CRM features that are important when you're evaluating new software or upgrading an existing system. We'll discuss each feature and show how it can improve your organization's sales efficiency, increase customer engagement, and help you increase revenue.
What is CRM?
Customer Relationship Management (CRM) is a strategy for managing a company's interactions with current and potential customers. It can help you streamline your sales and marketing processes, generate leads, and engage with your customers in ways that help you build better relationships and increase sales.
Often, people simply use CRM to refer to a CRM system or CRM software. The next question will be what a CRM system or CRM software is.
What is CRM software?
Customer Relationship Management software (CRM Software) is a set of applications that an organization can use to manage its relationships with customers, vendors, and partners. It's designed to help businesses improve their sales, marketing, and customer service operations to drive more sales and generate more revenue. A good CRM tool can help businesses automate the customer life cycle, simplify the sales process and sales cycle, and provide better contact management.
Sales and marketing teams use CRM software to track leads and close deals. They also use it to manage customer accounts and identify cross-selling opportunities. Customer service agents use CRM software to answer questions and resolve issues, which helps drive customer satisfaction and loyalty.
Here are a few of our top recommended CRM software you can consider using:
You can get started for free with our links above!
Why do you need CRM software?
Businesses of all sizes can benefit from CRM software by automating their sales and marketing processes to focus on closing deals and generating revenue. Here are some key benefits of using CRM software:
Improving lead management and tracking — A CRM system helps organize leads and track customer engagement so you can follow up quickly and convert leads to sales.
Provide a platform for collaboration and shared data — Sharing customer data and insights across departments and teams improve everyone's understanding of the company's customers and drives more effective sales and marketing campaigns.
Engage with buyers in a personalized way — A CRM system makes it easy to capture and manage customer data so you can target your marketing campaigns to prospects with the most relevant messaging.
Increase sales — By integrating your sales processes into your CRM system, you can automate workflows to improve efficiency and close more deals.
Streamline your sales and marketing processes — A CRM system streamlines and automates your sales and marketing processes and provides a unified view of your customers across the organization.
Reduce the cost of doing business — By automating common tasks like lead management, product pricing, and fulfillment, a CRM system can help you save time and resources.
Enhance employee productivity — A CRM system helps you spend more time selling and less on administrative tasks like data entry, improving overall employee productivity.
How to Select a CRM Software
To select the best CRM software for your business needs, you must consider several factors, including cost, CRM features and functionalities, usability, integration capabilities, mobile accessibility, security features, and technical support. Following are a few questions that will help you determine the best CRM software for your business needs:
What is your specific business goal or challenge that you want to solve with the CRM software?
What types of activities do you currently perform regularly that could benefit from a CRM software solution?
Which CRM features and functionality are the most important for your business?
How will the CRM software integrate with other business applications used at your company?
How large is your sales team and how is your team distributed geographically?
Will you require a solution that allows team members to work remotely and/or access the system from mobile devices?
What type of security and compliance standards do you have to adhere to and what kind of support will you require in order to use the CRM software effectively?
Will you require industry-specific functionality or other functionality that is not currently available as part of the standard CRM solution you are considering?
It's challenging to select the right CRM software. There are countless CRM software options in the market. With CRM solution, you can use not only the contact management feature, but also the marketing automation, workflow automation features, etc. For example, some CRM solutions have marketing tools for organizations to track their marketing efforts.
This is why we've compared and reviewed some of the best CRM software in another post here to help you find your best fit.
Key CRM Features
Here are key CRM features to look for in your next CRM platform. This will help you narrow down your options and identify the right system for you:
Sales and Pipeline Management
When it comes to the best CRM features, sales and pipeline management is critical. Sales and pipeline management is a CRM feature that allows you to track your sales pipeline, manage your sales leads and opportunities, and analyze your performance.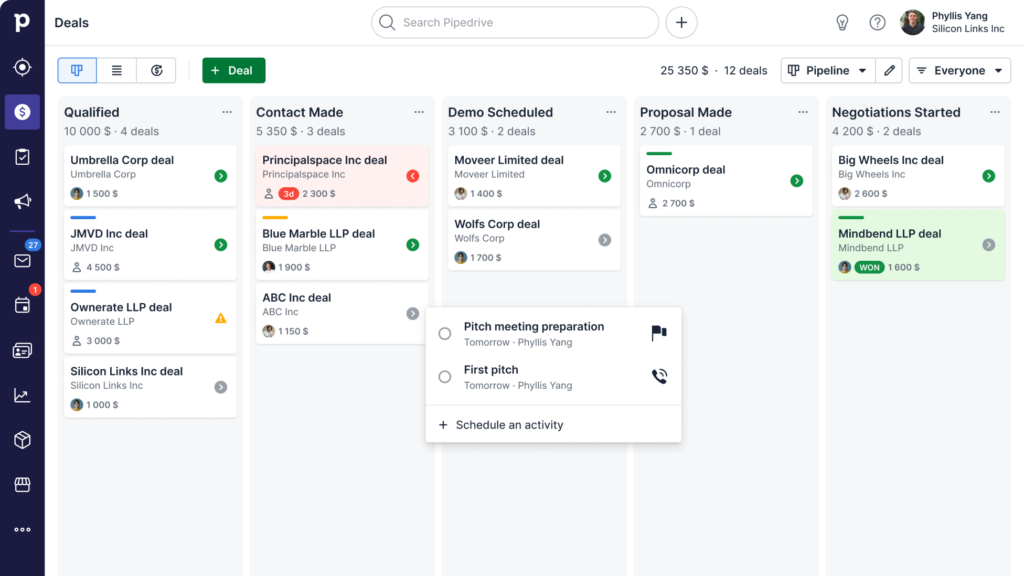 The sales pipeline is what every salesperson and manager looks at every day to see where they are with leads, opportunities, and deals through the whole buyer's journey. It helps them make sure they have everything in line for each stage of the process so that when a prospect becomes an actual opportunity or deal, there isn't anything left undone on their part.
Contact and Lead Management
You can manage contacts and leads in a CRM platform. It's a good idea to import data from other sources, such as email, social media accounts and business cards. You should also be able to export your data to other sources like email or spreadsheets.
For example, you can create new contacts and leads by adding their contact information (name, address, etc.). Then you can update that information later on if necessary. You might also want the option of assigning contacts to your sales reps so they know who is responsible for following up with them about any specific needs or questions about their products/services.
Opportunity Tracking for Teams
Should you need to track opportunities for multiple teams, users, regions, and/or products, then it's possible to do so with this feature. The same goes for services too. For example: if you're working on behalf of a client who has multiple locations/sites (which is pretty common) and several products and services that they offer—then the ability to track opportunities across all these different fields is crucial.
Activity Tracking
Activity tracking is a feature that allows you to track the activity of your sales team. This helps you to understand how your team is spending their time and what they are working on. Activity tracking also gives you insights into when your team is most productive so that you can adjust their workload accordingly.
Activity Tracking Features:
Ability to create custom reports based on activities;
Ability to track detailed information about each activity;
Automated notifications sent when certain events take place (e.g., when a new lead inquiry occurs); and
The ability for users within an organization to view their own activity history as well as that of others within their company.
Sales Forecasting
Sales forecasting is the most important aspect of sales. It helps you to plan, budget and forecast your business for the future. With a CRM software, it's easy to create different forecasts based on different scenarios including:
How many new customers will be added in the next 12 months?
What is the average revenue per customer?
How many leads are required to close a sale?
Lead Scoring
Lead scoring is a way to prioritize leads based on their level of interest. With lead scoring, you can identify which leads are better than others, and focus your sales team's time on the most promising ones.
Lead scoring takes into account the following:
How many times a lead has been contacted by your company?
Has the lead engaged with content or demo calls?
Has he or she taken any actions that indicate interest in what you're selling, such as downloading a white paper or filling out an RFI (Request For Information) form?
Analytics & Reporting
Analytics and reporting are crucial parts of any CRM software. They're what help you make informed business decisions, and they're also how your sales team can track progress.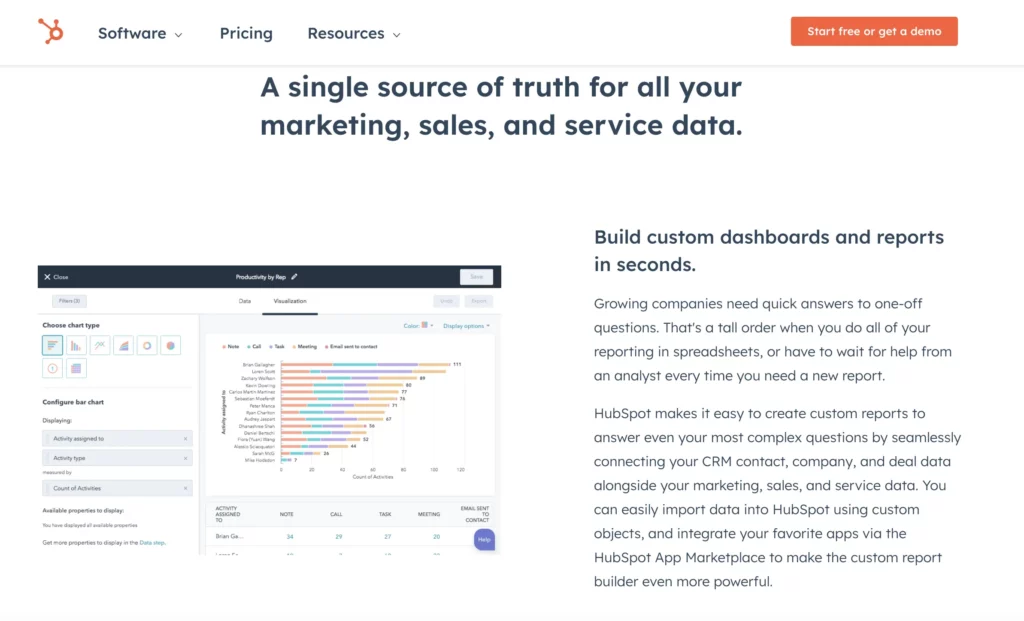 A good analytics system should give you insight into how your CRM is working for your business, including:
How many leads have been created?
How many of those leads converted to customers?
Which marketing channels are most effective at generating new customers?
How long does it take for a lead to become a customer (and why)?
You'll want this kind of information in order to determine which strategies are working well and which ones aren't worth pursuing anymore so that you can focus on what matters most—getting more people through the door with their wallets open!
Mobile CRM App
Mobile CRM apps are a great way to stay on top of your sales pipeline and contacts. With this feature, you can view your data in real time and access it from any device. This is especially useful for salespeople who need to be out on the road or in meetings but still want to keep an eye on what's happening with their leads/contacts.
Mobile CRM apps are easy to use and access. They should be extremely easy to download onto any smartphone or tablet (or even desktop computer). Once installed, they allow users complete access via their devices' touchscreens or keyboards while also providing them with simple navigation options like swiping left/right or clicking through tabs at the bottom of each screen.
Role-Based Views
In a perfect world, you would be able to tailor the way each user views and interacts with your data to their specific needs. For example, if you have different departments that work closely together in some ways but not others, it makes sense for them to have access to the same information as each other so they can collaborate on projects that benefit both sides of the equation.
However, suppose one department is responsible for collecting leads from marketing campaigns. At the same time, another handles customer support inquiries or product management tasks. In that case, there's no need for them all to have access to that data — only those who require it should have access so as not to clutter their dashboards with unnecessary information.
This type of flexibility is imperative if you want your team members (or yourself) to get as much value out of using CRM software as possible.
Email Automation
Email automation is a feature that allows you to create automated emails based on specific events in your customer database. This can be used to schedule follow-up emails, send out newsletters or even generate reports as soon as a record changes. It is one of the basic CRM features in CRM software solutions. This workflow automation feature help sales reps automate repetitive tasks.
If you're looking for ways to increase sales and reduce the number of repetitive tasks involved in your team's daily activities, this is one feature that should be high on your list.
Document Management
An important feature that you should look for in CRM software is the ability to create, store and share documents. You need a solution that allows you to easily create documents such as contracts, agreements, and proposals.
You also need a good search engine in your CRM software because this makes it easy for users to search through all their information quickly. A good search engine will allow users to find documents (e.g., contracts) based on various criteria such as date, author, and other metadata associated with each document like name of the service provider (NSP), NSP contact details, etc. Having an advanced search feature in your CRM software will help reduce the time it takes for users when they need information from their system at any given point in time which ultimately improves productivity levels.
Calendars and Scheduling Tools
Calendar view
By default, most CRM software will show you a calendar view of your contacts. This makes it easy to see when you have appointments with a specific contact and what those meetings are about.
Calendar reminders
For each appointment in your calendar, there's usually an option to set up reminders so that you don't forget upcoming events or meetings. These reminders can be delivered via email and/or text message (SMS), depending on your preference. Some CRMs even offer an option for automated emails that include attachments or links to take action on the file associated with the appointment or meeting request.
Calendar sharing
Some CRMs also allow users to share their calendars with other people in their organization—so if someone else needs access to all of your appointments for some reason, they'll be able to see them through this feature. This way everyone knows who is doing what during any given time period, making it easier for everyone involved!
Sales Automation
Sales automation is a feature that allows you to automate your sales processes, reduce repetitive tasks, and streamline the way you do business. By automating these tasks, you can save time and money, improve efficiencies and productivity, and ultimately help your business run more smoothly.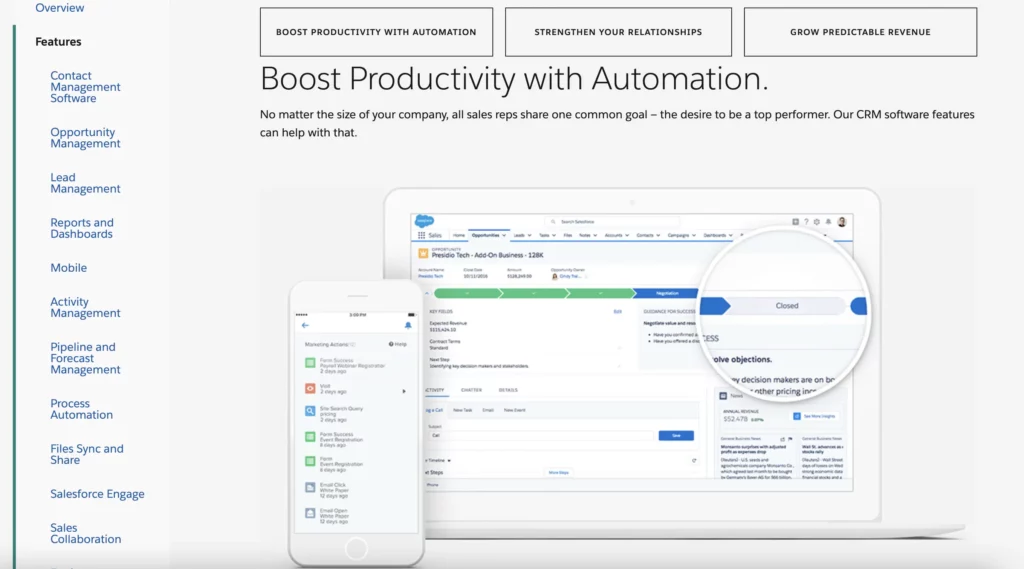 Sales automation software can be used for a variety of tasks including:
Creating automatic emails based on the actions taken by the user (e.g., sending out an email when someone signs up for a trial)
Sending emails based on specific events (e.g., sending an invoice when an order has been placed)
Quotes, Invoicing & Payments
When looking for CRM software, it's important to make sure that quotes and invoices are easy to create and send. Make sure you can create estimates from within the CRM without logging in or out of different platforms. Also, look for invoices that can be sent directly from your data, so you don't have to copy and paste information from your spreadsheet into the system manually.
Additionally, if your business has many clients who pay via invoice or credit card payment plan, then you will want software that allows you to send them invoices electronically.
Customization
The ability to customize the CRM to meet your specific needs is important so you can get the most out of it.
For example, you may want to add fields to your sales pipeline to track something specific to your business—such as the number of meetings you schedule per week or the amount of commission you pay out to your sales agents. Adding custom fields gives you the flexibility to track any information that you need in your CRM.
You may also want to customize your dashboard so you can see the most important information at a glance without having to search through different screens.
Integration with Other Apps
Another useful feature is the ability to integrate with other business apps that you use on a daily basis. Integrating these apps with your CRM software allows you to eliminate the need to manually enter data between systems, which can save you a lot of time and effort.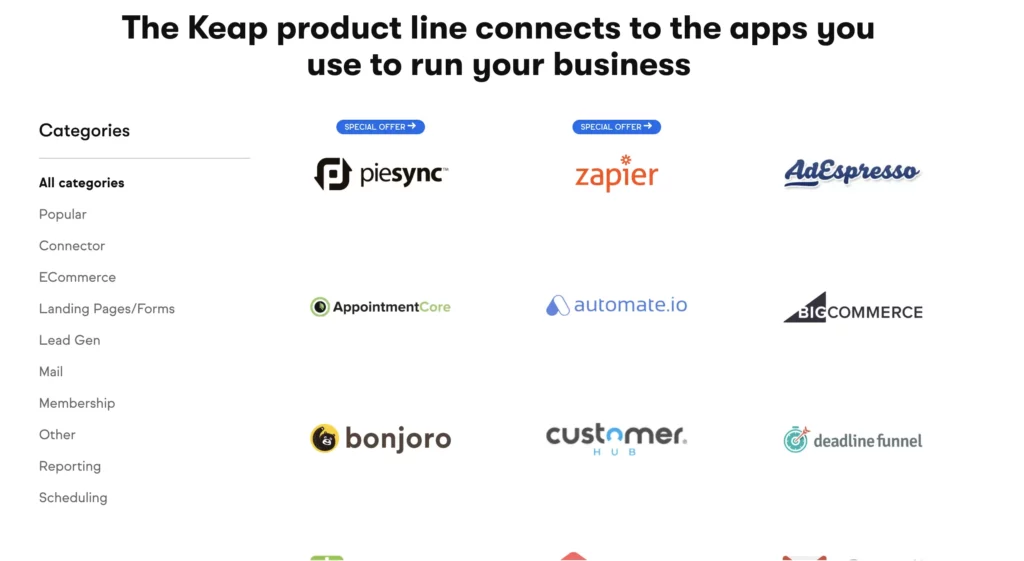 For example, if you use an email marketing service like Constant Contact, you can connect it with the CRM so that the contact information of your subscribers is automatically imported into the system when they sign up for a newsletter on your website. You can also sync your CRM data with your calendar app to view upcoming appointments and meetings on your dashboard.
Security
The security of the CRM software is a critical consideration when choosing a product for your business. Make sure it follows industry best practices and has security measures in place to protect the data of your customers and employees.
These measures may include password protection and two-factor authentication to ensure that the system can only be accessed by authorized users. Make sure the CRM provider employs the latest encryption technologies to ensure that customer data is kept secure at all times. You should also ensure that the system is hosted in a secure data center that meets industry-standard security requirements.
Email Marketing Tool
Many CRM software, like Salesforce and HubSpot, now provides a native email marketing tool that you can use to send and track email campaigns from the system. This feature makes it easy to create and send newsletters and other communications to your contacts without having to worry about setting up a separate email campaign service.
Social Media Marketing Integration
If your marketing plan involves social media, integrating your CRM with popular social media platforms is a great way to improve your marketing and outreach efforts. You can automatically import information about your existing contacts from Facebook, Twitter, LinkedIn, and other social networks into the CRM so you can more easily target your marketing messages to the people most interested in your offerings. With the marketing automation feature, you can automate every marketing campaign.
Live Chat Integration
Live chat tools help businesses provide better customer support by allowing them to answer customer questions in real time without having to call or email the customer directly. You can integrate your live chat or chatbot software with your CRM solution so that your team can provide prompt and efficient support to all your visitors without juggling multiple chat sessions.
Customer Relationship Management Features Conclusion
CRM solutions help organizations track customer interactions and nurture customer relationships. This article provides an overview of the 20 essential CRM features available in a CRM solution and provides recommendations on how your organization can benefit from each one.
When purchasing CRM software, be sure to consider your business needs and identify key features that will be helpful. Keeping these recommendations in mind when looking for a CRM can help ensure you find a product that meets your needs and helps you grow your business.