Mortgage customer relationship management (CRM) software is essential for brokers and lenders. It allows brokers to convert mortgage loan borrowers efficiently and builds clients' trust.
In the mortgage industry, mortgage brokers or loan officers can receive thousands of monthly leads. Leads can be phone calls, emails, or online chats. These are usually potential customers who are interested in obtaining a mortgage. Mortgage professionals must promptly follow up on these leads and convert them into mortgage customers.
Manually processing these leads can be very time-consuming, especially if your business is large and you have several mortgage loan officers or brokers working for you. Using a CRM for mortgage brokers will help make this task easier to manage.
In this article, we will list the top 8 best mortgage CRM software specifically for brokers and loan officers.
What is Mortgage CRM Software?
The best mortgage CRM software enables brokers to keep track of their prospective customers and close more deals by automating the sales process. It simplifies the loan application process and allows brokers to personalize the application and streamline the loan approval process for their clients.
Mortgage CRM Key Features
When searching for the best mortgage CRM software, it is important to understand the key CRM features you should look for in a software product. The following is a list of the critical features of the best mortgage CRM software for brokers and loan officers:
Customer Management
Track leads and manage their interactions with your team throughout the sales cycle so you can nurture them more effectively and convert them into customers.
Easy-to-use Interface
A suitable mortgage CRM has an intuitive user interface that is easy to use for both the lender and the loan officer.
Workflow Automation
Automate the loan application process, including preapproval, pre-approval, appraisal submission, etc., so you can approve loans faster and satisfy your borrowers.
Referral Management
Send automated reminders to existing customers about financing products and services you offer so they can refer their friends to you.
Integrations With Other Systems
The system should integrate with existing systems used by the lender, such as loan origination software, accounting software, and loan document management systems.
The above information is just some key features you should look for in a mortgage CRM software product. When choosing a CRM software product, it is important to find one that is flexible and can evolve with your business as it grows over time.
8 Best Mortgage CRM Software for Brokers
Here are some of the top mortgage CRM software vendors for mortgage business owners and sales teams that can help you attract new clients and manage existing ones more effectively:
Pipedrive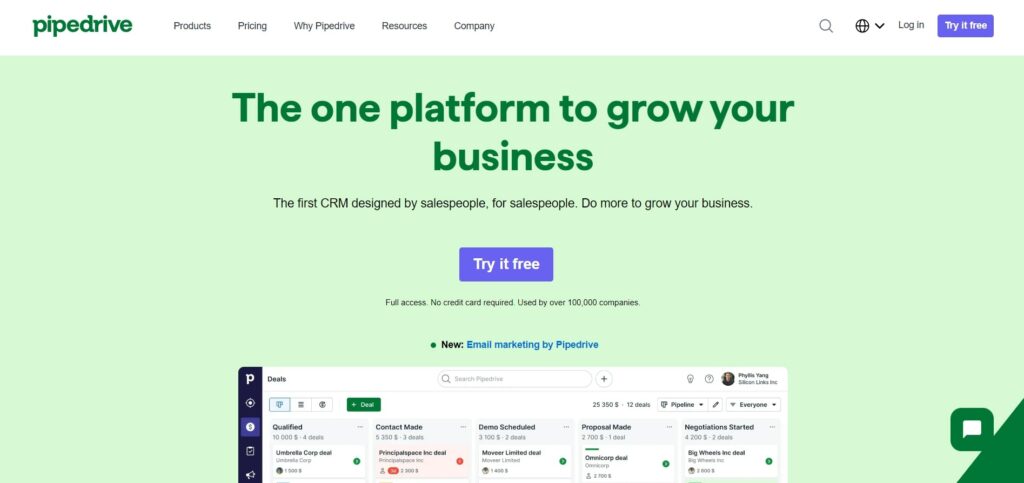 Although Pipedrive is not a dedicated mortgage CRM, this platform also covers industry-specific solutions, like real estate, insurance, and more. As such, mortgage professionals will still find this CRM software suitable for conducting their operations.
The real estate solution gives you access to features like automatic follow-ups, transaction management, in-depth reports, and more.
Additionally, Pipedrive provides an app marketplace filled with 300+ integrations, including Zapier to help you extend the platform's functionality even further.
Key Features
Customer service portal: Customers can easily get real-time updates and access documents.
Conversation tracking: Easily monitor customer conversations and organize messages.
Transaction management: Assess lease agreements and contracts and manage transaction plans.
Lead segmentation: Identify lead sources, segment lead lists, and manage referral partners.
Built-in marketing automation tools: Send automated marketing materials via email and text.
Pros
The platform's main strengths lie in its ease of use and affordability. Pipedrive's User Interface is straightforward, so you'll get accustomed to this platform immediately.
Coupled with prices that start from $14.90 per user per month, Pipedrive is a suitable option for mortgage professionals looking for an affordable platform that's easy to get into and helps them perform basic tasks quickly.
Moreover, Pipedrive provides extensive customization options. You can tweak the platform's dashboards, pipelines, and reports to better suit your needs.
Cons
Pipedrive doesn't cover any other advanced features specific to the mortgage lending industry, like tracking loans, receiving loan reports, etc. Some features come as extra add-ons, like the Campaigns or Lead Booster add-ons, which cost from $13.33 per month.
Pricing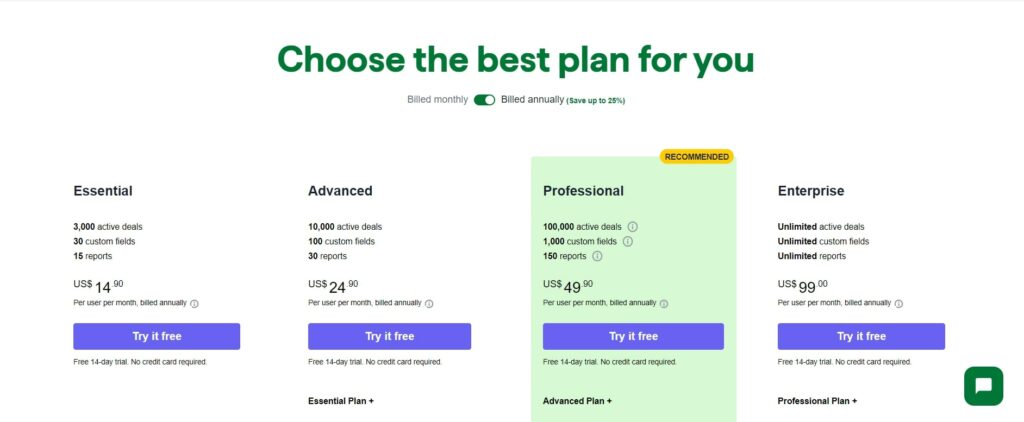 Essential: $19.90 per user per month (monthly), $14.90 per user per month (annually)
Advanced: $34.90 per user per month (monthly), $24.90 per user per month (annually)
Professional: $59.90 per user per month (monthly), $49.90 per user per month (annually)
Enterprise: $119.00 per user per month (monthly), $99.00 per user per month (annually)
There's also a 14-day free trial available for all pricing plans.
HubSpot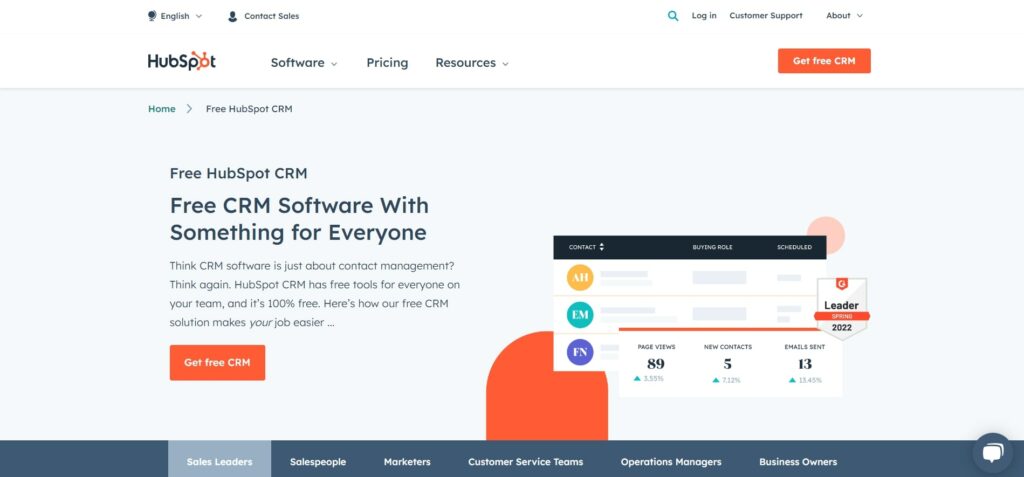 HubSpot's made a name for itself in the CRM industry due to its broad feature set, versatility, and customization options.
You can find the CRM software within the platform's Sales Hub, which also includes features outside customer relationship management, like email marketing, event marketing, and more.
What's noteworthy, HubSpot offers a free plan packed with features, including AI-powered chatbots, contact website activity tracking, and meeting scheduling.
Key Features
Customizable quotes: Create custom quote templates to share mortgage rates more efficiently.
AI-powered chatbots: Easily maintain conversations with clients, while bots can automatically store data and qualify leads.
List segmentation: Manually or automatically segment lead lists based on specific criteria.
Canned snippets: Automatically add answers to common questions on FAQs pages and emails.
Contact management: Easily track and manage your contact lists.
Pros
HubSpot's free CRM system is among the best software solutions in the market you can get for free.
Although not specifically built for the mortgage industry, the platform offers enough features for a mortgage professional to efficiently maintain customer relationships, identify and qualify leads, handle e-signatures, and easily create custom quotes that can be shared with clients as adapt a multi-channel marketing approach.
The free CRM software covers email marketing with tracking, reports, scheduling, live chatbots, and integration with Facebook Messenger.
HubSpot's paid versions give you access to more advanced features, like marketing automation capabilities, sales forecasting, and the ability to create a custom mortgage playbook, so teams can easily access a library of guides and critical mortgage documentation when they need it. You can also call clients and record or transcript calls directly within the platform.
Cons
The free version covers limited customization options and reports and lacks sales forecasting. As such, modifying the platform to suit your needs can be a little tricky. Meanwhile, the lack of in-depth reports and sales forecasting may push you to opt for one of HubSpot's paid plans.
The problem is, paid packages can get pretty expensive, with prices reaching up to $1200 per month. Pricing between packages also varies significantly, making scalability a problem.
Pricing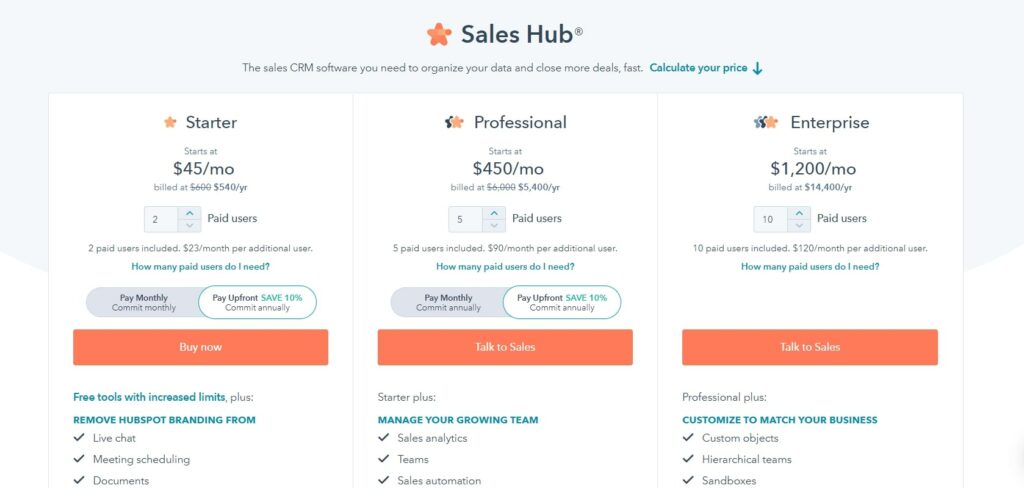 Free
Starter: $60 per month (monthly), from $45 per month (annually)
Professional: $500 per month (monthly), from $450 per month (annually)
Enterprise: From $1200 per month (annually)
Note that pricing varies based on the number of users.
Zendesk Sell

Zendesk Sell is the platform's CRM software. Zendesk also offers products dedicated to improving customer service and experience. The platform is built with ease of use and affordability in mind.
That said, mortgage lenders and loan offers with no prior experience with CRM software can easily adjust to this platform, as it has little to no learning curve. It also covers many advanced features, which we'll cover further below.
Features
Smart lists: Segment/filter your leads in real-time and save common data views.
Bulk outreach: Automatically send mass emails to contacts within your smart lists.
Reach: Automatically update lead records and find more information about prospects by searching through third-party data.
Explore: Build custom reports from scratch or select one of Zendesk's many pre-built templates and tweak them.
Triggers: Set triggered actions to help create automated marketing and sales workflows.
Pros
Zendesk offers a marketplace where you can connect the platform with 1000+ other apps, like quoting and billing tools, collaboration platforms, time tracking, and lead management tools to help you boost sales and team productivity.
You can also integrate Zendesk with Zapier for access to even more tools.
Moreover, Zendesk covers plenty of features considering its ease of use and simplicity. The platform covers a built-in phone system with a power dialer to help you reach out to customers more quickly. Zendesk also includes call tracking, recording, and call scripts.
Cons
Since the platform is not specifically built with the mortgage industry in mind, Zendesk lacks essential features like loan management, regulatory compliance management, e-signatures, etc.
Pricing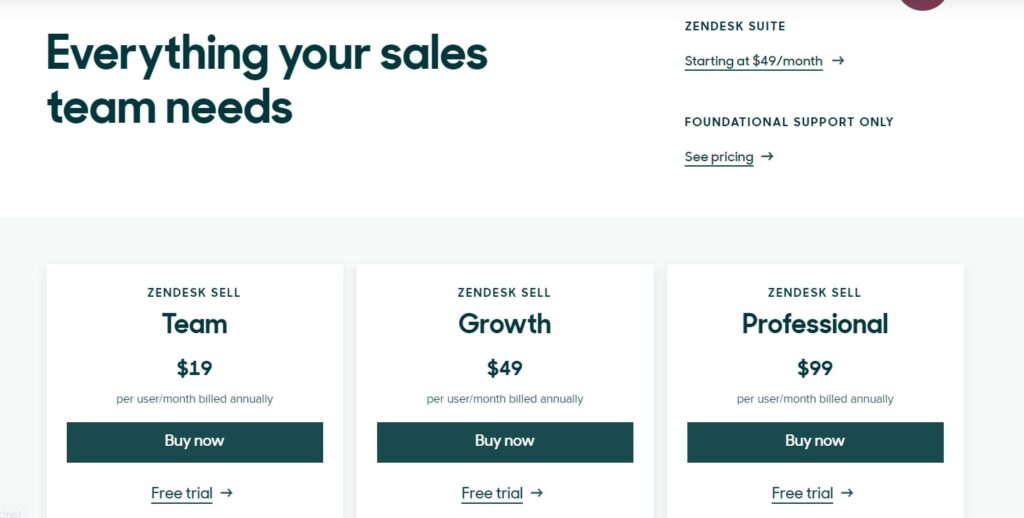 Team: $19 per user per month (annually)
Growth: $49 per user per month (annually)
Professional: $99 per user per month (annually)
Enterprise: $150 per user per month (annually)
There's also a free trial available for the first three packages.
Keap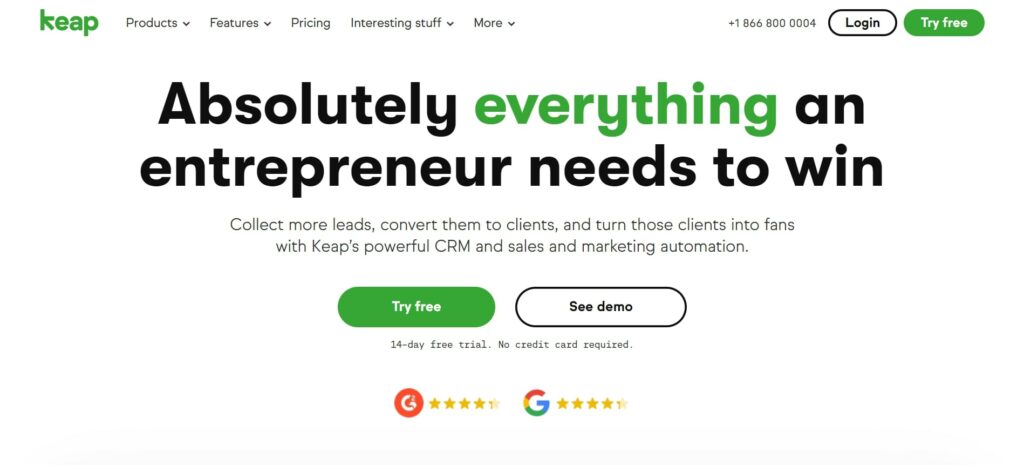 Formerly known as Infusionsoft, Keap is an all-in-one solution that provides marketing automation, sales functionalities, and advanced reporting capabilities.
Keap might be a good option for mortgage lenders and loan officers, as the platform covers client management, document management, and helping mortgage brokers schedule appointments and handle loan pipeline management.
Moreover, Keap shines through its advanced marketing automation tool. Available in the platform's upper-tier pricing plan, a mortgage business can automate the entire marketing process, from landing pages to email marketing and more.
Features
Sales pipeline management: Get an overview of the entire sales process, create multiple custom sales pipelines, and set up triggered actions on various stages to close deals faster.
Appointment scheduling: Schedule appointments, integrate the platform with Google and Outlook Calendar, and send automatic appointment reminders to prospects.
Lead management: Automatically enrich lead data, score leads, and send personalized messages to help you identify high-value leads and improve relationships with prospects.
Email marketing: Segment email lists, set email triggers based on customer behavior, and perform A/B tests to create highly optimized email marketing campaigns.
Quotes: Send customers mortgage rates directly within the CRM.
Pros
Keap offers various advanced automation tools that spare you the trouble of having to deal with monotonous tasks and give you more time to guide customers through the loan application process, for instance.
As mentioned, this platform allows you to automate marketing campaigns from top to bottom, but it can also send automatic text messages to customers, schedule appointments, score leads, and enrich lead data with relevant information.
Additionally, Keap covers comprehensive reports to help mortgage lenders better understand their overall sales performance. Lastly, the platform integrates natively with 230+ apps, like Zapier, Leadpages, Optinmonster, or Quickbooks, to help you centralize business processes.
Cons
The platform's pricing plans are quite pricey, considering they have a low user limit. Also, since Keap is not a dedicated mortgage CRM software, it lacks features like loan management, credit scoring, or regulatory compliance management.
Pricing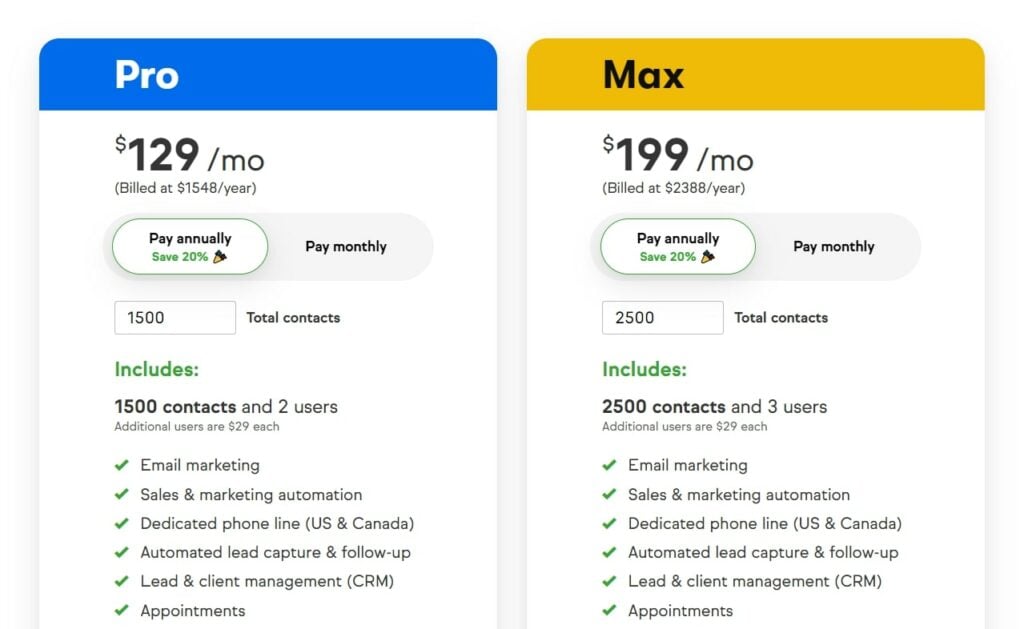 Max (up to two users): $169 per month (monthly), $129 per month (annually)
Pro (up to three users): $249 per month (monthly), $199 per month (annually)
Max Classic: Upon request
There's also a 14-day free trial available for the Max and Pro plans. Also, not the pricing varies based on the number of contacts you have. The prices listed above include 1500 contacts for the Max plan and 2500 contacts for the Pro plan.
Each additional user will cost an extra $29 per month.
Streak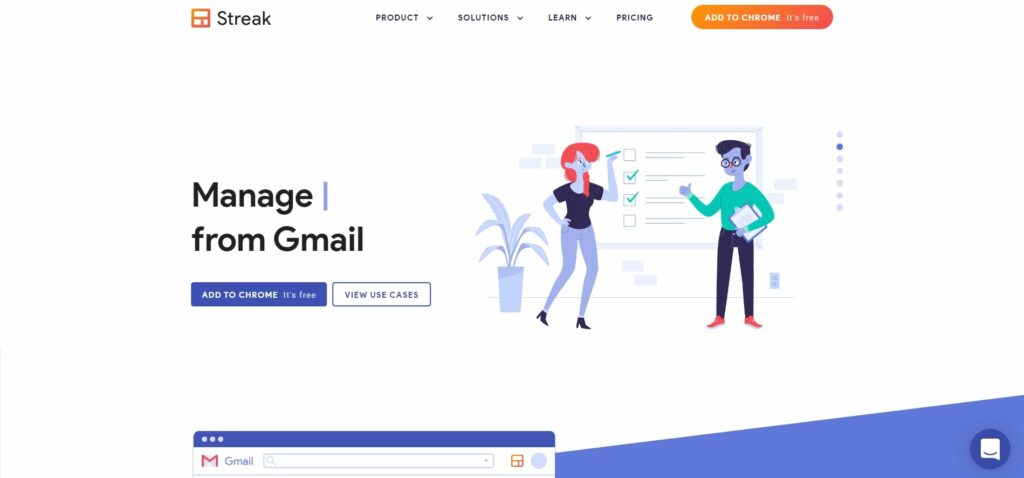 Streak is a CRM system specifically built for Gmail. Think of this CRM software as an extension of your Gmail account. The platform is embedded in Gmail's UI. You can access analytics, pipeline management, and contact management directly from Gmail.
Consequently, you can send out emails and use Streak's CRM functionalities without going back and forth between your email account and CRM software, making it an excellent option for mortgage professionals who rely heavily on email campaigns.
As for the features, it handles document management, so you can easily track and manage critical mortgage documentation, email scheduling, call logging, email, link tracking, etc.
And the cherry on top, Streak offers a solid free forever plan. It includes the platform's basic CRM functionalities, like custom fields, tasks, saved views, call logs, email tracking, and mail merge.
Features
Mail merge: Send personalized emails to multiple people at a time.
Document management: Easily store and share all important documents in a centralized place.
Snippets: Automatically insert common phrases in your email with the click of a button.
Contact enrichment: Automatically enrich contacts with information like company name or employee count.
Automatic calculations: Use formulas to calculate commissions or mortgage rates automatically.
Pros
If you're already familiar with G Suite, you should feel at home with Streak. Since the platform is embedded into your Gmail account, Streak's UI is similar to Gmail's.
That said, there's little to no learning curve, and you or your team can make the most out of this platform immediately.
Additionally, Streak packs solid tools despite its simplicity. You can access email automation tools, customizable sales pipelines, email templates, email tracking, etc.
Not to mention that you can use Streak for free.
Cons
Streak is not a dedicated mortgage CRM software. As such, the platform lacks critical features, like loan document tracking, loan management, or credit scoring. Additionally, Streak doesn't integrate with loan origination software.
Also, Streak's paid pricing plans cost as much as fully-fledged CRM software, while there's a significant pricing gap between packages, making this platform not ideal in terms of scalability.
Pricing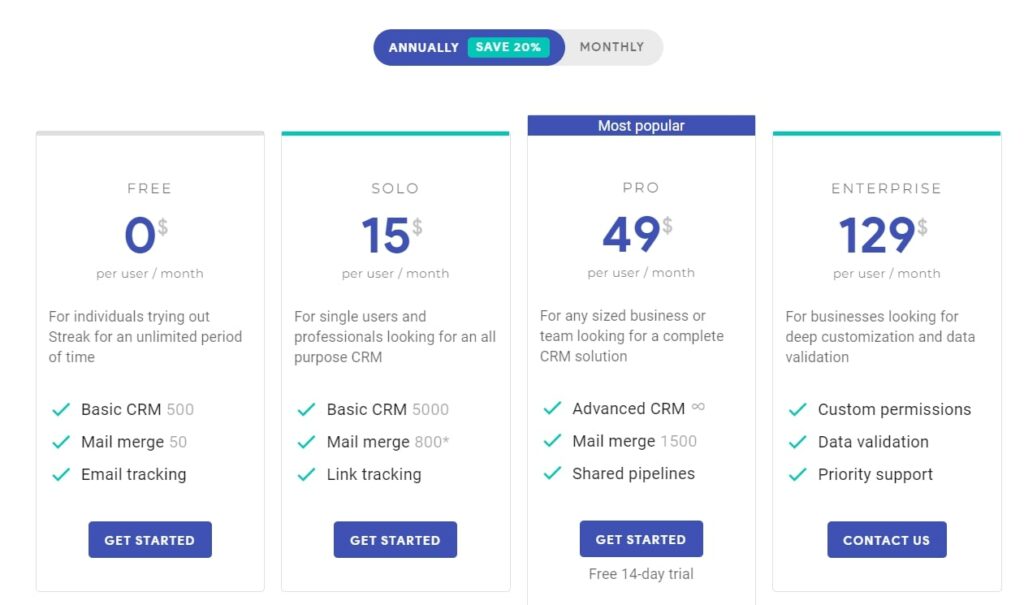 Free
Solo: $19 per user per month (monthly), $15 per user per month (annually)
Pro: $59 per user per month (monthly), $49 per user per month (annually)
Enterprise: $159 per user per month (monthly), $129 per user per month (annually)
There's also a 14-day free trial for the Pro plan.
Shape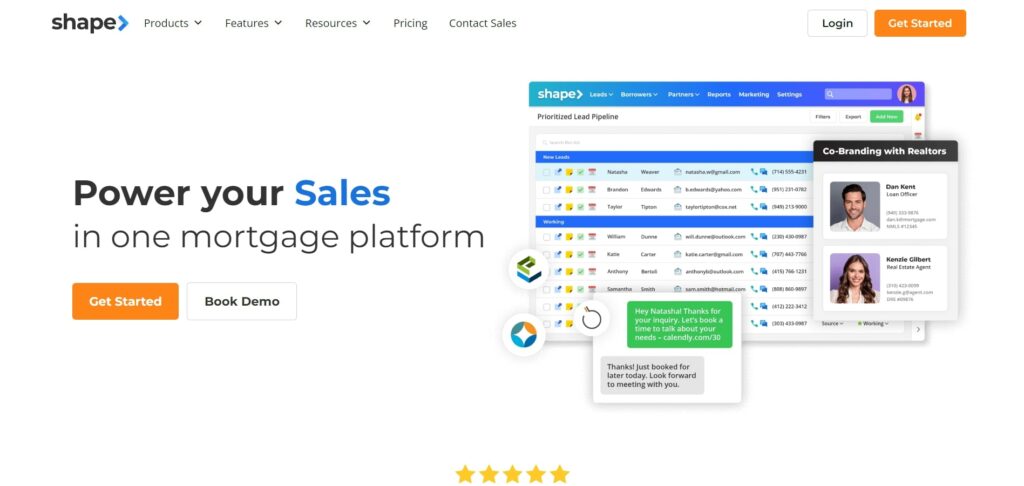 Shape is an all-in-one sales and marketing automation tool that offers solutions for multiple industries. Most importantly, Shape offers a dedicated mortgage CRM software solution, unlike the other tools mentioned in this list.
The platform mainly focuses on its automation capabilities. You can set up an automatic drip marketing campaign, loan updates, triggers, lead scoring, prioritization rules, and more. Shape also has automatic lead distribution capabilities. Moreover, you can manage and track referral partners.
Additionally, the platform features a built-in phone system with call tracking, recording, a power dialer, voicemails, caller ID management, and call forwarding. You can also use this platform to handle text marketing.
Features
Web-based customer portal: Set up a borrower and partner portal that can be accessed on any device, easily gather 1003 applications, and give borrowers the ability to upload documents safely.
Document management: Easily store and organize documents and e-signatures.
Automation: Receive automatic loan updates, send drip marketing campaigns, handle lead distribution, and more.
Built-in phone system: Make and record calls, and send voicemails directly within the platform.
Text marketing: Send SMS and MMS texts in mass, and get access to voice dictations, communication history, rule-based follow-ups, and more.
Pros
Shape is the complete software out of the ones mentioned in this list. Aside from CRM-specific functionalities, the platform also covers marketing, texting, and phone-calling features.
It also offers solid mortgage CRM software-specific features, like loan updates, customer portals, the ability to track and manage referral partners, etc.
Moreover, Shapes provides highly detailed reports. You can monitor employee productivity and login sessions, see how often leads are closed, and measure campaign and lead generation performance.
You also have the option to create custom reports highlighting the metrics that matter to you the most.
Lastly, the platform integrates with Zapier, so you can easily connect Shape with popular LOS systems, like Loan Officer.
Overall, if you're looking to manage mortgage broker operations, from marketing to managing loans, and closing more deals, Shape is the right mortgage CRM software for your company.
Cons
Shape offers rather limited customer support. More specifically, you can only contact customer support via email. Additionally, the platform comes at a steep price – $99 per user per month.
There's also a single pricing plan, so you don't have any room for scalability or the option to choose a cheaper plan with basic features. There are optional add-ons, though.
Pricing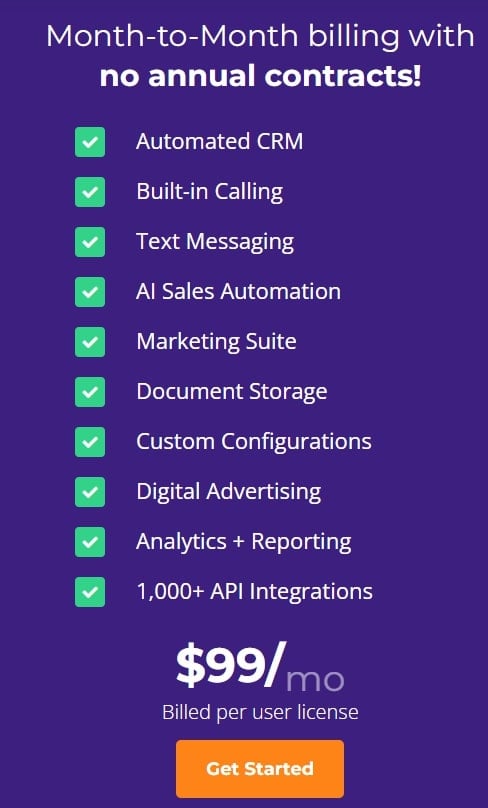 $99 per user per month (monthly)
You can also schedule a free demo.
As mentioned, the platform offers a few extra add-ons. For one, the customer portal costs $59 per user per month.
Secondly, there are Shape's digital advertising and lead scoring tools. You'll need to contact the sales team to get a pricing quote.
Whiteboard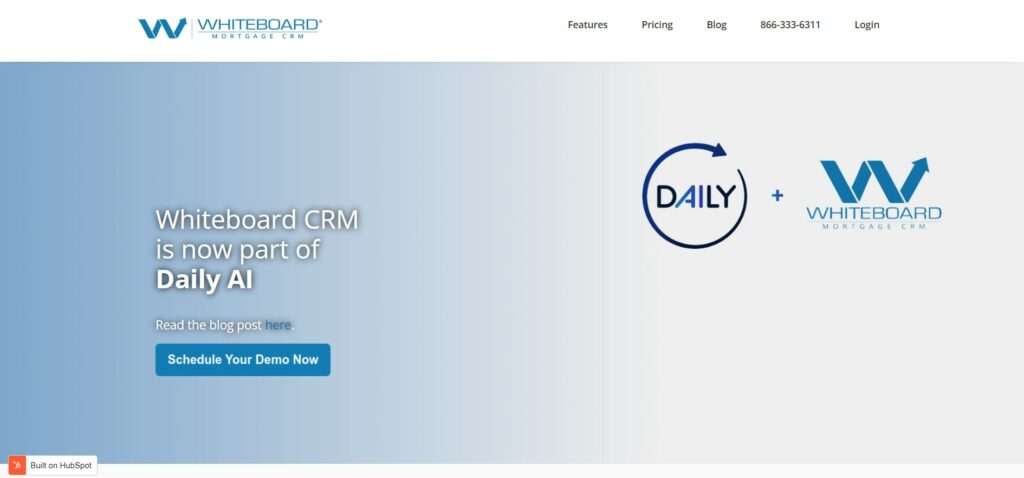 Whiteboard is a dedicated mortgage CRM software designed to help a mortgage company handle all aspects of its operations. You can use the platform for lead nurturing, lead generation, marketing campaigns, loan processing, and more.
Whiteboard also facilitates SMS texting to help you conduct text marketing campaigns and improve communication with your leads and partners. As for integrations, you can link Whiteboard with popular LOS systems like Calyx and Encompass.
Despite its broad set of features, Whiteboard is easy to use. The platform features an intuitive UI and offers plenty of functionalities to streamline your workflow.
For instance, there's the Mortgage Playbook. In short, this functionality automatically creates tasks and assigns them to team members.
However, if you wish to create tasks manually, the platform offers multiple templates dedicated to specific use cases, like phone calls, emails, handwritten notes, etc.
Features
Mortgage Playbook: Automatically create and assign tasks, or do it manually via the platform's task templates.
In-depth reports: Easily keep track of your loan process, referral partners, lead conversions, referral sources, loans funded, and more through Whiteboard's reports.
SMS: Send automatic follow-ups, reminders, and loan status updates via SMS directly within the platform.
Lead imports: Easily import leads from platforms like Zillow, LendingTree, BoomTown, etc.
Integrations: Integrate the platform with a loan origination system like Encompass or Calyx.
Pros
The platform shines through its reporting capabilities. For one, Whiteboard lets you see the number of monthly leads converted in each segment within the pipeline.
Moreover, you can visualize the number of funded loans per month and their total value in dollars to help you gauge the overall success of your mortgage business.
This mortgage software will also give you insights into your most effective referral sources, so you can focus on the most profitable for your business. The platform will show you the number of clients from each source.
Aside from reports, Whiteboard's automatic loan status updates are another powerful feature. In short, this functionality will automatically notify loan officers and clients whenever the customer advances through the loan process. For instance, you'll be notified whether the appraisal was received, a loan was approved, or is ready to close.
Cons
One of the main drawbacks is that the platform is quite pricey. The cheapest plan will set you back $150 per month. All other plans exceed $100 per user per month. Additionally, the platform lacks features like a built-in phone system and live chat customer support.
Pricing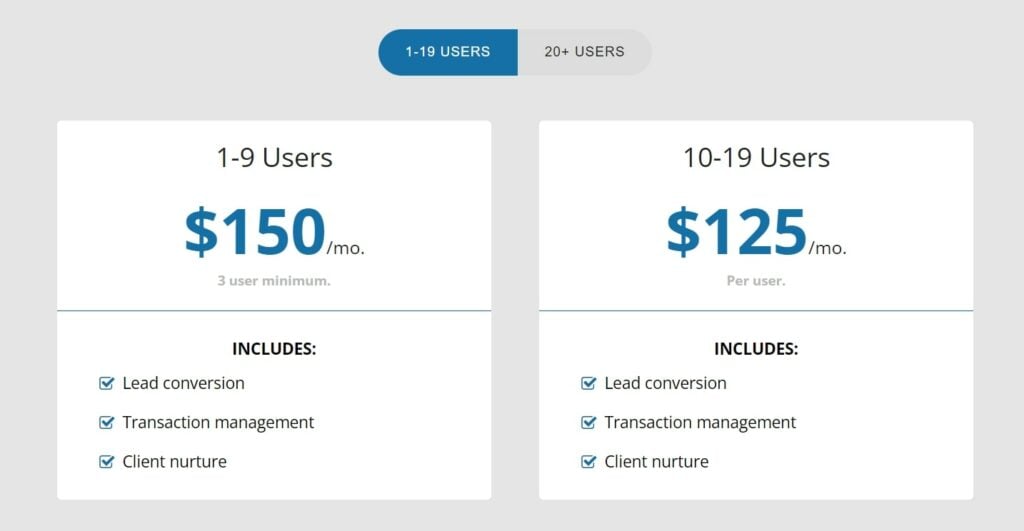 1-9 users: $150 per month (monthly, 3 users minimum)
10-19 users: $125 per user per month (monthly)
20+ users: $100 per user per month (monthly)
Enterprise: upon request
Note that all pricing plans, besides the Enterprise package, include the same features.
BNTouch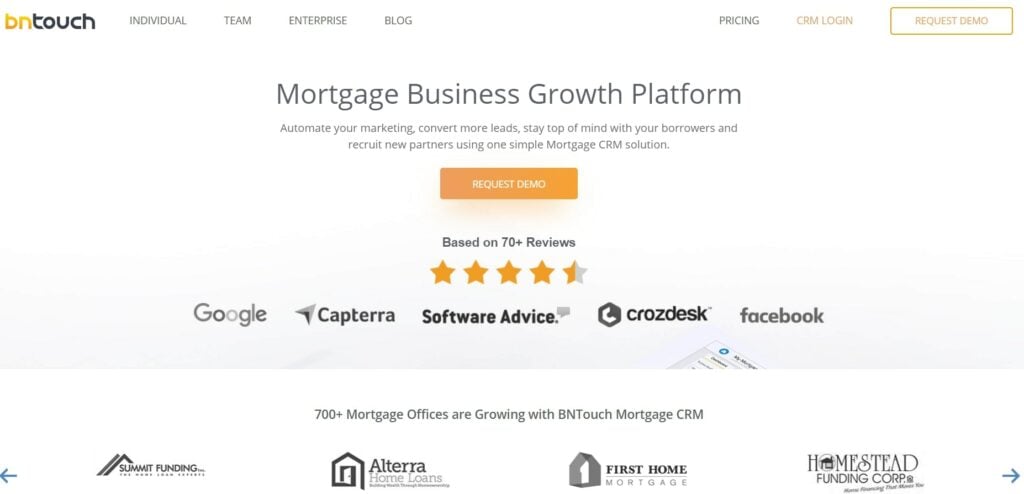 BNTouch is a mortgage CRM system is an emphasis on multi-channel marketing.
In other words, besides mortgage CRM-specific functionalities, like referral partner management, lead management, and its built-in loan platforms, BNTouch also gives you all the tools necessary to reach out to prospects through emails, texts, landing pages, social media platforms, and more.
BNTouch also includes video marketing, which allows you to create and send video marketing materials to leads right within the platform.
Other than that, this mortgage CRM software offers team collaboration tools, integrated lead management and distribution, and integrations with loan-originating software like Encompass or Calyx.
Features
Borrower and partner portals: Engage with borrowers and partners through custom web and mobile-based portals.
Built-in E-signatures: Easy upload documents, send signable documents, and create signing templates within the platform.
Automated text and email campaigns: Create, manage, and send personalized text and email marketing campaigns directly within BNTouch.
Built-in live chat: Implement live chat on your website to collect and stay in touch with leads.
Website and landing page builder: Quickly build modern-looking websites and landing pages directly within the platform.
Pros
This mortgage CRM software makes marketing as easy as it can get. You can reach out to leads via multiple channels, like email, SMS, live chat, and more. Also, the platform provides 180+ marketing campaign templates to help you quickly set up effective campaigns and grow your lead lists.
Not to mention that BNTouch allows you to set up landing pages, post social media content with just a few clicks, and pick one of many pre-made marketing videos to help you with your campaigns.
What's most noteworthy, these marketing videos will be automatically personalized with your clients' and borrowers' names for an added personal touch.
BNTouch is a good mortgage CRM software solution for companies looking to take their marketing efforts up a notch.
Cons
This mortgage CRM software doesn't offer live chat customer support. Moreover, some users report that the platform can get clunky.
Pricing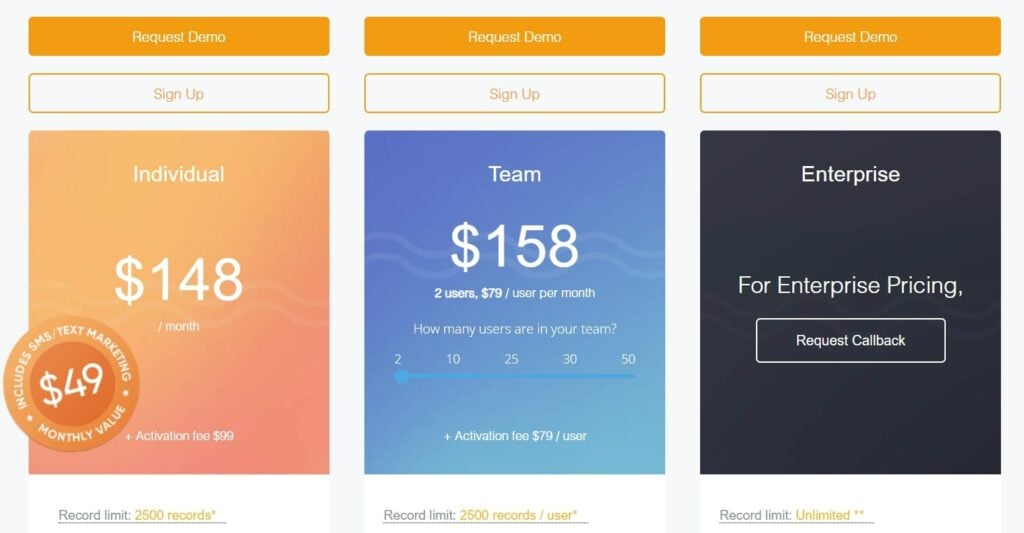 Individual: $148 per month (monthly) + a setup fee of $99
Team: from $158 per month (monthly) + a setup fee of $79
Enterprise: upon request
You can also schedule a free demo for all pricing packages. Note that pricing for the Team plan varies based on the number of users. Furthermore, the Individual and Team plan comes with a limited number of contacts.
More specifically, the Individual plan is restricted to 2500 contacts for all users, whereas the Team plan has a 2500 contact limit per user. You'll be charged extra for anything that exceeds 2500 contacts.
The Individual plan also has limitations in text and voice marketing. You're restricted to 1000 texts/minutes per month. Each additional text or minute will be charged $0.03
Best Mortgage CRM Software Conclusion
Overall, these were the top CRM software solution for mortgage companies currently available. If you're new to CRM platforms or run a small team, we recommend you stick with standard CRM platforms, like Zendesk, Streak, Pipedrive, or HubSpot.
Though they typically do not offer mortgage-specific features, they are generally easy to use, cover plenty of customization options, and some offer pretty solid free versions. In other words, they are the perfect grounds to get you started with CRMs.
On the other hand, if you're running a larger company and are used to CRM platforms, you should choose a dedicated CRM for mortgage companies, as they offer plenty of industry-specific features, like loan tracking, partner portals, etc.
Best CRM for Mortgage FAQs
What is CRM in the mortgage industry?
Mortgage CRM systems are designed to improve the efficiency and productivity of loan officers and lenders while allowing them to improve customer experience and increase customer satisfaction.
Do mortgage brokers use CRM?
Yes, most mortgage brokers use CRM to improve the efficiency of their business operations.
How much does a mortgage CRM cost?
It depends on several factors, including the number of users, the number of devices supported, and the level of support offered.