monday Sales CRM is a software designed to help sales teams manage their leads, contacts, and opportunities more effectively. It integrates with various channels, including email and social media. Originally designed to be a project management software, monday.com expanded to compete with other well-established CRM software players like Salesforce, HubSpot, Pipedrive, and more. Can monday Sales CRM stand out from the competition?
In this review, we'll explore all of the key features of monday.com CRM and assess how helpful it can be for your team.
Before we start, let's first understand what to look for in sales CRM software. What parameters should we use to evaluate a piece of CRM software?
When picking a CRM software, you would want a tool that helps you organize your sales and marketing activities, customize your workflows, capture leads, and track your sales pipeline to manage customer relationships easily.
Does the CRM software by monday.com check all the boxes? The quick answer is – yes, monday.com CRM software does just that. It's also one of the most customization CRM software and helps you improve your sales performance effectively.
In addition, unlike some CRMs that come with a predefined list of automation, monday.com allows sales managers to create custom workflows through modifiable formulas to eliminate repetitive tasks and manual work. This makes this tool highly versatile and can cater to the needs of most businesses.
In this monday.com CRM review, we'll go into more detail about its CRM features, pricing, and the best alternatives.
In a hurry?
Test the monday.com CRM software here for free.
Keep reading to learn more about how it works and whether it's the right sales and CRM tool for you. 
Our Verdict: Is monday Sales CRM worth it?
Monday sales CRM could be useful for a range of different teams and industries, including sales teams, marketing teams, and customer service teams. It is particularly useful for teams that want a customizable solution that can be tailored to their specific needs and workflows. The solution is also helpful for teams that want to automate manual tasks and free up more time to focus on customer relationships. Ultimately, any team that wants to take control of their sales cycles and improve their overall efficiency could benefit from monday sales CRM.
Pros and Cons of Monday Sales CRM
Pros
Highly customizable: Monday Sales CRM is a very flexible solution that can be tailored to the specific needs and workflows of different teams and industries.
Automates manual tasks: Monday Sales CRM can help teams automate manual tasks, freeing up more time to focus on customer relationships.
Improves efficiency: Monday Sales CRM can help teams take control of their sales cycles and improve their overall efficiency.
Great for collaboration: Monday Sales CRM's collaboration features make it easy for teams to work together on projects.
Cons
Limited reporting: Monday Sales CRM's reporting features are not as advanced as other tools, making it difficult to track progress and identify areas for improvement.
Limited mobile app: Monday Sales CRM's mobile app is not as feature-rich as its desktop version, making it difficult to manage tasks on the go.
Expensive pricing: Monday Sales CRM's pricing can be expensive for larger teams or organizations.
| Pros | Cons |
| --- | --- |
| – Highly customizable | – Limited reporting |
| – Automates manual tasks | – Limited mobile app |
| – Improves efficiency | – Expensive pricing |
| – Great for collaboration | |
Pros and Cons of monday sales CRM software
In summary, Monday Sales CRM is a highly customizable solution that can help teams automate manual tasks and improve their overall efficiency. However, its reporting features are limited, its mobile app is not as feature-rich as its desktop version, and its pricing can be expensive for larger teams or organizations.
Now, let's look at more details of monday sales CRM software.
What Is the monday sales CRM Software?
Monday.com CRM is an all-inclusive and perfectly functional sales CRM software. It successfully integrates project management and CRM, getting excellent review ratings from users and industry professionals.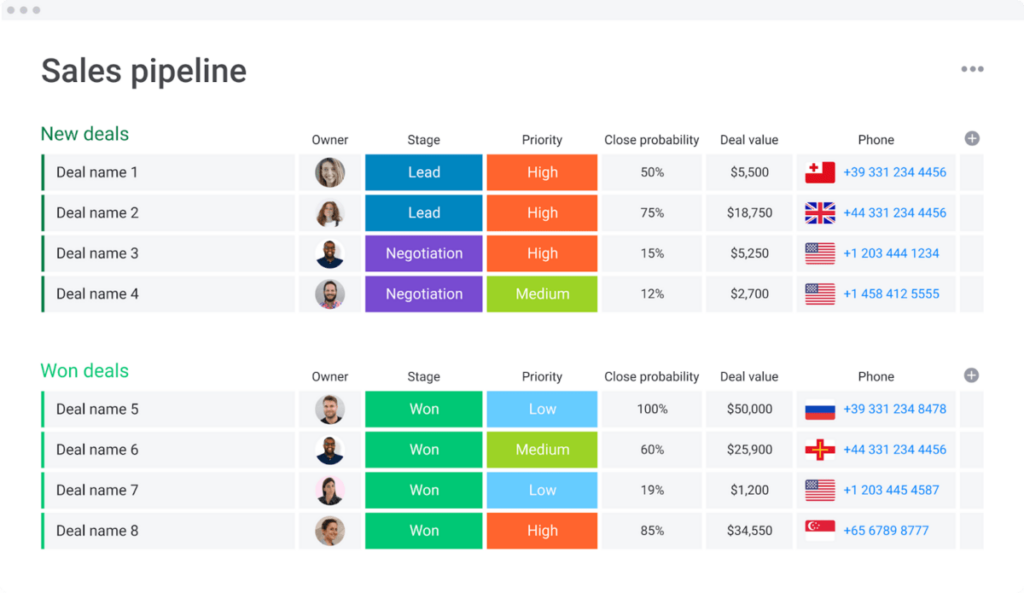 The CRM includes sales activities, leads, and customer relationship management, whereas the project management tool keeps track of tasks, budgets, and teams.
According to our extensive study, monday sales CRM is one of the most flexible CRM platforms on the market compared with other CRM platforms like Salesforce, Pipedrive, Keap, and Zoho CRM.
The monday Sales CRM includes drag-and-drop capabilities and customized columns and rows that may be used for just about anything throughout your customer relationship management process.
Some of the top-rated CRM features include: lead management, sales pipeline visualization, analytics and reporting, automation, ready-made sales CRM templates, and extensive integration with other applications to help you with sales management, team collaboration, and provide excellent customer support.
How Does The Monday Sales CRM Work?
Monday.com is known for its project management and work collaboration functions as a cloud-based software solution, but it also serves surprisingly well as a CRM tool.
You may utilize monday.com to construct a CRM solution with its ready-made templates that are completely customizable for your business and use it to:
Create a consolidated client database that includes relevant profile information.
Group leads based on where they are in the sales cycle.
Keep track of your sales pipeline.
Create custom analytics and reports to learn how to improve sales processes.
Create consistent lead development and marketing efforts.
Monday Sales CRM template provides several predefined groups and columns which are fully customizable. There are 50+ types of columns you can choose from.
Monday CRM Features
monday.com offers many CRM features and templates that make your task easy when managing and growing your business. We'll cover some of the highlighted features below, and here's another guide that covers monday.com CRM features more comprehensively if you're interested to learn more.
Sales Pipeline
Using the pipeline template, you can track sales activity and automate follow-up actions and updates with leads. For example, you can include a flag column to represent a lead's nationality, a status column with multiple predefined options ('Lead,' 'Discussion,' 'Won'), a numeric column to record lead phone numbers, and more.

It's simple to track of the status of each contact and observe your sales team's performance.
Use the monday.com CRM software here for free!
Contact Management
Optimizing the customer journey has evolved into a critical component of the selling process.
You can store all the calls, emails, meetings, chat history, support tickets, and any other client interaction in the monday sales CRM. You'll have the client's information at your disposal, allowing you to tailor every conversation.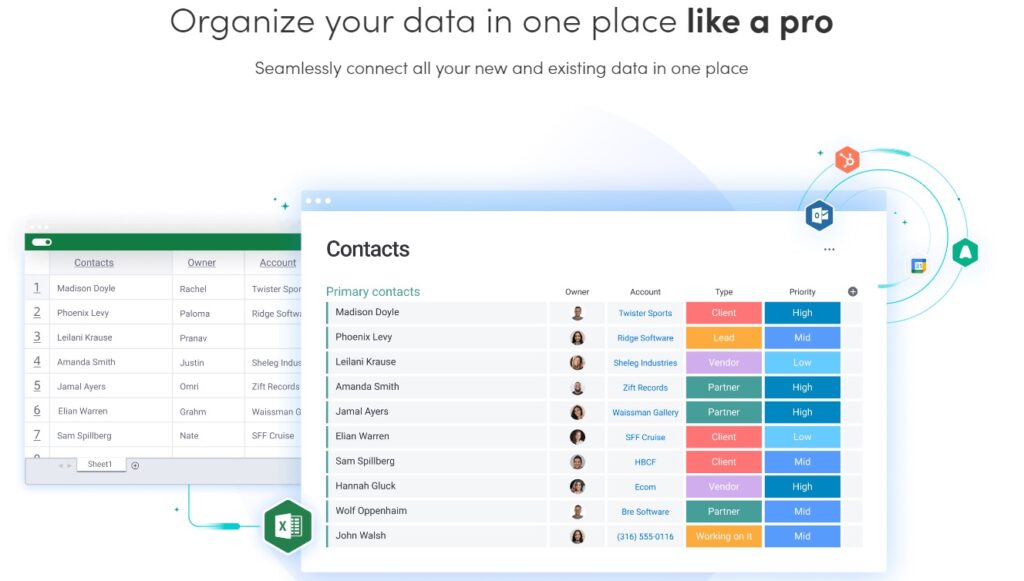 Centralized Communication
If your sales team collaborates via Slack, email, and several other applications, you need to consolidate and streamline your communication.
You can connect your apps and communications into one workspace by creating a CRM on Monday.com.
For example, you can fully sync your Gmail to send and receive emails and also automatically log your outgoing emails, all from inside monday.com.
Use the monday.com CRM software here for free!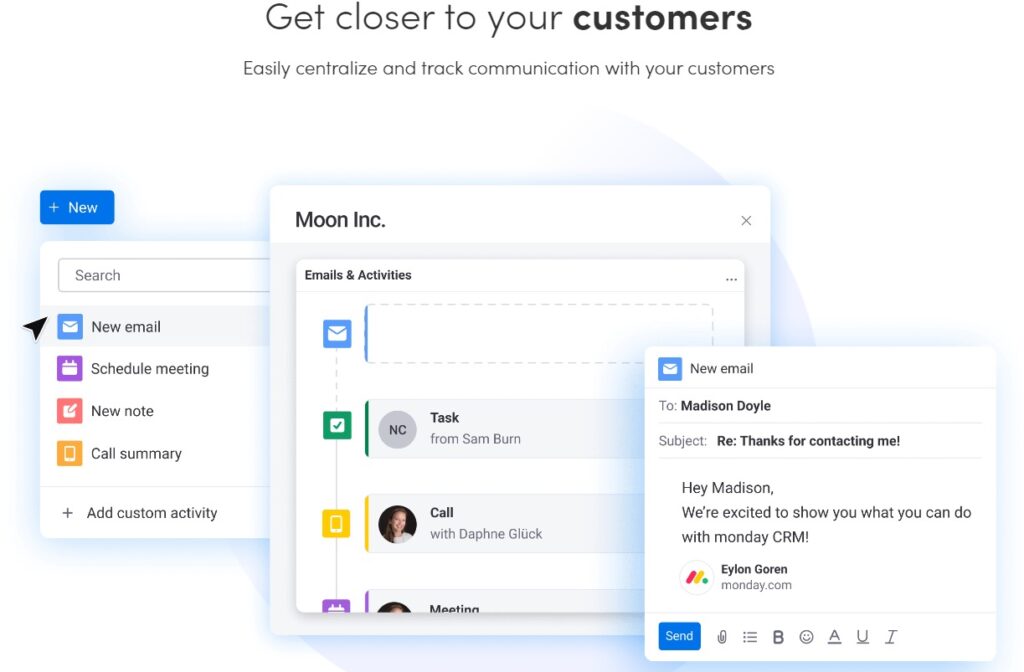 Automation
Monday.com makes it easier to automate monotonous processes than many other CRM solutions we reviewed.
They have a wide range of "recipes," each consisting of a trigger and an action.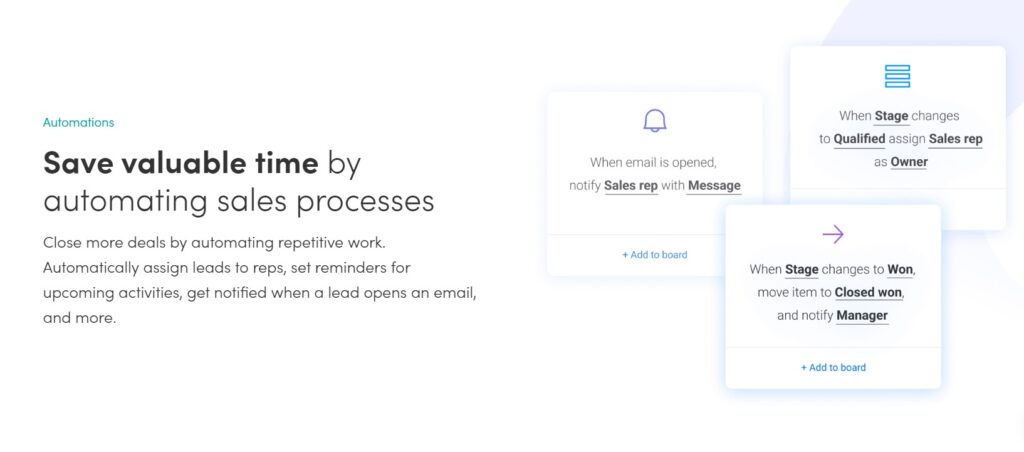 For instance, you can configure one automated action to send an email to a lead-in if a column changes. With Gmail or Outlook integrations, you may quickly convert emails into tasks by setting a few "if this, then that" automation.
If you wonder how monday.com CRM helps you manage communication efficiently, here's a customer testimonial from Ray White.
"Our business development team can now send hundreds of emails a day directly (and automatically) from our CRM without lifting a finger. monday.com CRM has opened countless doors of opportunities that we never had before."

Kyle Dorman | Operations Department Manager | Ray White
Use the monday.com CRM software here for free!
Sales Analytics And Reporting
Data is vital to any organization, and especially to a sales team. monday.com analyzes CRM data to detect trends and provide reports that you may use to strengthen your team.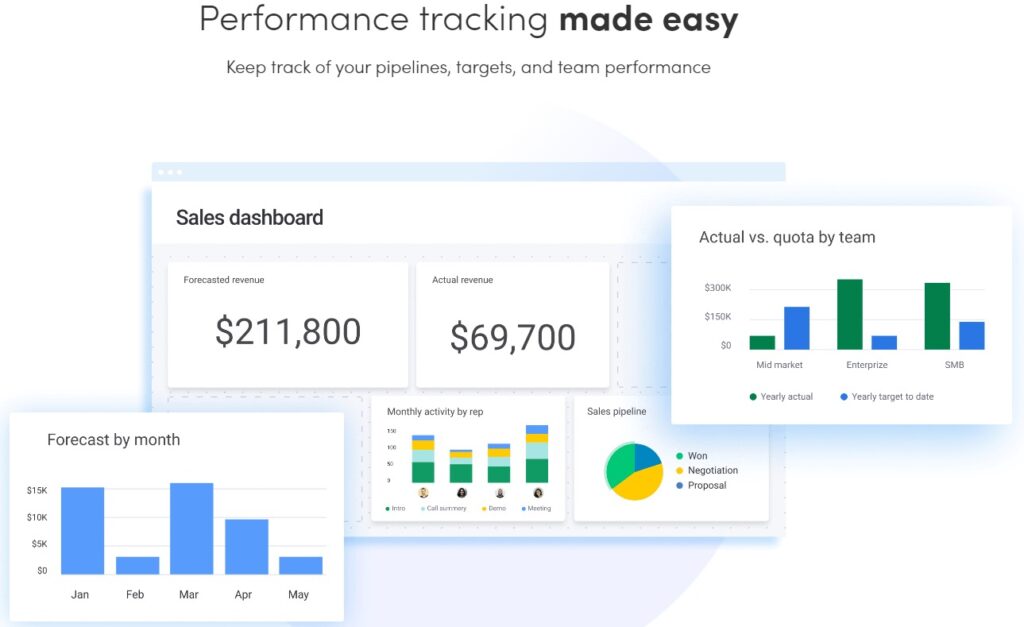 For example, if your team's sales are low but the conversion rate is high, you might consider increasing the number of client interactions or the number of leads to increase sales.
You can sort data, add custom filters, and organize it into graphs, dashboards, and reports to get a high-level view of your sales cycle or get into specifics like conversion rates by source. It's completely customizable, so you may view and compile data the way you choose.
Use the monday.com CRM software here for free!
Monday CRM Software Plans And Pricing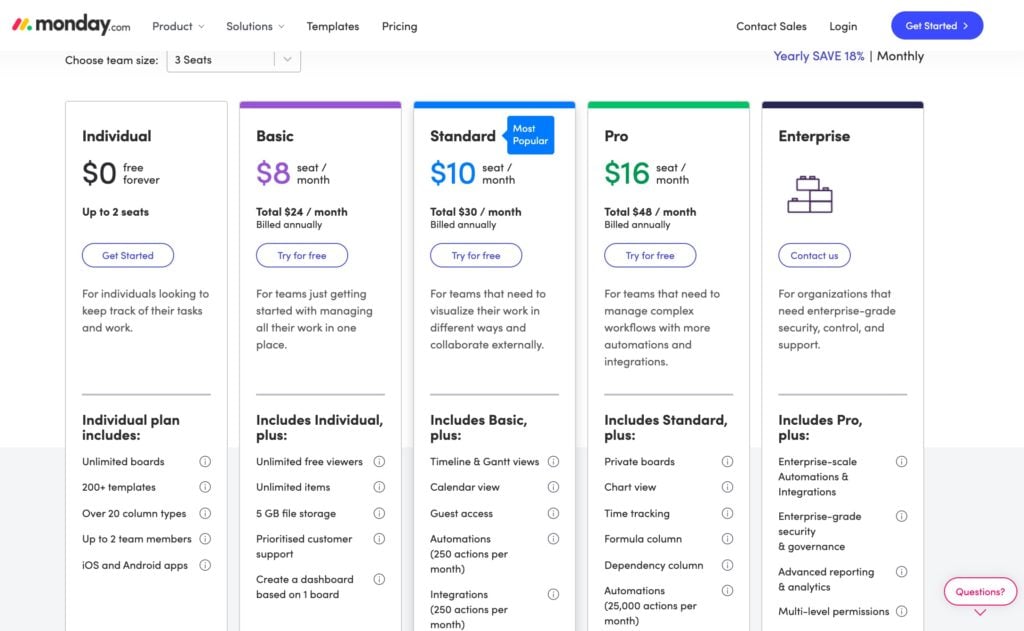 The pricing per user seat is affordable compared to many other CRM software solutions. monday.com offers five CRM pricing plans:
Free CRM: free forever for up to 2 user seats. You can store up to 1000 contacts and use templates for lead and deal management.
Basic CRM: $10 per seat per month. It offers unlimited customizable pipelines and contacts.
Standard CRM: $14 per seat per month. It provides advanced deal management, 2-way email synchronization, 250 automation actions per month, and more.
Pro CRM: $24 per seat per month. This plan allows you to gain more insights into your entire sales cycle by providing sales forecasting, email tracking and automation, sales analytics, and more.
Enterprise CRM: you'll need to contact monday.com to get a quote. This provides lead scoring, team goals, Salesforce integration, and more product features.
Overall, we think monday.com offers very attractive pricing. There are absolutely no costs involved in using its Free CRM plan.
You can learn more about monday CRM software pricing here.
Monday CRM Alternatives
While Monday CRM software is an excellent tool for managing sales and CRM activities, you might be interested in looking at some alternatives. Here are some of the best Monday.com CRM alternatives:
Pipedrive CRM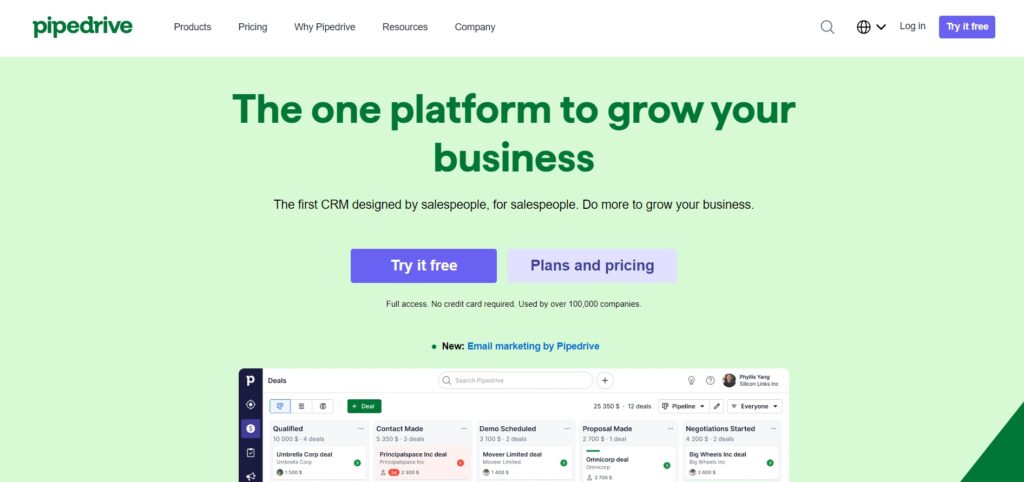 Pipedrive is an all-in-one sales platform designed by salespeople. Created using an activity-based approach, it streamlines every step involved in converting leads into a sale. It helps salespeople to plan sales activities, monitor deal status, and visualize the sales pipeline.
You can learn more about Pipedrive here.
FEATURES
Customizable sales reports
Deal management
Pipeline management
Automation capabilities
Lead generation
Pipedrive's reports are solid. You can track crucial KPIs for your business, set goals for your sales teams and see whether you're on the right track, etc. The CRM's sales reports are also customizable, as you're able to add custom fields for figuring out trends and uncovering where there your sales process needs improvement. Pipedrive also covers sales forecasting.
Additionally, Pipedrive offers solid lead generation tools. With its LeadBooster add-on, users can set up chatbots on your website, automatically direct leads to the appropriate sales agent, etc.
PROS
Easy to use
Brilliant customer service
Good value for money
AI-powered features
Customizable sales reports and dashboard
Pipedrive's AI-powered functionalities make this CRM exceptionally easy to use and eliminate repetitive tasks. For instance, Pipedrive automatically pulls customer data from your website and social media accounts and syncs it with the platform, sparing you a few headaches.
Moreover, this CRM gives users automatic suggestions on how to improve their sales activities depending on previous performance. Aside from that, Pipedrive offers 24/7 customer support across all its pricing plans.
CONS
No free version
Limited features
Although Pipedrive offers good value for money, its feature set is slightly limited, especially in the marketing department. Besides, some of the platform's functionalities, like the LeadBooster and Web Visitors add-ons, are hidden behind a paywall.
PRICING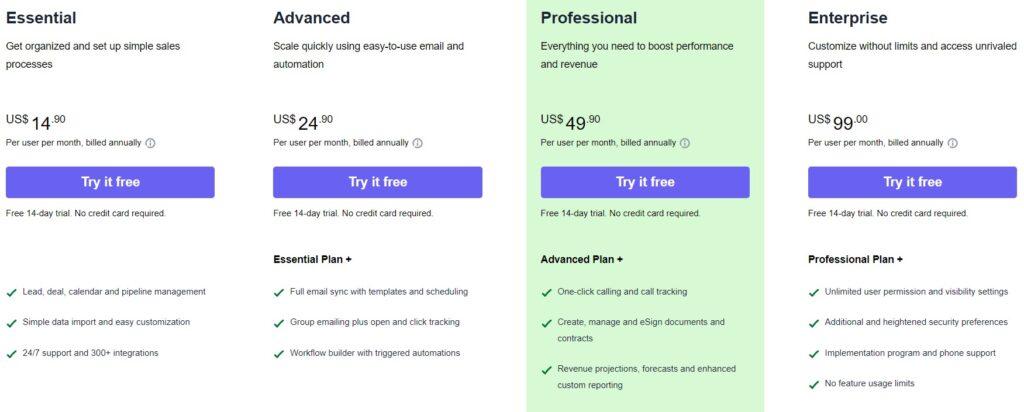 Pipedrive cover four pricing plans:
Essential: from $14.90 per user per month. It offers sales pipeline, deal, calendar, and lead management with simple data import options.
Advanced: from $24.90 per user per month. It includes a workflow builder and email synching with templates and scheduling.
Professional: from $49.90 per user per month. It provides call tracking, one-click calling, revenue projections, and more.
Enterprise: from $99 per user per month. It includes phone support, enhanced security, etc.
There's also a 14-day free trial available for all plans.
Pipedrive vs monday sales CRM
Both platforms are excellent in terms of ease of use. However, Pipedrive wins in the integrations department. The CRM integrates with over 300 applications. Meanwhile, Monday.com offers integrations with around 50.
Furthermore, Pipedrive offers unlimited pipelines and Kanban boards, more views, and advanced GDPR security. That comes at a higher price tag, though.
That said, Pipedrive might be better suited for medium businesses looking for a simple, easy-to-use CRM system. On the other hand, Monday Sales CRM may be an excellent option for start-ups and small business owners who want to emphasize project management.
Salesforce CRM
Salesforce is one of the longest-standing CRM solutions in the market. It offers a wide range of CRM cloud systems to meet the users' business needs, including Sales Cloud, Marketing Cloud, Service Cloud, and more.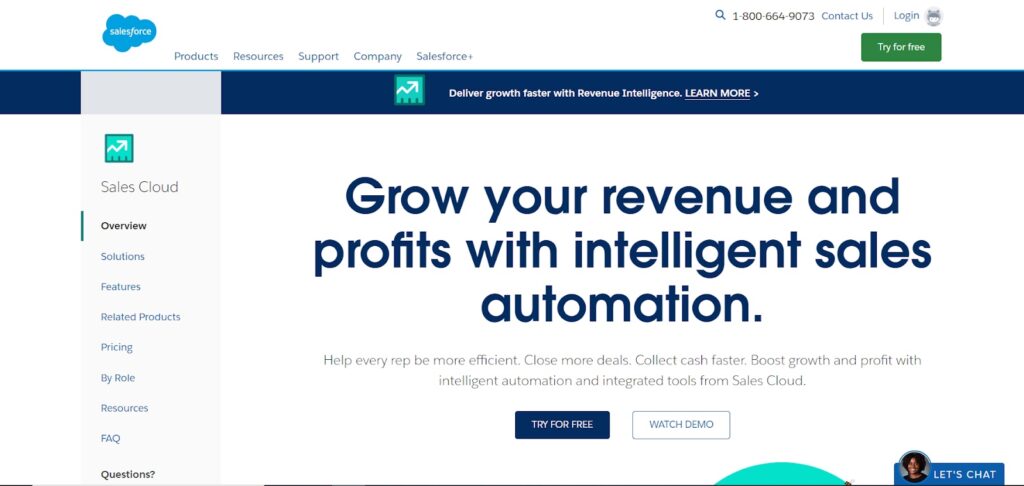 If you have a sophisticated sales process and require strong CRM support, you won't go wrong with Salesforce.
Learn more about Salesforce here.
FEATURES
Lead management
Contact management
Opportunity management
Forecasting and Analytics
Automation tools
Salesforce is widely known for its automation capabilities, as it eliminates monotonous manual work. For instance, sales reps can automatically set accurate price quotes for configurable products via the platform's CPQ (Configure, Price, Quote) system.
Moreover, you can automatically generate tasks based on certain criteria. Specifically, Salesforce can generate tasks to call a lead or send emails whenever you introduce a new prospect to the system.
Aside from that, Salesforce can also handle lead scoring. Through machine learning technology, the platform analyzes past converted leads and uses that information to compare new customer data and find similarities between the two. As such, Salesforce can predict the likelihood of getting each new lead to convert.
PROS
Highly customizable
Highly scalable
Excellent integrations
Advanced feature set
Extremely versatile
Salesforce takes pride in its customization options. You can tweak almost every aspect of the platform — from the UI to workflows, fields, notifications, and more. You can also add extra functionality via the platform's App Exchange, where you can find thousands of integrations with native and third-party apps, or even build one from scratch.
Moreover, the platform is highly versatile, as you can integrate it seamlessly with Salesforce's other products, like Commerce Cloud, Experience Cloud, Service Cloud, etc. That said, Salesforce is suitable for any type of business.
CONS
Steep learning curve
Pricing adds up
Salesforce is a complex platform and there's a lot to learn about it. As such, Salesforce might not be suitable for businesses with no prior experience with CRM platforms. Besides, pricing can add up quickly if you're looking to use features from the other Salesforce products.
PRICING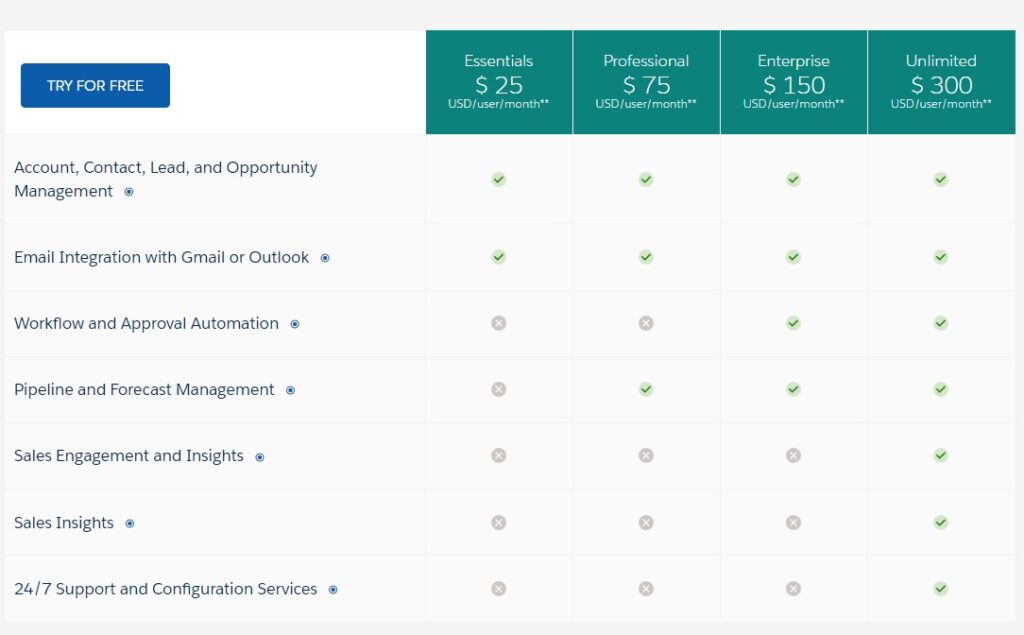 Salesforce's CRM platform is found in the Sales Cloud. There are four pricing plans available:
Essentials: $25 per seat per month. It includes opportunity management and integrations with Gmail or Outlook.
Professional: $75 per seat per month. You can handle forecast and pipeline management.
Enterprise: $150 per seat per month. It offers workflow and approval automation.
Unlimited: $300 per seat per month. You get access to 24/7 customer support, Sales Engagement, and Insights.
There's also a free trial available for all pricing plans.
Salesforce vs. Monday sales CRM
Monday Sales CRM is the better option for start-ups and small business owners. The platform is affordable, easy to use, and covers all features needed to cover your project management and CRM needs.
Salesforce, on the other hand, is an excellent choice for medium-sized businesses and enterprises. It's highly customizable, versatile, and packed with powerful features. Besides, the App Exchange brings nearly endless possibilities in terms of adding more functionality to the platform.
ClickUp
Like Monday.com, ClickUp is a project management tool and collaboration platform that includes a customized CRM solution.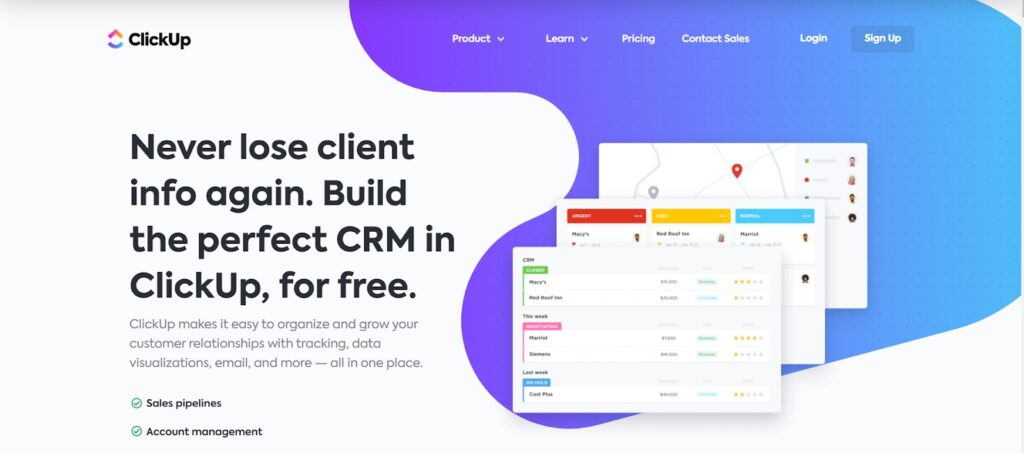 Based on our extensive research and comparison, ClickUp is best for remote teams with its built-in time tracking features. It also offers a feature-rich free plan, making it a great alternative to the monday.com Free CRM plan.
Learn more about ClickUp here.
FEATURES
Time tracking
Collaboration tools
Task and project management
Real-time reporting
Automation capabilities
The platform's collaboration tools make it easy for you to keep in touch with your team members. You can share documents, leave comments, and tag users in real-time.
As for time tracking, ClickUp allows you to track time spent on each task, add notes, set estimates, and examine reports to help you stay on top of your work hours. The CRM platform also seamlessly integrates with Google Calendar, allowing you to sync all of your contacts.
PROS
Easy to use
Extensive customization options
Solid integrations
Wide variety of views (Kanban, Gantt, Calendar, etc.)
Mobile app available
ClickUp shines through its customization capabilities. The platform is highly flexible, as you can tweak it in any way you like to fit your workflows, business model, or personal preferences. For instance, you can add privacy options for specific team members, choose between 50+ widgets to build a dashboard that suits your needs, and more.
The platform also offers integrations with over 1000 third-party applications.
Cons
Can be overwhelming
Requires onboarding
The platform's wide array of features and customization options can be pretty overwhelming for some. As such, it might take a while until you get to learn ClickUp's ins and outs.
Moreover, ClickUp includes a lengthy onboarding process, which doesn't necessarily make things easier. Although you have access to lots of information from the get-go, having an interactive walkthrough of how to make the most out of this platform would've helped users get more comfortable with the platform.
PRICING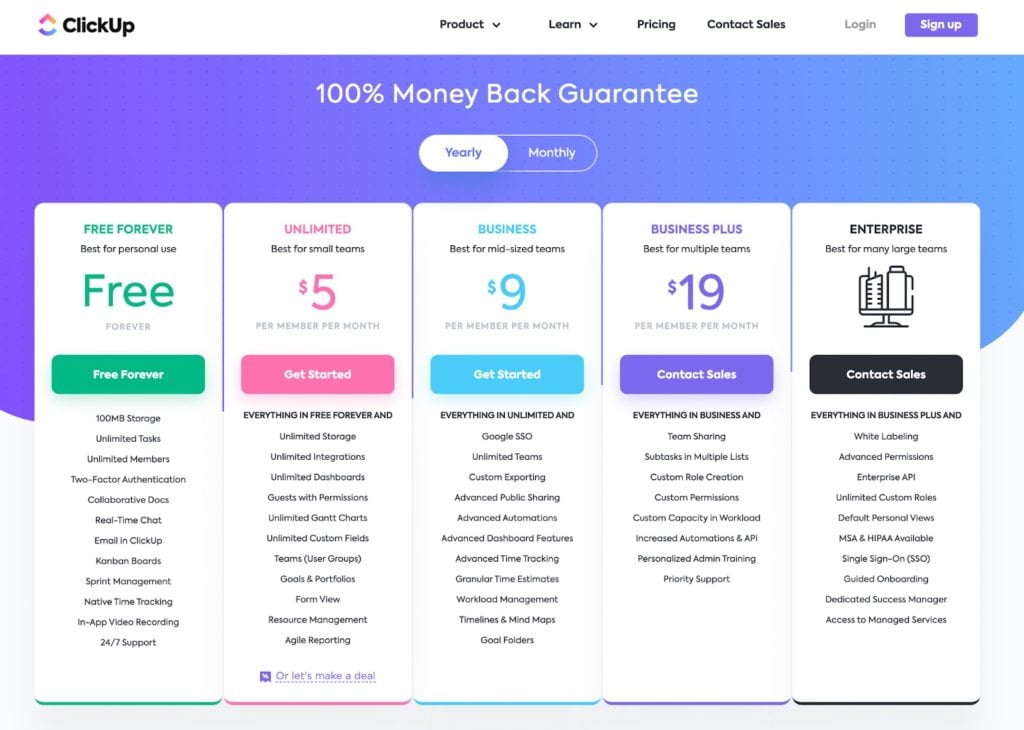 ClickUp covers five pricing plans:
Free: 100MB of storage, unlimited tasks, and members, Kanban boards, etc.
Unlimited: from $5 per seat per month. Unlimited storage, integrations, and dashboards. You get access to Agile reporting and form views.
Business: from $12 per seat per month. You get access to advanced time tracking, automation, and dashboard features.
Business Plus: from $19 per seat per month. It includes team sharing, custom role creation, permissions, and more.
Enterprise: upon request. It offers a dedicated success manager, live onboarding, and training, etc.
Clickup vs monday sales crm
If ease of use is at the top of your list, Monday Sales CRM wins. There's little to no learning curve, and the UI is very user-friendly. However, ClickUp covers more features and is highly customizable, making it a suitable option for companies looking for a more in-depth CRM platform. Not to mention that ClickUp also covers more team collaboration features.
Conclusion
Overall, we recommend monday.com CRM for startups, small businesses, and medium-sized companies with team members wearing multiple hats that want an all-in-one, affordable software solution to keep track of all projects, sales, marketing, and customer support activities.
With its automation features, high customization capabilities, and ready-made CRM templates, you can set up your CRM quickly and easily.
We do not recommend monday CRM for large businesses with sophisticated sales needs. Salesforce would be a better option.
If you're interested in learning more about monday.com, why not start with its free plan to learn about it first-hand?