Salesforce opted to upgrade Community Cloud to more advanced services in April 2021. Digitalization has never had greater importance than now when pandemics have hit the country. Many companies need new workflow tools, and Salesforce has developed a solution to this problem, Salesforce Experience Cloud.
Salesforce Experience Cloud is now a platform that promotes creating connected digital experiences for managing customer journeys within the organization. This post is for those who do not understand this service and have questions about its effectiveness.
What is Salesforce Experience Cloud?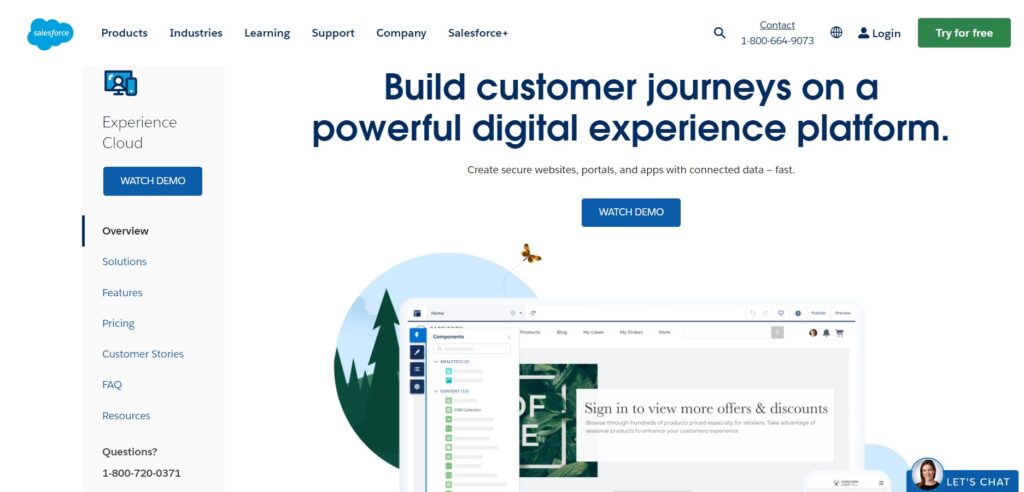 In short, Salesforce Experience Cloud is part of the Salesforce platform that helps businesses create inter-connected digital experiences.
This allows businesses to expand their reach across multiple marketing channels and easily maintain their brand identity on the channels.
With Salesforce Experience Cloud, you can create help centers, landing pages, mobile apps, customer portal, employee portal, partner portals, and more. 
Moreover, Salesforce Experience Cloud is built on the Salesforce 360 platform. As such, customer data from other Salesforce products, like the Marketing, Sales, Service, and Commerce Cloud are brought under one roof.
That said, the Experience Cloud also allows businesses to unify customer data so any department within your company can easily access critical information.
For instance, if a customer service agent receives a call regarding a product issue, he will no longer need to ask the customer for purchase details. Instead, the service agent can quickly pull up data captured by the sales team and go on from there. 
Get in touch with Salesforce here at its official website.
What's the difference between Experience Cloud and Community Cloud?
Think of Experience Cloud as an evolved version of Community Cloud.
Salesforce Community Cloud only allowed you to build communities—a place where employees, partners, or customers could've easily interacted with each other and shared information, much like a forum.
However, Experience Cloud takes it to the next level, as it allows you to create a lot more than communities. You can create mobile apps, landing pages, help centers, and portals.
Other than that, there are also minor factors that differentiate the Community Cloud from the Experience Cloud.
This mostly comes down to changes in terminology. For instance, what was known before as a Community, is now called an Experience Cloud Site, or simply, a Site to better reflect the new platform.
Furthermore, the Experience Cloud brings various new features and improvements, like enhanced security, content management, and mobile publisher functionalities.
In terms of new features, Salesforce brought guest browsing, wishlists, and shipping options to the table.
Salesforce Experience Cloud features
Templates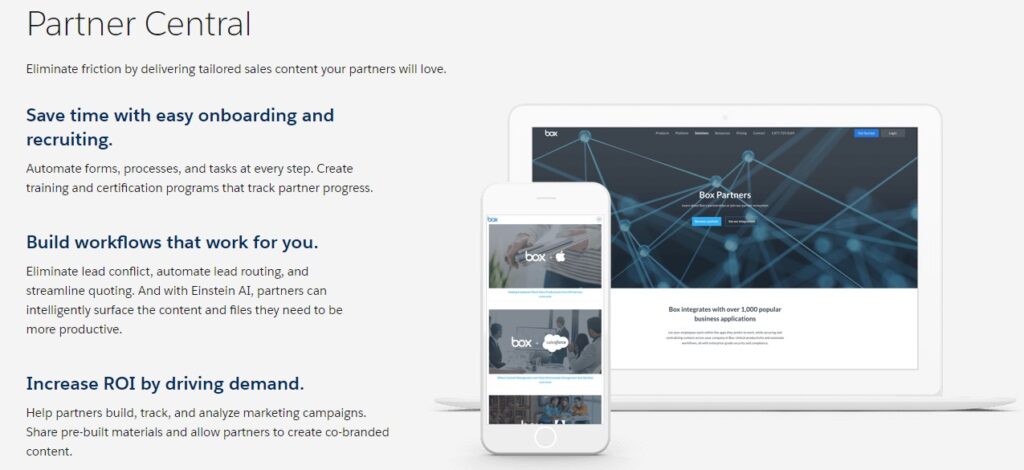 One of the best things about Salesforce Experience Cloud is that you don't have to build new digital experiences from scratch. The platform provides various customizable templates for most business, partner, and customer activities.
In terms of building customer experiences, the Experience Cloud offers templates for customer account portals, help centers, and customer service. Each template comes with its own unique set of features.
For instance, the Partner Central template is designed to help businesses collaborate with external consultants more effectively and ultimately improve lead management and other sales activities.
It includes automation capabilities to help improve efficiency. Users can automate tasks, forms, lead routing, and more.
Additionally, Partner Central provides all the features necessary to manage sales processes, calendars, and events.
Themes and branding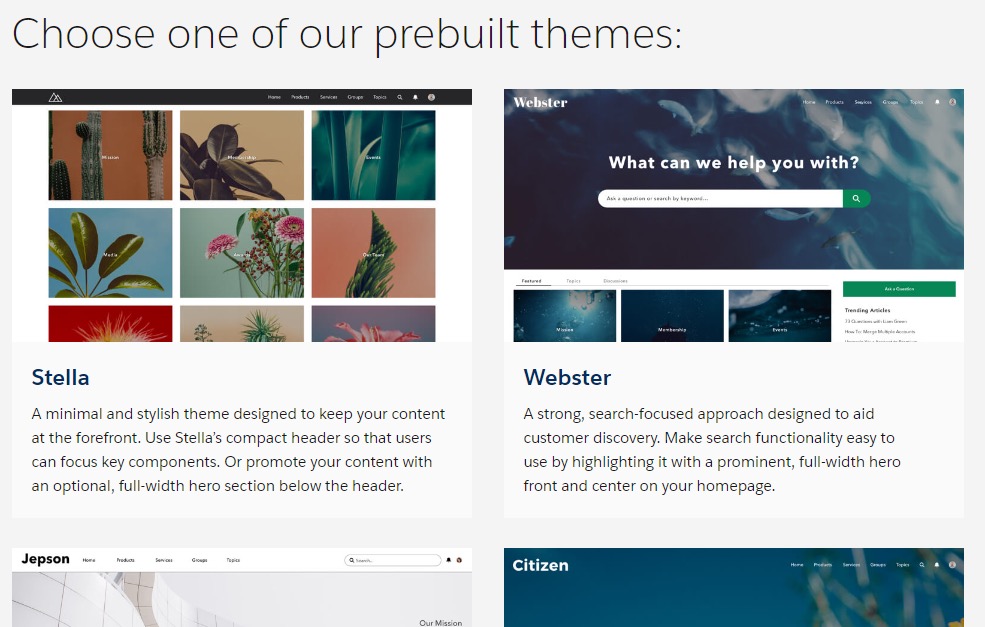 On the same note, Salesforce covers several customizable, mobile-responsive templates for your landing pages. Each theme has its unique twist and is designed to encourage visitors to perform specific activities.
For example, one theme drives focus to a search bar in the web page's central part. This pushes users to explore your website and find more information.
Conversely, another theme puts your call-to-action at the forefront of your webpage, making it ideal for lead-capturing campaigns.
Upon selecting a theme, you are free to tweak it, so it fits your brand. You can add your logo, generate custom color schemes, add custom objects, and more without needing to write any code. 
Personalization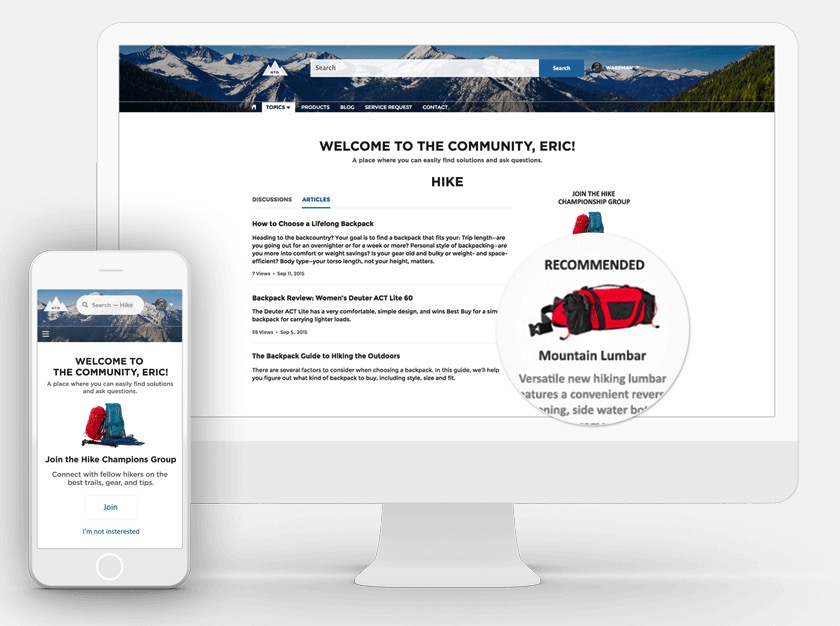 Speaking of websites and landing pages, you can use Salesforce's powerful personalization feature.
The platform allows you to deliver personalized content based on your audience's interests, expertise, behavior, and region.
Moreover, you can integrate the Experience Cloud with Marketing Cloud's Personalization, formerly known as the Interaction Studio. This will take your personalization strategy to the next level.
More specifically, Personalization allows you to track customer behavior, pinpoint behavioral trends, get insights into what products attract visitors to your website, etc. 
From there, you can recommend visitors' products based on previous purchases, or promote blog posts relevant to what pages they visited on your website previously.
Additionally, you can use gathered behavioral data to conduct more accurate A/B tests and improve website conversion rates.
Engagement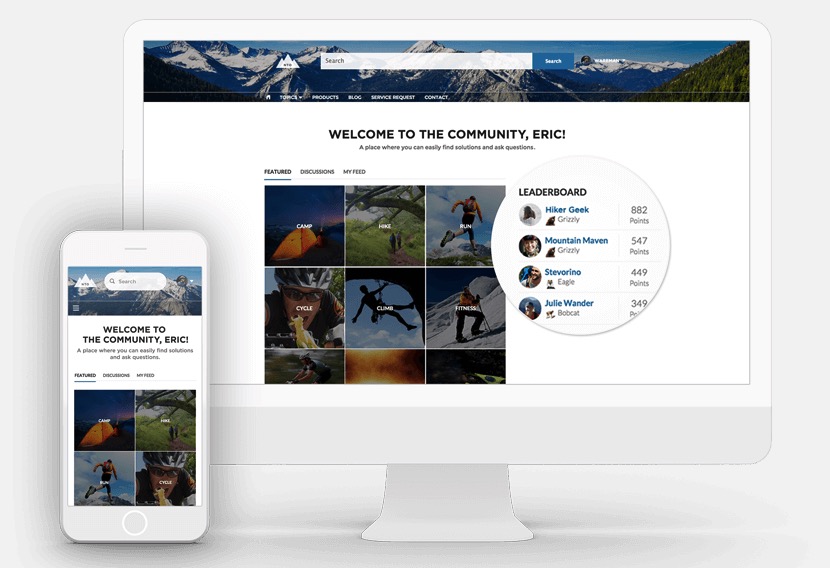 As the name suggests, this feature helps you establish a stronger connection with your audience. You can assign recognition badges, ranks, and scores to reward active members within your community.
Furthermore, community members can identify and highlight other members as experts in specific topics.
You can also create a public leaderboard to put top contributors in the spotlight and encourage other members to be more involved in your community—all of which can be done with Experience Cloud's Insights tool.
Insights allow you to monitor community activity quickly and track each user's actions. This makes moderation easy and you won't need to continuously keep an eye on your community to identify top-performing contributors.
Business Integrations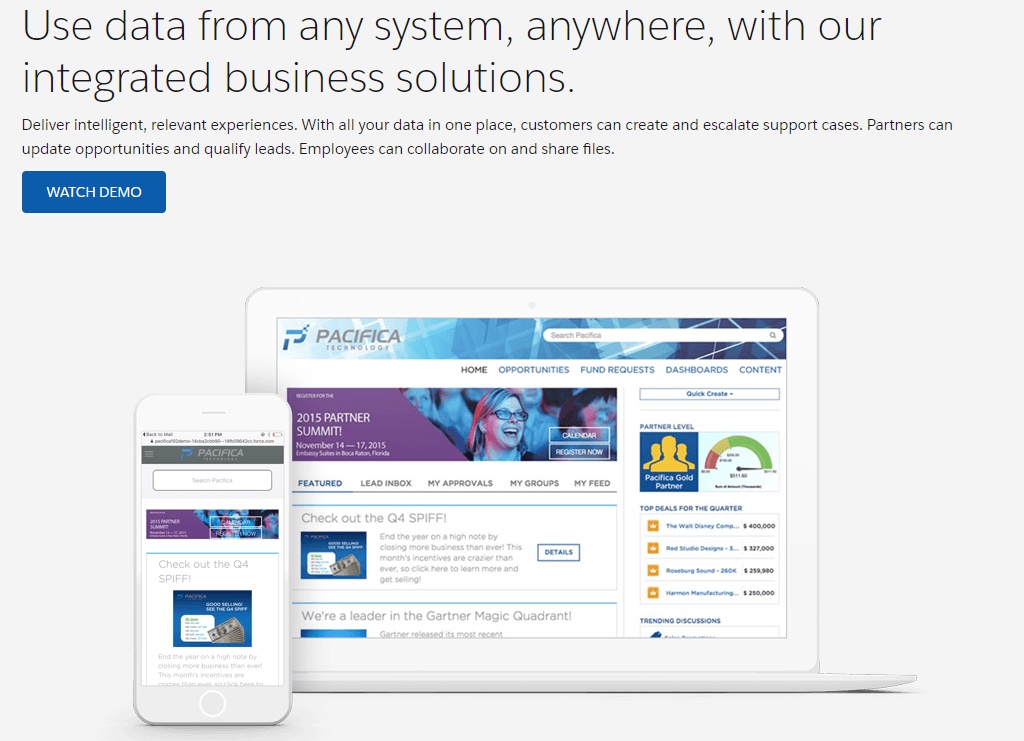 With Experience Cloud's Business Integrations, you'll bring all of your data under one roof. This doesn't only include information gathered from other Salesforce products, like Sales or Marketing Cloud, but you can also integrate data from third-party platforms.
From there, you can easily create custom reports and dashboards to get a bird's-eye view of your business's performance.
Benefits of Experience Cloud
Unified data
One of the main advantages of the Experience Cloud is that it brings all of your information to one place, be it CRM data, behavioral data, etc. Moreover, anyone within your team can access this information.
Consequently, you eliminate the need for jumping from platform to platform. Meanwhile, employees can search for crucial information regarding a customer in a pinch without bothering the department responsible for collecting the said data.
Improved customer experience
You'll have all the information necessary to understand your customer's behavior and preferences at your fingertips. And with that, you can create shopping experiences that cater to specific customers or individual users.
Moreover, the platform enables you to create a customer self-service portal, like a Help Center. This helps your customers fix most of their issues quickly, without going through customer support.
As a bonus, you'll get to cut your customer support team some slack.
Extensive customization
Salesforce is renowned for its customization capabilities. The same thing goes with the Experience Cloud. 
That's where the AppExchange comes in. This is a plug-in library where you can find various ready-made tools, or even build your own from scratch. In other words, the customization possibilities are endless.
A good example of a handy tool you can find for Experience Cloud is FormBuilder RX. This allows you to quickly set up custom, mobile-responsive forms to help gather customer information, feedback, and more.
Enhanced communication
Since Salesforce allows for unified data, it becomes much easier to get multiple departments within your company on the same page.
Additionally, the platform's community engagement tools help win your audience's trust, which bridges the gap between the company and your clientele.
Furthermore, since you'll be able to create and control digital experiences across multiple channels, you'll also get in touch with audiences from specific channels easier.
Versatility
There are several Experience Cloud solutions. Each provides specific features that cater to certain activities, making it excellent in terms of versatility.
More specifically, the platform includes the following:
Partner relationship management – improves partner communication
Content management – scales content across multiple channels
Customer service – reduces customer service costs and improves productivity
B2B Commerce – improves the online shopping experience
What kind of experiences can you create?
Salesforce provides templates for digital experiences. Let's quickly take a glance at all of them:
Customer self-service portals
Employee communities
Account portals
Partner portals
Landing pages
Mobile applications
Storefronts
Microsites
You also have the option to build a digital experience from scratch using the platform's Experience Builder.
Frequently Asked Questions
What is an Experience Cloud in Salesforce?
The Experience Cloud is part of Salesforce's product offering. It allows you to create a connected digital experience across multiple platforms. Thus, it brings all of your data under one roof and gives you more control over your digital presence.
Who uses Salesforce Experience Cloud?
Businesses that look to bring their sales, marketing, and customer support activities under one roof, or to establish better control over their digital presence.
Some well-known companies that use this platform are Western Union, Toyota, Coca-Cola, and Box.
Is Salesforce Experience Cloud the same as communities?
Communities are part of the Experience Cloud. While you can create and manage communities, you can also develop mobile applications, websites, landing pages, portals, and more.
How do I create an Experience Cloud in Salesforce?
After you've got Experience Cloud enabled, head to Setup, type "Digital Experiences" in the search bar, select All Sites, then click on New. From there, you'll see several templates representing the type of digital experience you want to create.
For more information, check out the Trailhead community. You can find plenty of tutorials and courses on how to get started with Salesforce.
Conclusion
Overall, the Experience Cloud is a significant improvement over the Community Cloud. It's much more versatile, unifies data, and it's a quick and easy way for companies to expand their digital presence.
Consequently, the platform streamlines business processes. It also helps create personalized customer experiences and improves employee and customer communication.