Businesses are constantly looking for the best customer relationship management software to help them manage their customer interactions and sales. Most CRM solutions focus on improving sales, customer service, and productivity.
However, there are other features included in the software that makes it easier to manage the entire business. For example, some CRM solutions allow users to manage finances, inventory, marketing, and HR tasks from one dashboard. Some CRM platforms can also integrate with the ERP and other software solutions that you use to run your business.
While there are many options on the market, two of the most common customer relationship management solutions for large enterprises and organizations are Oracle NetSuite and Salesforce. Both CRM systems offer similar features and functionality, but each has its own unique set of advantages depending on the needs of your business. In this article, we'll take a look at a comparison of Salesforce and NetSuite to help you determine which system is best for your organization.
NetSuite vs Salesforce: At a Glance
| Comparison | Netsuite | Salesforce |
| --- | --- | --- |
| Pricing | Pricing is based on the number of users and modules required, with the basic plan starting at $999/month for one user and three modules. | Range of pricing options, starting at $25/user/month for the standard plan and going up to $300/user/month for the enterprise plan. |
| User Interface | Cluttered interface that can be overwhelming for new users | User-friendly interface that is easy to navigate. |
| Features and Functionality | Offers a complete suite of business management tools, including accounting, human resources, and e-commerce. | Primarily focused on sales and marketing, providing robust features for lead management, opportunity tracking, and email marketing. |
| Integration | Provides integration capabilities, but it's not as robust as Salesforce. | Offers seamless integration with a wide range of third-party apps and tools, including marketing automation, social media, and analytics tools. |
| Customization | Offers limited customization options, making it challenging for users to tailor the CRM to their specific needs. | Offers a wide range of customization options, allowing users to personalize the CRM to their liking. |
| Mobile App | Offers a mobile app, but it's not as robust as Salesforce's mobile app. | Offers a comprehensive mobile app that allows users to access the CRM on-the-go, providing real-time updates and notifications. |
Netsuite vs Salesforce
NetSuite vs Salesforce: Similarities
Both platforms offer a wide array of products besides their CRM software.
Both platforms offer a broad set of complex features.
Both platforms offer extensive integrations.
Both platforms are highly customizable.
NetSuite vs Salesforce: Differences
NetSuite is an Enterprise Resource Planning (ERP) system, whereas Salesforce has a dedicated CRM software solution.
NetSuite CRM comes bundled with other products, while you can use Salesforce CRM separately.
Salesforce caters to businesses of all sizes, whereas NetSuite is more suitable for enterprise-level companies.
NetSuite also offers accounting software, unlike Salesforce.
What is Oracle NetSuite CRM?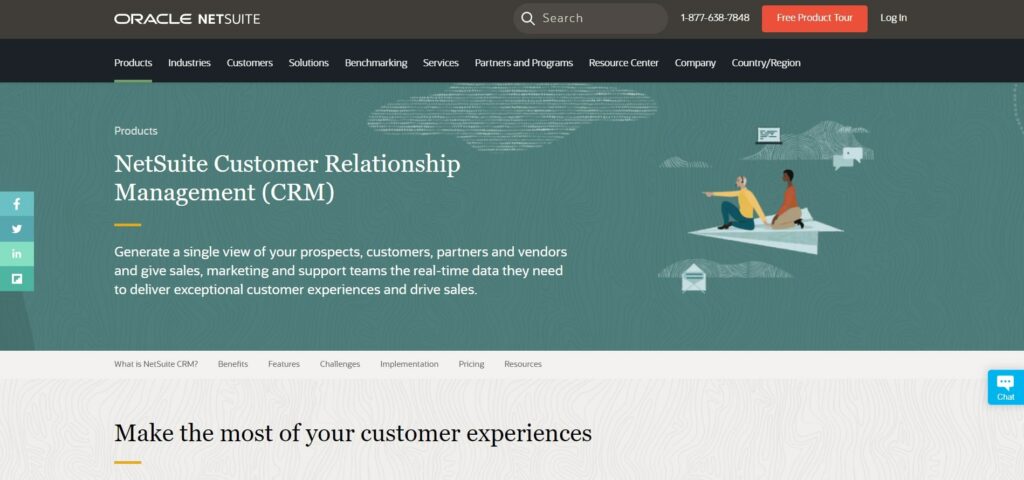 Oracle NetSuite CRM is part of the platform's ERP software. In other words, aside from its CRM functionalities, this platform aims to help businesses fulfill other daily activities, like accounting, risk management, project management, and more.
However, NetSuite's CRM software is designed to manage partner relationships and customer service, facilitate sales force automation, and in-depth analytics as well as marketing automation tools.
Oracle NetSuite CRM
Oracle Netsuite CRM is a powerful customer relationship management software that helps businesses manage their customer interactions and relationships. It provides a comprehensive suite of tools and features that enable businesses to streamline their sales, marketing, and customer service processes. With Oracle Netsuite CRM, businesses can easily track customer interactions, manage leads and opportunities, automate sales processes, and provide exceptional customer service. The software also offers advanced analytics and reporting capabilities, allowing businesses to gain valuable insights into their customer data and make informed decisions. Overall, Oracle Netsuite CRM is a highly effective solution for businesses looking to improve their customer relationships and drive growth.
Pros:
Comprehensive customer management: Oracle Netsuite CRM provides a complete view of customer interactions, including sales, marketing, and customer service.

Customizable dashboards and reports: The platform offers customizable dashboards and reports that allow businesses to track key performance indicators and make data-driven decisions.

Integration with other Oracle products: Oracle Netsuite CRM integrates seamlessly with other Oracle products, such as Oracle ERP and HCM, providing a complete business solution.

Cloud-based solution: As a cloud-based solution, Oracle Netsuite CRM offers easy access to data and applications from anywhere, at any time.

Scalability: Oracle Netsuite CRM is scalable, making it suitable for businesses of all sizes. It can grow with the business and adapt to changing needs.

Security: The platform offers robust security features, including data encryption, access controls, and regular security updates, ensuring that customer data is protected.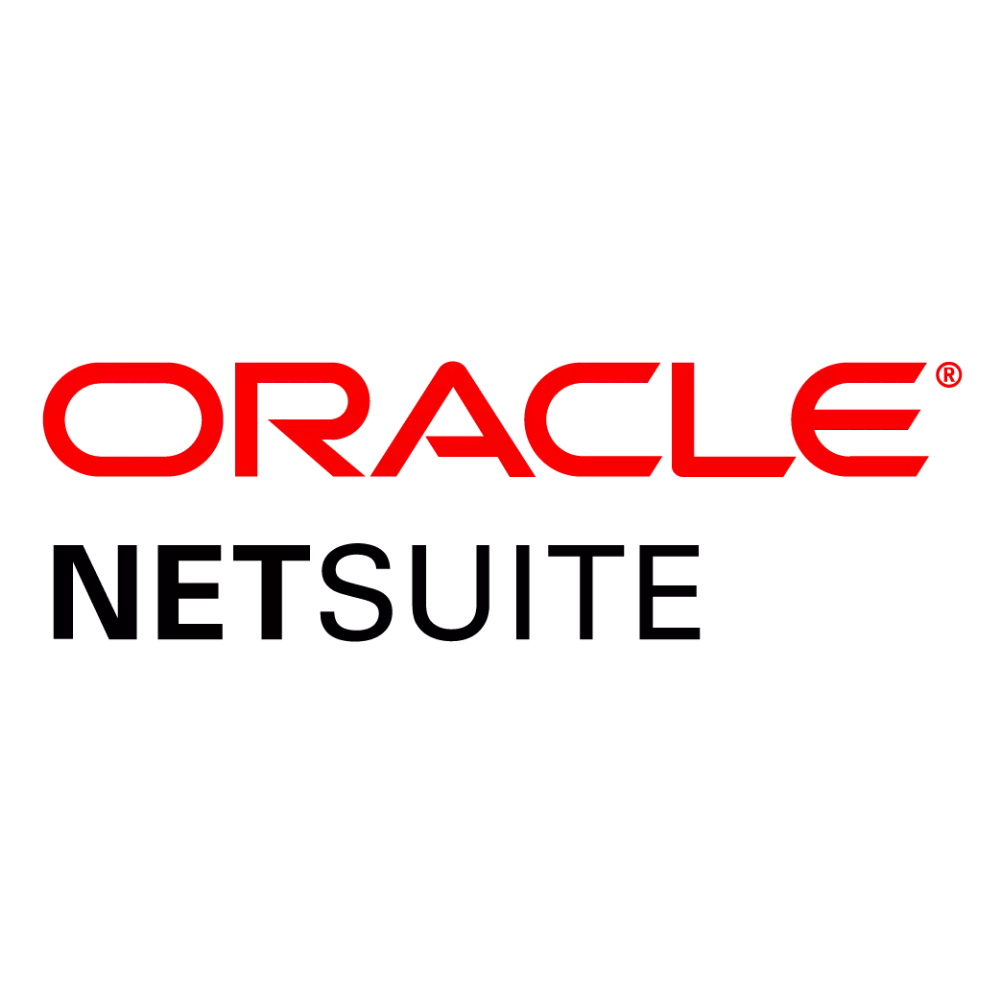 Oracle NetSuite CRM Key Features
Tracking marketing campaigns and providing upsell recommendations
Sales forecasting and automation
Partner relationship management
Configure, Price, Quote (CPQ)
Order management
What is Salesforce?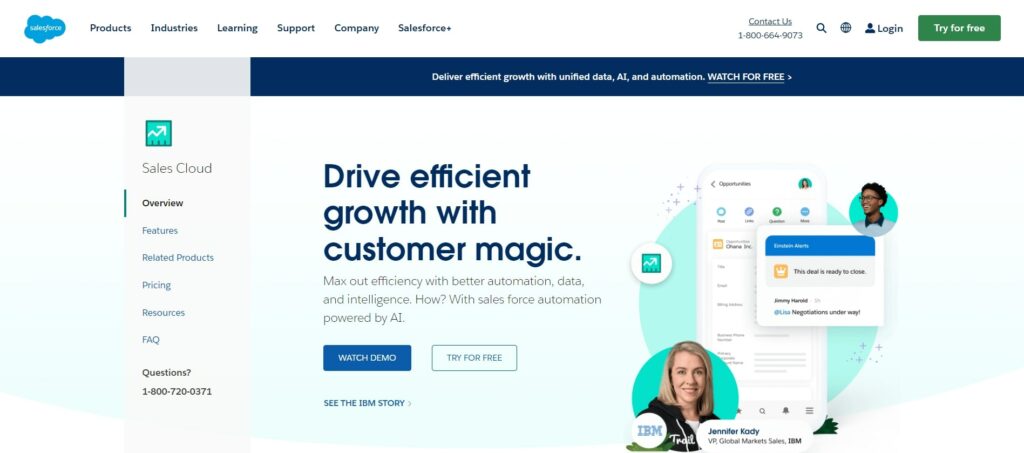 Part of Salesforce's product offering, the Sales Cloud is one of the most popular CRM software solutions currently on the market. This platform covers a wide set of advanced features like collaborative forecasting, opportunity scoring, and a customizable sales process, for instance.
The platform is also highly customizable, as users can tweak the UI by adding custom colors, logos, and more to help businesses better reflect their corporate identity. Additionally, users have access to thousands of integrations via the AppExchange. They can also build custom applications from scratch.
Most Comprehensive CRM Software
Salesforce | Leading CRM Software
Salesforce is one of the best cloud-based customer relationship management (CRM) software that helps businesses manage their sales, marketing, and customer service activities. It provides a centralized platform for managing customer data, tracking sales leads, and automating marketing campaigns. With Salesforce, businesses can improve their customer engagement and drive revenue growth.
Pros:
Efficient management of customer data

Improved communication and collaboration among team members

Increased sales productivity and revenue

Customizable dashboards and reports for data analysis

Integration with other business tools and applications.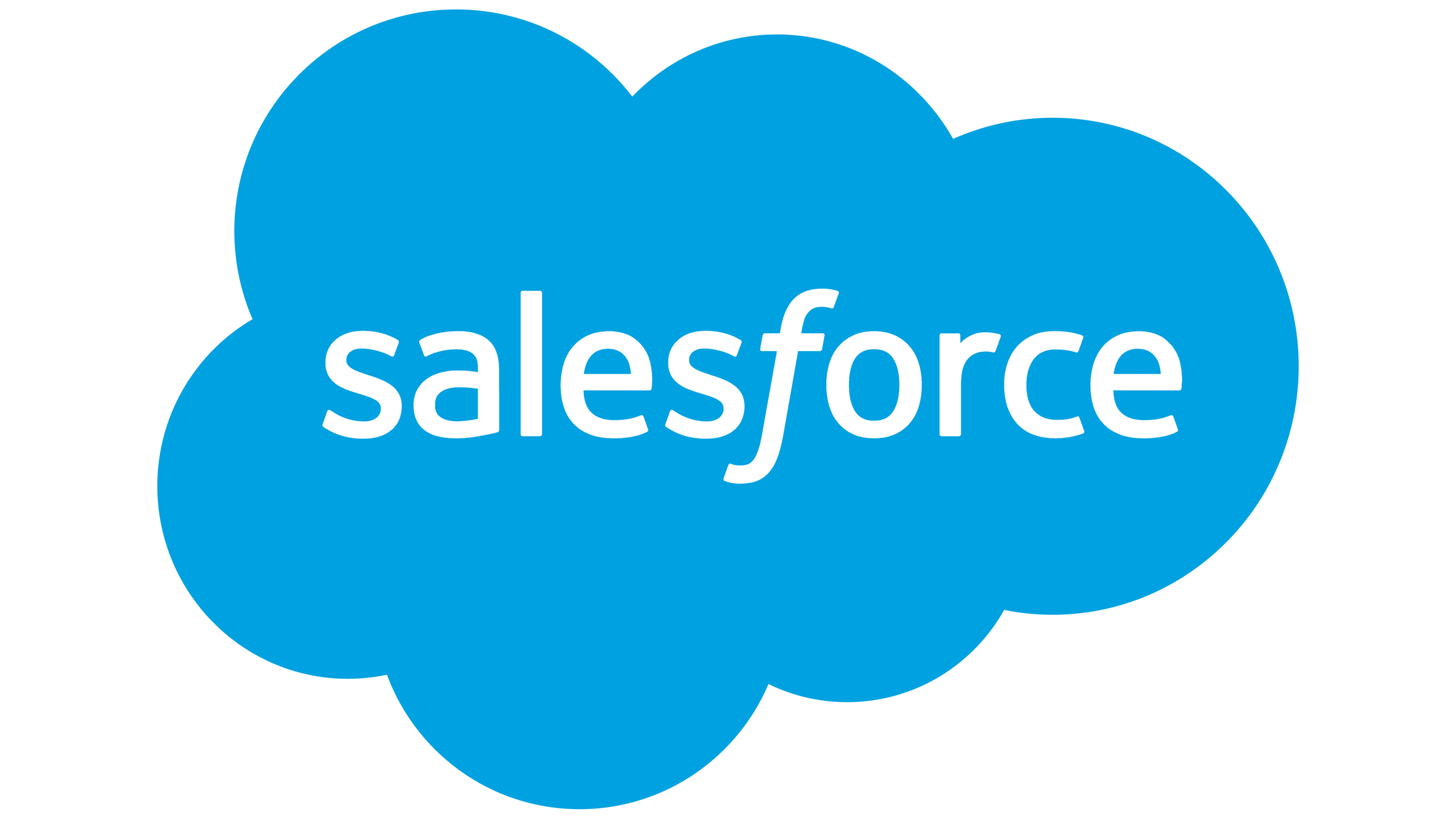 Salesforce Key Features
Contact management and lead management
Automatic lead assignment and routing
Opportunity management
Workflow and approvals
Sales forecasting
👉 You can learn more about Salesforce Sales Cloud with our in-depth guide here.
NetSuite vs Salesforce: CRM Features
Sales and Marketing Automation
Oracle NetSuite CRM
In short, this CRM solution goes pretty in-depth with its marketing automation tools. For one, you can automatically segment your audience and deliver targeted marketing campaigns. Meanwhile, you'll get to track the prospects' activity and determine which leads meet your buyer persona for more effective campaign management.
The platform supports multiple marketing campaigns, including email, direct mail, and event campaigns. Additionally, NetSuite allows you to deploy web-to-lead forms on your landing pages. Whenever a lead submits their contact information, all data will automatically port over to your CRM database. It can also route this data to the appropriate sales representatives.
As for sales, NetSuite can spare you from most manual processes. You can automate business processes from order management to upsells, opportunity management, contract renewals, and much more.
The platform also delivers real-time sales forecasts, which lead to identifying potential opportunities easier and improved sales performance. You can view these forecasts through fully customized dashboards with role-based access.
Salesforce
The Sales Cloud is also pretty solid in this regard. In terms of sales automation, users can easily automate business processes via a straightforward drag-and-drop interface via the Process Builder. You can also automate workflow approvals, automatically assign tasks as deals move through the sales pipeline, and more.
Moreover, the platform leverages Machine Learning technology to deliver predictive forecasts based on your sales history. As such, you can gather insight into potential trends and where there might be room for improvement.
As for marketing automation, Salesforce Sales Cloud handles lead scoring and allows you to engage with potential customers through automated custom email campaigns. It also features lead-to-capture web forms.
Reports and Analytics
Oracle NetSuite CRM
This CRM system offers the ability to monitor performance across multiple departments, including sales, customer support, and marketing. As such, you can use the platform to pinpoint buying trends, overall sales performance, website visitor activity, customer acquisition costs, and much more.
The platform's reports are highly customizable. Thus, you can have easy access to the metrics that matter to you the most. Additionally, you can narrow reports down to a specific territory, team, and individual.
SalesForce
The Sales Cloud also delivers top-of-the-line reports and analytics. You can use this CRM system to track revenue, email marketing performance, sales performance, team activity, and more. The platform's reports are highly customizable. You can easily bring up key business metrics through an easy-to-use drag-and-drop filter.
You also have the option to add cross-filters and merge multiple reports to get an in-depth overview of your business processes.
There's also Einstein Analytics, an optional add-on to the Sales Cloud, priced at $50/user/month (billed yearly). This functionality uses Machine Learning and Artificial Intelligence technology to gather detailed insights regarding business performance and deliver real-time suggestions.
This tool also analyzes previous sales performance to deliver precise forecasts.
Partner Relationship Management (PRM)
Oracle NetSuite CRM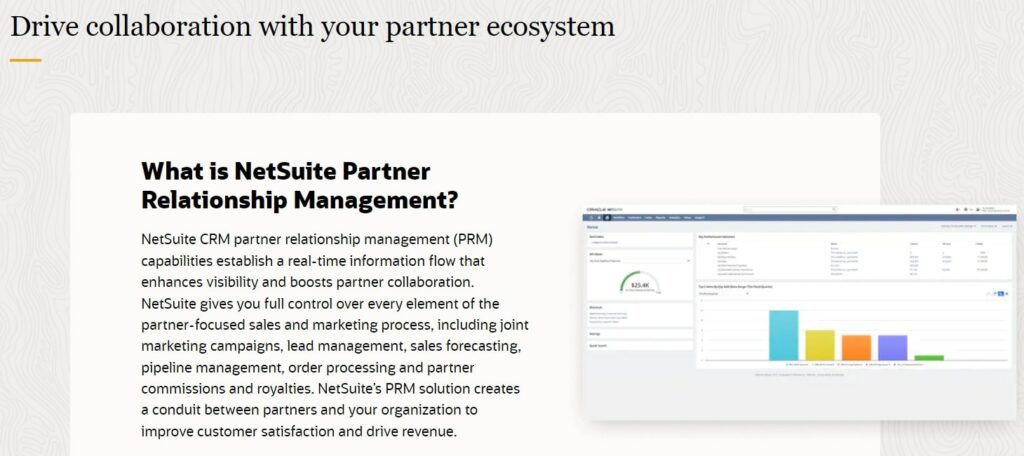 This CRM solution includes a built-in PRM system. In short, it allows you to handle partner management and accelerate partner-focused sales. That said, you can easily monitor joint marketing campaigns, revenue, and more. Additionally, the system can automatically calculate and process partner commissions.
There's also the Partner Center. This functionality gives your partners the ability to access marketing assets and sales enablement materials, place, manage, and track orders, as well as handle and monitor leads.
Another handy feature is the ability to pay both partners and employees within the same system. You can easily calculate employee commission with the same parameters as your partners'.
Salesforce

The Sales Cloud PRM system comes as an optional add-on, which costs $25/user/month (annually), or $10/login/month (annually). Note that this add-on is only available to the Sales Cloud Enterprise and Unlimited plans.
Sales Cloud's PRM works similarly to Oracle's. It also allows you to track joint campaigns, hand partners over sales enablement materials, and let partners handle their activities on their own within the platform.
However, Sales Cloud cannot calculate and process commissions directly within the platform.
Customization Options
Oracle NetSuite CRM
This CRM solution is extremely customizable. Aside from creating custom reports and tracking personalized business metrics, NetSuite gives you the ability to create custom user experiences based on your employee's location and preferences through a no-code approach.
You can optimize dashboards for specific use cases, add specific features, display custom data or add custom user roles, for instance. Moreover, you can also add modules by picking and choosing between NetSuite's other products for building a solution that's custom-tailored to your needs.
SalesForce
Sales Cloud is not much different. This platform also allows you to customize the CRM's interface to better reflect your company's needs and corporate identity. As mentioned, you can tweak colors, add logos, integrate specific features in certain dashboards, and more – all via a drag-an-drop-interface.
Furthermore, you can build custom applications through AppExchange. Lastly, you can seamlessly integrate Sales Cloud with other Salesforce products like Marketing Cloud and Service Cloud.
Customer Service Tools
Oracle NetSuite CRM
Oracle offers plenty of service tools designed to deliver increased customer satisfaction. For one, this CRM platform includes case management. You can easily access crucial customer information and assign as well as route customer support cases from multiple channels, like phone, email, web, and more.
Additionally, you can monitor support cases by tracking them based on customers, case types, products, or issues. As for analytics, the platform lets you assess call volumes and resolutions, case trends, subscription renewals, and overall customer satisfaction.
Moreover, Oracle provides a customer portal. Customers can easily pay invoices, track order status, and communicate with support agents. Meanwhile, you're able to view your clients' past orders and support cases to deliver better service and enhance customer relationships.
Lastly, the CRM platform covers case management. In other words, you can create a knowledge base filled with training videos, scripts, and articles, so support reps have quick access to information that will help them do their job better.
Salesforce
Out of the box, the Sales Cloud includes case management and a read-only knowledge base. However, if you'd like to access more customer service tools, you'll have to go for the Service Cloud, Salesforce's dedicated customer service solution.
Starting from $25/user/month, the Service Cloud includes features like order management, case milestone tracking, the ability to set up an omnichannel customer support supervisor, and much more.
Verdict: Oracle NetSuite CRM Wins in Features
Although both CRM tools offer excellent functionalities, Oracle NetSuite CRM is the more complete solution. Aside from CRM-specific tools, this platform also includes out-of-the-box customer service and PRM-centric features.
These functions are only available with Salesforce via paid add-ons or by using the platform's other products.
Salesforce vs NetSuite CRM: Ease of Use
Oracle NetSuite CRM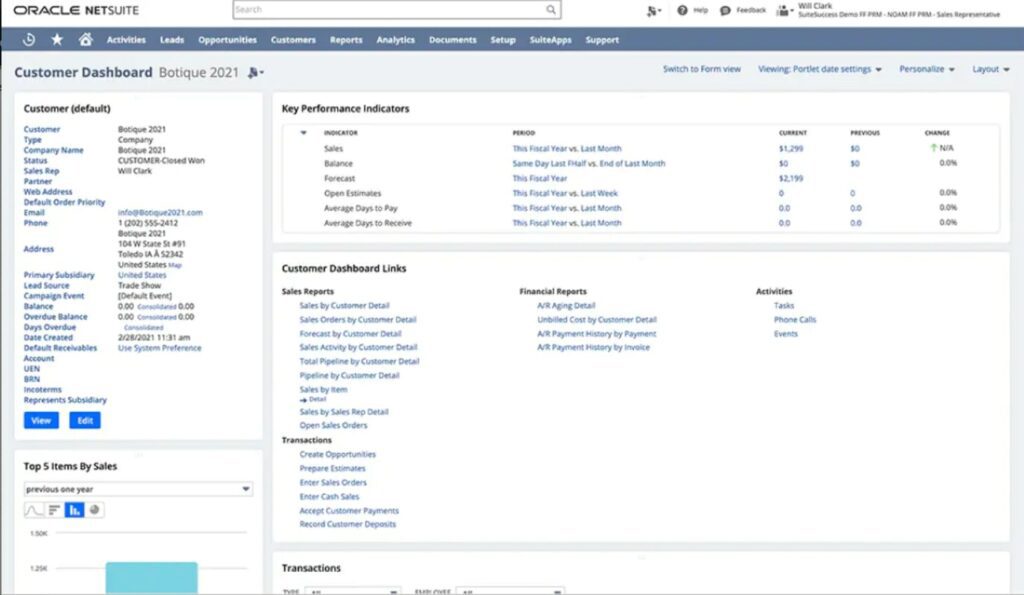 Although Oracle is a highly complex product it still manages to deliver a user-friendly experience. The platform's navigation is easy to follow, giving you quick access to essential features like reports, leads, or opportunities.
Meanwhile, its dashboards give you a quick overview of key metrics and team tasks. As mentioned, you can customize the platform's interface in a no-code manner. Consequently, tweaking Oracle to fit your business needs is easy and won't require any dedicated experts.
Moreover, since Oracle is an integrated cloud business suite, the need for third-party integrations is diminished. Oracle's products come in multiple modules which are designed to seamlessly integrate with each other.
Salesforce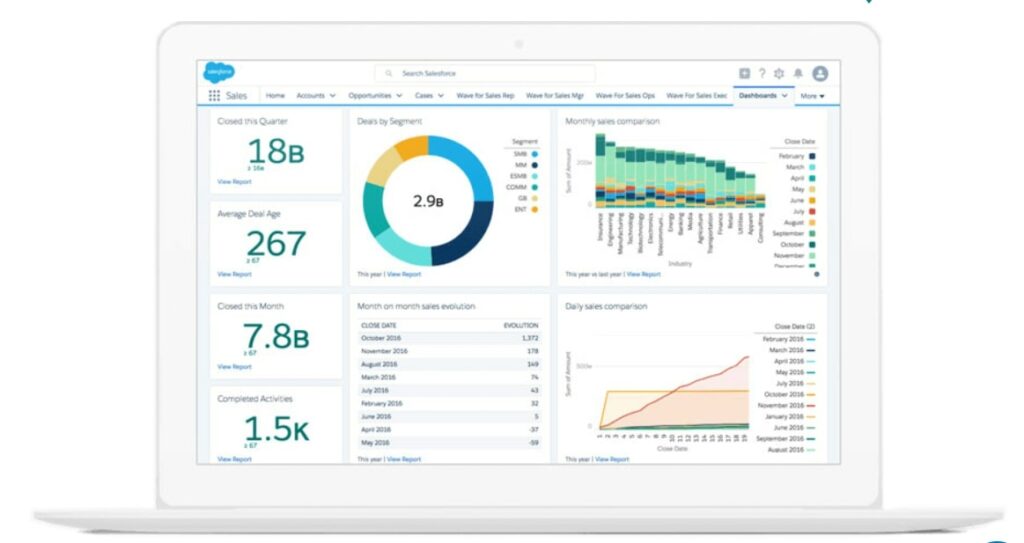 The same thing goes with Salesforce. The platform also allows you to customize it to your liking with a straightforward drag-and-drop interface. Moreover, integrating the Sales Cloud with other Salesforce products doesn't take any effort.
In terms of third-party integrations, the AppExchange makes enhancing the platform's functionality easy. Simply download and install the app of your choice, and you're done!
However, Salesforce might take less time to set up, and you get a CRM solution right out of the box. With Oracle, on the other hand, you'll need to spend a little more time configuring the platform to your needs and merging it with other Oracle products.
Both Are Easy to Use
Overall, both platforms are relatively easy to use, considering their complexity. That doesn't mean they're suited for beginners, though. Both Salesforce and NetSuite are highly complex products.
That said, businesses with no prior experience in CRM solutions will need to spend a considerable amount of time learning the ropes and how to make the most out of these platforms.
Salesforce CRM vs NetSuite CRM: Integrations
Oracle NetSuite CRM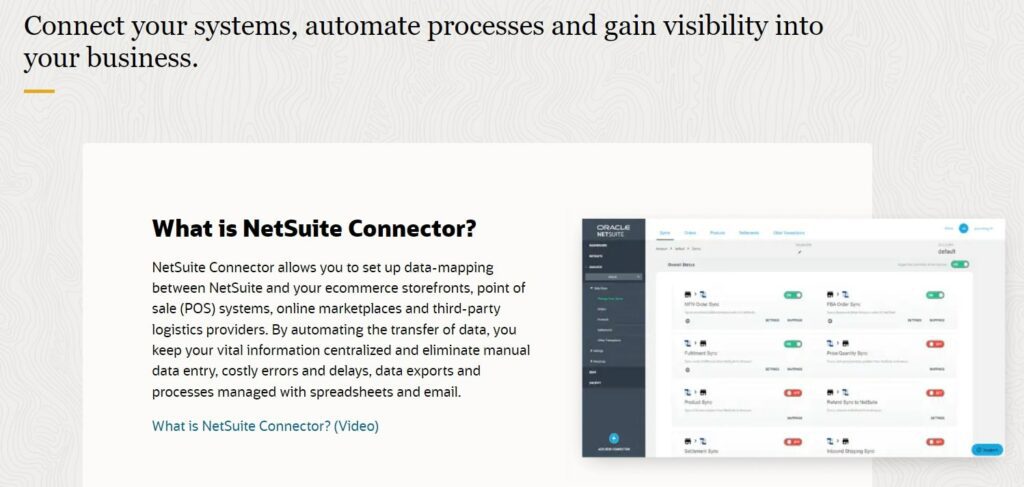 As mentioned, the CRM system integrates seamlessly with other NetSuite products, like the platform's payroll, workforce management, or accounting software, for instance.
There's also the NetSuite Connector, which allows you to integrate NetSuite with various eCommerce platforms like Shopify, Magento, WooCommerce, Amazon, and more. Additionally, you can integrate the platform Point of Sale (POS) and logistics systems.
Salesforce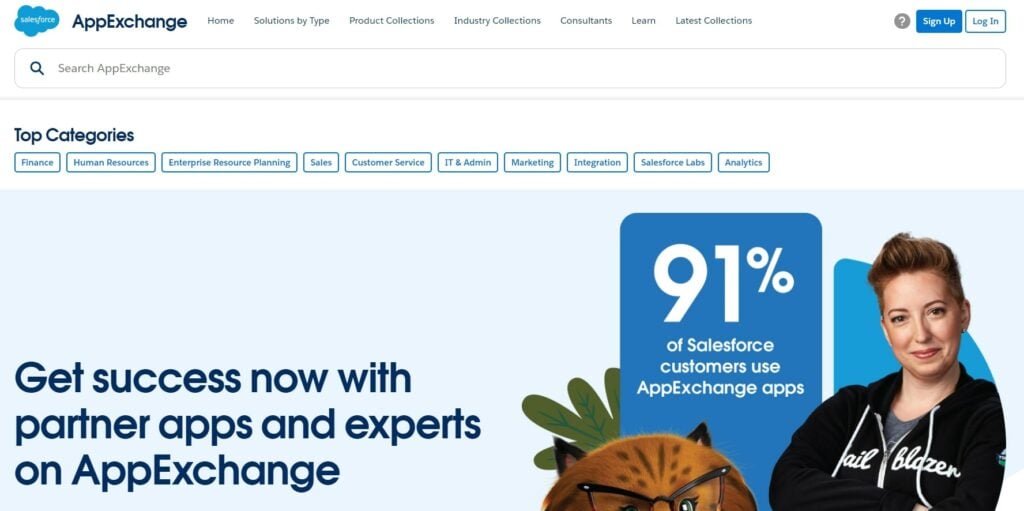 Again, the CRM integrates seamlessly with other Salesforce products like the Marketing Cloud, Sales Cloud, Service Cloud, etc. Meanwhile, AppExchange allows you to integrate Salesforce with thousands of other apps. Note that some apps are paid, while others come free of charge.
Salesforce Wins in Integrations
Considering the number of integrations, Salesforce wins in terms of third-party applications. There are thousands of apps to extend the platform's functionalities. However, note that NetSuite still includes many out-of-the-box tools that aren't otherwise available with Salesforce.
That said, with NetSuite, you likely won't need to rely on integration as much as with Salesforce.
NetSuite CRM vs Salesforce CRM: Pricing
Oracle NetSuite CRM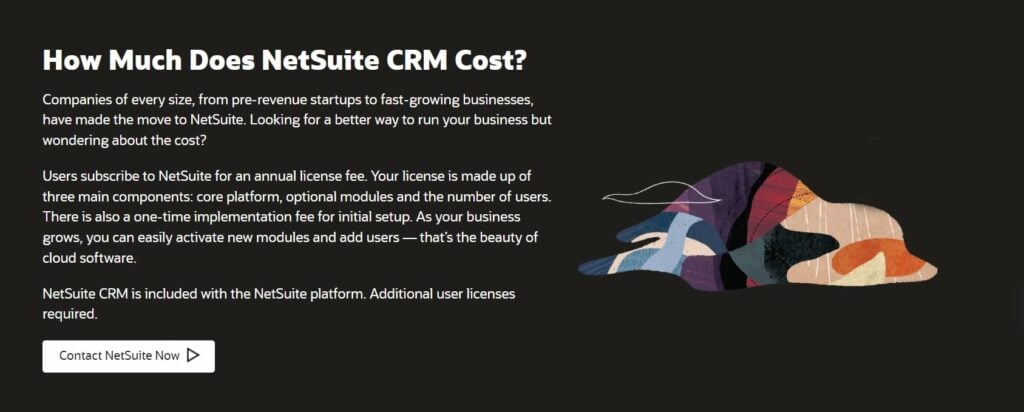 NetSuite's pricing is not disclosed. You'll need to get in contact with the sales team to get a custom quote based on your business needs. However, note that pricing comes under an annual license fee and can cover other NetSuite products besides the CRM.
There's also a one-time set-up and implementation fee. According to user reports the platform is quite expensive and you might be subject to price increases over time.
Since NetSuite also takes care of other business processes besides CRM, you should make sure that you're ready to be committed to the platform in the long term to get your money's worth.
Otherwise, you may risk losing money, while switching back to other platforms may be a headache.
Salesforce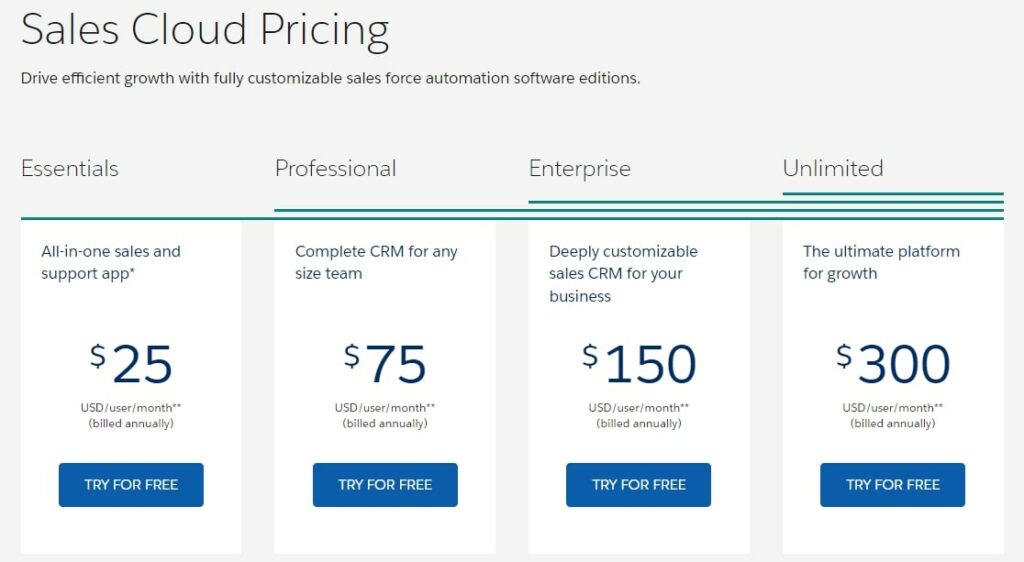 Salesforce covers four pricing plans:
Essentials – $25/user/month (annually): Get access to basic functionalities like lead management, contact management, case management, simple automation, and more.
Professional – $75/user/month (annually): Unlock the platform's Configure Price Quote (CPQ) features, along with collaborative forecasting, pipeline management, and more.
Enterprise – $150/user/month (annually): Get access to unlimited automation, roles/permissions and unlock opportunity scoring, advanced reports, etc.
Unlimited – $300/user/month (annually): Unlock lead scoring, AI-driven conversation insights, Sales Insights, and more.
There's also a 30-day free trial for all pricing plans.
Salesforce Wins in Pricing
Salesforce takes the cake here. Its pricing packages are straightforward and you can upgrade or downgrade your plan at any given time. There are also no frequent price increases, unlike Oracle.
Salesforce vs NetSuite: Customer Support
Oracle NetSuite CRM
Users report that customer support is mostly hit-or-miss. Most common complaints revolve around slow long wait times and generally unhelpful advice. Meanwhile, other users praise NetSuite's support for its promptness and professionalism.
However, keep in mind that customer support is tiered and can cost extra.
Salesforce
All pricing plans give users access to standard support. This includes a self-serve knowledge base, access to the Trailblazer Community, and basic technical support.
There are also three other customer support tiers. They will give you access to 24/7 phone support, coaching, and more. Pricing is not disclosed.
As for user reviews, people generally regard Salesforce's support as prompt and helpful.
Salesforce Wins in Customer Support
Although both platforms put additional customer support behind a paywall, which is a massive drawback, Salesforce gets the winning edge. Users are generally satisfied with the platform's support teams. You can find a massive library of documentation to help you troubleshoot and fix issues.
You can also get in touch with other Salesforce users and get help through the Trailblazer Community.
NetSuite vs Salesforce: Pros and Cons
Now that we've had an in-depth look at each platform, let's briefly summarize and examine each solution's strengths and weaknesses.
Oracle NetSuite CRM Pros
PRM and customer service tools are included
Highly customizable
Excellent reports
Highly versatile
Oracle NetSuite CRM Cons
Customer support may leave to be desired
Susceptible to regular price increases
Pricing is not disclosed
Salesforce Pros
Thousands of integrations are available
Pricing is transparent
Highly customizable
Highly scalable
Salesforce Cons
PRM and advanced customer service tools are add-ons
Additional customer support levels will cost extra
Not as versatile as Oracle
FAQs
Which is better NetSuite or Salesforce?
The decision between Salesforce and Netsuite really depends on your specific business needs. If your main focus is sales and marketing, then Salesforce might be the better option for you. However, if you're looking for a complete business management solution, then Netsuite could be the way to go. Take into account factors such as pricing, user interface, features and functionality, integration options, customization, mobile app, and customer support when making your decision.
What is the difference between NetSuite and Salesforce?
NetSuite and Salesforce are two different software suites with unique features and functionalities that cater to various business needs. Salesforce is primarily geared towards sales and marketing, offering a comprehensive set of tools to manage leads, track opportunities, and run email marketing campaigns. On the other hand, NetSuite provides businesses with an all-in-one suite of management tools that include accounting, human resources, and e-commerce. What's more, Salesforce's cloud-based platform empowers businesses to effortlessly handle their sales data, monitor their performance, and collaborate with their teams from anywhere in the world. Meanwhile, NetSuite's workflow and process automation capabilities can help businesses save time, minimize errors, and enhance their overall productivity.
Can NetSuite replace Salesforce?
While NetSuite offers a comprehensive suite of management tools, including CRM functionalities, it may not be the best replacement for businesses that are primarily focused on sales and marketing. Salesforce's robust features for lead management, opportunity tracking, and email marketing make it a better choice for businesses that prioritize these areas.
Who is NetSuite's biggest competitor?
NetSuite's biggest competitors include other cloud-based ERP systems such as SAP and Microsoft.
Does Salesforce use NetSuite?
Salesforce and NetSuite are separate software suites and are not directly related or integrated with each other.
What is NetSuite comparable to?
NetSuite is comparable to other cloud-based ERP systems that offer a range of management tools such as accounting, human resources, and e-commerce, including SAP and Microsoft Dynamics.
NetSuite CRM vs Salesforce: Conclusion
Salesforce Sales Cloud and Oracle NetSuite CRM are highly advanced CRM platforms. However, these tools vastly differ from one another.
More specifically, Oracle NetSuite CRM is meant to be used along with other NetSuite products to accommodate multiple business processes like accounting, workforce management, financial management, inventory management, etc. Consequently, NetSuite might be the better choice for enterprise-level companies looking for an all-in-one solution that they can use across their entire organization.
In contrast, you can use the Salesforce Sales Cloud by itself, making it a more affordable option. However, you can also use other Salesforce products, like Marketing, Sales, or Service Cloud, once the need arises.
This makes Salesforce a much more flexible and scalable option. That said, the platform is suitable for companies of all sizes looking for a solid CRM system with the possibility to extend to other tools once business needs start to grow.
👉 Want to explore more CRM software options? See our list of the best CRM software here.