If you're thinking about a help desk solution, one of the first products that may come to mind is Salesforce Service Cloud. And that with good reason. The platform is well-known for its versatility, broad set of advanced features, and customizability.
But there's so much more to it than that. So let's dive into more details.
What is Salesforce Service Cloud?
Salesforce Service Cloud is an integrated service management platform that helps businesses efficiently collaborate with customers and channel partners to provide outstanding service.
Service Cloud is one of Salesforce's main products. It is part of the CRM platform that focuses on improving customer service and support.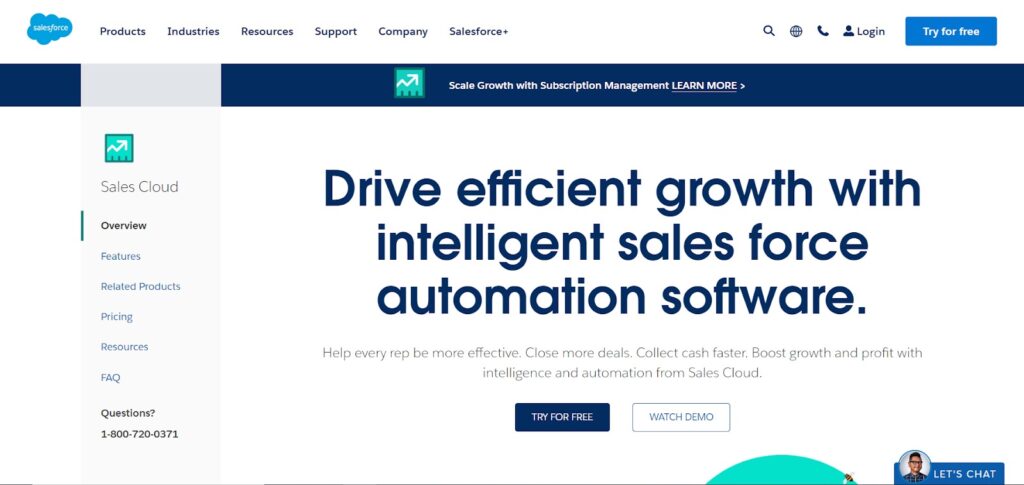 Based on the Sales Cloud, Salesforce's dedicated CRM platform, the Service Cloud includes all of the functionalities found in the Sales Cloud, along with other customer service and support-specific features.
Learn more about Salesforce Service Cloud here.
Key Benefits of Salesforce Service Cloud
Unified Customer Data
The Service Cloud makes it easy for you to collect and store customer data under one roof.
The platform integrates easily with other Salesforce products and allows you to import data from other third-party apps.
Therefore, you'll no longer need to jump from platform to platform to find the information you need.
Increased Productivity
The Service Cloud puts various tools at your employees' disposal to help them work more productively.
For instance, the platform offers a service workspace with customizable UI, allowing you to tweak the interface to meet your employees' requirements.
Meanwhile, your service team can access customer views, analytics, and other productivity tools for faster decision-making.
Learn more about Salesforce Service Cloud here.
Scalability
One of Salesforce's main advantages is its scalability. It's a multi-tenant platform, meaning that each business has access to the same infrastructure and resources regardless of size. In addition, the users' data is isolated to ensure maximum performance and security.
Moreover, multi-tenant cloud systems allow for coherent automatic updates for the entire user base.
You can integrate the Service Cloud with other Salesforce products, like Sales Cloud or Marketing Cloud, whenever you seek more functionalities.
Omni-Channel Presence
The Service Cloud will automatically route cases from any digital channel to the service workspaces. In other words, regardless of where it comes from, each case can be seen within a single dashboard.
It eliminates the need to constantly switch between platforms and allows employees to manage cases more effectively.
Learn more about Salesforce Service Cloud here.
Quick Decision-Making
The platform brings all crucial data to your fingertips. On the one hand, Sales Cloud provides in-depth analytics, like agent and chatbot performance, case history, time spent on each case, and more.
On the other hand, you can customize the dashboard to track and show the KPIs that matter to you the most. Therefore, you'll constantly be reminded of your short-term and long-term goals, assuring that you remain on track, make the right decisions, and achieve your objectives.
Enhanced Collaboration
Since Salesforce is cloud-based, your team can operate under the same infrastructure regardless if they work in-office or remotely. But that's not all.
The Sales Cloud lets you create case teams. These are groups of users that work on the same case. You can assign each user a specific role, like support agent, support manager, or product manager.
The benefits of this feature are two-fold. First, support agents have easy access to help from more qualified personnel in case of a niche customer query.
Second, support agents can solve customers' issues promptly and effectively, increasing customer satisfaction.
Learn more about Salesforce Service Cloud here.
Salesforce Service Cloud Features
Telephony integration – interact with customers via phone directly within the platform.
Video support – troubleshoot and solve customer issues through video calls
Mobile app – track analytics and allow field-service issues to address cases while on the move
Workforce engagement – automatically predict case volumes, balance schedules, and route training programs directly to your employees' workspaces
Knowledge management – give your employees easy access to articles so they can provide relevant answers to customers
Self-service center – create customers communities and self-service portals to help customers to solve simple issues by themselves
AI capabilities – leverage AI to handle basic customer requests, automatically provide service agents with adequate answers for solving the customers' issues, and more
Automation capabilities – automate workflows via a drag-and-drop interface
Learn more about Salesforce Service Cloud here.
How much is Salesforce Service Cloud
The Salesforce Service Cloud offers four pricing plans: Essential, Professional, Enterprise, and Unlimited.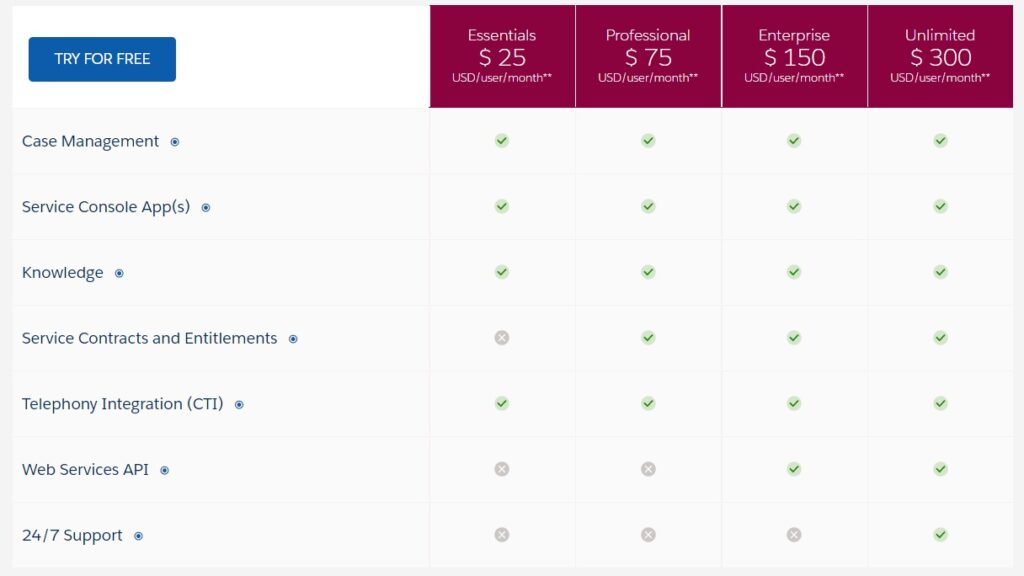 Essential
The Essential plan covers basic Service Cloud features priced at $25/user/month. It includes telephony integration, case and knowledge management, basic omnichannel routing, etc. This plan also gives you access to the Salesforce mobile app, customer self-service center, and basic reports.
Professional
The Professional plan costs $75/user/month. Besides the features found in the Essential plan, you also have access to service contracts and entitlements, case milestone trackers, work order management, asset management, and product tracking.
Note that the Professional plan does not include the customer self-service center.
Enterprise
The Enterprise plan is $150/user/month. It includes the features of previous pricing plans, integration with external apps, advanced reporting and case management, offline access, roles, permissions, etc.
Unlimited
The Unlimited plan costs $300/user/month. It covers everything Service Cloud offers, including 24/7 support, service console apps to improve productivity, email templates, and more.
Learn more about Salesforce Pricing here.
Salesforce Service Cloud: Conclusion
Salesforce Service Cloud is an excellent option for businesses looking to improve their customer service and support.
It provides all the tools necessary for service agents to work more effectively. Meanwhile, its telephony integration, video support, omnichannel presence, and customer self-service portals let customers contact the support team in any way they like.