If you're looking for a CRM system, scalability is one of the top factors you should consider.
The CRM of your choice should adapt as your business grows and the tasks you need to fulfill become more complicated. You'll need to eliminate the hassle of switching between CRMs, saving time you would otherwise spend on training your team, importing your data, etc.
Also, the best CRM software should be easy to use, implement, and offer excellent customer support. A cumbersome system will require extensive training, causing you to lose time, miss out on sales, and increase the chances of dealing with hiccups from time to time.
Moreover, a CRM should offer plenty of integration options. This allows you to use the CRM and other applications within your toolset without jumping from platform to platform. 
Salesforce CRM has all of these covered. Let's look at this CRM platform and why it is the best in the market.
What Is Salesforce CRM?
Salesforce CRM gives businesses the tools to manage sales opportunities, visualize their sales pipelines, improve lead nurturing, etc.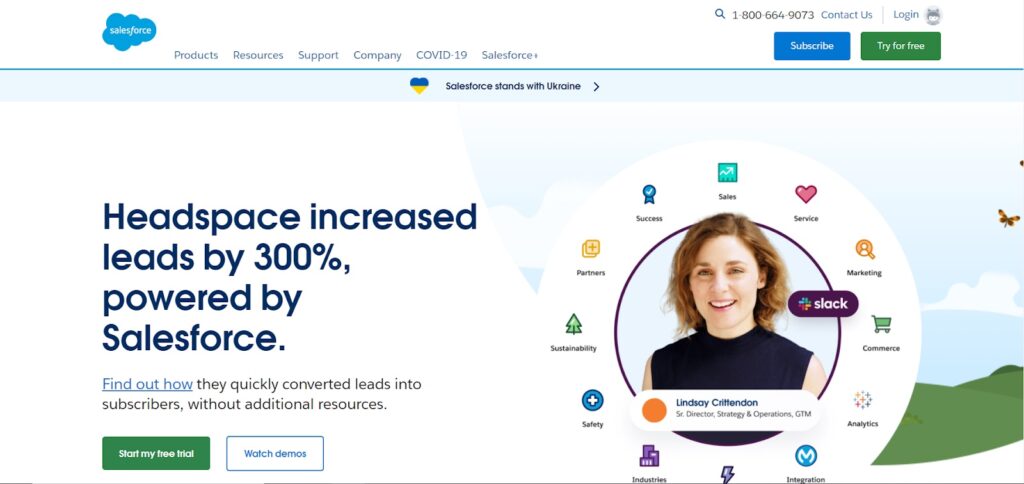 Salesforce is a SaaS company that started as a CRM solution founded in 1999. As the business grew, so did its product offerings. Besides CRM, Salesforce now provides various solutions designed to fulfill specific needs.
For instance, Salesforce's Marketing Cloud aims to help businesses improve their marketing campaigns by providing the features necessary to gather customer data, manage and create email or social media campaigns, run ads on various platforms, etc.
On the other hand, the Commerce Cloud is designed to handle everything related to eCommerce, from inventory management to order fulfillment, dealing with payments, customer service, and more.
Nevertheless, the Sales Cloud, Salesforce's CRM solution, is the SaaS provider's core product. This platform is well-known amongst business owners for a variety of different reasons.
Let's see why.
Learn more about Salesforce here.
Why Salesforce is the Best CRM
Broad Feature Set
The Sales Cloud offers a complete set of basic and advanced features. Its features include quotes, lead, contact, channel, opportunity and territory management, sales forecasting, quote to cash, and more.
Most importantly, Salesforce shines in its automation capabilities. For instance, business owners can streamline their quote management with the CPQ (Configure, Price, Quote) system. It allows users to set accurate price quotes for configurable products automatically. Therefore, you won't have to dig through countless spreadsheets when creating price quotes.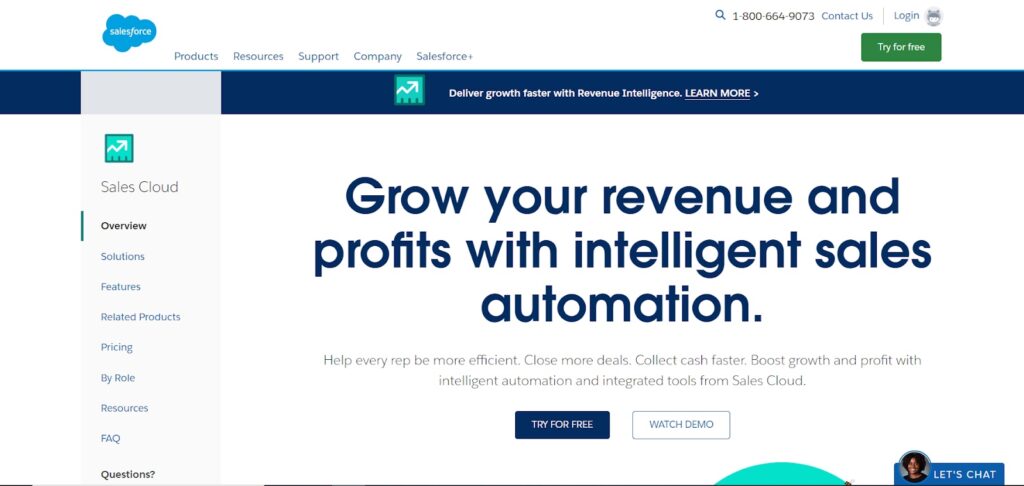 Moreover, Sales Cloud's feature list further expands with Salesforce's other products, like Marketing Cloud, Service Cloud, and Tableau Analytics, which integrate seamlessly with the CRM solution.
Lastly, Salesforce offers a mobile application letting users access CRM data from anywhere at any time. It also provides offline information updates.
Check out Salesforce features here.
Scalability
Since Salesforce has many years of experience, the platform developed top-notch technology to ensure that any business, regardless of size, can use the platform effectively and provide an optimized user experience.
You can seamlessly integrate its CRM with Salesforce's other products, like Marketing Cloud and Service Cloud, allowing you to expand the platform's functionality and bring customer data to one place.
There's also the AppExchance, an app library where you could find various pre-built applications or build your custom-tailored solution.
For example, there's the Native Document Generation & E-signature app, which allows you to automatically create invoices, proposals, statements, quotes, and more directly within the platform.
Multi-tenant Architecture
Multi-tenant systems store data from multiple companies on the same server. Think of it as a storage unit complex. Multiple people share a common space to store their items, while the area is clearly defined into numerous spaces to ensure the privacy of each user. Moreover, each user benefits from the same level of security and access to the same resources.
The same thing goes with Salesforce. All users share the same infrastructure, yet that infrastructure is partitioned, giving each user access to maximum security.
Additionally, multi-tenant systems allow for seamless automatic updates for all of its users.
Customizability
Customization is one of Salesforce's main selling points, providing basic and advanced customization options.
For instance, you can customize its user interface. You could change the UI's colors, logos, or graphics to reflect your corporate identity and make employees feel more at home when using the platform.
You can also tweak workflows, notifications, dashboards, fields, objects, and more to better align Salesforce with your business processes. Or you can create multistep processes from scratch, like tax assessment processes, content reviews, approvals, etc.
Lastly, if you feel that Salesforce lacks functionalities critical to your business, you could build your custom-tailored solution via AppExchange.
Learn more about Salesforce customizability here.
Excellent Customer Service and Support
Given the platform's complexity, Salesforce doesn't leave anything desired regarding customer service and support. Users reported that the customer support is responsive and helpful.
Moreover, Salesforce provided plenty of documentation on making the most out of the platform, solving potential issues, and insights into managing and marketing your business more effectively.
There's also the Trailblazer Community, where you can connect with other Salesforce users to exchange ideas, get help, and find courses made by certified experts.
In-depth Analytics
The Sales Cloud includes in-depth, customizable reports that allow you to track the metrics which matter to your business the most.
Salesforce's analytics capabilities shine through its Tableau CRM Analytics, an optional add-on to the Sales Cloud.
What makes Tableau CRM Analytics stand out is Einstein AI. This platform uses Machine Learning technology to connect with your CRM data, automatically deliver custom reports, and provide predictions and recommendations for faster and more accurate decision-making.

Moreover, the platform allows you to build predictive ML models with no coding skills required. As a result, you'll get valuable insights without relying on data science teams.
Learn more about Salesforce Tableau here.
AppExchange
The AppExchange is Salesforce's cloud computing store where users can download or create custom-built applications to enhance the platform's functionality.
One of the main advantages of this marketplace lies in its sheer size. With over 3400 applications available, AppExchange provides solutions for all of Salesforce's products.
The apps are split into four categories:
Native Apps
Non-Native Apps
Managed Packages
Unmanaged Packages
As the name suggests, native apps are created directly in Salesforce. Therefore, you won't need to integrate the applications via Salesforce API, unlike non-native apps.
Managed packages are ready-made collections of apps and components built by Salesforce developers. The developers are responsible for handling updates and optimizations, so customers only need to download it.
On the other hand, unmanaged packages are open-source applications. Developers can modify the installments according to their needs and integrate them into their organization.
In other words, the AppExchange offers endless possibilities. So whether you're looking for a pre-built app or want to build a bespoke solution for your business, this market has got you covered.
Versatility
Lastly, Salesforce is more than a CRM. It also offers a variety of other products that are designed to fulfill specific needs.
Some of Salesforce's product offerings include
Marketing Cloud – for personalized campaigns, visualizing customer journeys, and more.
Service Cloud – for streamlining customer service and support.
Commerce Cloud – for inventory management, order fulfillment, and eCommerce marketing.
Experience Cloud – creating landing pages, apps, storefronts, customer portals, etc.
These software solutions integrate seamlessly with one other, giving businesses access to a broader feature set without needing to rely on other platforms.
Aside from that, Salesforce offers products designed explicitly for niche industries, like healthcare, communications, education, manufacturing, etc.
For instance, the Nonprofit Cloud helps charities and other philanthropic organizations raise awareness and increase their social impact by providing all the tools necessary for marketing, fundraising, grant management, and more.
Conclusion
Overall, Salesforce is top-of-the-line in terms of CRM. It's highly versatile, provides excellent customer support, and its feature set is suitable for businesses large and small.
Moreover, due to its highly performant infrastructure, vast customization options, and marketplace, Salesforce CRM is a software solution that will remain by your side as your business grows.