Without a doubt, the COVID-19 pandemic boosted eCommerce growth significantly. ECommerce sales are expected to reach $5.5 trillion in 2022. That's a 30% increase from 2019!
This number is expected to grow even more in the future. Estimates show that eCommerce sales will likely reach $7.3 billion by 2025.
The same thing goes with eCommerce solutions. Among the many online store platforms currently available on the market, Salesforce Commerce Cloud stands out due to its flexibility and advanced features.
If you're new to Salesforce, let's look at what this platform is all about.
What is the Salesforce Commerce Cloud?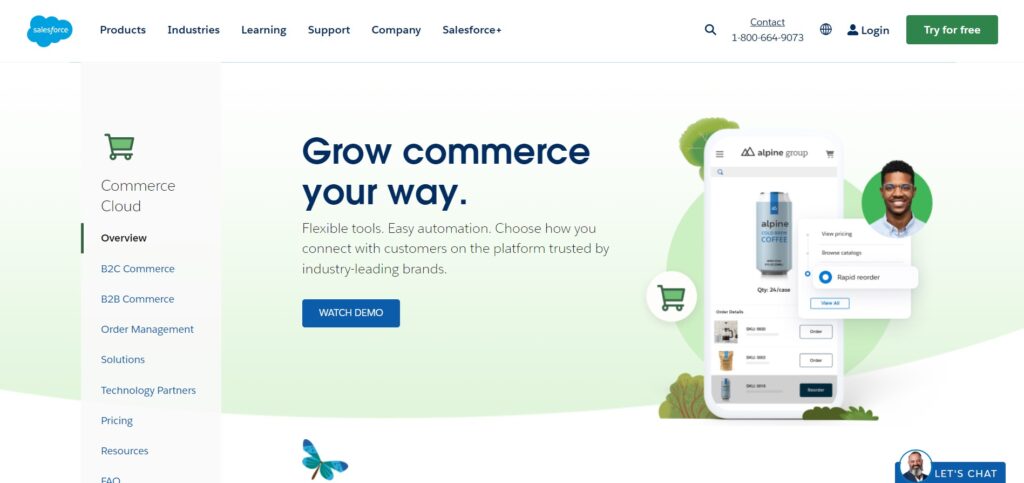 Salesforce Commerce Cloud is a cloud-based eCommerce platform where business owners can set up their eCommerce website, manage, and sell products.
Since Commerce Cloud is part of the Salesforce platform, it seamlessly connects with other Salesforce products, including Marketing, Service, Sales Cloud, and more.
This allows for unified data across all platforms, making it easy for you to create a unified commerce solution and keep track of all customer journey steps—from the awareness stage to the advocacy phase.
Salesforce Commerce Cloud Features
Let's have a look at some of the platform's key features.
Multi-Site Management
Multi-site management allows business owners to build multiple websites and control them from a single dashboard, making this feature especially handy for deploying country-specific websites.
Salesforce helps you quickly switch the language, currency, and product line-ups for each site.
AI-Powered Personalization
The platform uses Artificial Intelligence to send customers relevant product recommendations. It also includes predictive product searches to optimize customer searches and help visitors discover new relevant products based on their interests.
Moreover, Salesforce can automatically display targeted content depending on your audience's purchase history, location, and more.
Page Designer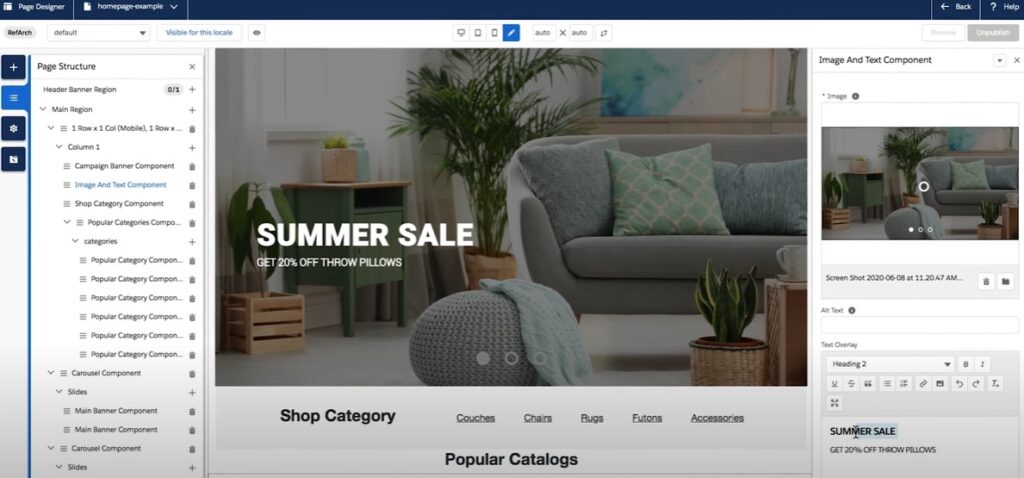 Page Designer allows you quickly create and publish pages through its drag-and-drop interface. You can also create dynamic content according to your audience segment.
This feature does not require any coding knowledge.
Mobile Commerce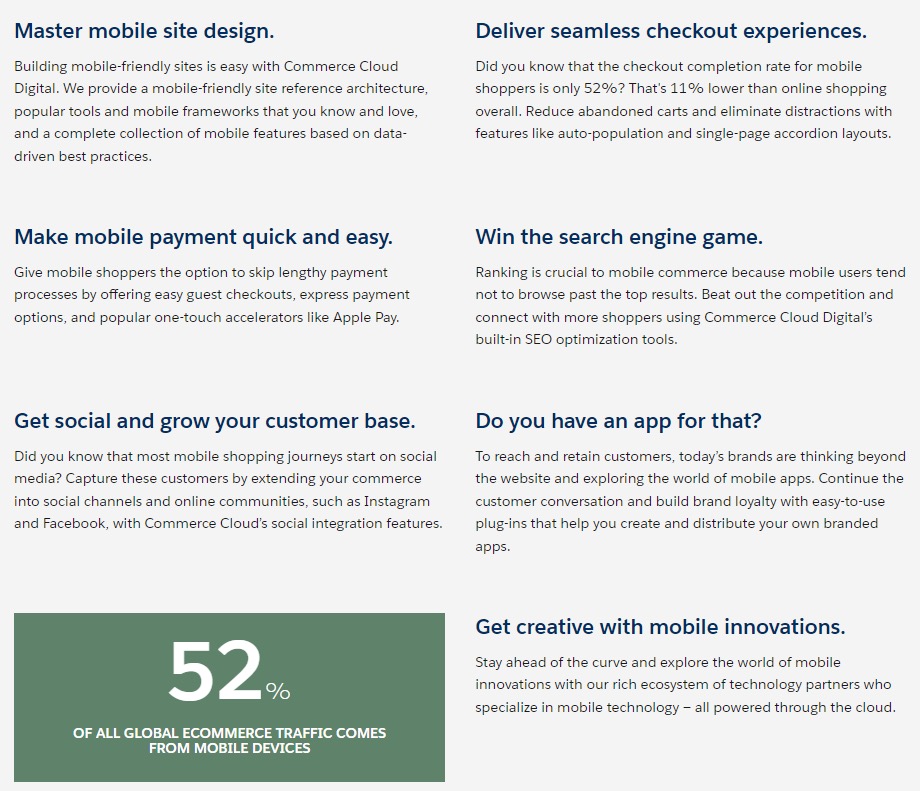 Business owners can use Mobile Commerce to create and deploy mobile commerce apps.
It also puts all the necessary tools to create a responsive design, ensuring your website is optimized for mobile devices while shopping journeys are fast and easy for customers on the go.
Social Extensions
Salesforce allows you to connect the platform to various social channels, like Facebook, Instagram, and other online communities, to expand your reach and bolster your marketing efforts.
What are the benefits of the Salesforce Commerce Cloud?
Powerful AI Capabilities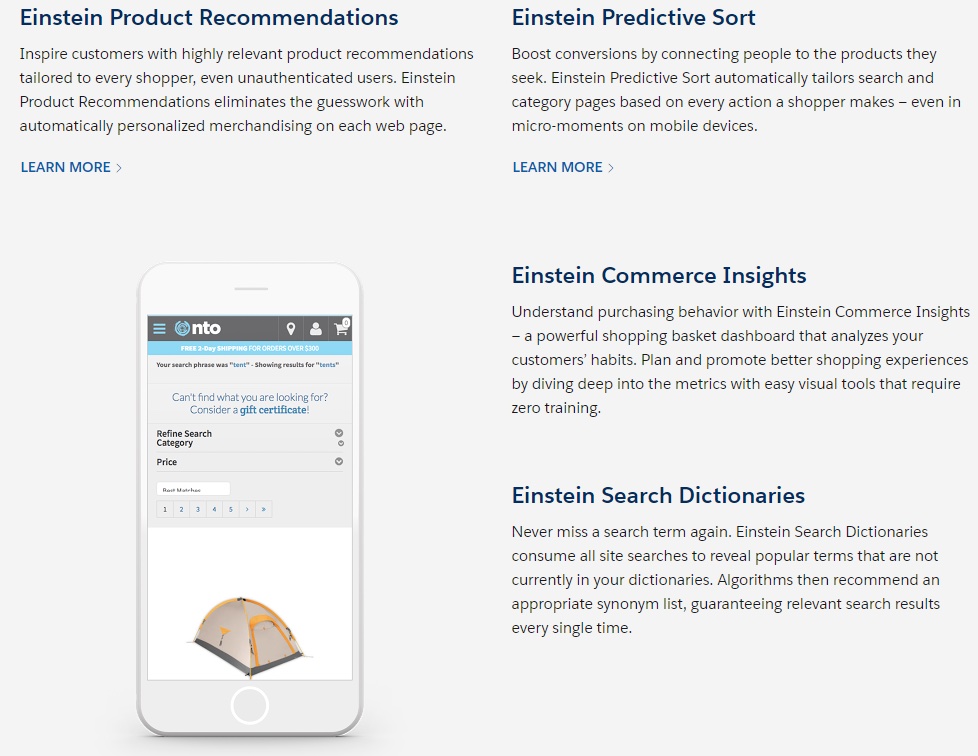 AI is among the platform's most handy features. Aside from creating a personalized customer experience, Salesforce's Einstein AI also allows you to automate manual tasks, collect and analyze customer data, add discovered synonyms of products to your website database, etc.
Excellent Marketing Tools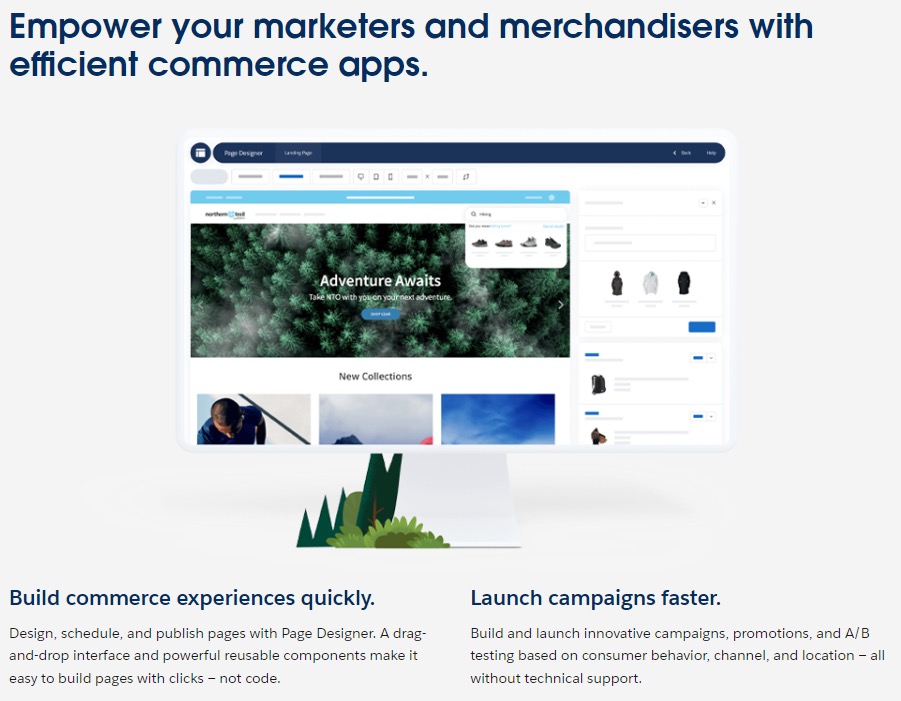 Salesforce offers all the marketing features needed for business growth. You can build loyalty programs quickly and run A/B tests on your website or marketing campaigns within the platform to harness optimal results.
Aside from that, you can also optimize your website for keywords related to your industry, allowing you to boost your site's position on the Search Engine Results Page.
Lastly, you can run, monitor, and manage marketing campaigns across multiple platforms directly within Salesforce, sparing you the trouble of jumping from one platform to another.
Reach Global Audiences
Salesforce allows business owners to reach new international markets via its multi-site management functionality. Businesses can easily manage languages, currencies, prices, product offerings, and product data across multiple websites designated for different countries.
Scalability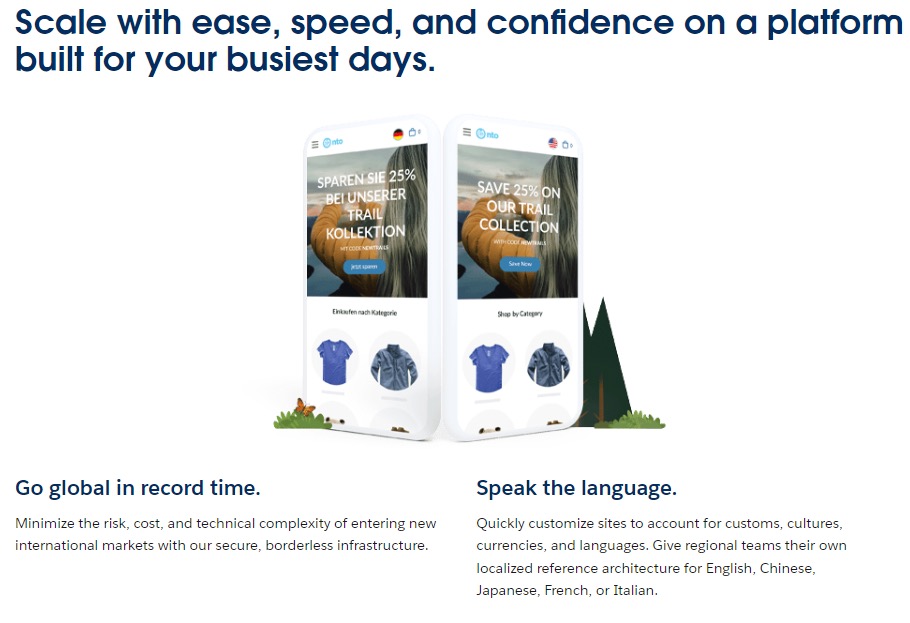 Since this platform is part of Salesforce, you can easily integrate it with the other Salesforce products whenever you need it, like Marketing, Sales, or Service Cloud. This gives you access to a much broader toolset without forcing you to switch to another platform.
Moreover, Salesforce is a multi-tenant system. In other words, the platform assures peak performance regardless of your business's size.
Excellent Customer Support
Salesforce provides a vast library of resources through its help portal and Trailblazer Community. There are also plenty of Salesforce consulting services and 24/7 technical support available.
Is Salesforce Commerce Cloud B2B or B2C?
The platform covers two separate solutions designated for B2B and B2C eCommerce.
The B2C platform is built to handle large amounts of web traffic and facilitates quick payment processing.
In contrast, the B2B solution is designed to take on massive inventories and orders and supports multiple payment options.
What is Salesforce Commerce Cloud B2C?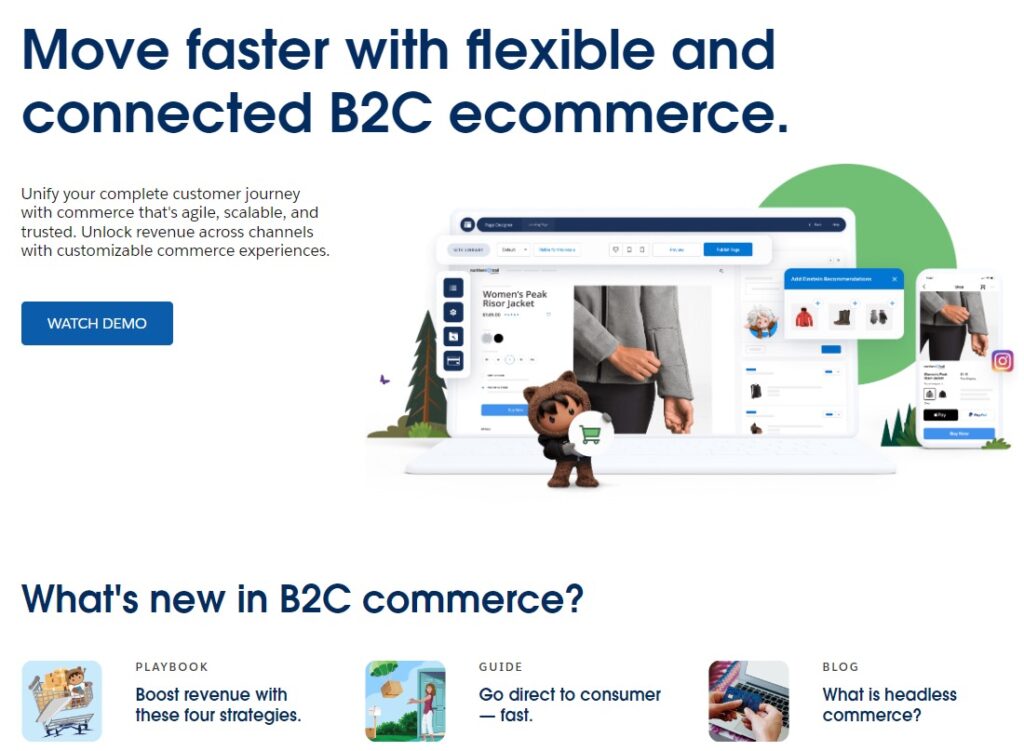 In short, Commerce Cloud B2C is Salesforce's customer-centric commerce solution.
The B2C commerce solution provides the features needed to optimize your website for mobile devices, create personalized shopping experiences, enhance customer service teams, and offer quick and easy payments.
Salesforce Commerce Cloud Limitations
Since the platform uses a multi-tenant architecture, there are no limitations in terms of performance, security, or scalability.
You can extend the platform's functionality and even build features from scratch via the AppExchange.
However, due to its complexity, businesses with little to no technical expertise might find this platform slightly tricky to get into and hard to master.
Conclusion
Overall, Salesforce has an excellent eCommerce platform. It offers various advanced features, customization, and scalability options.
However, small businesses with no prior experience with commerce platforms might have trouble getting started with Commerce Cloud.