As more of us are actively working from home, scheduling meetings online has been one of the constant things in our day-to-day lives.
Those who have daily client calls and meetings will be familiar with using Calendly – one of the most popular online appointment scheduling software to book meetings.
However, no software can be a one-size-fits-all solution. The same goes for Calendly. Therefore, you might be looking for Calendly alternatives that fit your needs better for scheduling appointments online.
We've compared and reviewed eight best Calendly alternatives to help you find online scheduling software that best fits you!
Before we dive into the other options, let's look at Calendly to learn about its features, pros, and cons.
What is Calendly?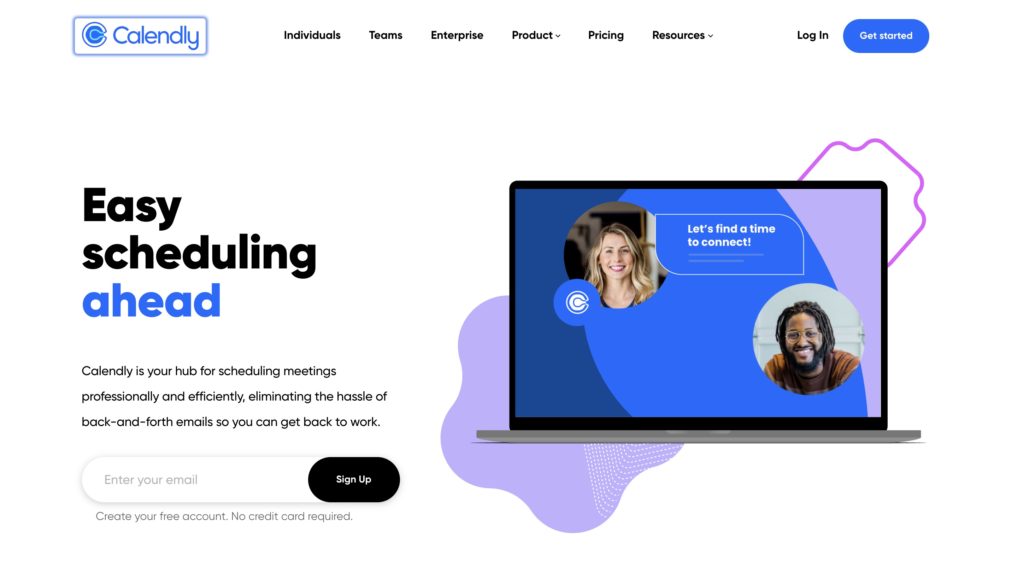 Calendly is a meeting scheduling platform that takes the hassle out of scheduling meetings by seamlessly integrating with the calendar software you use like Google Calendar.
Calendly calls itself a 'meeting lifecycle platform' that analyzes your schedules and offers the best-suited meeting times based on your availability.
You can use Calendly for free here!
Calendly Features
Open and Free API and webhooks
Calendar integration
Team scheduling and group events
Calendly Pros
Automated/customized notifications to eliminate back-and-forth emails
Seamless integrations across calendars
Easy rescheduling
Calendly Cons
Can only set up collaborative events for users in your account. 
Lack of options to include branded assets.
Not the best option for complex and advanced calendar settings.
The basic version of Calendly is free. However, it has its limitations. For example, you can only set up collaborative events for users in your account, so you need to upgrade your plan for additional features.
Similarly, you cannot upload brand logos, assets, and color codes to Calendly. Luckily, there are other options for you to try out apart from Calendly.
What are the Best Calendly Alternatives?
Here are some of the best alternatives for Calendly that you can make use of.
Calendar.com: Best Calendly Alternative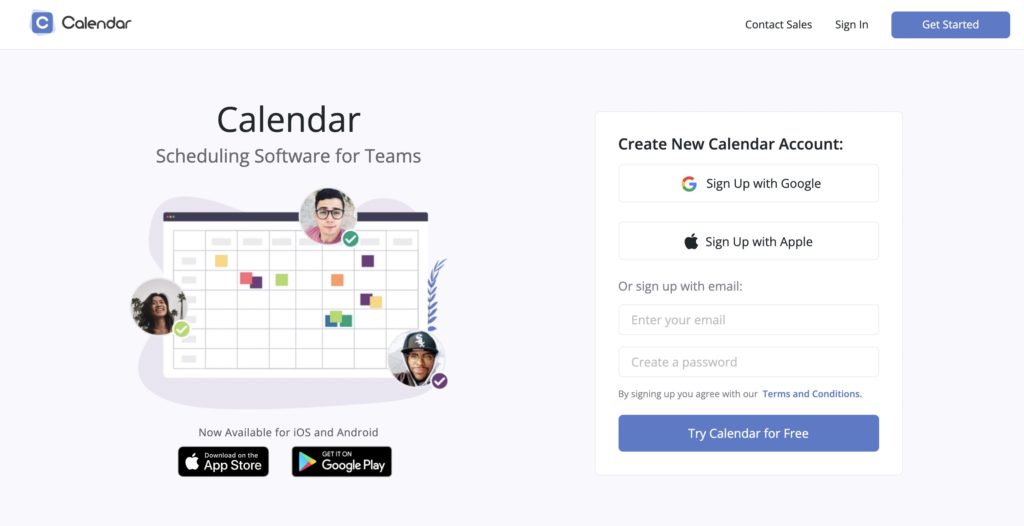 Calendar.com is an all-in-one scheduling software that uses artificial intelligence and machine learning to help you book events and simplify scheduling by helping you save time and be more productive.
You can try Calendar.com for free here!
Calendar.com vs. Calendly
Unlike Calendly, Calendar.com is more of app-based scheduling software that integrates with Apple's iCloud, Google Calendar, Microsoft's Outlook, and even CalDAV calendars from your own or your company's servers.
Calendar.com offers both scheduling meetings via a link and virtual polling. Like the HubSpot meeting scheduler, Calendar.com is also great for customization. Calendar.com also has more robust tools for enhanced meeting scheduling, like selecting specific restaurants for your attendees to choose.
What Calendar.com does better
Best for multitasking. The integration with other calendar apps helps manage routine and time more effectively.
Simple interface and easy to use
The app-based approach makes it easier to access from mobile devices.
What Calendly does better
Calendar.com can face glitches when working with teams of bigger sizes.
Some users claim that Calendly has better administrative tools and security than Calendar.com.
Who is Calendar.com best for?
Calendar works best for any individual or a small-scale team who wants to be more time-efficient in managing their different schedules online. It also best suits users with boutique meetings because of its customization potential.
You can try Calendar.com for free here!
HubSpot Meeting Scheduler: Best Calendly Alternative for Sales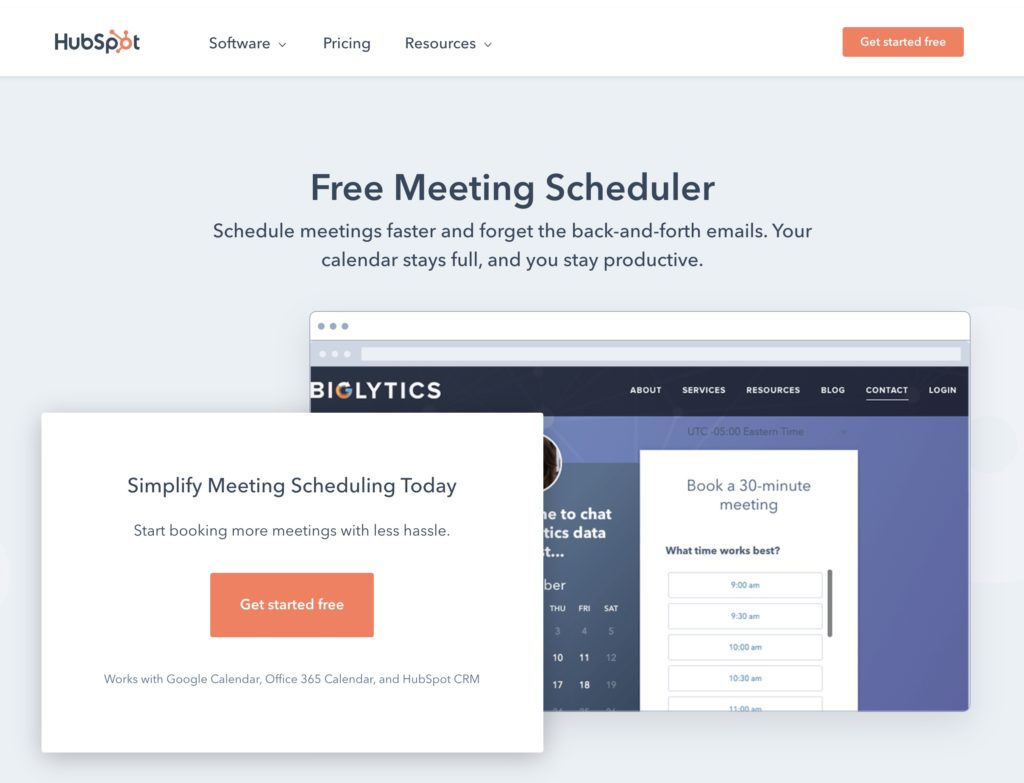 Just like Calendly, HubSpot's meeting scheduling software focuses on stress-free meeting scheduling by letting customers check your availability and reducing the tedious back-and-forth of emails.
You can use HubSpot for free here!
Further read:
HubSpot CRM Review: Is it the best CRM platform?
HubSpot Sales vs Calendly
While Calendly is all about efficiency and flexibility, HubSpot's meeting scheduling app looks to save time for sales teams. The latter does this to book more meetings, which leads to building customer relationships.
What HubSpot Sales does better
The UI of HubSpot's meeting scheduler looks good when embedded into your website.
HubSpot provides an option to add additional fields, while with Calendly, you will need a Zapier integration to do the same.
HubSpot's meeting scheduler comes as a package with the rest of the HubSpot CRM suite.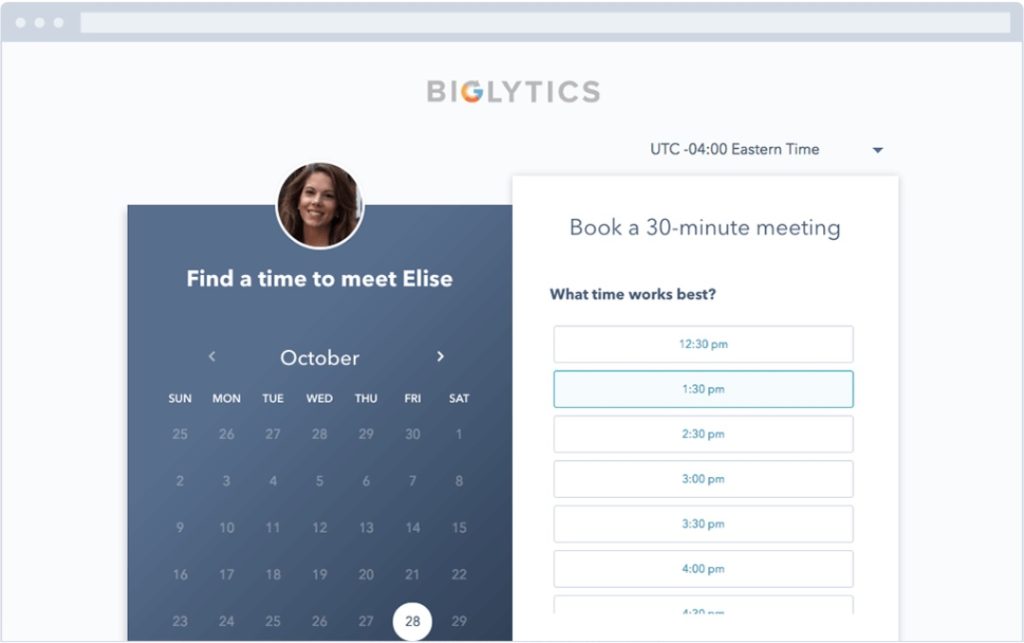 What Calendly does better
Calendly can be customized, while HubSpot's meeting scheduler has its limitations.
Calendly provides attendees with multiple reminders and rescheduling options, while HubSpot fails to do so.
HubSpot's availability increment feels very rigid compared to the flexibility of Calendly.
Who is HubSpot Sales best for?
Based on its vast integrations with a CRM platform at other native apps, HubSpot's meeting scheduler might work best for sales professionals who are always on the lookout for fixing appointments with their clients and prospects.
You can use HubSpot for free here!
Simplybook.me: Best Free Alternative to Calendly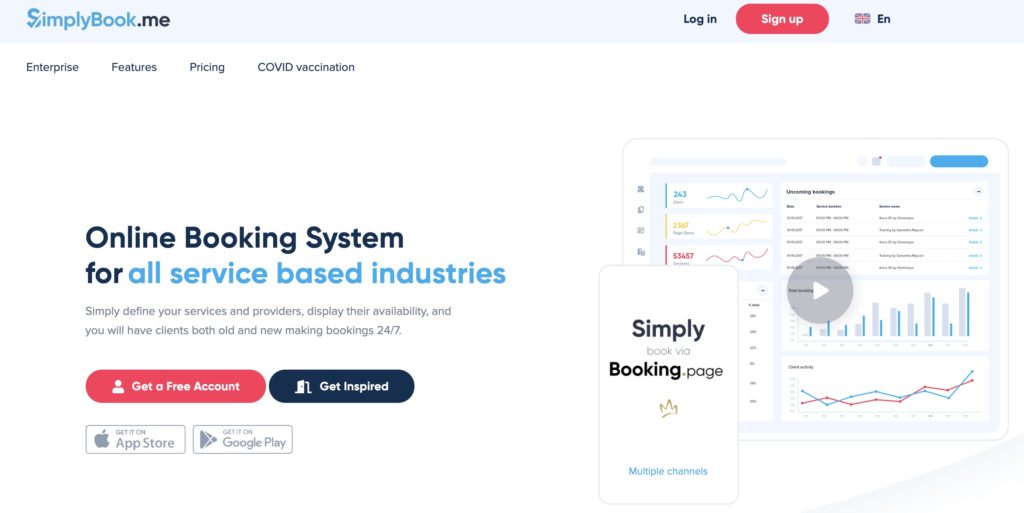 Simplybook.me is the best free appointment scheduling software for all service industries like beauty and wellness, education, and health services. It primarily focuses on making booking customer-centric and straightforward.
You can use Simplybook.me for free here!
Simplybook.me vs Calendly
Unlike other software, Simplybook.me enables users to create a custom meeting scheduling portal. In addition, it has better design customization options than Calendly.
What Simplybook.me does better
Since Simplybook.me is designed for service-based businesses, it covers extensive features for membership, classes, events, and waiting list management.
Simplybook.me works well with recurring appointments and room bookings.
What Calendly does better
Calendly covers more use cases beyond service industries
Who is Simplybook.me best for?
Simplybook.me works best for service businesses like salons, attorneys, medical practitioners, cleaning services, fitness classes, driving schools, etc.
You can use Simplybook.me for free here!
Setmore: Calendly Free Alternative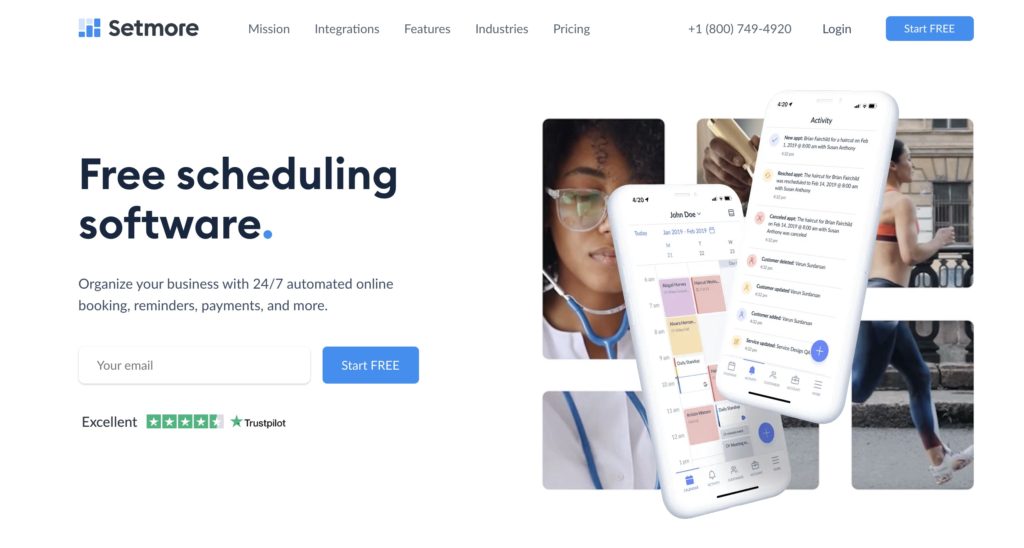 Setmore is a free online scheduling software that connects small businesses with their customers. It focuses on the connecting experience, as they believe memorable ones help build a community.
You can use Setmore for free here!
Setmore vs. Calendly
Unlike Calendly, which is more for designated sales teams, Setmore is for small businesses owners and non-profit organizations, who value connections to grow relationships.
Setmore offers a more social-media and customer-first connection by integrating e-commerce platforms, social media, and payment apps. On the other hand, Calendly is more about extensive on-boarding of clients.
What Setmore does better
Setmore has an inclined B2C approach via its integrations with social media, eCommerce platforms, and payments.
Setmore works best for recurring appointments such as daily meetings or monthly service appointments.
Setmore offers users more basic services than Calendly offers in its free plan.
What Calendly does better
Setmore is more suited for scale. Calendly has a better professional approach.
Less hassle. Easy bookings, super easy managing.
Who is Setmore best for?
Setmore can be recommended for small business owners, especially solopreneurs.
You can use Setmore for free here!
Monday.com: Calendly Alternative for Internal Scheduling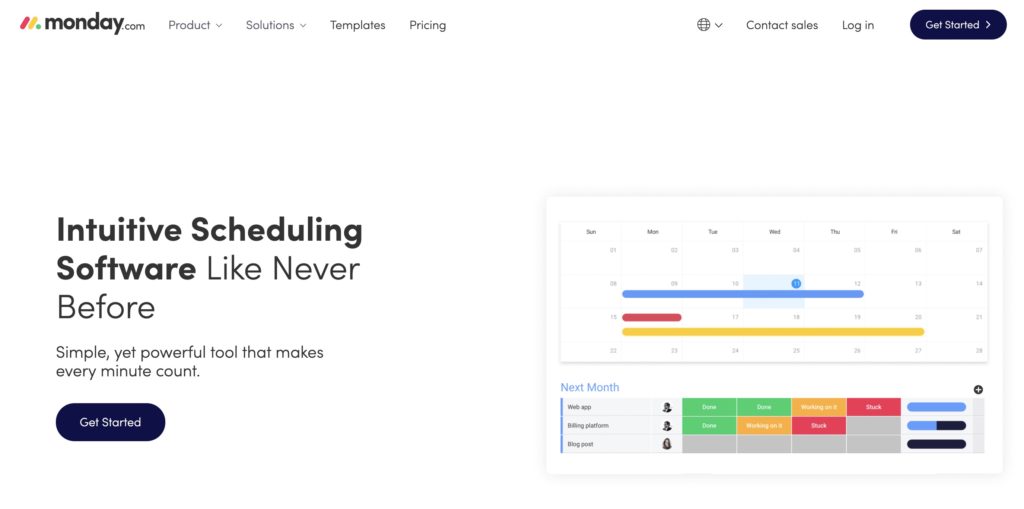 Monday.com is a project management software that helps in workplace management. For example, it helps assign tasks, track progress, view deadlines, and timelines via a calendar, etc.
You can try monday.com for free here!
Monday.com vs. Calendly
While Calendly is a designated meeting scheduling platform, monday.com is more in the line of project management software and scheduling is just one such offering from them.
Organizations can think of monday.com for easy handling of internal tasks for employees. It comes with added benefits such as a project overview and a calendar for tracking the timeline.
What Monday.com does better
On a comparison scale, Monday.com helps visualize assigned tasks in the form of a map, calendar, timeline, kanban, and more. Meetings are just one part of these tasks compared to the whole essence of Calendly.
What Calendly does better
Monday.com works best for only internal scheduling. It lacks efficiency in external tasks such as onboarding, where you need to add clients to your organization. You can quickly do this with Calendly.
Who is Monday.com best for?
Monday.com is best for organizations looking for an all-in-all platform to manage projects and tasks in terms of workspace, task management, etc. For example, if you're using Calendly for internal scheduling, you can consider using monday.com.
You can try monday.com for free here!
Wix Scheduling Software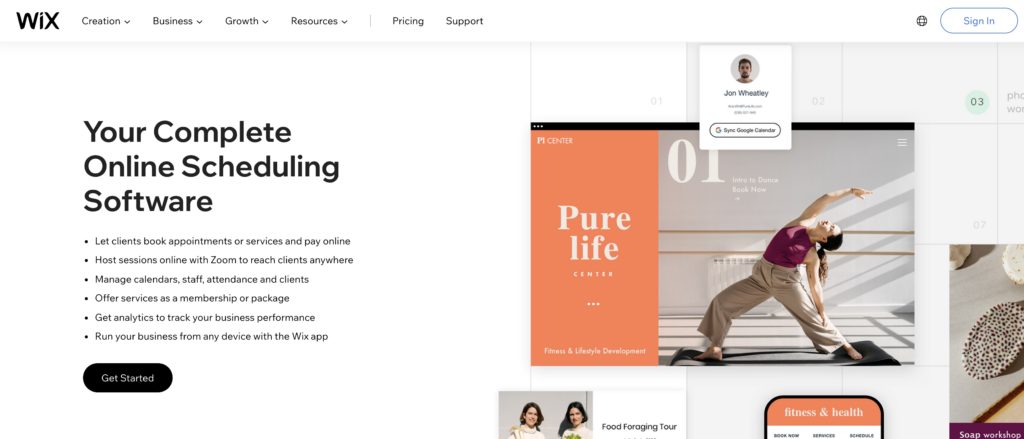 Wix offers a scheduling software that is best for service-based businesses to let clients book appointments on websites and offer membership packages.
You can get started with Wix for free here!
Wix Bookings vs Calendly
Like the previous scheduling software we have looked at, Wix scheduling software tailors towards the services industry rather than client calls as Calendly does.
What Wix Bookings does better
Apart from regular appointment bookings and calendar management, Wix also provides options to manage calendars, attendance, employee performance, etc.
What Calendly does better
Unlike Calendly, which offers a seamless website integration, users will have to get to the Wix application to get started on booking an appointment or meeting.
Who is Wix Bookings best for?
Wix Scheduling Software can be the best fit for small business owners who run a Wix site in the service industry. It can be even better with a store hosted through Wix.
You can get started with Wix for free here!
Squarespace Scheduling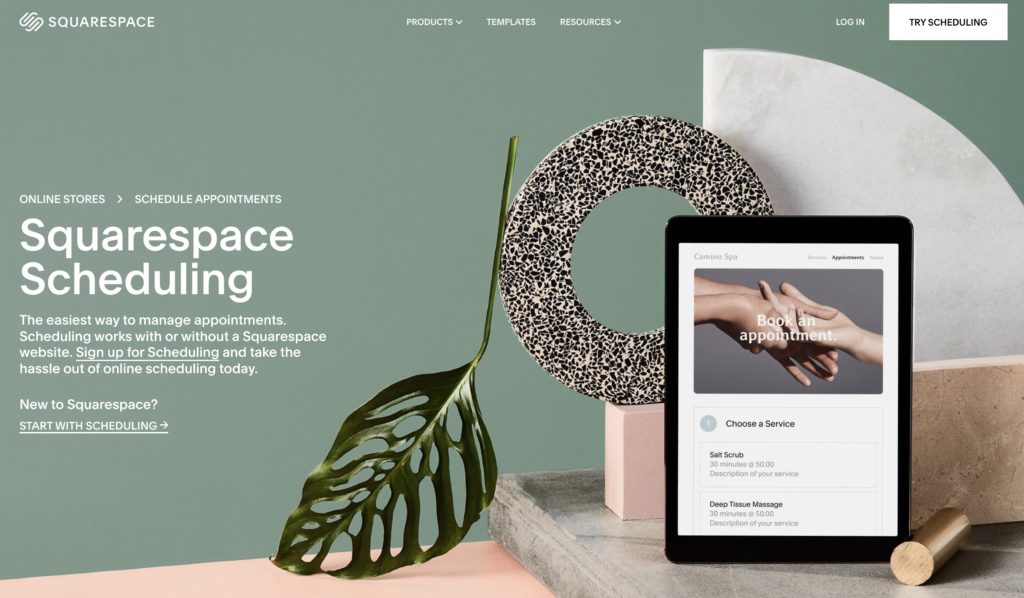 Squarespace scheduling is an online scheduling product offering that is a part of the all-in-one platform.
Squarespace Scheduling vs Calendly
Squarespace is another alternative for Calendly that is on par when it comes to the general offerings. Having online scheduling at the center of all the features required for an e-commerce website is what makes Squarespace different.
What Squarespace does better
The pros of using Squarespace are adding branded elements for communication and upselling in scheduling.
What Calendly does better
Like some other online scheduling tools mentioned above, users need to access Squarespace's app to schedule meetings, unlike Calendly, which offers a website integration.
Who is Squarespace Scheduling best for?
The impact of using Squarespace scheduling is extra for businesses that have just started and are looking for a single tool that can help them with everything end-to-end.
Acuity Scheduling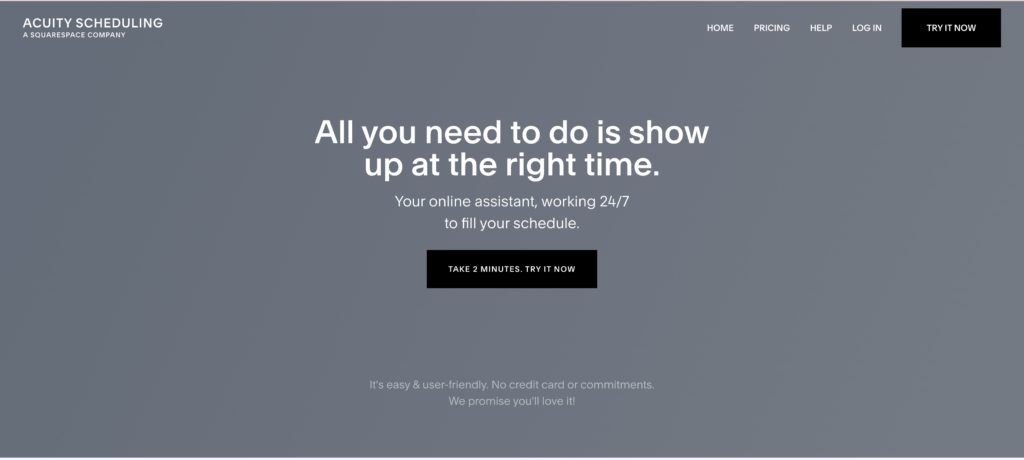 Acuity Scheduling is another prominent calendly alternative that provides businesses with tools for online appointment scheduling, managing client information, accepting online payment, and more.
Acuity Scheduling vs Calendly
Acuity Scheduling is a better fit for businesses that require a more robust process. Due to its vast features, Acuity Scheduling is almost on par with other Calendly alternatives. Apart from reminders, users can also set up meetings, calls, or facilities with Acuity Scheduling.
What Acuity Scheduling does better
Acuity Scheduling is similar to a personal assistant. It handles reservations, shows available timings, and schedules meetings based on it. It also helps you accept payments after the client books an appointment.
What Calendly does better
Calendly stands apart from Acuity Scheduling due to its simple interface and add-ons. It is also easy to learn and very user-friendly.
Who is Acuity Scheduling best for?
Acuity Scheduling can favor big companies better due to its extensive features. Businesses that provide services can also make the best use of Acuity Scheduling by letting their users purchase or schedule simultaneously. On the other hand, it may not be the perfect fit for 1:1 scheduling.
Conclusion
Whether you have just started with online scheduling software or you've been using them for years, there's one of the calendly alternatives that might best suit you.
You can choose an alternative that best fits your business' needs and analyze it with others based on the features and functionality.
For example, if you work in the service industry, then Simplybook.me is best for you.
If you're looking for the closest Calendly alternative, then go for Calendar.com.
For sales representatives, you should consider using Hubspot as an all-in-one CRM tool that lets your prospects or clients book your time and sync with your calendar.