Remote working has become the new norm. Video conferences have replaced face-to-face meetings as the main channel for communication within organizations.
Here are the 8 best video conferencing software for you to enjoy smooth and efficient video conferences.
Zoho Meeting
Zoho Meeting is another online meeting and webinar solution. It offers low-cost hosting and secure online meetings with screen and application sharing, audio calls, and video conferencing.
Pros of Zoho Meeting
Low set up time and intuitive design
Relatively low price compared to other video conferencing software tools
No installation required
Feature for moderating attendees to filter the right audience
Allows phone dial-ins to overcome poor internet connection
Automated syncing of sessions created with Zoho and Google calendars
Host up to 100 participants in a meeting session and 250 attendees in a webinar session
Cons of Zoho Meeting
Lack of customization
Lack of whiteboard and waiting room functions
Separate package for hosting meetings and webinars
Pricing of Zoho Meeting
Zoho Meeting offers a free plan which allows a maximum of three meeting attendees and ten webinar attendees. There are four paid plans to choose from, and each comes with a 14-day free trial and different participant sizes.
Who uses Zoho Meeting?
Given its relatively affordable price, it is an optimal tool for small businesses and startups that are cost-conscious and need a reliable conference and webinar hosting tool. Its minimalism is excellent for companies that mainly need video conferencing software for internal meetings or one-on-one client meetings.
Zoom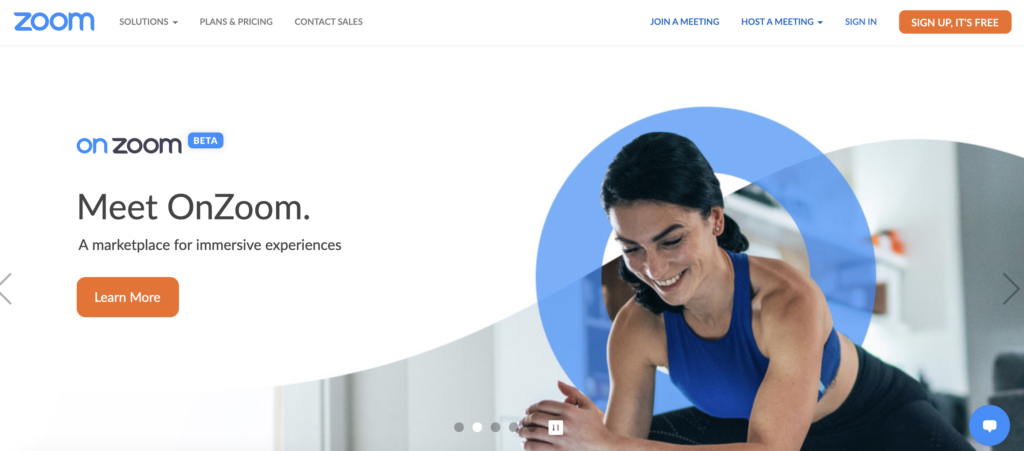 Zoom is one of the current biggest video conferencing software. It provides video meetings and online chat services, webinar hosting capability, and a cloud phone system solution. It is ranked #1 for multiple customer reviews.
Pros of Zoom
High acceptance rate due to popularity
User-friendly features include options to chat privately, dragging and moving video display, pining speaker video, choosing modes for video display, self-selecting breakout rooms, annotation features, etc.
Customizable virtual background and filters
Choices for sharing which screen and whether or not to share audio
Intuitive UI design
Unlimited one-on-one meetings for free accounts
Constant updates and developments for maintaining the best quality
Cons of Zoom
Only 40 mins per meeting for more than 2 participants for free accounts
The virtual background feature has requirements for hardware and sometimes fails in recognizing the user in the video
Sharing screens can cause lag in applications
Can not record meeting if logged in through URL instead of application
Pricing of Zoom
Zoom has multiple plans suited for all.
For individuals, the basic personal meeting plan is free. It offers unlimited one-on-one meetings and a maximum of 40 minutes per session for more than 2 participants.
The Pro Plan is $14.99 monthly per license for small teams, which allows you to host up to 100 participants and include 1GB of cloud recording.
The Business Plan is $19.99 monthly per license (starting at ten licenses), allowing you to host up to 300 participants and includes cloud recording transcripts and managed domains.
The Zoom United Business Plan is $35 monthly per license. It includes all the phone, meeting, and chat functions.
Who uses Zoom?
Considering the multiple handy features Zoom offers, it is suitable for all. From personal social meetings to large business conferences, Zoom provides you with all that is needed. You can simply choose the plan that best fits your needs.
GoToMeeting
GoToMeeting is a web-hosted service created by LogMeIn. It is an online meeting, desktop sharing, and video conferencing software package that enables users to work from anywhere and stay connected with their organization. Aside from PC, it also supports mobile apps for IOS and Android devices.
Pros of GoToMeeting
One-click meeting launch from Microsoft Office, email, and instant messaging tools
Provides turnkey room equipment service that can change meeting rooms into collaboration workspace
Built-in support for Lifesize, Cisco, and Polycom devices
Data analysis for webinar function
Cons of GoToMeeting
You can't invite more than three attendees in their free plan
Requires high-quality internet. A minor internet breakdown could lead to a crash in the meeting session
Pricing of GoToMeeting
GoToMeeting offers three plans: Professional ($12 per month), Business ($16 per month), and Enterprise (Custom). All three enjoy features like screen sharing, unlimited meetings and meeting time, personal meeting room, and business messaging.
The Business and Enterprise version offers co-organizing, unlimited cloud recording, and many other convenient features such as note-taking and slide-to pdf.
For the Enterprise version, a customer success manager will assist with roll-out and adoption. There are also volume discounts for enterprise-wide options.
Who uses GoToMeeting?
Companies use GoToMeeting to hold conferences and webinars. With its turnkey room equipment service, it is suitable for big and small companies who want to turn huddle spaces and conference rooms into collaborative workplaces where all employees can join with just a click.
ClickMeeting
ClickMeeting is a Web-based SaaS webinar solution. You can use it for product demos, online courses, business meetings, and even huge online events. Users can talk to multiple people, share screens, and translate meetings in real-time.
Webinar rooms can accommodate up to 4 presenters and 5,000 attendees at the same time.
Pros of ClickMeeting
No installation is needed. Supported on any device with internet access
Flexible pricing based on the size of attendees
Customizable webinar rooms with logos and brand colors
Easy to run with automated webinars and timeline functions
Multiple features for making webinars more interactive: Whiteboard Illustration, Call To Action buttons, etc.
Multiple follow-up features such as Thank You Page and Performance Rating
Cons of ClickMeeting
Relatively expensive compared to another video conferencing software
Quality distortion when loading a presentation developed from another tool
The participants can not download files attached to webinars
Maximum of 4 cameras turned on for webinars
Pricing of ClickMeeting
ClickMeeting offers a free trial of 30 days that can hold up to 25 attendees. Aside from that, there are three paid plans: Live Plan ($25 per month), Automated ($40 per month), and Enterprise (Custom), with prices, varying depending on the number of attendees.
All plans allow an unlimited number of webinars and meetings with one host. The breakout room function is only available for plans with 50 attendees and above. The number of presenters also varies depending on the attendee numbers. Last but not least, you will have more file storage and recording storage space for paid plans.
Who uses ClickMeeting?
Companies use ClickMeeting to host webinars with a high volume of attendees. Professionals use it to host online teaching courses and training sessions. Its flexible pricing plan provides cost-efficient solutions for those who are seeking high-quality webinar hosting.
Google Meet
Google Meet is a video and voice conferencing service provided by Google that is part of Google Workplace Applications. It helps your team stay securely connected with enterprise-grade video conferencing built on Google's robust and secure global infrastructure.
Pros of Google Meet
Meetings are encrypted during transit and other measures keep meetings safe
Integrated with Gmail and Google Calendar, making it easy to schedule meetings and join meetings with shared links
Allows users to view all scheduled meetings for the day and join the meeting with just a tap on the app with both internet or phone dial-in
Fully integrated with Google Workspace, allowing seamless jumps to other Google productivity tools such as Google docs and Google slides
Cons of Google Meet
Little virtual background options
Only four video screens at the same time
Requires user familiarity with Google applications
Pricing of Google Meet
Google provides Google workplace plans that include all Google Workplace applications, including Google Meet.
The Business Starter Plan is $6 per user per month. It allows 100 participant video meetings.
The Business Standard Plan, which is the most popular option, is $12 per user per month. You can host up to 150 participants in each video meeting and have recording options.
The Business Plus Plan is $18 per user per month. You can host up to 250 participants in each video meeting and have recording options and participation tracking.
For the Enterprise Plan, more features are added for customizable pricing.
Who uses Google Meet?
Since Google Meet is part of Google Workplace, Google application users will find it a convenient meeting solution. If you have already purchased the Google Workplace package, Google Meet is already included and ready for your use.
It is also an easy video conferencing solution for companies that already use Google applications company-wide.
Microsoft Teams
Microsoft Teams is a chat-based workspace in Office 365. It is a workspace that provides group messaging, file uploading and editing, and video conferencing.
Pros of Microsoft Teams
Integrated with other Microsoft services such as Word, Excel, and Outlook
All-in-one solution for chatting, calling, and file sharing
Live captions available during meetings
Can directly initiate meetings within a setup group
Option to blur background
Cons of Microsoft Teams
UI design is less intuitive
A heavy application that takes time for initial loading
Requires customer familiarity with Office 365
Quality could be affected on a Mac device
Pricing of Microsoft Teams
Microsoft Teams can be used for free, but meetings and calls are only partially included. To get the full package, you can choose from three paid plans.
Business Basic is $5 per user monthly. Business Standard is $12.5 per user monthly with the same meeting and call functions as the basic plan and includes more productivity apps and services. For the whole Microsoft package: Office 365 E3, which provides more security and customer support, costs $20 per user per month.
Who uses Microsoft Team?
Similar to Google Meet's customer specialization, Microsoft Teams is ideal for those more familiar with or are already using Microsoft applications.
The Office 360 package has options for homes, businesses, enterprises, and education. Those already using Office 360, such as Word or Excel, can choose Microsoft Teams as a cost-efficient solution for video conferences. Considering how Microsoft Team is an all-in-one workspace for groups, it is a great choice for professionals with plenty of group projects to work on.
Skype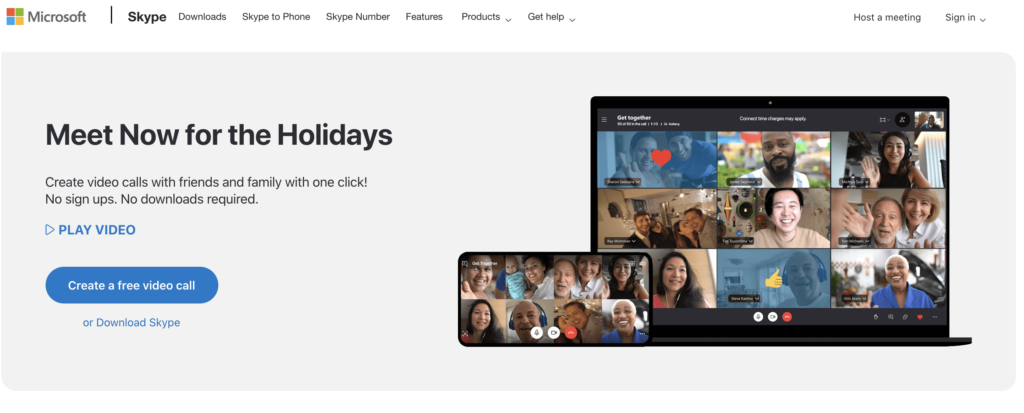 Skype is a telecommunications application by Microsoft that specializes in providing video chat and voice calls. It started as a quick way to connect with your friends and family. Now people are also using it to conduct interviews and business meetings.
Pros of Skype
Feature to call landlines and mobile devices from anywhere in the world, regardless of the receiver's internet availability
High accessibility around the world
Free calls between skype users
Live captions and subtitles with translation are available
All participants notified when the meeting is recorded, the recording will be available on the chat for 30 days
Option for private conversation mode where a sensitive conversation is encrypted
Shows history of previous calls
Quick emoji reaction feature
Cons of Skype
No virtual background, only background blurring
Big application size that may cause lags and disconnections
Better suited for mobile than PC
Can't see all videos at the same time
Pricing of Skype
All calls between Skype users are free and unlimited. Simply make a skype account and video call via the internet, and it's free of charge.
Using Skype is also a cheaper option for making international calls. There are different price plans when choosing to use skype to call mobile or landline numbers of different regions.
Skype's free internet video call function makes it highly optimized for all individuals and organizations. Considering the allowed meeting room size of up to 100 participants, it is ideal for family calls and business meetings.
Cisco Webex Meeting
Cisco Webex Meeting provides high-quality video calls that are hassle-free and secure. It is one of the leading video conferencing software with 85 billion+ meeting minutes and 360 million+ meetings hosted per year, and 130M+ meeting attendees per month.
Pros of Cisco Webex Meeting
Highly integrated with other applications such as Google Drive and Microsoft Teams
Provides automatic meeting transcript after recording
Customizable backgrounds with virtual background and blurring background options
Highly secure personal data with privacy principles
Useful dashboard UI design
Accessible for impaired hearing users
Cons of Cisco Webex Meeting
Sharing screen might incur minor interruptions
Relatively higher price
Joining via a browser can be slow
Only 50 mins per meeting allowed for free accounts
Pricing of Cisco Webex Meeting
Cisco Webex Meeting offers one free plan and four paid plans.
The Free plan allows one host and up to 100 participants, with a meeting time limit of 50 minutes.
The Starter plan costs $13.5 per host per month. You can have up to nine hosts and 24 hours of meeting time.
The most popular Plus plan costs $17.95 per host per month, with up to 50 hosts allowed.
The Business plan costs $26.95 per host per month. You can host up to 200 participants, have five to 100 hosts, and have higher cloud storage.
There is also the customizable Enterprise plan with unlimited hosts and up to 100,000 participants.
Who uses Cisco Webex Meeting?
Cisco Webex Meeting charges a higher price for better quality. It is suitable for organizations that need to hold high-quality, high-volume video conferences, and webinars.
Conclusion
There is a great deal of software for video conferencing, and they all have their own different features and differentiation points. Whether you're teaching online, working remotely, or hosting business meetings, you can find one to suit your need.
So it is worth trying a few to find the best one, and you can always uninstall the apps you didn't like.