Business phone systems have long been seen as an effective means of improving productivity in the workplace, allowing employees to quickly and easily connect with each other and work remotely from anywhere.
But with the growing number of options on the market, it can be difficult to determine which service is right for your business.
Businesses are moving to the cloud in droves, and the rise of hosted VoIP services like RingCentral and Zoom have revolutionized the business communications industry in recent years.
These services allow businesses of all sizes to leverage the power of cutting-edge technology without the high cost of installing and maintaining an in-house phone system. Each service offers its own set of advantages, but which one is right for you?
In this article, we'll take a closer look at the two leading hosted VoIP providers on the market: RingCentral and Zoom.
We'll compare them side by side based on price, features, customer support, and more to help you decide which is the better choice for your business in 2023.
RingCentral vs Zoom: Similarities
Both Zoom and RingCentral are leading VoIP phone providers, that can substitute conventional telephony services.
Unlimited domestic calls is a feature included in both business phone system providers
Both business phone support video conferencing and audio-based communications.
Both companies offer robust customer support systems, that include, live chat, phone, and email support.
RingCentral vs Zoom: Differences
RingCentral offers unlimited calling and chat, while zoom video phone and chat services depend on the plan you opt for.
With RingCentral, a carrier is provided, unlike Zoom meetings, where you can have your own carrier.
Customization is supported for both providers. However, Zoom has an edge over RingCentral thanks to several more options and add-ons.
What is RingCentral?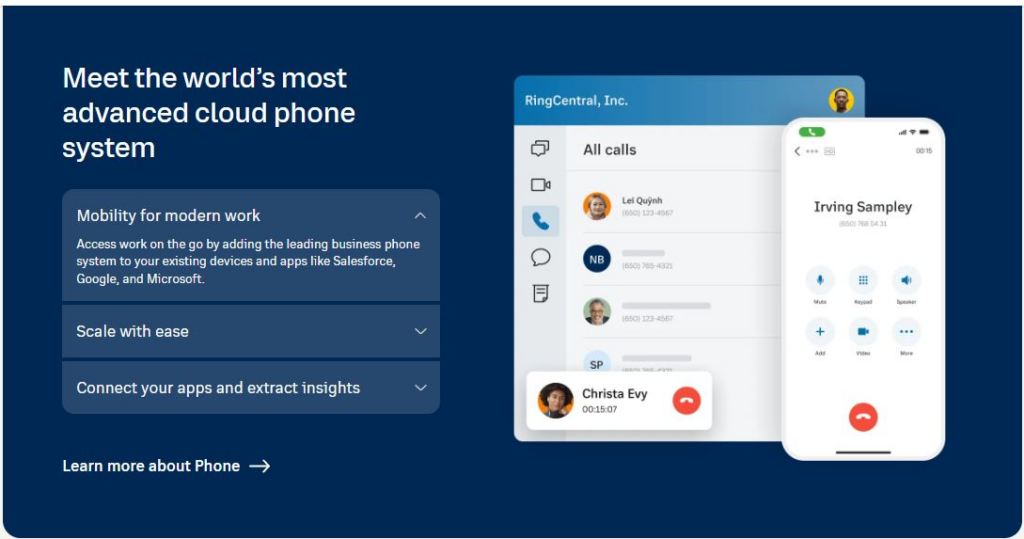 RingCentral is majorly a VoIP phone service provider, having started its operations in 1999. More specifically, its service includes cloud-based services that enable business connection via a mobile device, text messaging, or live video meetings.
All their products are versatile and designed for all major business types and sizes to fit their communication needs. This enhances most companies with a unified communications platform.
Best for Small Businesses
RingCentral
RingCentral is one of the best cloud-based communication and collaboration platforms that provides businesses with a range of tools to manage their communication needs. It offers features such as voice and video conferencing, messaging, team collaboration, and online meetings. With RingCentral, businesses can easily connect with their customers, partners, and employees from anywhere, at any time, using any device.
Pros:
Highly scalable and customizable, making it suitable for businesses of all sizes and industries

Integrates with other business applications, such as Salesforce, Microsoft Office 365, and Google Workspace, to streamline workflows and increase productivity.

RingCentral Video Conferencing Key Features
An all-inclusive communication service provider that provides business communication solutions. No need to invest in separate messaging, high-quality video conferencing, and voice services providers.
Offers flexible communication capacities for both the small business owner and large corporates alike, for video conferencing needs of up to 200 participants.
Outstanding video and voice quality. Videos and audios are in full HD for clarity.
Offers an intuitive and easy-to-set-up system that takes only a few minutes courtesy of the RingCentral app. It is time-saving and operation cost reduction as you do not need to hire IT professionals to manage it.
Seamlessly integrates with other tools and apps such as Google workspace and MS 365 to fulfill most of the needs in a one-stop shop setting.
RingCentral has a wide global rich with a presence in over 80 locations worldwide.
Who is RingCentral for?
As a versatile phone service provider, it is recommended for all business sizes and types. RingCentral has affordable package plans and easy-to-set-up systems, including supportive customer service.
RingCentral is best known for VoIP services, making it a great choice for companies whose emphasis is on phone calls than video calling.
What is Zoom?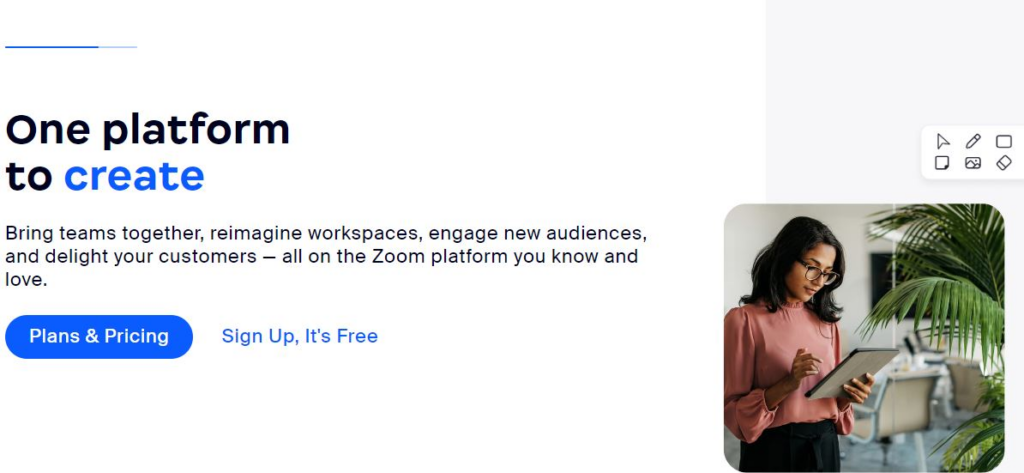 Although Zoom has been around since 2011, it experienced its meteoritic growth during the Covid19 period of 2019/2020. At the peak of its growth, it had reached over 300 meetings per day, which led to the spread of its reputation as one of the major video conferencing tools.
The ease of organizing video meetings has revolutionized video conferencing with a slew of features. Better yet, users are only required to have a meeting ID and a password or click on a link.
Zoom Video Conferencing Tool Key Features
Supports robust global reach in video conferencing needs and audio calls.
Post meeting analytics reports for critical meeting analysis, so you can gauge the meeting's success.
Supports meeting recording as well as screen grabbing, and document sharing for later meeting evaluation.
Calendar system syncing of meetings to avoid missing track of the call schedules.
Collaborative features such as polls, hand raises, and reactions enhance better meeting engagements.
Who is Zoom For?
Zoom's advanced features are in video conferencing. As such, it is best for businesses of all business sizes with a preference for video calling over phone calls.
The ease of use makes it convenient to start team meetings fast. Considering other advanced features such as Zoom chat for messaging and Zoom phone, this makes it a fit for almost types of businesses.
RingCentral vs Zoom Video Meetings: Features
Both companies feature similarities and differences in their features. Here are a few below.
Call Queuing
On call queuing, RingCentral has the upper hand over the Zoom phone. RingCentral is a more established VoIP provider in comparison to Zoom phone. As such, it has a more advanced call queuing.
With RingCentral, admins can easily queue calls to groups in an organization to receive calls. Although Zoom phone also offers to call queuing, its VoIP phone services are not well established as its main competitor RingCentral.
Internal Communication
Both have features that support internal communication. On its part, Zoom phone has a team chatting tool that allows for person-to-person or team messaging communication.
Enables customers to use social tags and mentions to enhance social collaboration as well adding emojis and upload files as they proceed with the communication.
But the prominence of video again shows up in the screen sharing features in Zoom Meeting. Through this, you can share individual windows or side-by-side screen sharing.
RingCentral has some of the above-mentioned Zoom phone features and a few more. For example, it offers a note-taking feature that can then be stored for future use or shared with team members. Also, internal communication is enhanced by its built-in task creation and control feature.
Meeting Scheduling
Meeting scheduling is another feature with similarities in both communication providers. For instance, switching between text messages to video conferencing is a breeze.
Depending on your plan, for Zoom video, you can easily schedule meetings if you've Outlook or Google Calendar integrated.
Alternatively, you can opt for IOS, android mobile, or via the web app. All this is in addition to generating meeting IDs and password-protecting the meetings.
When it comes to RingCentral, the features are more or less the same. But in RingCentral, using Glip offers an exclusive calendar to ease meeting tracking.
Meeting Recording
Both RingCentral and Zoom video support meeting recording, although the length and the unlimited storage location will vary with the plans.
Zoom's toll-free plan allows for within-the-device recording while upgrading to paid plans can also allow cloud storage.
RingCentral allows for all the above features found in Zoom Meeting too. But it has an edge when it comes to the recording duration. By incorporating Glip, your cloud video storage duration can be extended to up to 100 hours.
Other features include screen-sharing tools. You can share meeting recordings and pause and resume to avoid unwanted parts of the meeting.
Analytics Features
Keeping track of meeting metrics is critical hence the need for robust meeting analytics. This is one of the standout features supported by both business phones.
With RingCentral meetings, you can fetch data on multiple devices on attendance, participant engagement duration, and activities so you can improve the effectiveness of future virtual meetings.
With Zoom, there is more precise reporting with additional details such as the attendants' participation, duration, interaction level, and location.
Zoom Wins In Features
From the above analysis, we can see both companies have a strong positioning in certain features. RingCentral has an advantage in call queuing due to its established position in the Voice Over Internet Protocol market compared to Zoom phone.
On internal communication and meeting schedules, RingCentral still emerges as a winner over its advanced features of an exclusive scheduling and task management calendar.
The main difference is Zoom is also huge on video meetings and has established features such as recording and analytics. Furthermore, it has an easier-to-use interface incorporating both video and audio. Overall, Zoom emerges as the winner.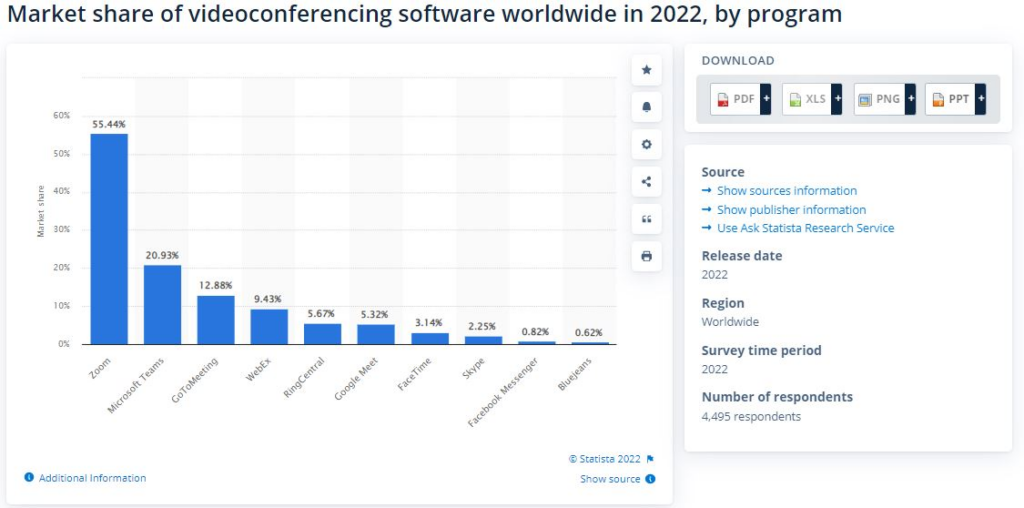 Zoom vs RingCentral: Integrations
Both Zoom and RingCentral have fantastic capabilities for third-party integrations. Zoom video has numerous integrations with other apps that are essential for business workflow and user experience enhancement.
These include Google Apps, Slack, Salesforce, and more. With Google Apps, all you need is a link to join a meeting. Also, it supports meeting scheduling using Google Calendar.
Other popular apps that integrate with Zoom video include the following.
DocuSign
Skype
G-suit
Glip
Microsoft teams
Outlook
DropBox
One Drive
Just like Zoom, RingCentral also works great with other apps as well. The integration eases business communication collaboration between staff members and customers.
For instance, with Salesforce-RingCentral integration, you can view call logs, or receive instant voicemails and faxes. Other app integration includes the following.
Gsuite
Slack
Mail chimp
Trello
Asana
And more
Zoom Wins In Integration
Both companies have almost equal footing when it comes to integration with the most popular apps. However, Zoom has a slight edge over Ringcentral due to its ease of integration with more apps.
Zoom video has a dedicated API for this purpose, unlike RingCentral's which has sometimes faced integration complaints reviews.
RingCentral vs Zoom: Pricing
Zoom and RingCentral have pricing models that include free and paid plans. Their free plans are great, but for a more robust service, it is best to use paid plans.
Both companies offer cost-efficient plans, but overall, Zoom offers a more inclusive package than RingCentral video conferencing and VoIP calls.
RingCentral Pricing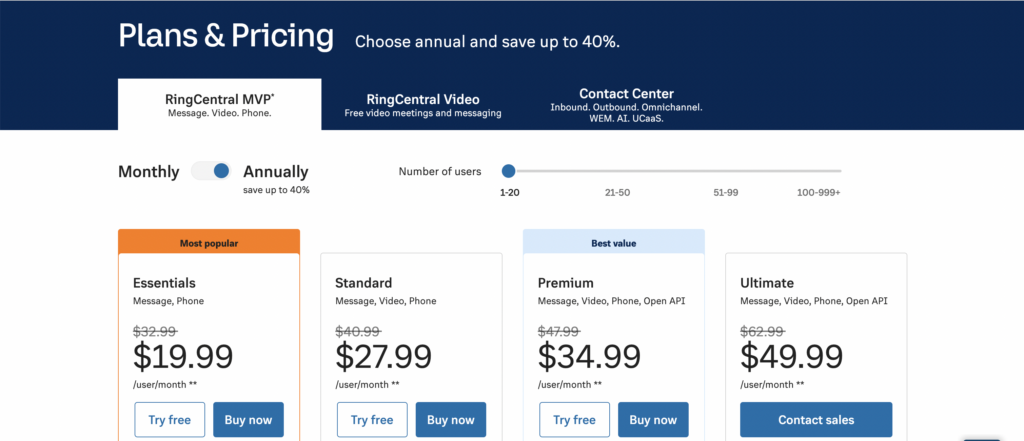 Essentials Plan for $19.99 per user/month
Standard plan for $27.99 per user/month
Premium plan for $34.99 per user/month
Ultimate plan for $49.99 per user/month
Zoom Pricing
Basic Plan Free plan
Pro Plan for $149.90 per user/year
Business Plan for $199.90 per user/year
Enterprise Plan for $300 per user/year
Zoom Wins In Pricing
Both companies offer competitive pricing models for their products, including a toll-free plan.
But Zoom has an edge over RingCentral due to its higher number of options making it the winner. You can even negotiate special discounts if purchasing for large groups.
Also, Zoom has competitive phone plans. They include US and Canada metered, US & Canada unlimited, and pro-global select.
The plan enables you to make and receive calls from multiple devices. The other option is US&Canada unlimited calling plan, to enable you to make and receive calls from multiple devices as well.
And then there is the Pro Global select plan with its stand-out feature of unlimited domestic calling and outbound calling to select supported countries.
Zoom Phone vs RingCentral Phone: Customer Support
Customer service is essential in a business phone system. You will need a service provider with a wide range of options and timely responses in case you encounter glitches.
RingCentral has a wide range of these features. All plans are provided with live chats, 24/7 support, and forums for fast support.
RingCentral extends to establishing the RingCentral University, which is an all-inclusive resource center for everything for any assistance requirements. That include courses and webinar to walk you through the onboarding journey.
On its part, Zoom phone calls systems also provide sufficient support by having a team that can be reached around the clock.
Others include features essential for reducing the learning curve, such as account setup instructions and settings adjustments.
RingCentral Wins In Customer Support
RingCentral is the clear winner in customer support. Although Zoom has a wide range of support features, they cannot match the level of support at RingCentral. Their support is wider and more robust.
Zoom Meetings vs RingCentral Meetings: Customer Satisfaction
This is an important consideration in business phone selection. It reflects how much a customer likes the product and is likely to refer to others.
Zoom phone has had a skyrocketing reputation in recent times, especially as a video conferencing tool. This is courtesy of its simple-to-install platform making it attractive for the less techno-savvy people.
On the other hand, RingCentral is also a well-known business phone system provider, especially on VoIP service. The platform has a well-streamlined design that is attractive to both small businesses and large enterprises.
Zoom Wins In Customer Satisfaction
Both companies have their strong points and slight downsides in almost equal measure. However, Zoom has an upper hand over the RingCentral phone system.
Most customers have reported satisfaction with some of the critical issues. Therefore Zoom had more positive reviews than RingCentral.
Zoom Phone vs RingCentral Phone: Security features
Hacking phone systems can have devastating effects on business. That is why most companies are taking these features seriously.
Both RingCentral and Zoom have well-established measures to safeguard their telephone systems. Zoom has recently rolled out end-to-end encryption to beef up the security of its systems.
RingCentral also rolled out top-notch security measures that include end-to-end encryptions, password security measures, and intensive staff training on systems security.
Both Win In Security
Both companies have superb security measures. We cannot consider one to have an upper hand over the other in this aspect. So we consider it a tie.
RingCentral vs Zoom Conclusion
From the above analysis, both Zoom and RingCentral are major companies in the provision of business telephony services. They have similar features on many levels. Therefore, opting for either of them is a winning decision. But this will depend on the goal you want to achieve in the phone system.
If your business communication is majorly video-based, Zoom is the right tool. Zoom has a clear edge over RingCentral on video conferencing, and a slight one on several other factors, such as affordability, customer satisfaction, and security features.