VoIP and business phone system technologies continue to evolve, with some companies favoring one technology over the other. Both B2C and B2B companies are adopting this new technology to increase efficiency and decrease costs. This article compares two leading business phone systems – RingCentral and Dialpad.
Dialpad and RingCentral are the most popular VoIP phone systems on the market. They both offer features and flexibility that are hard to beat, but which one is the best for your business? Let's look at the key similarities and differences between the two and find out which one is right for you.
Dialpad vs RingCentral: Similarities
Both Dialpad and RingCentral are VoIP business phone systems. With features like international calls, audio conferencing, video conferencing, fax, voicemail, and team messaging, both software are not all that different.
You can try out either of these unified communication systems for free for a few days. Try out the quality of the services, usability, and mobility based on your requirements before you decide to pay.
A business phone number is available with both systems with a guarantee of high-quality calls.
Dialpad and RingCentral offer monthly packages, but you only have to pay annually. There is no hassle of frequent bill payments with either of the platforms.
Dialpad vs RingCentral: Differences
Dialpad emphasizes hugely on AI to integrate things like voice intelligence and call transcriptions in its system. RingCentral lacks in this regard.
Both business phone systems offer different packages in terms of price and features. However, if you compare the lowest-tier package of both, RingCentral allows up to 20 participants for calls and meetings. Dialpad, on the other hand, only allows 10.
Dialpad offers integrations with Google Workspace, Microsoft 365, Salesforce, and Zendesk. For RingCentral, the options available for integrations are over 200.
The customer support team timings for both platforms vary. At RingCentral, Essential Plans users can only avail of customer services on call during regular working hours. Other plans enjoy 24/7 customer support. With Dialpad, Standard Plan users can get help 24 hours, five days a week. The users of higher-paid plans are accommodated 24/7.
What is Dialpad?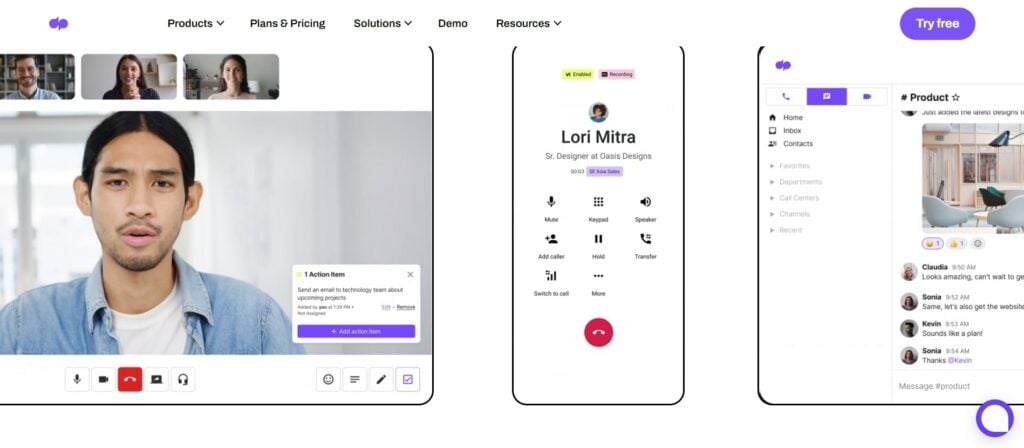 Also known as one of the top competitors of RingCentral, Dialpad is a cloud-based communications platform. It offers messaging, video, voice calls, and online meetings. Dialpad is an Independent Software Vendor but is in partnership with Google Solutions.
Dialpad Key Features
Dialpad offers easy and efficient administration. You can add new users, allow permissions, and set them up with the system within minutes from any corner of the world, i.e. from the web app or mobile app
The software allows you to route incoming calls on your main communication line. You can set a greeting message and hold music for callers while they wait to be redirected to relevant operators
Conference calls can be attended to and arranged from both mobile and desktop apps. The basic functionality of online meetings is the same on both platforms
Your data is secure with Dialpad. All calls, meeting data, and organizational information is backed up. While you can access it from anywhere, it's encrypted so that no one else can breach your privacy
Dialpad offers APIs and webhooks so that you have access to useful client information. Easy access to details of calls and users allows efficient decision-making
Who is Dialpad for?
With most of the basic and advanced features automated, Dialpad is ideal for businesses with a small number of employees. The burden of work is minimized as most mundane tasks are handled by the software independently. Dialpad is perfect for small businesses that require more efficiency than integrations, that too on a low budget.
What is RingCentral?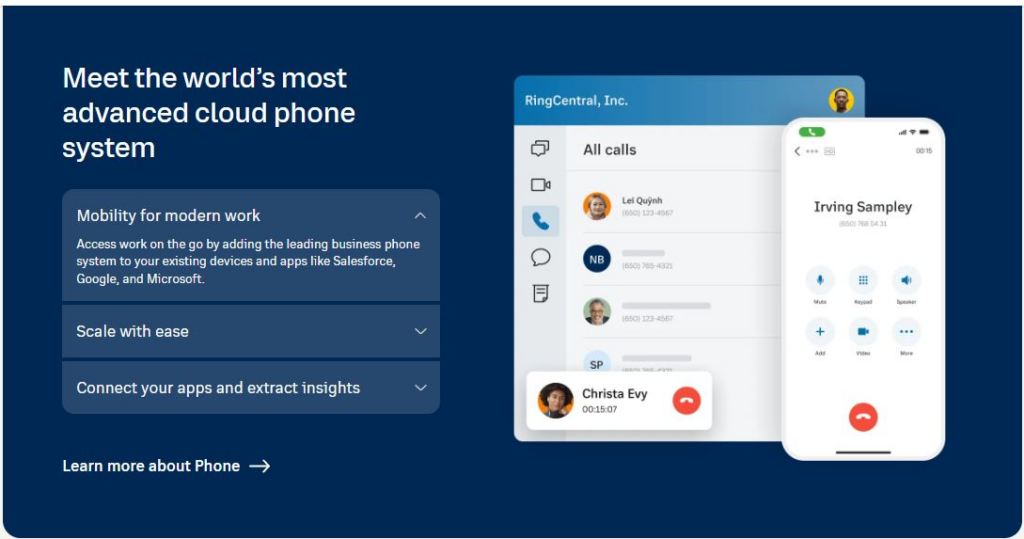 RingCentral offers all the basics of a business phone system, including messaging, video, and voice calling. It's an all-in-one software designed for managing clients as well as teams within a business. This unified communications platform is available for both desktop and mobile.
RingCentral Key Features
Enjoy unlimited calling features with RingCentral. Get a local or toll-free number with this phone system. Manage calls with the help of call forwarding and call monitoring from anywhere in the world.
RingCentral offers advanced call management. With Call Flip, you can easily shift ongoing calls from your mobile to your desktop or vice versa. Call Park lets you hold a call in one location, and you can retrieve it at another location. This is great for teams that work in physically distant locations
Limit unwanted calls with Call Screening. You can block calls from specific numbers or redirect certain calls to voicemail. So, there's no hassle of managing unnecessary calls that take up your time
For efficient team management, RingCentral lets them know your availability status. With Available, Invisible, or Do Not Disturb signs, your team will know when you're present to receive calls or not
Voicemail management makes it convenient for users to go through messages. It can be forwarded to your email if you want to listen later. You can also preview it as a message if you cannot listen to it with the help of Visual Voicemail. Voicemail caller ID lets you know who left the message so that you can choose whom to answer at a priority
Who is RingCentral for?
RingCentral is a great business communications platform for bigger businesses. With advanced phone management, this software makes handling a huge number of calls easier. The overall platform is designed for large teams to help them communicate with one another and clients most resourcefully.
Dialpad vs RingCentral: Features
To judge a business phone system, it all comes down to the features it offers. Here's a head-to-head comparison between Dialpad and RingCentral to help you decide which one sounds like a better option for your personalized business communications needs:
Call Management Tools
Call queuing, call recording, online meetings, team messaging, video conferencing, and screen sharing are some call management tools that both RingCentral and Dialpad offer.
Additionally, with Dialpad, you can talk to your clients in any location. Call Park and Call Flip are features that let you connect calls between team members in a single click.
RingCentral offers toll-free numbers, but you can also opt for local numbers. Plus, RingCentral video pro is a standout feature for team meetings. You also get the basic call hold and forwarding.
Internal Communication
With RingCentral, the robust video conferencing capabilities help you train your employees. Team messaging, screen sharing, and internal video conferencing are great tools for group communication.
Unlimited video meetings and group messaging are available with Dialpad. Screen sharing is an open option on the desktop app so that your team can be on the same page while communicating. Host a conference call on your inbound toll-free number to get the entire team on board at once.
User Friendliness
RingCentral provides a modern interface that's extremely user-friendly. While Dialpad is a software you can easily get the hang of, it isn't as straightforward. Moreover, the restriction of participants in the basic plan of Dialpad limits its team communication.
Verdict: Both win in Features
There isn't much difference in the basic features offered by both phone systems. While one offers a better quality of one feature, the other beats it in another. The competition is tough, so it's a tie between the two regarding features.
RingCentral vs Dialpad: Integrations
It's only fair to expect useful third-party integrations on your business communications software to avail of unified communications thoroughly.
There are over 200 app options with RingCentral. Besides Google and Microsoft, RingCentral also connects with Salesforce Service Cloud to allow direct phone calls from your Salesforce account on the mobile or desktop app of the software.
Dialpad is slightly restricted with these options. All Google and Microsoft apps work with the software. Zendesk and Salesforce are among the few options for second and third-tier plans.
RingCentral wins in Integrations
With more to offer, RingCentral wins this battle against Dialpad.
RingCentral vs Dialpad: Pricing
Pricing is one of the biggest decisive points, especially for small businesses. Here's a comparison of all the plans offered by both VoIP systems.
The following price plans are for annual billing. You can opt for monthly billing too.
Dialpad Pricing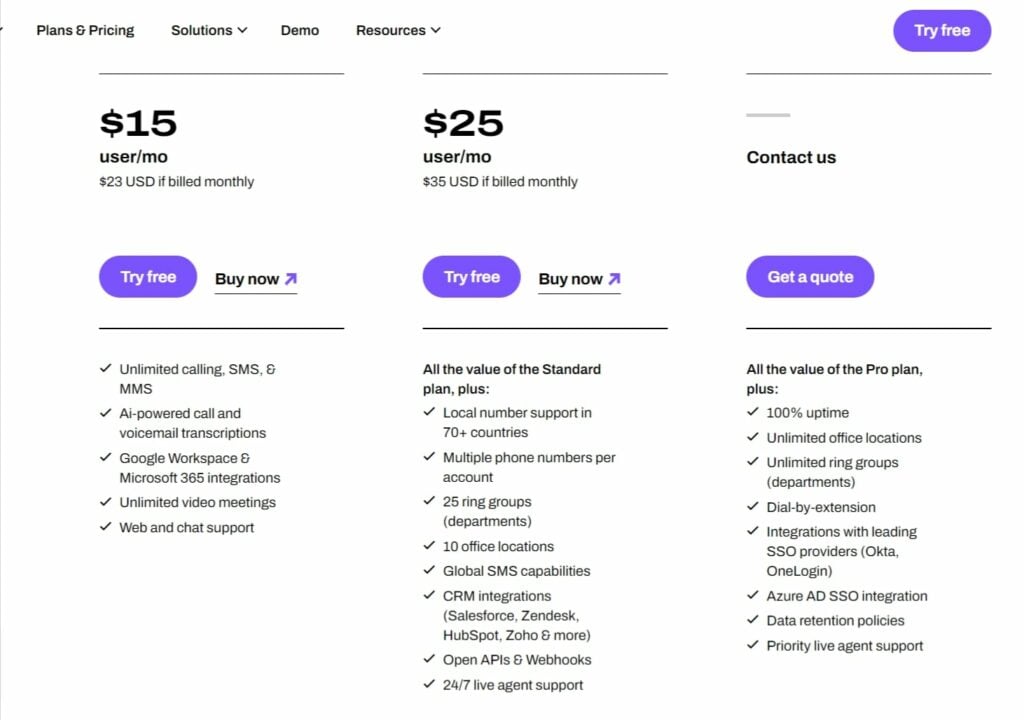 Standard: at $15 per user/month, this plan includes unlimited calls, unlimited video conferences, AI call, voicemail transcription, and Google Workspace and Microsoft 365 integrations
Pro: at $25 per user/month, you can host Dialpad meetings in 25 different groups. The plan includes CRM integration, 24/7 customer support, local number support in more than 70 countries, and multiple phone numbers per account
Enterprise: You'll be charged based on your selected features for this plan. Unlimited calls, video conferencing, online meetings, priority customer support, maximum integration options, and so much more are offered in this plan
RingCentral Pricing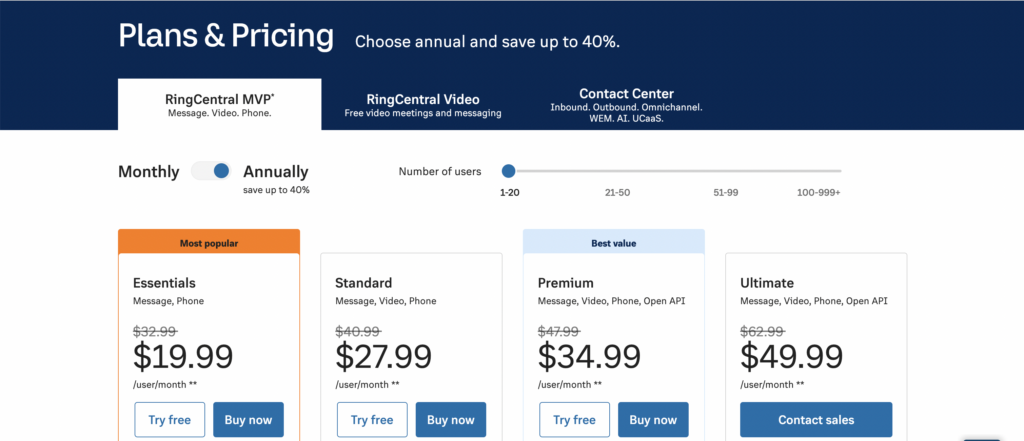 Essentials: at $19.99 per user/month, you get phone, SMS, and team messaging services for up to 20 participants
Standard: at $27.99 per user/month, you get to avail of video conferences, fax, analytics suite, and call menu on top of phone and SMS
Premium: at $34.99 per user/month, this plan adds open API to the list of offered features. Auto call recording, mobile administration, and additional integration options are added to the menu too
Ultimate: at $49.99 per user/month, you'll get everything from the previous plans along with unlimited storage for data backup, live device status alerts, and advance reporting. This is the only plan you cannot try out for free
Dialpad wins in Pricing
It all comes down to what your business needs. But, regarding affordability compared to the features offered, Dialpad has the upper hand against RingCentral.
Dialpad Phone vs RingCentral Phone: Customer Support
Customer support is a major part of any phone system for a business. Both RingCentral and Dialpad offer efficient customer services for their unified communications clients.
If you're a RingCentral user facing an issue, the first thing you can do to find a solution is to go through the FAQs section. The majority of the common issues are resolved without the need for further assistance. You can also connect with members of the contact center platform on social media.
If you're still not satisfied, live chat support is available 24/7. This is also the fastest method to receive a response. For more complicated problems, you can open an online case. The response time is longer, but you'll receive a detailed, more specific solution.
Some urgent and complex issues require talking to a representative only. For MVP plans with 2+ users, this option is available 24/7. The phone lines for plans with 1 user are available Monday to Friday from 5 am to 6 pm, excluding holidays. Non-English callers are accommodated from Monday to Friday, 9 am to 6 pm. Different toll-free numbers are available for callers from different parts of the world to offer local number support.
Dialpad isn't very different in terms of customer service. If you're a Pro or Enterprise customer of Dialpad, talk to a representative at any time. However, for basic plan users, 24-hour live call support is only available five days a week.
The Help Center offers solutions for FAQs. You're most likely going to find your answer here. However, 24/7 chat support on the website is also readily available if you're looking for immediate responses.
Both Tie in Customer Support
There's not much difference in what either business communications systems offer. Online pre-answered queries, live chat support, limited phone assistance for basic plans, and 24/7 phone support for higher-tier plans are the same.
Dialpad vs RingCentral: AI Features
Dialpad markets itself as a specialized AI phone system, whereas RingCentral offers no similar features.
Monitor agent performance and use AI speech coaching for better communication skills. Even as a newbie with no experience, with the help of the AI features of Dialpad, you can talk fluently while video conferencing so that your clients receive the help they're looking for.
Whether your team is video conferencing or making inbound or outbound calls, video call Dialpad meetings use AI features for call transcriptions. It cuts down one extra step so your team can focus on other tasks.
This feature also incorporates natural language processing so inbound and outbound calls from around the world can be accommodated professionally. Besides, AI analyzes existing customer data to track customer sentiment so that your sales team can tackle them accordingly.
Dialpad wins in AI Features
There's no competition here. Dialpad is the sole contender that offers advanced features like real-time analytics, customer sentiment tracking, and Real-Time Assist with the help of AI.
Dialpad vs RingCentral: Conclusion
Compared to other business phone systems, Dialpad takes the lead with the quality of calls, per user reviews. RingCentral is a winner in terms of features and integrations. As for flexibility and mobility, both are head to head.
Overall, Dialpad is perfectly suited for small businesses, whereas RingCentral is ideal for businesses requiring more features, even if that comes at a higher price.