In contrast to the copper wires of the PSTN, voice over Internet Protocol (VoIP) is a technology that delivers voice calls and other business data over the Internet.
With functionalities like video conferencing, call routing systems, and business process automation, VoIP telephony is becoming increasingly popular as they offer many advantages over traditional phone systems.
For example, VoIP phone systems include the ability to make calls without line-of-sight, the reduction or elimination of call waiting and hold times, and reduced connection costs.
However, VoIP telephone systems also have disadvantages. For example, voice quality can be inferior to traditional telephone service when calls are made from far away locations or during busy periods. Additionally, latency – the time it takes for a speech signal to travel from one end of the network to the other – can affect video calls made using VoIP technology.
This blog explores the pros and cons of VoIP in depth, explaining the benefits and drawbacks of VoIP telephone systems.
Read on to learn more about the advantages and disadvantages of VoIP phone systems, and decide for yourself if you should switch to one of the VoIP phone providers!
Advantages of VoIP Phone Systems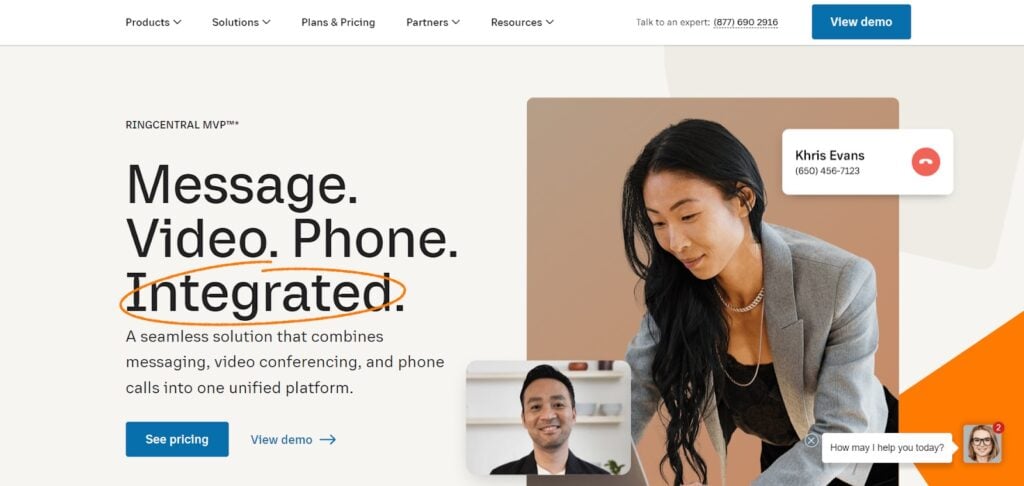 With business VoIP, business owners and home users can enjoy some significant advantages over traditional phone systems.
For business owners, VoIP phone systems are cheaper than traditional phone systems. This is because VoIP technology uses telephone lines instead of landlines, which can save on phone bills.
VoIP technology is also reliable and easy to use, making it a good choice for business and long-distance calls.
Another big benefit for business owners is that VoIP phone services can be used anywhere there is Internet access – even in disaster areas!
A VoIP system is a great choice for home users because they're reliable and easy to use. They're also easier to connect to than traditional phone systems, making them a good choice for people with a hard time with phone lines.
Finally, VoIP systems can be used anywhere there is an Internet connection, which means they're great for people who live in rural or remote areas.
More Affordable
Voice over internet protocol (VoIP) phone systems are much cheaper than traditional landlines. Not only that, but you don't need to rent or buy expensive telephone equipment – all you need is a computer and an internet connection! This makes VoIP ideal for business owners who work remotely. Even better, you can use VoIP for conference calls, which are perfect for businesses requiring multiple participants in a call simultaneously.
Easy to Use
VoIP systems are the perfect choice for businesses that need a reliable phone system but don't have the time or bandwidth to set up traditional landlines or mobile phones. They're incredibly easy to use, with setup taking minutes and no monthly fees – making them affordable too. VoIP systems can be used with any type of phone – landline or mobile– so you can keep your business connected to whichever device people prefer.
No Need for Extra Hardware or Software
There is no need for extra hardware or software when setting up a VoIP – you only need an internet connection and a computer or mobile device.
It Can Be Used With Any Phone Provider
VoIP phone systems can be used with any phone provider – landline, mobile, or VoIP-enabled service. This means you can choose the best call quality and pricing plan for your business.
Good Voice Quality
VoIP can offer better voice quality than traditional systems. Calls can be made anywhere worldwide as long as the Internet connection is stable. This makes it an ideal choice for people who travel frequently or work from different locations.
Disadvantages of VoIP Phone Systems

VoIP phone systems offer advantages over traditional landlines but are not always perfect. For example, they sometimes don't offer the same level of quality as traditional landlines. This can be a problem if you're expecting a lot of calls at once or in a noisy environment. Additionally, callers may not be able to hear you clearly, or your calls may be dropped unexpectedly. If you're ready to switch to a VoIP system, understand the disadvantages first. Then, decide if they're worth the benefits for your needs.
Greater Vulnerability to Hacking
Hackers have become increasingly adept at breaching traditional telephone system security measures. This is especially true for VoIP phone systems connected to the internet in a way that traditional phone systems are not.
This means that anyone with malicious intentions can access your calls and data – even if they don't have direct access to your phone system.
Furthermore, VoIP technology often requires more security than traditional voice telephone networks.
As such, it can be quite costly and time-consuming to implement and maintain robust protection against hacking threats. If you're considering replacing your current voice system with one that uses VoIP technology, be sure to factor in the security risks involved!
Lower Voice Quality Than Traditional Landline Phone Systems
Regarding traditional landline phone systems, users usually experience a clear and steady voice quality. However, this is not always the case with VoIP (Voice over Internet Protocol).
There are three main reasons for this: bandwidth issues, network latency, and jitter.
Bandwidth Issues: With VoIP calls passing through internet protocol rather than telephone cables, there can be bandwidth issues due to congestion on the internet connection used by the caller or recipient. This can lead to muffled voices and disruptions in call quality.
Network latency & Jitter: Calls via VoIP also suffer from network latency and jitter – which means that packets of data traveling across the internet connection can get delayed or distorted, resulting in poor audio quality.
Requires a Broadband Internet Connection
You will need a broadband internet connection to use a business phone system. This is because voice over internet protocol relies on bandwidth to operate effectively. If your connection is low bandwidth, your call quality may be affected.
How to Choose the Right VoIP Phone System for Your Business?
Choosing the right VoIP phone system for your business can be daunting. But don't worry, we're here to help! These systems are easy to set up and use, making them perfect for small businesses that need to keep their business on the go.
In addition, to call routing, call forwarding, and voicemail transcription, most systems also offer a variety of other features. This can include call waiting, call recording, call waiting with audio, caller ID, and call blocking.
Some of the most popular VoIP phone systems on the market include:
How to choose the right VoIP phone system? We'll dive into more details below.
Features to Look For in a VoIP Phone System
When choosing a business phone system, it is important to consider several factors, such as call quality, security, cost, and features. It's also advisable to compare different systems to find the best one for your business needs. Make sure that the VoIP phone system you choose meets your specific requirements – such as having high-quality calls and being secure from cyber-attacks.
How Your Business Will Use the Phone System
There are many ways in which your business can use the phone system. However, some common uses include communicating with clients and customers, handling call inquiries and orders, issuing warnings, or taking emergency calls. Depending on how your business operates and what phone system you decide to use, various features will be necessary.
Some things to take into account when choosing a phone system would be cost-effective administration (e.g., managing billing), scalability (the number of lines supported), quality of service guarantees/support services available, compatibility with other systems in place (email, internet-based sales processes, etc.), ease-of-use for both staff and customers/clients.
Pricing Options for VoIP Systems
When buying a phone system, it's important to consider the different features and pricing options available. There are a lot of systems on the market with various price tags; it can be hard to decide which one is right for you. It's also worth considering system features such as number portability, call quality, voicemail service, etc.
Overview of Best VoIP Providers
Below is a list of the best VoIP providers on the market today.
Nextiva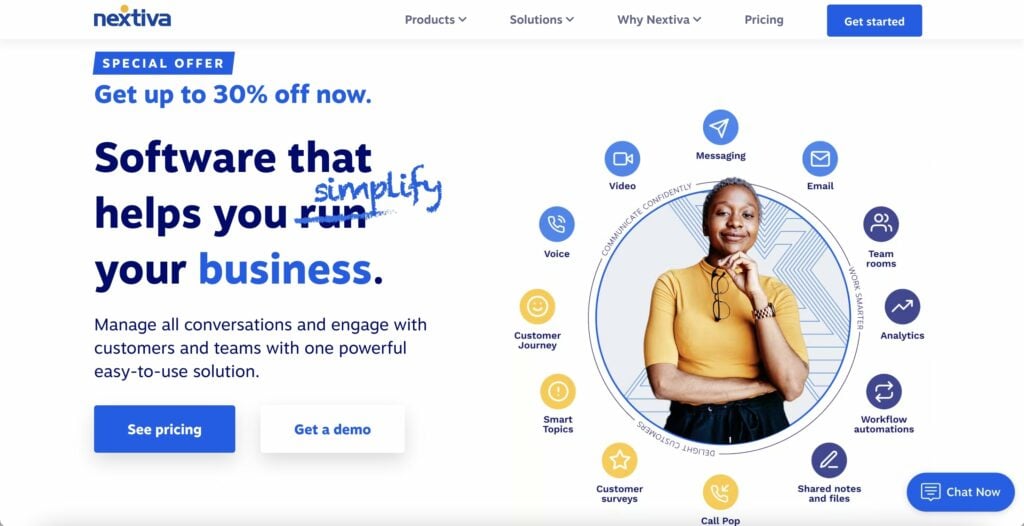 Nextiva is an all-in-one cloud-based VoIP services provider. Nextiva has been in the VoIP market for a while and has built a well-established portfolio of features. Its services span the entire spectrum of video, voice, and messaging. When it comes to VoIP communication, whether you're a solopreneur or a large enterprise Nextiva has you covered.
Nextiva Key Features
Intuitive dashboard with interactive features, including emails, live chats, and texts
Unlimited calls inbound and outbound calls in USA and Canada
Supports both mobile phone and desk phone calls, enhancing connectivity across a wide range of devices
The business phone system has excellent customer service with round-the-clock phone lines, live chats, and email support.
Without a doubt, Nextiva is one of the best VoIP service providers for any business keen on leveraging the benefits of VoIP.
RingCentral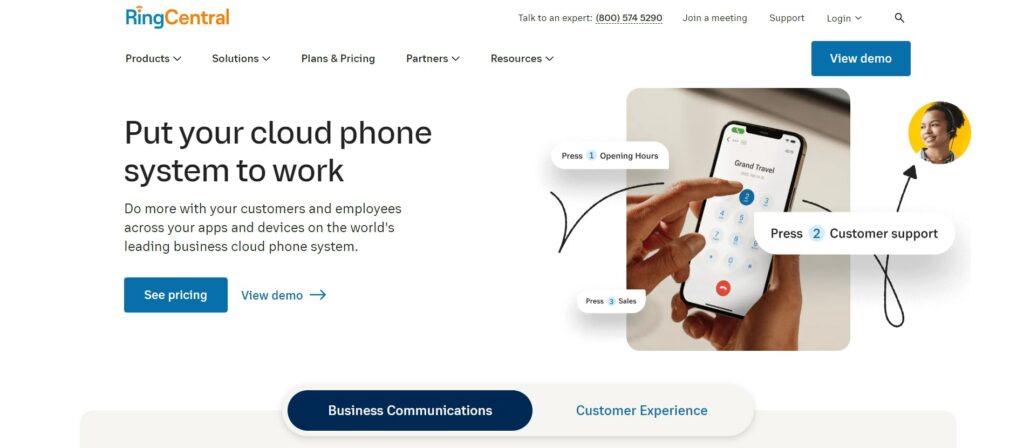 RingCentral is one of the most popular internet phone number providers in the market today. The company offers a robust unified communication solution to businesses touching on a wide range of business needs.
The provider has everything from powerful messaging tools, international calls, and local phone calls to high-quality video conferencing services. Moreover, its unique and powerful suite of features gives it a clear edge for users seeking to reap the maximum benefits of VoIP.
RingCentral Features
Versatile VoIP provider is suitable for small businesses and enterprises looking for the best phone companies to help in scaling their VoIP communication.
Easy-to-use communication tools allow remote teams to make and receive phone calls fast.
Allows seamless integration with all popular business apps, from Zendesk and Slack to Salesforce.
Support superb conference calls capabilities allowing up to 200 meeting participants.
RingCentral is one of the best VoIP service providers, with great VoIP advantages to boost your team's productivity.
Vonage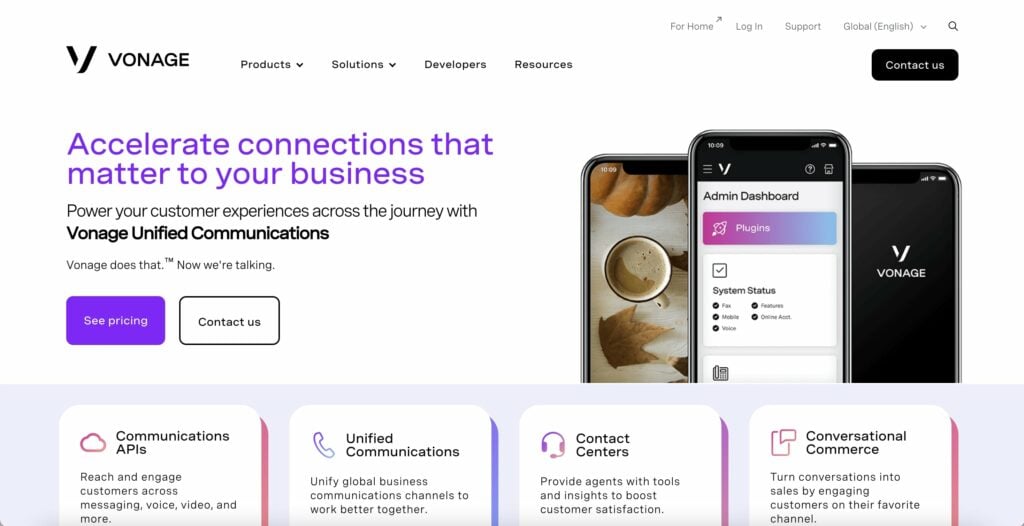 As one of the VoIP service providers, Vonage is s force to reckon with. On its LinkedIn page, the VoIP provider prides itself on making communication flexible, intelligent, and personal. And that is understandable if its portfolio of features is anything to go by. From excellent VoIP call quality and unlimited calls to dedicated phone lines, Vonage is an all-around business call provider.
Vonage Features
Call monitoring capabilities with the capability to join in on conversations or quietly communicate with your customer representatives.
Multilevel auto attendant VoIP capabilities to meet business communication needs.
Supports simultaneous phone line ringing for up to five phone numbers to reduce the probability of missing calls
Easy and quick transfers of calls from mobile phone to desk phone to conveniently suit business phone communication needs.
The VoIP services provider packs powerful features. It is a great option to shift from the traditional phone system.
Ooma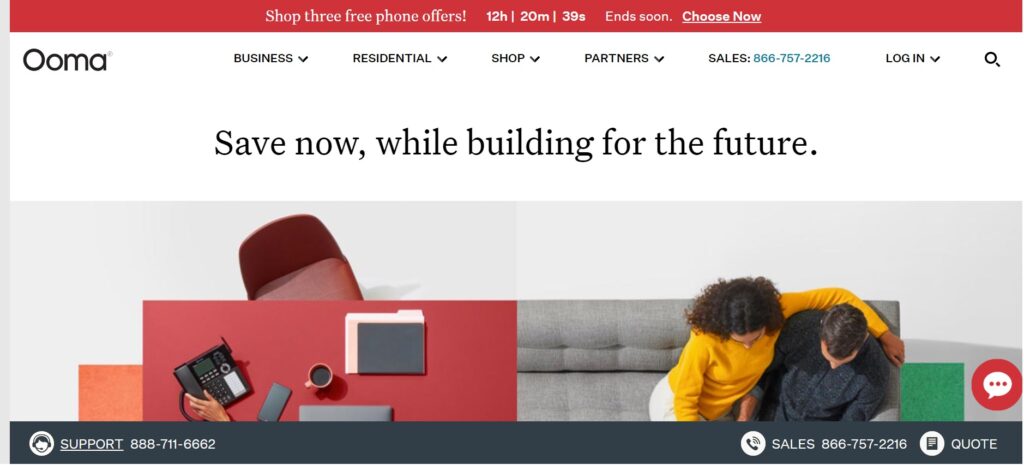 Ooma is an innovative VoIP system that offers all-encompassing business communication solutions. Ooma is based on an IP network that allows for free domestic calls, affordable international calls, and many other VoIP advantages unavailable in traditional phone lines. One of the unique, strong points of Ooma, compared with other VoIP phones, is its versatility and convenience. You do not need advanced computer systems; just regular desk phones or android phones and a router you're good to go!
Ooma features
Enhanced virtual auto attendants for call routing and caller messaging management to avoid losing important business calls.
Supports mobile phones apps integrations to enable remote teams to keep connected even when out of the office.
Unlimited calling in the US, Canada, Mexico, and Puerto Rico
Supports emergency services calls through 911.
Ooma is a VoIP service with robust features offering many VoIP advantages for individuals and large enterprises.
Dialpad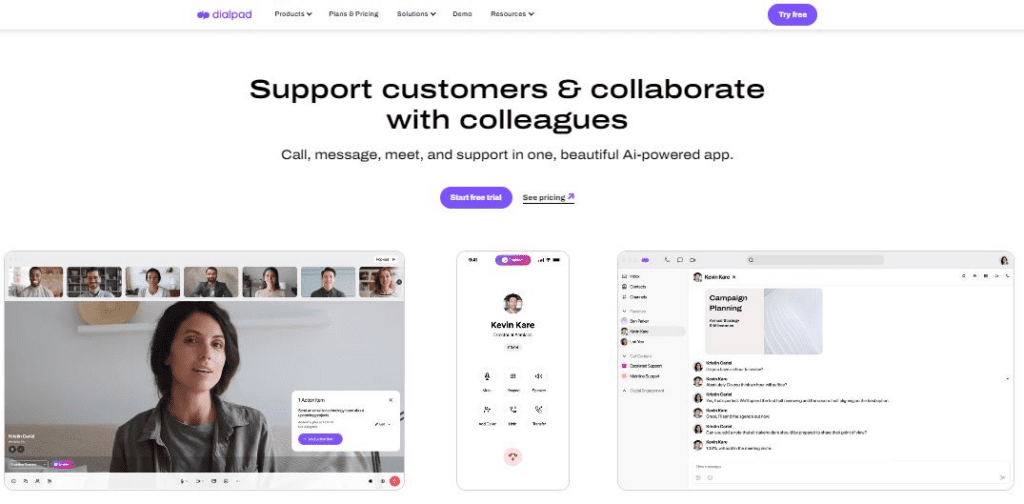 Dialpad is one of the most innovative IP phones in the market. Dialpad boasts AI-powered cloud communication features that are unlike most in the IP telephony market to keep teams in touch and boost productivity.
It consists of a three-in-one integrated capability for an all-around communication experience; Dialpad Talk, Dialpad Contact Center, and Dialpad Sell. The three products support calls, contact center management, and automated dialing.
Dialpad features
Supports VoIP encryption for voice data packets to prevent call security breaches.
Real-time analytics and call data reporting for up-to-date tracking of businesses communication needs
Business-to-cell phone line to handle phone calls even when users are out of the office.
Unlimited local calls and long-distance calls to the US and Canada
8×8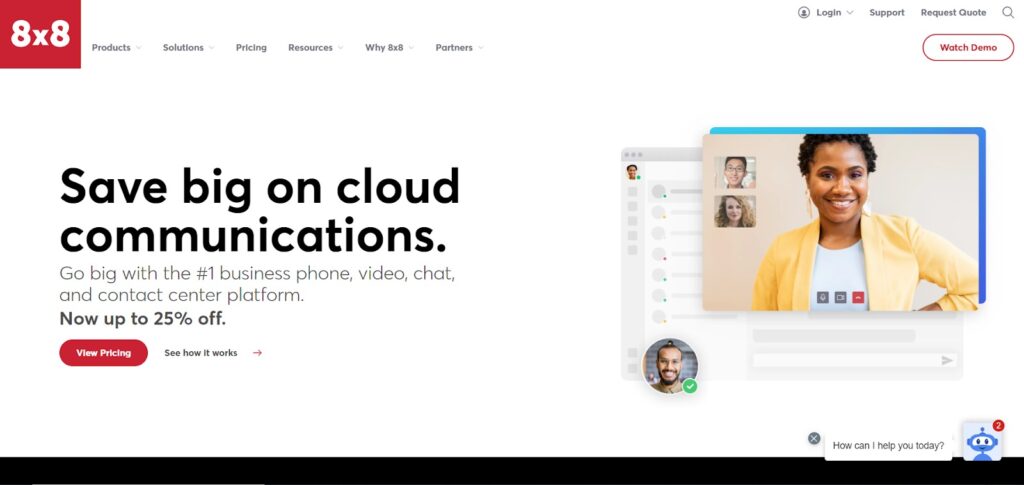 8×8 is a VoIP service system offering unified communication as a service(UCaaS). The VoIP call services provider has proven its mettle in the market for some years by offering a wide range of VoIP call services. Some of its major offerings are voice calls, video conferencing, and chats. Courtesy of its exceptional services, 8×8 has experienced tremendous growth with its current business subscriber base surpassing over 2 million users.
8×8 features
Voice intelligent(VI) capabilities for calls analysis and transcription for accurate communication-based decisions
Offers a wide range of communication APIs to facilitate seamless communication through multiple channels; video, chats, SMS, and more
Easily integrates with the most widely used, best CRM software
Supports effective call distribution to facilitate flawless customer communication and flow of business communication.
Frequently Asked Questions
Is VoIP safe to use?
There is no one-size-fits-all answer to this question, as the safety and security of VoIP calls depend on the specific service and provider you are using.

However, some general points that could be helpful when assessing the safety and security of VoIP calls include the following:

1. Always use a security protocol like Two-Factor Authentication (2FA) to protect your data and phone account from unauthorized access.
2. Make sure your phone number is registered with a reliable provider and protected with caller ID blocking features.
3. VoIP calls can be vulnerable to hacking if data protection measures are not considered. Make sure to encrypt all data transmissions and store passwords securely.
Conclusion
VoIP phone systems have many advantages over traditional telephones. They are often more affordable, have international calling capabilities, and are more reliable in heavy traffic or during peak hours of use.
However, they can also be unreliable and slow down in heavy traffic or during peak hours of use. Cyber-attacks are also becoming more common, so it's important to be aware of potential threats and take steps to protect yourself. Ultimately, it's important to weigh the pros and cons of VoIP phone systems before deciding.