Nowadays, more and more people are switching to VoIP services to keep their communication costs down. Hotel and motel operators are no exception, as they know VoIP is the most cost-effective way to keep their guests happy.
A VoIP phone system can help your hotel attract more guests because it allows guests to call room service or book a limousine right from their room – without having to pick up the phone and make a call. On top of that, the VoIP system lets you seamlessly transfer calls to any department in the hotel anytime you need to reach someone, whether it's a receptionist at the front desk or the housekeeping staff in the cleaning room. But which provider should you choose?
In this article, we look at some of the best hotel phone system providers and VoIP services available in 2023 so that you can make an informed decision and choose the right provider for your hotel.
What Are Hotel Phone Systems?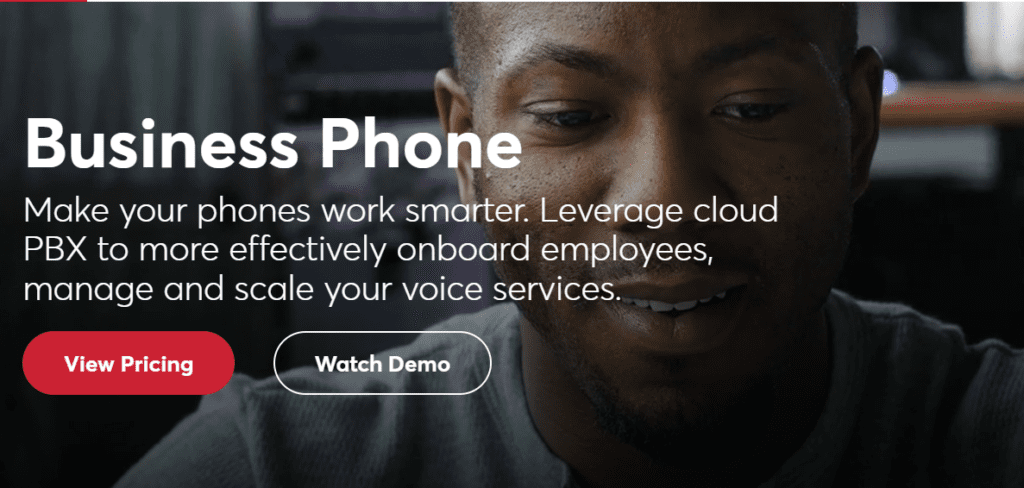 Hotel phone systems provide users access to phones and landlines throughout the property. These phone lines can make local, long-distance, and international calls.
Each phone line typically has a designated extension number. For example, there might be a line for the front desk and another for the valet service. You can also use the line to broadcast emergency messages to other phones on the property.
Of course, the hotel phone system is more than just telephone access; it also provides a variety of useful services to your guests, such as in-room calls, voicemail, automatic wake-up calls, and conference facilities. This allows your guests to stay connected at the hotel and provide them with the needed services.
On the other hand, hotel staff can use the phone system to make internal calls to each other and communicate with each other more efficiently. One of the best things about having a VoIP phone system is that you do not have to pay expensive telephone bills each month. Instead, all your calls are routed through the Internet, making them much cheaper than standard telephone lines.
So if you're looking for a reliable, affordable, and easy-to-use hotel phone system, you've come to the right place!
How To Choose The Best Phone System For Hotels?
When choosing the best phone system for hotels, there are several factors to consider. These include the size of the property, the number of guests that use the system, and the amount of equipment required to set up the system.
It's important to choose the right system for your particular needs and size your property accordingly. It's also important to choose a reliable company that you can rely on to provide you with reliable service and support whenever you need it.
Best VoIP Providers For Hotels Features
When choosing a hotel phone system, it's important to consider the different features offered by different providers to find the one that's right for you. Most providers, including the following, offer some common VoIP features:
Call waiting
This feature allows you to answer an incoming call while you're still on the phone. This can prevent you from missing important calls from guests and helps prevent any confusion in communications.
Caller ID
Some phone providers provide caller ID services so you can easily identify incoming callers. This can be especially helpful if a guest has an issue that needs to be resolved over the phone, and you want to ensure that the person contacting you is the person who is supposed to be contacting them.
Voicemail
This feature allows you to record and store outgoing messages for later retrieval. It also gives you a convenient way to keep a record of important messages so that you don't have to try to remember who said what or when you received a particular message.
Conference call
This feature allows several people to participate in a single phone call at the same time. This is a great way to conduct a conference call with your guests or other staff without worrying about dealing with multiple lines.
Automatic dialer
This feature allows you to use a pre-programmed list of numbers to call your guests automatically. This is a useful feature if you're trying to contact many people regularly. For example, wake-up alarms can be set up that will automatically ring all rooms on a particular floor at a specific time each morning.
These basic features cover the majority of needs for most hotels, but certain advanced features might also be worth considering depending on your property's specific needs.
Best Hotel Phone Systems
Here is a list of some of the best VoIP systems available to the hospitality industry:
Nextiva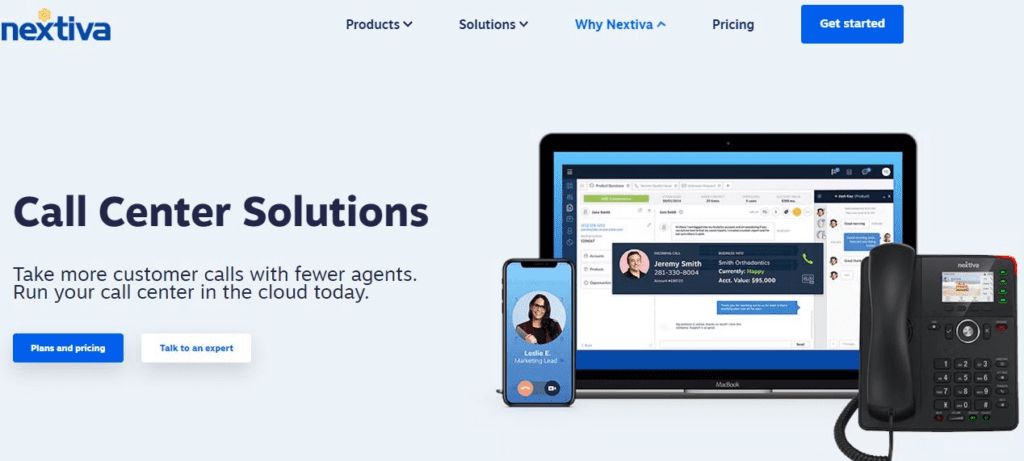 Nextiva is a cloud-based VoIP system. It offers a combination of communication channels, including messaging, voice calls, and video conferencing. This single platform is enough to manage customers and internal teams, including 1 to over 100 employees.
It is software that allows room for businesses to grow. Start with a basic plan and upgrade as you expand without shifting to an entirely new telephone system.
Nextiva Features
Along with free messaging, video, and audio calling, Nextiva offers unlimited faxing, texting, and calling too
The desktop app and mobile app are user-friendly, with all features of decent phone systems available on both
Nextiva allows screen sharing with messaging and audio calls in case your team is not available for video conferencing
Access live call data, including call history, call logs, and custom reports
Integrate your hotel phone system with business apps, including Google, Microsoft, CRM, and more
Nextiva Pros
Nextiva is a great hotel PBX phone system with its toll-free number and virtual receptionist feature
The 24/7 customer support ensures your hotel phone system providers are just one call away
With 3 different price plans, you can choose the right hotel phone system plan as per your requirements without paying extra for features you don't need
Nextiva guarantees a secure call system that encrypts your client's conversations and data
Nextiva Cons
The most basic plan doesn't include video conferencing and SMS on the mobile app so the hotel staff is not always connected
If your business requires advanced integrations, you have to opt for at least the second-tier plan
Nextiva Pricing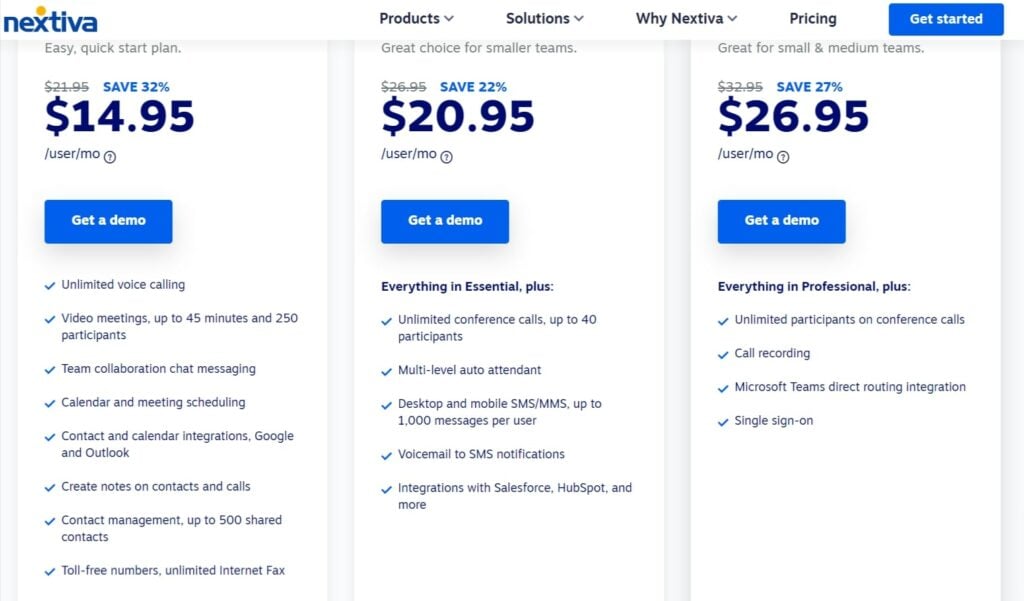 Essential: $21.95 per user/month. Enjoy basic Google and Outlook integrations with unlimited voice calling, 45 minutes of video calling with 250 participants, and contact management for up to 500 contacts. You also get toll-free number options
Professional: $26.95 per user/month. Besides what you get in the Essential plan, you also get unlimited conference calls with up to 40 participants. 1000 SMS and MMS are offered per user on desktop and mobile apps. Multi-level auto attendant, more integration options, and voicemail to SMS notifications are also included in this plan
Enterprise: $36.95 per user/month. This plan includes everything from the previous plans with an addition of call recording, unlimited members in video conferencing, single sign-on, and direct integration with Microsoft teams
RingCentral
RingCentral is among hotel phone systems providers that pride themselves in being an all-in-one platform. The VoIP system provides all kinds of communication channels, from managing guest calls to hosting virtual meetings with employees.
Unlike traditional hotel phone systems, RingCentral lets hotel businesses operate from mobile locations. This PBX phone system is designed specifically for hotel businesses operating on a small scale.
RingCentral Features
Similar to Zoom, the cloud phone system stores all data online and keeps your employees connected no matter where they are physically
Team messaging and HD video meetings keep your team well-connected. AI meeting summaries, live transcriptions, file sharing, and whiteboard features are available
Along with pre-made app integrations, custom integrations are also available
Toll-free numbers are available for use as your official business phone number
Live call activity and other communication analytics are available
RingCentral Pros
Enjoy mobility as all features can be accessed from anywhere, on any device. That way, employees of small hotels are always connected to the hotel guests
Configure the caller ID feature so even after shift changes, the front desk employees of any hotel business have a record of the call history and complaints
The auto-receptionist feature ensures no guest calls are ignored
The real-time analytical reports allow relevant people to keep the hotel phone system running smoothly
RingCentral Cons
Some hotel businesses have complained of poor customer service
There are a few other VoIP providers that offer similar features at lower prices
RingCentral Pricing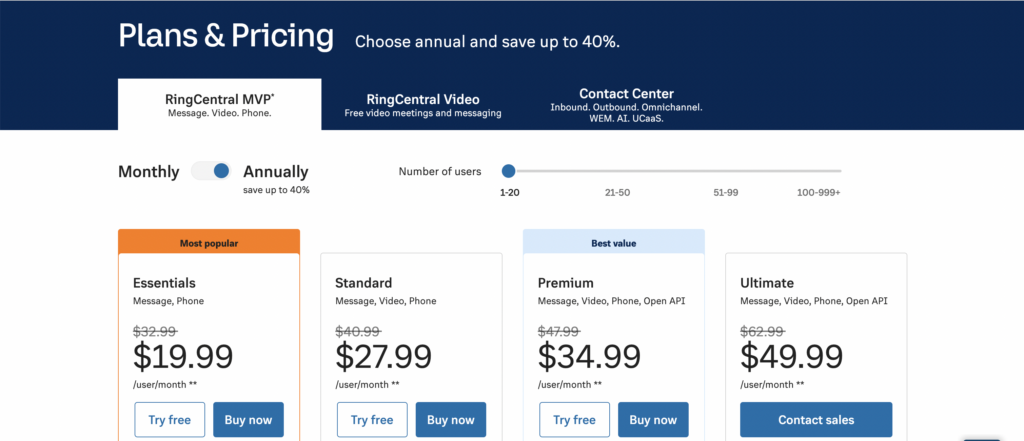 The following price plans are for annual billing. You can also opt for monthly payments.
Essentials: $19.99 per user/month. This plan includes phone and SMS services for hotel guests. The team messaging feature is perfect for small hotels with less than 20 hotel employees
Standard: $27.99 per user/month. Enjoy audio calls, messaging, and video services for clients and hotel staff. Fax, analytic suite, and call menu are additional features of this plan
Premium: $34.99 per user/month. Along with everything offered in the Standard plan, the Premium plan includes auto call recording of incoming calls, access from multiple sites, and numerous custom integrations that only the best hotel phone systems provide
Ultimate: $49.99 per user/month. This plan of the VoIP system offers all features of the previous ones along with device status alerts, advanced reporting, and unlimited storage
Zoom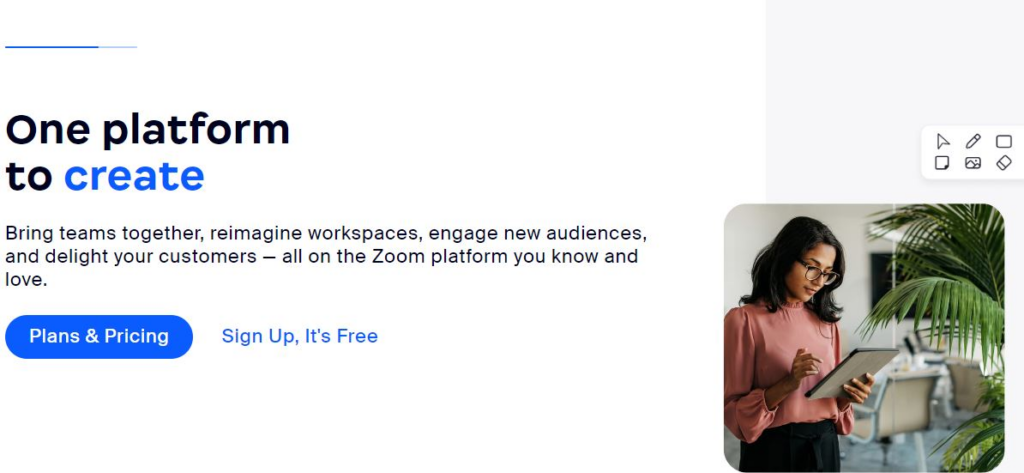 Zoom is a platform where people connect and communicate ideas among various video conferencing platforms. It redefines collaborative workspaces and provides easier means to conduct meetings. This platform provides virtual meeting spaces for educational and professional purposes. Thus, it aids the student community and businesses.
Zoom offers plans for all kinds of hotel businesses.
Zoom Features
Zoom provides customers with space for virtual meetings to connect with anyone anywhere in the world
Attendees can collaborate through the team chat feature available in meetings and brainstorm ideas using the Zoom Whiteboard
Users can access Zoom through mobile and desktop applications. It's also accessible via its website
Users can host community events, online webinars, and conference rooms
Zoom offers end-to-end encryption with options to schedule meetings
Zoom Pros
With Zoom, you can host conference calls with hotel guests and team members
You can choose between 4 pricing plans based on the requirements of your hotel business
Admins can access call recordings easily to double-check that customer queries have been resolved timely
The Call Delegation feature distributes the calls between available lines, so no call goes unanswered
Zoom Cons
Zoom is an efficient online phone system to keep teams connected but in terms of features that a hotel needs, it lacks variety.
To use the software, hotel employees need to download the app. Zoom doesn't operate on a browser.
Zoom Pricing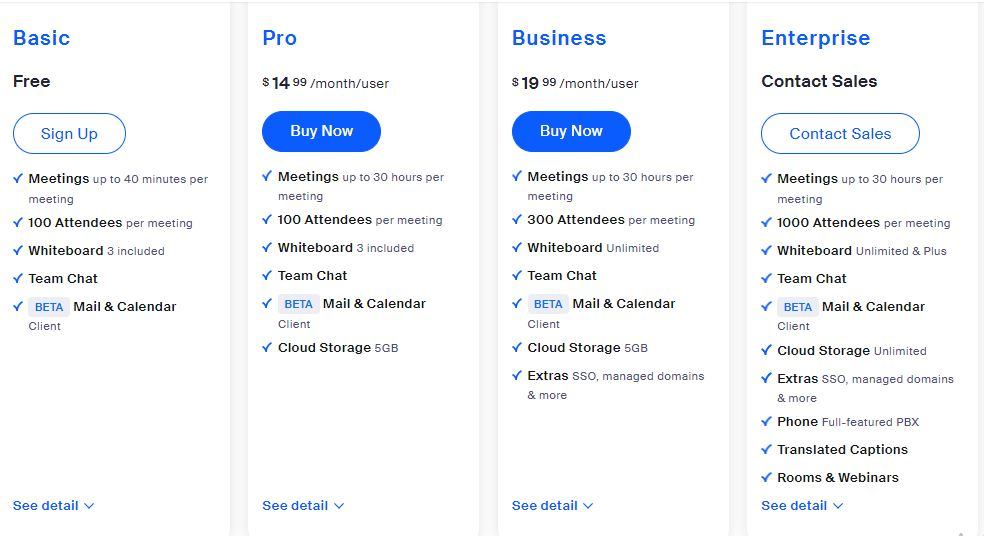 Basic: Free. Hold meetings with up to 100 attendees (every meeting lasts 40 minutes). Besides, users have access to team chats and 3 whiteboards
Pro: $14.99 per month. With all the features of the basic plan, the Zoom Pro plan has no time limit for meetings and provides 5 GB of cloud storage for recordings
Business: $19.99 per month. The Zoom Business Plan includes all features mentioned above, with the number of attendees increased to 300 and an unlimited number of whiteboards to use
Zoom offers additional subscriptions for events at $690 per year/license and webinars at $890 per year/license with up to 500 attendees
Vonage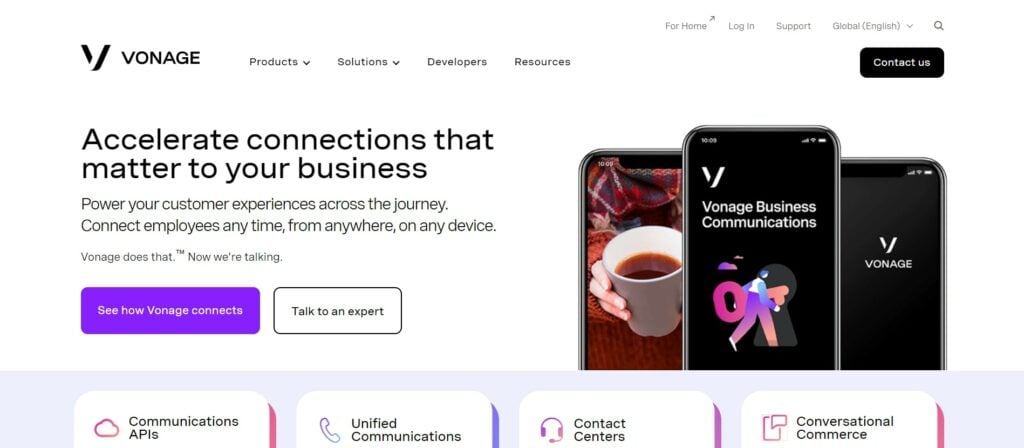 Vonage is among hospitality phone systems that have been around for decades. It's a VoIP system developed by Ericsson, a telecommunications company that needs no introduction. This hotel phone system advertises itself as a unified communications provider with contact centers and APIs.
It's on the list of ideal phone systems for scalable hotel businesses. A small business in the hotel industry targeting a vast future should consider Vonage.
Vonage Features
Voice calls, video calls, SMS, and messaging, along with web conferencing, are part of the VoIP services of Vonage
Conference calling between team members has never been easier than with Vonage's Communication APIs
Desktop and mobile applications offer all call and messaging features. The desktop app includes integrations
You can control your entire hotel phone system from anywhere as long as you can access the Admin Portal
The UCaaS features are easy to set up and use
Vonage Pros
The "Call Group" feature rings multiple hotel phones connected to the dialed extension. This ensures that the hotel staff doesn't miss any calls from guest rooms
Vonage offers desk phones, which are necessary for a hotel business that receives a high volume of calls
Unlimited calling, SMS, and team messaging allow unrestricted customer and team communication
To make sure your hotel phone system works 24/7, Vonage guarantees 99.999% uptime
It may not be of great value in the hospitality industry or as a property management system, but Vonage is the only HIPAA-compliant VoIP provider
Vonage Cons
Unlike most hospitality phone systems, Vonage doesn't offer features like auto-attendant, toll-free number, and voicemail-to-text in its plans to offer the most affordable price possible. Although these features are available as extras, they do end up being pricier than if they came as part of the plan
The video conferencing features are not as advanced as those of some competitor phone systems in the same price range
Vonage Pricing

Mobile: $19.99 per month/line. Enjoy unlimited calls, SMS, web conferencing, and the Vonage App Center. All features are available on mobile as well as desktop applications
Premium: $29.99 per month/line. Includes unlimited video conferencing for up to 100 participants. Multi-level virtual receptionists, desk phones, and CRM integrations are included in this plan
Advanced: $39.99 per month/line. This plan offers maximum productivity. On-demand call recording is available for up to 15 hours. Visual voicemail and ring groups are included in the price
Ooma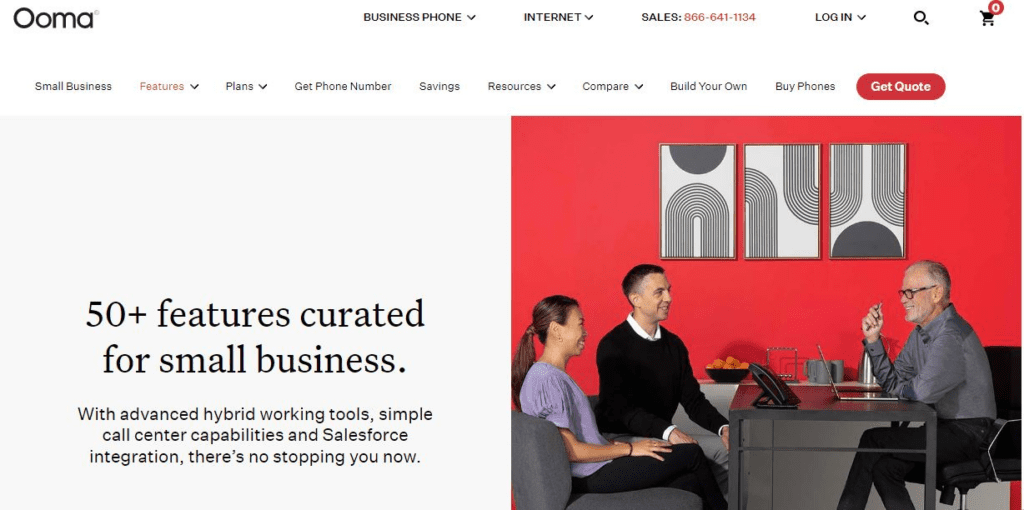 Ooma is a telecommunications company. It's also a VoIP provider offering all the basics you would expect from decent VoIP phone systems. There's a separate phone system designed specifically for small businesses among the many services it offers.
In the hotel industry, small businesses that are low on staff will love the automated features offered by Ooma.
Ooma Features
It's a cloud hotel phone system offering unlimited calling with call recording, call forwarding, virtual receptionist, web conferencing, and ring groups
Choose between free local numbers and toll-free numbers
International calling rates are affordable – with access to over 200 countries
Virtual faxing keeps you in touch with your team globally
HD audio promises high-quality calls
Ooma Pros
If your employees own mobile phones, they'll always be connected to the VoIP phone systems of your hotel with the Ooma mobile app
Even if hotel staff is unavailable, pre-scheduled wake-up calls on individual room phones are the kind of services that will make your hotel business stand out with Ooma
Advanced features such as the virtual receptionist and ring groups are available in the basic plan
Unlike traditional phone systems, Ooma requires no hardware so your small hotel business can save on that expense
Ooma Cons
There's no uptime guarantee
Only the highest-paid plan includes CRM integrations
The Essentials Plan is limited to a mobile app only. The desktop app is available in the Pro and Pro Plus
Ooma Pricing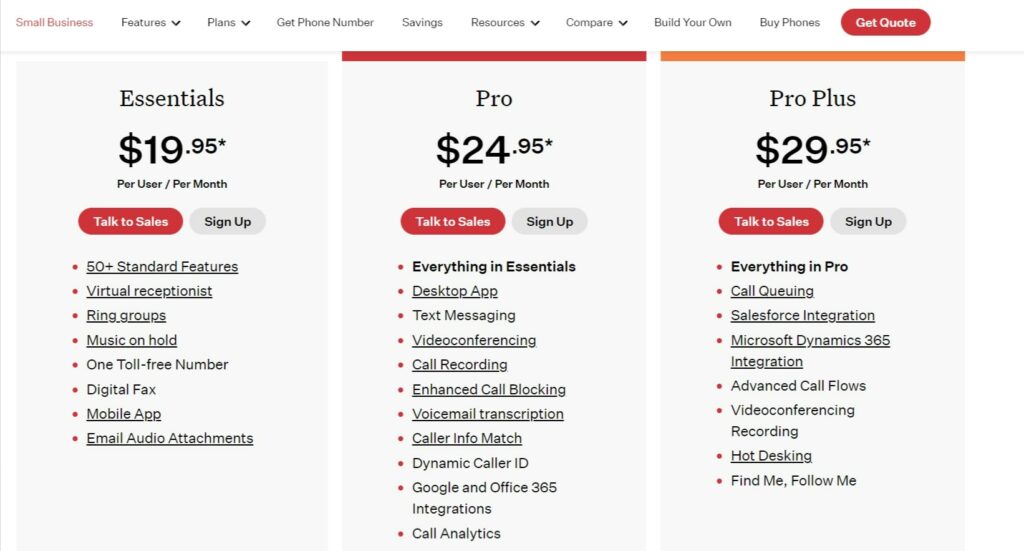 Essentials: $19.95 per user/month. The basic call, video, and messaging are topped with a virtual receptionist, music on hold, ring groups, one toll-free number, and more than 50 other features
Pro: $24.95 per user/month. This plan offers call recording, call blocking, dynamic caller ID, video conferencing, voicemail transcription, and call analytics
Pro Plus: $29.95 per user/month. With a small bump in price, this plan includes advanced integrations, so external calls won't be an issue. Call queuing, video conference recording, and Hot Desking are additional features you'll get in this plan
8×8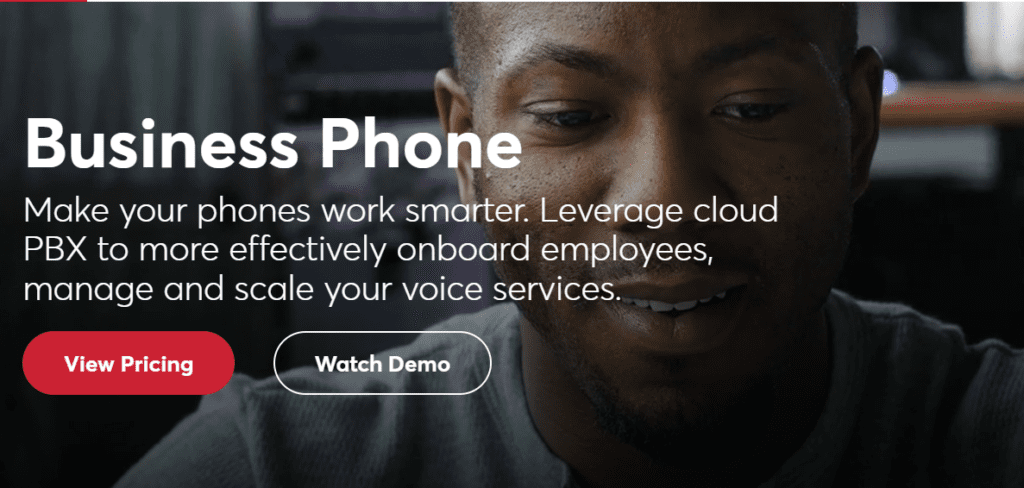 There are numerous VoIP providers on the market, but 8×8 stands out for its quality of service at rather low prices. This hotel phone system provider is newer but offers all the unified communication, contact center, video, voice, and messaging features you expect from a telecommunication company.
Users rate 8×8 as one of the best PBX VoIP phone systems for small hotels requiring affordable quality service.
8×8 Features
8×8 offers an auto-dialer feature. Even if hotel staff is unavailable, you can schedule automatic calls to guest rooms
The auto-attendant feature is ideal for hotel startups that are short on call attendants
You can port numbers if you're shifting from another phone system to 8×8. This way, you won't have to communicate new contact details to your potential hotel guests
Get started with 8×8 by simply downloading the app. No need to invest in new hardware
Unlimited outbound calls and cheap international call rates make it ideal for hotels with international branches
8×8 Pros
Initiate unlimited outbound calls. The basic plan with these hotel phone systems includes calls to US and Canada.
The 30-day free trial for the Express plan lets you try out the quality of the service before you commit to the long-term.
International calling rates are affordable.
All plans are priced reasonably without compromising any major features.
8×8 Cons
Users have complained of inconsistent customer support from the 8×8 team
The lack of CRM integrations in the Express and X2 plans may force you to pay for the highest-paid plan
8×8 Pricing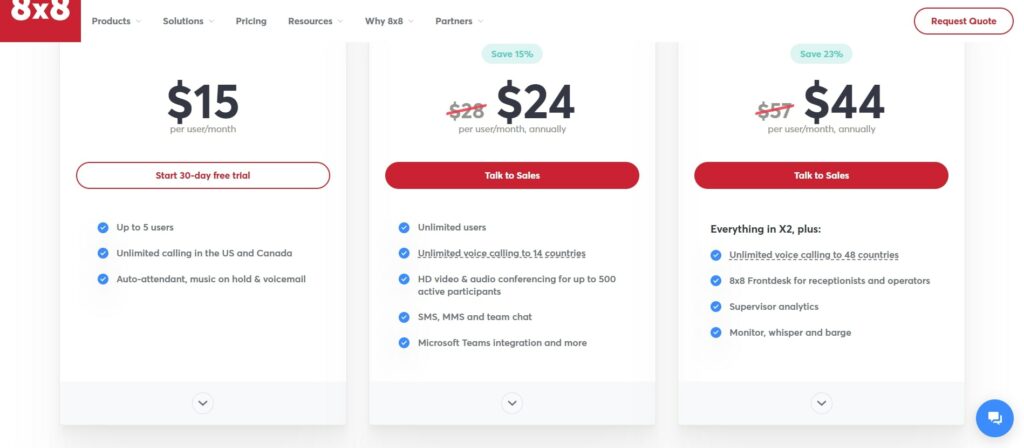 For the Express plan, you can only pay monthly. The other two plans offer annual deals in which you have to pay monthly but subscribing for the whole year gets you a discount.
Express: $15 per user/month. Basic calling and messaging are available for 5 users. Auto-attendant, music on hold, and voicemail features are included. This plan offers unlimited calls to US and Canada
X2: $24 per user/month. Get the Express features with unlimited users. Audio and video conferencing are limited to 500 participants. This plan includes unlimited international calling to 14 countries and 24/7 customer support, Microsoft integrations, call queueing, and more
X4: $44 per user/month. You can mix and match features to customize the perfect plan for your business. Speech analytics and CRM integrations are the most prominent feature you get along with everything from the other two plans
Dialpad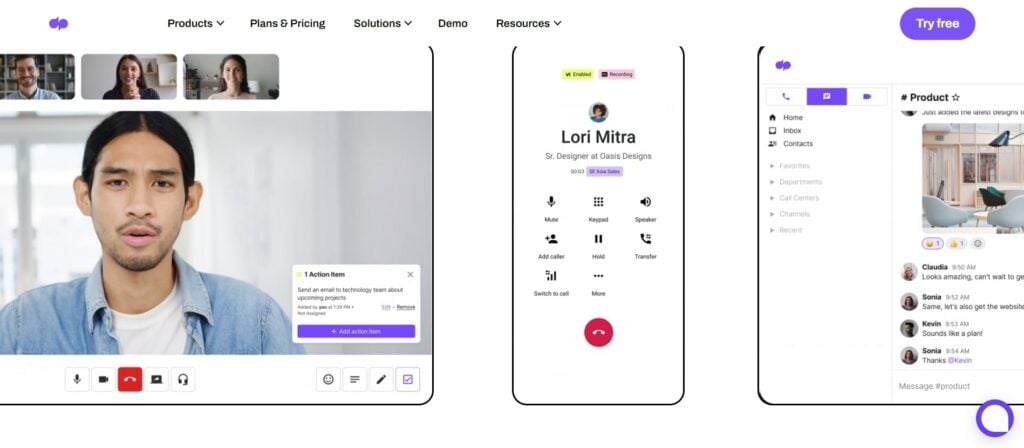 Dialpad is an all-in-one platform for customer and team communications. It advertises its AI features since they add to the efficiency of the software. The modern interface incorporates easy mobile communication along with on-site phone systems.
It's a truly versatile system that's just as budget-friendly for small businesses as efficient for large businesses. The plans offer various feature options and price ranges to suit your needs accordingly.
Dialpad Features
Voice Intelligence transcribes calls in real-time
Unlimited calling, messaging, call forwarding, and call hold features are included in all the plans
Call Flip lets you transfer calls from mobile to desktop or vice versa
AI self-service customer assistance is offered
Mobile and desktop applications are available. However, meetings can be conducted from the browser too
Dialpad Pros
With AI features, everything from outbound sales to call transcriptions is readily available for you to analyze while conducting hotel business operations
With AI and VI, your teams are always prepared to handle customer calls and initiate sales pitches to attract and retain current and potential hotel guests
Virtual assistant and auto-attendant features are ideal for hotel businesses that receive a lot of calls
The call management features automatically prioritize calls that are urgent or from VIP guest rooms as per your requirements
Dialpad Cons
To get CRM and SSO integrations, you have to buy the second or third-tier plan
Customer support is limited to 5 days only with the basic plan
Only 10 participants can attend online meetings, even in the Enterprise Plan
Dialpad Pricing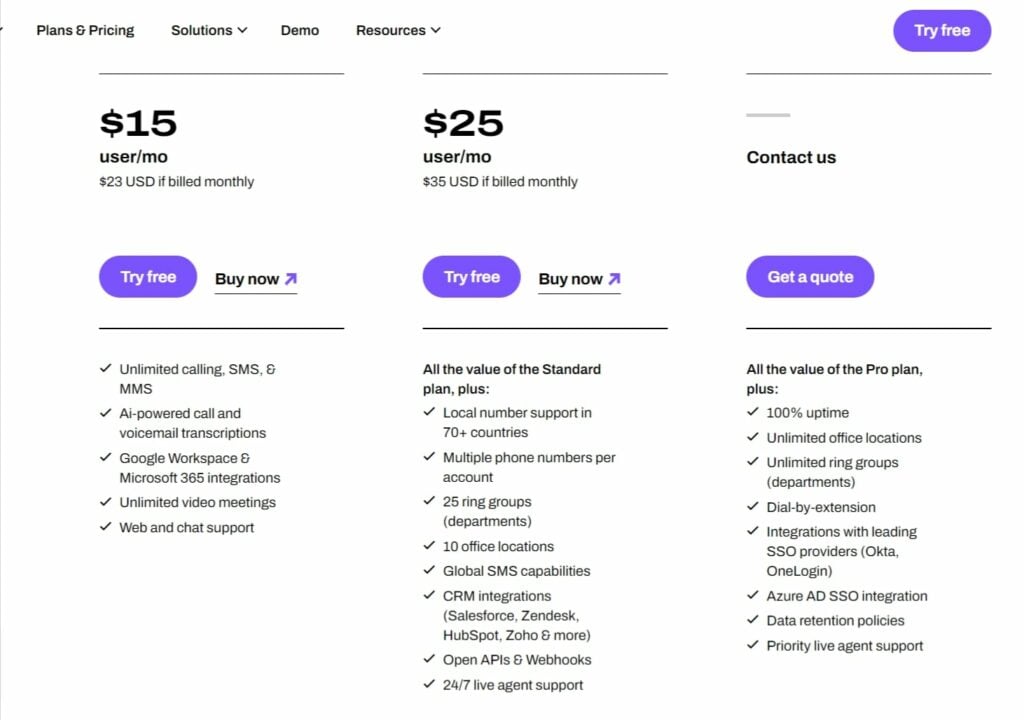 The following prices are for annual billing. You can choose monthly plans too.
Standard: $15 per user/month. You get unlimited calls, SMS, and MMS in this plan. Google and Microsoft integrations will keep your team connected. AI calls, and voicemail transcriptions are available.
Pro: $25 per user/month. Get multiple phone numbers for each user. Local and toll-free numbers are available that can access 70+ countries. 25 ring groups, unlimited messaging, five-hour meetings with 10 participants, and CRM integrations are part of this plan
Enterprise: Price varies on the features you choose. This plan is extremely versatile. Choose the most useful features from the long list so that you only have to pay for what you use. 100% uptime, priority customer support, SSO integrations, unlimited ring groups, and unlimited office locations are some of the many facilities you can enjoy in this plan
GoTo Connect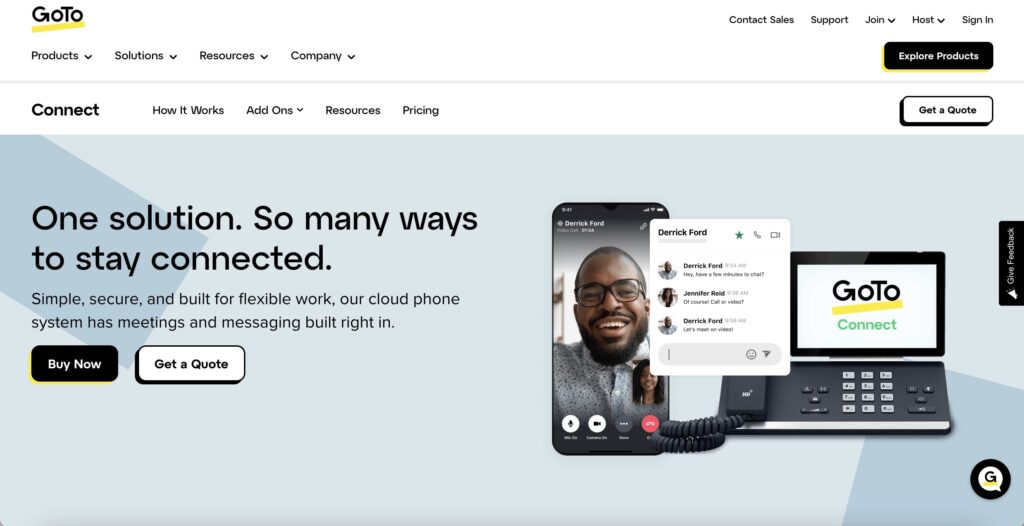 GoTo Connect is a VoIP provider designed for remote teams. With the option of staying connected to customers and employees through calls, video, and SMS, GoTo Connect offers an easy setup. Like you'd expect from any other phone system, this hotel phone system allows you to provide unmatched customer support for your hotel guests.
The easy usage and quality features make GoTo Connect great for small businesses. Where the workforce is limited, this phone system will help to keep things under control.
GoTo Connect Features
Team meetings are convenient. Join from any device without the need for PINs or codes.
Real-time call analytics are readily updated.
Call forwarding, smart call routing, and call hold features are included in all plans.
Easily integrate Google, Microsoft, Salesforce, and other apps with the VoIP system.
Share screens during HD team video conferencing.
GoTo Connect Pros
The hotel room phones are also VoIP phones, so unlimited calling is available in both ways
Call forwarding ensures that your hotel guests are redirected to the right department so that there's no complaint in terms of customer support
24/7 customer service ensures your phone system is always running smoothly
Everything from calls to messages to the contact center is managed from a single portal. Regardless of how small your team is, as long as you have access to the Admin Portal on any device, your hotel PBX system is under control
GoTo Connect Cons
The plans are pricier than what competitors are offering. That may be out of budget for a small business
International and toll-free number calls are charged extra by the minute in the basic plan
GoTo Connect Pricing

Basic: $27 per user/month. Enjoy unlimited calling, SMS, call forwarding, call hold, and unlimited extensions. One ring group and one call queue are also offered in this plan. You can choose local, toll-free, or vanity numbers for your business
Standard: $32 per user/month. Everything in the basic plan, alongside free international calls to 50+ countries and 1000 free toll-free number minutes, is also included. Unlimited video meetings can be hosted with up to 150 participants
Premium: $43 per user/month. This plan includes everything from the Standard plan. In addition, you get 5000 free minutes for toll-free calls. This price also offers call analytics, call monitoring, and other advanced cloud center features. The number of participants in video meetings is up to 250
Best Phone Systems for Hotels: Conclusion
Whether you're talking of large or small hotels, the success of a hospitality business majorly depends on customer support and services. You can give your hotel clients the flexibility to use their mobile devices or hotel desk phone (whether to order room service or get information from the front desk).
The era of traditional phone systems is long gone. It's the world of Private Branch Exchange telephone systems now. This comparison of the best hotel phone systems providers will help you opt for the right business phone system that offers unlimited calling, call recording, call forwarding, auto attendant, and everything else your hotel business needs!