Voice over IP (VoIP) is one of the most important technologies in business today. VoIP allows businesses to communicate with customers and employees over the internet, instead of through traditional telephone landlines. VoIP is significantly cheaper than standard phone lines and is much more versatile than traditional phone systems. Unfortunately, most businesses can't justify the expense of a VoIP system on their own. That's where RingCentral and other business phone systems come in.
RingCentral is a popular business communication platform used by businesses of all sizes. It provides many useful features and excellent customer support. However, some businesses are hesitant to invest in RingCentral because it can be very expensive. Luckily, there are many reliable and affordable alternatives to RingCentral that have similar features and support.
In this article, we'll discuss 10 of the best RingCentral alternatives for businesses and organizations of all sizes. We'll also give you a quick comparison of each provider to help you decide which is right for you.
Why RingCentral?
Irrespective of the size of the business you operate – small or large, being able to get and stay in touch with customers, teammates, or even business prospects is vital. To achieve this, however, need the right communication solution, which is where VoIP phone systems come into question.
When searching for an effective phone service, one name that'll certainly come up is RingCentral. It's one of the most dominant in the area. It offers unified communications tools that support team messaging, unlimited calls, unlimited video meetings, unlimited SMS, and much more. Still, not every kind of business will find it the right fit, especially for its lack of unlimited international calling. Small businesses may also find the pricing a little bit on the higher side.
Consequently, we have been scouring the internet for VoIP service substitutes for RingCentral that you might want to consider.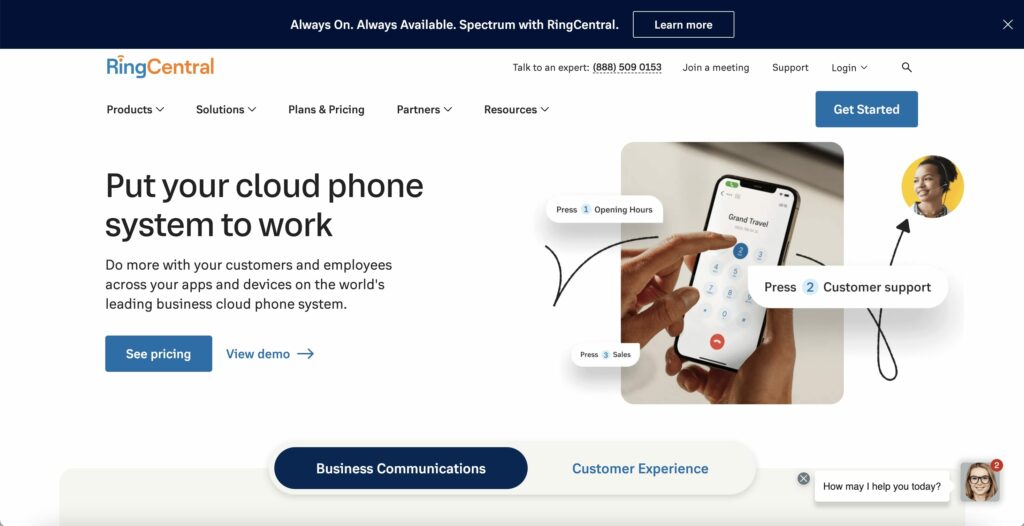 Top RingCentral Alternatives
We've lined up the 10 best RingCentral Alternatives and competitors for your business needs below:
We're now going to review each one of these RingCentral competitors to help you determine which business phone service fits your communications needs best.
Nextiva
Founded in 2006, Nextiva is based in Scottsdale, Arizona. This voice-over-internet protocol currently serves more than 150,000 businesses. As of the start of this decade (2020) Nextiva's revenue was estimated to be $200 million. Its unified communication platform is called NextOS, and it's offered through subscription packages.
This platform provides cloud-based communications solutions such as video conferencing, call analytics/reports, messaging, and more. Listed below are key features that you'll benefit from with NextOS.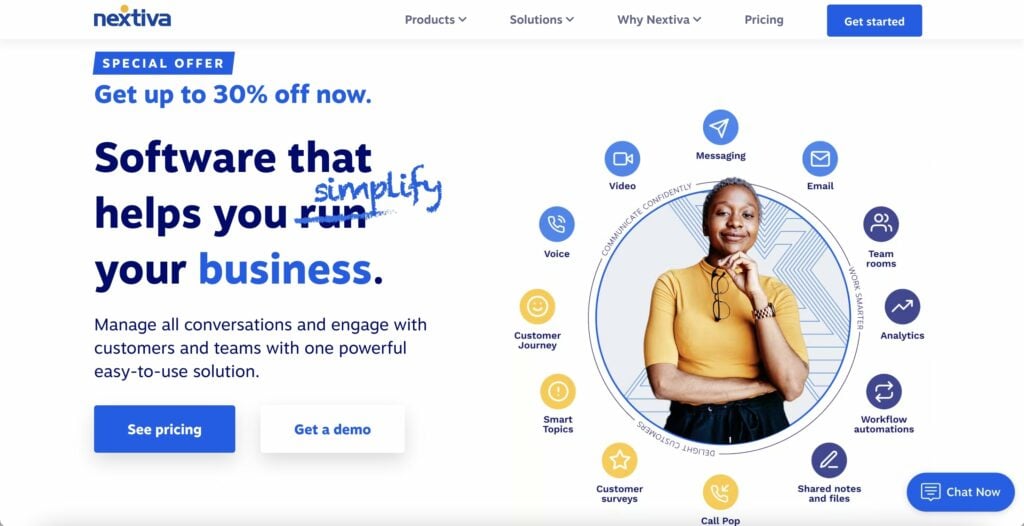 Nextiva Features
Free toll-free number
Auto attendant
Team Chat
Unlimited web conferencing
Conference bridge
Nextiva Pricing: Billed Monthly
Essential: $14.95 per user per month that offers unlimited calling, team collaboration chat messaging, and third-party integrations
Professional: $20.95 per user per month, offering unlimited conference calls, multi-level auto attendant, and voicemail to SMS notifications
Enterprise: $26.95 per user per month gives you unlimited participants on conference calls, and call recording
Nextiva Vs RingCentral: Why Nextiva is Better?
While both VoIP competitors are quite good at providing businesses with useful phone system solutions, their packages differ. For example, RingCentral's base plan doesn't provide any app integrations, but you'll find a few third-party app integrations, such as Outlook, and Google contacts, within Nextiva's base plan. Let's look at other areas in which their packages diverge.
Nextiva Gets an Edge When It Comes To Video Conferencing attendees' Capacity
When comparing these two VoIP service providers on video conferencing, Nextiva comes out on top. RingCentral's video conferencing allows for up to 100 participants and 200 participants with its Standard, and Premium plans consecutively. However, Nextiva allows 250 participants in video conferencing for its most popular plan, which is great for both small and medium team collaboration. As such, this RingCentral alternative is better when it comes to video conferencing attendees' capacity.
Who is Nextiva For?
Nextiva is going to be practical for small businesses that rely heavily on video meetings or communications. This is because it allows a large number of participants on video conferencing across all its plans.
Ooma
Ooma is a good alternative to RingCentral too. This VoIP provider has got packages that are available without a contract. Its lower-level plans offer most of the basic small business phone features for your communication needs. They include call blocking, HD voice, call transfers, mobile and desktop app tools, auto attendant, and more.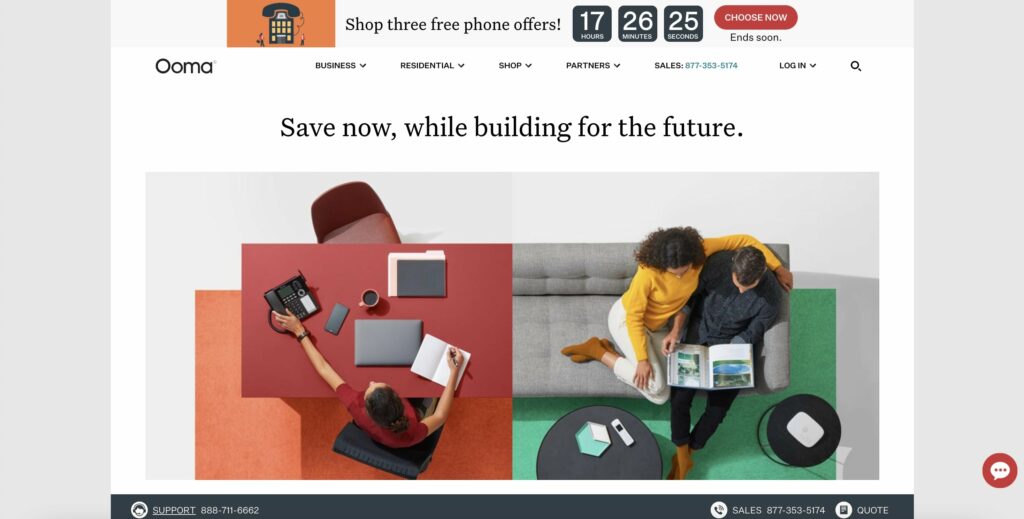 Ooma Features
Call recording
Ring groups
Call forwarding
Voicemail transcriptions
Call analytics
Ooma Pricing: Billed Monthly
Ooma Office Essentials:$19.95 per user per month that offers a local phone number, and unlimited calling to Mexico, the US, Canada, and Puerto Rico
Ooma Office Pro: $24.95 per user per month, offering Ooma meetings, enhanced call blocking, voicemail transcriptions, and more
Ooma Office Pro Plus: $29.95, giving you CRM integrations, hotdesking, call queues, and more
Ooma Vs RingCentral: Why Ooma is Better?
Both of these VoIP business phone competitors offer innovative communications experiences for businesses. However, they're not without their differences in various ways, which is why we're going to compare them, so you are in a better position to decide which one fits your communications needs.
Ooma Wins in the Battle of Scalability
Among the most appealing aspects of the Ooma phone system is how well you're able to scale up at reasonable rates compared to RingCentral, whose most popular plan starts at $27.99. Also, unlike its competitor, Ooma has a free plan with Ooma Telo.
This is quite useful for smaller businesses – it comes with voicemail, caller ID, call return, free virtual calls, and call hold. Basically, as your business grows, it's easier and more affordable to scale up to Ooma Office plans, which serve as UCaas or VoIP communication services.
Who is Ooma For?
Ooma is an ideal choice for small businesses that need reliable VoIP communications solutions at reasonably cheap prices. Also, if you're looking to scale up, this is the RingCentral alternative to consider since it's easy to upgrade plans as your business grows.
Vonage
It was originally launched in 2001, under the name Min-X. Today, Vonage is among the most widely recognized business VoIP service providers on the market. It offers a Vonage cloud communication solution that allows businesses to text, make phone calls, set up video meetings, and more. Additionally, their desktop and mobile app features help you integrate all communication tools for you to run your business efficiently.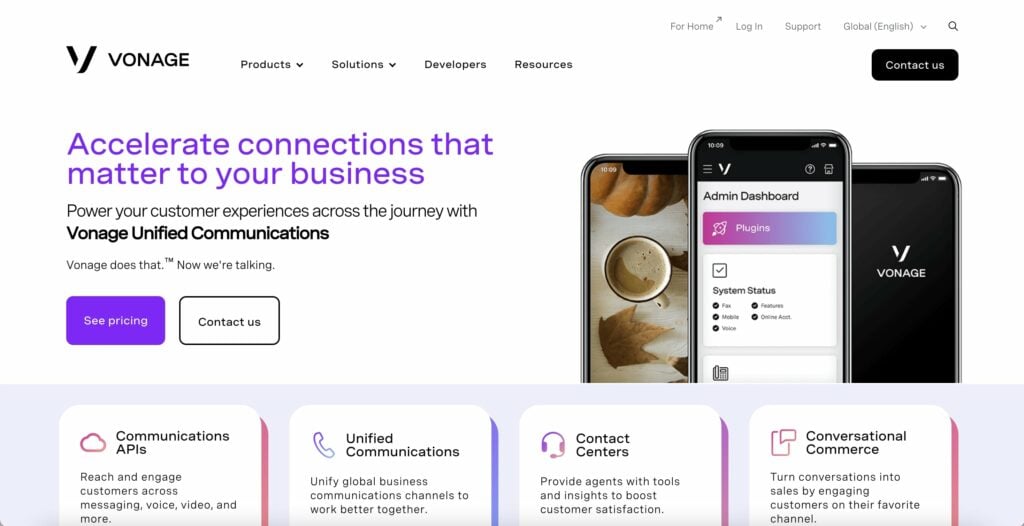 Vonage Features
Business call recording
Block caller ID
Business SMS and MMS
Call announce
Unlimited team messaging
Vonage Pricing: Billed Monthly
Mobile: $19.99 per line per month, providing unlimited calling and texting, Vonage App center, and mobile/desktop apps
Premium: $29.99 per line per month that offers CRM integrations, multi-level attendants, and unlimited meetings for up to 100 participants
Advanced: $39.99 per line per month offering call group, call recording, and visual voicemail
Vonage Vs RingCentral: Why Vonage is Better?
These two cloud-based phone system providers are both popular when it comes to offering top-notch communication solutions for small to large businesses. Even so, how they offer their services may vary in several ways. As such, we'll compare them to determine which business phone system suits your needs best.
Vonage Offers Better Artificial Intelligence Compared to RingCentral
AI is quite helpful in the VoIP industry, and while both competitors utilize this technology, Vonage's AI is better overall. For example, the new AI virtual assistant incorporated into Vonage's business phone can analyze customer sentiment. What's more, it can answer phone calls and questions, as well as transfer calls to a live agent when needed. This not only streamlines workflows but also ensures your business runs smoothly.
While RingCentral's AI improves video conferencing by regulating lighting, it does fall further behind in comparison to Vonage's AI functionalities.
Who is Vonage For?
Vonage is well-suited for small businesses that are looking for an easy-to-use unified phone service, which leverages artificial intelligence for call management, insights, and productivity.
Zoom
Zoom is among RingCentral alternatives that have become quite popular over the last couple of years. It offers excellent team collaboration tools for your business, alongside solutions such as instant messaging, voice calls, video meetings, file sharing, whiteboards, and much more.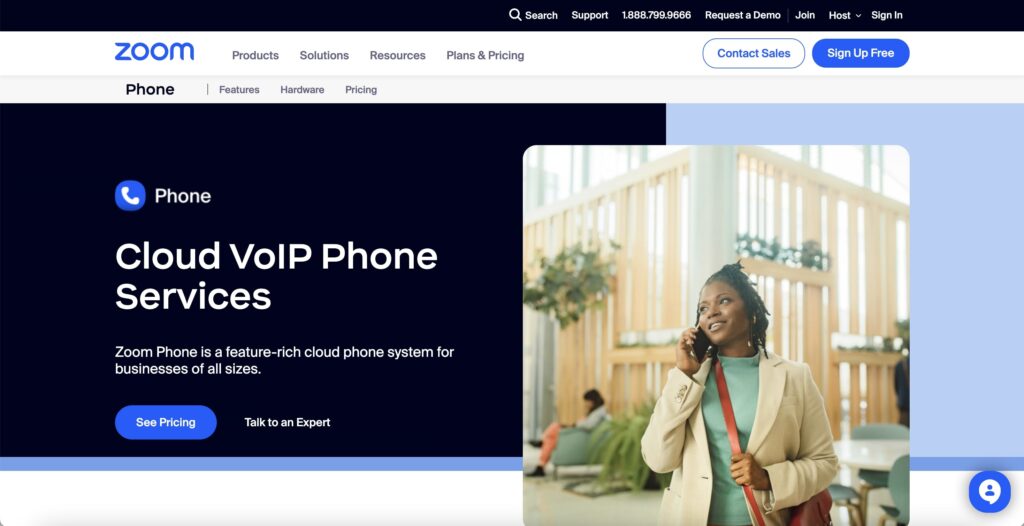 Zoom Features
Waiting rooms
Calendar scheduling
Private room meetings
HD Video and Audio
Instant messaging
Zoom Pricing: Billed Monthly
Basic: Offered free with meetings for up to 100 participants, group chat, file sharing, and three editable boards
Pro: $14.99 per user per month, offering team chat, three whiteboards, and five GB of cloud storage
Business: $19.99 per user per month with meetings for up to 300 attendees, group chat, unlimited whiteboards, and single sign-on
Enterprise: Contact their sales for pricing. The package offers meetings with up to 1000 participants, zoom rooms, and unlimited editable whiteboards
Zoom Vs RingCentral: Why Zoom is Better?
Zoom and RingCentral are two comparable cloud-based communication service providers well-suited for various kinds of businesses. While both are great fits for your organization, you must know which one is better for your specific communication needs.
Zoom Wins When it Comes to Webinars and Video Meetings Tools
If you're looking for a RingCentral alternative with great audio and video meeting capabilities, you'll want to go for Zoom. While RingCentral does offer great meeting tools, zoom has got intricate and advanced features at affordable prices across all its plans. You'll essentially benefit from editable whiteboards, with up to 1000 participants, 5 GB of cloud storage, automated captions, and numerous channels for collaborations among other essential features.
Zoom Beats RingCentral in Ease of Use
Zoom has an intuitive user-friendly interface, which offers consistency across different devices. One app enables you to make phone calls, hold video meetings, and send messages to your team. RingCentral's disparate video products can be a bit confusing for users.
Who is Zoom For?
This RingCentral competitor is ideal for small businesses looking for a phone system with start-of-the-art video and audio meeting tools. Companies that are looking to increase their meeting capacities without having to spend too much money will also find Zoom quite helpful.
Dialpad
Dialpad is one of the most reputable cloud-based unified communications services that promise 100% uptime for its enterprise clientele. This RingCentral alternative is built on the Google Platform and offers great call quality, excellent customer support, messaging, video meetings, and more, all packaged in a single app.
This unified communications provider also utilizes AI technology, which not only aids in meeting transcriptions but also calls in real time.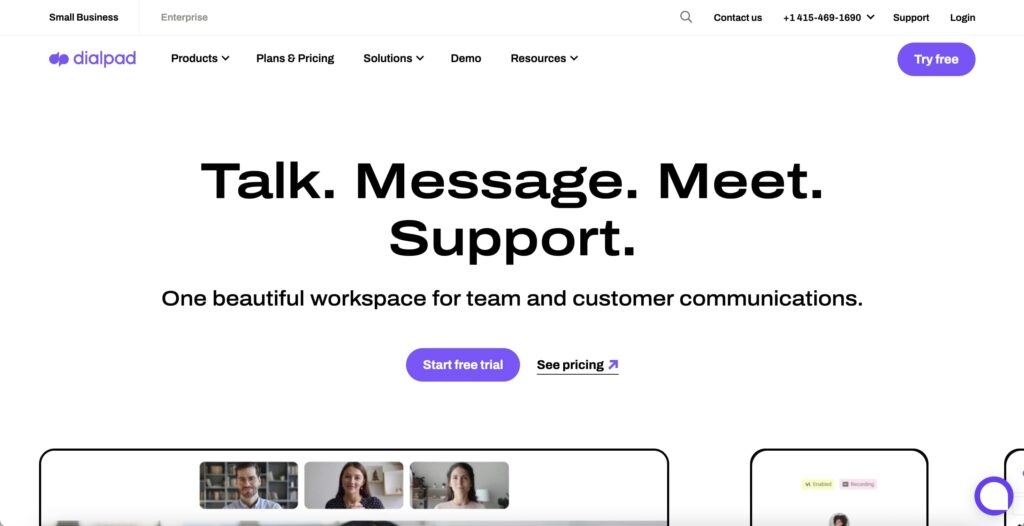 Dialpad Features
Call forwarding
Web Conferencing
Conference group chat
APIs and webhooks
100% uptime SLA
Dialpad Pricing: Billed Monthly
Standard: $15 per user per month that provides AI-powered calls and voicemail transcriptions, web and chat support, and unlimited SMS and calls
Pro: $ 25 per user per month offering local number support in over 70 countries, 25 ring groups, and 24/7 live agent support
Enterprise: Get in touch with their sales team for the pricing. This plan offers 100% uptime, unlimited office locations, and priority live agent support
Dialpad Vs RingCentral: Why Dialpad is Better?
These VoIP solution competitors come equipped with great communication solutions for your business. However, in order to truly determine the best option most suitable option, you've got to learn more about their services. We've compared their products below.
Dialpad Wins in the Battle of Customer Support and Experience
Dialpad has worldwide data centers with 24/7 global customer support. Not just that, it offers a contact center platform that provides an aesthetic user experience just like for its UC department. You're able to access it on your web browser without any downloads, which is also applicable to its support centers. This way, you're able to serve clients more effectively, thus improving your business's output and workflow.
Moreover, Dialpad's contact center is created and supported in-house, unlike RingCentral's contact center, which is either white-labeled or provided on behalf of third parties.
8×8
With more than two decades of experience in business, 8×8 is essentially a veteran. It got into the VoIP scene in 2000 and provided you with a comprehensive package covering your small to medium size business's communications needs. It offers services such as video conferencing, voicemail, text messaging, third-party integrations like HubSpot, and voice calls. You also get actionable call reports for your team members.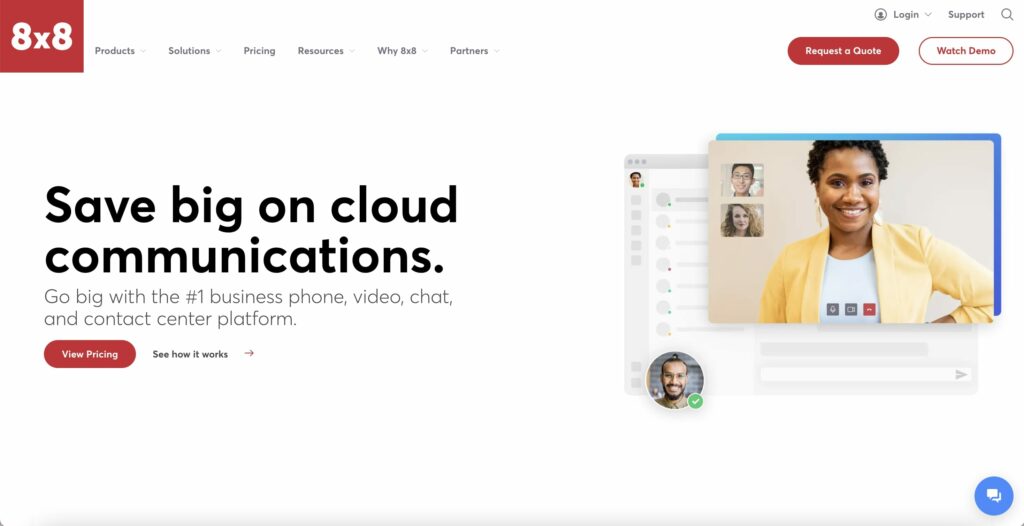 8×8 Features
Call handling
Video conferencing
Meetings recording
Interactive voice response (IVR)
Automatic call distribution (ACD)
8×8 Pricing: Billed Monthly
Express: $15 per user per month for unlimited calls across Canada and the US, and auto-attendant
X2: $24 per user per month, providing unlimited voice calls to 14 countries, HD, video, and audio conferencing for up to 500 active participants
X4: $44 per user per month, offering call handling, team messaging with document sharing, and voicemail transcription
8×8 Vs RingCentral: Why 8×8 is Better?
These VoIP service providers are great choices for SMEs or large businesses in search of a reliable phone system platform. 8×8 offers mobile and desktop apps, inbound and outbound calls, auto attendant, and more. To choose the most suitable option for your organization, however, you'll have to examine each of them closely, which is what we're going to do below.
8×8 Beats RingCentral in International Calling Capabilities
Today, the world has changed a great deal as you're able to do business with customers on a global scale. As such, 8×8 makes it easier for you to get in touch with your global team or customers by allowing you to make unlimited international unmetered calls to more than 48 nations in its popular subscription packages at no extra charge.
RingCentral only lets you make unlimited domestic calls across North America (Canada and the United States). When it comes to international calls, RingCentral charges users depending on the country's rates.
Who is 8×8 For?
If your business operations go beyond domestic borders, then this is one of the RingCentral alternatives you want to consider. It allows unlimited international calling to over 48 nations within its top-rated plans. What's more, is that their plans are relatively economical.
Grasshopper
Grasshopper is among RingCentral alternatives that are designed for small businesses. It may not be as prestigious as other well-established virtual phone systems, but it does offer all the communication functionalities you require, such as phone calls, phone support, and a few other features. For you to make an informed decision, we'll look into this RingCentral competitor in detail.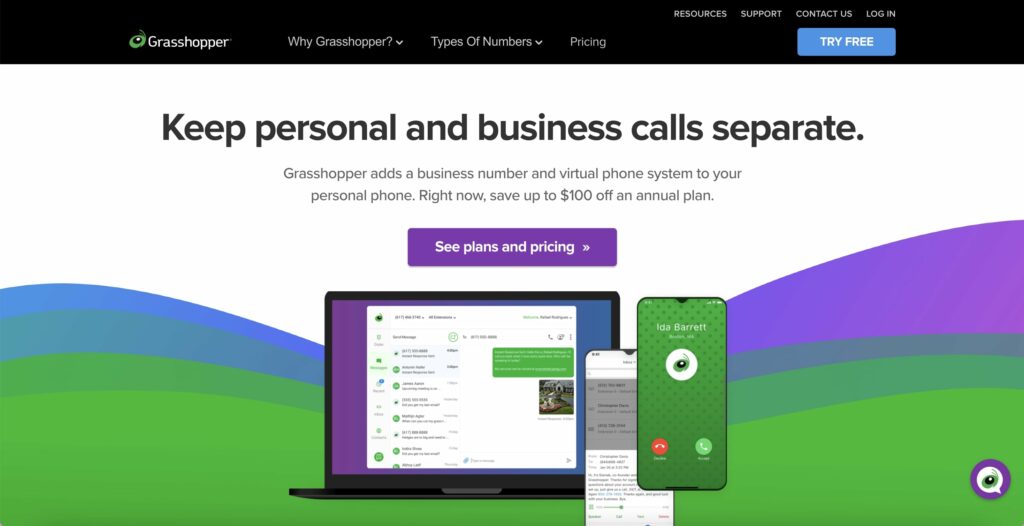 Grasshopper Features
Text messaging
Forwarding calls
Voicemail transcription
Virtual fax
VoIP/Wi-Fi calling
Grasshopper Pricing: Billed Monthly
Solo: $26 per account per month, offering local or toll-free numbers plus three extensions and unlimited messaging (domestic voice minutes)
Partner: $44 per account per month that offers unlimited domestic voice minutes, six extensions, and Read-Your-Voicemail transcriptions
Small Business: $80 per account per month that provides five local or toll-free numbers with unlimited extensions, and unlimited messaging
Grasshopper Vs RingCentral: Why Grasshopper is Better?
Just like other RingCentral alternatives, Grasshopper is also comparable in terms of the VoIP services made available. For example, both support Wi-Fi calling. However, to make a more informed decision, you need to be well-equipped with knowledge. So, we've compared their services below.
Grasshopper Beats RingCentral in Business Phone Flexibility
While RingCentral may have more winning points, Grasshopper takes the day with virtual phone service flexibility. You can essentially use more than one phone number with a single device; therefore, patrons are able to get a hold of you on a business number. Inbound and outbound fax management is also done from the same number, not to mention its toll-free numbers with unlimited voice minutes. While it's true the function is provided by Ringcentral, it's not available across all its plans – Grasshopper has the feature in all its plans, making it better in this particular area compared to RingCentral.
This feature, which is not provided on all RingCentral's plans, also helps you to monitor business texts on desktop devices.
Who is Grasshopper For?
This RingCentral alternative is a reasonable choice for solopreneurs. It offers a business line to use on your smartphone for your cloud-based communications. Grasshopper is also designed for small organizations looking for communications services with flexibility and enough functionality.
Mitel
Based in Canada, Mitel is one of the RingCentral competitors that have stood the test of time – it's been in existence for more than 40 years. It originally started as a lawnmower company. Mitel shifted its focus to cloud-based service and has come to be recognized as a tried-and-tested VoIP brand.
Like several other RingCentral alternatives, it's created on the Google Cloud platform and combines on-premises and cloud-based PBX hosting. It provides typical communication functions such as video conferencing, texting, call routing, and more. Below is a list of Mitel's key features.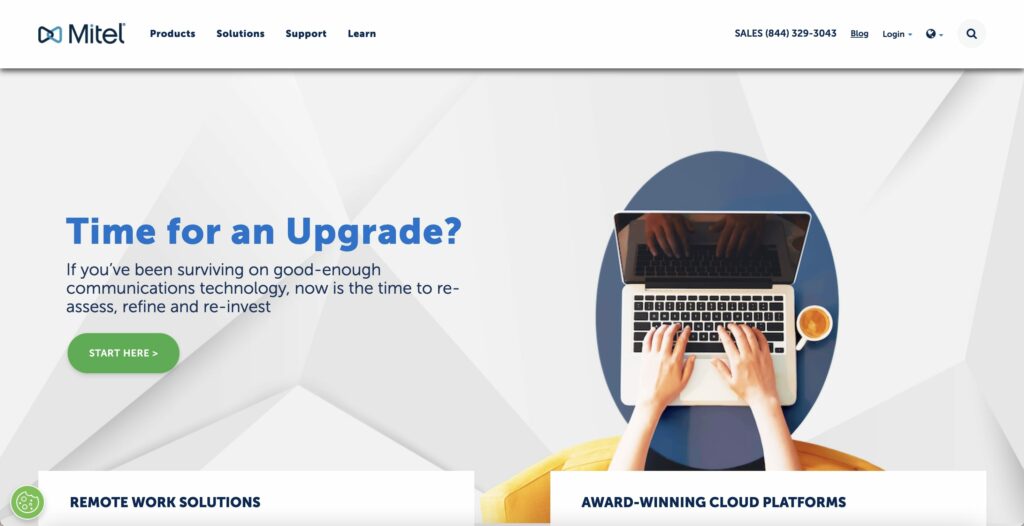 Mitel Features
Calendar integration
Call recording
Call parking
Group chat
Conferencing
Mitel Pricing: Billed Annually
Unlike most other RingCentral competitors, Mitel doesn't advertise the pricing per package. Instead, it uses the following formula to help you estimate the cost of business VoIP phone service.
Number of users X monthly cost per user x 12 = Annual cost of the system
As such, you'll need to contact their sales department to get a quote or sample.
Mitel Vs RingCentral: Why Mitel is Better?
Mitel brings a lot to the table just like RingCentral – video meetings, messaging between your team members, mobile and desktop apps, and much more. Still, these two providers vary in how they offer their service, which is why we went ahead to compare them.
Mitel is Better than RingCentral in Deployment
Mitel scores quite highly on deployment when compared to its competitor RingCentral. It's generally easier to deploy and execute ongoing maintenance. You're essentially able to access VoIP phones, Jump Start, and Expert Start options using a built-in help function. Additionally, users can also get on-demand support and training.
Mitel also lets users create their own system and pay only for the features they need, unlike RingCentral, which comes with fixed subscription plans.
Who is Mitel For?
Given the absence of preset plans, Mitel is an ideal choice for smaller businesses looking for an easy-to-deploy virtual phone system. It lets you pick and create your own plan; therefore, you only pay for the communication solutions you need.
GoTo Connect
GoTo Connect was formerly known as Jive. It's currently part of LogMein, which now harbors all the GoTo products.  Users basically benefit from a combination of Jive's original cloud phone system with GoTo Meetings audio and video conferences – all provided in one unified platform.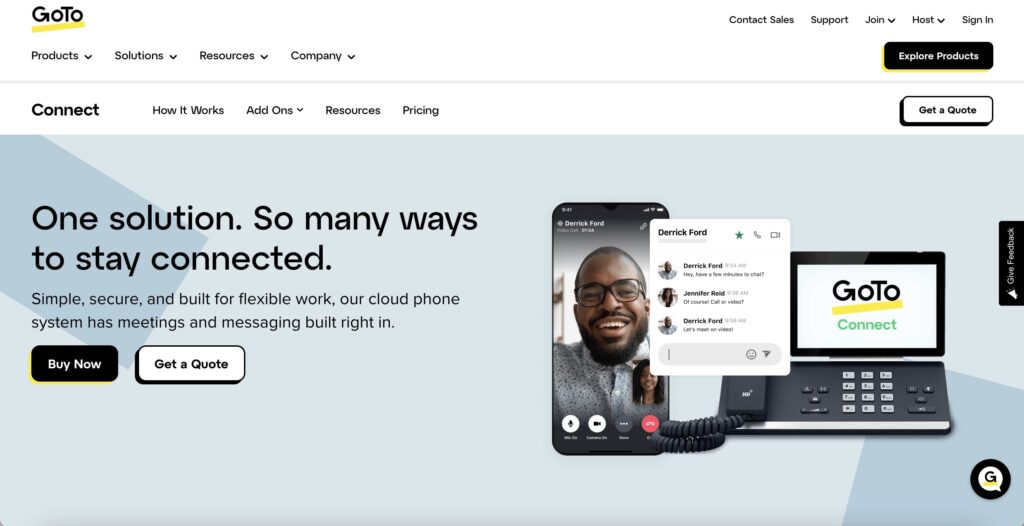 A few of the basic features that you'll get with GoTo connect include mobile applications, and remote team messaging. Here is a list of the key features:
GoTo Connect Features
Customizable auto attendants
Number porting
Intelligent call analytics/reporting
Voicemail to email
Unlimited toll-free, vanity, and local numbers
GoTo Pricing: Billed Monthly
Basic: $27 per account per month, offering existing number porting, unlimited extensions, instant response, and one customizable dial plan
Standard: $32 per account per month that offers local, toll-free, and vanity numbers, call forwarding, and auto-attendant recorded greetings
Premium: $43 per account per month, providing unlimited, customizable dial plans, unlimited call queues, and smart call routing
GoTo Connect Vs RingCentral: Why GoTo Connect is Better?
This cloud-based communication solutions company offers a full package of tools to help grow your business – as is the case with other RingCentral alternatives. However, to be certain about the right option, you need to know more.
GoTo Connect Wins Against RingCentral In Best Remote Communication Management
The two competitors offer video and audio conferencing for their remote teams. However, GoTo Meeting offers advanced web conferencing, allowing for desktop sharing with customers and remote teams for unlimited durations. RingCentral meeting sessions only last up to 40 minutes. On top of that, GoTo phone service Standard level users are allowed to make free calls to over 50 nations. With GoTo, if you have teams spread across the globe, it's not only cheaper but also easier to manage them. RingCentral's users have to pay for international calls.
Who is GoTo Connect For?
GoTo Connect is the best VoIP for businesses that require longer meeting periods, as it offers unlimited durations. You also want to consider this RingCentral alternative if you want an affordable communication solution to manage your remote teams.
Phone.com
Like a few other RingCentral alternatives, Phone.com leans more to the side of virtual phone systems than UCaas service. Put simply, it means that it's more focused on inbound and outbound calls, making it a pretty good option for a small business that doesn't require a multifaceted communication service. Additionally, this provider offers metered and unmetered plans for SMEs.
Some basic features that you'll benefit from with Phone.com include call forwarding, automated attendant, and a limited 25 participants' video conferencing.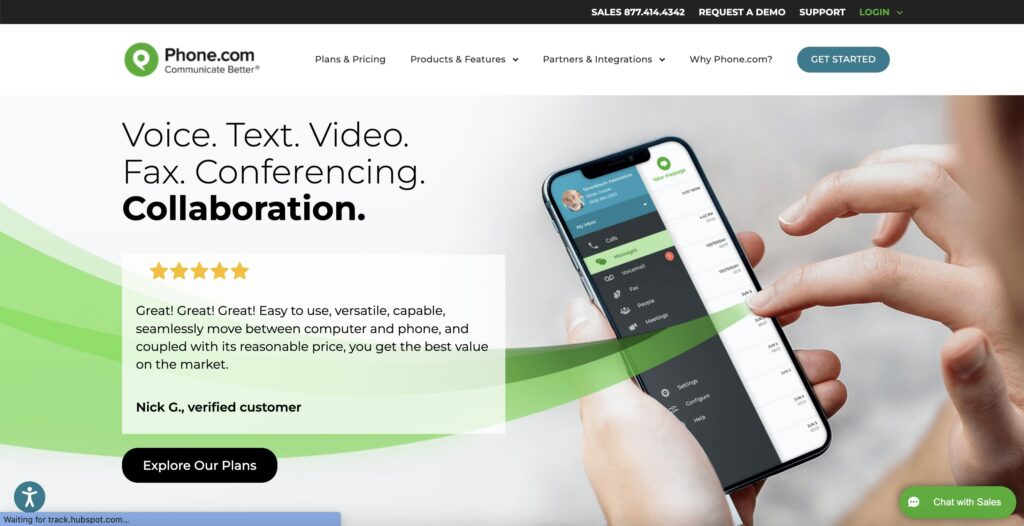 Phone.com Features
Audio conferencing
Call analytics
Call blocking
Call transfer
Call notification
Phone.com Pricing: Billed Monthly
Basic Users: $11.99 per month offering 500 pooled minutes, one phone number per account, and mobile and web apps
Plus Users: $15.99 per month that offers unlimited minutes, conversational text messaging, and video conferences with 25 attendees
Pro Users: $23.99 per month that provides call recording, CRM integration, and call analytics
Phone.com Vs RingCentral: Why Phone.com is Better?
This telephony service provider offers small remote businesses innovative communications products for SMS, MMS, and voice functionalities. Using Phone.com, you're able to manage and handle up to six phone lines on your mobile devices.
Its similarity to RingCentral comprises CRM integrations, toll-free numbers, and team collaboration. However, we still need to compare the two competitors to find out the most suitable for your business.
The Best RingCentral Alternative for Metered Communication
Not only do Phone.com subscriptions come cheap, but they also offer both metered and unmetered plans. Its competitor RingCentral only gives you unmetered plan options, which can be too much, particularly for smaller organizations.
Who is Phone.com For?
Phone.com makes sense for organizations looking for a virtual phone service provider that offers metered rates.
Alternatives to RingCentral: Conclusion
In order to establish a starting point for your VoIP communications needs, you must consider a few things, such as the most important features for your business and pricing.
Once you have a solid baseline, you're going to be in a better position to choose the most suitable provider from a sea of options.