Business communication is vital for any company. One of the most important aspects is having a business phone system that can keep up with your ever-growing needs.
VoIP has become the go-to solution for businesses that want to keep their costs low while still having advanced technology. VoIP technology allows you to make phone calls and video calls, send and receive faxes, and use other features to enhance your business communications.  There are a variety of VoIP solutions to choose from, but two of the most popular are Nextiva and Vonage.
To help you make the best choice for your business, we will compare Nextiva and Vonage to see which system offers the best value for your company. 
Read on to learn more about the features, pricing, pros, and cons of each system and to decide which solution will best meet your needs.
Check out this related article, Best Internet Phone Number Providers.
Nextiva vs. Vonage: Similarities
While Nextiva and Vonage have unique features and functionalities, they also have similarities.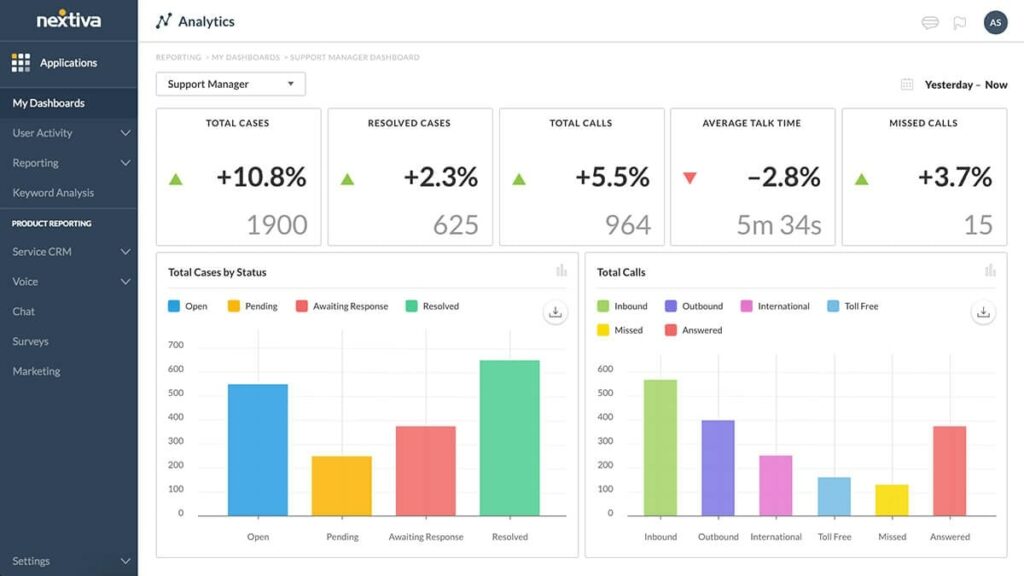 Both are unified communication platforms
Nextiva and Vonage position themselves as UCaaS or unified communication platforms. They provide everything, including VoIP calling, video conferencing, team messaging, and instant messaging, among other services.
They help businesses and teams communicate and collaborate using various channels.
Service guarantee
Both apps offer an uptime of 99.999%, guaranteeing high-quality service with minimal chances of failure. You won't have to deal with unnecessary bugs or delays.
Free trial
Nextiva and Vonage offer a free trial plan that enables users to test the apps at no cost before committing. This allows the users to determine if the apps have all the necessary features.
It also allows them to see if the apps can meet their specific needs. However, the trial periods differ, with Nextiva offering 7 days while Vonage offers 14 days.
Mobile apps
Both services have mobile apps for Android and iOS users. This provides unlimited access as they can be accessed from anywhere.
You don't have to be confined to a specific geographical location or office to use these apps. With a mobile device, you can get in touch with your customers anytime. This boosts your customer service.
Unlimited calls and texts
Nextiva and Vonage offer unlimited calls and texts in all their plans.
Nextiva vs. Vonage: Differences
Nextiva and Vonage may offer similar services. However, the apps have differences in several aspects. These are some of the differences between the two apps.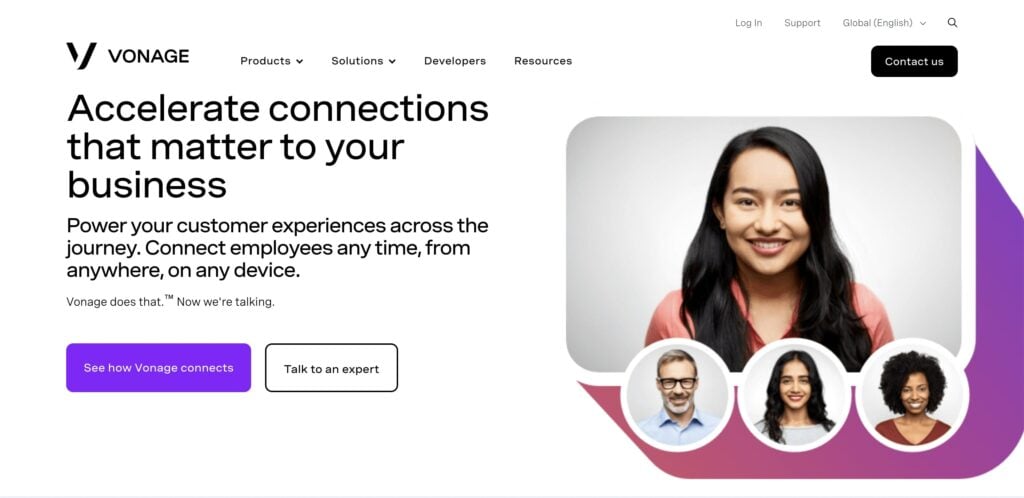 Features
Nextiva and Vonage have basic communication features, including calls, instant messages, team messaging, and chats. However, each service offers different features under each plan.
Nextiva generally offers more features than Vonage. Some features that Nextiva offers in its basic plan are only available as add-ons in Vonage, meaning you'll need to pay more to access them.
Suitability
Nextiva suits remote and blended teams that need a unified communication solution. It has features like an in-built CRM that keeps all employees updated on customer interactions and changes and a virtual workspace where all users can work together on documents, assign tasks, and share calendars.
Conversely, Vonage is best for small teams with 10-50 people in a traditional office setting instead of a remote one. It can cater to their basic communication needs as they start and allows them to scale up with more features and users as they grow.
Video conferencing capacity
The apps differ in the number of participants for video conferences, with Nextiva offering a higher limit of up to 250 active participants, while Vonage allows only 100 video participants.
Integrations
Unlike Nextiva, which has very limited integrations, Vonage boasts of integrating with a huge list of third-party apps. This not only promotes smooth workflow but also saves a lot of time.
What is Nextiva?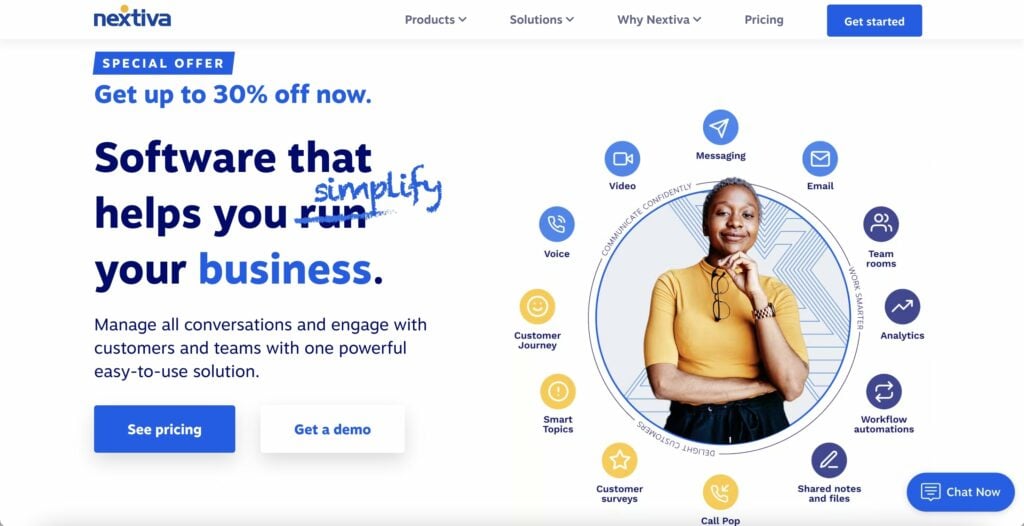 This business phone systems and communication service integrate customer service, internal business, VoIP, video meetings, and team collaboration into a single app. 
The app provides omnichannel communication, customer analytics, sales data, task automation, and service management in a single platform.
With this app, you'll be able to boost productivity and sales while streamlining internal and external communication for your business. Nextiva is available for use on desktop and mobile devices.
Nextiva Key Features
Call pop: This uses the app's in-built CRM features to provide a pop-up screen with all the relevant caller information.With this feature, you can get important caller details like the name, phone numbers used, order status, past purchases, and details of their last interaction. This allows you and your agents to be fully prepared for the call, choose to accept or decline the call, or decide to forward it to a more qualified agent.
Call flow builder: This allows users to customize greetings or IVR menu announcements with specific information or questions, which helps direct customers' calls to the most relevant representative or department.
Advanced call routing ensures that your calls are directed to the appropriate individual. It allows you to use a welcome message to ensure your callers speak to the right person.
Call analytics: Using this feature, you can collect important call data, including behavioral trends, call session metrics, or individual agent performance, allowing you to generate useful business reports and insights.
Enhanced voicemail options: You can offer customized customer service with a voicemail greeting. You can also send voicemails to another extension and share them with team members.
Call recording and rating: This allows you to record your calls automatically and gives you visibility into your business calls.
Who is Nextiva for? 
Nextiva is suitable for remote and blended teams as it has features and functionalities that make it simple for geographically diversified and remote teams to recreate the in-office experience by displaying the most recent interactions on a single interface. 
It's also ideal for those more inclined to native functionality above third-party compatibility.
What is Vonage?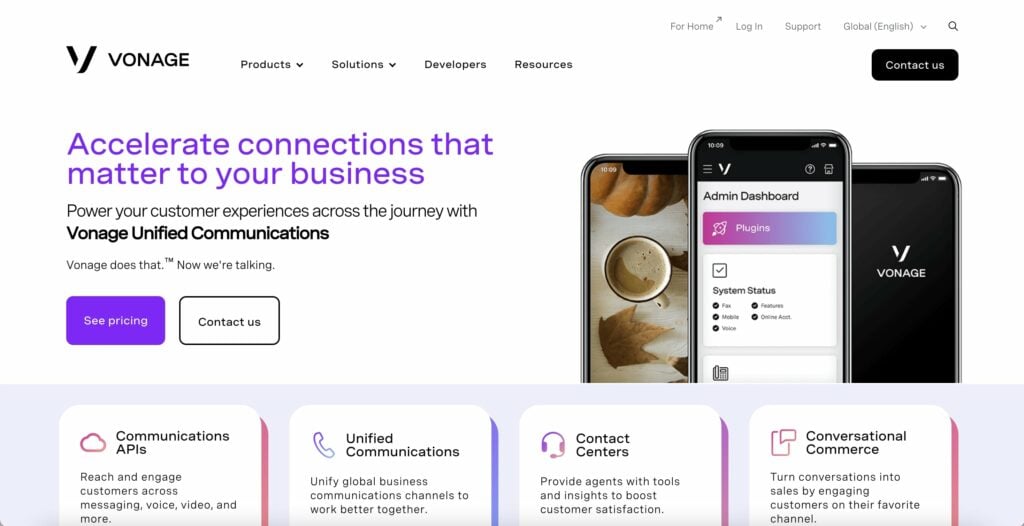 This phone service provider provides a huge selection of APIs that allow businesses to create unique VoIP solutions.
With its unified phone, video, messaging, and contact centers, you can customize your communication to suit your needs. Vonage allows users to communicate using mobile applications, desktop softphones, or through the app's compatible traditional desk phones.
Vonage Key Features
Auto Attendant: This allows you to fully automate your ability to route calls to specific people or departments using a virtual receptionist for better customer service.
Call announcement: This automatically allows customer responses to be played to the agent in line. This provides important information such as caller phone numbers, the issue at hand, and related call tags to enable the agent to prepare better for the call.
Business call recording: With this feature, you can record all important business conversations to make the most of every customer interaction.
Admin portal: This allows phone administrators to manage their phone systems from anywhere on a single portal.
Call continuity: This automatically reroutes calls to a backup phone number in case your VoIP phone fails or the internet connection is lost.
Call monitoring: The add-on feature allows you to listen to your customer representatives or barge into calls whenever you need to join a conversation.
Who is Vonage for?
Vonage is most suitable for small organizations operating in traditional office settings rather than remotely. 
The app has features that are adequate to meet the basic communication needs that these businesses may have while still offering the flexibility to extend their user base and functionality as they expand.
Nextiva vs. Vonage: Features
Nextiva and Vonage are among the most popular choices for VoIP phone services among small businesses.
While these two apps have some similarities, they differ in various aspects and features. These are some of the key differences between the two services.
Call recordings
Both Nextiva and Vonage offer call recording features. With Nextiva, you get VoIP calling with multiple call recording options.
You can opt to automatically record all the calls, pause and resume recording in the midst of a call to protect sensitive information, and make on-demand call recordings when needed. You also can delete recorded calls automatically if you don't want to save the recordings once a call is over.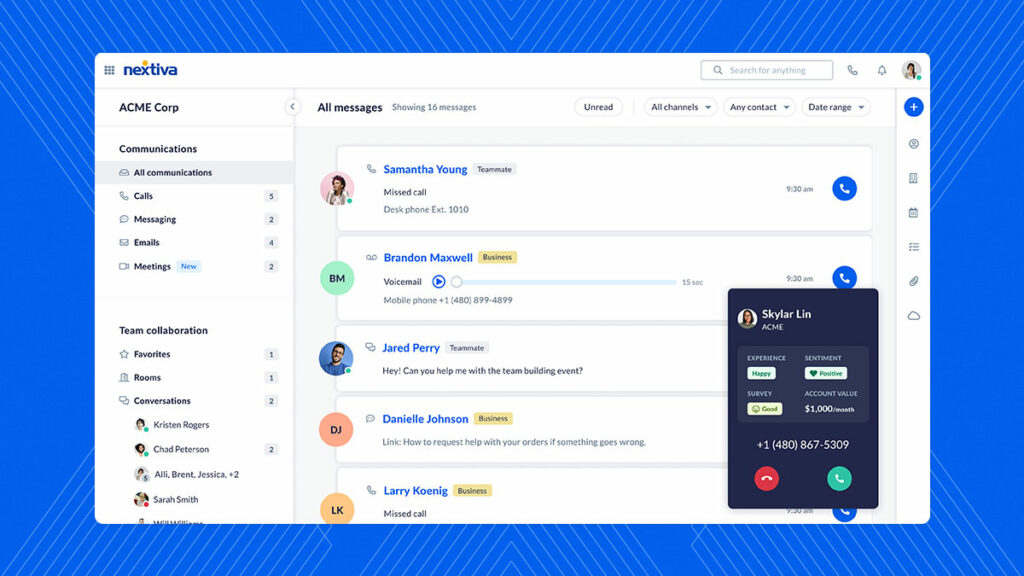 Nextiva allows calls to be recorded in its mobile app, on compatible hard phones, or using Nextiva's softphone. The app allows the storage of call recordings for up to 6 months and allows you to download the recordings to your device.
It also allows you to share the recordings through email, download them to storage apps such as Google Drive or Dropbox, and grant download or stream-only recording access.
Nextiva also offers a searchable recording database that allows you to find saved call recordings in various ways, such as the date, caller, phone number, duration, agent, or call direction (incoming or outgoing).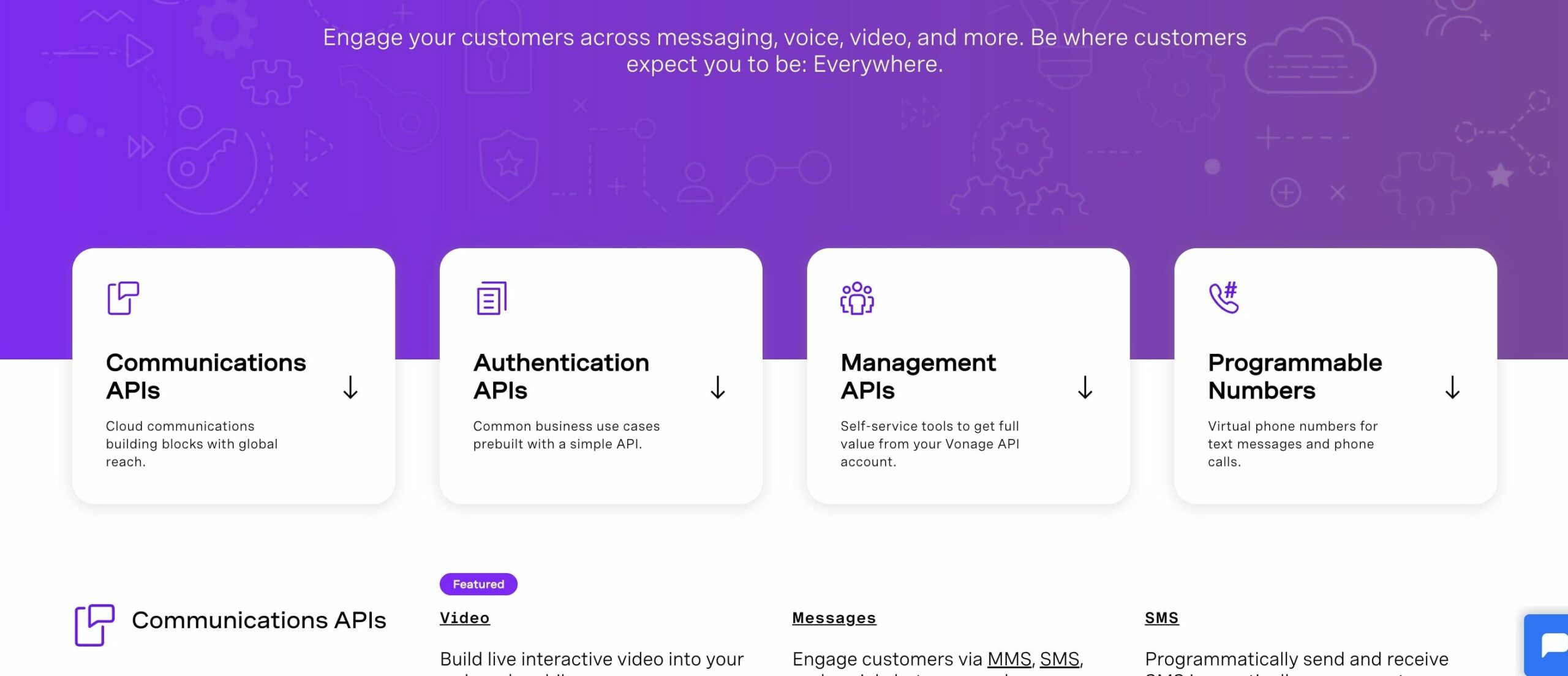 Vonage offers both company-wide automatic and on-demand call and video meeting recordings. The company-wide automatic recordings allow you to design company-wide rules that allow managers to set rules for automatic call recording.
On-demand call recording allows you to determine the calls to be recorded and notify the participants of the recording before it commences.
Vonage offers up to 15 hours of storage of audio/ video per extension for on-demand recordings, which can be sent via email to call participants and then deleted immediately after the meeting ends to create space for more recording.
Vonage displays the recordings on the main page of the Admin Portal for a maximum of 7 days. You can download, email, or play these recordings in the Admin Portal.
You can also decide which calls to record with the app's on-demand recording function. This can include calls from specific phone numbers, calls from specific agents, calls made during specific hours, or outbound calls.
Vonage offers more advanced recording and storage options compared to Nextiva.
Team collaboration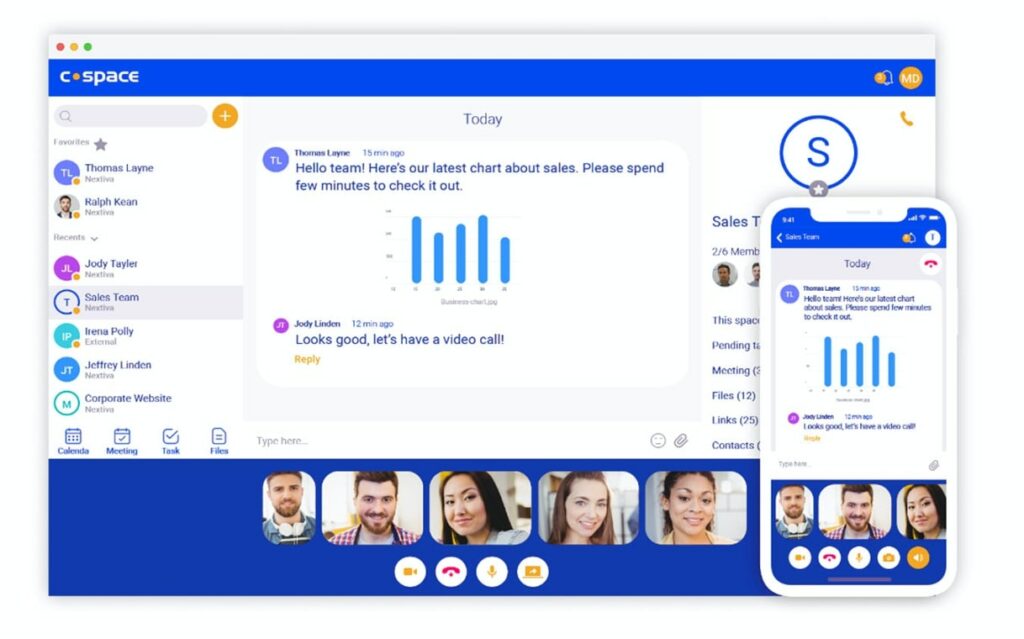 Nextiva offers a team collaboration feature called Cospace. 
This combines several functions into one virtual workspace, including team text messages, video and audio conferencing, file sharing, meeting recording, screen sharing, and task management.
Cospace allows users to schedule meetings, share links, tag one another in channel-wide or private messages, and create new channels. Moreover, Cospace comes with its own native calendar and allows users to integrate the calendar app of their choice into the system.
Vonage offers basic team collaboration features such as channel creation, one-on-one and group messaging, file sharing, user tagging, and message pinning. It also has more advanced features but to access these, users are required to utilize Amazon Chime. This is available for all Vonage plans at no extra cost.
With this, you'll get features such as file sharing and co-annotation of up to 50 MB per attachment, calendar integration, and meeting scheduling with G Suite and Microsoft Office. Users can also incorporate their preferred team collaboration tools with Vonage, such as Slack and Microsoft Teams.
Regarding team collaboration capabilities, Nextiva takes the win as it offers more advanced features than Vonage.
Video Conferencing
Nextiva mobile app offers unlimited HD video meetings with up to 250 active participants. It allows users to preschedule meetings or start them instantly within the app's dashboard.
Users can also switch from an audio to a video call with a single click. The feature allows file sharing, meeting recording, screen sharing, and team chat messaging.
Vonage also has a video conferencing feature referred to as Vonage meeting. This allows unlimited meetings for up to 16 members.
It also has file sharing, team chat messaging, chat message history, plus other functions. Like with Nextiva, the meetings can be prescheduled or instantly started, and participants can be added at any time.
Due to its higher participant limit, Nextiva outshines Vonage regarding the video conferencing feature.
Verdict: Nextiva wins in features
Nextiva takes the win regarding features as it offers more features even in its basic plan than Vonage. Nextiva includes advanced features in its higher plans.
On the other hand, Vonage offers the most advanced features as add-ons requiring you to pay more for them.
Nextiva vs. Vonage: Integrations
Both Nextiva and Vonage come with an impressive library of third-party integrations. These allow users to access information from various sources without switching between different apps. This not only saves time but also boosts business efficiency.
Nextiva integrations depend on the pricing plan you choose. The app's basic plan allows integration with Google contacts and Outlook.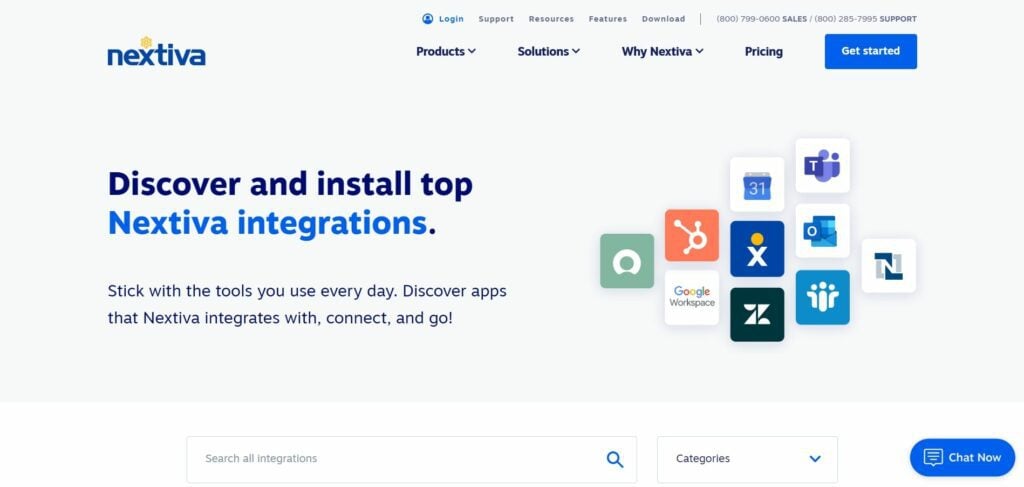 With higher plans, you get more integrations. It also has customizable APIs for the contact center. Some of the top third-party integration that Nextiva offers include
G-Suite
Lotus Notes
Microsoft Teams
To access these third-party integrations in Nextiva, You'll need to upgrade your plan.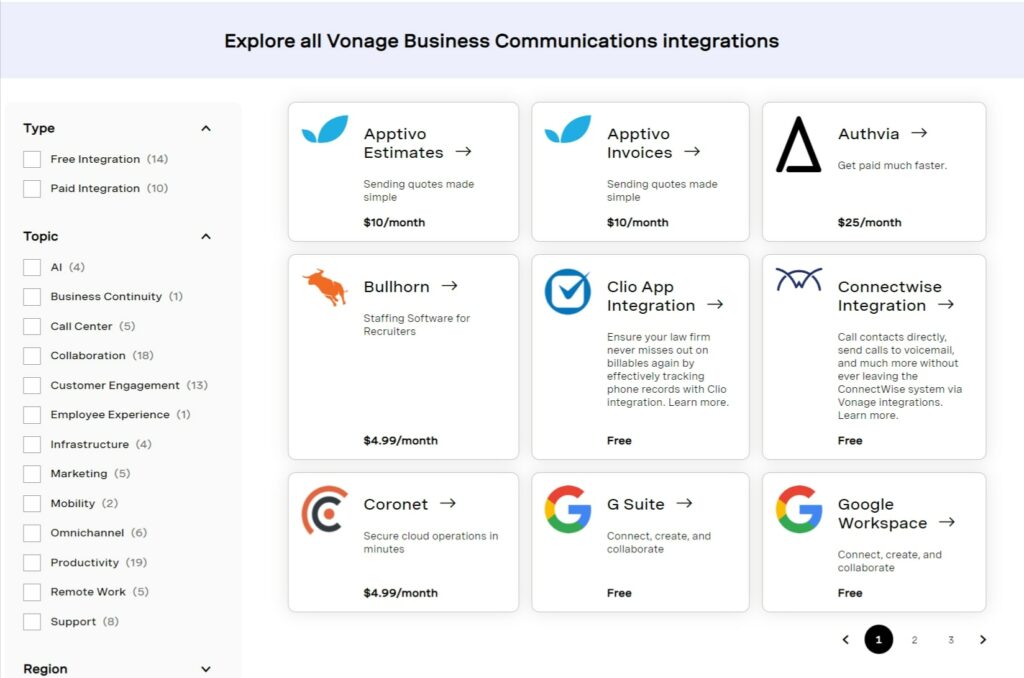 Vonage offers more integrations than Nextiva. It also provides APIs that allow you to create a customized communication solution. Integrating any CRM with Vonage will need you to have a premium or higher plan. These are some of the top integrations for Vonage:
Microsoft Dynamics
Job Diva
Zapier
Microsoft Teams
GSuite
Clio
Sugar CRM
Slack
Verdict: Vonage wins in integrations
Vonage outshines Nextiva in terms of integrations as it provides APIs for almost all features allowing you to add our favorite software. It offers more integrations than Nextiva.
Nextiva vs. Vonage: Pricing
Nextiva and Vonage offer free trial plans, albeit with different trial periods. Besides the free plans, these apps also have 3 paid plans.
However, neither Nextiva nor Vonage offers a straightforward pricing model. The pricing structure for both apps can be complicated and depend on the team size.
Nextiva Pricing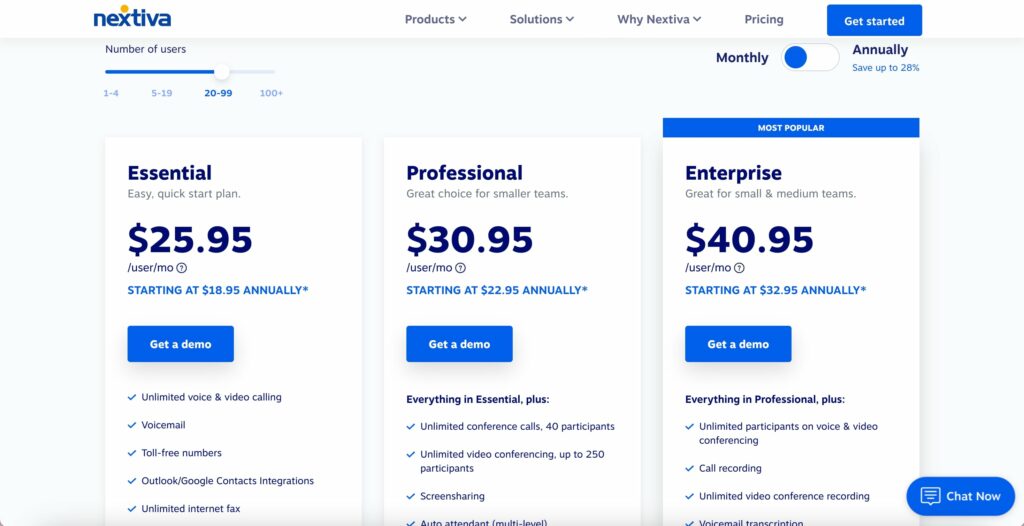 Nextiva offers 3 paid plans that can be billed either monthly or annually for users between 1-100 for cost savings. These are as follows:
Essential: This is the basic plan with a starting price of $25.95 per user per month for between 20-99 members billed annually.
Professional: It comes at $30.95 per user per month for 20-99 members paid annually.
Enterprise: Under this plan, you'll need to pay $40.95 per user per month for 20-99 members paid annually.
Vonage Pricing

These are the pricing plans for Vonage:
Mobile: This costs $19.99 per line per month for up to 20 users
Premium: It goes for $29.99 per line per month for up to 20 users
Advanced: The plan costs $39.99/line/month for up to 20 users
Verdict: Vonage wins in pricing
Vonage offers better Pricing than Nextiva across all plans, making it a more affordable service. The app's basic plan is affordable compared to Nextiva's, which is $6 more for its base plan. It has transparent pricing plans.
Vonage vs. Nextiva: Customer Support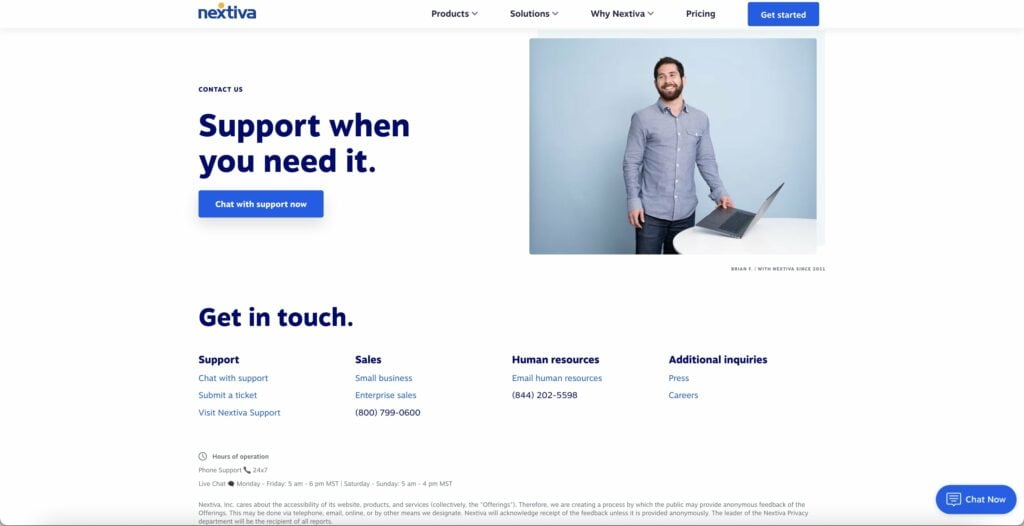 A great app comes with great customer support to help users implement the app successfully. It's crucial to go for a tool that has a reliable customer support desk that can promptly respond to any queries regarding the use of the tool.
Both Vonage and Nextiva utilize various channels for customer support.
Nextiva offers comprehensive customer support via multiple channels, including online live chat service, ticketing support, voicemail notifications, FAQs, and a help desk that offers quality responses or advice in all its packages.
It also provides email and phone support from Monday to Friday between 5 a.m. – 6 p.m. MST, and Saturday to Sunday from 5 a.m. to 4 p.m. MST. Better still, the app has a comprehensive knowledge base that gives users all the information they need on the setup and use of the app.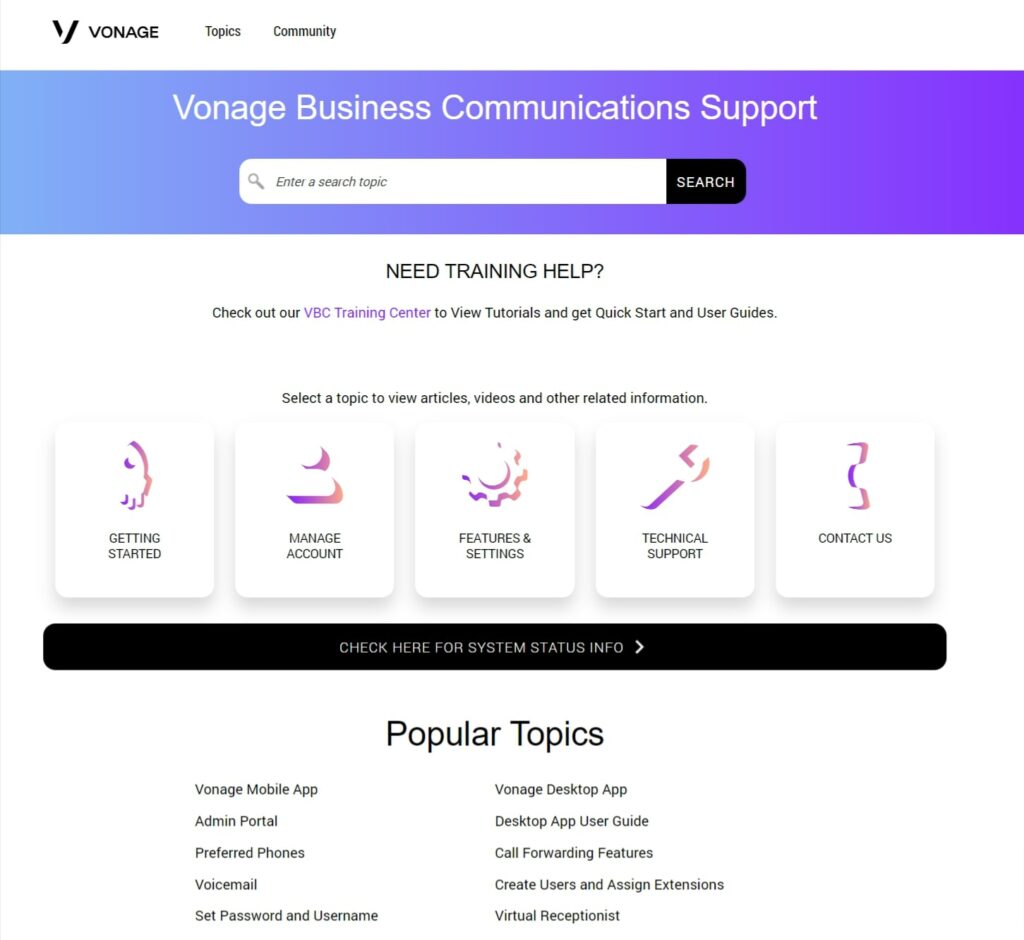 Vonage also provides users support through their toll-free number, live chat, tickets, and training. Phone support and live chat are available from Monday to Friday between 9 a.m. -12 a.m. ET and Saturday from 9 a.m. to -8.30 p.m. ET.
Verdict: Nextiva wins in customer support
Nextiva offers more channels for comprehensive and reliable customer support, including a knowledge base. 
While Vonage also has various options for customer support, it's not as available 24/7 and detailed as Nextiva's. This makes Nextiva a clear winner in this factor.
In addition to Nextiva and Vonage, these are other Cheap VoIP phone services that you can check out.
Vonage vs. Nextiva: Conclusion
Vonage and Nextiva are both excellent business phone systems with IP desk phone capability making them both easy to use and rich in features that can make your business communication more effective.
While both services have some common features, they also have other unique features that distinguish them.
Your choice between the two apps will thus depend on your business needs, budget, and preferred features. Generally, while Nextiva is more expensive, it has more features than Vonage.
There's everything you need to know about Nextiva vs. Vonage. Which service best suits your needs? Make your choice.
You can also check out this article for other affordable phone systems for small businesses.