VoIP phone services have gained much popularity in the past few years. Businesses and individuals have started relying on VoIP for communication needs, especially compared to traditional phone services. This is because VoIP provides several advantages and benefits which traditional phone systems cannot provide. These services are not only affordable but also very easy to set up and use.
This post will look at some of the best free virtual phone number service providers you can use for your business needs.
What Are Free Virtual Phone Numbers?
Virtual phone numbers allow you to create a business number different from your own. The virtual phone number will look professional and be associated with your business name.
You can use these numbers to create a business presence outside your home city or country. You can use your virtual phone number to receive calls from clients worldwide without paying international charges.
Also, users can hide their locations and IP information when using a virtual phone number. This can allow them to conduct confidential conversations without worrying about security or privacy concerns.
Virtual phone numbers are always powered via VoIP technology by VoIP service providers, allowing you to receive calls wherever you have an internet connection. They are also easy to use and set up. You must sign up with a service provider and set up your virtual numbers according to your chosen plan.
Top Free Virtual Phone Number Providers
Below, we have compiled a list of some of the top free virtual phone number providers currently available. This should give you a good idea of what to expect from these services and which one to sign up for.
Let's have a look at each of them in more detail now.
Nextiva
This is a well-reputed virtual phone number provider in Canada and the USA. It was founded in 2006 and offers brilliant business and domestic telephony communications solutions. Nextiva utilizes AI, automation, and business applications to help facilitate communications between your teams and customers.
Best For Versatility
Nextiva | Simple, Affordable VoIP Phone Service
Nextiva is a cloud-based communication platform that provides businesses with a range of tools to manage their communication needs. It offers features such as voice and video calling, messaging, and collaboration tools, all accessible through a single platform.
Pros:
Advanced analytics and reporting capabilities, allowing businesses to track and analyze their communication data to improve their operations

User-friendly interface

Customizable features

With Nextiva, you get various communication channels comprising SMS, voice calls, video, virtual fax, and other useful cloud-based communications services. They help you route client calls and attend video conferencing calls.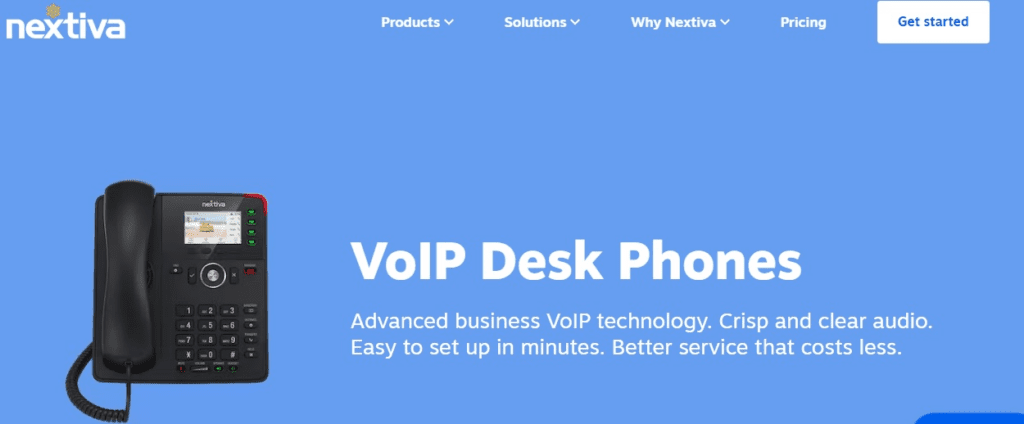 Nextiva Key Features
Free virtual phone number
Call forwarding
Call routing
Toll-free numbers
Unlimited web conferencing
This virtual business phone system provides all the vital business communication features necessary to promote productivity and flexibility for your small or large business organization.
You'll also be better positioned to stay focused on your customers with features such as free virtual numbers, CRM integrations, a virtual receptionist, voice or video meetings, and more.
Nextiva Pros
High scalability
Supports multitasking
Clear voice quality
Offers flexibility with softphones
Portability
If you want a virtual phone number provider with great benefits for your business, Nextiva is among the market's most popular virtual phone number providers. Nextiva's virtual phone system allows you to enjoy a wide range of benefits, including free call recording and advanced features for small and large businesses.
Nextiva Cons
Latency and Jitter
Completely dependent on an internet connect
Doesn't have location tracking for emergency calls
Just like every other VoIP service provider, Nextiva has got a few downsides that are worth mentioning. This happens without any involvement on your side – and may occur due to an inadequate router or bad connection.
Nextiva Pricing
Essential: $18.95 per user per month, offering unlimited voice calling, and unlimited internet fax
Professional: $22.95 per user per month that offers multi-level attendants and call transfer
Enterprise: $32.95 per user per month, providing call recording and unlimited attendees on conference calls
While Nextiva doesn't offer free trial alternatives, users can still try out the options on demo versions.
RingCentral
This free virtual phone number provider is also popular among small and medium-sized organizations across the USA. It allows you to make phone calls over the Internet and facilitates various other vital services.
Best for Small Businesses
RingCentral
RingCentral is one of the best cloud-based communication and collaboration platforms that provides businesses with a range of tools to manage their communication needs. It offers features such as voice and video conferencing, messaging, team collaboration, and online meetings. With RingCentral, businesses can easily connect with their customers, partners, and employees from anywhere, at any time, using any device.
Pros:
Highly scalable and customizable, making it suitable for businesses of all sizes and industries

Integrates with other business applications, such as Salesforce, Microsoft Office 365, and Google Workspace, to streamline workflows and increase productivity.

They include messaging, video meetings, phone MVP plans, a desk phone, and more. All these services are tailor-made to optimize your business and team collaboration workflow.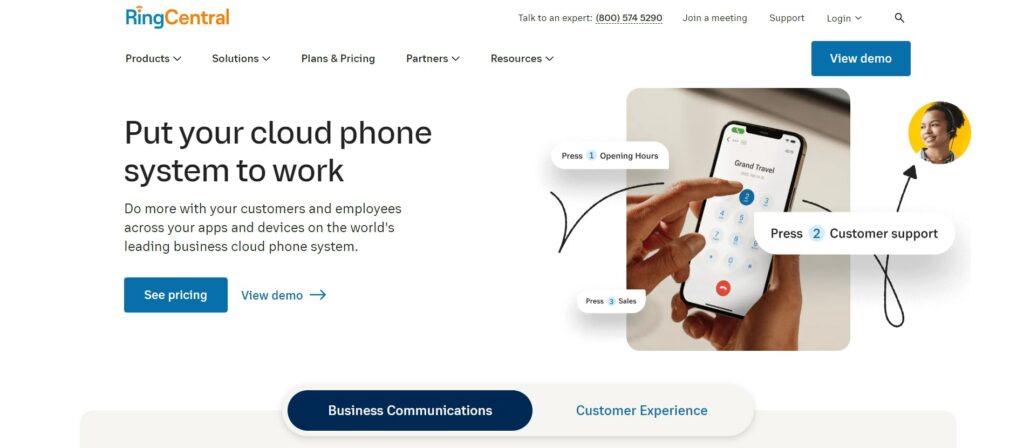 RingCentral Key Features
Multi-level IVR
Video Conferencing
Call routing
Unlimited domestic phone calls
A toll-free and local phone number
This business phone system offers affordable cloud-based communications with excellent UCaaS features and great functionalities. This VoIP company offers communication tools without purchasing new hardware, benefiting small business owners.
RingCentral Pros
Free phone number
Optimized uptime
Scalable features
Simple end-user design
Advanced standard PBXs features
One of the main reasons RingCentral is a popular choice across North America is that it comes with great benefits, comprising a toll-free number for your business line.
RingCentral Cons
Has no direct Linux support, but you can use the web portal
You cannot customize the conference call greeting message
Any phone system on the market has its downsides, and RingCentral isn't an exception to this rule. However, this virtual phone number vendor's issues are minor and in no way disturb the system's working.
RingCentral Pricing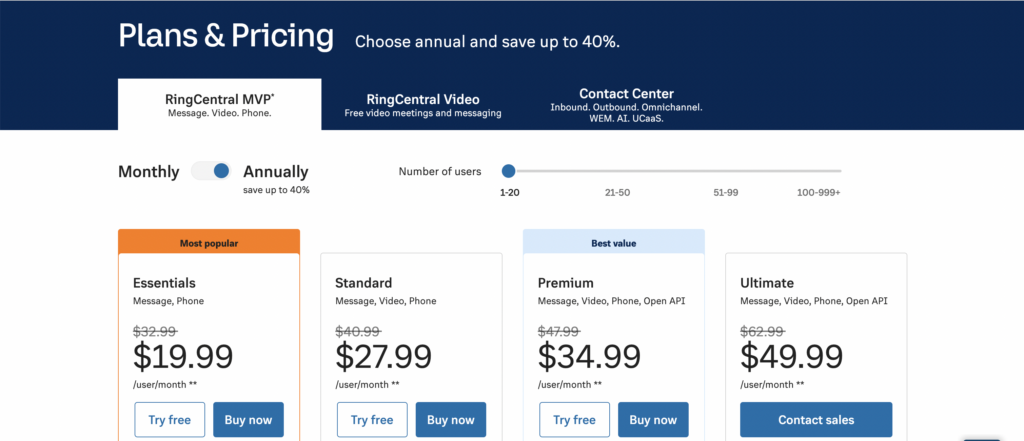 Essentials: $19.99 per user per month for business or toll-free numbers and unlimited calls across North America
Standard: $27.99 per user per month, offering unlimited internet fax, and popular integrations
Premium: $34.99 per user per month that offers hot desking, and single sign-on
Ultimate:$49.99 per user per month, providing unlimited storage and device status reports
The best part about RingCentral's plans is that users can try them for free except for the Ultimate package.
Zoom
Among the best free VoIP phone number platforms, you'll also find Zoom. This business phone system helps you modernize your communications system to improve productivity and cut costs – as a result, you achieve your business goals effectively. Additionally, Zoom software integrates with native apps to transfer calls across different devices, including mobile.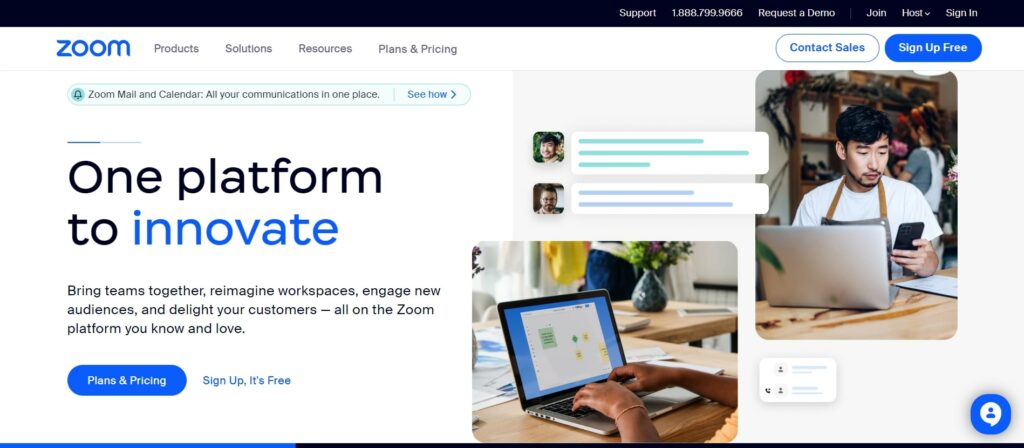 Zoom Key Features
Team chat
Live transcription
Meeting recording
Screen and app sharing
SMS messaging
Most virtual phone number VoIP platforms offer excellent features, and it's no different with Zoom. As stated above, this best free virtual phone number provider provides various tools to help small businesses improve team collaboration and efficiency.
Zoom Pros
Offers interactive whiteboarding
Has dynamic voice detection
It's simple to use as well as manage
You can make calls from anywhere across the globe
Provides a chatbot to attend to your queries 24/7
Users benefit from using Zoom in various ways – its free centralized management tools offer an easy way to achieve your business goals regardless of the size of your organization.
Zoom Cons
Too many add-ons and subscriptions
Does not offer HD Video as the standard
While Zoom has got plenty of excellent features, it does have a couple of disadvantages. However, some of these may not affect you at all, depending on the usage of the virtual phone number provider.
Zoom Pricing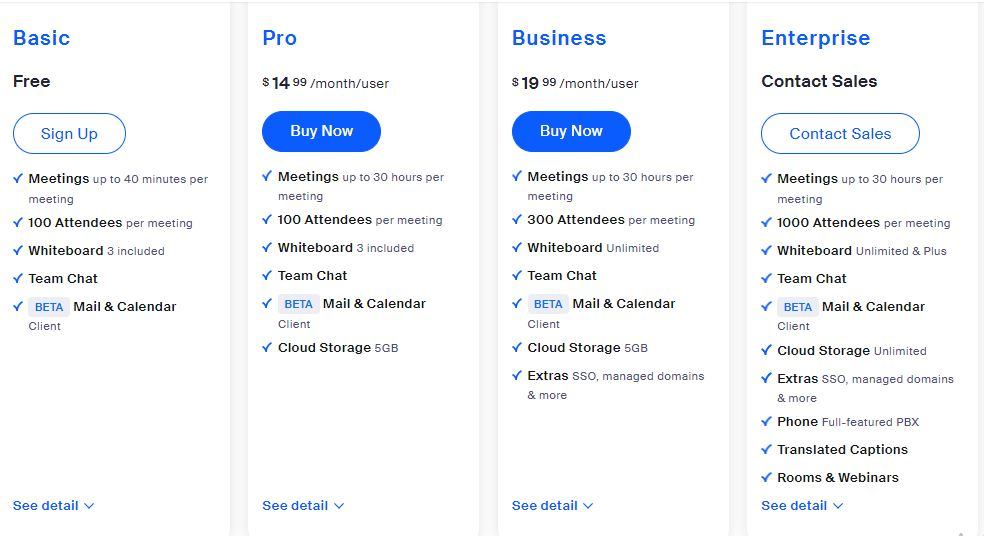 Basic: This plan is free and offers team chat, three whiteboards, and meetings of up to 40 minutes
Pro: $149.90 per user per year, offering 5 GB cloud storage, and meetings with up to 100 attendees
Business: $199.90 per user per year that offers unlimited whiteboard, managed domains, and team chat
Business Plus: $250.00 per user per year that provides meetings with 300 attendees, 10GB cloud storage, and translated captions
Vonage
Vonage offers reliable VoIP communications solutions for both consumers and businesses. With Vonage, users get SMS, fax, team messaging, video conferencing, and voice. Vonage lets you integrate real-time voice and messaging with popular applications without necessarily building backend infrastructure.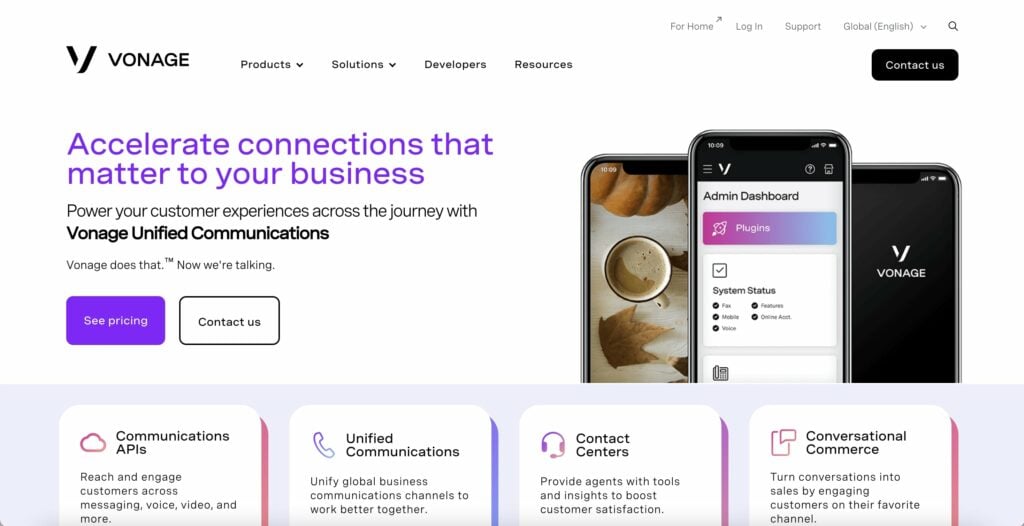 Vonage Key Features
Unlimited messaging
99.999% global reliability
Call routing
Call forwarding
With the Vonage features listed above, you can manage your team members, forward calls, and keep in touch with your local and international clientele. Also, you can integrate third-party apps such as Salesforce, Microsoft Team, Office 365, G Suite, and more with Vonage.
Vonage Pros
Vonage has got low rates for calling internationally
The UI is user-friendly and thus easy to navigate
Its phone call quality is pretty good
Users get up to three phones on one extension
Besides great features, you also get a lot of benefits with Vonage, including toll-free numbers and managing incoming and outgoing calls.
Vonage Cons
Vonage voicemail transcription is sometimes inaccurate
It could be a bit hard to get a hold of customer service
These are the main drawbacks we discovered when we reviewed this virtual phone system, but everything else functions just fine for your small business communications needs.
Vonage Pricing
Mobile: $19.99 per month per line that offers unlimited calls and SMS, Vonage App Center, and mobile and desktop apps
Premium: $29.99 per month per line offering unlimited meetings for up to 100 participants and IP desk phone capability
Advanced: $39.99 per month per line providing calls group, visual voicemail, and call recording
Even though Vonage doesn't offer a free trial plan, new users can still use credit-based trials, where you get a free trial with $10 in credits. This allows you to use any video API tools you want. For instance, you could redeem your trial credits to get free calls or minutes.
Ooma
Established in 2004, Ooma is a good virtual phone service for small businesses in the United States. Ooma's products deliver great reliability with advanced telephony features, which allow you to make free local and international calls. With this free VoIP phone number service, you get remote access to the Ooma Office app, enabling you to run your business smoothly no matter where you are in North America.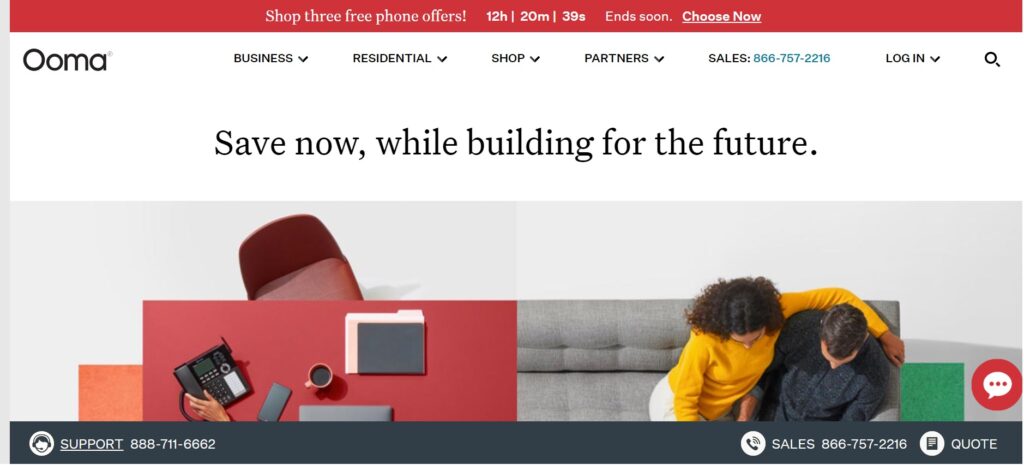 Ooma Key Features
Extension dialing
Toll-free number
Multi-level virtual receptionist
Unlimited calling
Ooma phone service is designed for both residential and business purposes. In each case, you'll find different services with different phone number features, including a local phone number to help fulfill your communications needs.
Most User-Friendly
Ooma | VoIP Phone Services - #1 VoIP for Business and Home
Ooma is one of the best telecommunications companies that provide internet-based phone services for residential and business customers. The company offers a range of products, including home phone service, business phone service, and internet security services. Ooma's home phone service allows customers to make unlimited calls within the United States and Canada, while its business phone service offers advanced features such as virtual receptionists, call routing, and conference calling. Ooma's internet security services include antivirus and firewall protection, as well as identity theft protection. Overall, Ooma provides reliable and affordable communication solutions for individuals and businesses alike.
Pros:
Cost-effective: Ooma offers affordable plans for both residential and business users, with no hidden fees or contracts.

High-quality voice: Ooma uses advanced voice compression technology to ensure crystal-clear voice quality, even over low-bandwidth connections.

Easy setup: Ooma can be set up in minutes, with no technical expertise required.

Advanced features: Ooma offers a range of advanced features, including voicemail, call forwarding, caller ID, and more.

Mobile app: Ooma's mobile app allows users to make and receive calls from their smartphone, using their Ooma number.

International calling: Ooma offers low-cost international calling rates, making it easy to stay in touch with friends and family overseas.

Reliable service: Ooma's service is highly reliable, with 99.99% uptime and 24/7 customer support.

Scalable: Ooma can easily scale to meet the needs of growing businesses, with no additional hardware required.

Ooma Pros
It has an intuitive mobile phone app
Provides brilliant call management tools
It's also cost-effective
Along with effective free virtual phone number tools, you've got great benefits with the Ooma VoIP platform.
Ooma Cons
Has got limited third-party integrations
Somewhat unclear security protocols
These are the drawbacks that we stumbled upon when reviewing this VoIP provider. They are, however, minor flaws for many users.
Ooma Pricing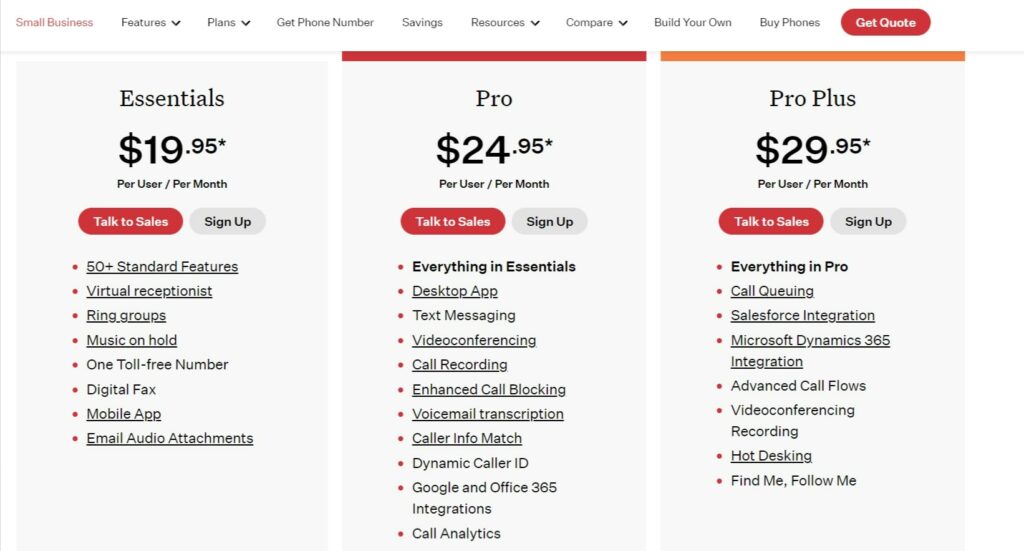 Ooma Office Essentials: $19.95 per month per line, offering unlimited calling to Canada, the US, Puerto Rico, and Mexico
Ooma Office Pro: $24.95 per month per line providing call recording, enhanced call blocking, and voicemail transcriptions
Ooma Office Pro Plus: $29.95 per month per line, offering CRM integrations, call queues, and more
While Ooma Office has no free trial plans, you could utilize Ooma Premier, which has an extended free calling zone. You can make free calls to other Premier clients in USA, Mexico, and Canada.
8×8
8×8 has existed for quite some time now, and it's one of the most popular unified business phone and virtual business phone number providers. It offers a variety of tools for your communications solutions, including a softphone and call management features.

8×8 Key features
Video calling
Web conferencing
Visual voicemail
Instant messaging
Forwarding incoming calls
With 8×8 phone system features, you can collaborate well with your team and customers, which translates to efficiency and high-profit margins for your business.
8×8 Pros
Provides an interactive response system for redirecting calls
You're able to organize and host video and web meetings
All-in-one customer support solution
8×8 comes equipped with advanced phone system functionalities to allow business owners to get the most out of the system at relatively low prices.
8×8 Cons
Connectivity outside of the US is lacking a bit
Connecting to customer service representatives can be challenging
Like all the other top-rated cloud-based communications services, 8×8 does have some minor challenges for users, which we've stated above. These, however, don't affect the workings of the 8×8 virtual phone number provider.
8×8 Pricing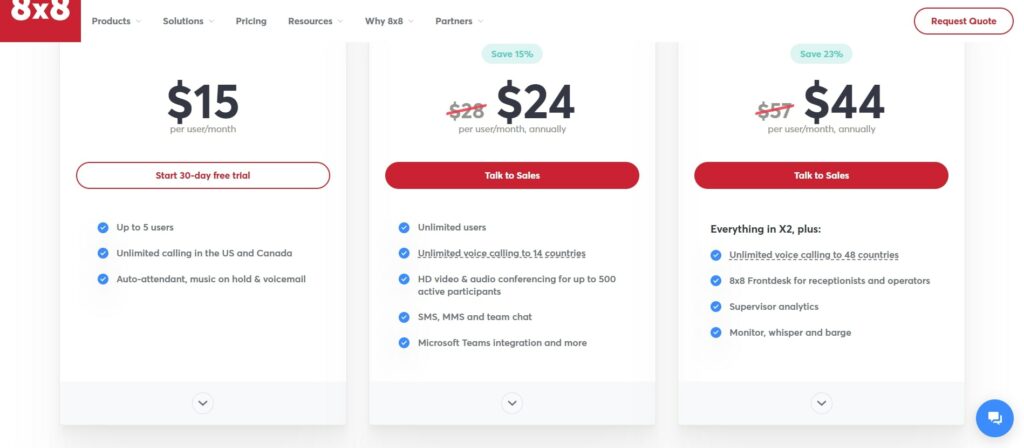 Express: $15 per user per month, offering unlimited calling across the US and Canada
X2: $24 per user per month offering SMS, MMS, and team chat
X4: $44 per user per month that provides 8×8 Frontdesk receptionist, and supervisor analytics
Note that the 8×8 Express plan has got a 30-day free trial so that you can determine whether or not the service is worthwhile.
Dialpad
Dialpad is a popular voice-over-internet-protocol communications solution built on Google Cloud, and it fuses contact center, calling, and conferencing. Like most cloud-based free virtual phone number services, its UCaaS tools/features are available for remote teams on different devices, including your mobile phone.
Best for Call Analytics
Dialpad
Dialpad is an AI-powered cloud phone company that provides a modern business communication platform for teams of all sizes. With Dialpad, users can make and receive calls, send and receive messages, and hold video conferences from anywhere, on any device. The platform is built on a cloud-based infrastructure, which means that users can access their phone system from anywhere with an internet connection. Dialpad also offers advanced features such as AI-powered transcription and analytics, integrations with popular business tools, and customizable call routing and voicemail settings. With Dialpad, businesses can streamline their communication processes and improve productivity, all while reducing costs and increasing flexibility.
Pros:
Cost-effective: Dialpad offers affordable pricing plans for businesses of all sizes, making it a cost-effective solution for communication needs.

Easy to use: The platform is user-friendly and easy to navigate, making it accessible to all employees, regardless of their technical expertise.

High-quality audio and video: Dialpad uses advanced technology to ensure high-quality audio and video calls, even in low-bandwidth situations.

Integrations: Dialpad integrates with popular business tools like G Suite, Salesforce, and Slack, making it easy to streamline communication and collaboration.

Mobile app: The Dialpad mobile app allows employees to stay connected on-the-go, making it easy to work remotely or while traveling.

Advanced features: Dialpad offers advanced features like call recording, voicemail transcription, and AI-powered virtual assistants, making it a comprehensive communication solution.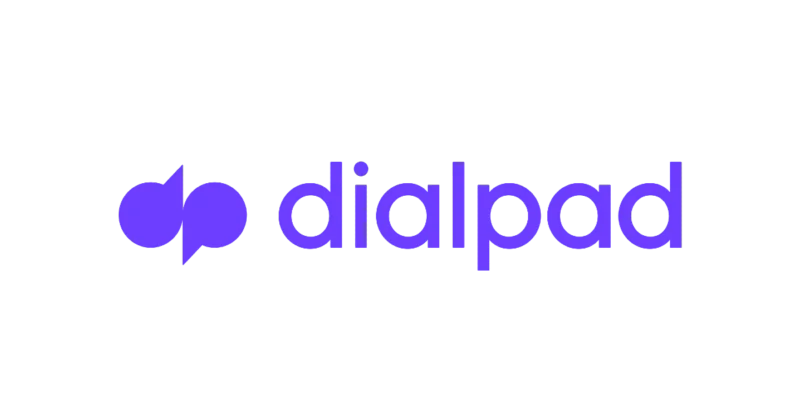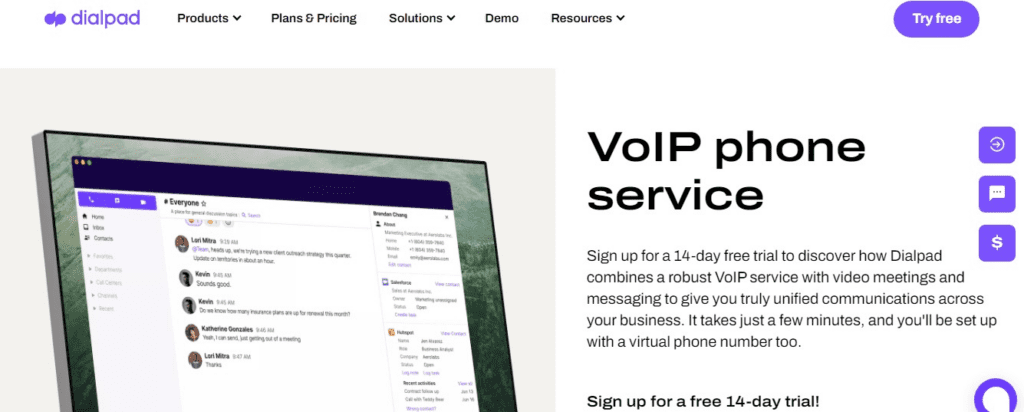 Dialpad Key Features
Voicemail
Porting numbers
Virtual phone numbers
Business text messaging
Caller ID
These features allow you to communicate with your team members remotely. Dialpad is one of the best wireless business phone systems providing virtual phone numbers for organizations with distributed teams and patrons worldwide.
Dialpad Pros
Users can search channels during team messaging
With Dialpad, you can add new users easily
Dialpad's AI transcription improves tracking and record keeping
As described above, Dialpad has a list of benefits for its users in the USA at pocket-friendly prices.
Dialpad Cons
For an upgrade, you require at least three users on your account
Phone support is minimal for lower-level customers
We did find some disadvantages with Dialpad, which don't necessarily affect your virtual phone number service.
Dialpad Pricing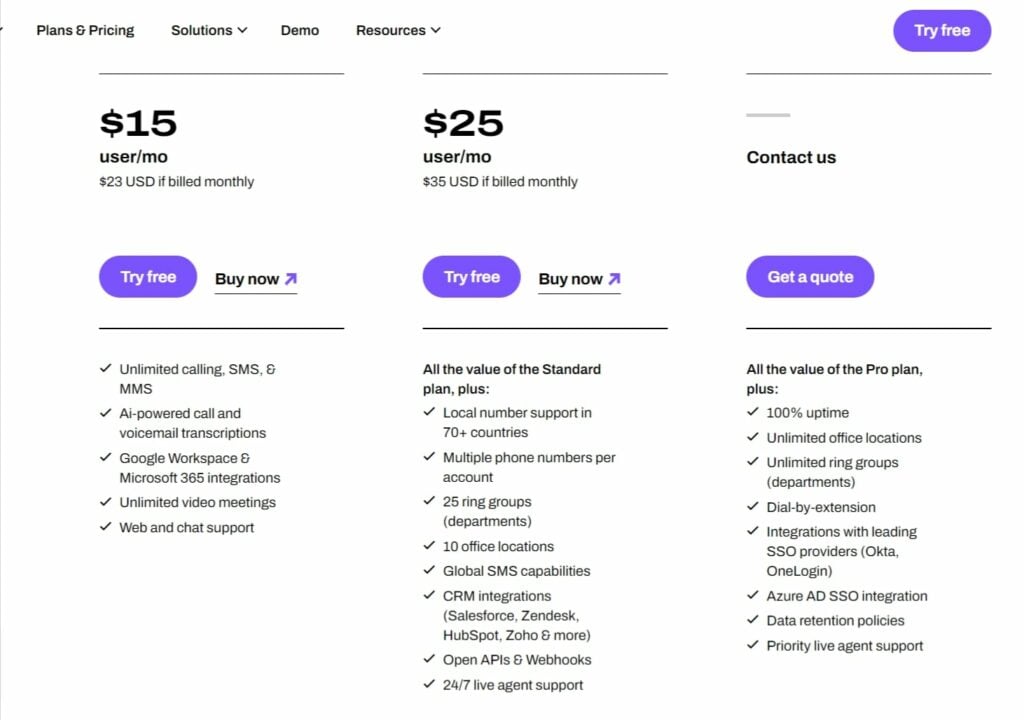 Standard: $15 per user per month for unlimited calling MMS, SMS, and AI-powered call and voicemail
Pro: $25 per user per month offering local number support, 25 ring groups, and multiple phone numbers
Enterprise: You need to contact their sales team for the price
With Dialpad, users are given a 14-day free trial. The setup process takes a few minutes to get started with your free virtual phone number.
Trengo
Trengo is another popular virtual phone system that offers a complete communication package for your small business. You can access it through your desktop PC and mobile phone wherever you are. Users can connect Trengo with SIP devices to show notifications of incoming calls and register calls via Voys in a Trengo ticket.
Best for Omnichannel
Trengo
Trengo offers a comprehensive communication platform for businesses of all sizes. With Trengo, businesses can manage all their communication channels, including email, social media, WhatsApp, and more, in one place.
Pros:
Advanced features such as automation, collaboration tools, and analytics to help businesses streamline their communication processes and improve customer engagement.

Easy scalability and flexibility, making it an ideal solution for businesses looking to grow and adapt to changing communication needs.

With a user-friendly interface and 24/7 support, Trengo is a reliable and efficient choice for businesses looking to enhance their communication capabilities.


Trengo Key Features
Ticket management
Social media integration
Document storage
Multi-channel communication
Automated call routing
With these features, Trengo users can offer a great customer experience and increase productivity.
Trengo Pros
Integrates well with third-party apps such as HubSpot, Instagram, Salesforce, Magento, and WeChat
With Trengo, you can create an awareness platform that's accessible by service agents and customers
Customer support is available worldwide
These are the major advantages we found while reviewing Trengo, which help you improve your workflow operations and virtual phone number experience.
Trengo Cons
Trengo doesn't store data for closed tickets, which could be a bit inconvenient
It doesn't have AI capabilities to keep improving auto-chats flow based on past interactions
Like any other cloud-based communications platform, Trengo has a few downsides, as described above.
Trengo Pricing
Grow: $18 per user per month, offering 80 days archive, and five communication channels
Scale: $30 per user per month that offers 50 communication channels, and free team chat
Enterprise: $41 per user per month for IVR menus and WhatsApp broadcasting
Apart from the Enterprise plan, the other packages are available with a free trial that ends after 14 days.
OpenPhone
OpenPhone is a well-reputed VoIP telephony solution that helps small businesses modernize services such as contact organization, internal communications, and other operations via a unified platform. Users can receive and make calls and benefit from toll-free phone numbers. Below, we've listed OpenPhone's key features.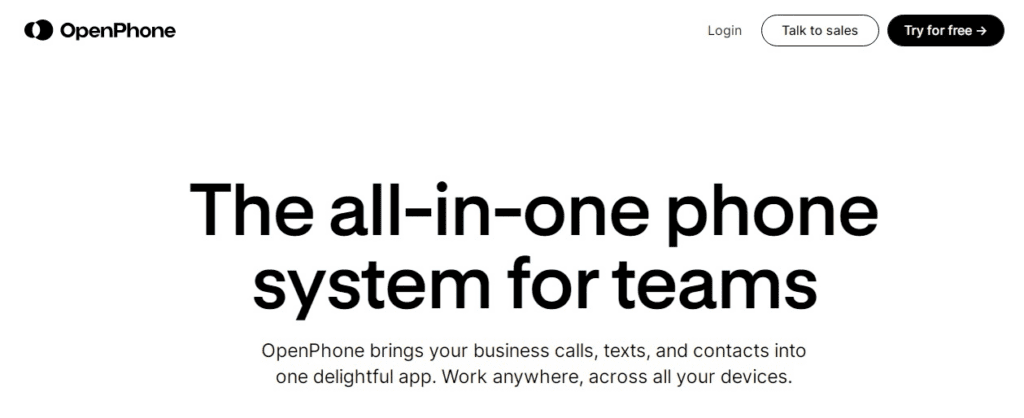 OpenPhone Key Features
Call waiting
International calling
IVR auto-attendant
Call queuing
Group messaging
OpenPhone offers excellent VoIP phone features to help supercharge your business communication needs, saving you money and time.
OpenPhone Pros
OpenPhone's native app is brilliant
With OpenPhone's free virtual phone number, you don't need to give out your personal phone number to customers
It has a user-friendly user interface
OpenPhone virtual phone system has various benefits for your business, regardless of the size.
OpenPhone Cons
It doesn't provide comprehensive call analytics such as answered calls, and response periods
You cannot transfer out-going calls
This popular business phone company has its downsides, but it's still a good choice for small business owners.
OpenPhone Pricing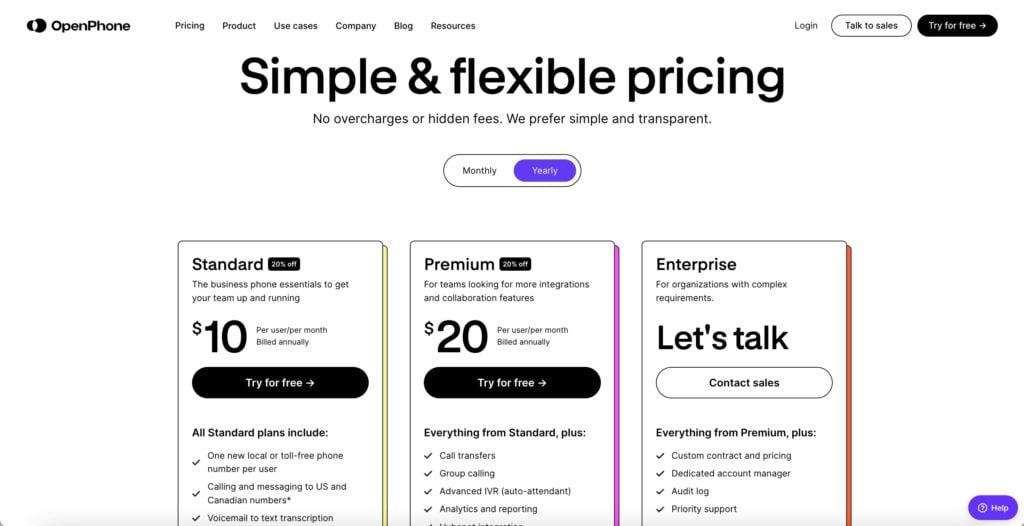 Standard: $13 per user per month for one new local or toll-free phone number and voicemail-to-text transcription
Premium: $20 per user per month, offering call transfers, HubSpot integration, and analytics/reporting
Enterprise: Get in touch with their sales team for pricing
Both the Standard and Premium packages give you a free trial of the service to determine whether it suits your business.
Google Voice
Google Voice is among the best free virtual phone numbers services for business and personal use. This service is easy to use as you need a Gmail account. With Google Voice, you can receive messages and calls worldwide.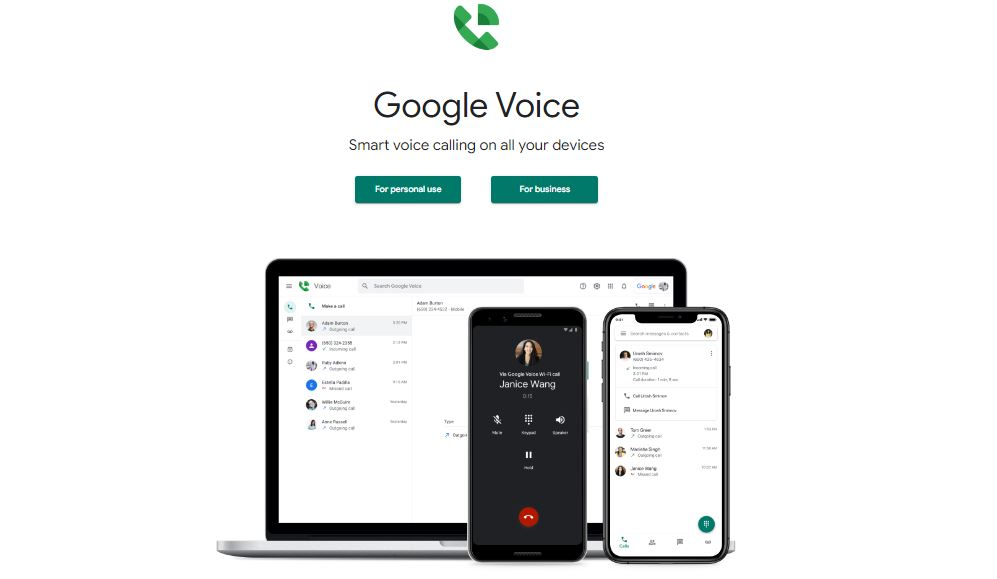 Google Voice Key Features
Personalized voicemail greetings
International calls
Call blocking
Auto attendants
Calls transfers
Google Voice has many features that offer great value to your business for free.
Google Voice Pros
With Google Voice, users can configure their PBX
It can be integrated with Google Calendar and Meet
This platform can be customized to suit your everyday workflow
These are some benefits you enjoy with Google Voice number service, along with a custom Google Voice phone for residents of the following countries. They include the USA, UK, Canada, and various European countries.
Google Voice Cons
It only works with other Google apps
No toll-free numbers
Restricted availability
Limited collaboration
Although Google Voice has many disadvantages for many countries, it's still a good choice for residents of North America and the vast majority of European nations.
Google Voice Pricing
Starter: $10 per user per month, offering custom business email, and video meetings with up to 100 participants
Standard: $20 per user per month for security and management controls and 2TB storage
Premier: $30 per user per month, offering video meetings with up to 500 attendees, and 5TB storage
Users can choose any pricing plan and qualify for a 14-day free trial.
Virtual Phone Number: Conclusion
There are numerous virtual business phone number services on the market. We have compiled a list of the best free virtual phone number providers for your small business to thrive. We know every business has unique needs, so we cannot tell you one option is better than the other.
The final decision has to come from you simply because you know exactly what your business requires in terms of a virtual phone number system.