Businesses are always looking for the best phone system to help improve productivity. Regarding phone systems, a few key considerations should be made: reliability, coverage, features, and cost. RingCentral and Vonage are excellent business phone systems. They offer a wide range of great features that help make running a business easier. However, they also have some key differences that need to be considered when deciding which one is right for you.
This article will cover the key similarities and differences between RingCentral and Vonage, so you can decide which phone system is best for your business.
RingCentral vs Vonage: Similarities
They both have brilliant call quality and reliability.
Both provide excellent call-handling features such as call transfer and call forwarding.
Both offer an auto attendant within their plans.
RingCentral and Vonage provide integrations with top-rated apps such as Salesforce, and Microsoft Dynamics/Office 365.
RingCentral vs Vonage: Differences
RingCentral offers video conferences for up to 200 participants – Vonage offers 100 participant capacity.
RingCentral offers HD audio and video, while Vonage provides HD voice as an add-on.
Vonage offers more affordable pricing plans compared to RingCentral.
Vonage's new Artificial Intelligence is more advanced than Ringcentral's AI.
What is RingCentral?
RingCentral is one of the most popular UCaaS solutions in the US, purpose-built as an enterprise communications tool for small and larger businesses. Consequently, it's got a free version that offers an outstanding phone system tool that includes team messaging, automatic call recording, caller ID, call forwarding, and multi-participant video meetings.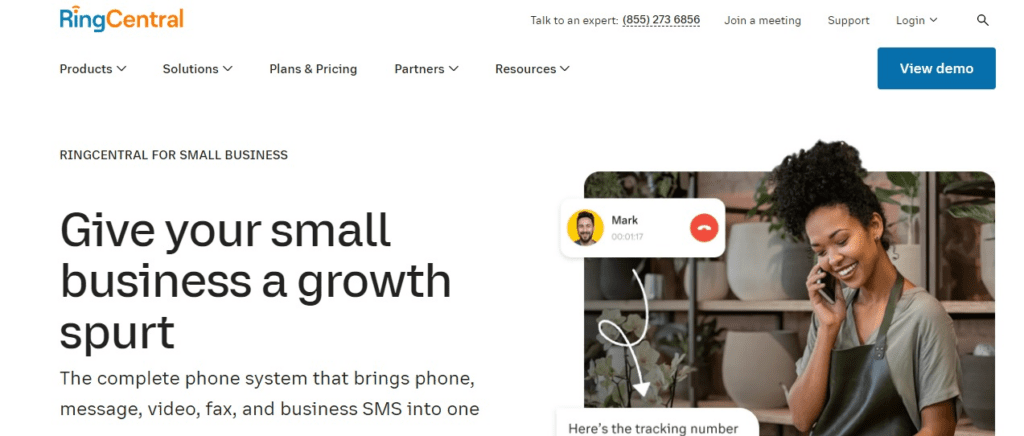 RingCentral Key Features
Call reports
Auto-receptionist
Toll-free and local numbers
Third-party integrations
Video conferencing
Who is RingCentral for?
This cloud-based business phone system comes with state-of-the-art tools and features. They aid in team messaging, video conference needs, and internet fax, among other things, which help in running your business efficiently. RingCentral is recommended for businesses looking for unified communications solutions for video meetings, voice, and fax with innovative features.
What is Vonage?
Operating as a subsidiary of Ericsson, Vonage is an American cloud-based communications service provider headquartered in New Jersey. The organization was established in 1998 as a provider of residential telecommunications VoIP services. Today, this telephony company has widened its horizons and provides a first-rate business phone system to SMEs and medium-sized businesses. It leverages AI technology to offer its services across the United States and the world.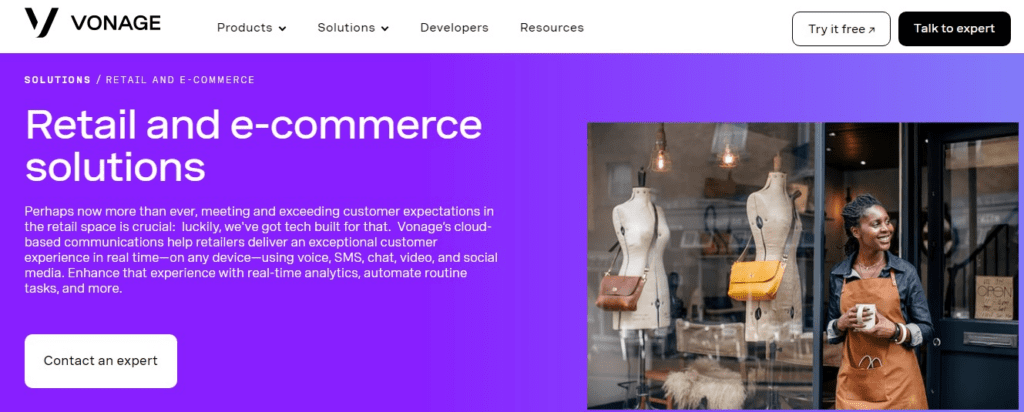 Vonage Key Features
99.999% uptime guarantee
Unlimited team messaging
Video meetings
Unlimited phone calls and texts
Call recording
Who is Vonage for?
This phone system provider offers affordable pricing plans with easy-to-use unified communication tools and features. Therefore, it's ideal for small businesses looking for solutions that utilize artificial intelligence for call and customer relationship management.
RingCentral vs Vonage: Features
These VoIP phone system providers have great features that help with your business communications needs. They have several divergences, which we'll review in detail to help you make an informed decision.
Call Queuing
Call queuing is one of the features you'll benefit from with either of the business phone system providers. RingCentral provides this particular feature across all its plans – but real-time analytics/reports are limited to higher-level subscription plans.
Vonage provides call queuing as a paid add-on, which could be somewhat limiting to some businesses. However, this is a great way to prevent you from paying for features you may not need in your business setup.
Internal Communication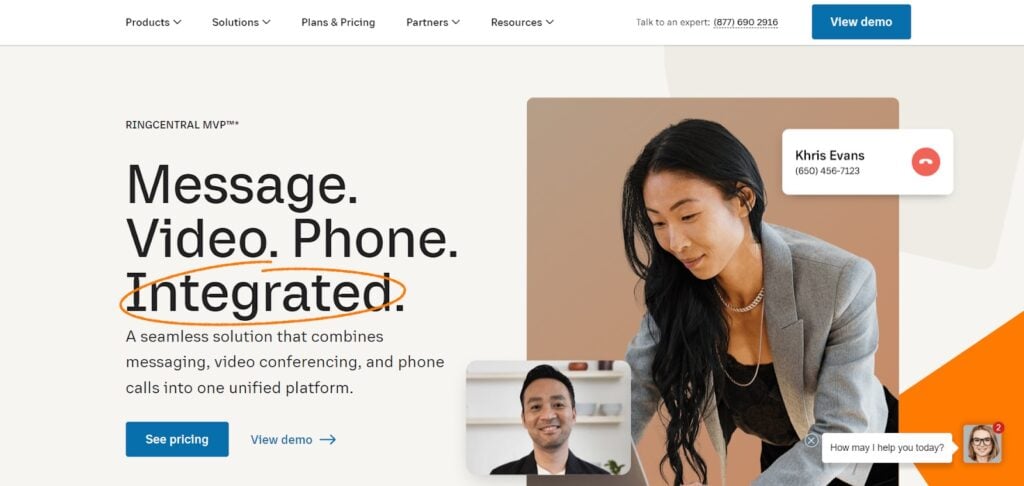 Both RingCentral and Vonage offer excellent internal unified communications tools for your modern business, such as in-meeting chat, sharing your screen, recording, text messaging, file sharing, call monitoring, whiteboarding, and more.
However, RingCentral offers more advanced features compared to Vonage. For example, RingCentral offers breakout rooms, End-to-End Encryption, and Team huddles, where attendees can join and leave a meeting. Vonage business communications need to catch up to these cutting-edge internal communication features.
Auto Attendant
An auto-attendant feature is a virtual receptionist that helps answer, direct or forward calls without the need for human manipulation. All RingCentral and Vonage packages come with an auto-attendant feature, while mid and high-range plans include multi-level auto attendants.
A multi-level auto attendant lets admins create separate IVR sub-menus, with distinct DID (Direct Inward Dialing) numbers operating independently of the main business number. With an auto-attendant, you can record custom greetings, and route calls by specific employee/department extension – you could even route calls to voicemail or external lines.
Analytics and Reports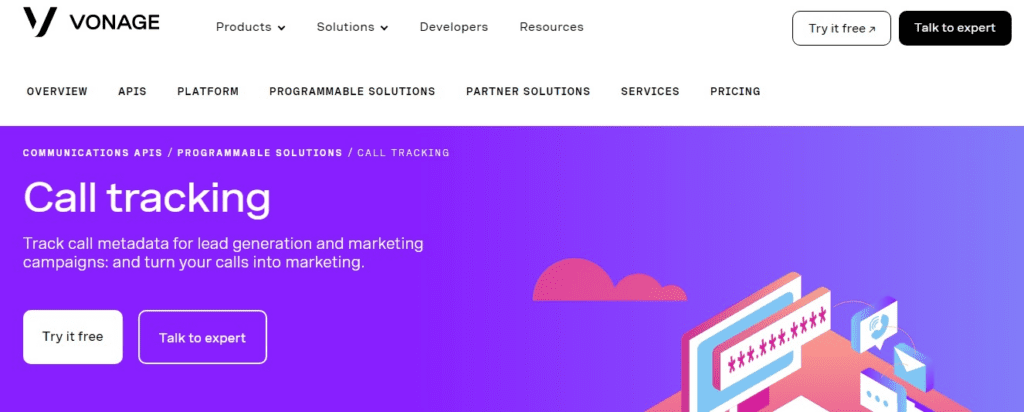 With RingCentral, you get historical data on metrics comprising inbound/outbound call volume, total calls, call quality, agent activity, and average calls daily. Essentially, you can customize what data to include in the reports. Alternatively, admins can select from a list of built-in KPIs and report templates. You can schedule all RingCentral's analytic reports to be sent to your email at preset intervals.
Additionally, real-time/live reports are available in RingCentral's higher-level plans. They use data visualization classifications such as charts and graphs to show a print of live call information.
Vonage's unified communications provider offers historical reports for call activity like total calls, missed calls, answered calls, and average call duration. Admins can look up data from the past 18 months, filtering the information by extension, ring group, and custom date ranges.
While Vonage uses powerful AI analytics mechanisms, RingCentral's report feature is innovative, with customizable real-time insights.
Video Conferencing Capabilities
Vonage and RingCentral provide great video conferencing functionalities, including chat, meeting recording, screen sharing, and more. However, they differ in how they offer this VoIP communication feature. For instance, RingCentral offers HD quality in audio and video meetings. Vonage offers what's referred to as HD voice as an add-on.
Regarding meeting capacity, RingCentral allows up to 200 attendees for video conferencing within their higher-level plans, while Vonage tops out at 100 participants.
Verdict: RingCentral Wins in Features
While both Vonage and RingCentral come with the typical features you should expect in a VoIP communication solution, like auto-attendant, call forwarding, and hold music; RingCentral comes out on top. When compared to Vonage, RingCentral has got more features overall. This particular VoIP service provider basically offers most of these features within all its plans. Vonage, however, provides most of the features as add-ons.
Ultimately, RingCentral has got more features as a standard option within its plans than Vonage. It's also worth mentioning that RingCentral greatly focuses on medium to large-sized organizations. Vonage's focus is more on small businesses and solo business ventures.
Vonage vs RingCentral: Integrations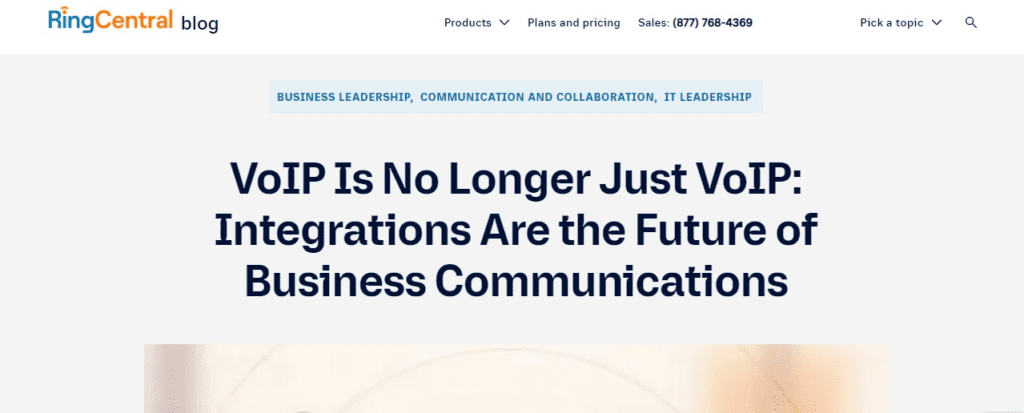 As far as integrations go, RingCentral is a top contender not just against Vonage but also when compared to a vast majority of top-rated UCaaS providers on the market. Businesses can essentially link the RingCentral phone system to over 250 third-party applications—these range from CRM integration apps to analytics and customer support tools.
Vonage does not have such as huge app portfolio, but it still allows you to connect your business phone with essential applications. They include Clio, GSuite, Slack, Salesforce, and Zapier, which allows custom integrations.
RingCentral Wins in Integrations
RingCentral's popular plan includes basic third-party integrations comprising Google Workspace, Microsoft 365, and Outlook. Higher-tier plans come with applications such as Zendesk, and HubSpot and industry-specific integrations like Smarsh and Canvas.
RingCentral wins in this VoIP communication category simply because it's got more unique third-party integrations.
RingCentral vs Vonage: Pricing
RingCentral's subscription plans are a bit more expensive than Vonage's packages. With RingCentral's Essential plan, you'll get started for $19.99 per user, compared to Vonage Basic plan, which goes for $14.99 per user. For RingCentral's advanced plans, you'll pay $49.99, while Vonage offers its highest business phone package for $34.99. We must admit, however, this isn't a like-for-like comparison, given that you get more functionality as well as features with RingCentral.
For instance, both of these cloud communications platform providers include unlimited domestic calls and texts within their base plans – but with RingCentral, you get to call across North America (the USA and Canada).
RingCentral Pricing: Billed Monthly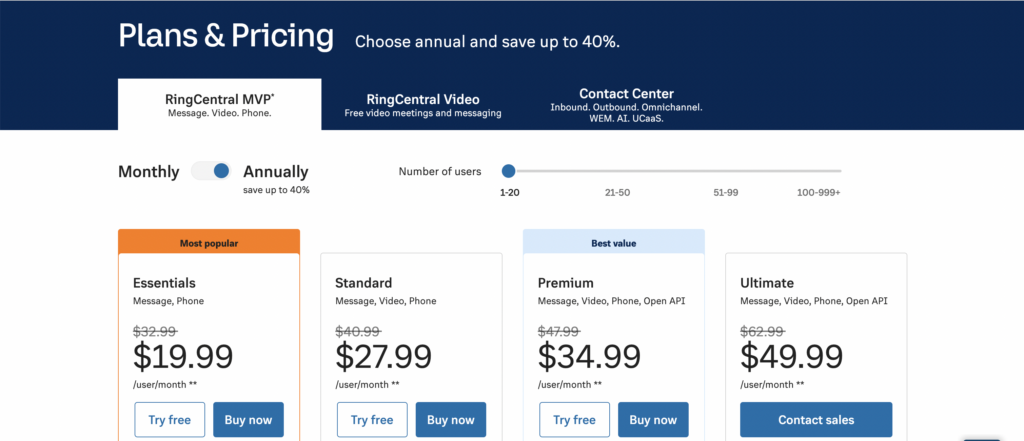 Essentials: $19.99 per user, per month offering team messaging, toll-free number, enhanced business SMS, visual voicemail, and document sharing
Standard Plan: $27.99 per user per, per month that offers HD voice, call management, and phone system administration
Premium: $34.99 per user, per month, providing unlimited internet fax, HD video, popular app integrations, and 24/7 support
Ultimate: $49.99 per user, per month with advanced reporting, unlimited audio conferencing, and much more
Vonage Pricing: Billed Monthly

Basic mobile plan: $14.99 per month per line with Vonage app center, unlimited team messaging as well as mobile and desktop apps
Premium: This Vonage plan costs $24.99 per month per line and offers unlimited meetings for up to 100 and IP desk phone capability
Advanced: $34.99 per month per line that provides call recording, call group, and unlimited calls and SMS
Vonage Wins in Pricing
Both Vonage and RingCentral plans are great options depending on your business needs. Still, many businesses appreciate a la carte style plans offered by Vonage.  Instead of paying for advanced features that your small business might not require, Vonage gives users inexpensive packages with optional add-ons. Some of these include toll-free numbers, upgraded support, and call recording.
Vonage Phone vs RingCentral Phone: Customer Support
Both RingCentral and Vonage are ideal for small businesses. They provide brilliant customer support that's readily available, but these services come with some variances. RingCentral goes to great lengths to ensure small businesses get the most value for their money. This UCaaS provider has essentially created a white glove service known as the RingCentral Advantage specifically for small businesses, which is available across all its plans.
Vonage also does offer 24/7 US-based customer support in all its plans. You could also get additional support as well as consulting for an additional hourly or monthly fee.
RingCentral Wins in Customer Support
With RingCentral Advantage, users have got 24/7 live support, essential training with real humans, and access to a ton of online resources across all its plans. This ensures that you're utilizing RingCentral's business communication system fully. Additionally, this service is readily available whenever you need it – with a monthly subscription included in your plan.
Vonage comes with its version of white-glove service, too; unfortunately, it's only available in its higher-level plan subscription
Vonage vs RingCentral: Resources for Employees
Both of these cloud-based communication providers have got rich resource centers. These help their employees not only to develop their skills but also offer better customer and personalized support. For example, they've got useful videos, webinars, articles, e-books, guides, whitepapers, case studies, and much more.
It's a tie in Employees Resources
As it is, Vonage and RingCentral are big on employee improvement. As such, they provide their teams with access to valuable educational resources to help advance their careers. Consequently, you also get better cloud-based communication solutions.
Vonage vs RingCentral: Additional Services
We also compared the two phone systems based on additional services. With RingCentral, you can enhance your unified communications platform for an extra one-time or monthly fee. You could add toll-free numbers, an international and a local number, and more. You've also got RingCentral Video Pro as an extra service. This is a video meeting collaboration service integrated with RingCentral MVP for mobile, web, and desktop.
Vonage customers also get extra features, including virtual receptionist recording, toll-free numbers, go-live support, VoIP onsite installer, and PLUS powered by Soluto. This comes at an extra monthly or hourly fee. Users can also select from four Vonage contact centers depending on their preferences.
RingCentral Wins in Additional Services
In the mano-a-mano battle of additional services, RingCentral beats Vonage. Besides the fact that RingCentral Video Pro is completely free, its additional features are somewhat cheaper compared to Vonage's extras.
RingCentral vs Vonage: Conclusion
Both RingCentral and Vonage are great VoIP providers for small businesses. They support video conferencing, calling, messaging, and many other phone services over an internet connection. However, we understand that every business is unique, so you want to do your due diligence even after reading an incredibly charming and well-researched blog like this one.
With that said, be sure to know what your team and business needs are, as it's the only way you'll find a suitable VoIP business phone for your organization.