When choosing the best VoIP providers for business, there are a few things to consider. One important factor to consider is the level of service you need.
A low-cost service may be suitable for a small startup or a home-based business, but it may not offer the features you need to manage your growing company. Conversely, a high-end plan may not fit your business budget.
To help you decide which VoIP provider is right for you, we've compared the top options on the market: Nextiva vs. Ooma.
Each service offers a wide range of features that make it easy to manage unlimited calls and stay connected to your customers. However, there are a few important differences that set them apart.
Below, we've listed the key similarities and differences between these two services to help you choose the best VoIP provider for your business.
Ooma vs. Nextiva: Similarities
Nextiva and Ooma have some similarities. Check out some of them below:
VoIP services: Both provide Voice-over-Internet-Protocol services. These provide more cost-effective communication and collaboration solutions for your business phone system than landline PBX.
Affordability: The two apps are among the most affordable VoIP service providers available for small businesses
Basic call and communication feature: These two services have all the basic call features like call automation, call recording, mobile app, call logs, and voicemail messages in their free and most basic plan.
Ease of use: Both have very user-friendly interfaces, making them easy to set up and use.
Ooma vs. Nextiva: Differences
These are some of the differences between the two VoIP service providers:
Features: Both have differences in terms of features. While both providers have similar basic functionalities, Nextiva has more features than Ooma.
Suitability: While Nextiva can be used by businesses of all sizes, including small, medium, and large-sized businesses, Ooma is more suitable for start-ups and small businesses.
Pricing: Both have different pricing plans with different features under each plan. Ooma's basic plan has features like a mobile app and calls analytics which you'll need to switch to a higher plan in Nextiva to access.
Integrations: Compared to Ooma, Nextiva provides more integrations with various e-commerce platforms like Microsoft Teams, Google contacts, and Outlook, among many others
What is Nextiva?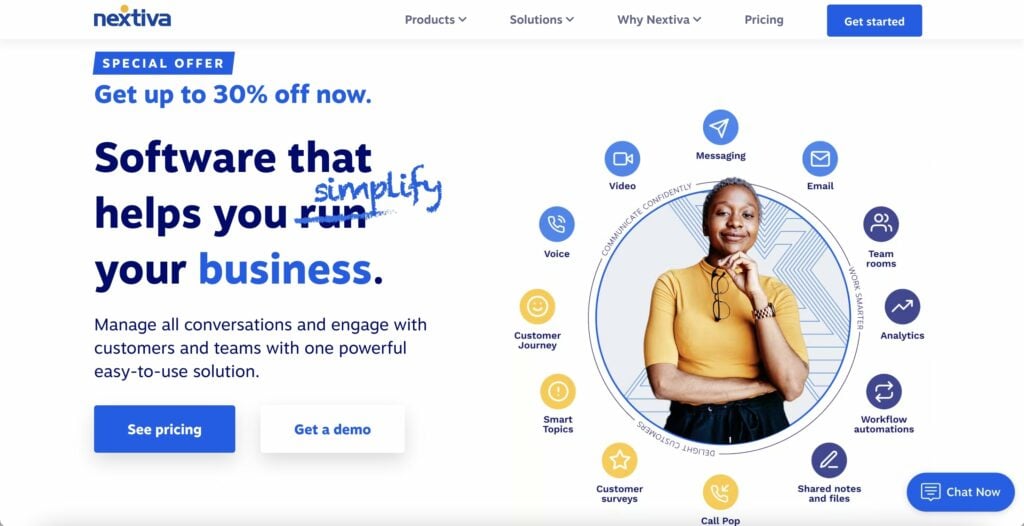 Nextiva is a cloud-based Voice-over-Internet-Protocol (VoIP) phone service that offers a full range of integrated video, unlimited calls, call recording, voice, and messaging tools.
In addition, the service provides a user-friendly CRM to help businesses maximize customer engagement across communication channels. Nextiva has three plans to choose from, with prices ranging between $23.95 -$37.95.
Nextiva Key Features
The following are the key features of this phone service provider:
Threaded conversations: This allows you to view texts, emails, contact, and other messages from different communication channels in one place. Rather than opening multiple communication tools simultaneously, all communication with a client can be viewed using NextivaONE's work hub.
Call pop: This automatically displays important caller information such as customer experience score, phone numbers, and total account value in the last interaction for incoming and outgoing calls.
Voice analytics: The feature offers comprehensive reports and a real-time communication overview. This allows you to analyze patterns, keep an eye on performance and look for ways to improve.
Nextiva CRM: With this tool, you can manage your whole sales process and link all interactions from a single workspace by visually tracking leads and deals.
Who is Nextiva for?
Nextiva is an excellent option for small businesses planning for rapid expansion shortly and is heavily dependent on video communication. It's also ideal for those more inclined to native functionality above third-party compatibility.
What is Ooma?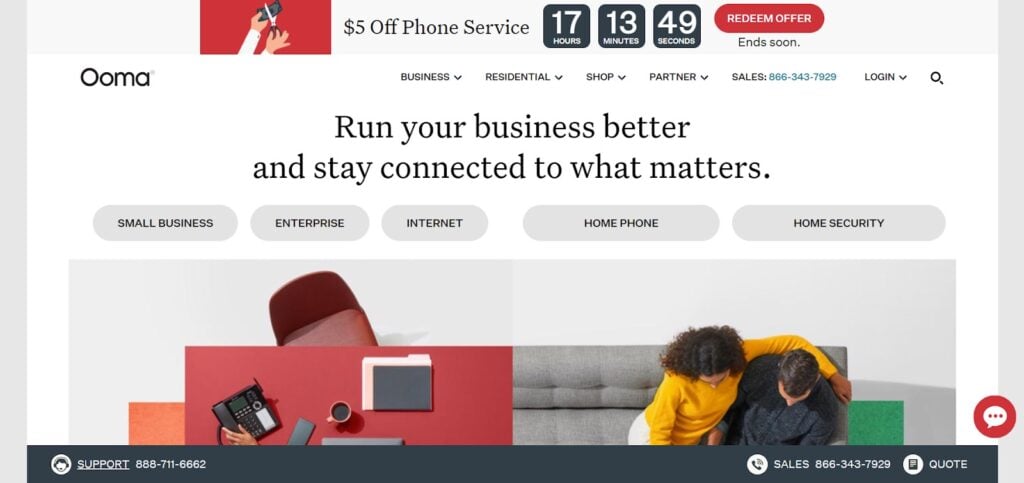 Ooma is an affordable and easy-to-use VoIP system that offers a simple communication solution for small businesses looking for toll-free numbers, fax extensions, and other features necessary for seamless communication. Its basic plan offers various features, such as a virtual receptionist, call-forwarding, enhanced call, text messages, call recording, and even a mobile and desktop app.
Ooma Key Features
These are some of this app's outstanding features:
Virtual receptionist: This feature helps you manage incoming calls and text messaging to ensure prompt responses even when the call agents are busy.
Call queuing: Using simple call flow design and call forwarding techniques, this feature allows you to minimize caller hold times and optimize available agents during busy call periods.
Mobile app: This allows you to connect the desktop app to your phone system on a smartphone or other android mobile devices, making your phone numbers accessible from anywhere and at any time
No contract needed: You'll not need to sign any service contract with this VoIP phone system allowing you to opt-in or out at any time.
Who is Ooma for?
Ooma Office is best for solopreneurs and small businesses with small teams of less than 20 users. It's an ideal choice for a small company looking for an affordable, simple, and straightforward home phone.
Nextiva vs. Ooma: Features
Nextiva and Ooma are among the most popular VoIP phone systems of small and medium-sized businesses today. While these two apps have some similarities, they differ in various aspects and features. These are some of the key differences between the two services.
Call Queuing
Both come with an excellent call queuing feature. Nextiva offers call routing, automatically sending incoming calls to the right person with an easy-to-create custom call route.
On the other hand, Ooma uses simple call flow design and routing techniques to minimize caller hold times and optimize available agents during peak call times.
Internal Communication
For internal communication between team members, Nextiva offers a team chat, a feature that allows members to send secure messages over a shared platform. It allows instant text messaging, screen sharing, and video calling features. Nextiva offers comprehensive collaboration tools to enhance internal communication.
Ooma office also has collaboration tools, including chats and instant messaging. However, it has fewer collaboration features compared to Nextiva.
Analytics
Nextiva has a voice analytics tool that offers a real-time summary of all call activities in your contact center. Ooma also has a call analytics function that gives a complete overview of calls as they come with easy-to-use charts.
Verdict: Nextiva wins in features.
Generally, Nextiva offers more features and advanced features compared to Ooma. This makes it a clear winner in terms of the number of features. However, both apps offer quality services.
Ooma vs. Nextiva: Integrations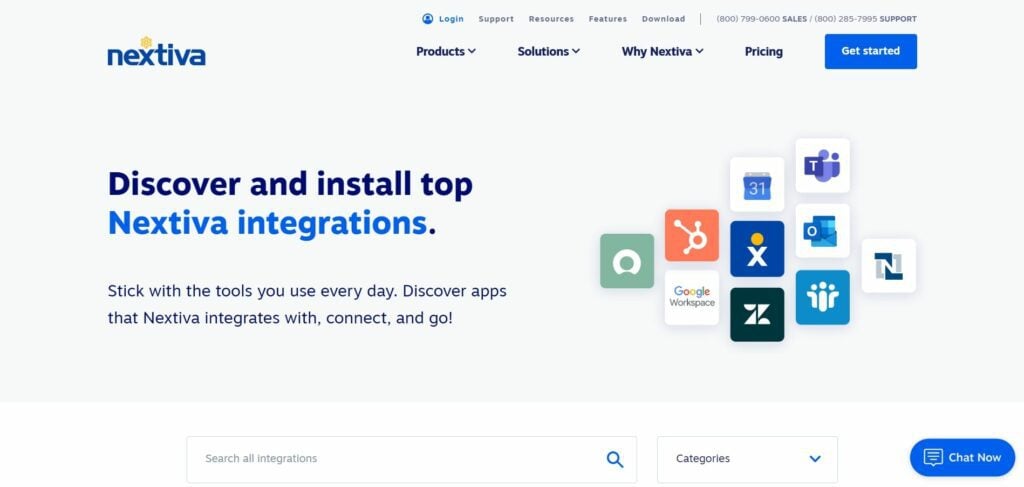 Both offer seamless integration with other tools that you may be used to enhance efficiency and communication in your business. Nextiva's basic plan allows integration with Google contacts and Outlook. With higher plans, you get more integrations with tools such as Zendesk, HubSpot, Microsoft Teams, Salesforce, and many others.
Unlike Nextiva, Ooma has limited integration with tools like Zoho CRM, Zendesk, Microsoft Dynamics, G-Suite, and Salesforce in the higher plans.
Nextiva wins in integrations.
Nextiva is the winner in this section as it has a larger number of integrations than Ooma
Ooma vs. Nextiva: Pricing
Both have no significant differences in their pricing plans. Check out the prices for both plans.
Nextiva Pricing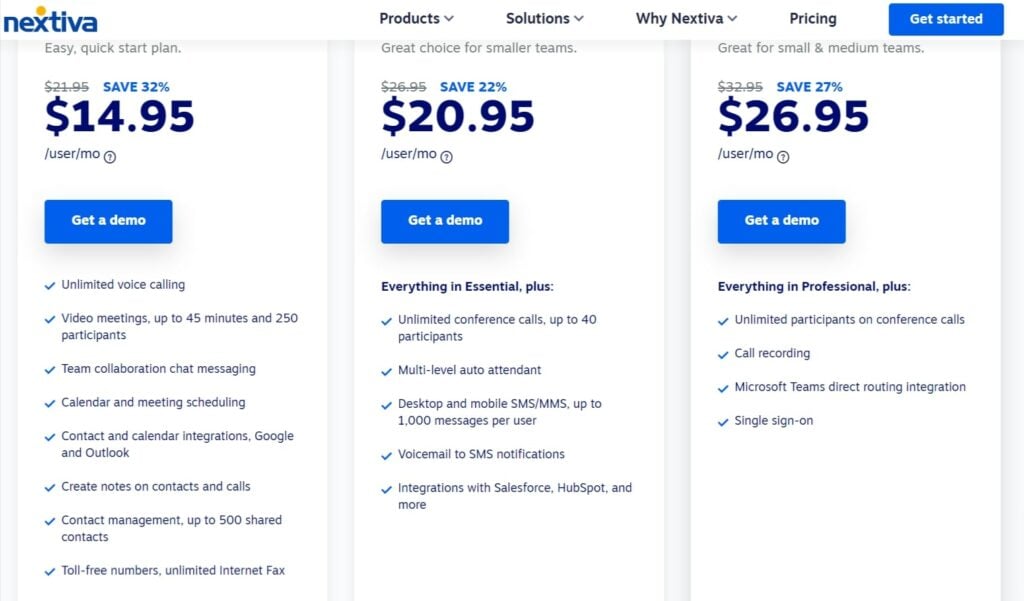 Nextiva prices can be complicated with hidden fees as they vary based on the number of users and the plan chosen. Besides the free plan, Nextiva has 3 pricing plans as follows:
Essential: This costs $14.95/user/month for teams with over 100 members and $23.95/ user/ month for teams with four or fewer members.
Professional: This goes for $20.95 per user per month for up to 99 users billed annually
Enterprise: The plan is suitable for small and medium-sized businesses and costs $26.95 per user per month for up to 99 users billed annually.
Ooma Pricing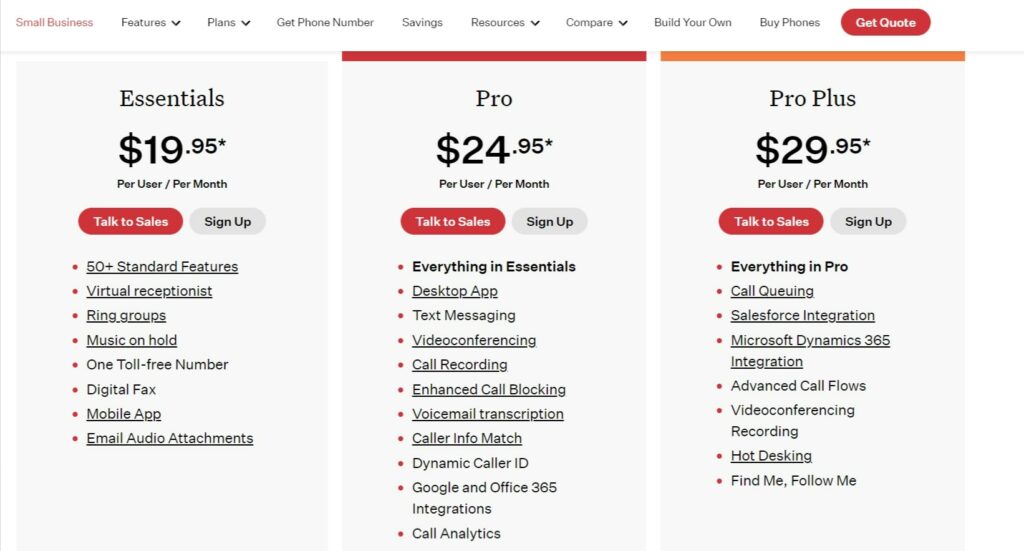 They offer simple and straightforward pricing plans as follows:
Ooma Office: The plan costs $19.95 per month per user for up to 20 users billed annually
Ooma Office Pro: It costs $24.95 per month per user for up to 20 users billed annually.
Ooma Pro Plus: This costs $29.95 per month per user billed annually for up to users
Nextiva wins in pricing.
In terms of pricing, Ooma scores higher as it is cheaper compared to Nextiva, especially for small businesses.
Ooma vs. Nextiva: Customer Support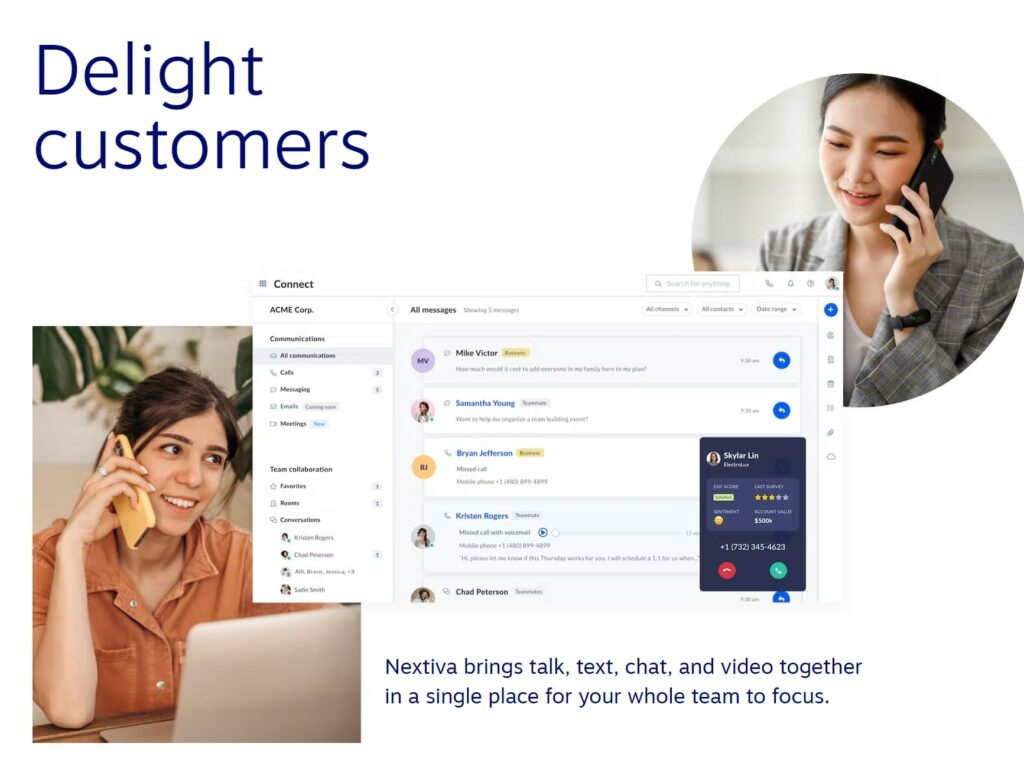 Both tools offer excellent customer support via various options such as live chat, phone calls, voicemail notifications, emails, FAQs, and a help desk. Nextiva offers comprehensive customer support, including a knowledge base. Ooma, however, does not offer a knowledge base.
Nextiva wins in customer support
While both solutions have great customer support, Nextiva wins in this sector due to its inclusion of a knowledge base that Ooma lacks.
Ooma vs. Nextiva: Conclusion
Ooma and Nextiva are both great VoIP business phone systems. They are easy to use and have all the features you need for effective business communications.
Both providers also have a reputation for offering high-quality phone services. However, the best VoIP provider for your business depends on various factors. You'll need to consider your business needs, budget, and the feature set you are interested in.
Well, there's all the information you need to know about Nextiva vs. Ooma, including their key features, prices, and suitability. Which provider is ideal for you? The choice is yours.
Go for what suits your business needs best.