VoIP is becoming increasingly popular for businesses and households who are looking for a more affordable, reliable and flexible communications solution. Business phone solution VoIP allows users to make and receive phone calls through the Internet instead of traditional phone lines.
Read on to find out more about What is VoIP and How Does VoIP Work? Even if you are a beginner in the world of technology, you will be able to understand and use VoIP phones.
What is VoIP?
VoIP stands for voice over internet protocol. Voice over IP (VoIP) is a process of converting your voice into a digital signal, compressing it, and sending it over the internet. VoIP can be used with Internet phone service, or with a regular phone. Using VoIP phones allows you to make VoIP calls using the internet without having to pay for long-distance charges or for overseas VoIP calls.
Voice over internet protocol is an internet protocol that allows computer applications to transmit voice communications and multimedia content over the Internet as data packets rather than in traditional analog form. VoIP allows both individual users and enterprise users to communicate through voice, video, fax, chat and other multimedia functionality over Internet Protocol (IP) networks.
How does VoIP work?
VoIP works by using the internet to make phone calls rather than using traditional telephone lines. Instead of using wires, it uses data networks to transmit voice conversations. This enables you to make phone calls anywhere you have an internet connection, as long as you have access to a phone or VoIP-enabled device.
Your VoIP data is stored securely on a centralized server in a data center which is owned and managed by your VoIP provider. This eliminates the need for expensive equipment at your office.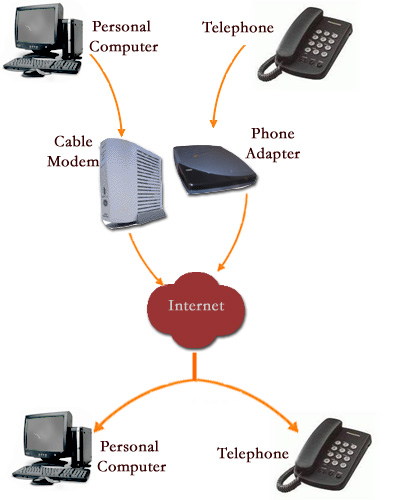 How to set up a VoIP phone system?
VoIP configuration involves setting up a virtual telephone number that points towards a VoIP service located on a server at a separate location. There are two main options for implementing VoIP phones in your office – traditional on-premises deployment and hosted VoIP services in the cloud.
In traditional on-premises deployment, the VoIP server is installed at your office, along with VoIP phones and other hardware required to run the system. The advantage of this approach is that you have complete control over your system and can make any changes as needed. However, you will also have to incur the cost of installing and maintaining the hardware on your own.
Hosted VoIP services, on the other hand, are offered by cloud service providers and allow you to make calls over the internet without having to worry about installing and maintaining any hardware. All you have to do is sign up with a service provider and start making calls using your VoIP account. Some advantages of using a hosted service include ease of setup and reduced upfront costs.
Both hosted VoIP services and traditional on-premises deployment come with their own set of advantages and disadvantages. Businesses should consider your requirements carefully before making a decision about the configuration of your VoIP system.
VoIP Phone Number
A VoIP phone number is a number that is assigned to you by the VoIP service provider when you create an account with them. This phone number can be used to place calls with other users who have VoIP accounts with your service provider. The phone number can also be called by other users who have VoIP accounts with other service providers.
Also, VoIP phone numbers can have different area codes depending on the country where they are used. For example, a Canadian user may have a phone number with an area code of 416, while a US user might have a number with an area code of 321.
VoIP phone numbers can either be landline numbers or mobile numbers. You can keep your existing landline number and port it to VoIP to keep your existing number when you switch to VoIP service.
VoIP vs Landline
VoIP and landline phones can both be used to make and receive phone calls. However, they have different advantages and disadvantages that make them more suitable for different types of businesses.
Cost
In the traditional landline phone model, your company would have its own telephone system installed on your premises, along with expensive equipment such as switches and routers. VoIP, on the other hand, works by routing calls over the internet.
VoIP service providers often offer lower rates than traditional landline phone service, and, if properly managed, offer advanced functionality such as call forwarding, voicemail, call waiting, conference calling and more.
Thus, VoIP offers additional cost savings because often traditional telephone service providers charge recurring fees for these add-ons.
Scalability
VoIP is also more scalable than traditional landline phone service, as businesses can add or remove employees with just a few clicks on the software interface rather than having to buy a new phone system for each new employee.
Another advantage of scalability is that it allows companies to increase or decrease the number of phone lines as required without incurring large capital expenditures.
Flexibility
VoIP also offers greater flexibility than traditional landline phone service.
With a traditional landline phone system, you must have a phone line installed in every room where you want someone to be able to place or receive a call.
Unlike traditional landline phone service, which is limited by geographic location, VoIP works over the internet and can be used anywhere there is a stable internet connection. A VoIP phone system allows a company's employees to place and receive calls on any device: desktop computer, laptop, tablet or even smartphone, from anywhere that they have Internet access.
This flexibility is especially valuable for businesses with employees who work remotely or are on the road frequently.
Features
One of the biggest differences between VoIP phones and traditional phone lines is that with VoIP you can save money while getting greater functionality and more features without having to invest in expensive equipment.
VoIP features include call forwarding, voicemail-to-email, automatic call distribution, and virtual extensions/lines, which can all be set up with just a few mouse clicks using the software provided by your service provider. However, traditional landline phone service does offer some additional features compared to VoIP technology.
It is undoubted that VoIP phone systems also offer more features than traditional landline phone services.
Why do businesses use VoIP?
Businesses can use VoIP phones to cut costs and improve productivity in a number of ways.
For example, staff working from home can use the service to access the company phone system as if they were working in the office. This enables your employees to work flexibly from home or other remote locations. It also gives your staff the opportunity to use their cell phones and other mobile devices to make and receive calls, even if they are outside the office.
VoIP allows businesses to communicate between different locations, increase employee mobility, and streamline business processes. Also, using VoIP allows businesses to make international calls at a lower cost than a traditional phone line and provides more flexibility for workers who travel frequently for work.
VoIP Implementation Requirements
VoIP systems require a computer, VoIP phone, and a high-speed internet connection.
The computer will need to have a sound card installed and a headset or speakers connected to the sound card in order to use the voice features.
The VoIP phone itself is accessed through a software program installed on the PC or phone used to place or receive phone calls. Many VoIP providers offer free handsets for new users or discounted phones.
To take advantage of all the features offered by a VoIP system, you will also need a router or network switch that supports SIP (Session Initiation Protocol). Most VoIP service providers can also assist with setup. The internet connection should have low latency (less than 100 ms) and sufficient bandwidth (typically 128 kbps) to provide good-quality calls and internet browsing at the same time.
Key VoIP Phone System Features
A VoIP phone system provides more features than a traditional landline phone. Here are just some of the benefits of using a VoIP phone system:
Voicemail Forwarding:
You can set up your phone to forward all unanswered calls to one or more email addresses that you specify. Many business owners find that having a voicemail inbox on their phones saves them a lot of time because they can check their messages any time they are away from their desks instead of having to make time to return to the office to check their voicemail.
Voicemail-to-Email:
Many VoIP providers offer the ability to convert voicemails into emails, which can be read from any email program or device. This feature allows you to access voicemails from any location, without having to call in to your voicemail box. You can even access these emails from your smartphone while you are on the go.
Call Queueing:
With call queuing, you can automatically redirect calls to staff members based on the skills or expertise that each staff member has. For example, you can setup your phone system to route calls to different departments based on the type of call. Calls to support, sales, and other departments can be routed to specific people based on their skills.
Call Recording:
If your company needs to keep detailed records of calls made and received, call recording can make it possible to access this information quickly and easily whenever you need it. Most VoIP systems allow you to record the conversations taking place on your phone lines and store them in the account that you have with the provider.
Voicemail to Text:
VoIP systems include voicemail-to-text features that allow you to read your voicemails as text messages. The text transcriptions are generally fairly accurate and provide you with most of the information that you would have received if you listened to the voicemails.
Mobile App:
You can have conversations anywhere with your mobile phone. The mobile versions of many VoIP systems allow you to make and receive calls from your mobile phone, wherever you are.
Online Fax:
With VoIP, you can receive faxes online instead of receiving them as a physical piece of paper through the mail.
Multi-party Conferencing:
VoIP systems include multi-party conferencing features that allow you to have conference calls with many participants.
Video Meeting:
Many VoIP systems enable video calls, so you and your coworkers or customers can have face-to-face conversations.
Virtual Receptionist:
VoIP systems include features that allow you to have virtual receptionists answer and route calls according to your instructions. The virtual receptionist can be programmed to answer only certain calls at certain times of the day and to direct them to specific individuals within the company based on the information they have about the caller.
Benefits of Using VoIP Phones
Several industries that previously used traditional phone systems are now switching to VoIP systems because of several benefits that they can provide. We'll enumerate a few:
VoIP phone systems include virtual numbers, which allow companies to establish a local presence without having to pay for a physical office in a particular location. They also allow businesses to keep their costs down by eliminating long-distance and international calling fees.
VoIP phone systems make it easier for employees to communicate with one another because they don't need to sit at a desk with a phone in order to talk to colleagues in another part of the country or the world.
VoIP phone systems allow businesses to grow their company more easily because VoIP systems don't require expensive hardware such as computers and servers. They can be accessed from any computer or mobile device that has an internet connection.
Drawbacks of Using VoIP Phones
Although VoIP phone service is a great alternative to traditional landline phones, they also come with some drawbacks that must be considered before switching your business to a VoIP system.
One of the biggest drawbacks of using VoIP phones is that they can limit the amount of bandwidth available to your business network, which can result in slower internet speeds. Since VoIP phones also depend on a stable high-speed internet connection, which can be difficult to maintain in locations where natural disasters such as earthquakes, tornadoes, or hurricanes occur.
Selecting a VoIP Provider
There are many VoIP providers available in the business phone market. When choosing a VoIP provider, it is important to choose one that offers reliable customer service and affordable monthly rates.
We have chosen 5 of the best VoIP providers for businesses:
5 Best VoIP Providers of 2023
Ooma
Ooma is a cloud-based phone service that allows businesses to eliminate their landlines and use the internet to make and receive phone calls. It provides many features that are typically offered by traditional phone systems such as voicemail, caller ID, call forwarding, and more.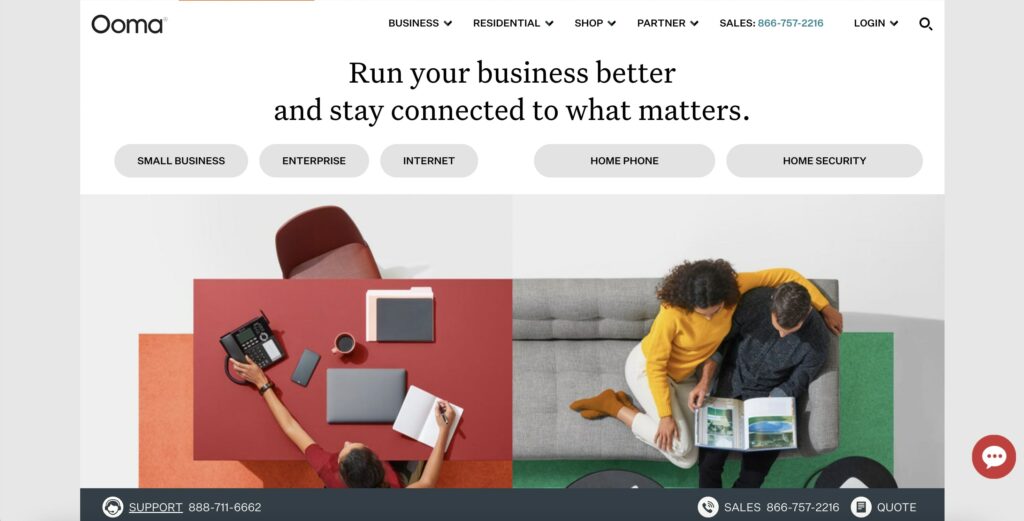 Pricing
Ooma's Essentials plan costs $19.95/user/month. The Pro plan is $24.95/user/month, and the Pro Plus plan costs $29.95/user/month. You can purchase pre-configured VoIP phones on their website.
RingCentral
RingCentral offers business phone (VoIP phone service) that includes unlimited calling, virtual faxing, and unlimited extensions for a flat monthly fee per user. It also has features such as conference calling, call forwarding, voicemail to email, and more.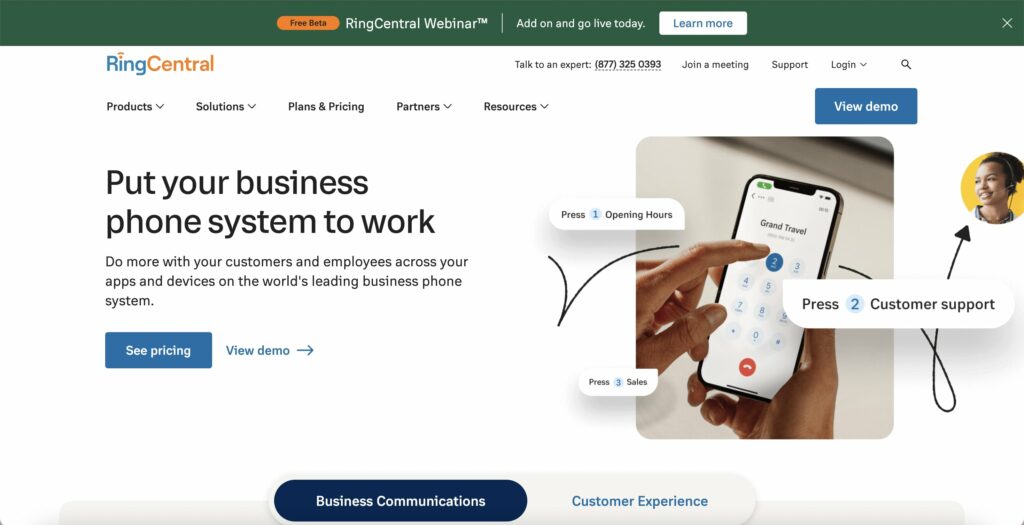 Pricing
RingCentral's Essential plan starts at $19.99 per user per month, while its Standard, Premium, and Ultimate plans start at $27.99, $34.99, and $49.99 per user per month, respectively.
Vonage
Vonage is a VoIP provider that offers a wide range of APIs to help you build customized VoIP solutions. They can integrate with numerous 3rd party systems like Salesforce, HubSpot, Microsoft Office 365, Slack, etc.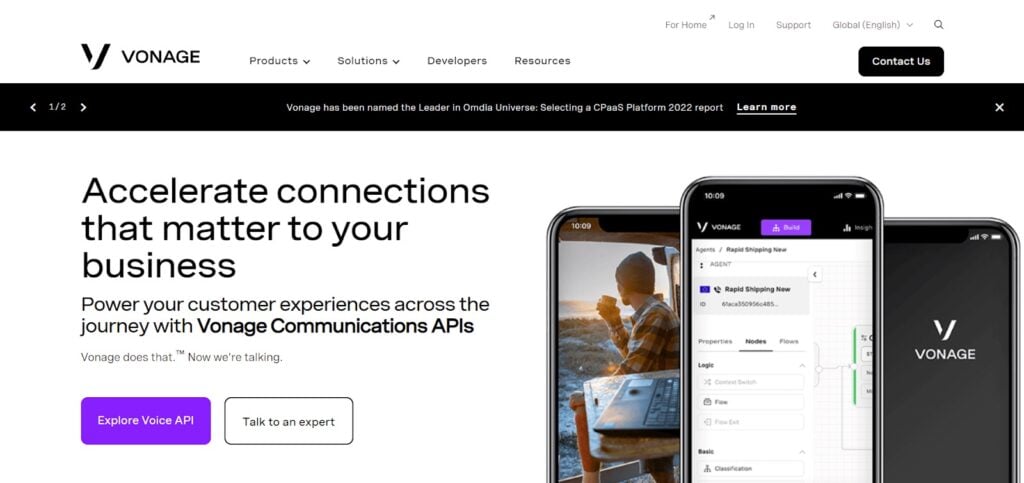 Pricing
Vonage's Mobile plan starts from $14.99 per line per month. Their Premium and Advanced plans are $24.99 and $34.99/line/month, respectively. Also, their API connection comes with an additional cost.
Nextiva
Nextiva is a cloud-based phone service that provides all of the features that you need to manage your small business communications. They provide many sales tools and features for business owners.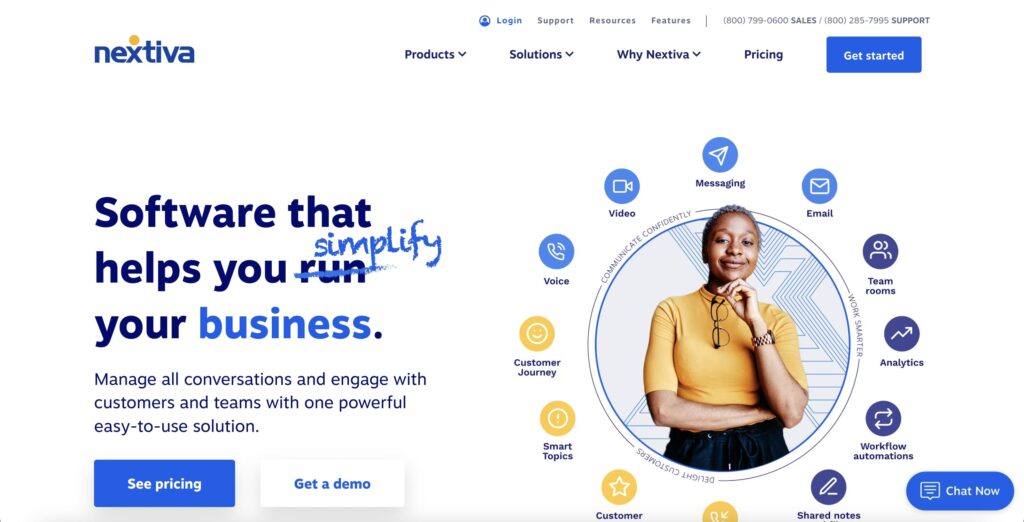 Pricing
Nextiva's Essential plan starts at $23.95 per user per month. The Professional plan starts at $27.95 per user per month, and the Enterprise plan starts at $37.95 per user per month.
Dialpad
Dialpad is a VoIP phone service provider with high-level AI capabilities. The advanced AI analytics feature help businesses generate reports right after the calls. With the AI-powered heatmap feature, users can get real-time feedback when the AI spot any speech errors.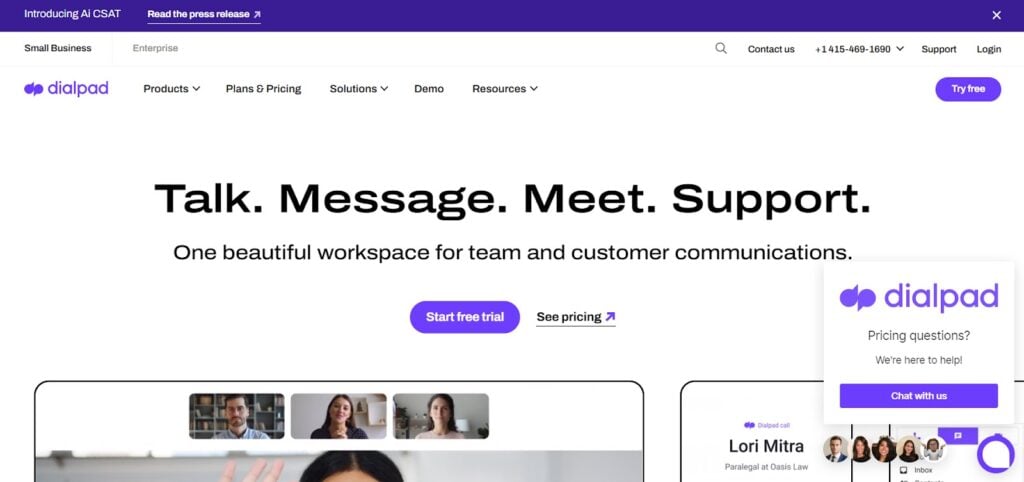 Pricing
Dialpad's Standard plan starts at $15 per user per month, while the Pro plan starts at $25 per user per month. If you are interested in the Enterprise plan, you'll need to contact the sales team to get the quote.
Considering Switching to VoIP Phone System?
Are you considering switching to VoIP phone system? Before making the switch, it's important to understand your business needs and decide if VoIP is the right phone system for you.
What to consider when choosing the best VoIP service provider?
Here are the top tips and beginner guidelines for organizations to ensure you choose the best VoIP phone service provider for your requirements.
Understand Your Business Needs
It is important to identify the services you require from your new VoIP provider, as well as any additional business support you might need once the system is up and running.
VoIP Service Cost
When it comes to VoIP phone services, the market is packed with providers and plans. It's important to do thorough research before choosing a plan to ensure that your needs are met at the best possible price. While some service providers may charge extra for extra features, other service providers may be cheaper overall without compromising on features or quality.
Third-Party Integration
One of the key things to consider when choosing a VoIP phone service provider is whether they integrate with third-party services such as G Suite, Dropbox, Salesforce, Slack, Zapier and more. The ability to integrate your communication systems with your other services ensures easy and effective collaboration between departments and helps to streamline business processes.
Security
Businesses should choose a VoIP phone service provider with strong security protocols to protect sensitive data and prevent unauthorized users from accessing the system.
Technical and Customer Support
Businesses should choose a VoIP service provider with strong technical support and customer service to ensure they can resolve any issues quickly and with minimal disruption to their business.
VoIP Services FAQs
What is the difference between PSTN and Voice over IP?
Voice over IP service providers use the internet to transmit voice signals instead of the Public Switched Telephone Network (PSTN).
Where can we buy VoIP phones?
Businesses can find VoIP Phones (or IP Phones) from major phone manufacturers such as Avaya, Cisco, Polycom, and Yealink. VoIP phones can also be purchased from VoIP service providers such as RingCentral.
What are some examples of Voice over IP services?
VoIP services include voice calling, video conferencing, instant messaging, voicemail management, virtual phone numbers, and more.
How much is VoIP service?
The cost depends on the features of the voice over internet protocol (VoIP) service you choose and the provider you choose.
How much is a VoIP system compared to a traditional phone system?
A: Costs vary depending on the service you choose and the number of phone lines you require.