Business communication has become more critical as the world becomes increasingly connected. Voice over Internet Protocol (VoIP) calls are perfect for busy professionals who want to stay connected while on the go.
This article will introduce you to some of the best VoIP apps for business communication in 2023. You will learn what each app has to offer and the benefits of using them.
At the end of the article, we will also provide tips on choosing the best VoIP app for your business needs.
What Is VoIP Phone Systems?
VoIP calls are a set of protocols that enable voice calls to be made via the internet instead of through traditional phone lines.
There are several applications for VoIP phone systems, including phone networks for businesses and home users. Many businesses also use VoIP apps to host conference calls and hold virtual meetings.
Check out these other related articles for your reference.
VoIP vs. Landline: Which is Better for Business Communication
10 Best VoIP Apps
| | | |
| --- | --- | --- |
| Software | Key benefits | Best for |
| Nextiva | Customizable automation featuresUnlimited video and voice calls24/7 support | Businesses looking for a versatile communication app |
| RingCentral | Integration with multiple appsExcellent call management features | Multiple device support |
| Zoom | AffordabilityVarious collaboration and communication tools | Video conferencing |
| Vonage | Calendar app integrationCustomizable plans | Businesses looking for a flexible app |
| Ooma | No contract requiredIntegrated virtual receptionist | User-friendliness |
| 8×8 | Unlimited international calling Cost savings with mix and match plans | Businesses with many international calls |
| Dialpad | AI-based voice intelligenceUnlimited calls | Businesses that need an app with comprehensive call analytics |
| Trengo | Omnichannel chatbotsTeam chat | Omnichannel communication |
| OpenPhone | Voicemail transcriptionAutomated texts | Start-ups and small businesses that rely heavily on texts for communication |
| GoTo Connect | Customizable auto attendantAffordable pricing plans | Businesses that need to streamline workflows for maximum productivity. |
Best VoIP Apps for Business Communication
Here's our list of the top 10 best VoIP apps for business communication in 2023:
Nextiva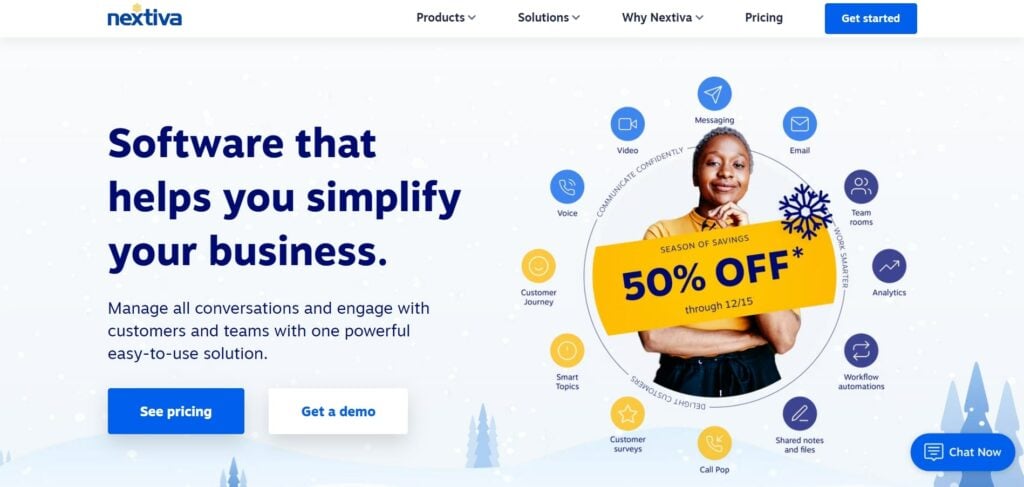 Nextiva is a top VoIP service provider that offers a wide range of collaboration and communication features.
The VoIP app comes with powerful integrated video, messaging, and voice capabilities enabling businesses to communicate easily and effectively. It features a user-friendly user interface that makes it easy to use even for novice users.
This app is best for small businesses looking for a VoIP provider with excellent customer service. Nextiva offers 24/7 customer service via phone calls, chat, sms support, or email, allowing you to respond promptly to your customers.
Nextiva Features
Call recording and rating: This allows you to record your calls automatically and gives you visibility into your business calls.
Call pop: With this feature, you can get important caller details like the name, the number used, and details of their last interaction.
Auto-attendant: This virtual receptionist helps you answer, escalate, and route all incoming calls to the right person/agent.
Call analytics: Using this feature, you can collect important call data, including behavioral trends, call session metrics, or individual agent performance, allowing you to generate useful business reports and insights.
Call queuing: This allows you to automatically distribute incoming calls by grouping your employees, teams, and departments into strategic tiers. This helps to reduce call wait times.
Nextiva Pros
Offers unlimited voice and video calls
24/7 phone, chat, and email customer support
Excellent call management features
Mobile and desktop apps
Highly customizable automation features
Nextiva Cons
Limited integrations in the basic plan
Call recording is limited to higher-tier plans.
Mobile messaging and video conferencing are not available for the basic plan
Nextiva Pricing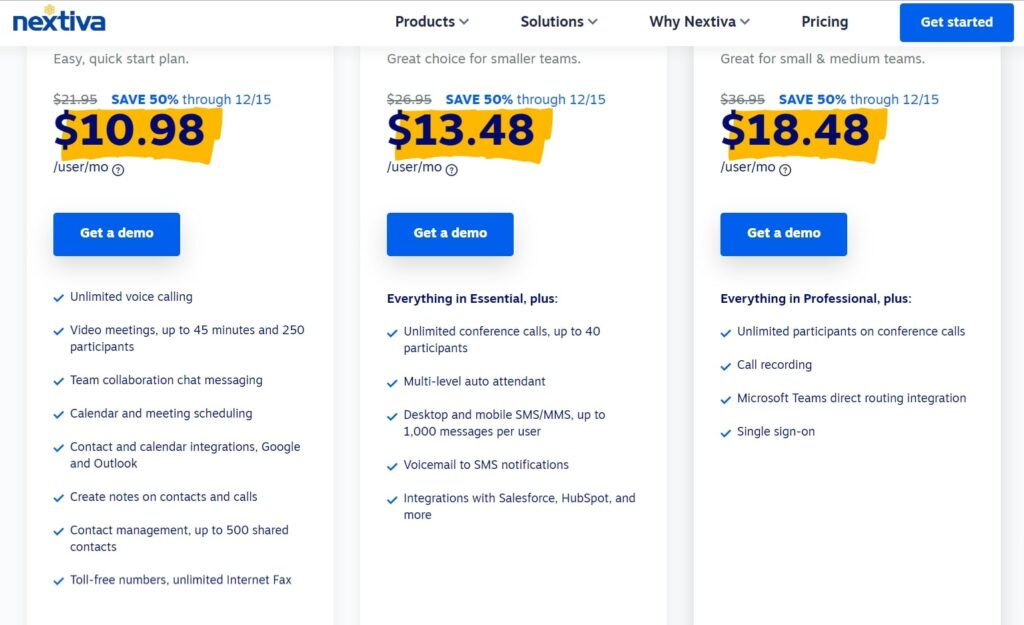 Nextiva offers three pricing plans as follows:
Essential: This is the basic plan with a starting price of $21.95 per user per month for between 20-99 members billed annually.
Professional: It comes at $26.95 per user per month for 20-99 members paid annually.
Enterprise: Under this plan, you'll need to pay $36.95 per user per month for 20-99 members paid annually.
RingCentral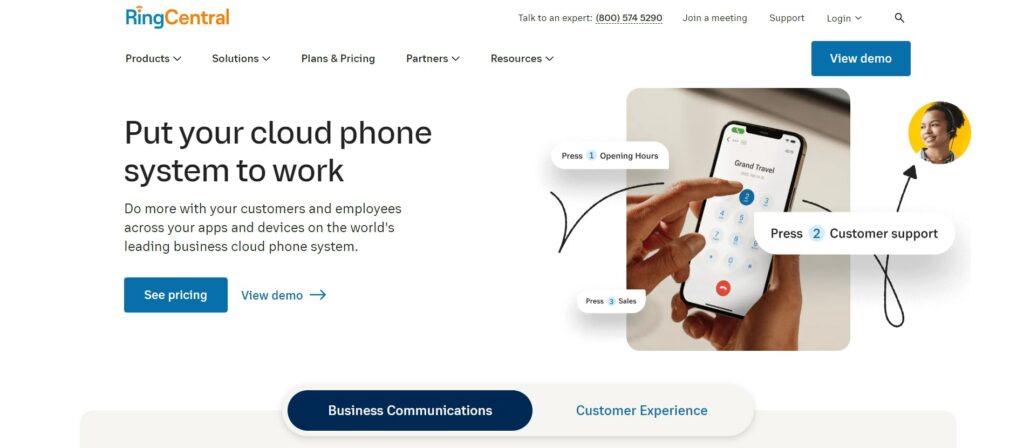 RingCentral is an affordable VoIP phone business service that offers a wide array of features that make business communication easy.
The VoIP app integrates VoIP phone service with high-quality video conferencing and chat messaging, all on a single platform.
The service comes with seamless and full-featured mobile and desktop apps and integrates well with various third-party apps like Salesforce, HubSpot, Mailchimp, and Microsoft Teams.
RingCentral is best for small businesses looking for an affordable phone system with high scalability capabilities.
RingCentral Features
These are the key features of RingCentral.
Call screening: This allows you to determine who reaches your business. It allows you to take calls from particular callers, block specific numbers, and send others to voicemail.
Call flip: This feature allows you to easily move an ongoing call between your mobile phone, softphone, or desk phone.
Call park: With this, you can hold calls in a virtual location and retrieve them from any desktop in your system
Toll-free and vanity numbers: You can choose from various toll-free numbers, including 800, 866, 877, 855, and 855, and give your business instant credibility and make it easy for your customers to access your company.
Extended voicemail options: This offers you multiple ways to check your voicemail. You can listen to audio recordings, read using voicemail-to-email, or use voicemail-to-text.
RingCentral Pros
Unlimited calls within the US and Canada
Allows integration with multiple apps
Crystal-clear audio and video quality
Allows video meetings with up to 200 participants
RingCentral Cons
No integrations for lower-tier plans
Difficult to use for first-time users
Limited customer support in the essential plan
RingCentral Pricing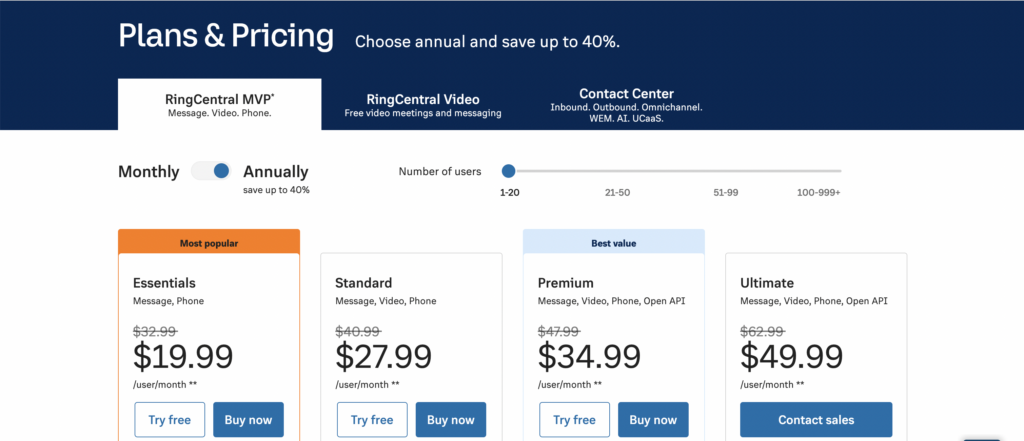 Essentials plan: This costs $19.99 per user per month for up to 20 users with fewer features than the other tiers, thus suited for small businesses.
Standard plan: At a monthly cost of $29.99/user/month for an unlimited number of users, this plan is best for small businesses with more than 20 users looking for more features.
Premium plan: It comes for $34.99/ user/ month and has everything in the standard plan plus others.
Ultimate plan: This costs $49.99/user/month and has everything in the premium plan plus other advanced features.
Zoom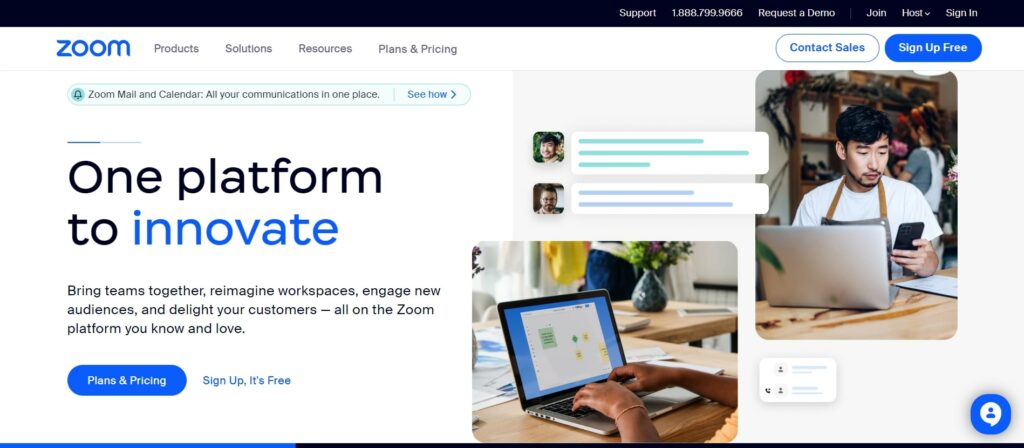 Zoom is a free VoIP app that offers video and audio calling, cross-platform chatting, mobile device, and end-to-end encryption.
This VoIP app has a user-friendly interface that makes it easy to navigate. Zoom boasts of a wide range of phone service features that make business communication seamless.
Zoom is ideal for businesses that rely heavily on video conferencing for their communication needs.
Zoom Features
Call transfer: This ensures you route the calls to the right person anywhere and anytime.
Call recording: With this, you can easily archive and retrieve phone conversations with on-demand and full-time recordings, transcriptions, and playback.
Elevate to a meeting: It allows you to seamlessly switch from a phone call to a full-feature Zoom meeting without requiring participants to join manually.
Built-in video and audio collaboration tools: This enables you to make a video or audio calls, send text chats, and share screens.
Call delegation: This allows you to assign the responsibility of making or receiving calls to specific
Zoom Pros
Easy to use
It's affordable
High-quality video and audio calls
Offers many communication and collaboration tools
It has an extensive list of integrations
Zoom Cons
Security issues
Limited call management functions
Time limitations in the free tie
Zoom Pricing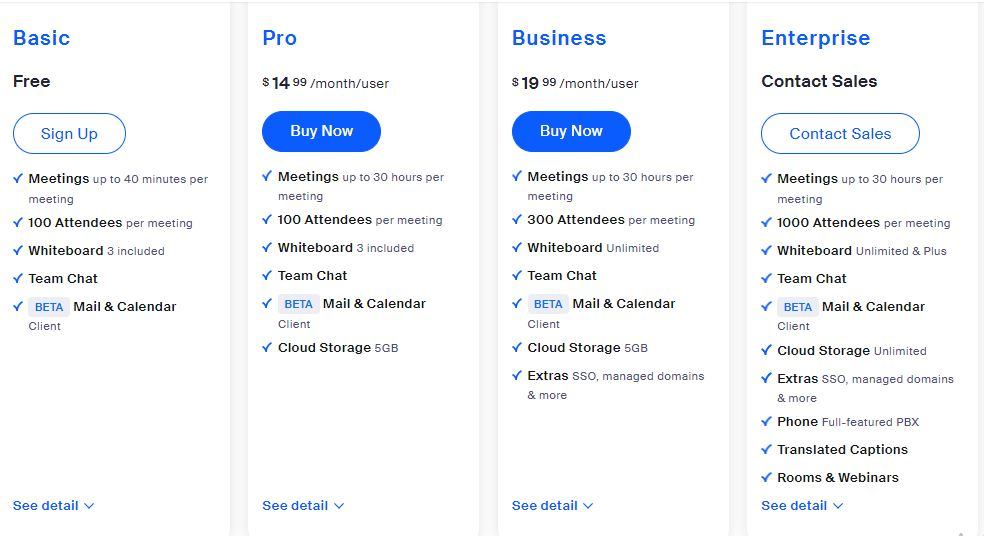 This app offers the following pricing plans
Basic plan: This is the app's free plan.
Pro plan: Price starts at $14.99 per license per month for up to 9 licenses.
Business plan: This costs $19.99 per license for between 10-99 licenses
Enterprise: The plan costs $19.99 monthly for a minimum of 50 licenses.
Vonage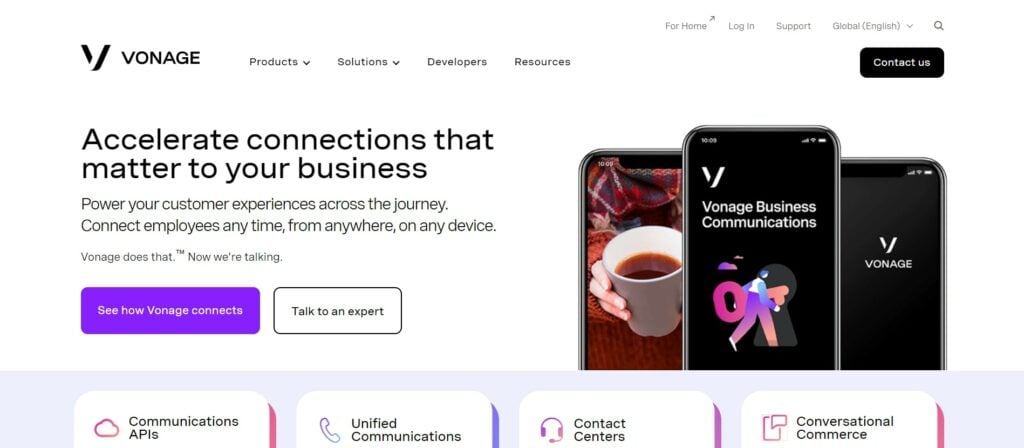 This phone service provider offers a wide range of APIs that allow businesses to build customized VoIP solutions.
It enables companies to tailor their communication to their needs using the app's unified phone, video, contact centers, and messaging. With Vonage, you can connect and communicate on any device via cloud-hosted voice, video, and SMS.
Moreover, the mobile VoIP app integrates with other apps like Slack, Hubspot, Salesforce, and Microsoft office 365.
Vonage Key Features
Vonage boomerang: This allows you to move all your calls from specific numbers to your Vonage number.
Vonage meetings: You can host video meetings and allow users to join on their desktop, iOS, or Android devices with this feature.
Admin portal: This allows you to manage your entire business phone system from a single portal
Call flip: The feature allows you to easily transfer phone calls from your mobile phone to a desktop and vice-versa.
Call continuity: This automatically reroutes calls to a backup phone number in case your VoIP phone fails or the internet connection is lost.
Vonage Pros
Easy to use and set up
Unlimited team messaging
Offers customizable plans
Has desktop and mobile apps
Offers calendar app integration for meeting scheduling
Vonage Cons
Limited video conferencing features
Limited meeting capacity for audio and video meetings
Customer support could be better
Vonage Pricing
Vonage has three price tiers as follows:
Mobile: This costs $19.99 per line per month for up to 20 users
Premium: It goes for $29.99 per line per month for up to 20 users
Advanced: The plan costs $39.99/line /month for up to 20 users
Ooma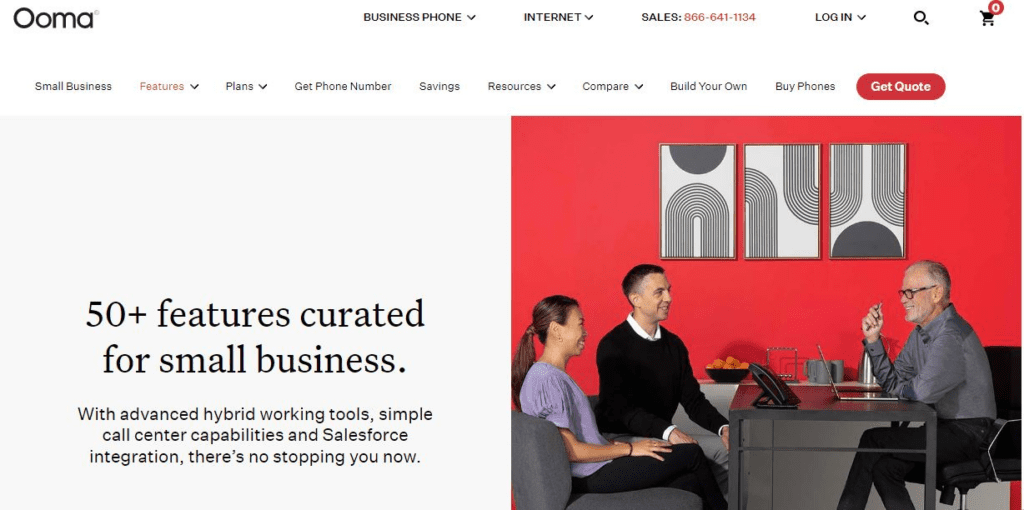 Ooma offers a straightforward communication solution for small organizations that need a simple, no-frills VoIP solution.
The VoIP app includes fantastic call management tools such as voicemail transcription and call recording. Moreover, this app works with your existing equipment and can be scaled to fit your business needs as it grows.
Ooma is best suited for small businesses or enterprises looking for a flexible and scalable communication solution without the need to commit.
This is because the app does not require a contract or long-term commitment.
Ooma Features
Virtual receptionist: It allows you to manage incoming phone calls and SMS messaging, responding promptly to your customers even when the call agents are unavailable.
On-hold music: This keeps your customers entertained and ensures they don't get bored or hang up when put on hold.
Ring groups: With this feature, you assign specific calls to groups, ensuring the calls go to the right end.
Multi-ring: This enables your business phone number to ring on your office phone, mobile app, and an external device.
Voicemail transcription: This comes in handy, especially if you don't have time to always listen to your voicemails. The transcription is sent to a specified email address together with an mp3 file of the audio message.
Ooma Pros
Integrated virtual receptionist
Easy to use
Excellent call management features
24/7 customer support
No contract required
Ooma Cons
Limited software integrations
Limited messaging options
Unclear security practices
Ooma Pricing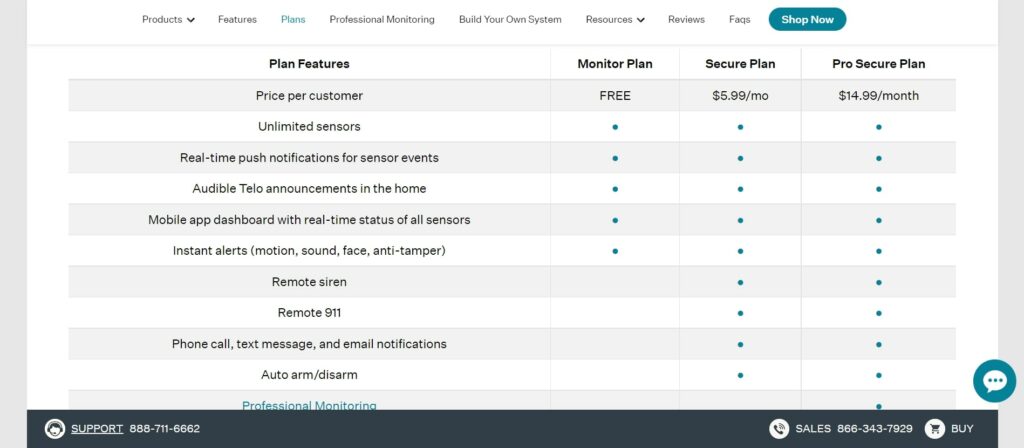 In addition to a 30-day free trial, Ooma has the following pricing plans:
Ooma Office Essentials: This costs $19.95/month/user and includes full access to SMS messaging, mobile app, call forwarding, and other call management tools.
Ooma Office Pro: It comes for $24.95 and has everything in Office Essentials, plus call recording, voicemail transcription, video conferencing, and a desktop app.
Ooma Office Plus: This costs $ 29.95 with all the features in Office Pro plus a few more others.
8×8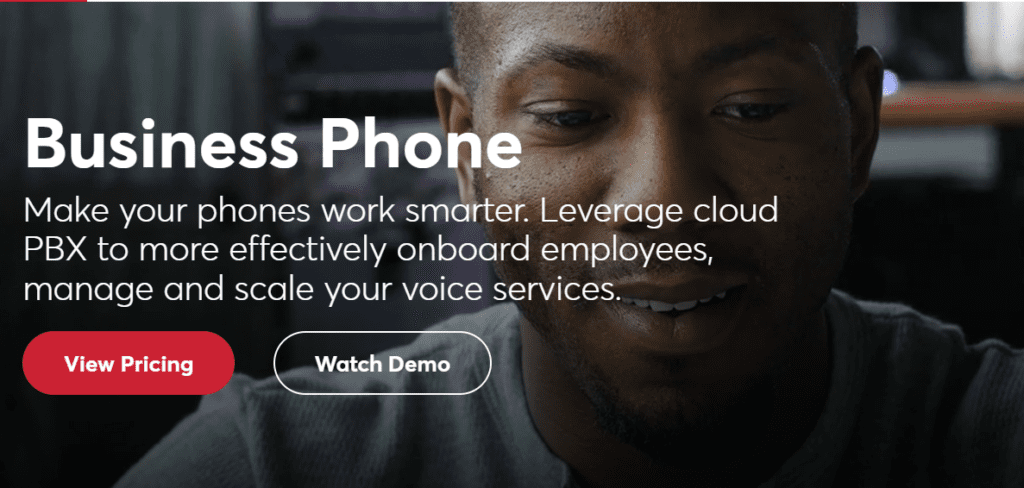 This unified communications solution offers a wide range of features, such as video conferencing, international calling, and call centers.
With its x2 plan, you get unlimited calls and texts to 14 countries, and you expand to 48 countries with the x4 plan. The VoIP app also allows users to host video conferences with up to 500 participants.
8X8 is an excellent choice for businesses that make many international calls with its comprehensive offering of unmetered calling in up to 48 countries.
8X8 Features
Multi-level Auto Attendant: This automated receptionist allows you to offer customized call experiences through multiple menus.
Call Flip: This allows you to instantly transfer your ongoing calls to another device in just a single click without disconnecting.
HD video and audio: This feature allows you to host video and audio conferences with up to 500 participants without any time limits or restrictions.
Visual voicemails: This allows you to view your voicemails on screen and choose the voicemails you want to respond to.
Unlimited calls and texts: 8X8 allows you to make unlimited calls and texts to domestic and international destinations.
8×8 Pros
Easy to set up for both mobile and desktop users
Compliant with various privacy standards, including HIPAA
Allows mix-and-match plans for cost savings
Unlimited international calling
8X8 Cons
Unlimited international calling is only available for premium packages
24/7 support is limited to higher-tier plans
Limited features in the base plan
8X8 Pricing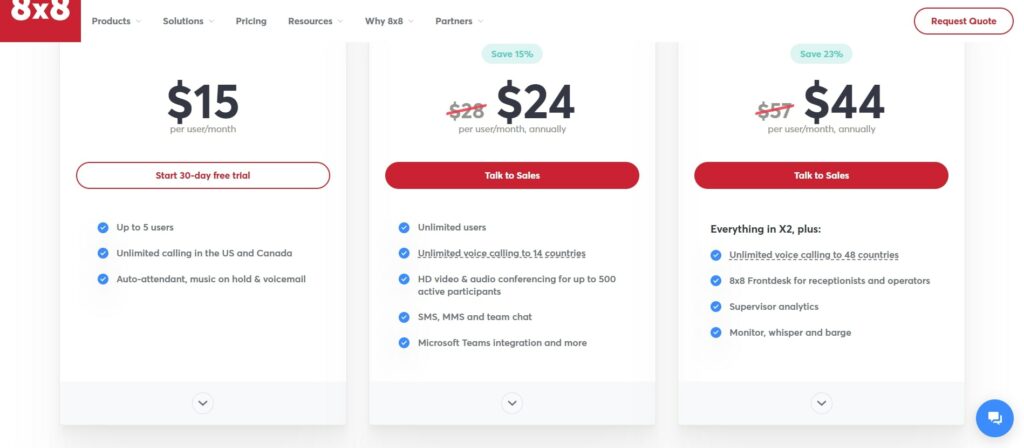 Express: It costs $15/user per month for up to 5 users
X2 Plan: For $24/user per month for unlimited users, this plan offers unlimited calling to 14 countries plus audio and video conferencing with up to 500 participants
X4 plan: The plan offers advanced call handling and analytics at $44 per monthly user and unlimited calling to 48 countries.
Dialpad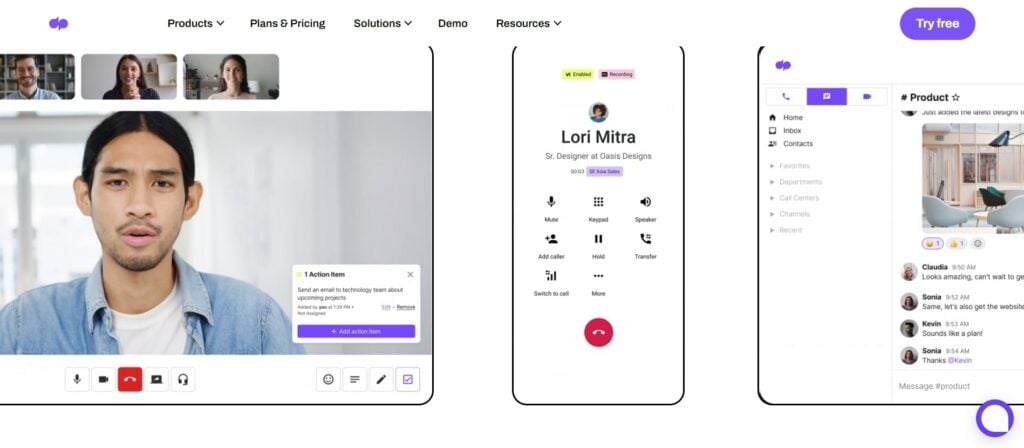 This VoIP phone service makes business communication easier and more efficient with features such as instant messaging, HD voice and video, group chat, file sharing, and call recording.
It also allows you to toggle your calls between devices and is available for desktops, mobile phones, or web browsers. The VoIP app offers a dedicated account manager with all its plans.
Dialpad is suitable for users on a budget but looking for an effective business communication tool. It doesn't need more extensive features as it isn't as endowed with features as other tools.
Dialpad Features
Voice intelligence allows you to record, transcribe, and capture important actions during phone calls via voice recognition technology and inbuilt natural language processing.
Real-Time Assist cards: With this, your agents get useful tips on communicating with customers and improving customer and employee experience.
Shareable call summaries and highlights: This gives you AI-generated call summaries and highlights, which capture the key details from an ongoing call without taking notes.
Visual voicemail: It automatically transcribes messages, emails them, and provides a unique way to retain them.
Call analytics: This helps you generate reports after calls and offers incredible visuals allowing you to grasp important details easily.
Dialpad Pros
It's compliant with various privacy standards like HIPAA, PCI, and CSA.
Unlimited calling and video
100% service-level agreement
AI-based voice intelligence on all plans
Integrates well with Google Workspace and Microsoft Outlook
Dialpad cons
24/7 support is not available in the standard plan
It's not available worldwide.
Video conferencing is limited to only 10 participants with the basic plan
Dialpad Pricing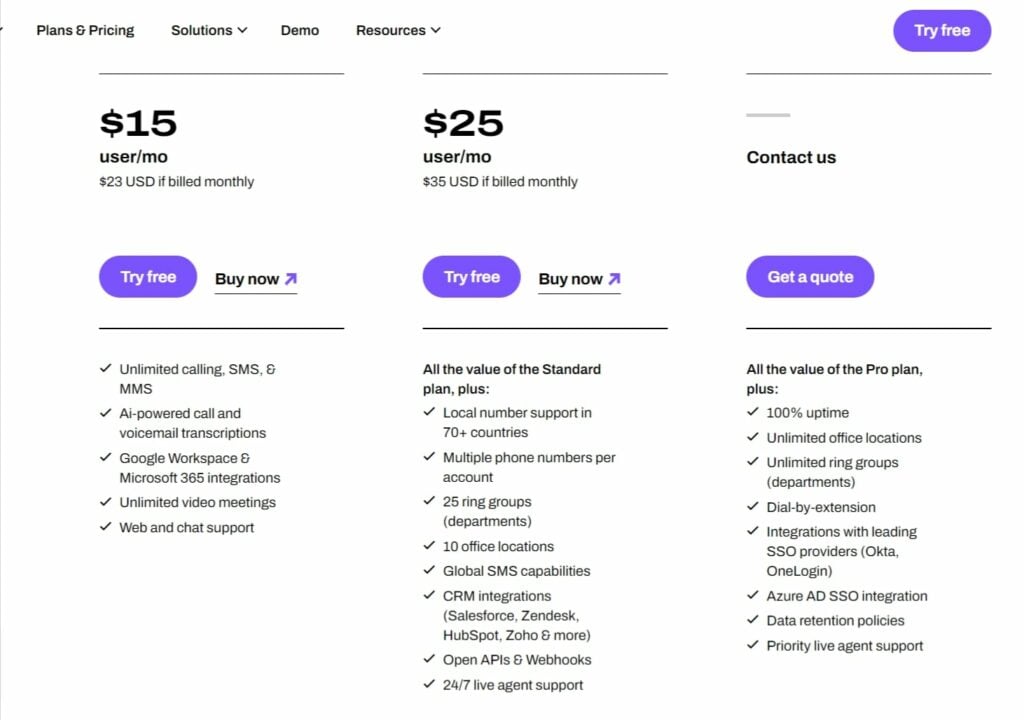 Dialpad has three pricing plans as follows.
Standard plan: This goes for $15 per user per month for one license billed annually
Pro Plan: It costs $25 per user per month with 3 licenses billed annually
Enterprise plan: This calls for custom pricing with a minimum of 100 licenses.
Trengo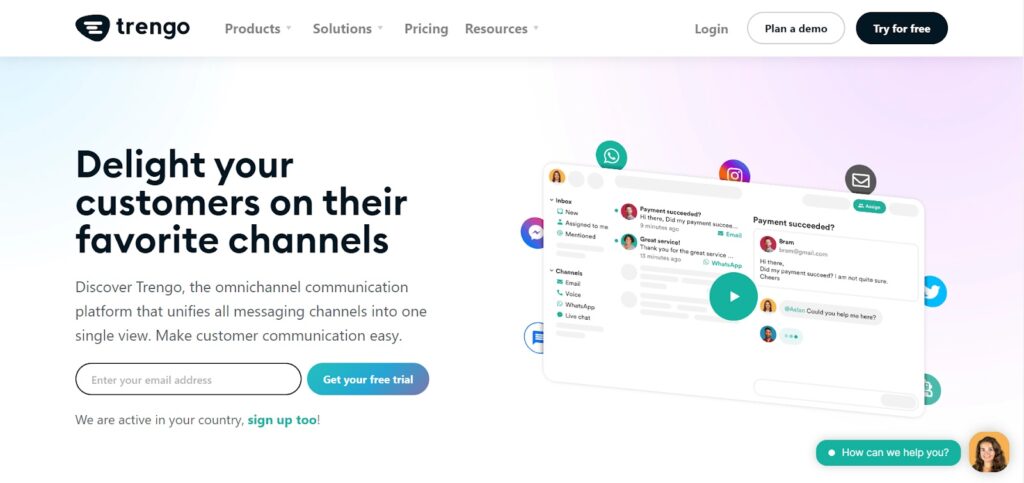 This omnichannel communication software makes customer communication easy by unifying various communication channels into one view.
The VoIP app combines inboxes from social media and messaging platforms like WhatsApp, Instagram, Messenger, Telegram, and email into a single team platform. Trengo also has voice features like video and voice calls, call recordings, call transfers, and caller IDs.
Trengo is most suitable for businesses looking for an affordable VoIP service, mainly for messaging.
Trengo Features
Integration: Trengo has impressive integration with several third-party business apps like Zapier
Multiple channel support: Trengo supports all common communication channels, including Facebook, Twitter, Instagram, email, Livechat, and SMS.
User-friendly interface: The app comes with a clean interface making it easy to set up and use
Team chat: This allows teams to chat within a single platform
Omnichannel chatbots: This allows a single chatbot to handle various channels
Trengo Pros
Friendly interface
Easy to use
Excellent customer support
Supports several communication channels
Trengo Cons
Limited call management features
No video conferencing features
Trengo Pricing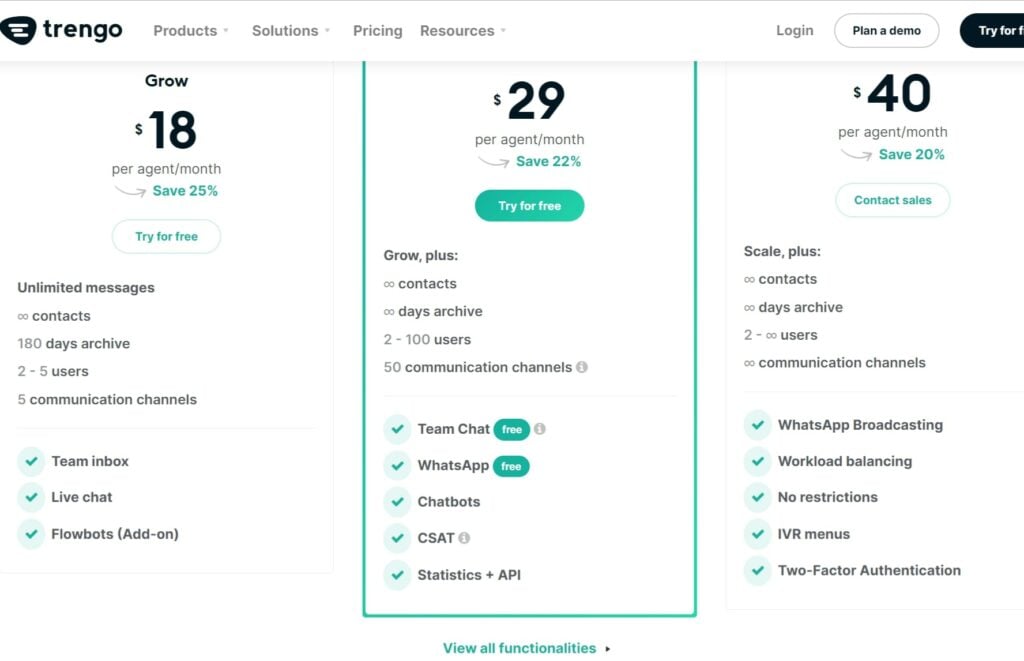 In addition to a free plan, Trengo offers three pricing models as follows:
Grow plan: This is the lowest tier and costs $15/ per user per month, billed annually.
Scale plan: It comes at $25 per user per month, billed annually.
Enterprise plan: This plan is billed annually for $35/user/month.
OpenPhone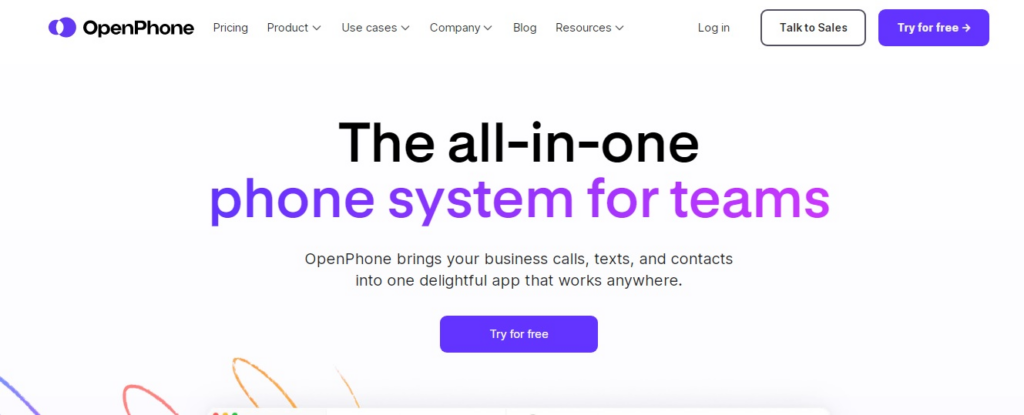 This cloud-based communication tool combines all your contacts, SMS messages, and business calls into a single platform for unified communication.
It allows users to communicate in one place instead of switching between many apps or devices. This app allows you to make unlimited worldwide calls, send and receive messages, and record phone calls. OpenPhone is available for iOS, Android devices, and web browsers.
OpenPhone is great for startups and small businesses that want to separate their personal and business calls.
OpenPhone Features
Business calls, texts, and contacts: You can locate information without the need to juggle between different apps and devices.
Collaborate inside shared phone numbers: This allows team members to call and text as a team and view team members' activities.
Add notes: This allows you to keep notes for future reference and avoid leaving out crucial information.
OpenPhone Pros
Integrates smoothly with several business applications
Easy to learn and use
Offers automated texts
Unlimited Canada and US phone calls and texts
Voicemail transcription
OpenPhone Cons
Limited to US and Canada numbers only
It does not allow international calling outside the US and Canada
Support is only available through email.
OpenPhone Pricing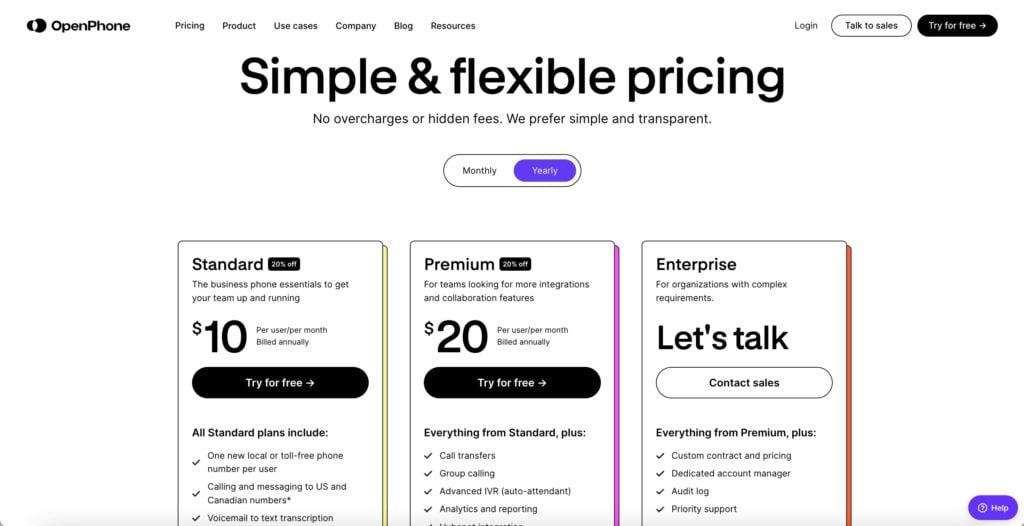 OpenPhone has 3 pricing plans as follows:
Standard plan: For $10/user/month billed annually, this plan includes all the essentials a business needs for communication
Premium: This costs $20/user/month billed annually and is ideal for teams who want more integrations and collaboration services.
Enterprise: This calls for custom pricing and is most suitable for large businesses with a dedicated account manager and priority support.
GoTo Connect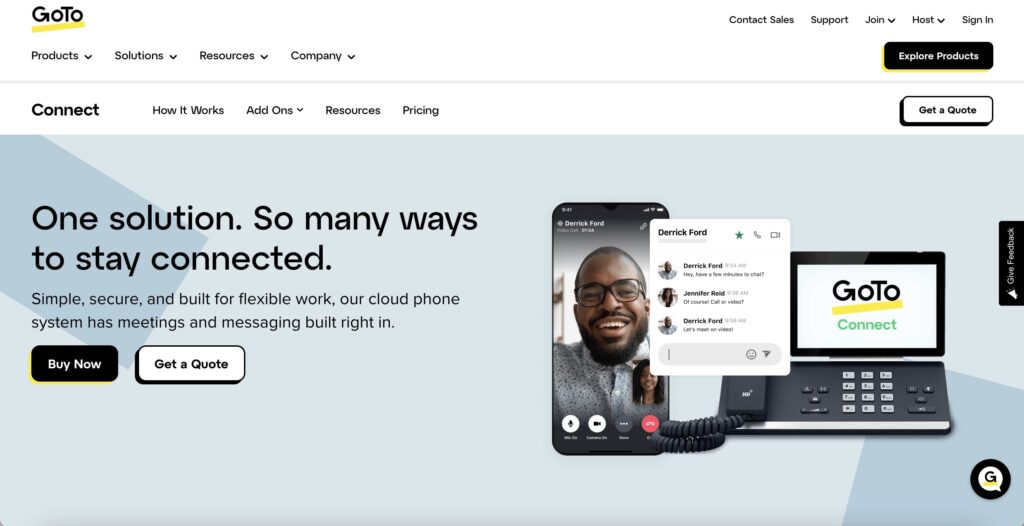 This app provides a unified communication platform that makes it easy for businesses to use voice, video, or contact center services from any mobile phone or desktop device.
It boasts a wide array of features that come in a sleek and modern user interface, making it easy to use and customize to suit your business needs.
GoTo Connect is an excellent choice for businesses that need to streamline their workflow and increase productivity.
GoTo Connect Features
Auto Attendant: This virtual attendant carries out several tasks, including call routing, extension dialing, and automated call answering.
Voicemail to email: This allows you to save voicemails as audio files, then share the file through email to yourself or other employees, enabling you to check the messages on the go.
Call filtering: The feature allows you to terminate spam or blocked calls immediately or play a short message fi
Virtual Fax: With this, you can send faxes from a desktop or mobile device. The faxes are protected by end-to-end encryption.
Built-in meetings and messaging: This allows unlimited team messaging and audio conferencing at all plans.
GoTo Connect Pros
High-quality audio and video
Customizable auto attendant
24-hour support
Affordable pricing plans
GoTo Connect Cons
No cloud data storage
The audio conference allows only 20 participants
It does not offer artificial intelligence tools
GoTo Connect Pricing

The app offers a 14-day free trial plus 3 paid plans as follows:
Basic: It costs $22 per user per month billed annually
Standard: Goes for $26/user/month, paid annually
Premium: The plan costs $39 per user per month, billed annually.
How To Choose The Best VoIP App For Your Business?
Before choosing the best VoIP app for your business, you need to know your business goals.
For example, will you need an app that allows you to make long-distance calls? Do you need an app that allows you to hold virtual meetings?
These are just a few things you should remember when choosing an app. Here are some other factors to keep in mind as well.
Cost
Most VoIP apps offer different packages for individuals and businesses, so shopping around and comparing the various plans is important to find one that best fits your needs. Including taking advantage of the free VoIP app.
Flexibility
Your VoIP app should be flexible enough to meet your needs as your business grows and expands.
Therefore, you should choose an app that offers a wide range of features and can easily adapt to changing business needs.
Integration
If your business already has a telephone system, you must ensure that your chosen VoIP app is compatible with your existing business phone system.
Support
Another important factor to consider is the level of customer support offered by the VoIP app you are considering.
A good VoIP provider should be able to provide clear instructions on how to use the app. In addition, they should be able to promptly answer any questions you might have.
Ease of Use
Lastly, make sure you choose a VoIP app that is easy to use and offers an intuitive interface. This will help minimize the training requirements for your business' staff and make learning as easy as possible.
As you can see, several factors should guide your decision when choosing a VoIP app.
Ultimately, it would be best if you were looking for an app that offers a wide range of features, is cost-effective and flexible, integrates with your current system, and offers excellent customer service and support.
Best VoIP Apps: Conclusion
Besides modernizing your business communication, VoIP apps help businesses save on phone bills.
They also make businesses more accessible and offer better voice quality. Today's VoIP apps come with different features, capabilities, and prices.
Finding the right VoIP app from the many options available takes work. You'll need to identify and understand your business needs to determine the app that best suits your needs.
You'll also need to look at your budget. Here's our list of some of the best VoIP apps you can check out.
You can also check out some of the cheapest VoIP services.