Business phone systems are becoming more and more popular as they offer many benefits over traditional landline systems. Businesses can use these systems to handle phone calls, send text messages, and integrate with other business software.
Businesses have traditionally relied on landline systems to manage calls. These systems may be quite reliable and provide a high level of service, but they can be extremely expensive to operate. They also do not provide the flexibility of advanced communications features offered by VoIP systems. In recent years, a growing number of businesses have turned from landlines to Voice Over Internet Protocol (VoIP) systems. These cloud-based systems are more flexible and cost-effective than traditional landline systems.
Are you looking for a better business phone system? If so, you may want to consider investing in an Ooma or Vonage system.
Ooma is considered a more affordable option, while Vonage has been known for its high-quality service. Both offer features that can help you run your business more efficiently. When comparing Ooma and Vonage, it's important to consider the features and benefits each has to offer.
In this article, we'll take a look at both of these business phone systems and compare their features, pricing, customer support, and more to help you determine which one might be best for you.
Ooma vs Vonage: Similarities
The starting price plan for both VoIP providers is $20 per month, including unlimited domestic calls and team messaging. You also have the option to select between different plans based on your requirements.
Both offer voicemail to text and calls on toll-free numbers in their basic plans. Moreover, international calls to the U.S., Canada, and Mexico are included in the basic plan of both Ooma and Vonage.
Both service providers support third-party integrations. You can look into the details based on what your business demands.
Desktop and mobile apps are available for both VoIP providers
Ooma vs Vonage: Differences
Ooma offers specific features that contribute to improved connection and sound quality. For instance, its advanced technology of voice compression decreases the requirements of Internet bandwidth to maintain call efficiency. Besides, its adaptive redundancy feature reduces the number of redundant packets for enhancing call clarity. Vonage offers high-quality calls but lacks the additional features Ooma offers. Hence, Ooma is ranked higher in terms of sound quality.
You can try out a free plan with Ooma to test out the service before you commit long-term. Vonage doesn't offer any such trial plans.
The maximum number of participants supported in a meeting, even with Ooma's premium plan, is just 25. Ooma offers video conferencing with a maximum of 100 participants, that too in it's top-tier plan only. Vonage, on the other hand, allows unlimited meetings with up to 100 participants in its second-tier plan.
Ooma offers three paid plans; Ooma Office Essentials, Ooma Office Pro, and Ooma Office Pro Plus. Vonage offers three plans, including Mobile, Premium, and Advance.
What is Ooma?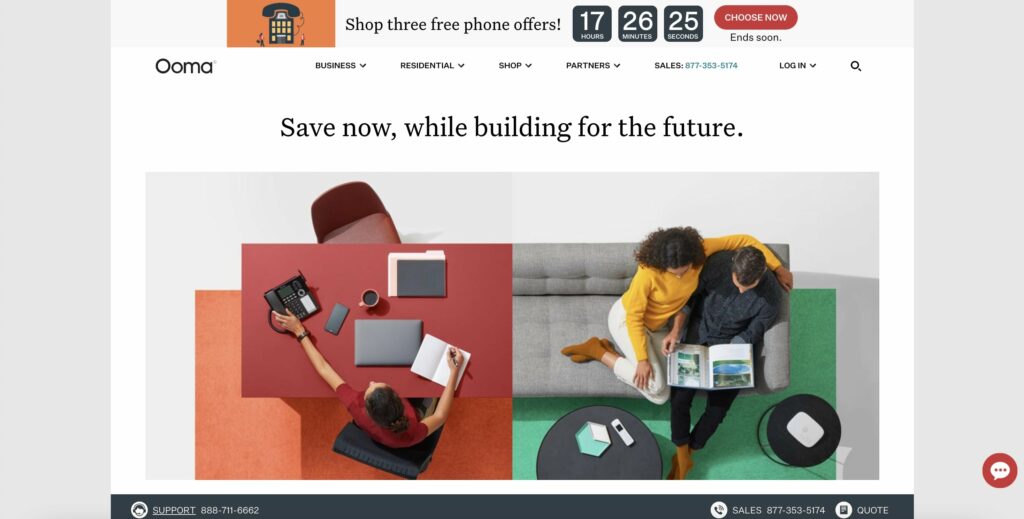 One of the top Vonage alternatives, Ooma is a VoIP service provider based in California. The software uses nothing but a quality internet connection and a regular home phone to offer all its features to its customers. The company markets itself as the ultimate VoIP service provider for small businesses that wish to save money without compromising on the quality of the phone service.
Ooma Key Features
Ooma offers a VoIP phone system that solopreneurs or small businesses can use. They get to enjoy the features that a big business does but since the service is cheap, it's more accessible
UCaaS solutions are available for bigger businesses that require more advanced features for a smooth communication flow
With Ooma Business, employees can stay in touch with their employers constantly. From business owners to employees to customers, everyone stays in the loop with this phone system
Security and customer service are Ooma's forte. 24/7 chat and phone support means you'll never have to experience communication issues
Ooma is also available for residential use. Cut down your cost of landline phones because, with Ooma, you only have to pay taxes and fees to enjoy the best phone service
Who is Ooma for?
Without a doubt, Ooma is ideal for small businesses. Startups and solopreneurs looking for basic VoIP features such as call forwarding, call recording, SMS messaging, and international calling can enjoy this phone service at a cheap price. They can also avail of video conferencing and a few more advanced features. It's the best phone service that provides good sound quality at minimal rates.
What is Vonage?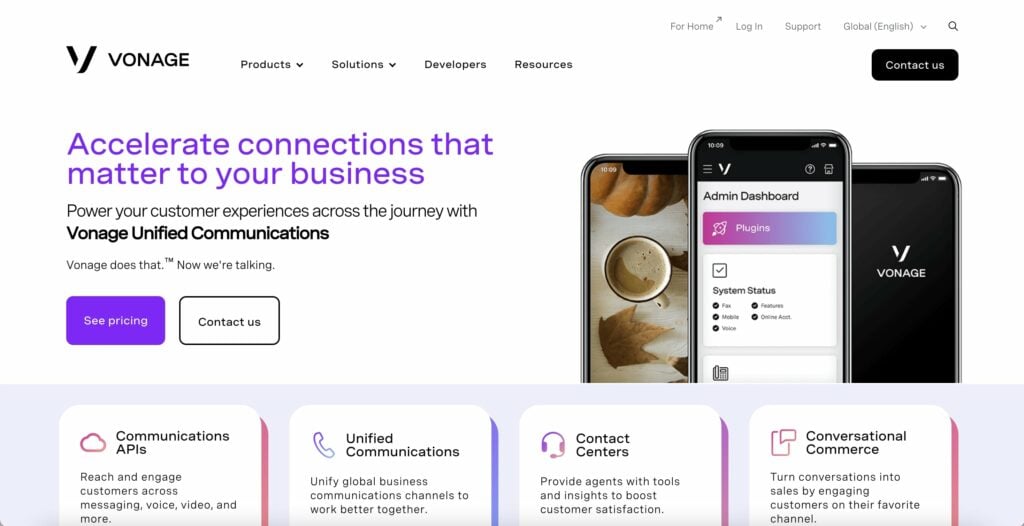 Vonage is a CPaaS provider offering VoIP services. From call forwarding to voicemail transcription and call routing, Vonage provides various advanced features. Besides, the company offers video conferencing and SMS messaging on its desktop and mobile apps.
Vonage Key Features
Vonage Business Communications provides more than 50 phone features and integrated solutions to its clients
Vonage offers three price plans so that you can choose to pay according to your feature requirements
The advanced plan offers video conferencing with up to 200 attendees. Along with the video, voice chat and chat communication are also available
The desktop app and mobile app are equally good. You can avail of pretty much all features on both platforms to stay connected with employees and customers
All communication, whether it is phone calls, team messaging, or video conferencing, is end-to-end encrypted. Every call recording in your business inbox is also securely protected with Vonage's VoIP phone system
Who is Vonage for?
Vonage meetings, unlimited calls, team messaging, and video conferencing altogether make this VoIP provider a great option for large businesses. You can choose between the basic plan, advanced plan, or premium plan as per your requirements and budget to enjoy high-quality VoIP features.
Ooma vs Vonage: Features
To determine how suitable a VoIP provider is, you need to understand the features it offers. Here's what Ooma and Vonage bring to the table.
Call Queuing
Ooma offers call queuing only in its highest-paid plan. Vonage doesn't offer the feature as part of its plans, but you can buy it as an add-on. It's available for $250 per month for unlimited usage. The Call Queue Plus charges $14.99 per month with an additional charge of 3 cents per minute of waiting.
Internal Communication
Although Ooma is designed for small businesses, it focuses on keeping business owners in touch with all team members. Vonage also allows team messaging in all its plans. So, both VoIP providers stand even on this feature.
Security
Whether your team uses the service on a mobile phone or a desktop, secure communication is guaranteed with both service providers. End-to-end encryption keeps your video, voice, and messages private. The only plan in either service that doesn't include end-to-end encryption is the Ooma Basic.
Call Quality
The quality of the phone line of both services is remarkable. Whether the calls are being made from mobile phones or desktops, there's no issue with the clarity of the sound.
Verdict: Vonage wins in Features
The competition is tough. Both Ooma and Vonage stand shoulder to shoulder in terms of features. But, Vonage does come out to be slightly better with both – quality and quantity. This does come with a higher price tag. But at the end of the day, if you're looking for more variety of call management features, Vonage is the right choice.
Vonage vs Ooma: Integrations
A VoIP service is more than just a phone line. Sales employees use these plans to integrate third-party apps so that the process runs smoother and quicker.
Ooma offers integration but with limited apps. These include Gmail, Amazon Echo, and Dropbox. Sales apps such as CRM aren't available.
Vonage has a wider variety in this category. CRM, Salesforce, Office 365, Google Workspace, and many other third-party integrations are available.
Vonage wins in Integrations
With more to offer, Vonage is the winner in the race of integrations.
Ooma vs Vonage: Pricing
Both Ooma and Vonage offer a pretty similar starting price point for their basic plan. Let's take a detailed look at the different options each one offers in comparison to what they're charging for it.
Ooma Pricing
The plans are billed per month.
Ooma Office Essentials: $19.95/month per user
Ooma Office Pro: $24.95/month per user
Ooma Office Pro Plus: $29.95/month per user
The free plan is great for clients who want to try out the service before paying for an advanced plan. In this free plan, they offer some basic features such as unlimited calls, voicemails, call logs, and call waiting. You can test out the basics, such as the sound quality for free with this plan.
The basic Ooma Office Plan includes additional features such as digital fax, virtual receptionist, and automatic voicemail. All of this is in addition to basic call management features.
The Pro plan includes call recording, voicemail transcription, call blocking, video conferencing, integrations, and more. You can enjoy both desktop and mobile apps with this plan.
If you decide to pay an extra $5, you can enjoy Salesforce integration, simultaneous screen sharing, and call queuing too.
Vonage Pricing
The plans are billed monthly.
Mobile: $19.99/month per line
Premium: $29.99/month per line
Advanced: $39.99/month per line
The most basic plan with Vonage includes unlimited calls, desktop and mobile apps, unlimited SMS, unlimited team messaging, and access to the Vonage App Center.
With the Premium plan, you get IP desk phone capability. Video meetings support up to 100 attendees and there's no limit on the call management times. Multi-level auto attendant and CRM integration are also included in this plan.
The Advanced plan offers all the basics with an additional 15-hour call recording on demand. The extra $10 also brings you group calls and visual voicemails.
Ooma wins in Pricing
From the price point of view, Ooma is a cheaper option. With its free trial plan and overall low rates, it wins against Vonage's high pricing. However, this does affect the features you end up receiving. If Vonage's plan is more suitable for your business, the price is justifiable.
Ooma vs Vonage: Customer Support
You can pay for the best VoIP services with the most advanced features. But none of it will be useful when the call recording stops working in the middle of your meeting. That's when customer support will be more valuable than fancy call monitoring or unlimited calls.
Vonage offers both chat and phone support for its customers. The chat representatives are available 24 hours, Monday to Sunday. You can also email them any day and time of the week. Through both these channels, however, you'll not receive an immediate response.
As for phone support, the hours are limited. For U.S. clients, the lines are open from 9 am to 12 am from Monday to Friday. On Saturdays, the timings are 9 am to 8:30 pm. Sundays are completely unavailable. For Mexican clients, the phone representatives are available Monday to Saturday from 9 am to 8 pm.
Ooma takes the upper hand in this regard. Although the service only offers one channel to seek help, it's available 24 hours every day of the year. There are different phone lines for U.S. and Canadian customers. Call your relevant number to get an instant response to help fix your VoIP services.
Ooma wins in Customer Support
The winner for customer support is pretty clear. Since Ooma's customer services are available readily any time of any day, it gets the winning point. Even with more options for contact, Vonage fails to be there for a client who might need immediate help during the hours when phone support is unavailable.
Ooma vs Vonage: Scalability
You may just be testing out a VoIP service right now. Eventually, there's a chance your business will grow and so will your needs. In a case like this, it's important to opt for a service from the get-go that gives you room to expand.
Ooma is designed specifically for solopreneurs and small businesses. Therefore, even their pro plan isn't suitable for a business bigger than 25 employees. Vonage, on the other hand, gives you the option to be able to manage on a bigger scale, even if you have to pay extra for it.
Vonage wins in Scalability
Ooma doesn't categorize itself as a VoIP service for large businesses. So automatically, this makes it a one-sided win for Vonage for scalability.
Ooma vs Vonage Conclusion
In conclusion, both phone support services offer a decent bang for your buck. With basics like desktop and mobile apps, unlimited calling, call recording, and international calls covered, it comes down to your budget, business size, and requirements.
Overall, Vonage is a better option in terms of integration, scalability, and variety of options of features offered. Ooma is easier on the pocket with better customer service.