Business communications are essential in today's work world. Whether you're a small business or an enterprise, there's no denying that VoIP is the way to go.
A few providers often come up in conversation when it comes to VoIP. Ooma and RingCentral are the most popular VoIP providers in the market today.
Both providers offer many features ranging from voicemail to video conferencing.
This article will compare the two VoIP providers – Ooma vs. RingCentral, to see which is better for your business.
We'll cover the price differences between the two and the features each VoIP provider offers.
Check out this related article Best internet phone number providers.
RingCentral vs. Ooma: Similarities
While RingCentral and Ooma have unique features and functionalities, they also have similarities. These include:
Both are business phone system services
RingCentral and Ooma are popular VoIP business phone systems that position themselves as UCaaS or unified communication platforms.
They both provide everything, including VoIP calling, video conferencing, call waiting, video conferences, and instant messaging, among other services. They help businesses, customers, and teams communicate and collaborate using various channels.
Call features
RingCentral and Ooma offer a broad range of available features for cloud-hosted phone systems. They offer everything expected from a business phone service, including unlimited calling and texting, IVR/virtual receptionists, voicemail transcriptions, call blocking, and many more.
Free trial
Both providers offer a free trial plan that enables users to test the apps at no cost before committing. This allows the users to determine if the apps have all the necessary features.
It also allows them to see if the apps can meet their specific needs. However, the trial periods differ, with RingCentral offering 15 days while Ooma basic offers 30 days.
Local and international calling
Besides offering unlimited packages within the US and Canada, both VoIP services offer affordable rates for international dialing, making them great solutions for businesses that need an affordable service for contacting customers worldwide.
Telephony solutions and softphones
Both companies offer both telephony solutions and softphones for connecting endpoints. They provide connectivity solutions, wi-fi, and handsets that businesses may need.
Ooma vs. RingCentral: Differences
While these two phone system services have some things in common, they are also distinct in various ways. These are some of the differences between Ooma and RingCentral.
Features
While Ooma and RingCentral score pretty well in features, they differ in the number of features available overall and under different plans. Ooma Office offers essential features like unlimited calling, texting, and call queuing in its primary plans.
However, Ooma Premier locks most of the advanced features behind its higher price tiers. With RingCentral, you get more features, even its basic plan.
Pricing plans
Ooma has two straightforward pricing plans, Ooma Office and Ooma Office Pro, with prices ranging from $19.95 to $ 24.95 paid monthly.
RingCentral has a more complicated pricing policy, with varying prices depending on the number of users and features needed. It has four pricing plans ranging from $19.99 to $59.99 per user per month paid monthly.
Suitability
While Ooma office is best for small to medium-sized businesses with a small team of up to 100 members looking for an affordable communication solution with unlimited calling to multiple countries.
RingCentral is better for larger companies with larger teams of over 100 members looking for a well-rounded, feature-packed, and scalable business communication solution.
Conferencing features
Ooma office allows video conferencing with a maximum of 25 participants for its pro plan, while RingCentral offers the same with 200 participants in the Standard or higher plans.
Cross-platform compatibility
RingCentral offers a Linux desktop client using WebRTC, making it available for all users in the business. On the other hand, Ooma's desktop is only available for Mac and windows.
What is RingCentral?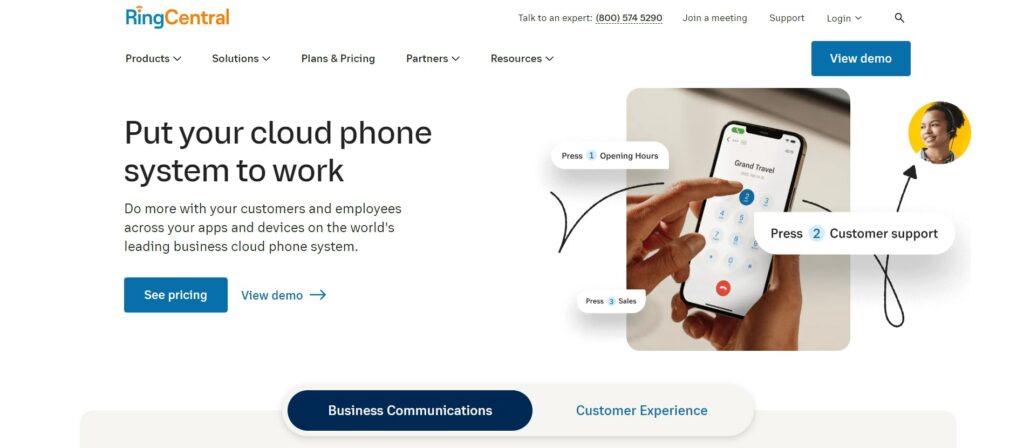 RingCentral is an affordable VoIP phone business service that offers a wide array of features that make business communication easy.
The app integrates VoIP phone service with high-quality video conferencing and chat messaging, all on a single platform.
The service comes with seamless and full-featured mobile and desktop apps. It also integrates well with third-party apps like Salesforce, Zendesk, HubSpot, Mailchimp, and Microsoft Teams.
RingCentral Key Features
These are the key features of RingCentral.
Call screening: This allows you to determine who reaches your business. With this feature, you to take phone calls from particular callers, block specific numbers, and send others to voicemail.
Detailed analytics: RingCentral comes with real-time analytics capabilities with over 30 key performance indicators (KPIs) and real-time notifications, allowing you to tackle potential issues promptly. This gives you comprehensive analytics information, such as average call quality, usage, and device status reporting.
Call flip: This feature allows you to easily move an ongoing call between your cell phone, softphone, or desk phone.
Call park: With this, you can hold calls in a virtual location and retrieve them from any desktop app in your system
Toll-free and vanity numbers: You can choose from various toll-free numbers, including 800, 866, 877, 855, and 855, and give your business instant credibility and make it easy for your customers to access your company.
Extended voicemail options: This offers you multiple ways to check your voicemail. You can listen to audio recordings, read using voicemail-to-email, or use voicemail-to-text.
Who is RingCentral for?
RingCentral is best suited for businesses with larger teams of more than 100 members looking for an all-around, feature-rich, and highly scalable communication platform.
The service comes with many features and powerful integration capabilities, making it perfect for teams interested in third-party integrations and multi-platform compatibility.
What is Ooma?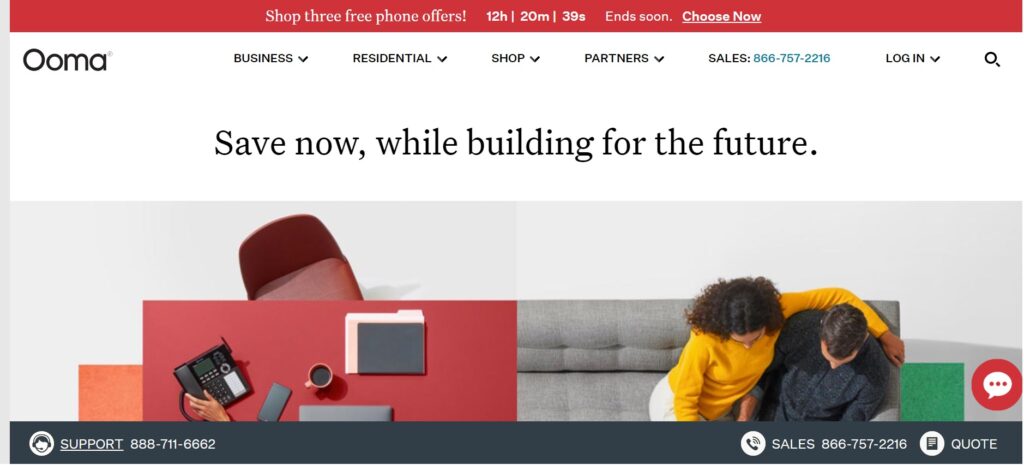 Ooma offers a straightforward communication solution for small organizations that need a simple, no-frills VoIP solution.
The app includes fantastic call management tools such as voicemail transcription and call recording.
Starting at only $19.95, Ooma telo gives you access to VoIP features like on-hold music, multi-device ringing, automated call routing, call reports, and digital voicemail.
Ooma Key Features
These are some of the outstanding features of Ooma:
Virtual receptionist: It allows you to manage incoming calls and SMS messaging, responding promptly to your customers even when the call agents are unavailable. A virtual receptionist makes it easy for customers to reach the right person upon dialing your company and get crucial information. You can create a schedule to send calls to the virtual phone menu, an extension, or an extension's voicemail.
On-hold music: This keeps your customers entertained and ensures they don't get bored or hang up when put on hold. This is necessary for managing large call volumes. The feature allows you to configure distinct audio tracks for transferring and holding music.
Ring groups: This feature allows you to set up your system to ring several peoples' phones from a single direct cell phone number or extension. With this feature, you assign specific calls to groups, ensuring the calls go to the right end. All phones and devices in a ring group ring according to your selected pattern. If no one can answer, calls can be sent to a voicemail box, redirected to a specified extension, or sent to the next ring group level. This ensures that no call goes answered.
Multi-ring: This enables your business phone number to ring on your office phone, mobile app, Ooma telo, and an external device.
Voicemail transcription: This comes in handy, especially if you don't have time to always listen to your voicemails. The transcription is sent to a specified email address together with an mp3 file of the audio message.
Who is Ooma for?
Ooma is best for small or medium-sized businesses with teams of not more than 100 members that rely mostly on calls to communicate with their customers.
It offers unlimited local and international calling at very affordable rates. It's also ideal for users more interested in quality support over features.
These are other affordable business phone systems for small businesses.
RingCentral vs. Ooma: Features
RingCentral and Ooma are among the most popular choices for VoIP phone services among small businesses.
While these two apps have some similarities, they differ in various aspects and features. This is a detailed comparison of the two platforms on specific aspects.
Call Analytics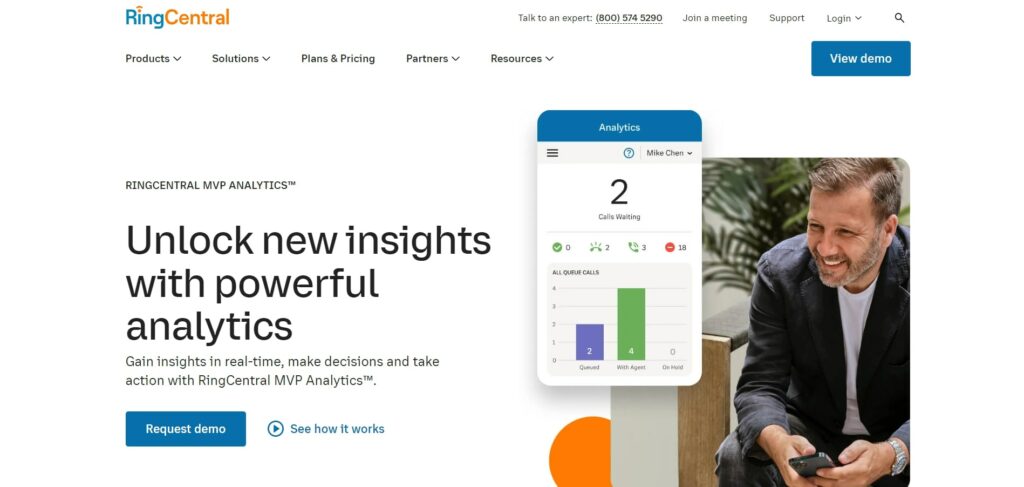 Ooma and RingCentral both offer key call analytics features, including call logs. These offer records of all incoming and outgoing calls and faxes for record-keeping purposes.
A great phone service system includes real-time analytics and reporting dashboards. This is where RingCentral outshines Ooma.
RingCentral comes with more than 30 inbuilt key performance indicators (KPIs) like average call time, abandoned calls, real-time notifications, and answered calls enabling users to address potential issues.
It also offers quality service reports allowing you to track the quality of calls in all your business locations.
On the other hand, Ooma gives business call logs and a new call volume trend KPI. However, it lacks advanced analytics capabilities like real-time analytics and reporting dashboards.
Generally, RingCentral offers more advanced analytics capabilities compared to Ooma.
Calling Features
Both services come with various call features like receiving calls, voicemail, and video conferencing in their different plans. RingCentral offers all the essential features like call recording, call transfer, and screening in its basic plan. It also offers 1000 to 100,000 toll-free minutes. You also get toll-free numbers.
Ooma offers unlimited calling to the US, Mexico, Canada, and Puerto Rico at more affordable rates than RingCentral. At low prices, it offers unlimited international calling to over 70 overseas countries, including Canada. However, Ooma locks most call features, including call recording, caller ID, and voicemail to text, behind its higher price tiers.
RingCentral offers more calling features in its basic plans than Ooma, making it a clear winner.
Video conferencing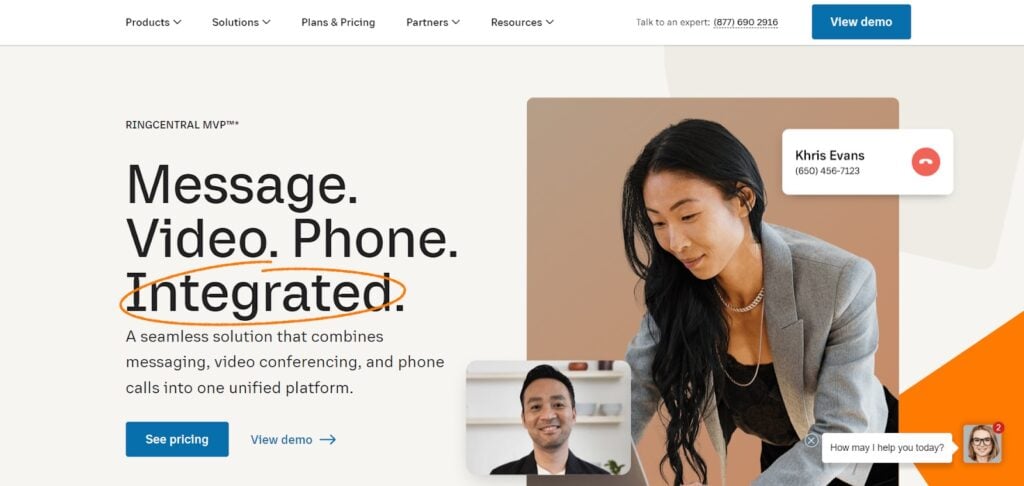 RingCentral offers unlimited HD video meetings with up to 200 active participants in all its plans. The feature allows file sharing, meeting recording, screen sharing, and team chat messaging.
Users can also switch from an audio to a video call with a single click. RingCentral also includes mobile support to enable remote teams to join meetings on the go from their smartphones.
With Ooma, video conferencing is available only with its higher pay plan, Ooma Office Pro. The solution only allows a 25-participant limit for video conferencing. This makes RingCentral the better option due to its larger participant limit than Ooma.
International calling
Both Ooma and RingCentral offer metered international calling at affordable rates. However, Ooma offers unlimited international calling to over 70 overseas countries. With RingCentral, there is no unlimited international calling.
Ooma offers two supplementary plans, Ooma World Plan and Ooma World Plan Plus, for international calling. These two plans are available as add-ons but save many international call costs. This gives Ooma customers an edge over RingCentral in this regard.
Verdict: RingCentral wins in features
RingCentral offers a more robust set of features than Ooma, making it a clear winner. It also offers more advanced features even in its basic plans making it a better choice for teams that need advanced tools.
Check out our comparison article on Dialpad vs RingCentral: VoIP Phone System Compared 2023
Ooma vs. RingCentral: Integrations 
Integrations are an essential component of any VoIP business phone system. Using a VoIP platform alongside other tools you already use will speed up your business processes and save you lots of time.
RingCentral integrates with over 1000 apps, including project management tools like Asana, Trello, and Monday.com. Other popular integrations include Google Drive, Dropbox, OneDrive, Salesforce, Microsoft Teams, Google voice, G–Suite, Zoho, Google workspace, and Microsoft Dynamics.
With RingCentral's Standard plan, you'll get a huge library of popular apps and more than 200 others when you upgrade to its higher tiers. RingCentral 97 huge CRM and 57 Analytics integrations. Moreover, this provider comes with native project management capabilities making it possible for contact center users to avoid using third-party tools.
With the premium plan, RingCentral has an open API that allows teams to add any other software they need. This is handy for businesses trying to cut down on software bloat and the number of windows each agent must have at any given time.
Ooma also has some integrations, though not in as impressive a variety as RingCentral's. The service offers a few integrations with tools such as Microsoft Outlook, Salesforce, Zendesk, Microsoft Dynamics, Google Contacts, Office 365, and Google Workspace. Its low-tier plans have minimal integrations, and a few more in its Enterprise plan.
RingCentral wins in Integrations
With its wide array of integrations and impressive compatibility with numerous third-party apps, RingCentral is the unrivaled winner compared to Ooma.
RingCentral vs. Ooma: Pricing
RingCentral and Ooma offer free trial plans, albeit with different trial periods. Besides the free plans, these apps also have paid plans with different features for each plan
RingCentral Pricing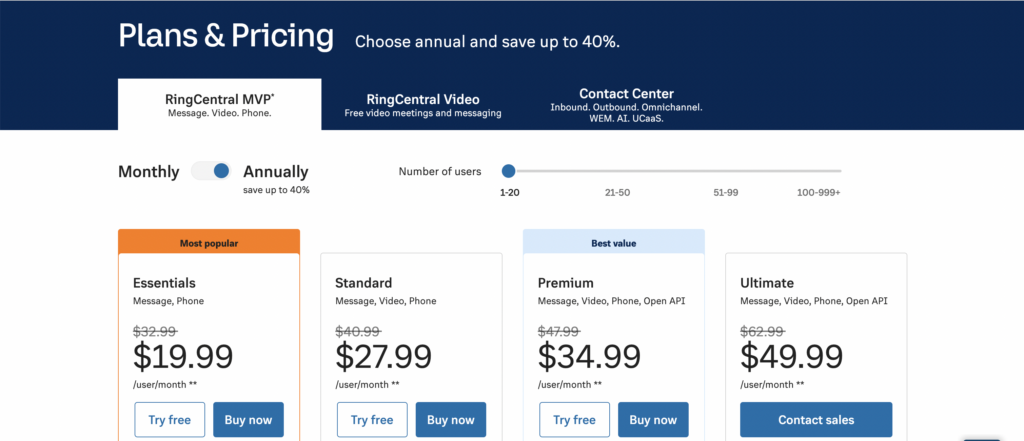 RingCentral's pricing policies are a bit complex, and the price depends on the number of users and the features you need. The service has 4 pricing plans: Essential, Standard, Premium, and Ultimate.
The Essential plan is the primary plan and focuses more on call features and a few others, like file sharing and business SMS. The Standard plan includes more features like video conferencing and more integrations. The higher plans offer more advanced features and integrations.
These are the pricing plans for RingCentral:
Essentials plan: This costs $19.99 per user per month for up to 20 users with fewer features than the other tiers, thus suited for small businesses
Standard plan: At a monthly cost of $29.99/user/month for an unlimited number of users, this plan is best for small businesses with more than 20 users looking for more features.
Premium plan: It comes for $34.99/ user/ month and has everything in the standard plan plus others.
Ultimate plan: This costs $49.99/user/month and has everything in the premium plan plus other advanced features.
Ooma Pricing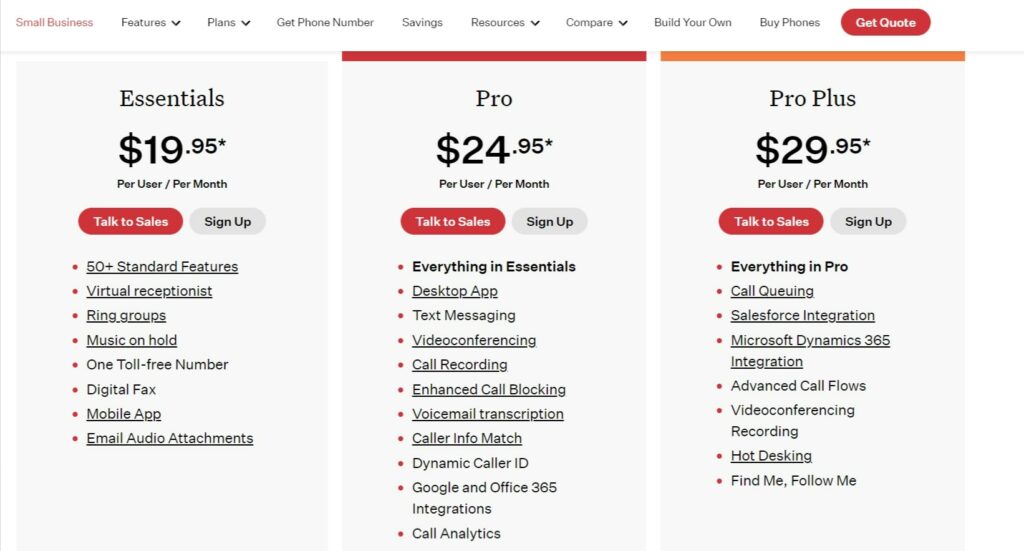 Ooma offers more straightforward pricing plans compared to RingCentral. In addition to a 30-day free trial, Ooma has the following pricing plans:
Ooma Office Essentials: This costs $19.95/month/user and includes full access to SMS messaging, mobile app, call forwarding, and other call management tools.
Ooma Office Pro: It comes for $24.95 and has everything in Office Essentials, plus call recording, voicemail transcription, video conferencing, and a desktop app.
Ooma Office Plus: This costs $ 29.95 with all the features in Office Pro plus a few more others.
Ooma wins in Pricing
Ooma is cheaper than RingCentral, with prices ranging between $19.95 and $27.95 for the former and $19.99-$49.99 for the latter. This makes Ooma a clear winner in this aspect.
Ooma vs. RingCentral: Customer Support
A great app comes with great customer support to help users implement the app successfully. It's crucial to go for a tool that has a reliable customer support desk that can promptly respond to any queries regarding the use of the tool.
Both services score pretty well in terms of good customer support. They utilize multiple customer support channels, including email, helpdesk, FAQs, forums, 24/7 phone support, and live chats.
However, RingCentral is the industry leader in this aspect. The service includes several ways to contact its customer support staff in all its plans. In addition to the other channels, RingCentral also adds a comprehensive knowledge base.
Conversely, compare Ooma does not offer onboarding support in the Ooma Office or Ooma Office Pro Plan. It also doesn't have email support. RingCentral has support options available on all its plans except for the Essentials plan, which lacks Onboarding support.
RingCentral wins in Customer Support
Including a knowledge base and multiple support options in every plan gives RingCentral an edge over Ooma in customer support.
Ooma vs. RingCentral: Conclusion
Both Ooma and RingCentral are incredible VoIP phone systems popular among most businesses today. They offer all the features you may want in a business communication solution. The best service for your business will depend on your needs, budget, and features that you need.
Generally, Ooma is your best fit if you are a small business with a small team of fewer than 100 members and looking for affordable business communication. It's a good choice if you are more interested in unlimited calling rather than more robust features.
However, large companies looking for a phone system with robust and advanced features and integration capabilities will find RingCentral more appealing. It's a perfect choice if you prefer native functionality.
Check also the cheapest VoIP phone services.