Vonage is one of the most popular VoIP services in the world. They have consistently been one of the top performers in terms of speed, reliability, and customer satisfaction.
However, there has been a wave of change over the past few years with the emergence of several alternative business phone and business communications providers offering similar or even better services at a lower cost.
When considering whether or not to switch from Vonage, it's important to be aware of all your options. In this guide, we will compare the top 10 Vonage alternatives to make your decision easier.
Why Vonage?
Vonage is a voice-over-internet-protocol (VoIP) provider that has not only been in existence for over two decades but also dominated the market. It offers both residential and commercial VoIP communication solutions for all kinds of businesses.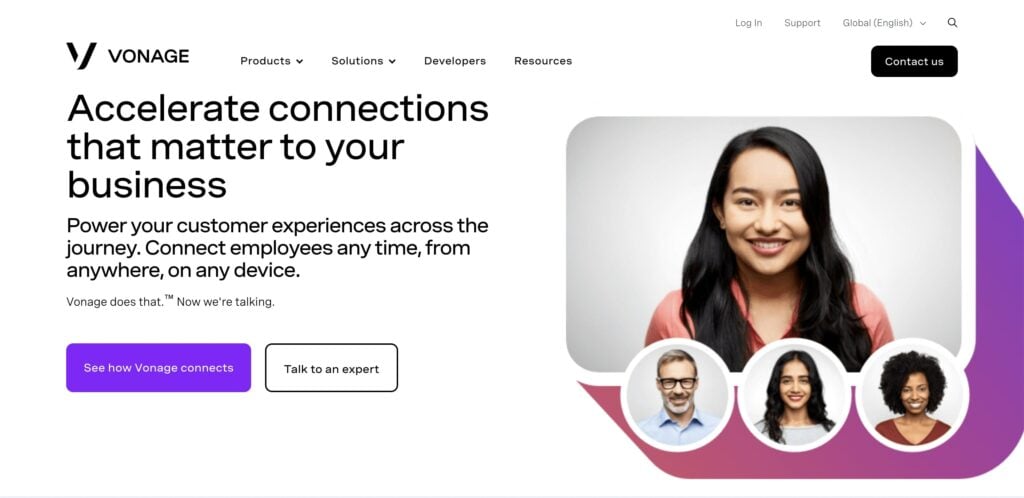 As is the case with the vast majority of VoIP system providers, Vonage offers plenty of features, including messaging, high-definition phone calls, CRM integrations, and auto-attendant among others. Listed below are some of the key features you'll get with Vonage;
99.999% guaranteed uptime SLA
Unlimited business messaging
Desktop and mobile apps
Video collaboration
Integrations with tools such as Microsoft Office 365, Google Workspace, HubSpot, Salesforce, and more
Vonage is a great phone system solutions provider. However, not all types of businesses will be satisfied with its VoIP service. For example, its subscriptions could get a bit pricey, particularly because a large number of its solutions are made available as optional add-ons only. In the long run, you end up spending more as you may need to upgrade your plans often.
Also, its plans come with long contracts, which is something you may not be willing to commit to. With that said, it's not hard to see why you'd want to consider an alternative VoIP provider.
There are plenty of alternatives that offer the functionalities your small, medium, or large-sized business needs. In this post, we're going to examine the Top 10 Vonage Alternatives in 2023.
Top Vonage Alternatives
You may want a great alternative to Vonage – one that works perfectly for your team as well as business needs. Below, we've highlighted key advantages each contestant has over Vonage VoIP provider.
We are now going to look into each of these Vonage alternatives, including their main features, and prices. This way, you'll be in a better position to make a well-informed decision.
RingCentral
RingCentral is among the top-rated cloud based communication providers. It was founded in 1999 and has got its headquarters in Belmont, California, U.S.A. Since then, this communications vendor has seen a few revamps that have shaped it into the top dog it is today.
In 2015, RingCentral acquired Glip, a team collaboration vendor, which supported its VoIP tool with essential collaboration features. The provider's best package is a popular option on the market.

RingCentral Features
Unlimited business messaging
Document sharing
High-definition audio and video quality
Team messaging
Unlimited calls across Canada and the United States
RingCentral Pricing
Essentials: $19.99 per user, offering unlimited calls in the US/Canada, and toll-free numbers
Standard: $27.99 per user, which offers toll-free numbers in over 100 countries, and video meetings for up to 100 participants
Premium: $34.99 per user that offers automatic call recording as well as multi-site admin, and management
Ultimate: $49.99 per user that offers everything in all the other plans, in addition to unlimited storage
RingCentral Vs Vonage: Why RingCentral is Better?
Let's delve into the comparison between the two VoIP service providers to determine which is better and why. Both of these phone system providers have got excellent features such as third-party integrations, video conferencing, and more. However, they have a few divergences in the quality or even how they package their products.
RingCentral Offers Better Video Quality
RingCentral has got HD-quality conferencing for both video and audio. Put simply, you'll get great sound quality during meetings, not to mention that you'll always look your best all through important presentations or conversations.
Vonage doesn't currently offer HD for video conferencing as a standard feature. And while you can upgrade their HD voice feature, you don't have this functionality for your video calls. Needless to say, RingCentral's video quality is superior.
RingCentral Wins in On-The-Go Meeting Features Battle
In this day and time, it's crucial to provide your team members with the tools to work effectively from anywhere.
RingCentral and Vonage both let you and your teams connect on video meetings through desktop and mobile apps. However, RingCentral gives you an innovative edge in regard to accessibility.
You're essentially able to switch between different devices during video conferencing by simply clicking a button. This way, you can never miss your meetings, or important business calls even when you're on the go.
Who is RingCentral For?
Considering its robust teamwork and great call monitoring capabilities as well as reliability, RingCentral offers the most value to large remote teams. Also, it makes sense for larger enterprises or businesses that require high levels of call automation and monitoring.
Ooma
Ooma VoIP service provider offers a plethora of cloud-based communications solutions. Its products include Ooma residential and Ooma business. The former offers residential phone service packages, while the latter provides small business phone services and enterprise communications. The company has its headquarters in Sunnyvale, CA, USA.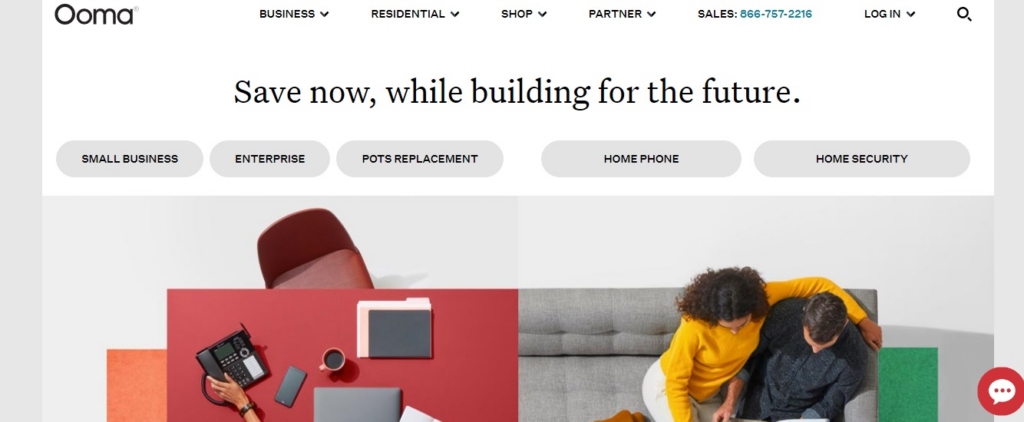 Ooma Features
Three-way conferencing calling
Conference bridge for up to ten callers
Unlimited users with private voicemails
Call waiting/call hold/call forwarding
Unlimited Calls in the U.S and Canada
Ooma Pricing
Ooma Office Essentials: $19.95 per user, offering free local phone numbers, ring groups, and virtual assistant
Office Pro: $24.95 per user, which provides video conferencing, a desktop app, and a mobile app with text messaging
Pro Plus: $29.95 per user that offers Salesforce Integration, Advanced Call Flows, Call Queuing, and videoconferencing recording
Ooma Vs Vonage: Why Ooma is Better?
Now, let's jump straight into comparing the two VoIP system providers, and find out which one meets your needs better. Vonage has numerous wins as compared to Ooma, on application integrations, video conferencing, and many others. However, Ooma is a great Vonage alternative economic-wise.   
Ooma is Cost-effective
So, you want to get a great VoIP phone system solution for your business at a relatively cheap price? Ooma costs less, irrespective of the plan you're subscribed to. Also, it's cost-effective for teams of up to 19 participants looking to upgrade to a mid-level plan. Basically, this Vonage VoIP provider has more features at almost every tier, like auto-attendant on the lowest plan, or call recording on your Pro plan for $24.95 per user.
Call recording is only available on Vonage's Advanced plan, which will cost you over $14 compared to Ooma Pro – even then, the service is capped at 15 hours, or made available as an add-on feature that will cost you an extra $4.99.
Who is Ooma For?
Ooma VoIP phone system is best suited for small teams as it offers just the right amount of features. Also, it's perfect for land-based businesses looking to switch to a VoIP service – as it doesn't need additional hardware installation to set up. Businesses that need to keep their monthly expenditures low may also want to consider Ooma.
Nextiva
Nextiva is another one of the numerous outstanding Vonage alternatives. This VoIP service vendor offers a variety of communication solutions, including integrated text messaging, voice, and a chat system. Businesses also benefit from live call analytics and call recording when using Nextiva.

Nextiva Features
Team instant messaging
International calling
Auto-attendant
Video conferencing
Unlimited calling in North America
Nextiva Pricing
Essential: $18.95 per user, which gives you toll-free numbers, and unlimited internet fax
Professional: $22.95 per user for screen sharing, up to 250 participants in video conferencing
Enterprise: $32.95 per user will provide call recording, voicemail transcription, and unlimited video conference recording
Nextiva Vs Vonage: Why Nextiva is Better?
Vonage is a popular choice for many businesses as it offers brilliant features like allowing you to record a tailor-made greeting for your business phone systems. This is quite commendable, but it may not be enough for some organizations. Nextiva provides a professional recording service for your business needs. Therefore, you don't have to use your voice.
Nextiva Provides More Accessibility for Software Integrations
Software integrations are essential in your business as they remove the need to transfer data manually. A cloud-based phone system should enable you to hop between applications effectively. Nextiva has got numerous top-rated integrations, including HubSpot, Salesforce, Zendesk, Microsoft Teams, Oracle, and Outlook.
While you can get more than a few integrations with Vonage, you'll be required to upgrade to premium plans.
Who is Nextiva For?
If you're here looking for the best Vonage alternative that will help you scale up at pocket-friendly prices, you might want to consider Nextiva. It gives you the most value for your money. You can host up to 250 participants in video conferencing and get unlimited calls for $22.95 bucks per month.
Dialpad
Dialpad is a popular Vonage alternative among many small businesses. In addition to its all-encompassing pricing plans, it comes with an intuitive User-Interface and excellent customer support. This VoIP service provider even won the Stevie Awards for Sales and Customer Support.

Dialpad Features
Web Conferencing
Multi-level auto attendant
Unlimited Calling
Custom call routing
Toll-free number support
Dialpad Pricing
Standard: $15 per user will give you AI-powered call and voicemail, and unlimited calling SMS/MMS
Pro: $25 per user gets you multiple phone numbers per account and local number support in over 70 countries
Enterprise: You'll need to contact their sales team as the price is not listed. This plan gets you 99.999% uptime
Dialpad Vs Vonage: Why Dialpad is Better?
Vonage and Dailpad are both reliable in regard to calling and messaging. However, Dialpad has a Chrome extension that allows you to call and send text messages without necessarily closing your browser, a feature that Vonage doesn't offer. Let's compare the two providers further.
Dialpad Beats Vonage in Analytics
The vast majority of Vonage alternatives offer some form of statement analytics and reports. Dialpad, however, stands out from the crowd. It provides extra analytical reports, including heat maps showing the time of the day you receive most calls and how swift you are to answer.
Who is Dialpad For?
Dialpad is ideal for small-sized businesses with smaller teams. Additionally, the handy Chrome extension makes it a pretty great option for businesses on a tight budget too.
8×8
8×8 is also among the best Vonage alternatives on the market. The supplier is known to offer a range of features that assist in optimizing the effectiveness of your agents such as recording as well as speech analytics.

8×8 Features
Multi-level auto attendant
Call recordings
Unlimited calling, SMS, and Fax
Visual voicemail
Flexible call flows and global coverage
8×8 Pricing
Express: $15 per user and get unlimited calls in Canada and the US
X2: $24 per user, offering unified voice calls to 14 countries, and secure HD voice
X4: $44 per user, providing voicemail transcription, call queues, and 8×8 Frontdesk for receptionists and operators
8×8 Vs Vonage: Why 8×8 is Better?
The 8×8 VoIP phone system is GDPR and FCC-compliant and comes with more powerful security features compared to Vonage. This is because it's more enterprise-focused, but it also offers plans for small-scale businesses.
8×8 Has an Edge Over Vonage in International Communication
This Vonage competitor has a heavy focus on international phone service – unlike Vonage, which charges extra for outbound international calls to limited regions. This explains why 8×8 has got more than two million customers. It essentially offers unlimited calling to 47 nations, which enables you to cater to the international market at a low cost.
Who is 8×8 For?
With its robust security protocols, 8×8 is ideal for large organizations, and Governments. Additionally, it's got plans best suited for smaller businesses. If your business is global, you might also want to consider its VoIP cloud services, though you might need to pay a little more.
OpenPhone
OpenPhone is also a popular VoIP solution provider among all kinds of businesses. Besides being extremely easy to use, it is created with speed and productivity in mind. It enables you to send text messages and answer calls for easy collaboration with your team regardless of your location.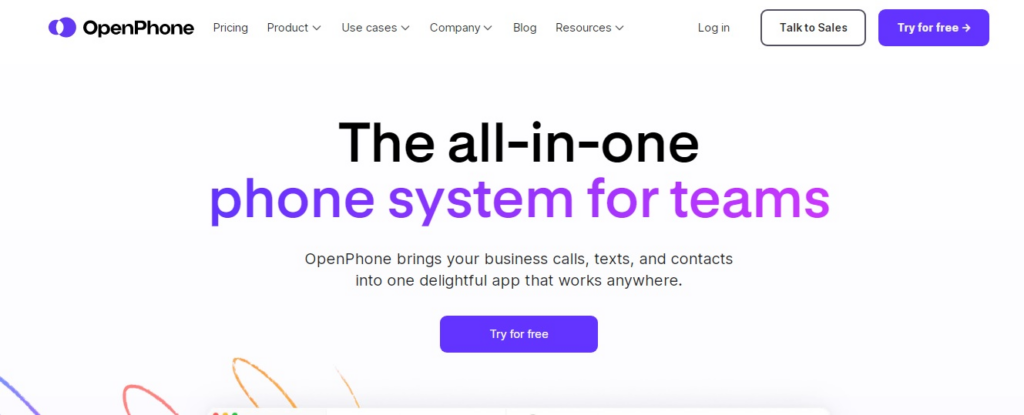 OpenPhone Features
US, Canada, and international calling
Toll-free numbers
Mobile apps
Web and desktop applications
Call forwarding and routing
OpenPhone Pricing
Standard: $10 per month, and you'll get call/messaging service to US and Canadian numbers, and one toll-free number per user
Premium: $20 per user for call transfers, group calling, analytics/reporting, and HubSpot integration
Enterprise: Contact OpenPhone for your tailor-made price. This plan offers a dedicated account manager and other perks.
OpenPhone Vs Vonage: Why OpenPhone is Better?
Vonage and OpenPhone are two comparable VoIP providers as they carry similar features. Still, they've got a few key differences.
OpenPhone is more favorable for small businesses
When you have a growing business, one of the things you consider is the cost of production. So, you want to go for VoIP services that align with your budget while serving you well. OpenPhone subscriptions are not only straightforward but also won't lock you up in annual contracts like Vonage. Its phone system works just fine across different devices, regardless of where you are – as long as you've got a reasonably stable internet connection.     
Who is OpenPhone For?
This low-cost VoIP communication solution is designed for small businesses on a budget. The service ports your old numbers without extra charges – you could even add new numbers to your existing devices. It's got features such as group messaging, call recording, and all transfers made available on the low-level plans. This way, you can enjoy a wide-ranging business phone solution at a low price.
Trengo
Trengo VoIP phone service provides businesses with a brilliant customer engagement platform, where you're able to interact with patrons across a wide range of communication mediums. You can get in touch with them via social media, WhatsApp, emails, and voice calls.

Trengo Features
Chat and messaging
Analytics/ reporting
Customizable branding
Multi-channel communication
Numerous third-party integrations
Trengo Pricing
Grow: $18 per user that'll give you unlimited messaging, team inbox, and Flowbots (Add-on)
Scale: $29 per agent with statistics and API, Chatbots, WhatsApp, Team Chat, and CSAT
Enterprise: $40 per user that provides two-factor authentication, and WhatsApp broadcasting
Trengo Vs Vonage: Why Trengo is Better?
Every business needs to create good communication channels for its customers. While Vonage offers the features to do so, Trengo has a better platform, which allows for communication via social media platforms, outbound calls, and emails. So, let's see how these two compare in a nutshell.
Trengo Wins in Messaging Communications
Both Vonage and Trengo have good messaging mediums, which allow for text/MMS. Trengo wins in this category because its platform lets you attach documents in emails, send delivery reports to clients, utilize email templates, and filter submitted tickets by teams, labels, and folders. Also, it allows integration with a wide range of messaging apps, such as WhatsApp.
Who is Trengo For?
Given its brilliant messaging aspects, Trengo is better suited for small businesses. You're able to effectively manage your customer's inquiries as well as team messaging. Also, its plans are pretty pocket friendly.
Zoom
If you're an avid user of VoIP phone services, you've probably come across Zoom, which was quite the fad during the Covid pandemic in 2020. This is a free video-conferencing solution – and today it offers a telephony service as well.
Zoom provides numerous benefits to businesses of varying sizes across different geographical regions. Its product offers not only adaptability but also powerful cloud-based communication solutions.

Zoom Features
Cross-platform texting
Call transfers
Desktop phone support
Call Recording
Business application integration
Zoom Pricing
Basic: Free and offers over 1,000 integrations like HubSpot, Hive, and Salesforce.
Pro: $15 per month with 1,000+ integrations such as Slack, plus 100 participants in video conferencing
Business: $20 per month with more than 1,000 integrations and 300 participants in video conferencing
Enterprise: $20 monthly that provides over 1,000 app integrations, and video conferencing with 500 participants
Zoom Vs Vonage: Why Zoom is Better?
Zoom is among the best Vonage alternatives, which is rated quite highly by various businesses the world over. Let's have a look at what makes Zoom better.
Zoom Offers Great Customization Features
Both Vonage and Zoom come packed with essential features, perfectly suited for your business needs. However, Zoom goes above and beyond in certain areas. For example, you're able to use breakout rooms to split large teams into smaller groups for more targeted discussions.
Additionally, you can customize your Zoom background to fit the theme of your meeting or conference.
Zoom Wins the Battle of Third-Party Integrations
While Both Vonage and Zoom offer great value with app integrations, Zoom outmatches its rival in that it provides plenty and powerful app integrations. Basically, Zoom offers more than 1,000 integrations as opposed to Vonage which doesn't come close to that. They include Microsoft Office 365, Slack, Google G-Suite, and Salesforce, among other native integrations. This greatly improves your organization's workflow proficiency.
Who is Zoom For?
This VoIP phone service provider offers features that are ideal for small, medium, and large-sized organizations alike. Its services are especially suited for large remote teams, which often like to complete tasks in several different groups.
Google Voice
This Vonage alternative is quite popular across North America as it offers free VoIP solutions. You're able to install the Google Voice app on your mobile phone and connect your Google Voice number with your cellular number for call forwarding and calling across various cellular networks.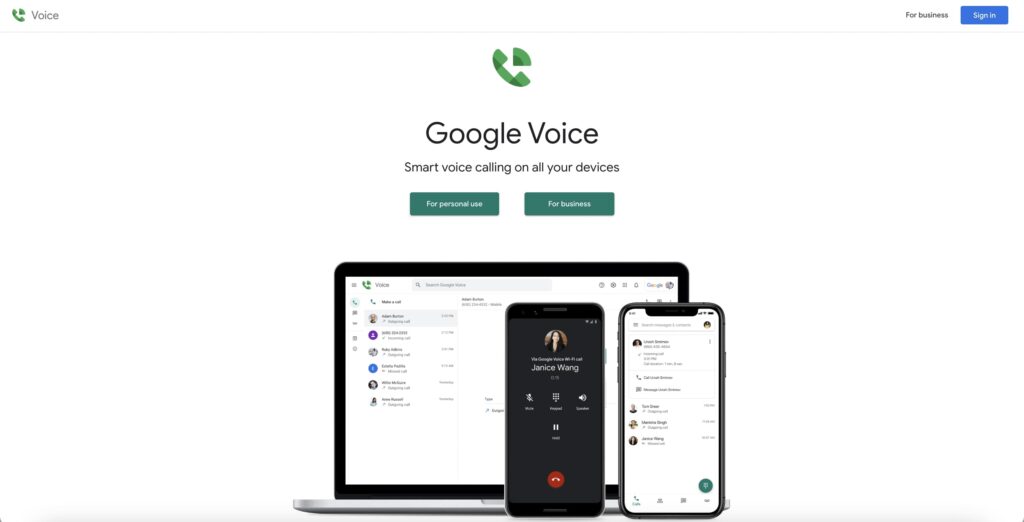 Google Voice Features
Block unwanted calls
Cheap international calls
Spam protection
SMS automation
Voicemail transcription
Google Voice Pricing
Starter: $10 per user that's going to offer calls between Google Voice numbers, and calls across the US, Canada, and Europe
Standard: $20 per user, giving you SIP Link, Google Meet integration, and Web Application
Premier: $30 per user that will provide unlimited international locations, and Google Fi Compatible US only
Google Voice Vs Vonage: Why Google Voice is Better?
The best part about Google Voice is that you're allowed to choose the users, within your Google Workspace, who get to use the VoIP solution. In other words, you don't need to pay for every team member's plan, when just a few use the calling service.
Google Voice Beats Vonage in Ease of Use
Vonage wins the war overall, but when it comes to ease of use, Google Voice takes the day. With Google, you're able to deploy the solution across your entire organization in just a matter of minutes. You can essentially switch from a mobile app to a web app with ease. Google Voice promotes a fluid multi-platform experience for its users.
Who is Google Voice For?
You should consider this Vonage competitor if your business operates within the US and Canada as it offers excellent plans for the market. It'll also make sense if you're already within the Google App network – as it works well with tools such as Gmail, Google Calendar, and Google Meet.
GoTo Connect
Formerly known as Jive, GoTo Connect has won over the patronage of customers globally. One of the most impressive aspects of this VoIP provider is its large and diverse app gallery. Let us see some of its main features below.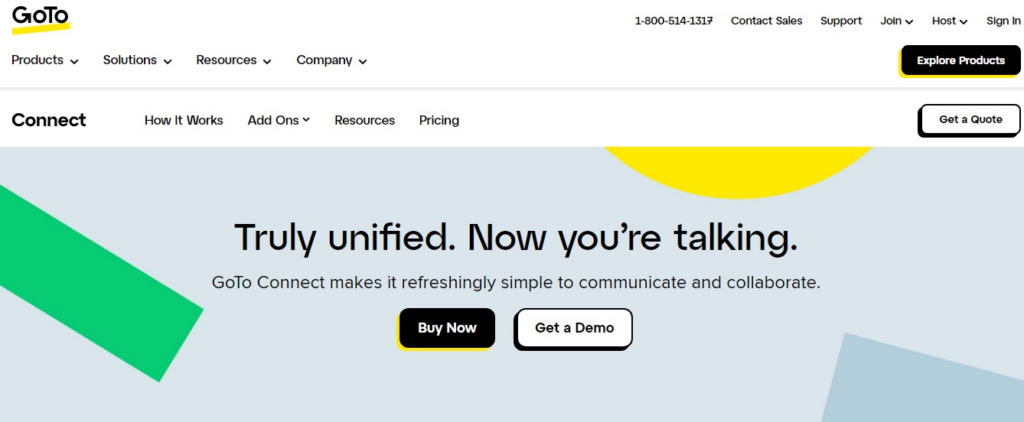 GoTo Connect Features
Call routing
Call forwarding
Hosted VoIP phone service
Number porting and transfers
Third-party app integrations
GoTo Connect Pricing
Basic: $27.00 per user with features such as existing number porting, and unlimited extensions
Standard: $32.00 per user for unlimited, customizable dial plans, and international calls to no more than 50 countries
Premium: $43 per user, and you'll get real-time analytics, intercom, seamless call management, and team messaging
GoTo Connect Vs Vonage: Why GoTo Connect is Better?
These phone systems provide a large number of app integrations; however, GoTo Connect offers numerous top-rated options, including Salesforce, Zoho, Calendly, etc.
GoTo Business Phone is Easier to Setup than Vonage
GoTo Connect business phone line is easier to set up compared to Vonage. For instance, you just have to drag and drop for a custom call routing setup. As far as hardware goes, the GoTo VoIP system is compatible with more than 180 desktop phones. Put simply, it's likely going to work with your existing models just fine.
Who is GoTo Connect For?
This Vonage alternative could be a good choice for your business if you're looking to scale up without having to invest in an entirely new communications network. This is because it's compatible with most desktop phone models. Note, however, that you might have to buy high-level plans to get more features for your bigger team.
Alternatives to Vonage: Conclusion
As it is, the VoIP industry is quite diverse and competitive. If you ask me, that's a great aspect – every competitor in the arena will work tirelessly to offer the best for their clientele.
Pro tip – always consider your requirements, and budget as well as which features will offer the most value for your business or patrons. With so many great options on the market, you should find a suitable VoIP phone service provider easily.