Since the onset of the Covid-19 pandemic, remote working has become the norm for many businesses. People were encouraged to work from home to avoid spreading the virus.
As a result, the need for online collaboration and video conferencing platforms has been on the rise. Remote teams need effective communication to ensure that all members are on the same page.
Zoom was the most popular video conferencing software that many businesses opted for. Its video conferencing platform has experienced an immense rise in the last three years as many businesses and individuals use it to conduct online meetings.
By December 2019, Zoom had 10 million daily users. However, by October 2021, this number rose to 300 hundred million users.
Why Zoom?
Zoom is an online video conferencing app that offers video calls and audio calling, cross-platform chatting, mobile apps, and end-to-end encryption, among other things.
Zoom's user-friendly interface makes it easy to use. Its generous free video conferencing solution allows unlimited online meetings for up to forty minutes, and screen sharing of up to 100 participants are some reasons for this app's popularity among businesses.
Some of the key features of this tool include:
Built-in audio and video collaboration tools
Meeting recording and transcription
Screen sharing
Instant messaging
An intuitive design that makes it easy to use
Despite its great features, Zoom has its limitations. It may be lacking in the features and functionalities, security measures, or pricing options you may be looking for.
Luckily, there are dozens of other Zoom alternatives that you can check.
This article will list the top Zoom alternatives, including their features, prices, and what they are best for to make it easy for you to choose.
Ready? Let's get started.
Quick Summary: Top Zoom Alternatives
Don't have time to go through the whole list at the moment? No worries. Here are our best Zoom alternatives.
Here, we list the top 10 best Zoom alternatives that you can use for your business:
Let's start exploring each one below.
RingCentral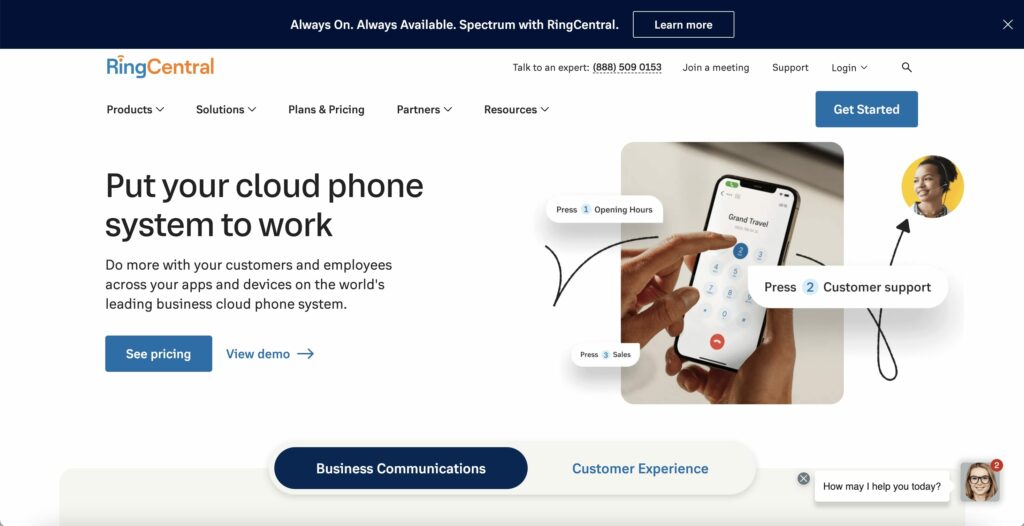 RingCentral is a cloud-based communication and collaboration solution for businesses. The tool integrates chat messaging, business phone systems, and video conferencing services into a single platform enabling users to switch between channels in just a click.
You can use this Zoom alternative to host video meetings with up to 500 participants, switch between audio and video calls, and switch to a different device without disconnecting.
RingCentral Features
HD Video calls and audio conferencing with up to 500 participants
Screen sharing, which enables other users to view your screen during presentations
Task management allows you to create and assign tasks to teams
File sharing, storage, and annotation
RingCentral Pricing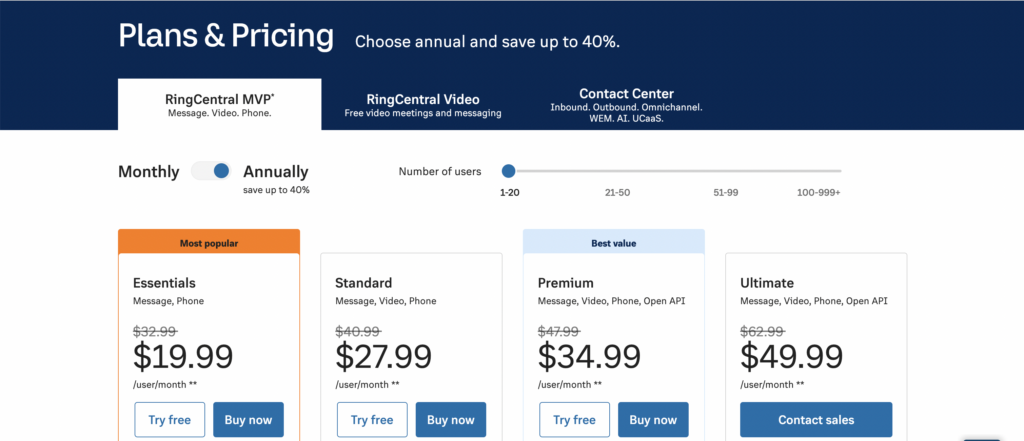 RingCentral offers the following pricing plans.
Essentials plan: This costs $19.99 per user per month for up to 20 users with fewer features than the other tiers, thus suited for small businesses
Standard plan: At a monthly cost of $29.99/user/month for an unlimited number of users, this plan is best for small businesses with more than 20 users looking for more features.
Premium plan: It comes for $34.99/ user/ month and has everything in the standard plan plus others.
Ultimate plan: This costs $49.99/user/month and has everything in the premium plan plus other advanced features.
RingCentral vs. Zoom: Why Is RingCentral Better?
Both RingCentral and Zoom have several things in common. For example, they offer video and audio conferencing, video chats, file sharing, screen sharing, and meeting recording.
The two apps offer HD-quality videos. They also come with excellent integration capabilities.
For better comparison, let's look at specific features for both apps.
Ease of use
Both RingCentral and Zoom come with user-friendly interfaces making them simple to use even without prior experience. They are both easy to navigate without complicated interfaces.
However, RingCentral is more user-friendly as it allows users to switch between devices easily and without breaking.
Compatibility
Both apps are available for desktop and mobile devices. They are compatible with windows, Mac, iOS, and Android.
However, Zoom's mobile app is limited as it only allows you to see four video screens simultaneously. The video chat feature on Zoom mobile is also cumbersome to use on small screens.
The RingCentral mobile app is better designed than Zoom. This makes it a clear winner in this area as it allows users to switch seamlessly between desktop and mobile meetings. This makes it more versatile.
Meeting Scheduling
Both Zoom and RingCentral have similar functionalities in terms of meeting scheduling. They both allow you to switch from chat messages to video conferencing. They also integrate well with Google Calendar.
However, RingCentral is better than Zoom in terms of scheduling. This is because of its native calendar that allows you to create team events, link them to each participant's Google calendar, and color code the meetings.
Who is RingCentral for?
RingCentral is ideal for small teams with up to 10 members looking for an easy-to-use collaboration and communication tool.
Nextiva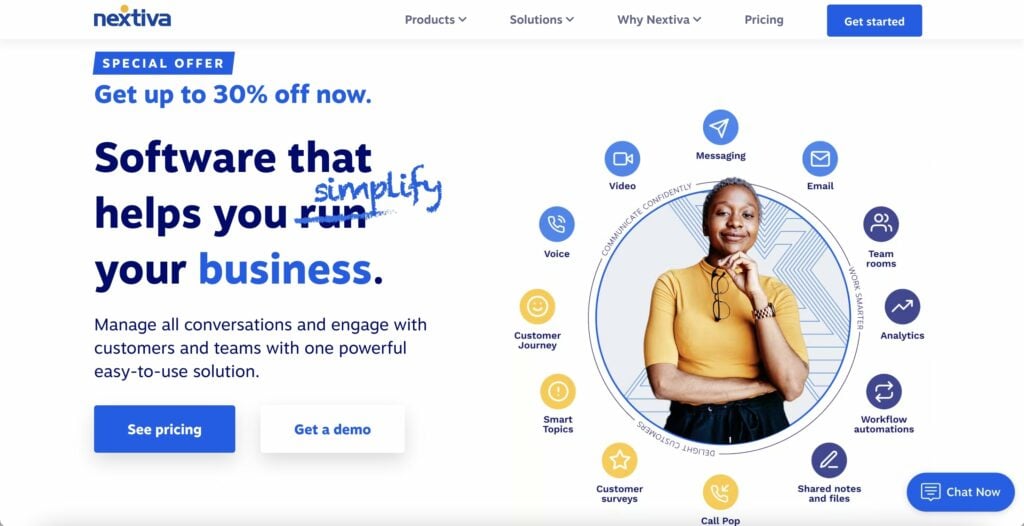 Nextiva is a cloud-based voice-over-internet-Protocol (VoIP) phone service that offers an extensive selection of audio, video calls, and messaging options.
This software provides numerous call management and productivity features for a high-quality business communication solution. Nextiva is among the best VoIP services available.
Nextiva Features
Call pop which provides all the necessary information about your customers to promote customer experience
Extensive integration with other apps like Zoho, SalesForce, and Zendesk
Unlimited voice and video meetings
Mobile and desktop apps
Nextiva Pricing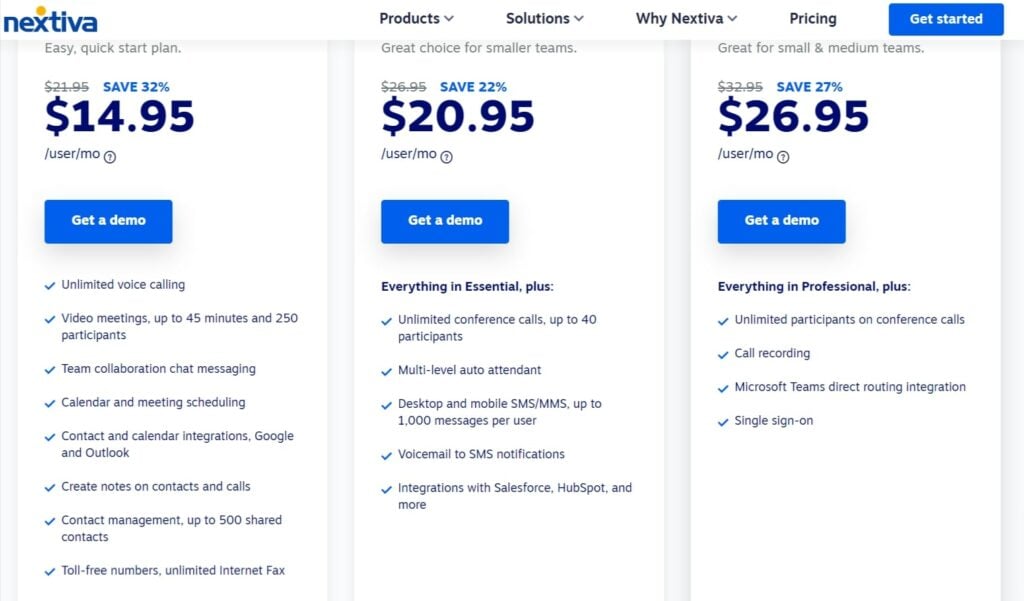 Nextiva offers the following paid plans:
Essential plan: This costs $23.95 /user/month and is best suitable for smaller companies interested in starting VoIP or switching services.
Professional: Starts at $27.95/user/month and is best for small teams seeking more advanced features.
Enterprise: Costs $37.95/user/month. It's suited for small and medium teams that need all the features that the software can offer.
Nextiva vs. Zoom: Why Is Nextiva Better
For proper comparison, let's look at the two apps based on similar features.
User experience
Both Zoom and Nextiva offer good customer experience. They both have user-friendly interfaces that make them easy to use without any technical background.
However, in addition to documents, live video calls, online meetings, and webinars, Nextiva also conducts in-person training for its users. This makes learning how to use the tool easier and improves user experience.
Since Zoom does not offer in-person training, Nextiva carries the day in terms of offering a better user experience.
Features
Zoom focuses more on video meetings and has thus more video conferencing features. Nextiva, on the other hand, has a more advanced phone system and call management features.
Thus, Nextiva is better if you focus on an effective phone and call management solution as it has more features.
Who is Nextiva For?
This Zoom alternative is for small and medium-sized businesses that need a robust, reliable, and secure business phone system that works across all devices.
Ooma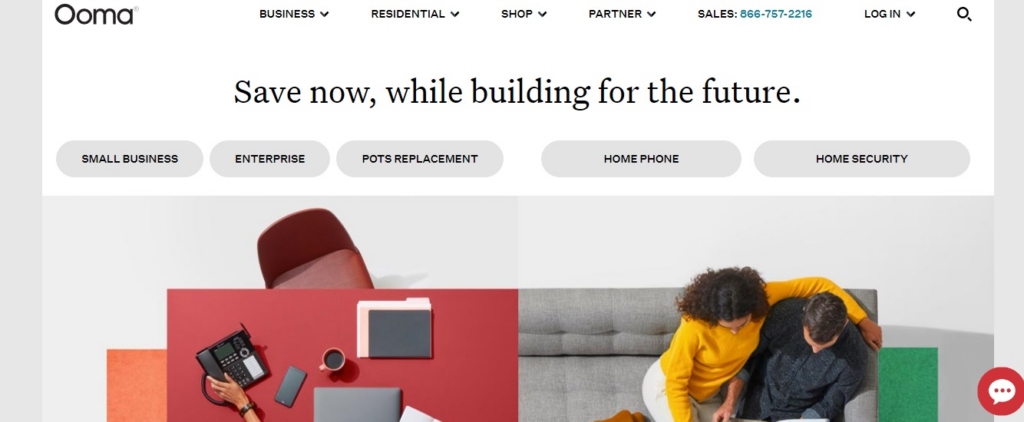 Ooma is an easy-to-use voice-over-internet-protocol system. Ooma provides a simple communication solution for small businesses requiring straightforward, no-frills VoIP systems.
This platform has fabulous call management features, including voicemail transcription and call recording.
Ooma Features
Voicemail transcription
Simple interface
Call recording
On-hold music
Ooma Pricing
Besides a 30-day free trial, Ooma has the following pricing plans:
Ooma Office Essentials: This costs $19.95/month/user and includes full access to SMS messaging, mobile app, call forwarding, and other call management tools.
Ooma Office Pro: It comes at $24.95 and has everything in Office Essentials video calling, plus call recording, voicemail transcription, video conferencing, and a desktop app.
Ooma Office Plus: This costs $ 29.95 with all the features in Office Pro plus a few more others.
Ooma vs. Zoom: Why Is Ooma Better
Let's compare these two platforms based on the same features to see how they stack against each other.
User-friendliness
Both apps come with simple interfaces that are easy to navigate. They are very easy to set up and use, even for first-timers.
However, Ooma is a basic video chat app with basic features compared to Zoom. This makes it a better Zoom alternative for those looking for a simple communication solution with no frills. It does not require you to sign a service agreement.
Scalability
Ooma is designed for small business users, while Zoom targets small, medium, and large businesses. It provides scalable solutions for start-ups and small businesses, which allows for adding more features as a business grows. Zoom, on the hand, is not as scalable.
Ooma is, therefore, the clear winner in terms of scalability. The app is designed to accommodate business growth.
Customer support
In terms of customer support, Ooma and Zoom boast excellent customer support. They offer 24/7 customer support via email, help desk, live chat, and FAQs.
However, Ooma takes its customer support by including a complete manual for its office products, get-started guides, tutorials, and articles detailing common actions. This makes Ooma a better choice if your focus is on customer service.
Who is Ooma for?
This video conferencing tool best suits start-ups and small businesses looking for a simple communication solution. This is because Ooma is highly scalable and allows businesses to add more users and features as they grow.
Vonage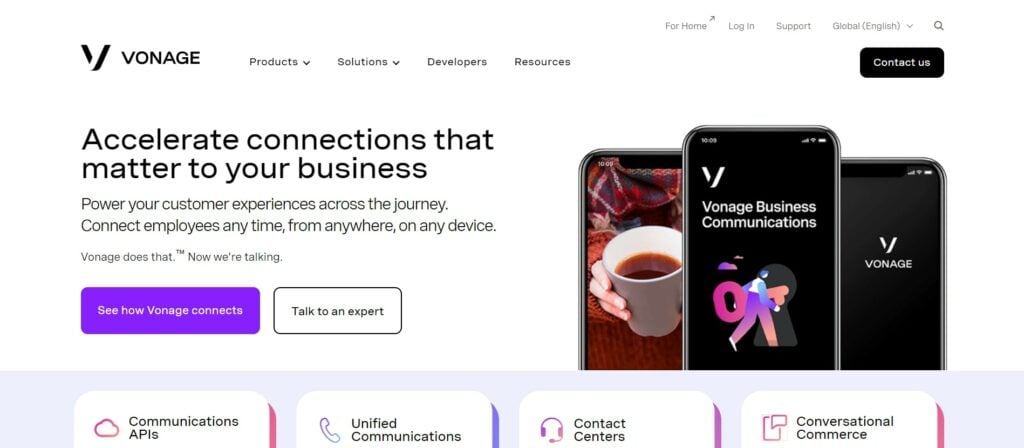 Vonage enables tech-savvy enterprises to tailor their communication to their specific needs with the help of Vonage's unified phone, video, messaging solutions, Vonage APIs, and contact centers.
This app allows you to connect and communicate on any device through cloud-hosted SMS, voice, and video.
Vonage Features
Vonage meetings: This allows you to host meetings that users can join on their Android, desktop, and iOS devices.
Call monitoring: This allows you to listen to calls, barge into calls, or whisper to your customer representative.
Integration: Vonage integrates flawlessly with other business apps your business may have, including Salesforce, Zoho, Google Hangouts, Google Meet, and more.
Call flip: You can transfer your phone calls from and to desktop and mobile apps
Vonage Pricing
Vonage has three price tiers as follows:
Mobile: This costs $19.99/user/month
Premium: It goes for $29.99/user/month
Advanced: The plan costs $39.99/user/month
Vonage vs. Zoom: Why Is Vonage Better
For better comparison and to determine which service is better, let's have a quick look at some features.
The feature set
Vonage and Zoom are both feature-rich apps. The two come with extensive communication features like video calling, teleconferencing, and advanced call management, among many others.
However, Vonage has more options than Zoom, particularly regarding contact center services like speech analytics. It also uses AI intensively in its services.
Customer support
These two apps offer customer support via multiple avenues. Besides using email, chats, ticket creation, and telephone support, Vonage also includes articles, tech manuals, videos, and tutorials for customer support.
On the other hand, Zoom's customer support is dependent on the plan that you go for. This makes Vonage a clear winner in terms of customer support.
User experience
Vonage and Zoom both score exceptionally well in terms of user experience. They are both easy to use and set up without any technical background.
However, Vonage outshines Zoom in this area due to its simplicity, reliability, feature-richness, and depth of functions.
Who is Vonage for?
Vonage is best Zoom alternative for businesses looking for a feature-rich and easy-to-use phone system solution
Dialpad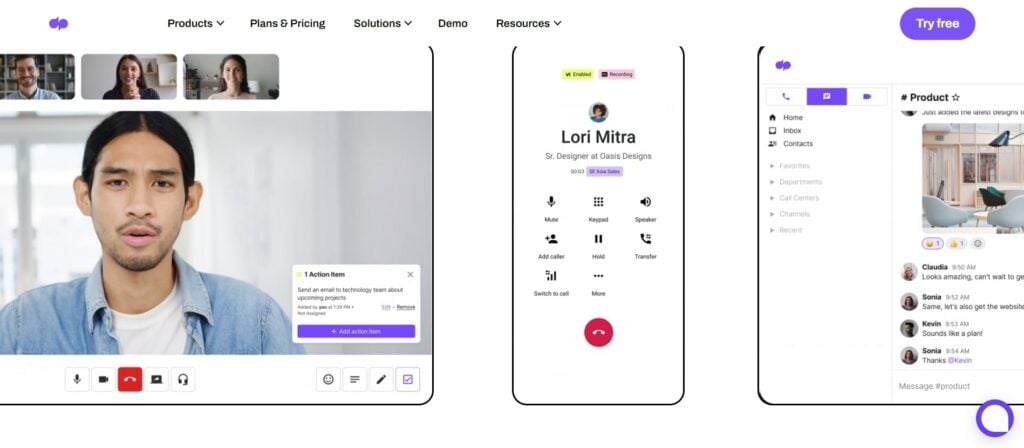 Formerly known as Uberconference, this is a cloud-based conferencing app that allows users to collaborate with HD video conference calls.
With this tool, you get video conferencing as a stand-alone app or as a part of the Dialpad all-in-one app.
Dialpad Key Features
Multiple video layouts: Including the grid, dynamic, filmstrip, and spotlight views
Screen sharing: You can share your entire screen, single tab, or application window with other participants
Audio and video recording: Users can record video, audio, or shared screens
Live and post-meeting transcription: Transcribe your meeting minutes with Dialpad AI.
Dialpad Pricing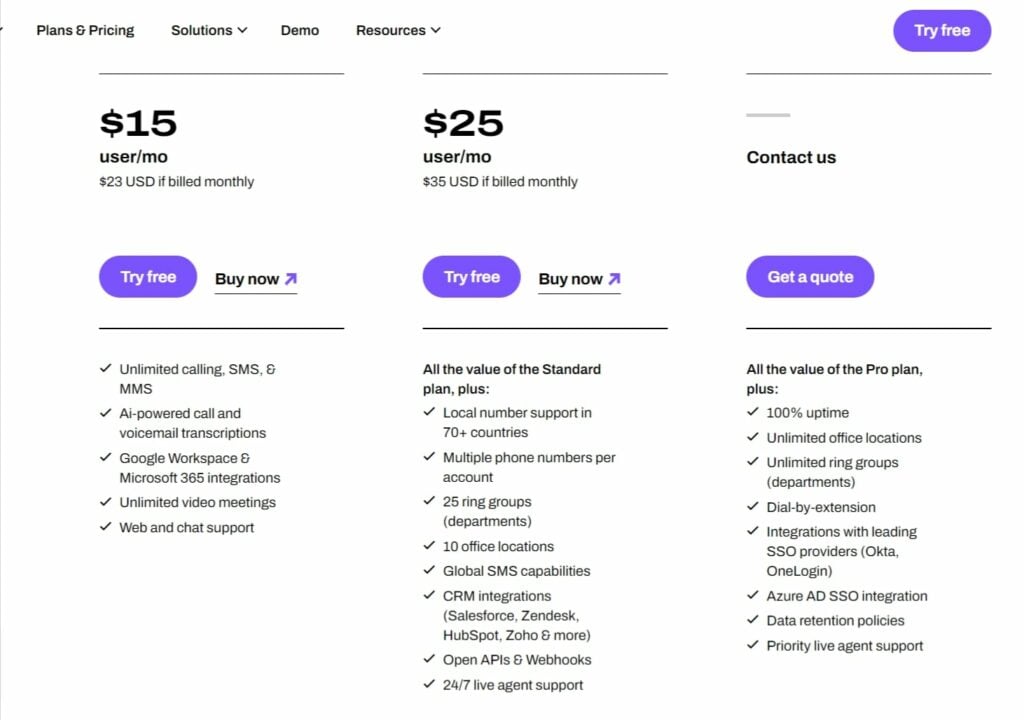 Dialpad offers two pricing plans as follows
Free plan: This is a completely free plan and includes unlimited meetings, mobile apps for iOS and Android, and key features such as call recording, virtual backgrounds, and screen sharing.
Business plan: At $15/user/month, this plan has everything in the free plan plus unlimited video recording, live transcription, and a countdown timer.
Dialpad vs. Zoom: Why Is Dialpad Better
Both Dialpad and Zoom are excellent communication and collaboration tools. Let's compare these tools in different aspects to understand how they differ from one another.
Pricing plans
Zoom offers 4 pricing plans which range between $14.99 – $24.99 per month per user. This equals $149.90 -$240 per user if paid annually.
Dialpad prices range between $15 to $25 per user monthly and $20 to $30/per user per month if paid annually.
When purchased annually, Dialpad is comparably cheaper than Zoom making it a winner in this area.
Features
Zoom and Dialpad are full of communication and collaboration features, including a free video-conferencing platform and screen sharing.
While Zoom has numerous audio and video conferencing features, it lacks some vital call center functions.
This makes Dialpad a winner as it has more call center features than Zoom
Who is Dialpad for?
Individuals and small teams with less frequent meetings but seeking a more organized and efficient communication tool.
8×8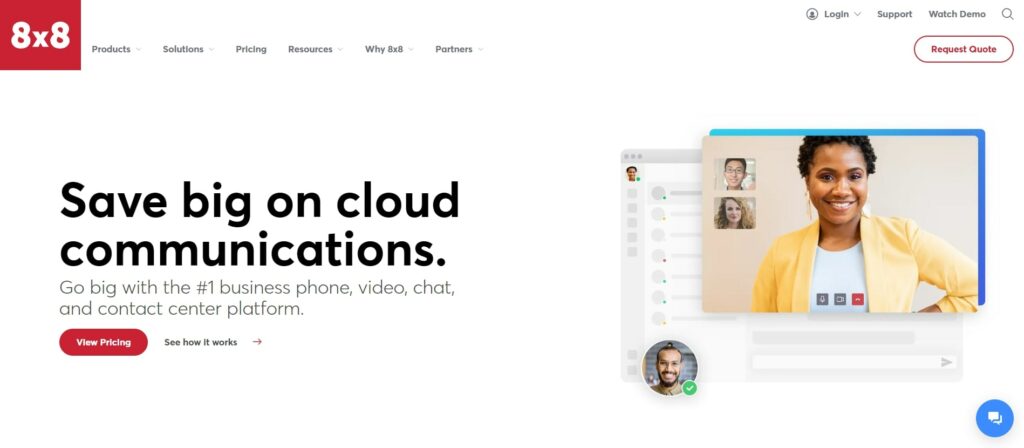 8×8 unified communications solution offers unlimited online meetings with up to 500 participants on mobile devices and desktops.
This app includes features such as video calling, call recording, a meeting room, web conferencing, and instant meetings.
8×8 Key Features
Advanced meeting analytics, which allows you to get accurate meeting data for decision making
In-meeting collaboration via meeting room and chat messaging
Live stream meetings on YouTube
Branded video conferencing app
8×8 Pricing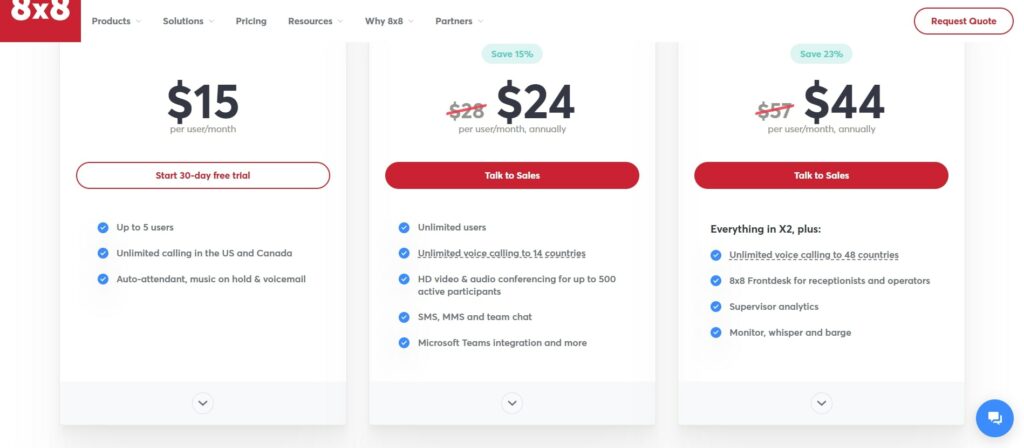 8×8 offers the following pricing plans:
Express: It costs $15/per user per month for up to 50 participants.
X2: At $24/per user per month, this plan is ideal for larger teams.
X4: The plan offers advanced call handling and analytics for $ 44 per user per month
8×8 vs. Zoom: Why Is 8×8 Better
Unified collaboration goes beyond a simple video conferencing tool. It encompasses allowing businesses to collaborate most efficiently and effectively as possible.
The following are some reasons why 8×8 may be better than Zoom.
Security features
With so many users, Zoom has been prone to security issues such as uninvited people joining your meeting. While Zoom has taken measures to ensure the security and privacy of users, it's still not up to par.
8X8 has a wide range of security and compliance measures, including true end-to-end encryption to secure its users' information and data. This makes 8×8 the clear winner over Zoom in matters of security.
Pricing
Zoom plans also add up as you add more features to suit your business needs. This means you'll need a higher plan to access certain features, which can be expensive if you are not using all the features.
8X8 X series allows you to mix and match plans per user. This allows you to pay for only the services you need.
Hence, 8×8 is a better choice as it offers more features for less money.
Business app integration
Compared to Zoom, 8X8 has more integrations with other business applications, including direct routing Microsoft Teams, Google calendar, and many others.
Who is 8×8 for
8X8 is suitable for any business looking for an all-in-one communication and collaboration that's rich in features but still affordable
OpenPhone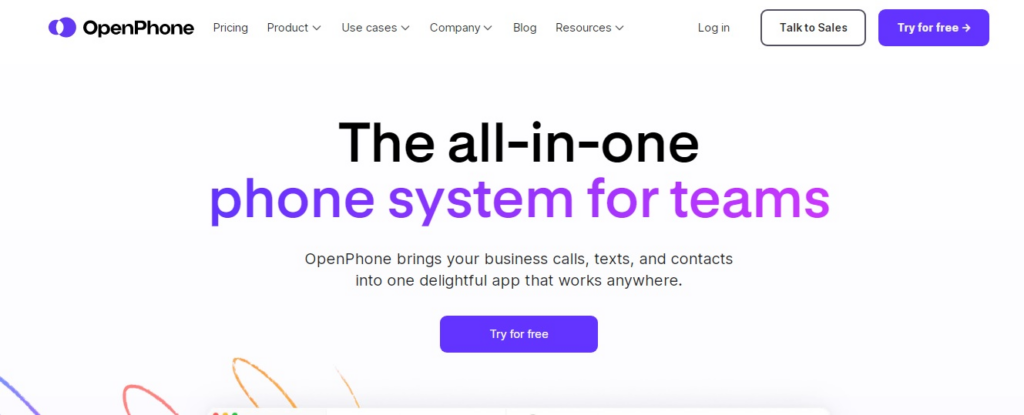 OpenPhone is a cloud-based communication app that integrates your business calls, texts, and contacts into a unified communication platform that works anywhere there is an internet connection.
The app gives users a single location to communicate without the hassle of juggling various apps or devices.
You can make international calls and record calls and messages from the user interface.
OpenPhone Key Features
Collaborate inside shared phone numbers: This allows team members to call and text as a team and view team members' activities.
Business calls, texts, and contacts: You can locate information without the need to juggle between different apps and devices.
Add notes: This allows you to keep notes for future reference as well as to avoid leaving out crucial information
OpenPhone Pricing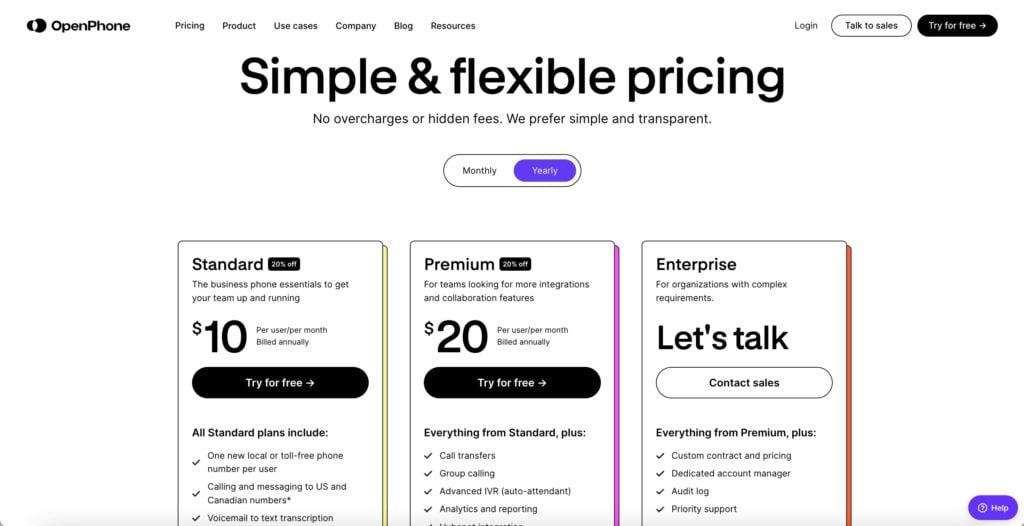 OpenPhone has 3 pricing plans as follows:
Standard plan: For $10/user/month, this plan includes all the essentials a business needs for communication
Premium: This costs $20/user/month and is ideal for teams who want more integrations and collaboration services.
Enterprise: This calls for custom pricing and is most suitable for large businesses with a dedicated account manager and priority support.
OpenPhone vs. Zoom: Why Is OpenPhone Better
The following reasons make OpenPhone a better choice than Zoom for businesses.
Pricing
Zoom offers three pricing plans, starting at $14 for the lowest tier. OpenPhone, on the other hand, has prices starting at $10 per user per month for its lowest plan. This is lower than compared to Zoom.
In this case, OpenPhone is a better choice if you are looking for a more affordable business communication solution.
Telephone features
Zoom is mostly focused on video calls and thus has a vast range of features for this service.
OpenPhone, on the other hand, is a business phone solution that allows teams to call, text, and get contacts from a shared location.
As such, it's equipped with more call or phone options compared to Zoom.
This makes OpenPhone better for businesses looking for affordable business phone systems.
Who is OpenPhone for?
This Zoom alternative is best suited for individual entrepreneurs and small businesses with small teams looking for a simple and effective virtual phone system.
Trengo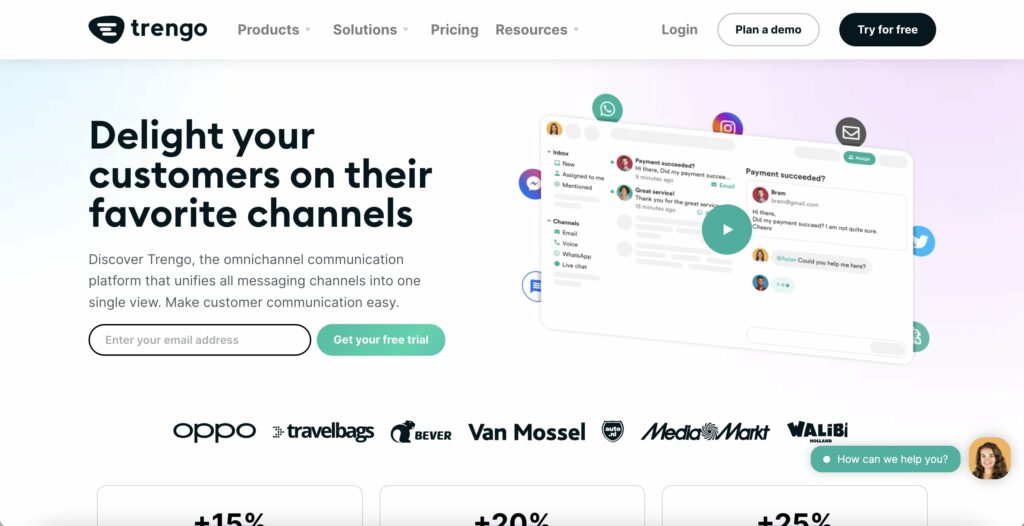 This customer service tool combines video calls, live chats, chatbots, and help desk features in a single app.
The app combines inboxes from social media and messaging platforms like WhatsApp, Instagram, Messenger, Telegram, Google Hangouts, and email into a single team platform.
Trengo also has voice features like call recordings, screen sharing, call transfers, and caller IDs.
Trengo Key Features
Omnichannel chatbots: A single chatbot is capable of handling various channels
Team chat: Your team can chat within a single platform
Integration: Trengo has intensive integration with numerous business apps like Zapier
User-friendly interface: This app is easy to use and set up
Trengo Pricing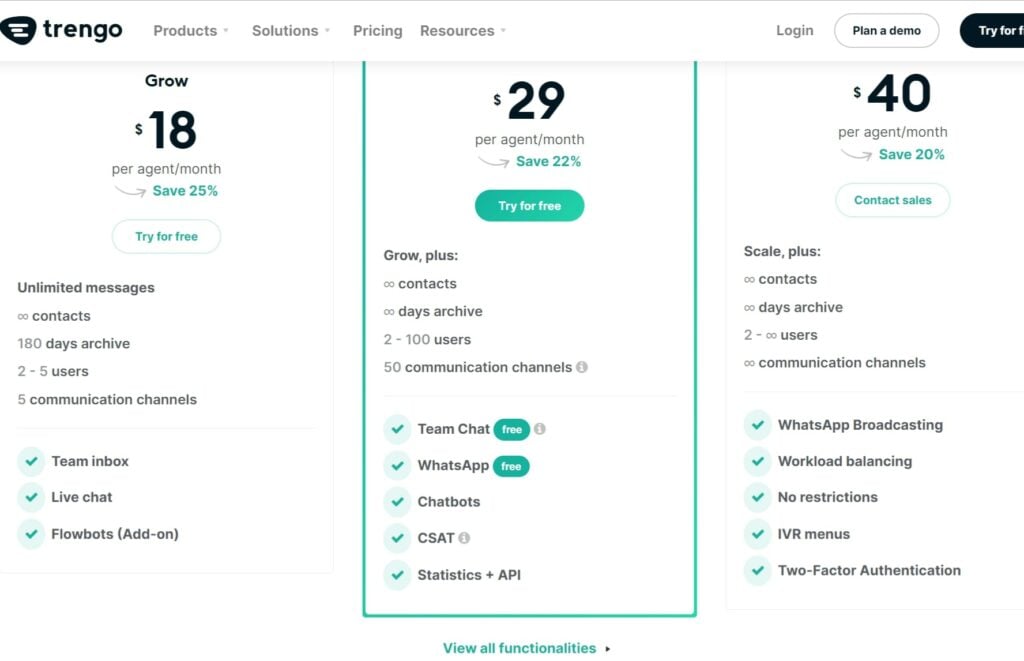 Besides a free plan, Trengo offers three pricing models as follows:
Grow plan: This is the lowest tier and costs $15/ per user per month
Scale plan: It comes at the cost of $25 per user per month
Enterprise plan: This plan goes for $35/user/month
Trengo vs. Zoom: Why Is Trengo Better
These things make Trengo one of the better Zoom alternatives.
Multi-channel messaging
Unlike Zoom, Trengo can handle various messaging channels, including Facebook, Instagram, Wechat, and email, into a single communication platform.
Customer support
Trengo supports omnichannel customer support with chatbots.
The app lets you put your chatbot in multiple channels and serve your customers in various languages. This makes it a better choice than Zoom for customer support.
Who is Trengo for?
Trengo is ideal for businesses looking for an affordable VoIP phone service for messaging.
Microsoft Teams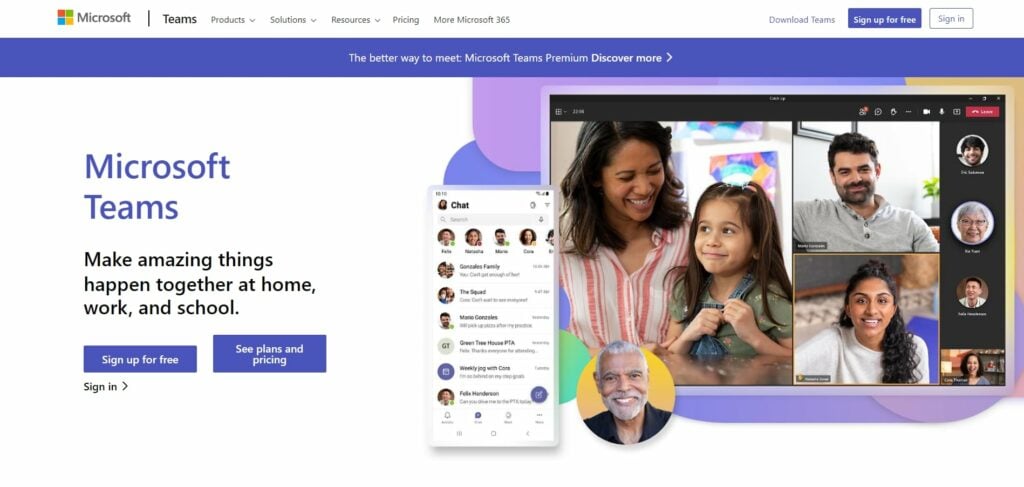 This cloud-based video conferencing software and team collaboration app integrate well with other Microsoft Office tools like Sharepoint, Outlook, and Powerpoint.
Microsoft Teams lets you hold video conferences, group chats, group video, and audio calls, send text messages and share documents remotely.
The Zoom alternative has several collaboration features like digital whiteboards, file sharing, meeting chats, task management, and email invitations.
Microsoft Teams Key Features
Video conferencing: Teams offers various video conferencing solution features like screen sharing, video calls, group chats, record meetings, and audio calls
Customizable backgrounds: This allows you to change or choose custom backgrounds.
Meeting recording and sharing: You can record important conferences to ensure you don't miss out on important points.
Host meetings with up to 250 participants
Live meeting translation and AI-powered transcription or captions
Microsoft Teams Pricing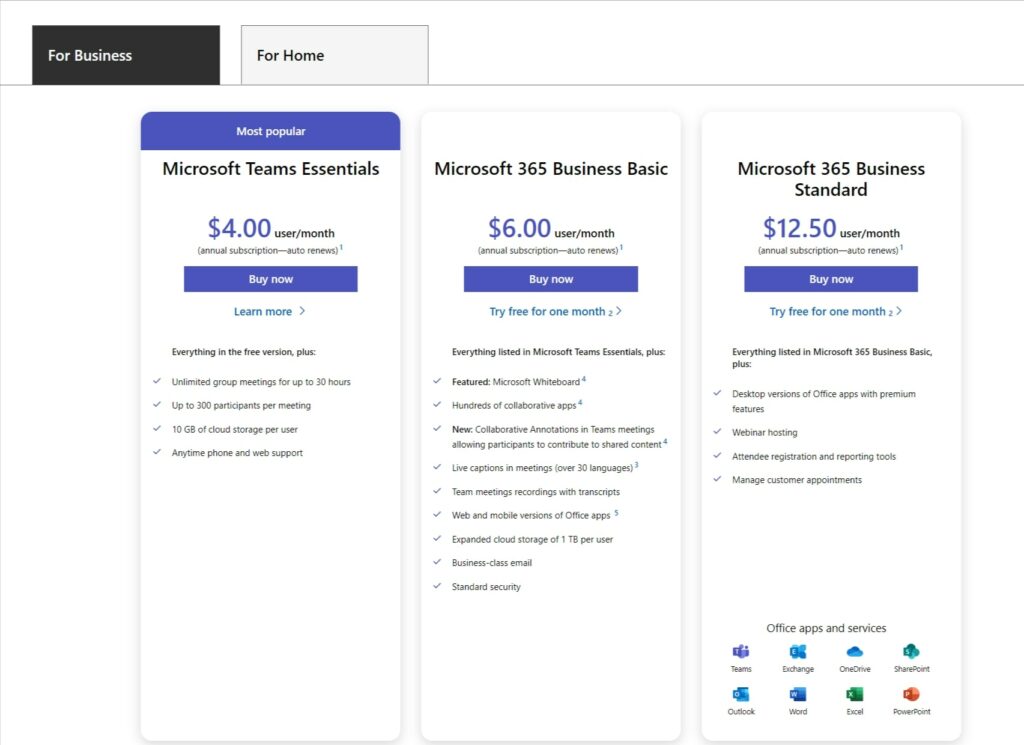 Teams offer three paid plans along with a free version. These are as follows:
Essentials: This plan goes for $4 per user per month
365 Business Basic: The plan costs $6 per user/month
365 Business Standard: This costs $12.50 per user/month
Microsoft Teams vs. Zoom: Why Is Microsoft Teams Better
Microsoft Teams and Zoom are the most popular communication and team collaboration tools. Both have an extensive range of features, most of which are similar.
However, there are also some differences between the two apps. The following are some of the distinguishing features between Zoom and Teams.
Meeting time limits
While Microsoft Team offers up to 60 minutes on the free version and 24 hours on paid plans, Zoom allows only up to 40 minutes on the free version and 30 hours on paid plans. Teams thus outshine Zoom in this area.
Meeting participants
Teams allow up to 300 participants per meeting compared to Zoom's limit of only 100 participants per meeting. This makes Teams one of the better Zoom alternatives.
Collaboration features
Since it's an all-in-one team collaboration tool, Microsoft teams has more advanced remote meetings collaboration features. This makes it a better choice over Zoom for team members' collaboration.
Who is Microsoft Teams for?
Microsoft Teams is best suited for large teams within the Microsoft Office suite and have a large volume of daily chat messages, video conference, and video meetings.
Cisco Webex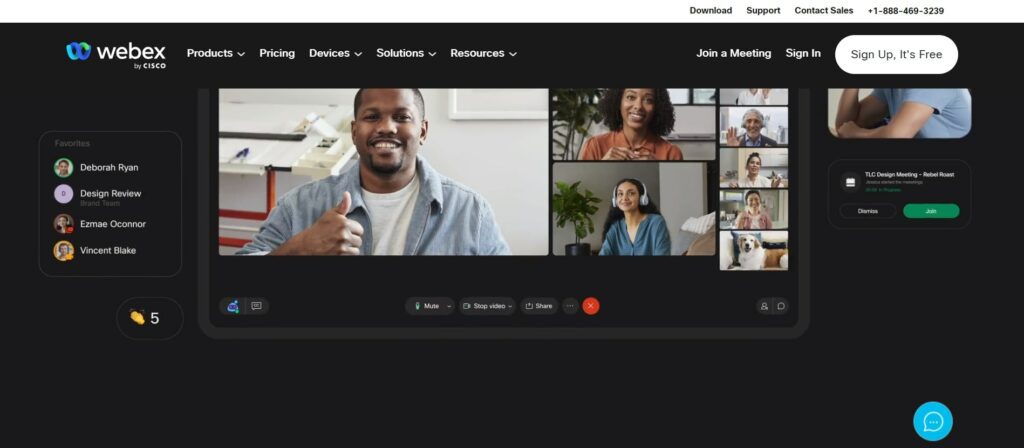 This business communication app combines VoIP calling, SMS, group messaging, and a high-quality video conferencing solution.
Cisco Webex is a top Zoom alternative with various collaboration features like file sharing, screen sharing, AI transcriptions, Video conference, whiteboards, group video, meeting links, and meeting recordings.
Cisco Webex Key Features
AI Webex assistant: This picks specific trigger words and creates automatic notes, summaries, and action notes that can be shared with other participants.
Meeting recording: It automatically transcribes live meetings to ensure all points are captured
Automatic meeting reminders: This sends automatic meeting reminders to participants
Webex spaces: This allows participants to organize and share files securely in searchable storage space
Two-way whiteboards: This enhances collaboration
Cisco Webex Pricing
Cisco Webex has one free plan and three paid plans as follows:
Free plan: This has multiple collaboration features, including screen sharing, whiteboards, free group video, and virtual backgrounds, among others. It allows meetings with up to 100 participants for 50 minutes.
Business plan: This allows up to 200 participants for 24 hours for $25.
Enterprise: With custom pricing based on business needs, this plan supports up to 1000 participants for 24 hours.
Cisco Webex vs. Zoom: Why Is Cisco Webex Better
To help determine which tool is better, we must compare them similarly. These are some of the key differences between Cisco Webex and Zoom.
Security features
Due to increased user rates, Zoom has had security issues that came to be referred to as Zoombombing.
However, Zoom has since addressed security concerns by including TLX and AEX-256 encryption and meeting passwords.
On the other hand, Webex is renowned for its stellar security measures like locked personal room meetings, password-enforced meeting connections, and cloud recording encryption.
Cisco Webex is a better choice in security matters as it enforces strict security measures compared to Zoom.
Customer support
For its free plan, Webex offers customer support via an online help center, chat, and email support for its paid plan subscribers.
For free Zoom users, Zoom Help Desk is the only support. For paid plans, the customer support offered depends on the plan.
In this case, Cisco Webex is considered to offer better customer support compared to Zoom.
Who is Cisco Webex for?
This Zoom alternative is best for small businesses that need a robust free video conferencing plan.
Alternatives to Zoom: Conclusion
Zoom's popularity as a top video conferencing tool has greatly increased since the onset of the Covid-19 pandemic.
Many businesses and teams have chosen this tool for its ease of use, affordability, and high-quality videos. However, Zoom also has its share of shortcomings.
The good news is you can choose from many other great apps like Zoom. Well, here's our list of the top best Zoom alternatives.
These excellent video-calling tools can help boost collaboration and communication within your team. Feel free to choose what fits your business needs best.