Project management software has become a necessity for businesses of all sizes. Each business needs project and task management software to help track your projects, assign tasks to team members, and keep everyone on schedule. If you're in the market for a new project management solution, you might wonder which one fits your needs.
This article will compare two of the market's most popular project management tools – Wrike and Asana. By the end of this article, you'll have the information you need to determine which project management tool is right for you and your business.
Wrike vs Asana: Similarities
The two apps are strong players in the task and project management space
Both offer easy-to-integrate user interfaces.
They offer iOS and Android apps.
Both have plenty of compatible app integrations.
Wrike vs Asana: Differences
Wrike has a built-in time-tracking tool, whereas Asana uses third-party integrations like Everhour and Time Doctor to track time when managing resources and tasks.
Wrike has a live editor that your teams can use to edit task descriptions simultaneously, while Asana lacks a similar feature.
Wike offers videos, email and phone support, FAQs, a knowledge base, and live chat support for troubleshooting, whereas Asana provides this mix of electronic help except for live chat and phone support.
Wrike has four paid pricing plans for teams getting started to enterprises with complex needs, while Asana offers two for teams that want to create projects and companies that are managing projects across initiatives.
What is Wrike?
Wrike is a popular project and task management solution that's highly customizable. Software developer Andrew Filev launched it in 2006 to empower modern teams to optimize and streamline their operations and processes and improve collaboration and productivity.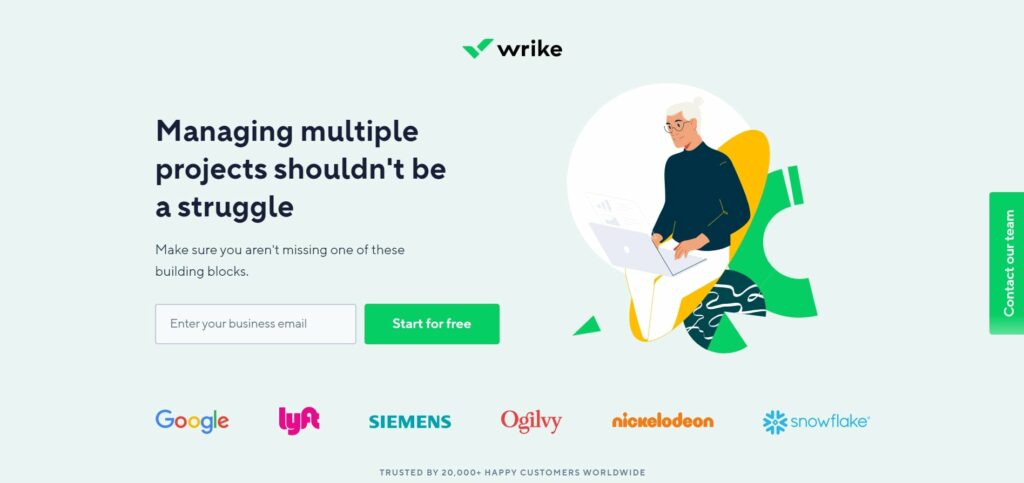 Since Wrike is smart, secure, and flexible enough to configure it to suit your needs, you can use it to achieve many of your core business or organizational goals.
Wrike Key Features
Project management
Resource management
Time tracking
Proofing
Customization
What is Asana?
Asana is another useful project management software. Co-founders Dustin Moskovitz and Justin Rosenstein launched it in 2011, intending to empower modern teams in different parts of the world to work together easily.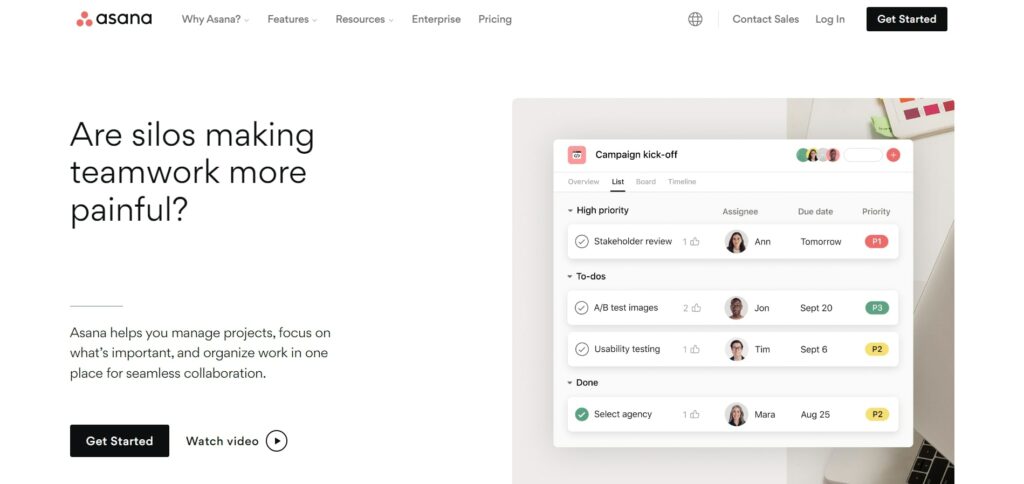 Given the quality of Asana's features, you can use it to streamline organization-wide collaboration, manage team workloads, and more.
Asana Key Features
Colorful user interface
Customization
Integration
Project and task management
Templates
Wrike vs Asana: Features
There is no doubt that Asana is a newer Wrike alternative.
Does that mean it offers more helpful features than Wrike? Let's have a head-to-head comparison of Wrike vs Asana below to answer this question in detail.
Project and Task Management
Wrike and Asana pack a punch when managing project tasks and work almost the same way. For example, your team can use any of them to add and sort tasks by the due date. Better still, they can attach files to the right tasks and set accurate deadlines. In short, you can use Wrike or Asana to break down complex work into manageable tasks with great ease.
Besides breaking down work conveniently, both Asana and Wrike can enable your teams to view tasks in any manner they deem suitable. Wrike offers Interactive Gantt Chart, Table View, Stream View, Analytics View, Calendar View, Folder Statistics, and several others.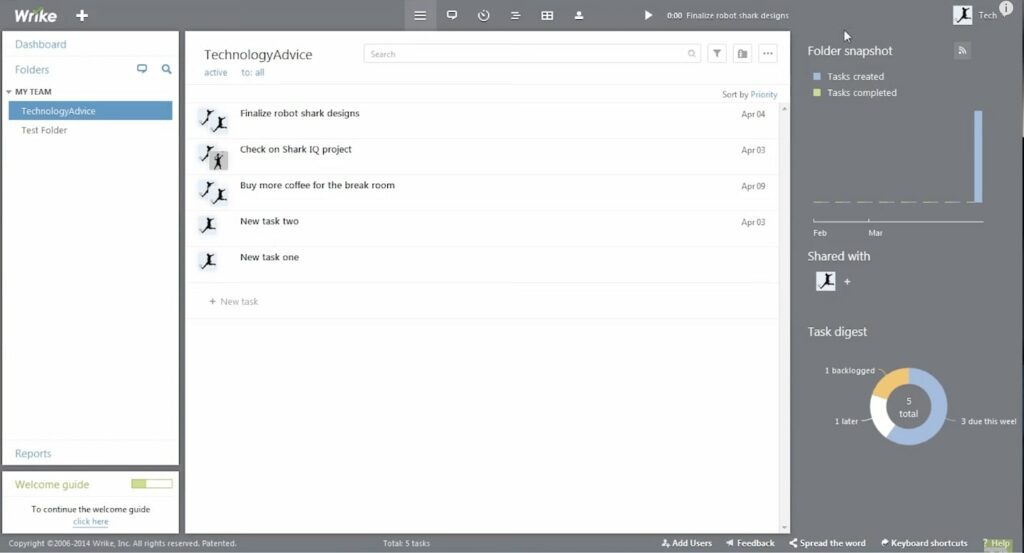 Asana offers List View Projects, Board View Projects, Calendar View, Project Metrics, timelines, and more.
You can create statuses in Wrike to reflect the stages your tasks follow in the work process, as shown below.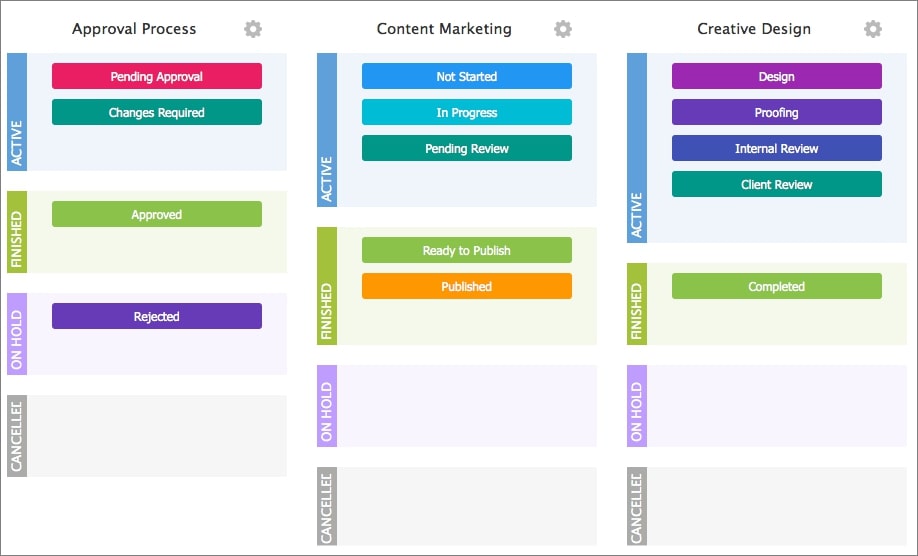 At the same time, you can set up 'sections' with Asana to reflect the stages of your unique projects.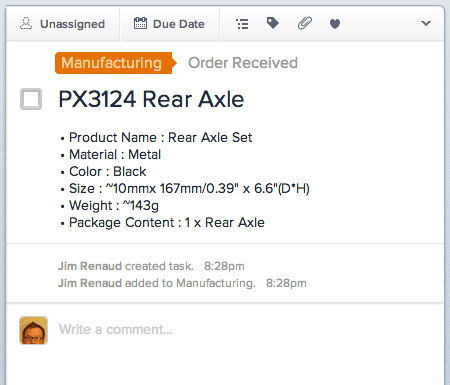 Here is Wrike's Gantt chart in action: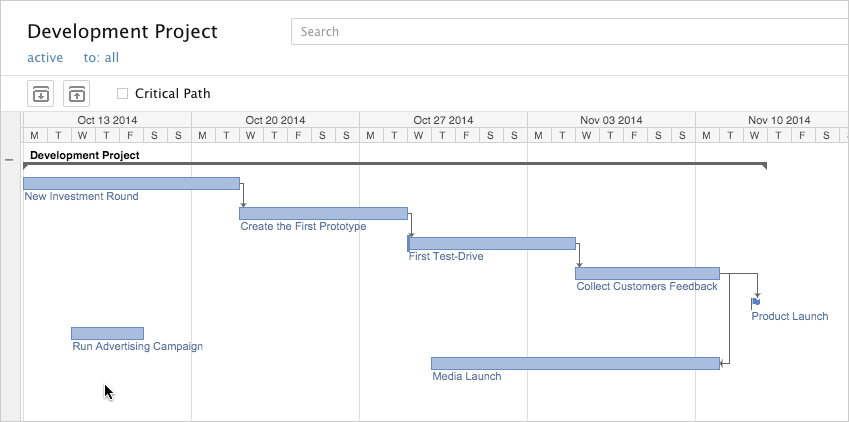 Asana offers timelines, which you can use to assign work, track project progress, and set dependencies.

A key difference lies in the number of task management functions. Wrike comes with all core project planning and management features, whereas Asana provides fewer functions. For example, this tool has a built-in time-tracking solution, but Asana lacks it, prompting users to resort to third-party integrations.
Customization
Customization helps organizations to manage their projects in ways that work best for them, which explains why you should consider customization when choosing project management tools. Both Wrike and Asana were designed with this need in mind.
A good example is how your teams can customize Wrike and create dynamic custom workflows. They can use the Custom Workflow and app integrations in this project management tool to build workflows. At the same time, your teams can use the Workflow Builder and integrations in Asana to achieve the same goal.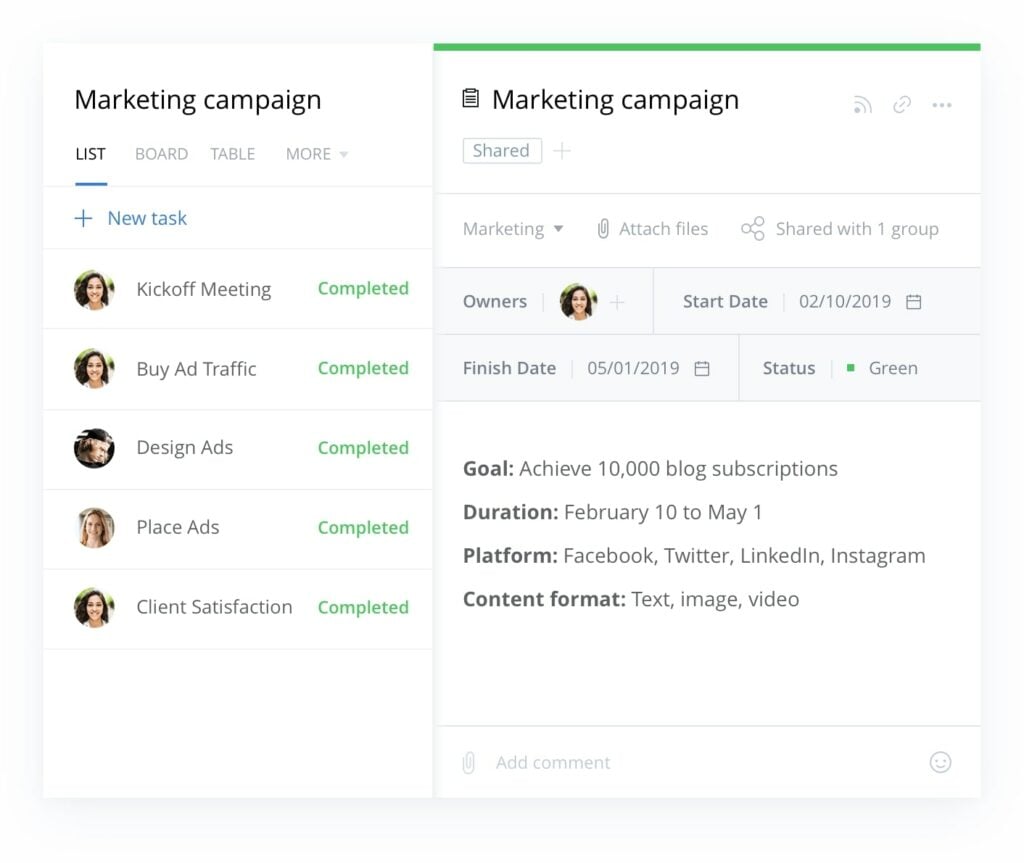 Asana also offers Custom Fields and Custom Rules Builder that you can use for customization purposes. Wrike offers Custom Item Types and Custom Access Roles suitable for the same work.
Moreover, Wrike and Asana also come with tools that allow you to automate task creation.
Team Collaboration
Simplified collaboration is also essential for the successful management of projects and tasks. Thankfully, Asana and Wrike are built specifically for this. They allow teams to upload relevant attachments, comment on tasks, and create shared calendars.
Wrike Shared Calendar: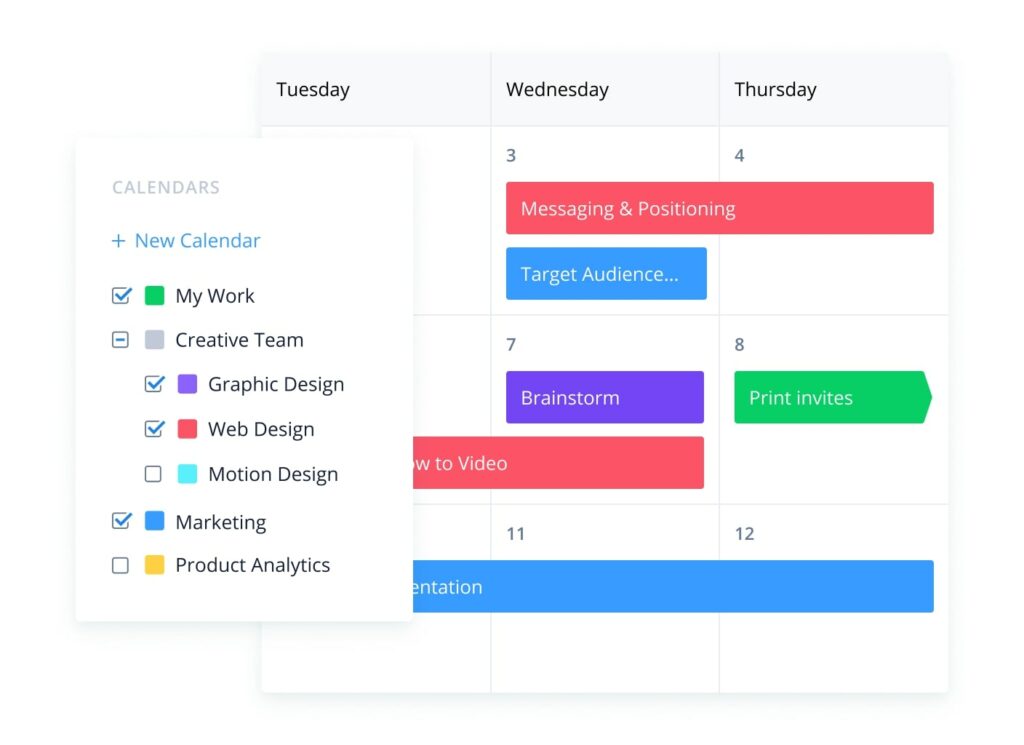 Asana Shared Calendar:

Moreover, Asana and Wrike offer proofing and other robust collaboration tools.
However, the capacity of these collaboration tools differs. For example, Wrike has a live editor that enables teams to edit task descriptions simultaneously. Asana doesn't support this feature, so this collaboration tool cannot enhance team communication equally.
User-Friendly Interfaces
These two work management tools offer attractive, easy-to-navigate user interfaces that display all the details you need at a glance. Wrike's Project managers can easily use any of them to track progress and get useful insight regarding the performance of various teams at a glance.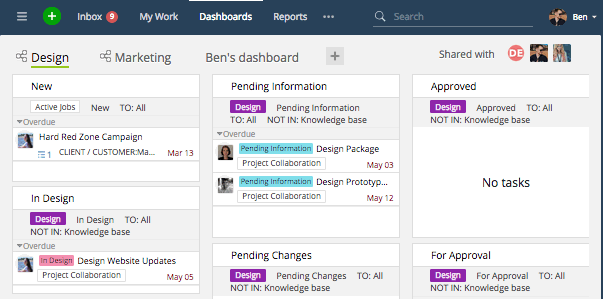 Nevertheless, Asana's dashboard is more colorful.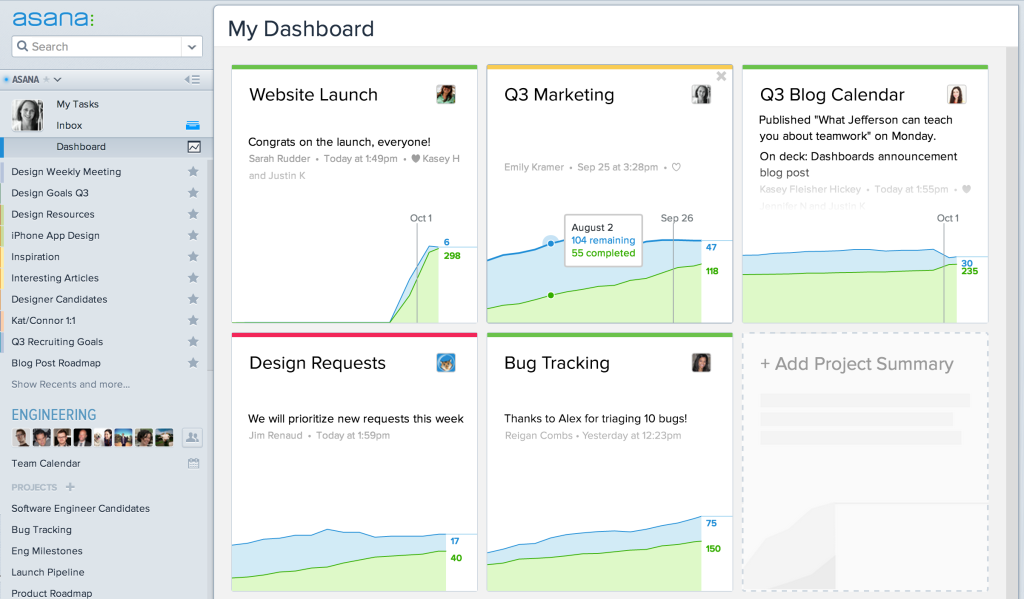 Verdict: Both Wrike and Asana Win in Features
The winner here depends on your project management needs. If you want a project management tool with the highest number of features, Wrike is the automatic winner here. It's one of the leading Asana alternatives with useful features such as a live editor, built-in time tracking tool, and more.
Depending on your management style, Wrike's features, such as the built-in time tracker and the Interactive Gantt Chart, can give you an upper hand in monitoring how your teams use company resources and manage time.
If you want a basic project management tool, either Wrike or Asana will serve you well since they have all the essential project management features.
However, if you consider the user interface's worth, Asana wins.
Wrike vs Asana: Ease of Use
We've talked about intuitive interfaces, but that's not enough when considering the user-friendliness of Asana and Wrike.
Asana's List View is crucial in determining its ease of use. It's efficient and simplifies the process of finding tasks. Without sweating, you can see what each team member is doing.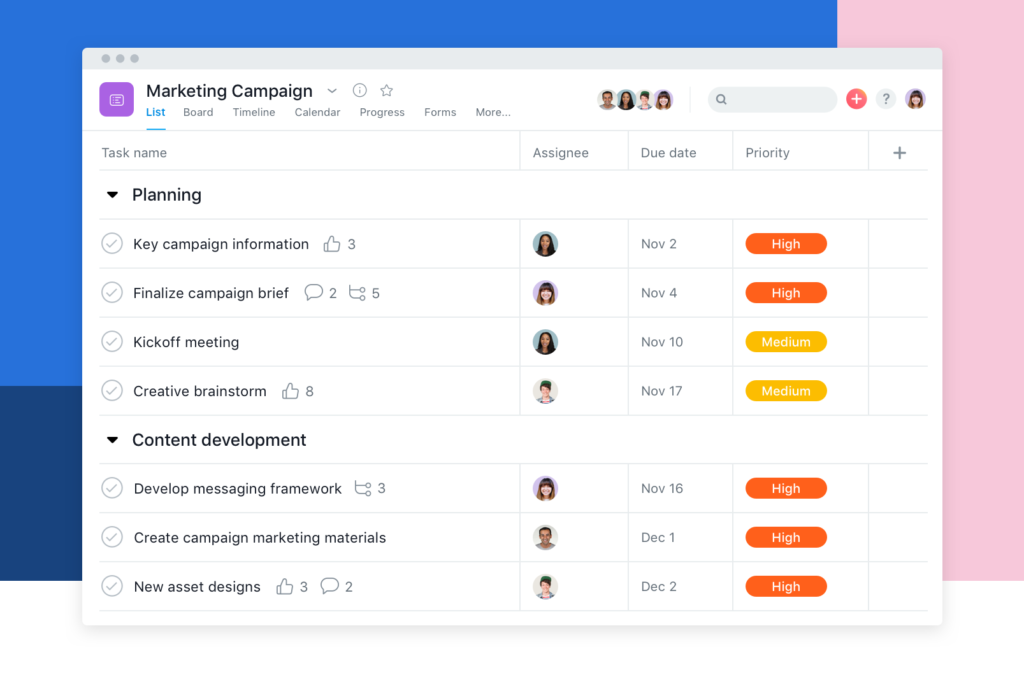 If List View doesn't serve your needs well, this project management tool has a Kanban Board with efficient drag-and-drop functionality.
Wrike can be your best project management software because it's equally easy to use. Due to its old-school file tree structure, navigating through projects is simple. Moreover, Wrike's Kanban Board offers great service and is likely slightly better than what Asana offers.
When discussing the ease of use, were should also consider that Wrike's use of @mention and its 3-pane view keep relevant information together. Moreover, its Activity Stream gives you excellent visibility across projects and tasks.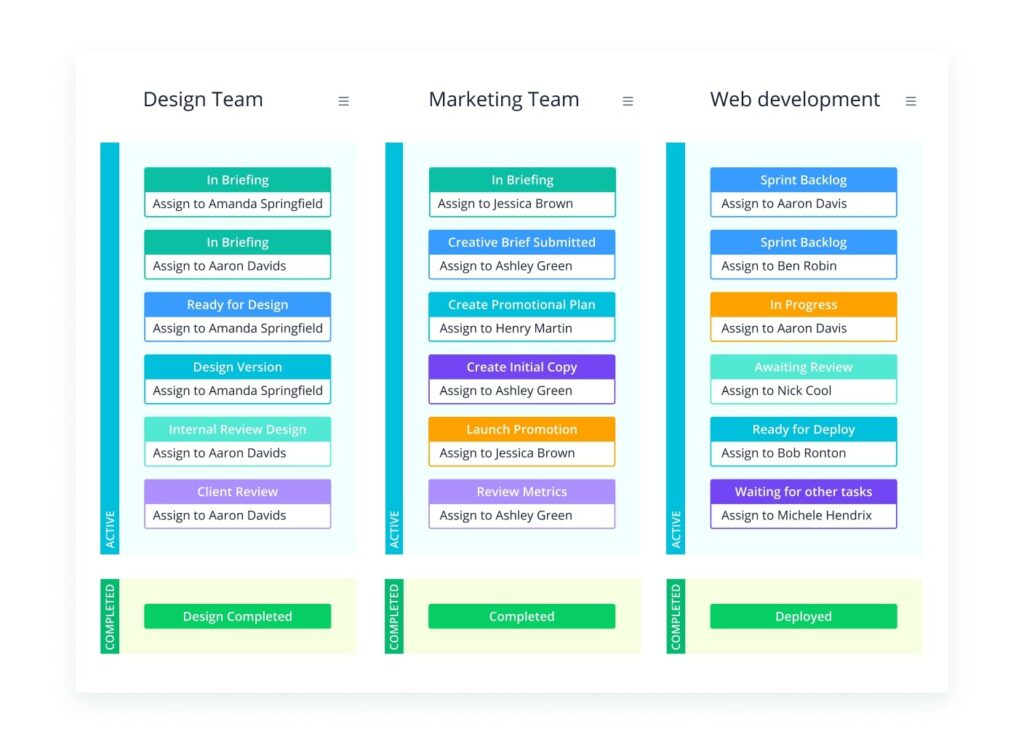 In the same way, Asana's commenting capabilities, project progress tracking, and @mention tagging options simplify everything for you from start to finish.
Verdict: Asana is Easier to Use
Though Wrike has joined the list of project management platforms that deliver exceptional user experience, it can do better by getting inspiration from Asana. Asana's colorful user interface and simple tools give it an upper hand in this category.
Asana vs Wrike: Integrations
Let's briefly look at integrations because they directly affect your choice of the right project management tool. These features can significantly increase the capacity of your productivity management software.
Integrations that each of these project management tools support overlap, but there are some differences.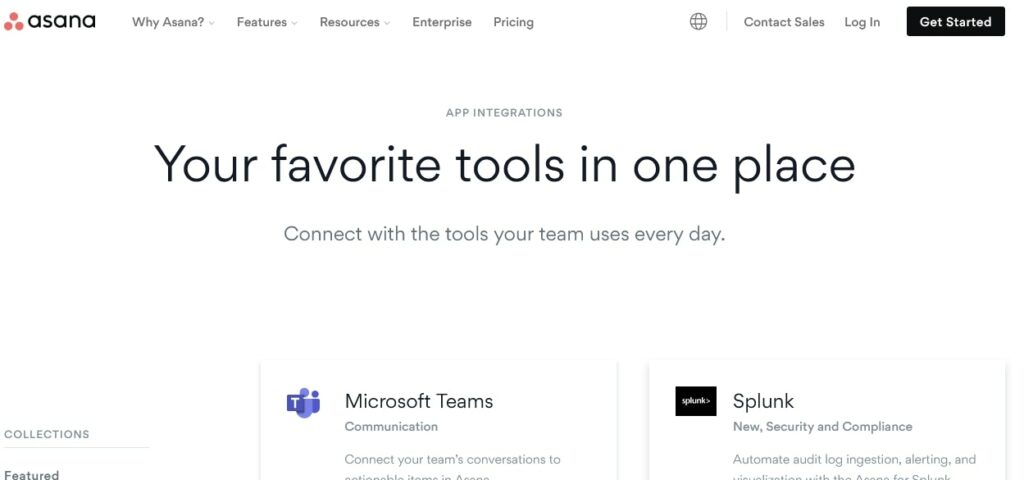 For example, if you compare Wrike vs Asana Time Tracking, you see that Wrike offers built-in Time Tracking, but Asana integrates with Time Doctors, Everhour, and other tools.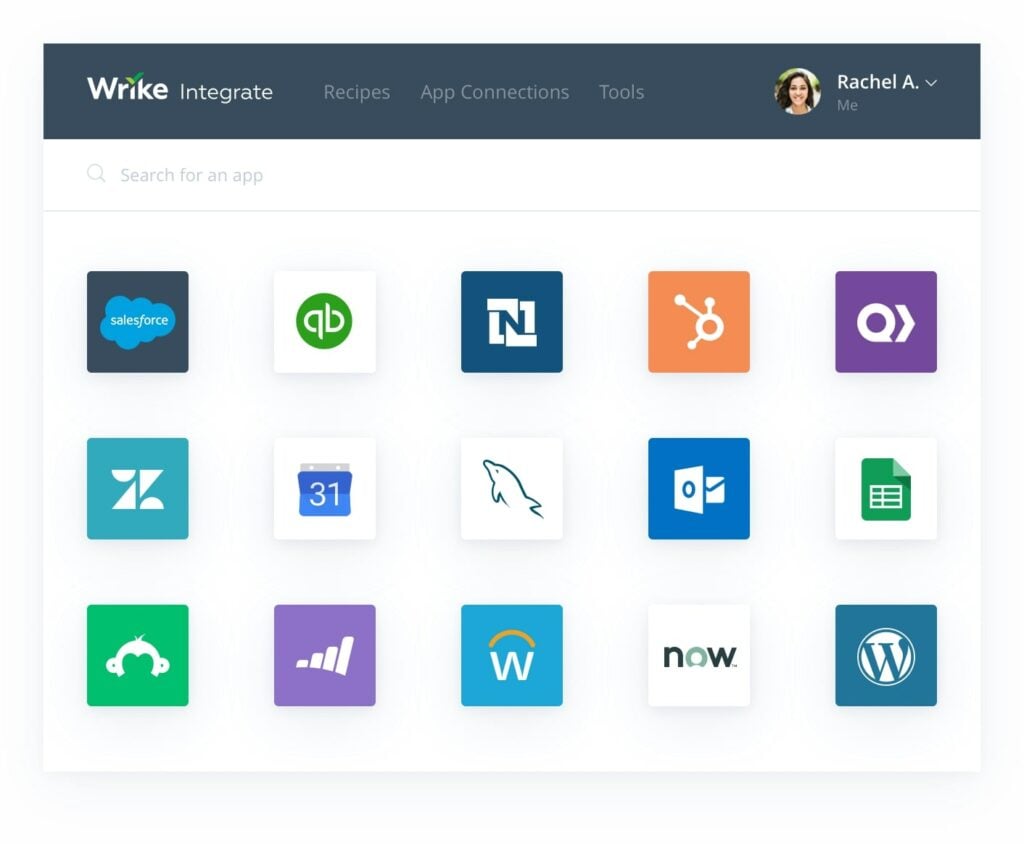 Common Wrike integrations include:
Gmail
Slack
Microsoft Teams
Google Drive
Jira
Popular Asana integrations include:
Everything in the above list
Tableau
Zapier
Adobe Creative Cloud
Power BI
Note that Wrike allows few integrations on the lower pricing tiers, which can prevent you from using vital apps like Salesforce. With Asana, you get far more integrations on the lower pricing plans. More importantly, Asana offers 100+ integrations with your favorite apps on its free plan.
Verdict: Asana Wins in Integrations
Asana supports more integration than Wrike and offers over one hundred integrations with your favorite apps on its free forever pricing plan. Wrike offers a few on its lower plan. So, Asana could be the right team-based work management solution if the number of integrations matters to you.
Wrike vs Asana: Pricing
Another important area that differentiates between these leading project management software is pricing tiers. Let's compare the plans below to see what sets them apart.
Wrike Pricing

Free: This free plan has limited functionality and best suits teams that are getting started and need to manage their remote teams in one place.
Team: This paid plan costs $9.80/user/month (billed annually), and it's best for growing teams that want to enhance their project management capacities.
Business: $24.80 per user per month (billed annually), which suits all professional services teams across an organization that requires a customized project management platform for any use case.
Enterprise: Best for large teams that value enterprise-level security and scalability capabilities; the cost depends on your project management needs.
Pinnacle: Offers everything in the enterprise plan, advanced tools for complex work, and contact sales for a custom quote.
asana pricing

Basic: This free version of Asana project management software comes with limited features and best suits teams and individuals new to managing projects remotely.
Premium: It costs $10.99 per team member per month (billed annually), which suits teams that want to manage their projects confidently.
Business: $24.99/use/month (billed annually), and it is best for businesses and teams that want to manage projects or tasks across initiatives.
I hope you've noticed that Asana offers a discount. Yes, if you pay annually, you qualify for it. So, if you have big teams and pay per year, you can save much money over time.
Verdict: Asana and Wrike Win in Pricing
We don't have an automatic winner here. Before deciding which project management software is the best, we should evaluate them on a case-by-case basis. Moreover, we need to match specific features with plans that offer the right mix of features at the best rate.
For example, when we compare the entry-level paid plans, Asana's Premium and Wrike's Team, we can see that Asana pricing is slightly higher than Wrike pricing. However, you can get valuable features like a user-friendly interface and unlimited storage instead of Wrike's 2 GB storage per user, which justifies the extra cost.
Asana vs Wrike: Customer Support
Both Wrike and Asana shine when it comes to customer service. This great performance is due to the contribution of their Customer Support, Active Forums, Extensive Knowledge Bases, and more.
However, Wrike supports more options than other project management software vendors, including Asana. It provides FAQs and resources, including the Wrike FAQ page, an informative blog with up-to-date project management tips, and a special library of resources.
Wrike also provides live chat and email that users on paid plans can use and get a quick response. Alternatively, they can contact Wrike by phone 24/5 or receive 24/7 access after joining a premium phone support plan.
Moreover, Wrike provides Help Center that addresses real issues affecting users and a community forum that offers interactive support.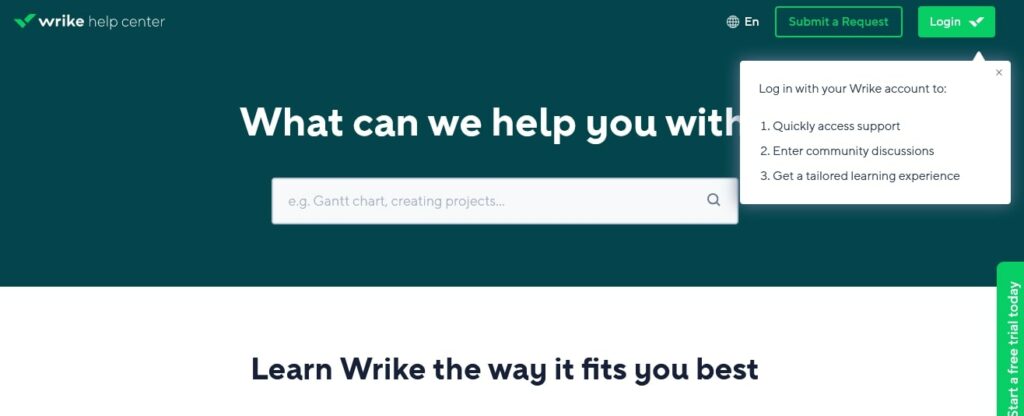 Wrike's response time is also surprisingly fast. They strive to get back to you within the shortest time possible.
Asana is also customer-centric. Unlike many of its rivals that offer one or two support options, Asana provides all of the above except for live chat and phone support. For example, the Asana Academy provides a set of useful lessons designed to help you properly understand Asana and project management.
Nonetheless, many customers think that Asana Customer Support is too slow and sometimes does not address their needs well.
Wrike Wins in Customer Support
Now that Wrike offers more support options than Asana and strives to offer the best service, it automatically wins in customer support.
Asana vs Wrike: Team Sizes
Let's now identify which software might be better for you by considering the size of your team. It's the most important way to do this.
Individual Freelancers
Asana offers features that make it appear the perfect choice for individuals. Some of these are:
Asana Basic, the free version, supports up to 15 collaborators.
The free pricing plan is enough for most single users.
Provides more offers than Wrike's free version, Calendar View, Unlimited Tasks, and more
Mid-Sized Teams
When teams begin to grow, they need to keep data more organized. Here are some of Wrike's Team Plan features that help you achieve this goal:
Folder structure that helps you keep projects organized
Built-in time tracking feature
Wrike's Team tier ($9.80/user/month) is cheaper than Asana's equivalent (Premium: $10.99/user/month, billed annually, or $13.49/user/month, billed monthly)
Large Organizations
Wrike doesn't play games when it comes to adding enterprise-grade features. Some of its key Enterprise Plan features are:
Single Sign On (SSO)
Password Policies
Wrike's Business tier ($24.80/user/month) is cheaper than Asana's equivalent Business tier ($24.9, billed annually, or $30.49, billed monthly)
Verdict: They Fit Different Team Sizes
From the features above, Asana is ideal for small teams and individual freelancers who want to keep their projects organized. The free version can meet most or all of their needs.
Wrike is better for mid-sized teams and large organizations. Why?
As we've seen, Wrike is a custom platform for all use cases. It also features enterprise-grade tools and advanced solutions for complex work.
So, if you are looking for project management software for individual use or your small team, you can consider whether Asana suits you in your present situation. For mid-sized and large teams, you can consider Wrike.
Asana vs Wrike: Getting Started
Before we conclude, let's see which project management tool you'll find easiest to start using today. Please note that, like some of the comparisons we've made above, this is not easy, given that the two software provide simple onboarding processes.
Wrike allows you to enter your work email to get started in a few minutes.

After entering the details, the software automatically takes you to the project dashboard, where its bot gives you a detailed product tour to simplify the onboarding process. This tour covers task management, report building, task creation, team management, and more.
If you need further guidance after the tour, you can take advantage of Wrike's help guides, webinars, and tutorials. These materials present all the information you may need to set up and manage your projects quickly.
Asana's setup process is also simple but differs slightly. After entering your details into the software's free version trial form, you get an invitation email that takes you to the dashboard.

Asana's onboarding content can be slightly more difficult to find if you are new to the system.
However, you will most likely get useful help. Some of Asana's top onboarding content are guides on getting started, managing and planning project tasks, and onboarding your team members.
Verdict: Wrike Wins in Getting Started
There is no significant difference between Asana and Wrike regarding what they offer to help you get started. Both offer a straightforward onboarding process that you won't struggle to understand.
Nevertheless, Wrike appears to be a few miles ahead of Asana because of its highly informative Wrike Bot tour. It covers crucial information in an easy-to-understand way, giving Wrike its admired reputation as a customer-centric project management software.
Note that Wrike's quality Customer Support also plays a significant role in simplifying the onboarding process further.
Wrike vs Asana: Pros and Cons
As we've seen, Asana and Wrike are great project management tools but also have a few unique drawbacks. Let's quickly summarize their key pros and cons to help you clearly understand the one that best meets your needs.
Wrike Pros
Superior customer support
User-friendly interface
An efficient way of keeping track of project progress
Wrike Cons
Difficult to create task dependencies
Supports limited Integrations on lower pricing plans
Enterprise and Pinnacle costs are hidden from the public.
Asana Pros
Plenty of ways to view, modify, and evaluate project data
Unlimited storage space
100+ free integration with your favorite apps, including Time Tracking
Asan Cons
Steep learning curve for deploying some advanced features
No built-in time-tracking solution
Slow Customer Support requires multiple requests to fix an issue
Wrike vs Asana: Conclusion
Choosing the best project management tool can appear overwhelming initially, but having a few great options allows you to find a solution that suits your workflow. That's why you should map your current processes and carefully analyze them to determine the nature of your requirements for a new system before finding one.
If you still need guidance choosing between Asana and Wrike, remember that Asana's strength lies in simplicity, and it supports team communication and individual work. On the other hand, Wrike goes beyond traditional task management and focuses on communication and coordination. In other words, Asana suits you if you or your small teams want a robust tool that values simplicity, but Wrike is your best option if your mid-sized or large teams need more complex built-in features like time tracking.