Professional employer organizations, or PEOs, are employment businesses that provide services to employers who want to outsource certain HR-related tasks. This outsourcing allows businesses to cut costs and gain more time to focus on their core competencies. They allow a company to stay competitive by offloading administrative tasks like payroll processing and employee benefits management to experts.
So what is a PEO? This article will teach you everything you need to know about PEOs. We'll start with a short introduction to what a PEO is and how it works. Then we'll go into detail about the most common services they provide so that you can decide whether a PEO is right for your business. By the end of this article, you'll know the common PEO service providers, the types of services they offer, and how to find a PEO that's right for you.
What Is a PEO and What Does It Stand For?
A professional employer organization (PEO) is a service company that manages your company's employee payroll, benefits administration, and other HR-related functions. It's very common for small and medium-sized businesses to outsource their HR functions to a PEO because it gives them access to a wide range of resources and expertise they wouldn't otherwise have.
A PEO model simplifies the day-to-day management of your HR functions and makes running your business easier. It also lets client companies focus on growing your business and serving customers without worrying about time-consuming administrative tasks like payroll and benefits administration.
How Does a PEO Work?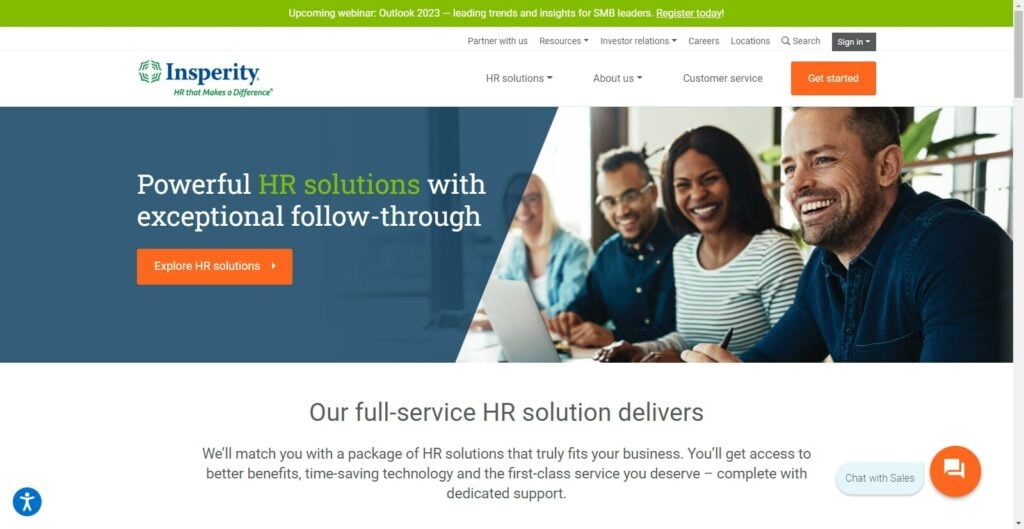 PEOs provide a range of services to their employer clients, including payroll processing, workers' compensation insurance, group health insurance, employee safety programs, unemployment insurance, retirement benefits, and other administrative services. They also act as the employer of record for all their employees, which means they are responsible for all aspects of an employee's employment, from onboarding to termination and everything in between.
When a PEO provides their services to an employer, they enter into a contract with that employer to become their employer of record. This gives the PEO the authority to manage the employees at that company on behalf of the client employer.
What is a co-employment relationship?
Co-employment is an arrangement between two or more parties to share an employment relationship's obligations and responsibilities. In a co-employment relationship, each co-employer assumes responsibility for certain parts of the employment relationship, including payroll, taxes, employee benefits, and employment-related matters such as hiring and termination.
Under a co-employment model, all employment responsibilities are shared among the parties involved. However, one primary employer (the "co-employer") is responsible for administering all aspects of the employment relationship on behalf of all co-employees. The parties' contract determines the roles and responsibilities of each co-employer. For example, under a co-employment relationship agreement, one co-employer may be responsible for all new hires and the other for all benefit plan administration.
PEO Common Features & Services
There are many different types of services offered by certified PEO service providers. Here are some of the most common ones:
Payroll Processing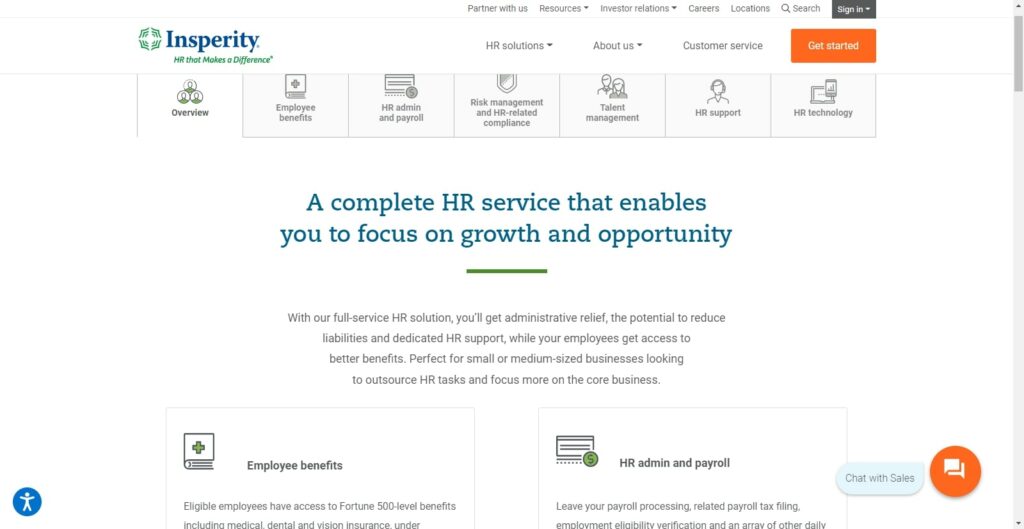 The PEO will take care of all your employees' payroll needs, including paying them accurately and on time. They will also handle all the taxes and unemployment claims paperwork so that you can focus on running your business instead.
Workers' Compensation Insurance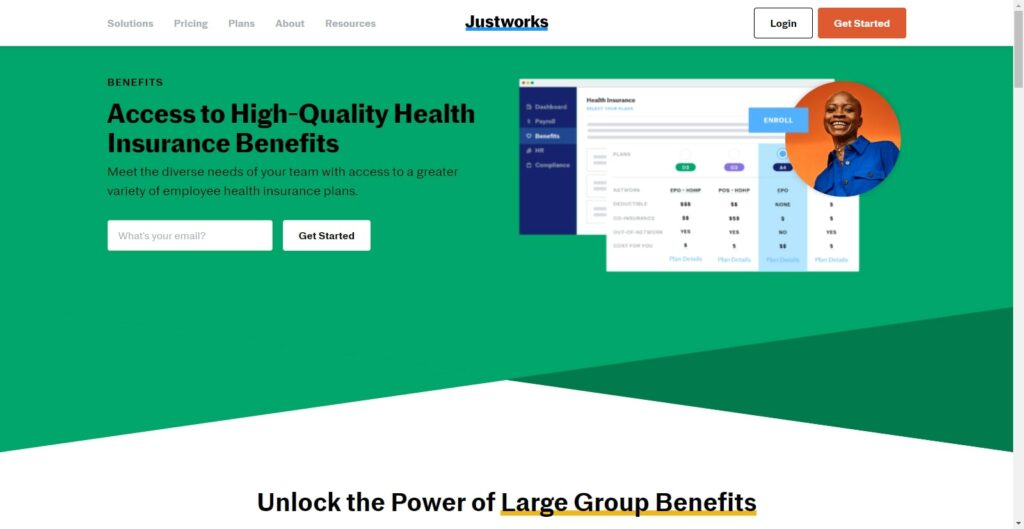 Your employees are covered against injuries and illnesses on the job at no cost to you through the PEO's workers' compensation program, disability insurance, and employee assistance programs.
Employee Benefits Administration
Many PEOs offer benefits administration services to their clients. This includes handling employee enrollments for various insurance plans and explaining them to employees when they sign up. Some also offer other services like open enrollment seminars for employees and their families to help them better understand their benefits options.
HR Support
In addition to providing the administrative services that go along with hiring and firing employees, some PEOs will also offer dedicated HR support to their clients in the form of on-site HR personnel or online employee training programs for employers to use when they need help managing certain aspects of their workforce.
Recruiting
If you need to hire new employees for your small business, a PEO can help you by providing you with access to a large pool of pre-screened candidates as well as helping you post your job ads online. This is especially useful if you need to hire temporary workers for a specific project or seasonal positions over the holiday season.
What is the benefit of using a PEO?
Why do most businesses choose to partner with a professional employer organization? The answers are pretty simple:
Cost Savings
Using a PEO allows access to expert resources without hiring full-time HR professional and internal HR staff to manage those resources yourself. As a result, you can cut your HR-related expenses by up to 30% or more. HR expertise and HR consultants can be very expensive for small businesses, but through a PEO you can gain access to highly qualified HR professionals without having to pay the usual cost associated with them.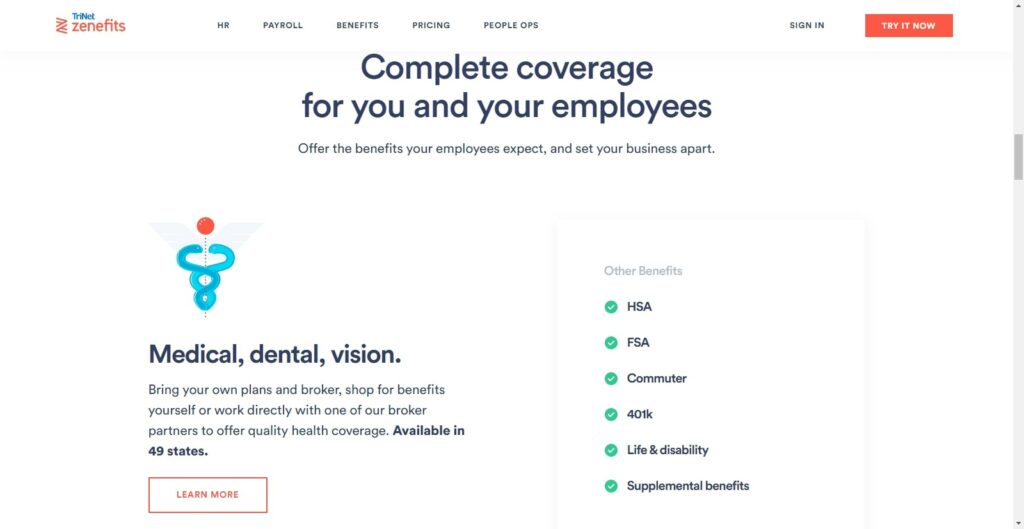 Improved Efficiency
With an in-house HR department, you'd have to manage every aspect of human resources. The comprehensive HR solutions offered by PEOs like Insperity will help you streamline your HR process by simplifying HR tasks like payroll and insurance administration, reducing your HR administration workload, and allowing you to focus on more important business matters. This would take a lot of time and cost you a lot of money in employee salaries. A PEO can eliminate many headaches because they care for your HR needs.
Better Customer Service
A PEO can handle more employees at once than you could in-house, which means you have better access to a wider range of services, including administrative assistance and support. They also have experience in a wide variety of industries that helps them provide unique solutions to all kinds of problems.
Compliance
When dealing with human resource issues, it's very important to follow certain laws and avoid penalties. A PEO can help you comply with labor laws and manage compliance issues such as ADA compliance and Workers' Comp insurance. They can also help you mitigate potential risks by conducting comprehensive background checks on new employees and training your existing employees on best HR practices.
What is the difference between a PEO and a payroll company?
Payroll service provider companies handle the administrative side of payroll. This includes calculating payroll taxes, issuing paychecks, and handling direct deposits.
Professional employer organizations and payroll companies perform many of the same tasks. Both offer payroll management, employee benefits administration, and more. However, there are key differences between the two types of service providers.
A payroll service provider handles all aspects of payroll processing, from setting up new workers to paying existing employees. They also handle tax filings and other reporting requirements related to your payroll activities.
On the other hand, a PEO offers much more in terms of human resources services. In addition to payroll management, they also take care of payroll recordkeeping and reporting, workers' compensation coverage, workers' compensation claims management, regulatory compliance, and compliance audits. They can also provide you with on-demand access to additional resources, such as healthcare management and counseling programs that can help you attract and retain top talent.
Check out our article: 8 Best PEO Companies of 2023 (Service Providers Compared)
What is the difference between a PEO and HR outsourcing?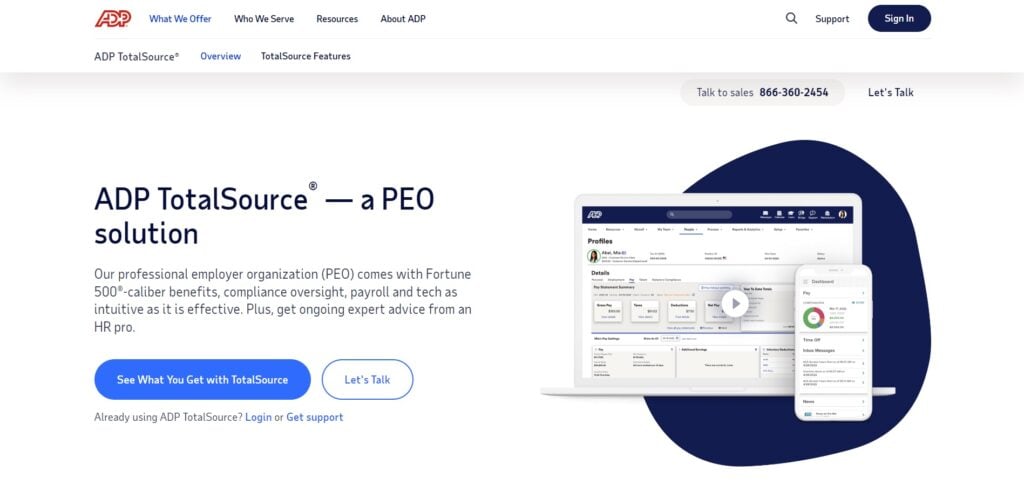 HR outsourcing is also referred to as managed HR or people process outsourcing. It usually involves hiring a third party to handle your HR-related activities. This may include payroll processing, benefits administration, and recruitment and onboarding services.
HR outsourcing and professional employer organization services are similar in some ways but very different in others. The main draw of outsourcing HR services is that it typically costs less than hiring a PEO provider. However, this option may not be suitable for businesses of all sizes. For instance, businesses with fewer than 50 employees are not eligible for HR outsourcing through most providers. This means that they may have no choice but to hire a PEO if they require the services of an experienced HR team.
One significant difference between HR outsourcing and PEO services is that an HR outsourcing provider is not legally responsible for handling employee-related issues. They do not provide workers' compensation coverage and do not have to provide health insurance for their employees.
How to choose a PEO?
When looking for a PEO service provider, you should look for one with experience working with organizations in your industry. This will ensure they have the knowledge and skills to address your unique needs and challenges. You should also ensure that the provider you choose has a proven track record of success and has a dedicated team of experienced professionals on staff. This will help ensure you get the highest level of service possible.
It's also important to compare the services and fees offered by different providers before deciding. You want to find a company that offers a comprehensive array of affordable services. It's also important to look for a provider that offers flexible payment options to help you achieve your financial goals while maximizing cash flow.
Finally, it's important to take the time to research the reputation of the company you are considering. Read customer reviews online and ask other businesses in your area for recommendations. This will give you a good idea of the level of service you can expect from a particular provider and help you determine which one is right for you.
Major PEO Service Providers
Dozens of companies are providing professional employer organization services to medium-sized and small businesses today. Here are a few of the best-known PEO services:
Insperity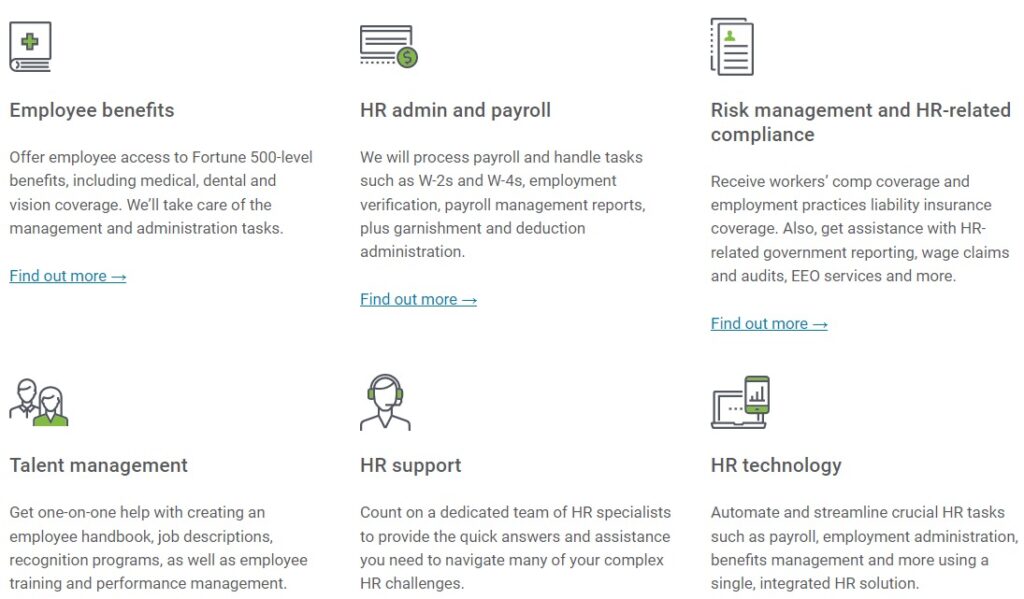 Insperity is a leading PEO provider of outsourced human resources, employee benefits, and payroll solutions for small businesses across the US. They have over 30 years of experience working with businesses in various industries, including manufacturing, construction, professional services, healthcare, government contracting, retail, and hospitality. They have 90+ offices across the country and provide integrated services that streamline operations and help reduce operating expenses.
Also, Insperity is a Employer Services Assurance Corporation Accredited PEO company.
Related article: Insperity PEO Services Reviews 2023: Is It Right For You?
Justworks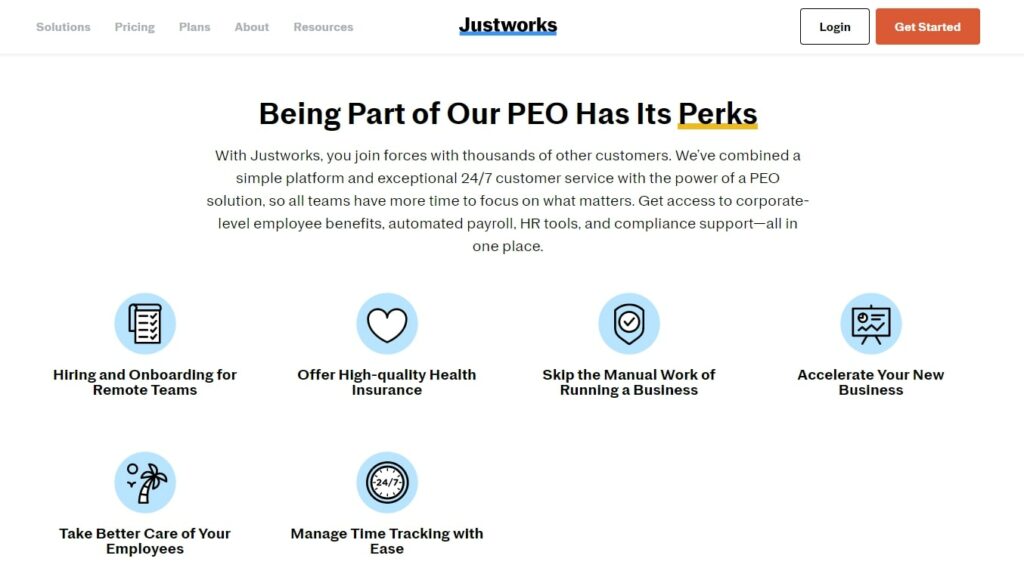 Justworks is one of the certified professional employer organizations that provides human resources solutions that help businesses recruit, retain, and manage employees. They provide HR solutions to fast-growing startups and small businesses operating in various industries, including technology, media, health care, and retail. They offer online HR tools and resources to help business owners easily and efficiently manage employee data, benefits administration, and compliance issues easily and efficiently. Their transparent pricing and convenient payroll solutions are designed to help businesses of all sizes cut costs and improve efficiency.
Click here to see Justworks's pricing plans.
Rippling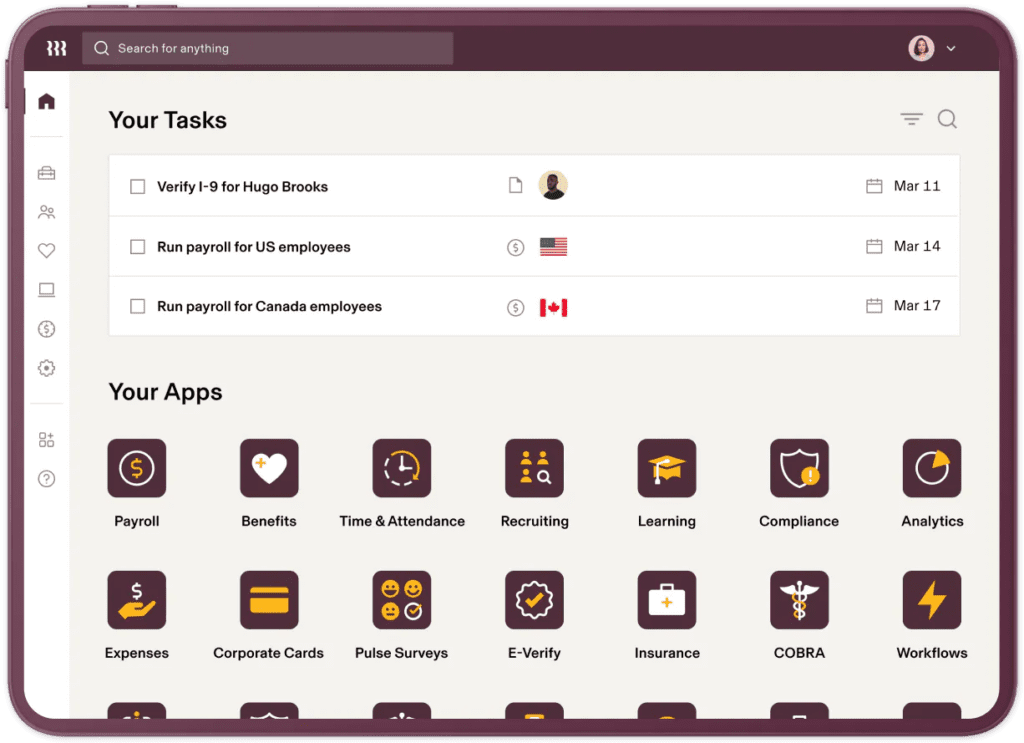 Rippling is a certified professional employer organization solution that helps businesses simplify their HR functions so they can focus on growing their business. Their easy-to-use platform offers instant access to HR tools designed to simplify tasks like onboarding new employees, administering benefits, managing payroll, and processing tax forms. They help companies manage every aspect of their workforce from a single platform to help them drive growth and scale their business.
Learn more about Rippling's pricing plans.
TriNet

TriNet provides all-in-one HR services that allow employers to spend less time on administrative tasks and more time growing their businesses. Their services include health insurance for employees and their families, group life insurance and retirement solutions, employer-paid time off, and more. They also offer support and guidance from experienced HR professionals to help employers make smart hiring decisions and avoid costly compliance mistakes.
Want to learn more? TriNet vs. Justworks: Find The Best PEO Services Of 2023
ADP Totalsource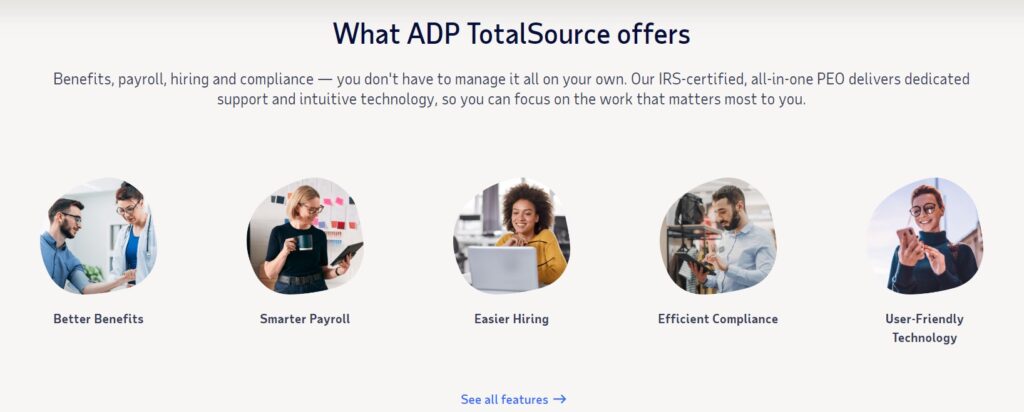 ADP Totalsource is an integrated PEO solution that allows small and medium-sized businesses to manage all of their HR-related tasks in one place easily. Their comprehensive services and programs include payroll, timekeeping, compliance support, workers' compensation, employee benefits, and consulting, among other services. With a dedicated account manager to help you find the right solutions for your business to customer support, they're with you every step of the way.
Professional Employer Organizations (PEO) Conclusion
Again, what is a PEO? Professional employer organizations (PEO) offer a suite of human resources management services designed to help businesses run more efficiently and manage their employees more effectively. Companies that outsource their HR responsibilities to a PEO can reduce costs by eliminating the need to hire an in-house HR staff while also gaining access to a full range of employment benefits and services.
Choosing the right professional employer organization to partner with is important for any company that wants to outsource its HR management responsibilities while maximizing the value they get from its employee benefits package. Several factors to consider when evaluating different PEOs, including pricing and fees, their services, and the level of support they provide to their clients. With this in mind, it's important to take the time to do some research and compare your options before making your decision.
PEO FAQs
What does PEO mean in employment?
A "professional employer organization" can be described as an administrative services organization such as payroll processing and benefits administration on behalf of one or more clients or companies.
Does a PEO replace HR?
A PEO does not replace HR, but it does help streamline many of the administrative duties of managing a company's workforce. Many companies find working with a PEO an efficient way to avoid many of the hassles and costs associated with hiring and managing their own internal HR team. Manage HR team duties can be automated through a PEO – eliminating paperwork and reducing the amount of time spent dealing with HR issues.