HR and payroll software has become more critical in recent years as organizations grapple with many complex HR issues and compliance mandates. Choosing a vendor can be a challenge, especially given that there are so many options on the market.
To help you make an informed decision, we've made a head-to-head comparison of two of the most popular HR and payroll solutions on the market- Gusto and Bambee. This overview will cover both solutions' key features and functionality and compare pricing information to help you decide which solution is right for your organization.
Bambee vs. Gusto: Similarities
Choosing the ideal HR software between Bambee and Gusto has to begin with understanding their similarities. Some of the most common ones include the following:
Both software offers impressive employee onboarding capabilities, making them ideal options for seamless applicant tracking and employee management.
They both boast effective time-tracking capabilities, which help human resource managers to remain on top of their time-management endeavors.
Both offer reliable customer support systems where you can get help on various subjects via chat, phone calls, live chat, and email.
They both offer full-service payroll across all 50 states.
Bambee vs. Gusto: Differences
While one is slightly newer to the market than the other, Gusto and Bambee also differ in so many other functional and service aspects. You should check out some key differences when picking between these two payroll and HR bigwigs.
Gusto offers multi-channel support, as you can access it via the mobile app and the web platform. However, that's not the case with the Bambee software, as it's only available on the web now.
Gusto boasts over 115 app integrations in niches like accounting, legal & compliance, and insights & analytics. Bambee is yet to launch app integrations.
While both are built to help small businesses with their payroll and HR processes, Bambee sets the limit to 500 employees per business. But Gusto offers customized premium plans for organizations with larger numbers of employees.
Bambee's 'Auto Pilot HR' allows users to build customized HR policies, which are distributed to every employee to ensure everyone is on the same page. On the other hand, Gusto's HR system leaves most of the customization work in the hands of the users.
What is Bambee?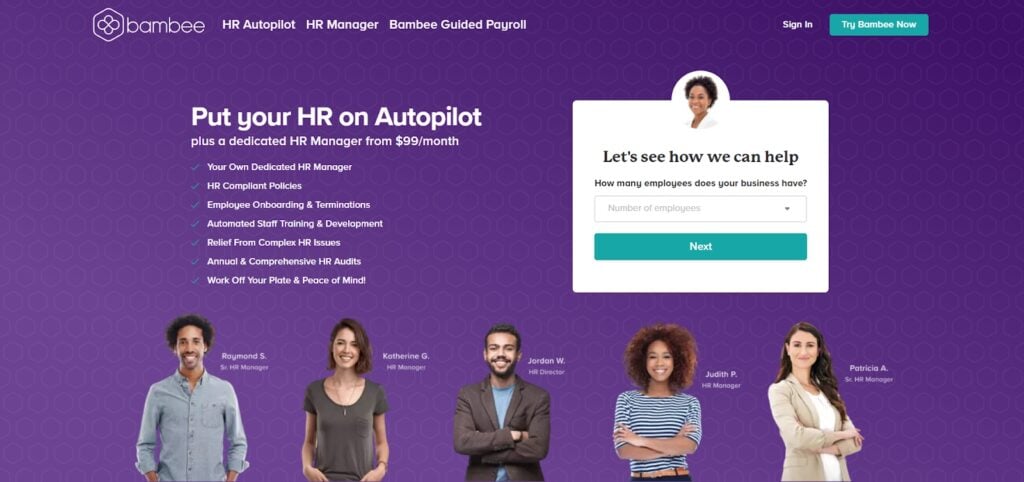 Bambee is an established and remarkable payroll and HR software founded in 2016 from a living room in Venice beach, California. The main aim of the invention of this software was to provide a way for small and growing businesses to access cheaper human resources and services.
The company has grown over the years to see it contend for the number one position for the best HR platform with prominent HR management software in the industry.
Best for US SMBs
Bambee | HR Manager solution for US small businesses
Bambee is a cloud-based HR platform designed to help US small and medium-sized businesses manage their HR needs. With Bambee, businesses can access a team of HR experts who can provide guidance on compliance, employee relations, and other HR-related issues. The platform also offers tools for managing employee records, onboarding new hires, and tracking time off and other benefits. Bambee aims to simplify HR management for businesses, allowing them to focus on growing their business rather than dealing with HR headaches.
Pros:
Affordable: Bambee offers affordable HR services for small businesses, making it accessible to companies with limited budgets.

Expertise: Bambee's team of HR experts provides businesses with professional guidance and support, ensuring compliance with employment laws and regulations.

Customizable: Bambee's services are customizable to meet the unique needs of each business, providing tailored solutions for HR-related issues.

Time-saving: Bambee's services save businesses time by handling HR tasks such as employee onboarding, performance management, and termination.

User-friendly: Bambee's platform is user-friendly and easy to navigate, making it simple for businesses to manage their HR needs.

Risk reduction: Bambee helps businesses reduce their risk of legal issues by ensuring compliance with employment laws and regulations.

Scalable: Bambee's services are scalable, meaning they can grow with a business as it expands and requires more HR support.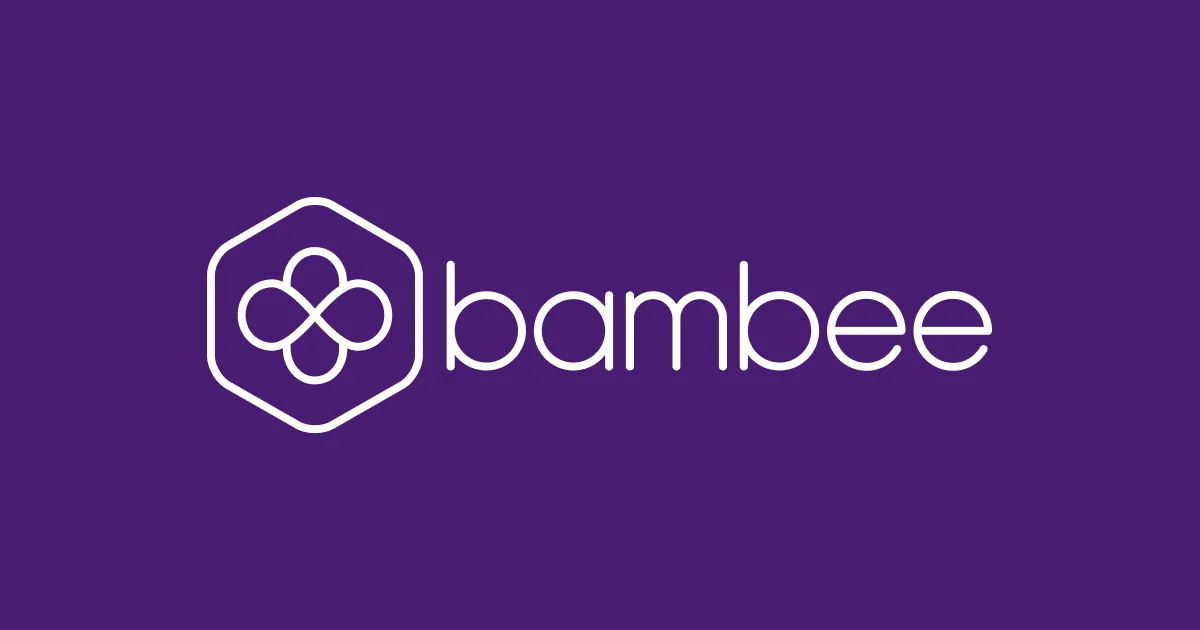 Bambee Key Features
Bambee boasts many incredible workforce management, HR, and payroll features that can fit into any small company culture today. Some of the key ones include the following:
Swift company policy management capability helps new HR managers and new employees to create, customize, and manage HR policies across the business
Smart cabinet for effective tracking and storage of crucial HR data for the minimum amount of time as required by the Federal and State laws
Effective employee training management allows for swift employee onboarding and a successful hiring process
Unlimited access to an HR manager through direct chat ensures your queries are always answered on time and perfectly so
Who is Bambee for?
Bambee is an ideal HR platform for small businesses and growing enterprises with up to 500 employees. It presents actively hiring companies with timely HR features managers can use to propel their businesses to the next level.
What is Gusto?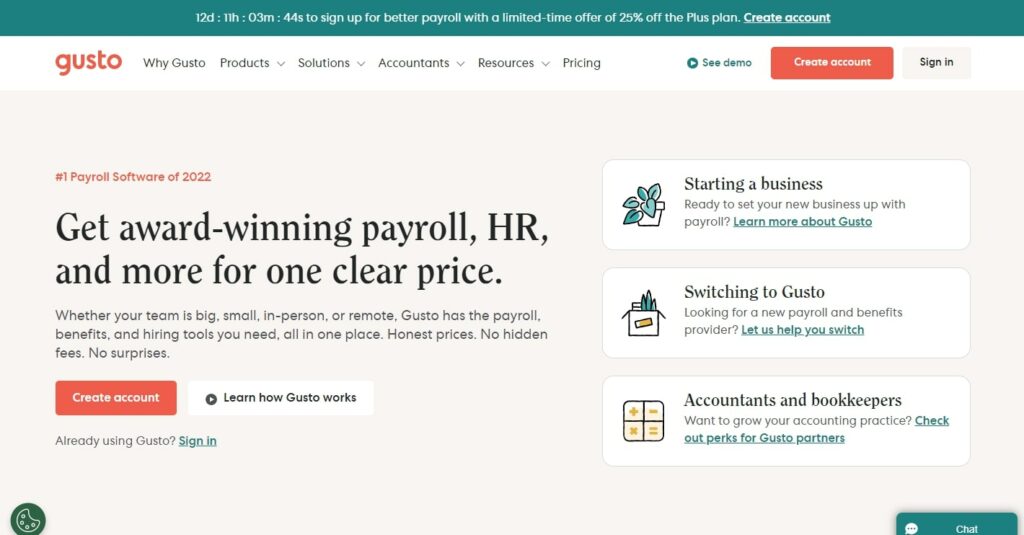 Gusto first saw the limelight in 2012 when it was launched as ZenPayroll to help businesses with effective employee management, HR, and payroll services. It has since grown to an all-in-one HR platform that helps organizations hire, pay, and manage their teams.
Best HR & Payroll Software
Gusto | All-in-one HR Services
Gusto is one of the best HR & payroll software that simplifies the process of managing and paying employees. With Gusto, businesses can easily manage their payroll, taxes, and benefits in one place. The software automates the calculation of payroll taxes, tracks employee hours, and generates pay stubs. It also offers a range of benefits, including health insurance, retirement plans, and workers' compensation insurance. Gusto is designed to be user-friendly, with a simple interface that makes it easy for businesses to manage their payroll. With Gusto, businesses can save time and reduce the risk of errors, ensuring that their employees are paid accurately and on time.
Pros:
User-friendly interface: Gusto has a simple and intuitive interface that makes it easy for users to navigate and use the software.

Automated payroll processing: Gusto Payroll automates the payroll process, saving time and reducing the risk of errors.

Tax compliance: Gusto ensures that all tax calculations and filings are accurate and compliant with federal, state, and local regulations.

Employee self-service: Gusto allows employees to access their pay stubs, tax forms, and other important information through a self-service portal.

Integration with other software: Gusto Payroll integrates with other software, such as accounting and time-tracking software, to streamline the payroll process.

Affordable pricing: Gusto offers affordable pricing plans that are suitable for small and medium-sized businesses.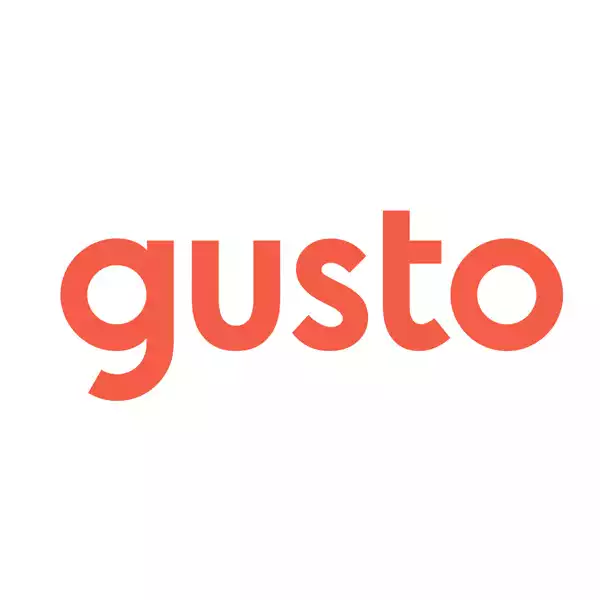 Gusto Key Features
As an HR manager thinking of picking Gusto for your payroll and human resources management, you must understand its key features first. Below are some you should look at:
Reliable time management tools for seamless time tracking and employee attendance management
Wide range of integration options with accounting, point of sale, time tracking, expense management, and collaboration apps to help with a seamless employee lifecycle
Standardized hiring and onboarding help you to hire and retain great employees and make them feel a part of your company culture right from the beginning
Customizable reports help you make smart business decisions based on smart data
Who is Gusto for?
As an all-in-one HR and payroll platform, Gusto develops and avails web-based solutions for small and mid-sized businesses in all 50 states. It's a good option to consider if you're looking for cloud-based payroll, benefits administration, and human resources solutions for your growing business.
Bambee HR vs. Gusto HR Services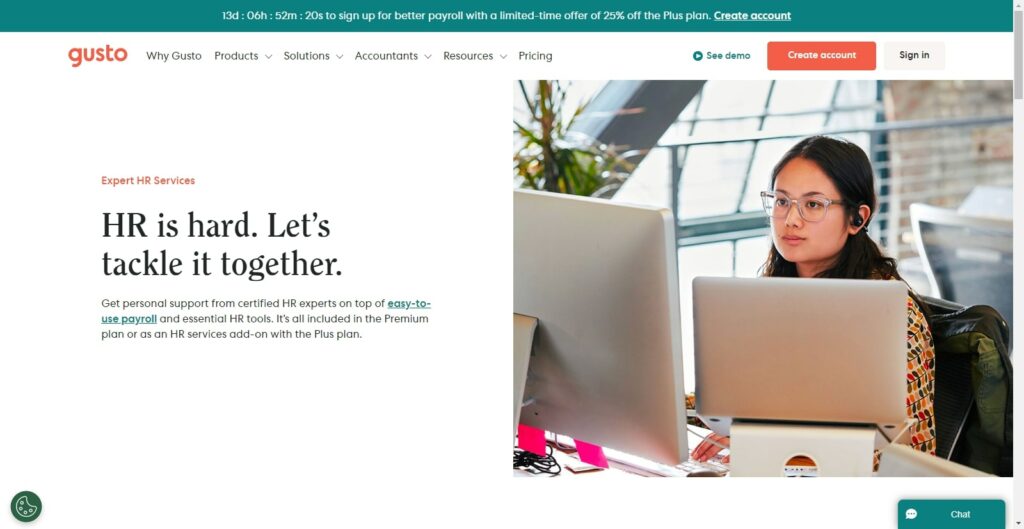 We've had a great run comparing Gusto and Bambee, it's never a complete comparison if we don't delve into a head-to-head comparison of these two HR and payroll bigwigs. Here's how they compare on different features:
Employee Benefits
Gusto owners believe it takes more than a paycheck to build loyal and successful employees. Gusto offers an admirable employee benefits package to complement your satisfactory pay. With Gusto, your team can access affordable financial and health benefits, time-off requests, and workers' compensation.
Bambee equally offers remarkable benefits to employees, including employee compliance management, learning & development, childcare & family care leave, and 401(K), among others.
Performance Management
Bambee has invested in many performance management tools to improve your company's employee engagement, performance reviews, and goal tracking. As an HR manager, you can create report cards with employee performance and progress details to help your employees focus on achieving their set goals.
Gusto's performance management is slightly limited as you can only track employee happiness and insights. This means you can't use this feature to track your teams' performance and set goals as you can do with Bambee.
Verdict: Bambee Wins in HR Services
Bambee software has outdone Gusto in this HR services head-to-head comparison as it offers more goodies under employee benefits and performance management than Gusto. Bambee is an ideal choice for startups looking for reliable HR services with minimal work from your team.
Bambee Payroll vs. Gusto Payroll Services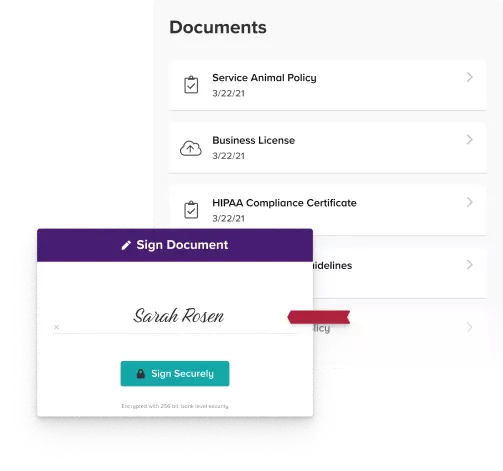 One of Bambee's and Gusto's outstanding strengths is their top-notch payroll services. Here's a breakdown of how each software compares against the other under payroll services.
Payroll Processing
Gusto's payroll processing is perhaps one of the best HR management software, as it automatically calculates and files payroll taxes in all 50 states. All you need to do is run payroll data into the system, which will guide you on paying contractors and employees on time. Gusto payroll system is convenient for calculating the accurate paid time for both salaried and contractual employees.
Despite being new in the industry, Bambee's payroll processing features rank equally with its worthy competitors. With Bambee, your HR team can pay contractors and employees through a two-day direct deposit and handle federal, state, and local payroll taxes. Bambee HR can also help classify employee records and comply with compensation & scheduling laws, among other payroll features.
Custom Reports
Thanks to Bambee's autopilot capabilities, Hr teams can easily customize their payroll reports and save time. This is a crucial feature for payroll administration since many organizations classify employees into different payment structures, thus the need to customize employee payroll reports.
Gusto is also a great option here, as you can build customized templates to help run swift payroll. This way, you can analyze crucial data at a glance instead of sifting through individual reports to generate a payroll report.
Verdict: Gusto wins in Payroll Services
We feel Gusto's comprehensive payroll processing and its competitive custom reports give it a secure lead above Bambee, which still needs to invest more in these sectors. While both can offer reliable payroll services, you can enjoy a more seamless experience with Gusto's customized templates and auto-calculation of payroll taxes in all 50 states.
Gusto vs. Bambee: Integrations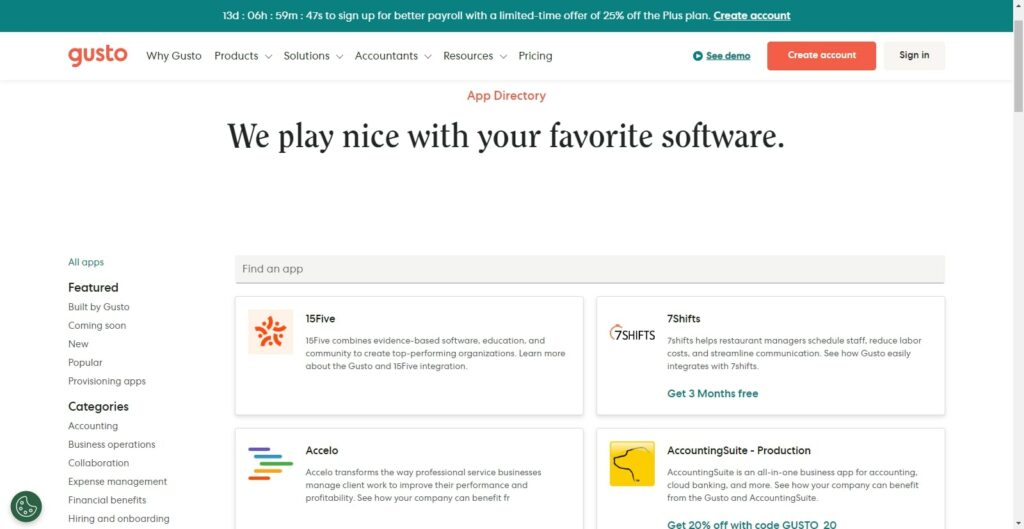 Gusto boasts more than 100 integrations, including accounting, business operations, tax preparation, legal & compliance, and time-tracking apps. These integrations can help with seamless business operations and reduce time and cost spent manually doing these tasks.
As for Bambee, users will still have to wait a little longer before the company launches its first integration app.
Gusto Wins in Integrations
Gusto takes a clear lead in integrations, making it the ideal choice for companies looking to enjoy the services of their favorite apps inscribed into leading HR and payroll software. But if integration isn't something that matters to you, then Bambee can still be a great fit.
Gusto vs. Bambee: Customer Support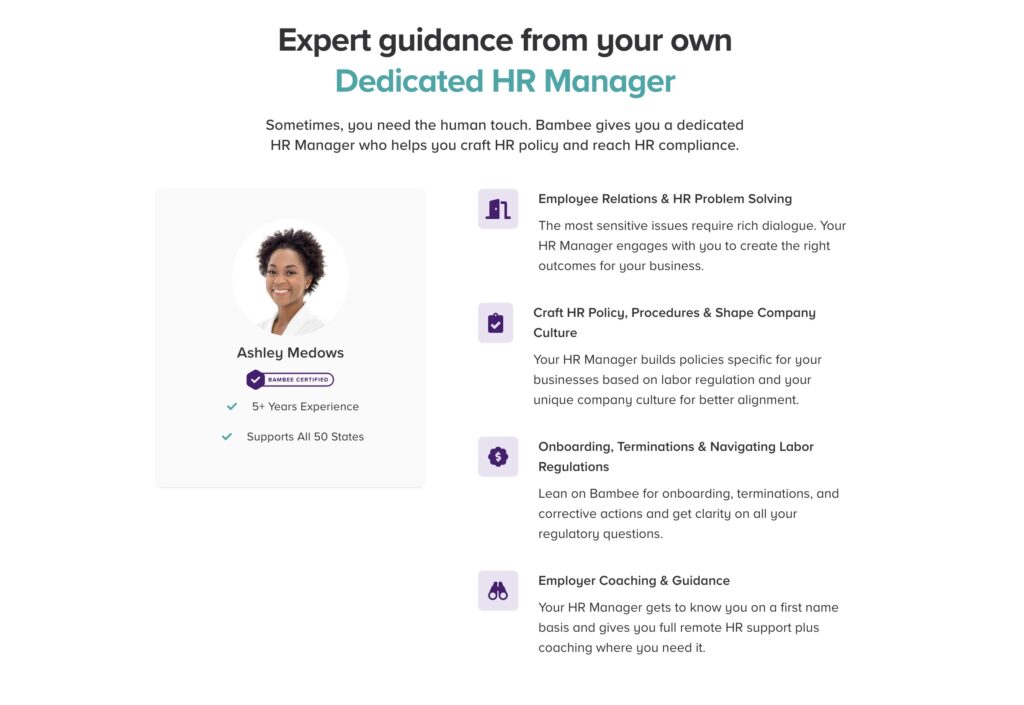 Bambee customer service staff and HR managers can attend to queries via phone support, chat and email from Monday through Friday between 8 am and 6 pm Pacific Time. You'll have access to a dedicated HR manager who'll attend to your HR questions directly.
We like that Bambee issues a direct phone number and email address for your dedicated HR manager so you can call or email them directly anytime you need help. You can use the general support line to get help with tech support and billing questions.
Gusto's customer support is available over live chat, phone and email to Gusto subscribers who are already logged into the platform. Gusto's call-back scheduling feature is an outstanding attribute that helps save time that would have been spent waiting on hold during work hours.
You can get a support number for representatives available Monday through Friday from 7 am to 6 pm MT. Again, Gusto beats most of its competitors here as this 11-hour support window is rare in other companies' support systems.
Additionally, if you have a general problem, Gusto's articles available at its help center can come in handy and help save a lot of time. Depending on whether you're an employer, employee, or administrator, these articles will provide the help you need for a seamless experience.
Gusto Wins in Customer Support
Without a doubt, we feel Gusto has outdone Bambee in the customer support tussle, and this time it's because of two main reasons:
First, Gusto offers a call-back scheduling feature, which Bambee isn't offering. This helps to save a lot of time with Gusto when making direct calls.
And second, Gusto offers a longer support window of 11 hours compared to Bambee's 10 hours.
Gusto vs. Bambee: Pricing
Gusto and Bambee's pricing differs in many aspects, depending on your company size and how many employees you have. Here's how they compare:
Bambee Pricing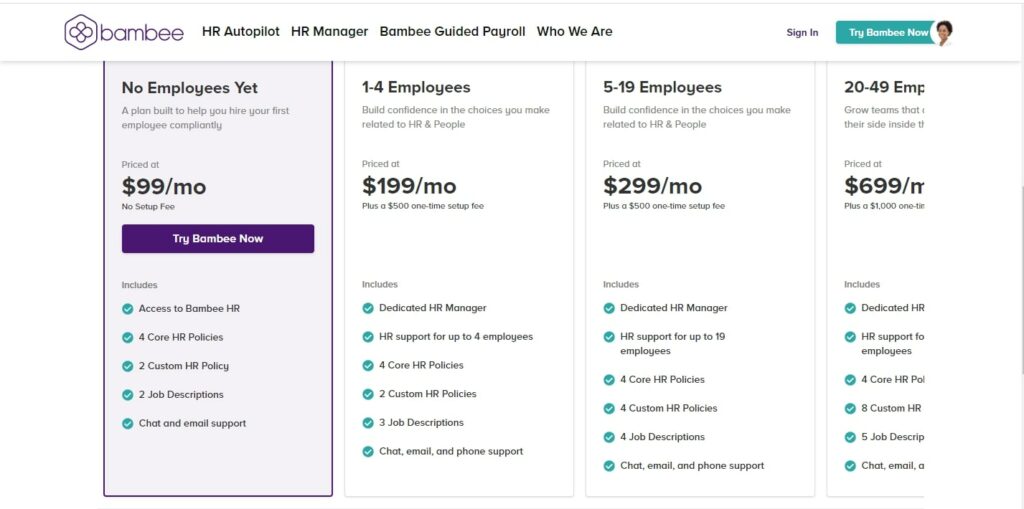 Bambee pricing is broken down based on the number of employees your company has, as captured in the table below:
| No. of Employees | Cost per month | Additional Set-up Cost (one-time fee) |
| --- | --- | --- |
| 0 | $99 | 0 |
| 1-4 | $199 | $500 |
| 5 – 19 | $299 | $500 |
| 20 – 49 | $999 | $1,000 |
| 50 – 99 | $1,299 | $1,500 |
| 100 – 149 | $2,499 | $2,500 |
| 150 – 249 | $3,699 | $3,500 |
| 250+ | Custom pricing | Custom pricing |
The lowest price is $99 per month if you don't have any employees yet. You will pay up to $3,699 per month for up to 250 employees and an additional $3,500 one-time fee for setting up your platform. If you have more than 250 employees, you'll need to consult customer service for a customized payment plan.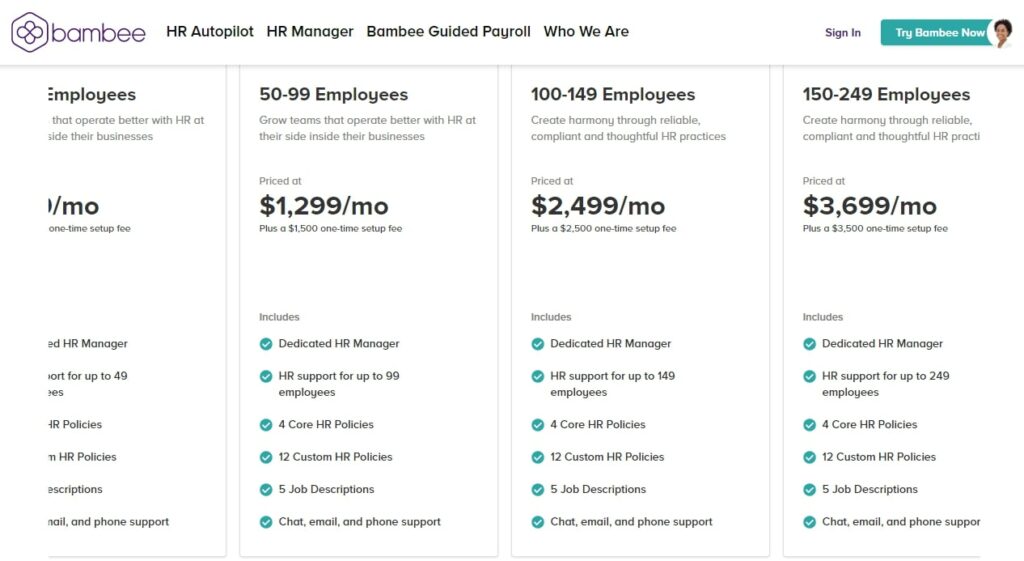 Gusto Pricing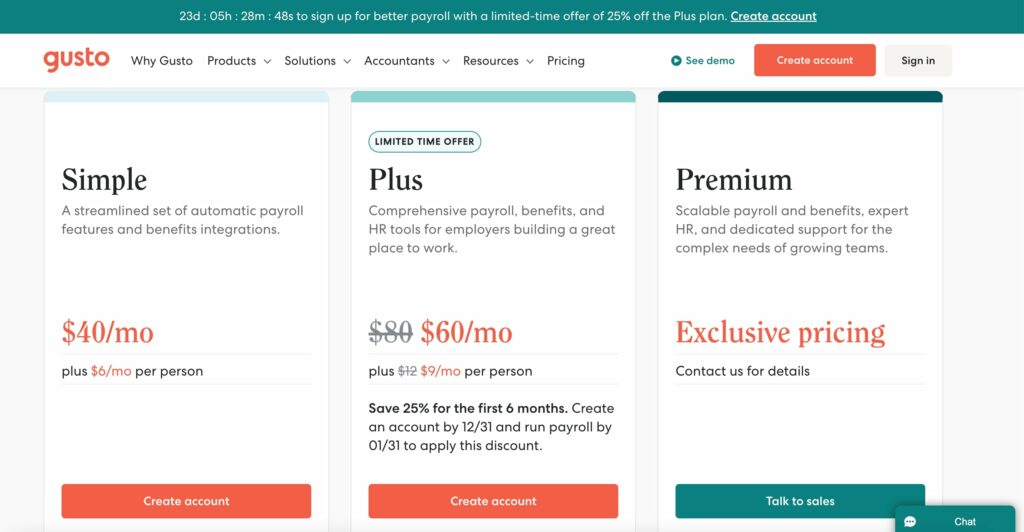 Gusto offers a cheaper, more suitable pricing plan for small businesses looking for reliable HR and payroll solutions. The payment plans are divided as follows:
The Simple Plan is available for $40/month plus $6/month per person
The Plus Plan goes for $60/month and an additional $9/month per person
The Premium Plan is available on request
If you're a contractor, you can opt for the Contractors' plan, which is available for $0/month and an additional $6/month per contractor.

Gusto wins in Pricing
We feel Gusto offers remarkable features at affordable pricing. With only $40 per month and an additional $6/month per person, you can enjoy access to incredible features to run your small business successfully.
Bambee, on the other hand, offers more or less the same features in Gusto's Simple Plan, but you have to part with a minimum of $99/month even when you're yet to hire employees. In addition, Bambee charges a one-time setup fee that increases with increasing employees.
Gusto vs. Bambee: Conclusion
We believe you can now easily pick the right platform for your business's payroll and HR needs.
If you're a new business that doesn't have an internal HR manager and needs support building or updating your company policies, then Bambee is the platform for you.
However, if you're working on a budget and lack experience and confidence with HR compliance, payroll, and benefits, Gusto is the platform to consider.