Top PEO firms provide HR and payroll services with solid support for managing regulatory compliance, payroll taxes, and work legislation. A PEO can be an excellent solution for small businesses that lack in-house expertise.
PEO Services should also offer access to various advantages at attractive prices. This guide reviews the 8 best PEO companies for small and growing businesses. These PEO services are compared based on the quality of their offerings, features, and price.
What is a professional employer organization?
The Professional Employers Organization, or PEO, is an HR service based on co-employment models. This means that your employees will be on PEO books but will remain under the management.
PEOs control employee benefits management and regulatory compliance for their clients. When choosing a company, make sure the organization can carry out the HR functions you require while also scaling to the size of your business.
In addition, you need to get the best PEO with a good reputation because it integrates well within the corporate structure.
Why do Companies use PEO?
Convenience
Professional employer organizations make things more convenient. Since they work on a co-employment model, PEO companies can take control of your business's payroll, tax administration, compliance management, employee benefits, recruiting, and often come with built-in HR solutions.
PEO services can take a lot of work off your hands, giving you room to focus on other activities.
Moreover, given that PEO companies have many co-employed workers, they can often negotiate better rates with benefits and insurance providers. This allows companies to save a little more money in the long run.
In other words, PEOs can save businesses plenty of money and time.
Benefits
PEO companies offer employee benefits plans that you might not be reachable otherwise, like life or disability insurance, commuter benefits, healthcare plans, worksite benefits, mental health support, etc. This can be especially handy for small business owners.
Again, this comes down to the fact that PEO companies have many co-employed workers under their wing.
Moreover, PEO services handle benefits administration. They take care of employee enrolling and COBRA administration. They also negotiate with benefits providers and provide legal notices.
Compliance and Lawsuits
PEOs help you remain compliant with the latest laws and regulations. Most PEO companies have compliance experts responsible for monitoring business activities and ensuring you do not break any compliance laws.
As a bonus, PEOs can lend you a hand in case of any lawsuits. They share liability with specific employment-related claims, like employee overtime or wrongful terminations.
That said, PEO companies are obligated to step in and help settle any lawsuits before they get blown out of proportion.
Recruiting
PEO services will also handle parts of the recruiting process. They can train hiring managers to find competent candidates and give them tips on making the job offer more attractive. For instance, a PEO company can offer suggestions on attractive yet affordable salaries, how to create an intriguing job description, etc.
Many PEO companies will broaden your reach to potential candidates via job boards or other networking channels. Not to mention that PEO companies offer plenty of training materials to help employees hone their skills.
Retirement plans
PEO services will also handle retirement plans. You can give employees access to 401(k) retirement savings programs, which will likely improve employee retention. Moreover, PEOs will handle 401(k) compliance testing, distribution processing, and other administrating or regulatory tasks.
Workers' compensation
Lastly, there's workers' compensation insurance. Since PEO providers are co-employers, businesses can access their employees' compensation insurance coverage. PEOs will also handle all the paperwork, certifications, and compliance activities related to these workers' compensation programs.
The 7 Best PEO Service Providers
Insperity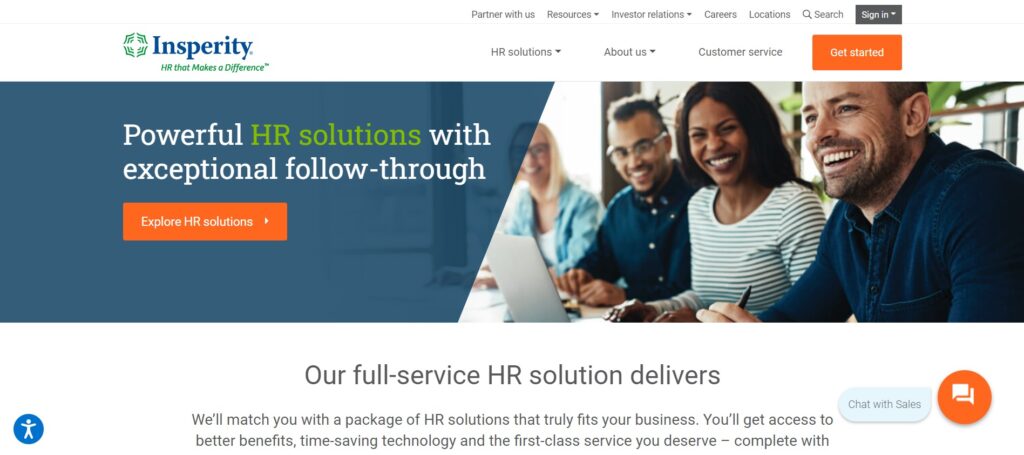 Insperity has been around for over 35 years, making it one of the most experienced companies operating in this industry.
This full-service PEO solution works with companies of all sizes, meaning that Insperity is an excellent choice in terms of flexibility and scalability. Not to mention that the platform's pricing plans are fully customizable.
In addition, businesses can pick individual solutions rather than use Insperity's full suite of services. Companies can opt for separate recruiting or insurance services, HR administration, consulting, payroll administration, and 401(k) plans.
Another aspect that makes Insperity stand out is that it provides a massive library of training resources, including eBooks, webinars, podcasts, and more.
Learn more about Insperity here at its official website.
Insperity Service Offerings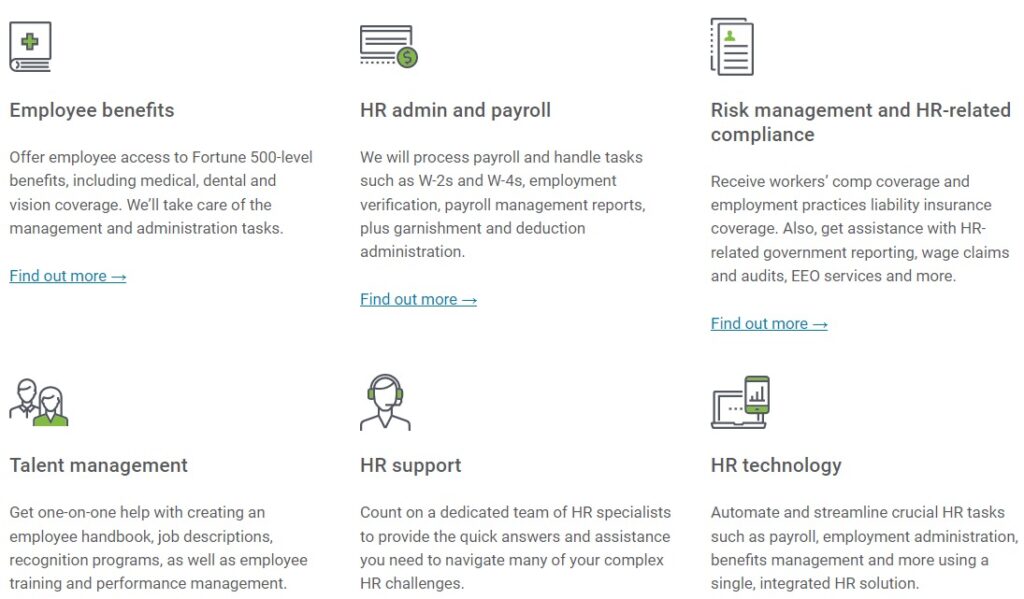 Recruiting, insurance, and retirement services
Benefits and HR administration
HR compliance assistance
Performance management
Employee onboarding
Payroll administration
Applicant tracking
HR support
Insperity Pricing
Since Insperity's pricing is highly customizable, you'll need to contact its representatives to get a quote.
Get a quote from Insperity here.
Insperity Pros
Generous library of online training resources
Excellent customer support
Easy to set up and use
Highly versatile
Insperity Cons
It requires at least five employees
Pricing is not transparent
Insperity is the best overall
Insperity's pricing is highly flexible, while the platform is easy to use, provides outstanding customer support, and is suitable for any type of business, whether large or small.
Besides, Insperity's resource center offers valuable insights on how to improve your HR workflow.
In other words, Insperity nails it on multiple fronts, making it the best overall solution in the PEO industry available right now.
Justworks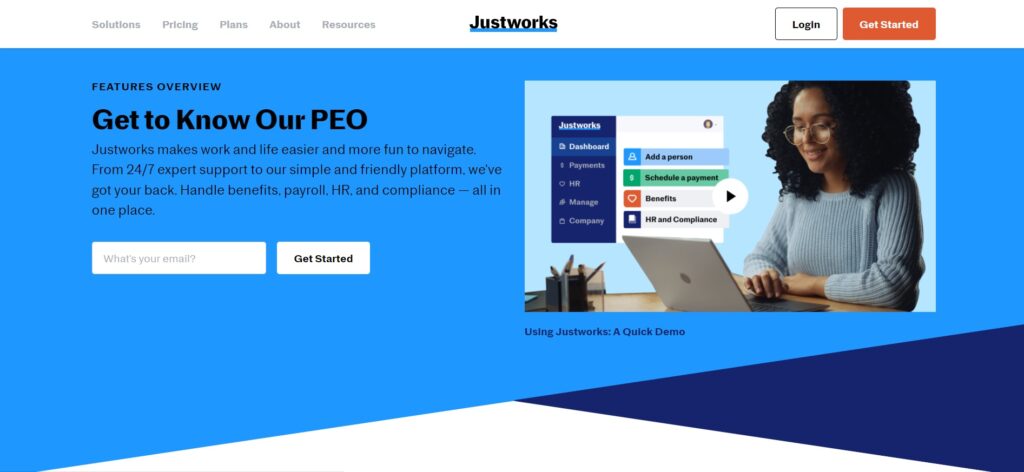 Justworks caters to small and medium-sized businesses. Its pricing plans are transparent and relatively affordable.
Moreover, Justworks is easy to use, has a simple setup process, and offers plenty of functionalities considering its price. Justworks handles payroll, compliance, benefits, and more. It also includes basic HR tools, like policy setting and employee onboarding.
However, the platform shines through its high-quality benefits package. The PEO provider gives small businesses access to key benefits that would have otherwise been accessible only by large companies or corporations.
Some examples include on-demand primary care services, mental health, vision, dental insurance, gym memberships, etc.
Another noteworthy aspect of Justworks is that it offers an employee access portal so team members could track payroll documents and get onboarded to your company.
Also, due to its ease of use, you do not need to rely on in-house HR professionals to handle your account.
Learn more about Justworks here at its official website.
Justworks Service Offerings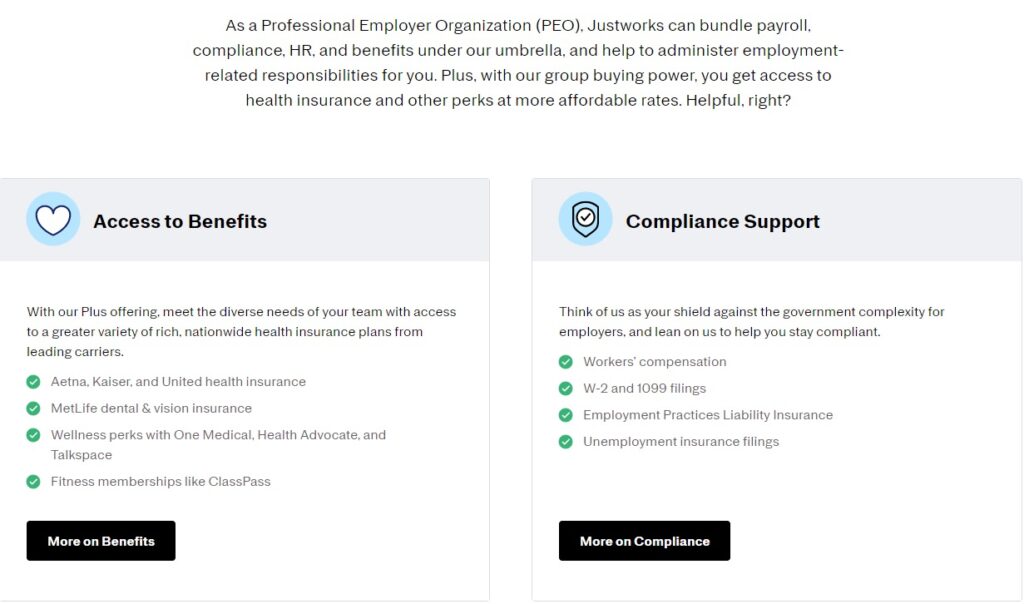 Compliance management and support
Payroll and tax management
Employee benefits administration
Full-service support
Access to HR tools
Justworks Pricing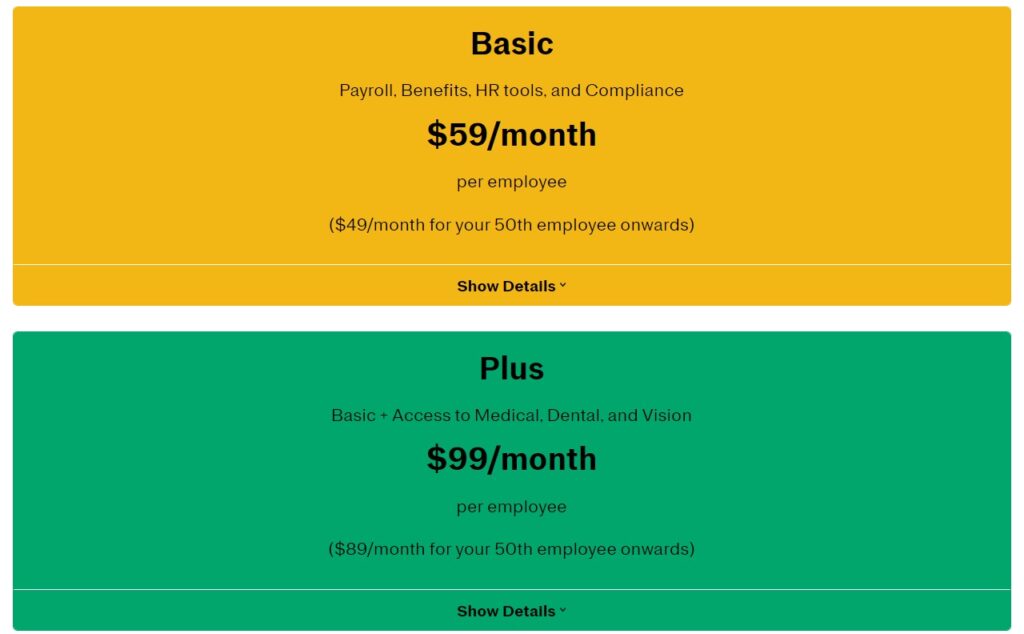 Justworks cover two pricing plans:
Basic – $59/employee/month
Plus – $99/employee/month
In terms of benefits, the Basic plan offers workers' compensation, life and disability insurance, 401(k) plans, wellness perks, and gym memberships. The Plus plan additionally includes medical, dental, and vision insurance and HSA/FSA accounts.
Check Justworks pricing here at its official website.
Justworks Pros
Excellent benefits coverage
24/7 customer support
Easy to use and set up
Transparent pricing
Justworks Cons
Might not be suitable for large companies
Limited customization
Justworks is the best for Employees' Benefits
Justworks has a wide variety of benefits plans from the top providers at an affordable price. This factor can seal the deal for SMBs looking to improve the employee experience.
TriNet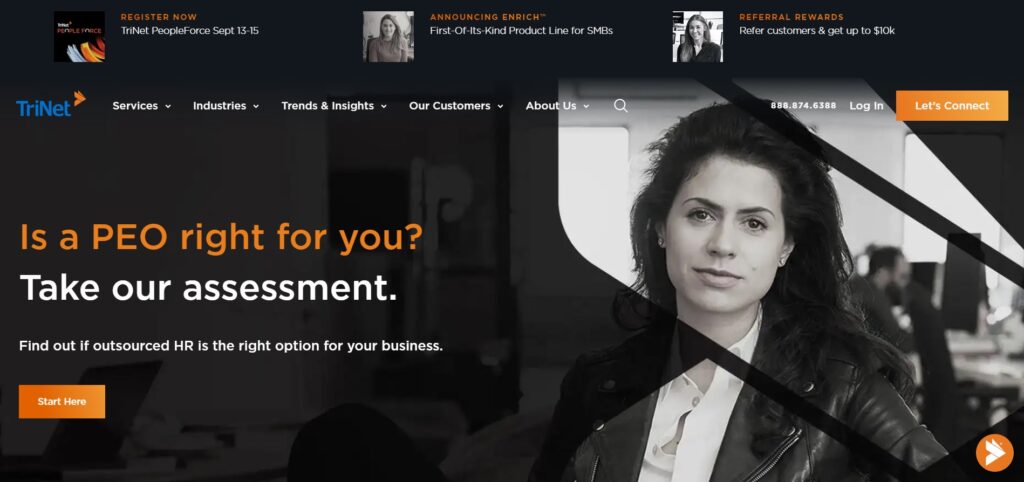 TriNet specifically caters to small and medium-sized businesses. The platform is easy to use, covers flexible pricing plans, and provides top-notch customer service.
Unlike other PEO companies, Trinet also offers industry-specific solutions. For instance, Trinet can handle the specific needs of companies in industries like education, consulting, manufacturing, marketing, and more.
The cherry on top, Trinet offers consulting and HR management teams specialized in your industry. That said, business owners can expect to receive the best customer service possible, regardless of the industry they're operating in.
Another factor that makes this platform appealing to small businesses is that Trinet charges a flat rate per employee per month. No hidden costs are involved, ensuring that pricing remains predictable and fair based on the number of employees you have.
Trinet also has strong negotiating power, meaning that you can offer employees excellent benefits at a reasonable price.
TriNet Service Offerings

Employee training and development
Risk and compliance management
Payroll and tax management
Retirement and 401(k) plans
Benefits administration
HR Administration
TriNet Pricing
You'll need to contact Trinet to get a pricing quote.
Get a quote from TriNet at its official website here.
TriNet Pros
Access to documentation in the HR industry
Industry-specific support
ESAC and IRS certified
Easy to use and set up
TriNet Cons
Pricing is not transparent
Pricing comes in bundles
TriNet is the best for Industry-specific solutions
Overall, Trinet is the best platform for industry-specific businesses among all the PEO service providers in this list. The customer service is exceptional, and you have access to professionals specialized in your industry.
Besides that, the platform is easy to use and offers all the features you could expect from a full-service PEO solution.
Moreover, you have access to the platform's employee training and development system. This is Trinet's built-in learning management system where employees can hone in or gain skills relevant to your company.
ADP TotalSource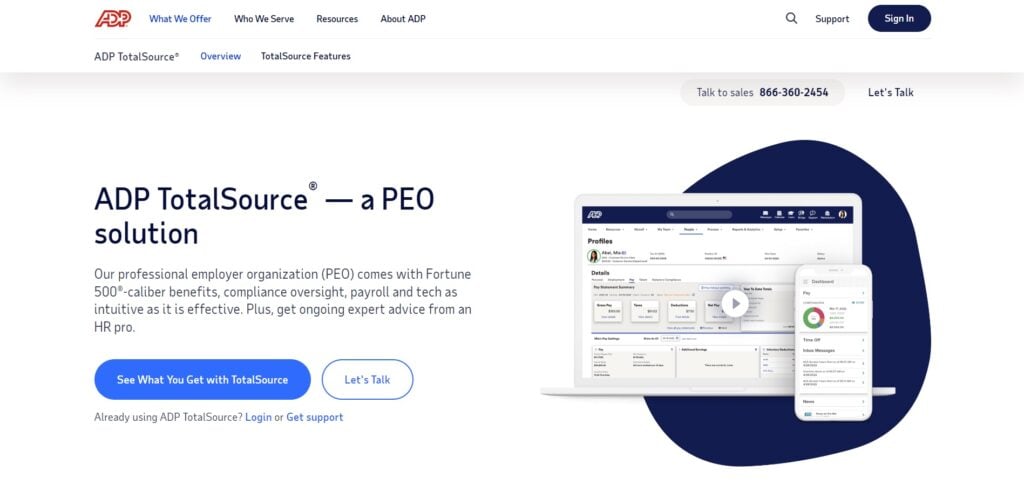 Available in over 140 countries, ADP Totalsource is one of the biggest PEO companies to date. The platform is brilliant in terms of customizability and flexibility. ADP Totalsource integrates seamlessly with accounting software like Quickbooks and other recruiting, learning, collaboration, and time tracking tools.
However, ADP stands out because the platform provides the best customer service in the industry. The platform provides dedicated support agents and HR consultants. This makes the platform a good choice for start-ups with little to no HR expertise.
Customer support is available 24/7 through live chat, email, or phone.
ADP TotalSource Service Offerings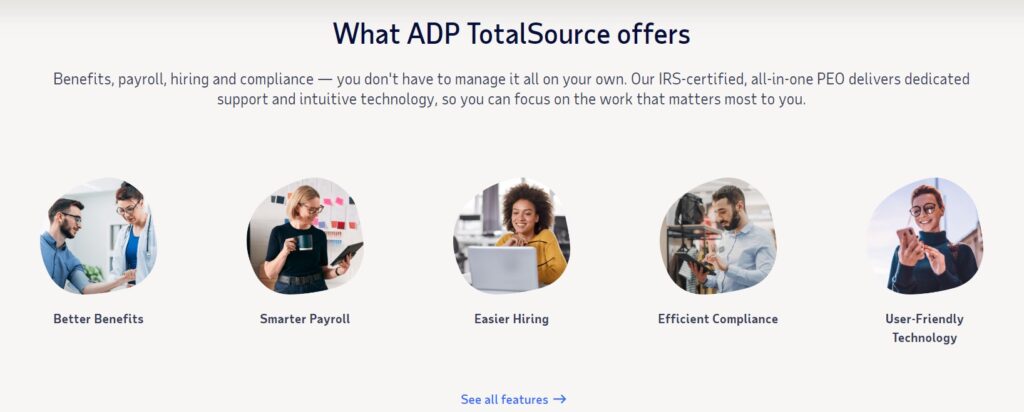 Workforce and talent management
Payroll and tax management
Employee benefits administration
Compliance services
HR support
ADP TOTALSOURCE PRICING
ADP Totalsource's pricing is not disclosed. You'll need to get in touch with the sales team to get a quote.
Get a quote from ADP Totalsource from its official site here.
ADP TotalSource Pros
Access to dedicated HR support
Extensive integration capabilities
Access to advanced HR tools
Brilliant customer support
Self-service payroll
ADP TotalSource Cons
Most integrations are paid add-ons
Pricing is not transparent
ADP TotalSource is the best for customer support
ADP TotalSource is highly flexible and offers great customer support. Moreover, the platform gives access to a dedicated HR specialist, safety consultants, benefits specialists, payroll advisors, investigation teams, and more, making it the industry leader in PEO customer support.
In other words, start-ups can receive all the guidance necessary and clarify any potential issues whenever they need it. Besides, ADP's team can handle all the taxes for you, sparing you from an extra headache.
Rippling PEO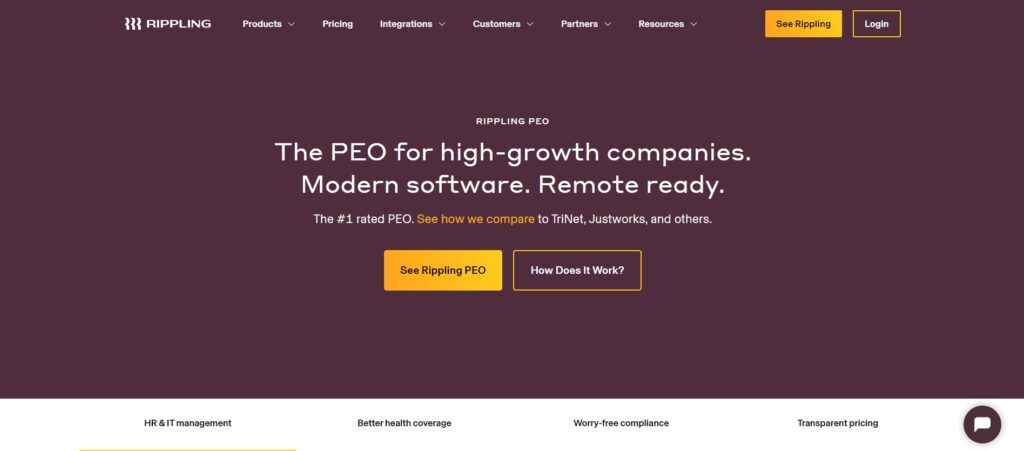 Rippling is a cloud-based HR and PEO solution split into multiple modules. The platform offers modular IT, benefits, payroll, and HR solutions that can be mixed and matched.
Rippling is a highly flexible PEO solution suitable for large companies that use multiple software solutions, as Rippling allows you to link the platform with your existing software.
Consequently, you can easily assign software licenses and computers to employees. This makes the onboarding and employee process much easier, as you can easily add or remove to the software.
Regarding PEO, Rippling includes all the features you could expect from a platform of this kind.
Ripping PEO Service Offerings
Legal compliance and risk management
Payroll and tax management
Learning management
Employee benefits administration
Talent management
HR services
Ripping Pricing
Rippling starts at $8/month/user. For more information, you'll need to contact the sales team to get a custom quote based on your needs.
Learn more about Rippling's pricing from its official website here.
Rippling Pros
PEO on/off button to switch between PEO and HR features
Extensive integration capabilities
Intuitive interface
Highly flexible
Rippling Cons
It might get expensive as you add more modules
Limited customer support
Rippling is the best for large businesses
Due to Rippling's multiple modules and integrations with over 500 applications, the possibilities with this platform are practically endless. This makes Rippling suitable for large companies looking to manage their workforce easily and handle all their HR tasks effortlessly.
Meanwhile, the IT module makes onboarding and terminating employees in large volumes a breeze.
Paychex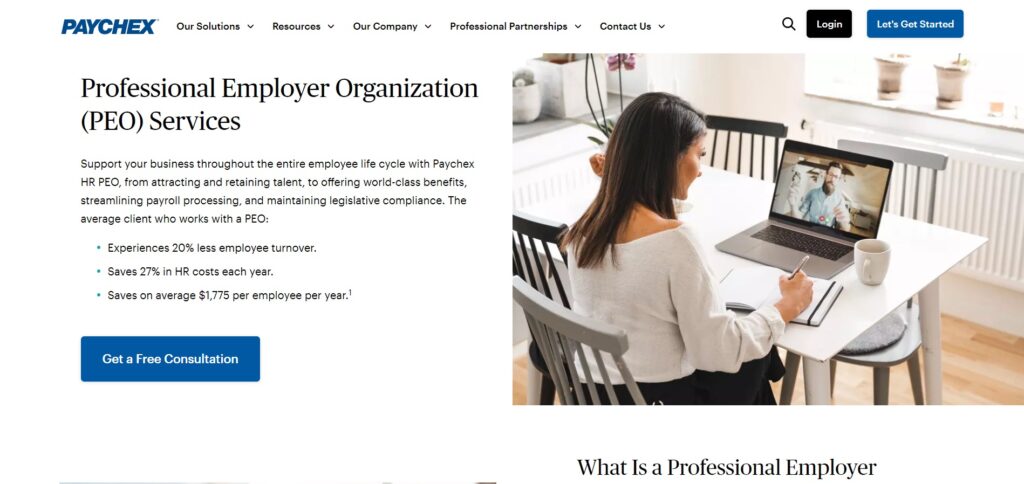 Although Paychex is widely known for its payroll and HR services, it also offers a PEO solution. This makes it a good option for growing companies that need something more than a PEO service provider.
Paychex PEO offers solid HR and payroll automation tools besides its PEO service. The best part is that you can select only the services you need first and gradually add more as your business grows.
Moreover, Paychex provides dedicated HR, benefits, and payroll specialists, as well as relationship managers, to offer personalized guidance and ensure that you'll meet your business goals.
Paychex Service Offerings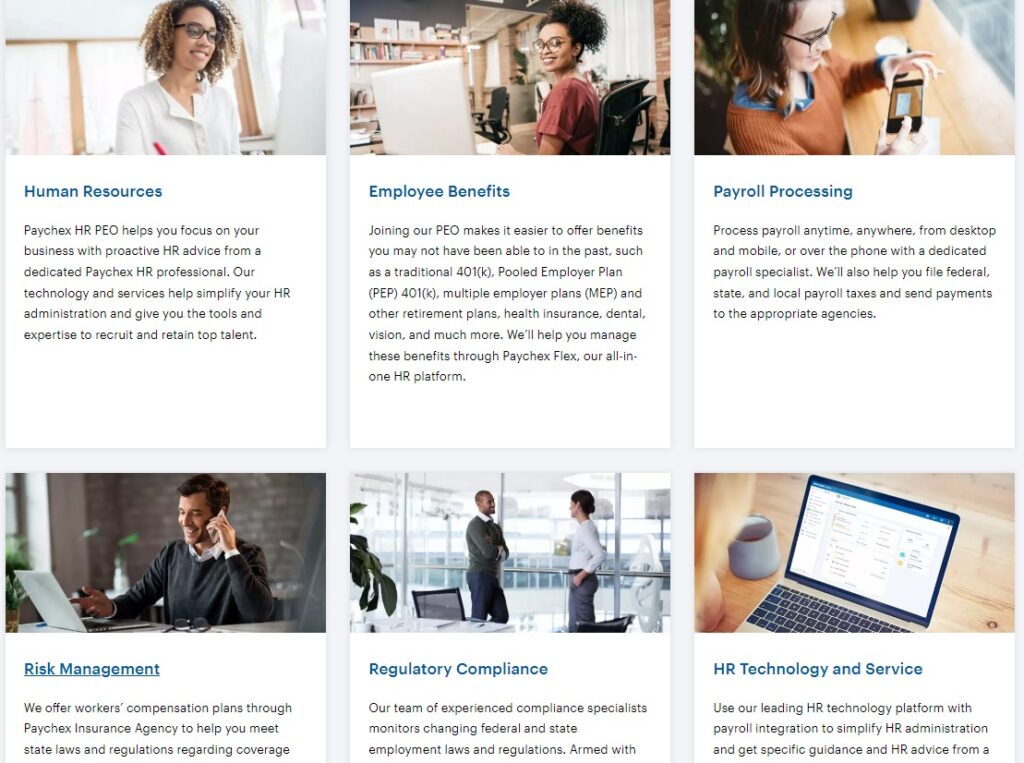 Risk management and regulatory compliance
Recruiting and onboarding
Employee benefits administration
Payroll processing
HR support
Paychex Pricing
You'll need to contact their sales representatives to get a pricing quote.
Get a quote from Paychex here from its official website.
Paychex Pros
Comprehensive resource center
Dedicated HR specialists
ESAC and IRS certified
Scalable
Paychex Cons
Pricing can add up quickly as you add more features
Pricing is not transparent
Paychex is the best for scaling businesses
Overall, Paychex PEO is the best option for companies that expect significant growth in the future.
The platform allows you to pick and choose between the service you need and add more over time. That said, Paychex ensures that you only pay for what you use, offering excellent value for money.
Moreover, the platform offers HR outsourcing services. This can come in handy if you need to handle complex HR tasks but lack the team to do so.
Lastly, the platform provides solid payroll services since Paychex is also an all-in-one HR solution.
Oyster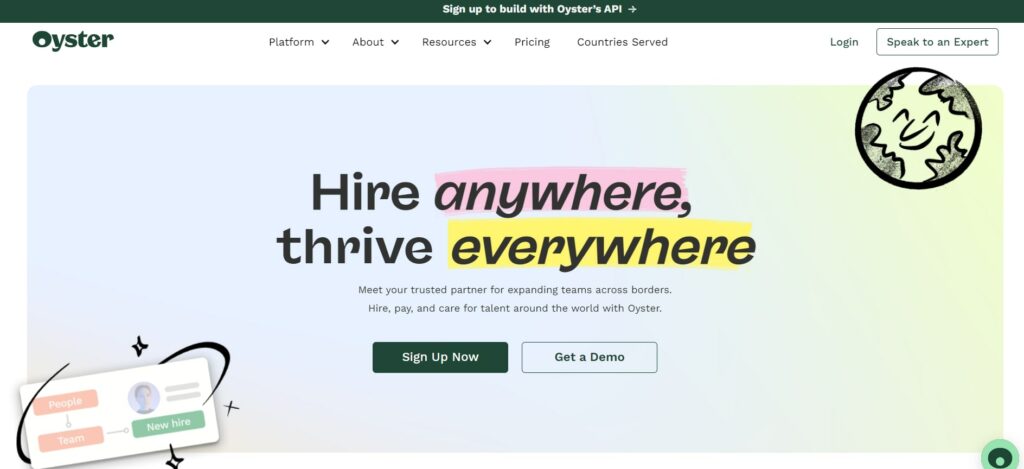 Oyster is a relatively new PEO company that specializes in global payroll services and helps companies hire and onboard employees across 180 countries. Since their team is spread all over the globe, they certainly prove their experience in hiring and managing foreign workers.
Oyster gives you access to an intuitive HR platform that allows you to generate reports and calculate employment costs. Additionally, you can manage all of your invoices and pay team members from a single place.
Other than that, Oyster offers an expense reimbursement tool and covers health benefits that are available across 180 countries.
Oyster Service Offerings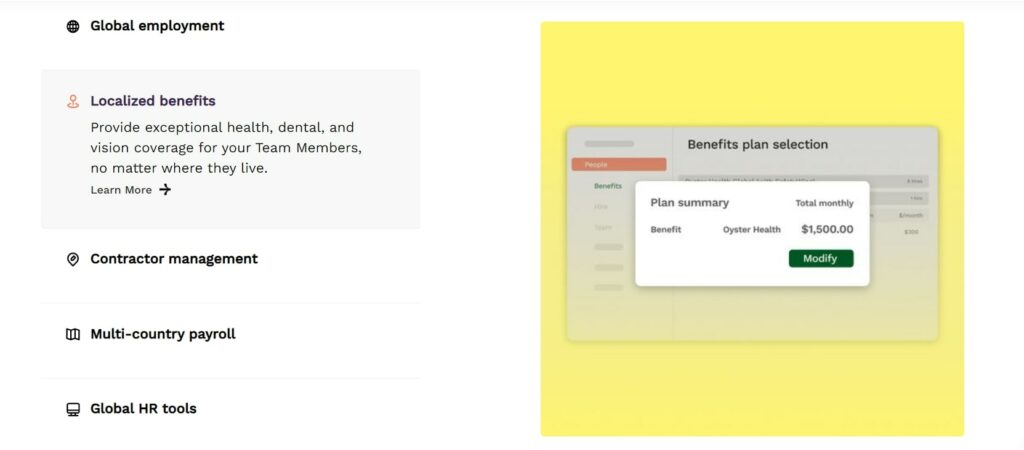 Global employment
Multi-currency payrolls
Contractor management
Localized benefits
Self-serve HR tools
Oyster Pricing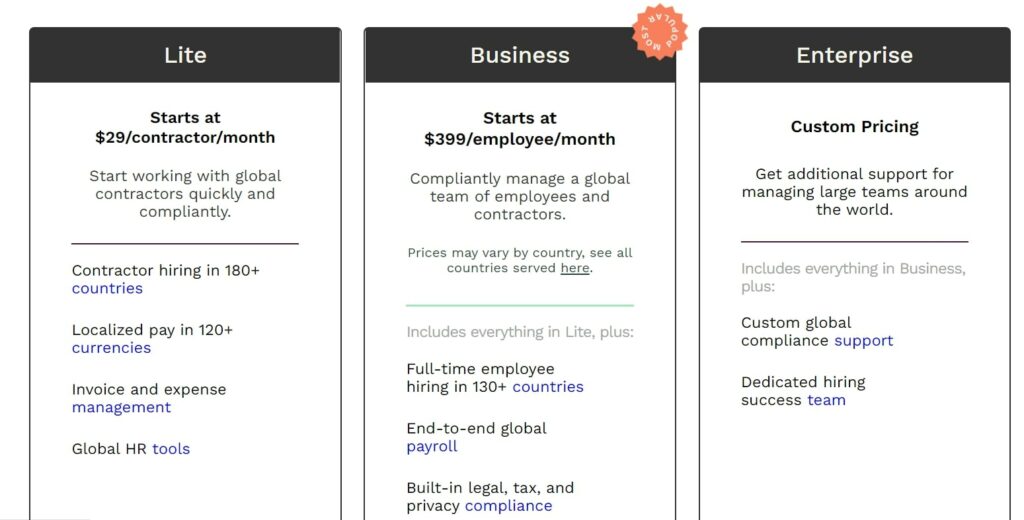 Oyster offers three pricing plans:
Lite: from $29/contractor/month
Business: from $399/employee/month
Enterprise: upon request
The Lite plan includes HR tools, invoice and expense management, localized pay in 120+ countries, and contractor hiring in 180+ countries. The Business plan additionally includes PTO management, privacy, legal, and tax compliance, and an end-to-end payroll system.
Lastly, the Enterprise plan includes a dedicated hiring success team and custom global compliance support.
Oyster Pros
Helps you reach a global talent pool
Facilitates remote work
Accessible pricing
Oyster Cons
Health insurance comes at an extra cost for all pricing plans
The employee self-service tool lacks the Request Time Off function
Oyster is The Best For Hiring Employees Globally
Overall, Oyster is perfect for hiring a team of workers spread across multiple parts of the world. The platform allows you to easily onboard new employees from within a single place and easily handle payroll processing in multiple currencies.
Meanwhile, Oyster's experts will give you the guidance necessary to ensure you remain compliant with tax or benefits requirements in different regions.
Remote.com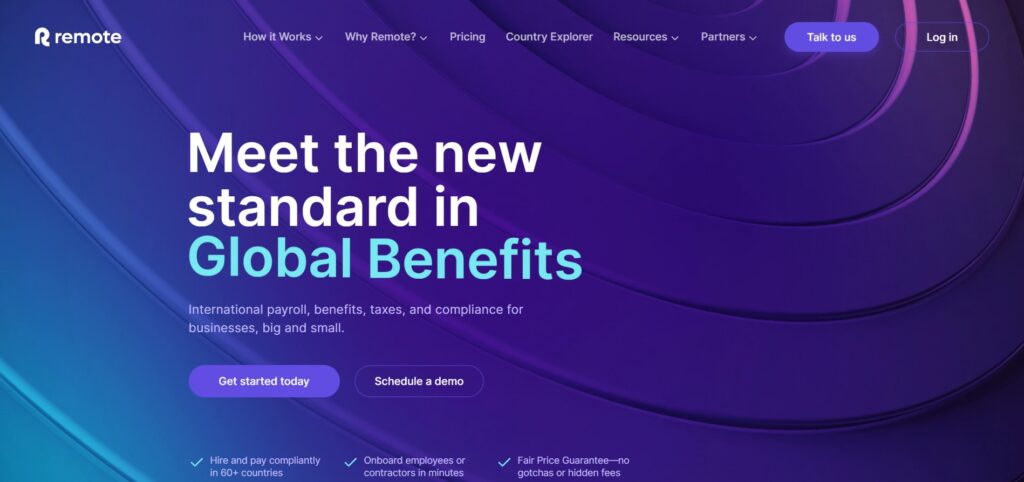 Remote.com is an HR solution that specializes in helping companies handle all their HR needs regardless of location. The platform offers international payroll, tax, and compliance management services to any business size.
Furthermore, you can find benefits packages for specific countries. Remote.com benefits packages include health, vision, dental, disability, life insurance, mental health support, and 401(k) plans.
Most importantly, Remote.com's Employer of Record (EOR) services are available. This allows you to hire people overseas legally without having to set up a local entity.
On top of that, Remote.com's EOR handles stock options, payroll, benefits, local compliance, and taxes for you. In other words, this feature can be a lifesaver.
You can hire and pay foreign employees quickly, and you won't need to scratch your head trying to navigate through various local laws.
Remote.com Service Offerings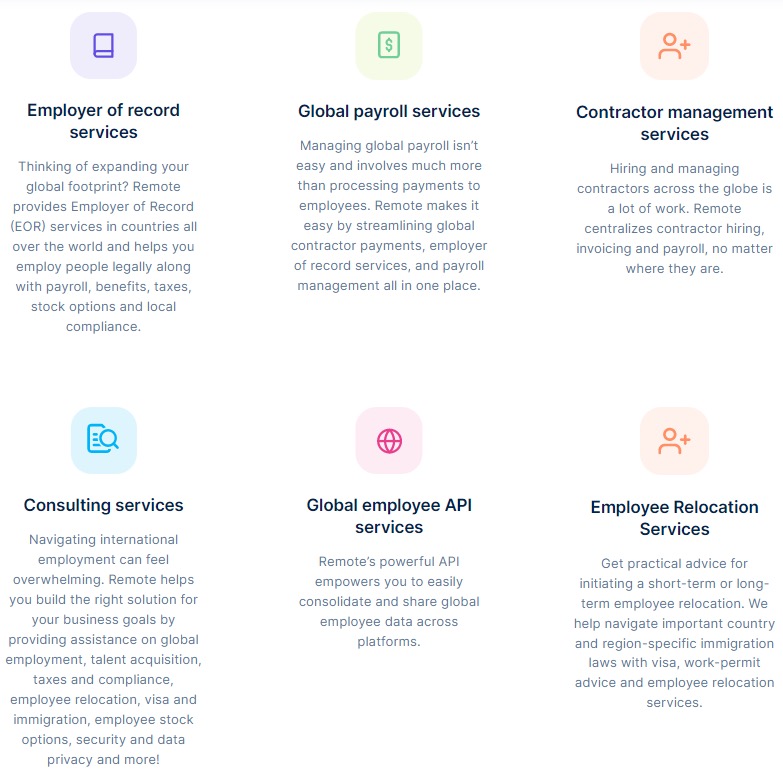 Global payroll processing and management
Contractor management
Employee benefits administration
Employer of Record
Consulting services
Remote relocation
Remote.com Pricing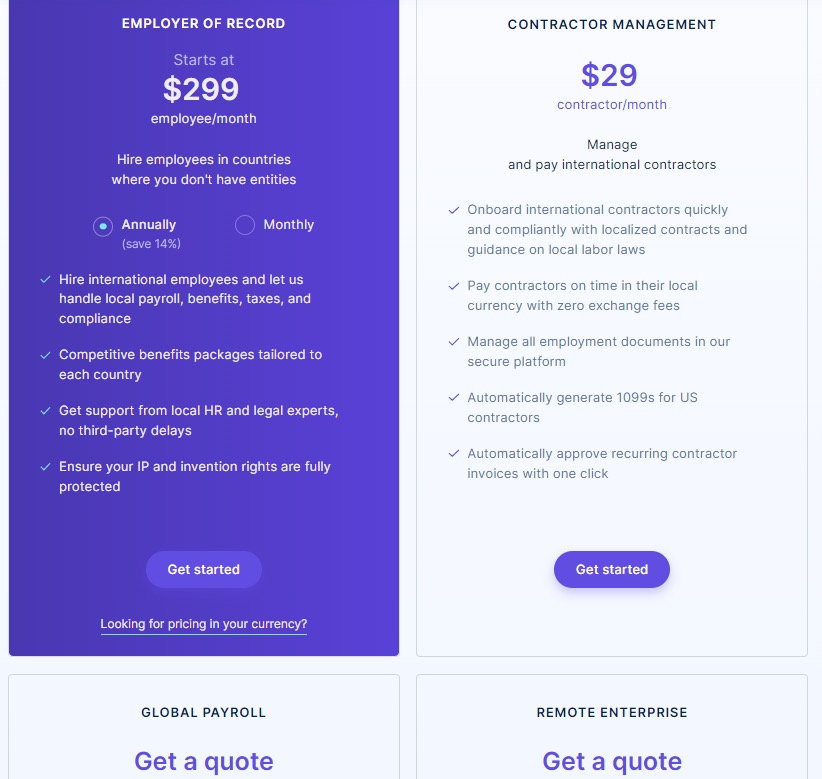 Remote.com covers four pricing plans, depending on what type of service you want to opt for:
Contractor management – $29/contractor/month
Employer of Record – from $299/employee/month
Global Payroll – upon request
Remote Enterprise – upon request
The Remote Enterprise plan is customizable and includes dedicated customer support and free consultations with Remote.com's legal and HR experts. It also provides benefits and payroll administration, customizable reports, and integration capabilities.
Learn more about Remote.com's pricing from its official website here.
Here we have a few promotion offers from Remote.com:
Remote.com Pros
Available in over 170 countries
Excellent EOR services
Easy to use
Remote.com Cons
Dedicated customer support only available in the Remote Enterprise plan
Remore.com is the best for remote work
Remote.com's EOR services make the platform worth all the money. It spares you the headache of setting up a local entity to hire foreign employees and allows you to effectively perform HR tasks.
Additionally, the platform helps you remain on top of the labor regulation and local tax employment laws that vary from country to country.
How to Choose a PEO Company?
Although each PEO service provider mentioned in this list is best for specific use cases, like remote work or benefits administration, there are more factors to consider when picking the right PEO company for your business.
Let's discuss this in further detail.
Examine Your Business Needs
Most PEO service providers offer similar services, like compliance and risk management, payroll and benefits administration, and HR management.
However, not every PEO goes into the same level of depth when offering these services. Some companies may only provide basic payroll processing, while others may be more advanced.
That's why it's important to evaluate how your business is doing in these areas before choosing a PEO service. This will help you spot your strengths and weaknesses and identify the PEO company that best fulfills your needs.
That said, let's look deeper into each area of service.
Hr Management
First, take a look at your company's HR department. HR services are one of the main reasons businesses choose to work with PEO companies—they take most HR administrative tasks off the clients' hands and decrease employer liabilities. But, each PEO has a different approach to HR.
On the one hand, some companies follow a self-service model, where they offer clients all the tools necessary to handle the issues themselves. This is suitable for businesses with an HR department that still need to streamline their workflow.
On the other hand, there are also PEO companies that are directly involved in the client's HR activities.
They assign the client a dedicated HR manager who will take care of everything that is HR-related. This is an excellent option for businesses that do not have an in-house HR department.
Then, some PEOs go for a hybrid approach. They offer clients tools to handle HR activities by themselves but also provide on-demand consultation or help from a manager.
Regardless, you'll need someone to act as the middleman between your company and the PEO service provider. The amount of time this middleman would dedicate to communicating with the PEO provider depends on how hands-on or hand-off the provider is with HR management.
Payroll Processing
You should test the payroll software before picking a PEO provider. After all, you'll be using these tools constantly. So making sure that the platform is easy to use, quick, and doesn't require much training is crucial.
While you're at it, check the PEO provider's qualifications. Since you'll hand over your business's and employees' banking information, the PEO provider must give clients a reason to trust them. We'll go into more details about certification further down the article.
Also, if you have employees in foreign countries, make sure the PEO provider facilitates international payments. Otherwise, you may have trouble maintaining compliance with the country's regulations.
Employee Benefits
Employee benefits are another major advantage to PEOs. Given that the PEO provider acts as your employer, you'll get access to all its employee benefits plans.
This can save you plenty of time and money you would otherwise spend on finding benefits plans on your own. Not to mention that start-ups and small business owners can get benefits plans that would have not been accessible due to their company size.
Still, employee benefits packages vary among different PEO providers. That said, make sure to check the PEO service's benefits offers and providers thoroughly. Then, identify which benefits package fits your employees the best.
In terms of medical insurance, make sure the PEO service works with the provider who has medical networks within your area. Also, check whether the insurance plan is self-funded or fully insured.
With self-funded plans, the employer must fund the insurance claims. In contrast, fully insured plans provide the benefits through a group insurance policy, while the insurer guarantees the claims' payment.
Risk Management and Employees' Compensation
Ask the PEO of your choice about the risk management services they offer. Some services include workers' compensation insurance claims training and management or safety inspections to maintain OSHA compliance.
Also, make sure the PEO provider's compensation insurance covers the industry you operate in. Some PEOs may favor white-collar workers over blue-collar ones and vice-versa. Choosing the PEO provider that caters more to your industry will likely lead to better rates and enhanced service or support.
Check for Certifications
Even though it's not mandatory, picking a PEO with ESAC and IRS certification might be a better idea. That's because certification ensures tax benefits and financial protection that non-certified PEOs do not have.
Moreover, a certified professional employer organization (CPEO) goes through a series of background checks to prove their ability to meet the client's requirements.
For instance, PEOs need to provide the following to obtain IRS certification:
Background reports of the people responsible for employment tax payments
Proof they remit employment taxes in a timely fashion
An independent audit of their financial services
Proof they have positive capital
As such, CPEOs offer a series of advantages over non-certified PEOs.
More specifically, CPEOs are solely responsible for paying federal employment taxes. Also, CPEOs give clients the authority to claim tax credits. With non-certified PEOs, this is not the case.
Lastly, certification eliminates the wage-based resets clients must pay whenever they leave or join a PEO during the year.
In other words, clients are free to make changes without waiting until the following year. Consequently, you'll avoid making double payments on taxes. Still, be aware that some certified PEOs require termination fees.
On the other hand, PEOs certified by the ESAC demonstrate the ability to comply with regulatory requirements and operational standards, maintain ethical business conduct, and attest to their financial stability.
Decide Between Full-Service and a La Carte PEO Services
Another factor you need to consider when evaluating your business's needs is whether you'd like to use a full-service PEO solution or use only a few services the PEO offers.
Sure, the choice may seem obvious at first. After all, a full-service PEO is the go-to if you don't have an in-house HR department. In contrast, if you already have an HR team in place, but could use a little more help, then a la carte services would be the better option.
But here's the thing: You'll need to think ahead of the curve. In other words, your HR needs will likely change over time. Although a full-service solution may be appealing at the moment, you might need to step down to a la carte services in the future. The same thing goes the other way around.
You'll need to look elsewhere if the PEO provider cannot facilitate that. This leads to extra headaches and wasted time.
Also, keep in mind that some PEO services require yearly contracts. The cancellation fees can be high if you change your plan mid-contract. Picking a PEO service that offers month-to-month contracts is a better option.
Furthermore, consider scalability. You may add more services to your plan as your business grows. Finding a PEO provider that allows you to do so easily is ideal.
Lastly, identify how the PEO service of your choice stands out from the rest. Some PEOs offer excellent benefits packages, while others shine through their recruitment services.
Choosing the PEO service that aligns with your company's necessities will make all the difference in the long run. Again, start by evaluating your company's needs first to find out where you shine and where there's room for improvement.
Consider Location
Location is crucial when picking a PEO company, especially if you have remote employees.
Tax laws and regulations vary across different states and countries. In other words, you'll need to choose the PEO service that's already familiar with your region. Otherwise, you may encounter a few issues further down the road, like not accounting for the difference in tax percentages from other states.
Moreover, check the PEO's service insurance providers. Even if most insurance companies cover a whole country, others may focus only on specific regions. This factor is key for ensuring that each employee has insurance coverage, regardless of the location.
Evaluate The PEO's Technology
A PEO service is not useful if it doesn't offer the technology necessary to fulfill your needs. So evaluating the PEO's tech and functionalities is not to be taken lightly.
For instance, a PEO's payroll system should allow you to run payroll in minutes. Moreover, it should generate quick payroll reports, track deductions, and manage payroll information. An employee self-service portal is also recommended. This allows employees to access and track documents, like pay stubs.
Aside from that, a PEO should facilitate integration capabilities, customization options, time tracking, PTO request, team collaboration, and plenty of documentation.
Also, evaluate the ease of use while you're at it. Picking a PEO provider that offers difficult-to-use tools will likely lead to issues and cause you to lose time.
Frequently Asked Questions
What is the difference between a PEO and a payroll company?
In short, a PEO offers various services including payroll, whereas a payroll company focuses on just that—payroll. 

Some other services a PEO company offers are the following: Risk and workers' compensation management, Benefits administration, HR support, and Compliance assistance.

Moreover, when joining a PEO, the service provider becomes an employer of record. In other words, you'll create a co-employment relationship between your company and the PEO service. As a result, the PEO will take on some of the risks involved in HR management, taxes, workers' compensation, etc. 

In contrast, a payroll company will hold you responsible for all of your business's HR activities. 
In terms of costs, PEOs require a contract for their services for a predetermined time. If you choose to end the contract before it expires, you'll likely need to pay a termination fee. 

Payroll service providers do not require such contracts, making them a cheaper option at first glance. 

However, PEOs may save you more money in the long run. They eliminate the need for having an in-house HR team, help you avoid making costly mistakes, and more. 
What are the disadvantages of a PEO? 
First, most PEO providers do not offer transparent pricing. Pricing is subjective to your business and often negotiable. 

Sure, pricing quotes made specifically for your business may give the illusion that you'll get better value for money. But in reality, you might never know what the fair price is. That said, figuring out whether the PEO is overpriced or offers a fair deal is difficult. 

Speaking of pricing, some PEOs offer their services in bundles, meaning that you may end up paying for services that you do not need.

Second, working with a PEO requires you to sign a contract for a predetermined period. If you wish to exit the partnership mid-contract, you'll be subject to termination fees. 

Third, there's control. Since you'll have a co-employment relationship with your PEO, you'll need to adhere to its guidelines and policies. This leads to restricted control over your HR activities and potentially dilutes your company culture. 
Who is the largest PEO in the US? 
ADP Totalsource is available in over 140 countries and has surpassed 500,000 worksite employees in 2018. Moreover, the company has seen a steady increase over the years, hitting an annual revenue of $16.498 billion this year, a 9.95% increase compared to last year. 

And with good reason, ADP Totalsource is well-known for its exceptional customer service and support. For one, customer support is available 24/7 through multiple communication channels. Furthermore, ADP assigns dedicated HR consultants and support agents ready to address your issues at any time. 

Other than that, ADP Totalsource is highly flexible. It integrates with various other third-party tools to help you streamline your workflow and make the most out of their services.
What is the best PEO for small businesses?
Trinet specifically caters to SMBs. The platform emphasizes ease of use, provides excellent customer service, and has flexible pricing. 

What's noteworthy is that Trinet provides dedicated HR professional teams specializing in your niche. 

This ensures that businesses benefit from the best customer experience possible and consulting services that will help companies solve their issues. 

Furthermore, Trinet offers access to its built-in learning management system. This allows you to train your employees and help them acquire new skills important to your company, making the employee development process much easier.

That said, Trinet is an excellent option for small businesses that do not have prior experience with PEOs or lack the support of an in-house HR department. 
Who are the top PEOs?
The top PEOs currently available are the following:
Although each PEO provider has pros and cons, Insperity sits at the top of the list. For one, Insperity has been around for over three decades, making it one of the most experienced PEO services in the market.
Moreover, the platform is suitable for businesses of all sizes, as Insperity is highly flexible and scalable. You can use its entire set of services or choose only a few.
Aside from that, Insperity offers brilliant customer support and provides a vast library of resources like ebooks, webinars, podcasts, and more.
Conclusion: Which is the Best PEO Company?
Generally speaking, you can't go wrong with Insperity.
However, the best PEO company is the one that caters to your needs the most. That said, take some time to evaluate your business's requirements to identify where you need help the most.
This also helps you decide whether you need a full-service PEO solution or should opt for specific services.
While you're at it, account for your employee's location. Some PEO insurance providers may not cover an entire country, so checking that is crucial for insuring all of your employees.
Furthermore, examine the PEO provider's feature set and ease of use. A platform that takes a long time to get used to will do nothing but lose you time and increase the risk of costly mistakes in the future.
In terms of functionalities, the platform should include time tracking, PTO requests, quick payroll processing, payroll reports, team collaboration tools, and a resource library.
Last but not least, check for certification. The PEO of your choice should be IRS and ESAC certified. This attests to the company's ability to meet your requirements and pay taxes.